Are you looking for the best WordPress Watermark plugin?
Our article will show you the best WordPress plugins for the Watermark so you can find one that you and your clients will love. They are easy to use, deliver optimum performance, and help you build a better website. In summary, we ensure our plugins work with all WordPress themes.
We are nearly at the end of our WordPress plugins list, so here are some Watermark plugins. You are searching for a Watermark-related plugin, but it isn't the same as the actual Watermark plugin? These plugins exist for Image Copyright, Video Watermark, Woocommerce Watermark, and Photo Watermark. Choose one for your website that will give it a leg up.
In addition, we have compiled a list of some of the best WooCommerce plugins to enhance the functionality of your store, as well as boost sales.
You can also check our step-by-step article for adding watermark to images in WordPress.
Best Watermark Plugins for WordPress ©️
Let's get started with the list of best WordPress Watermark plugins that will be available next year:
Automatically Watermark Images Plugin For WordPress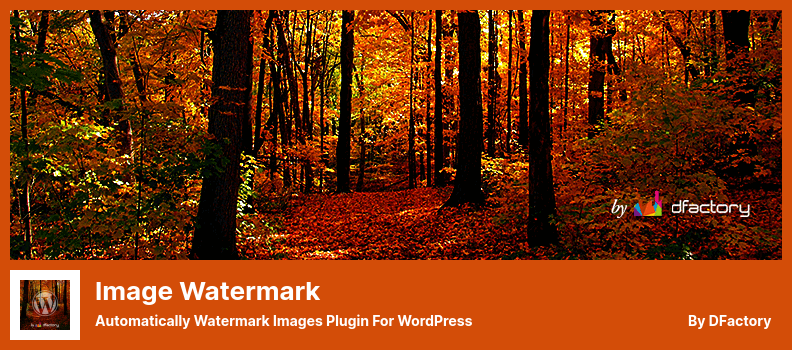 There are many photo watermark plugins, but If you have previously uploaded images, you can bulk watermark them by using Image Watermark. You can automatically watermark your images if you haven't uploaded them yet.
There are two ways in which you can apply the watermark. The first is to apply it automatically. Second, You can also apply it manually. The watermark can be turned on and off within the General settings.
Additionally, you can choose the image format, disable right-clicking on images, place the watermark at a specific position, and prevent others from dragging and dropping your images.
Therefore, we also suggest that you read our article about how to prevent content theft on WordPress sites.
This WP Watermark Plugin provides options for applying custom, scaled, and original watermarks.
You can apply a watermark to many images in the Media Library actions, choose between baseline and progressive image formats Image quality and protect your images from copying via drag & drop.
---
💵 It's free to download the plugin.
Key Features:
Watermarks may be positioned in a variety of positions
Removing the watermark is an option
A watermark offset has been determined
The GD Library and ImageMagic libraries are supported
The size of a watermark can be applied in three ways: original, customized, and scalable
Transparency/opacity of the watermark
Images can be backed up
Random Reviews:
The plugin works flawlessly. But at first I had a problem. When I tried to remove a watermark from an image, it completely erased the image. The reason for this is that when I selected the full image for the plugin to add a watermark to it, I selected only the watermark portion.

Easily accessible and easy to use.

Plugin works as it should, easy to use, simple to set up and install.
Inserting A Logo, A Watermark, Credits, Etc Plugin For WordPress
Suppose you want to keep your store images from being grabbed or used for nefarious purposes. In that case, you can easily add a logo or watermark to the images. Using YITH WooCommerce Watermark, you can achieve this in a few clicks.
Using this plugin, you can easily add a logo, a watermark, credit information, and more to images on your e-commerce website.
YITH WooCommerce Watermark uses watermarks for all images and resizes them. It also generates them at the correct resolution for you to reduce the time required for a long, tedious, and exhausting process.
Using the 'Reset' button, you can restore your original images without affecting your watermarks. The watermark can be applied to as many images as you wish simultaneously.
---
💵 Auto-updates and 12 months of support are included. You can purchase it for $59.
Key Features:
As a means of ensuring that the images you upload online, such as photos, pictures, comic strips, etc., remain protected
Your watermark will be automatically applied to featured images
Useful if you are in the business of selling digital products
The images you store will be protected from unauthorized access
All of your images will contain the logo and name of your e-commerce business, attracting new customers through search engines
Create a backup of the original images to be able to quickly restore them
Video Watermarking and Encryption WordPress Plugin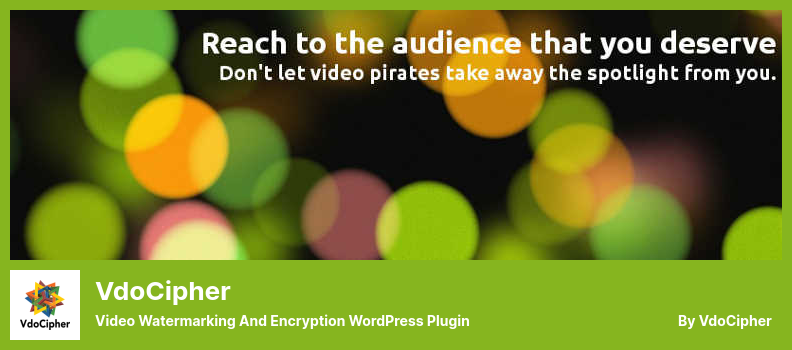 With VdoCipher's video plugin is a WordPress content protection plugin that you can host premium video content on your WordPress website. As a result of VdoCipher's video plugin, you will have total control over your video content, so you can commence monetizing it immediately.
Vdocipher's primary goal is to provide the most secure online video player that will protect you from video piracy and provide DRM encryption and watermark protection.
With VdoCipher's WordPress video plugin, you get the highest protection from video piracy. This video streaming service involves Video Encryption, Backend Authentication & Watermarking. It protects your videos from being downloaded by downloaders and plugins.
Vdocipher offers a comprehensive video hosting and watermarking solution for WordPress that caters to media and marketing firms, eLearning companies, and video producers.
---
💵 The Lite version is free, and the Pro version costs.
Key Features:
A free trial account is available
The following format should be provided as a sample code for your watermark
All of the popular WordPress membership plugins for WordPress, including Members, Restrict Content Pro, MemberPress, and WP eMember, are perfectly compatible with this plugin
suitable for the delivery of premium video content such as music videos, lectures, and movies
LearnPress, WP CourseWare, LifterLMS, Sensei, LearnDash, and LearnDashCMS are available to provide seamless integration
Random Reviews:
A simple shortcode is provided to embed DRM protected videos anywhere on your site. Does what it says well, but that is all it does.

The plugin has been in use for about 2 years, it is easy to install and use, and we haven't experienced any issues with it, the support provided by VdoCipher is outstanding, they are always willing to help us.

Hello, great plugin for secure video streaming! It only lacks one feature: multi-account management… Actually, the plugin is only able to manage one Vdocipher account for WP integration. It would be great to be able to add multiple accounts management in the same plugin installation.
A Watermark Can Be An Image, A Text, Or Both
You can manually watermark existing images or use Easy Watermark to automatically watermark your images as they are uploaded to your WordPress media library.
There can be two types of watermarks on an image: a text watermark and the other can be an image watermark. The position and size of the watermarks can be customized and applied separately on different media.
Watermarks may be added to JPG, PNG, or GIF images using the Easy Watermark application. JPG watermarks may be controlled in terms of opacity.
Watermarks in the text have an impressive placeholder feature that can be applied to images dynamically. Among other things, you can include the upload date and the document's name. When you upload the image, a text watermark is automatically added.
---
💵 Free advanced plugin named Easy Watermark.
Key Features:
Transparent and alpha channels are available in GIF and PNG files
A file or text can be set to have an opacity value (from 0 to 100%) in the JPG and GIF formats
Text can be changed in color, size, and rotation
The text watermark is created using TTF fonts
Watermarks can be applied to all of the built-in image sizes (the thumbnail, the medium, the large, and the total size) in addition to images added by plugins and themes
Watermarks can be applied to JPG, PNG, or GIF images
Easily creates image backups and ensures that they can be restored if needed
Random Reviews:
Plugin works fine for me, does exactly what they say it does! One thing that could be changed is adding watermark to all the pictures in the library instead of the ones used as illustrations on my pages (so you could pick and choose which ones to use).

I used this plugin a couple of times and it changed all my pictures to black backgrounds and watermarks.

There's nothing I can do. Just got a [object, object] error message. Terrible plugin.
Briefly summarizing
We are delighted to provide you with the best information about the best WordPress Watermark plugins available. Everyone can design an impeccable website with a ready-made plugin in just a few hours.
Thank you for taking the time to review our Watermark plugins. We recommend reviewing our article on best WordPress hosting if you are looking for a more reliable hosting provider for your website.
Please leave your comments in the comment section. To keep up with our fresh articles, follow us on Facebook or Twitter! You can also send us comments on Facebook and Twitter.