Are you a WordPress website owner looking to protect your images and brand identity? Or maybe you're concerned about potential copyright infringement of your content? If so, you've come to the right place!
In this article, we'll be sharing with you the 5 Best WordPress Watermark Plugins that will help you add watermarks to your images and protect them from unauthorized usage.
But before we dive into the details, did you know that over 85% of images on the internet are stolen or used without permission? This startling fact highlights the importance of watermarking your images to prevent theft and ensure proper attribution.
Watermarking your images doesn't have to be a complicated process, and with the right plugin, it can be done quickly and efficiently.
You can also check our step-by-step article for adding watermarks to images in WordPress.
In this article, we'll provide you with a list of the best WordPress watermark plugins available today, both free and paid, to help you choose the one that fits your needs and budget.
So, let's get started!
Best Images Watermarking Plugins for WordPress
Best Photo Watermark Plugins for WordPress
Most Complete Content Protector Plugin for WordPress
WPShield Content Protector is an excellent WordPress plugin that prevents anyone from downloading images on your website. The developers also mentioned that they are creating a sister plugin for watermarking images in addition to protecting them from download.
This plugin offers 15 protectors, which means it safeguards all formats of content, so you do not need to use multiple plugins to secure your site. It works quickly and is compatible with any WordPress theme and plugin.
One of WPShield Content Protector's exclusive features is the option to limit right-click menu items, such as save as, view source code, and inspect elements. Although it doesn't disable right click entirely, this feature is unique compared to other content protectors.
Another unique feature of this plugin is the ability to disable the Inspect Elements system, which is the primary tool for bypassing content protectors. This plugin clears the site content if the developer tool is opened, so no copy of your site content will be possible.
WPShield Content Protector's website offers comprehensive step-by-step documentation that can assist you in setting up and protecting your site's content. Overall, this plugin is a must-have for any WordPress website owner looking to protect their valuable content from theft or unauthorized use.
Key Features:
This plugin offers an option to disable the right-click menu on your website, preventing visitors from saving or copying content.
Additionally, WPShield Content Protector's unique feature includes limiting the right-click menu items, such as save as, view source code and inspect element, providing extra security.
This plugin also offers the exclusive feature of disabling the Inspect Elements system, which is the primary tool for bypassing content protectors on websites.
If the developer tool is opened, WPShield Content Protector clears the site content to prevent any copy of your content from being made.
The plugin's website offers comprehensive step-by-step documentation that helps users set up and protect their site's content.
WPShield Content Protector protects all formats of content, which means you do not have to use multiple plugins to secure your site.
This plugin provides excellent support and is constantly updated with the latest features to ensure maximum protection for your website's content.
Random Reviews:
I use this photo protector for my photography and it kept all my photos from being downloaded. In the first week after I started using it, I received many emails from bloggers asking for image files, when I had not received even one email for a year before.
Automatically Watermark Images Plugin For WordPress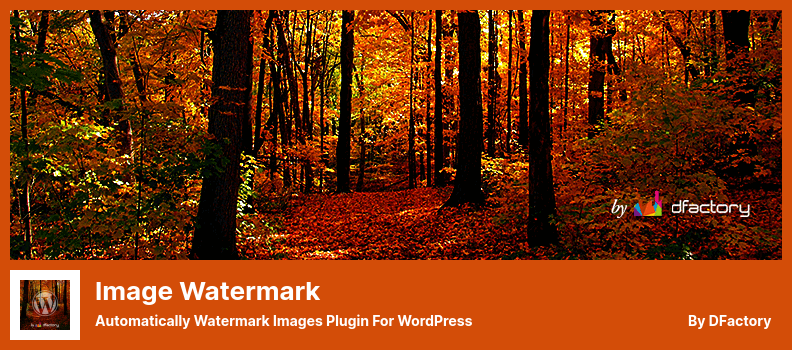 There are many photo watermark plugins, but If you have previously uploaded images, you can bulk watermark them by using Image Watermark. You can automatically watermark your images if you haven't uploaded them yet.
There are two ways in which you can apply the watermark. The first is to apply it automatically. Second, You can also apply it manually. The watermark can be turned on and off within the General settings.
Additionally, you can choose the image format, disable right-clicking on images, place the watermark at a specific position, and prevent others from dragging and dropping your images.
Therefore, we also suggest that you read our article about how to prevent content theft on WordPress sites.
This WP Watermark Plugin provides options for applying custom, scaled, and original watermarks.
You can apply a watermark to many images in the Media Library actions, choose between baseline and progressive image formats Image quality and protect your images from copying via drag & drop.
Key Features:
Watermarks may be positioned in a variety of positions
Removing the watermark is an option
A watermark offset has been determined
The GD Library and ImageMagic libraries are supported
The size of a watermark can be applied in three ways: original, customized, and scalable
Transparency/opacity of the watermark
Images can be backed up
Inserting A Logo, A Watermark, Credits, Etc Plugin For WordPress
YITH WooCommerce Watermark is a plugin designed to protect your website's images from being stolen or misused. With just a few clicks, you can add a logo or watermark to all the images on your e-commerce website.
This plugin offers several features that make it stand out from other watermark plugins. YITH WooCommerce Watermark resizes all images and generates them at the correct resolution, saving you time and effort. You can add any type of watermark, whether it's a logo, credit information, or any custom text you want.
One great feature of this plugin is the 'Reset' button, which allows you to restore your original images without affecting your watermarks. You can apply watermarks to multiple images at once, making it an efficient tool for protecting your website's content.
Overall, YITH WooCommerce Watermark is an excellent solution for anyone looking to protect their website's images. It's easy to use, efficient and effective, and offers plenty of customization options to suit your needs.
If you're looking for a reliable and user-friendly watermark plugin, YITH WooCommerce Watermark is definitely worth checking out.
Key Features:
As a means of ensuring that the images you upload online, such as photos, pictures, comic strips, etc., remain protected
Your watermark will be automatically applied to featured images
Useful if you are in the business of selling digital products
The images you store will be protected from unauthorized access
All of your images will contain the logo and name of your e-commerce business, attracting new customers through search engines
Create a backup of the original images to be able to quickly restore them
Video Watermarking and Encryption WordPress Plugin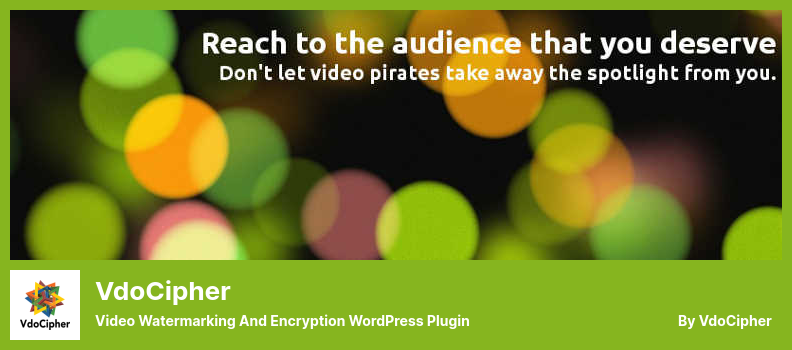 VdoCipher is a WordPress video plugin that provides an all-in-one solution for hosting premium video content on your website. Its foremost objective is to ensure maximum security and protection of your video content from piracy, enabling you to monetize it without worrying about unauthorized downloads.
One of the most valuable features of VdoCipher's video plugin is its superior protection against video piracy through Video Encryption, Backend Authentication, and Watermarking.
This exceptional streaming service makes it nearly impossible for downloaders and plugins to steal your videos, making it an excellent option for media and marketing firms, eLearning companies, and video producers.
VdoCipher's WordPress video plugin allows you to have complete control over your video content, giving you the freedom to start monetizing it immediately. With its DRM encryption and watermark protection, you can rest assured that your video content is safeguarded from any unauthorized use.
If you're looking for a comprehensive video hosting and watermarking solution for your WordPress site, VdoCipher is undoubtedly an excellent choice. It's simple to use, highly effective, and will keep your premium video content secure from piracy.
Key Features:
A free trial account is available
The following format should be provided as a sample code for your watermark
All of the popular WordPress membership plugins for WordPress, including Members, Restrict Content Pro, MemberPress, and WP eMember, are perfectly compatible with this plugin
suitable for the delivery of premium video content such as music videos, lectures, and movies
LearnPress, WP CourseWare, LifterLMS, Sensei, LearnDash, and LearnDashCMS are available to provide seamless integration
A Watermark Can Be An Image, A Text, Or Both
Easy Watermark is a WordPress plugin that can be used to watermark images on your website. It allows you to add a text or image watermark to your media library's existing images, or automatically add watermarks to new uploads.
This plugin offers customization options for the size and position of the watermarks, as well as the ability to apply different watermarks to different media types. You can also adjust the opacity of JPG watermarks.
One impressive feature of Easy Watermark is its dynamic placeholder capability for text watermarks. This means that when you upload an image, information like the upload date and document name can be automatically added as part of the text watermark.
Overall, Easy Watermark provides an easy-to-use solution for protecting your images with watermarks while also allowing for customization and automation. Whether you're looking to prevent image theft or simply want to add a professional touch to your website, this plugin is definitely worth considering.
Key Features:
Transparent and alpha channels are available in GIF and PNG files
A file or text can be set to have an opacity value (from 0 to 100%) in the JPG and GIF formats
Text can be changed in color, size, and rotation
The text watermark is created using TTF fonts
Watermarks can be applied to all of the built-in image sizes (the thumbnail, the medium, the large, and the total size) in addition to images added by plugins and themes
Watermarks can be applied to JPG, PNG, or GIF images
Easily creates image backups and ensures that they can be restored if needed
FAQ
What are WordPress watermark plugins?
WordPress watermark plugins are tools that allow you to add a watermark or logo to your images automatically. This can help protect your content from being stolen and used without permission.
Why should I use a WordPress watermark plugin?
Using a WordPress watermark plugin can help protect your intellectual property by adding a visible mark to your images. This can also make it more difficult for others to copy and use them without permission, while still allowing you to showcase your work online.
What should I look for when choosing a WordPress watermark plugin?
When choosing a WordPress watermark plugin, consider factors such as the types of watermarks it supports, ease of use, compatibility with your WordPress theme, and level of security. Additionally, look for user reviews and ratings to help you make an informed decision.
Do I need to have technical knowledge to use a WordPress watermark plugin?
No, most WordPress watermark plugins are user-friendly and easy to install and use. However, it's always a good idea to read the documentation or watch a tutorial before getting started.
Can I customize my watermark with these WordPress plugins?
Yes, many WordPress watermark plugins allow you to customize your watermark with your own logo, text, or image. Some plugins even offer advanced customization options such as font selection and opacity settings.
Conclusion
In conclusion, we have discussed the five best WordPress watermark plugins, both free and paid. These plugins can help you protect your images from theft and increase your brand recognition. With the right plugin, you can easily add watermarks to your images while maintaining their quality.
If you want to learn more about WordPress plugins and how to improve your website, check out the BetterStudio blog for more related tutorials. We offer a wealth of resources to help you get the most out of your WordPress site.
Don't forget to follow BetterStudio on Facebook and Twitter to stay up-to-date with our latest tutorials and tips. We are always sharing new content to help you improve your website and grow your business.
Thank you for reading our article, and if you have any questions or problems, please feel free to ask in the comment section below. We are here to help you succeed!