Do you have a WordPress website and are unsure about which archive plugins are the best to use? Or perhaps you're concerned that the available options might be overwhelming or time-consuming to test out.
Well, fret not! In this blog post, we'll be discussing the four best WordPress archive plugins, both free and pro, to help you enhance your website and improve user experience.
Now, you may be wondering, why are archive plugins important for WordPress websites. According to recent studies, websites with well-organized archives tend to have higher user engagement and retention rates.
So, if you want your visitors to easily navigate through your content, find relevant information, and stay on your site longer, the right archive plugin can make all the difference.
In this article, we'll provide you with a detailed overview of the top four WordPress archive plugins that have been tried and tested, along with some interesting statistics and facts about each plugin.
Whether you're a beginner or a seasoned WordPress user, you'll find valuable insights and recommendations that will help you make an informed decision when it comes to selecting the ideal archive plugin for your website.
So, let's dive in and discover which plugins are worth considering to optimize your archives and improve your site's overall user experience.
Best Archive Plugins for WordPress
If you're a WordPress website owner looking for the best archive plugins to enhance your site's organization and user experience, you've come to the right place.
In this article, we'll introduce you to the top four WordPress archive plugins, both free and pro, that can help you effectively manage and display your archived content. Take a look below and discover the perfect plugin to take your website's archive functionality to the next level!
Allows You to Display Your Archives in a Year-based List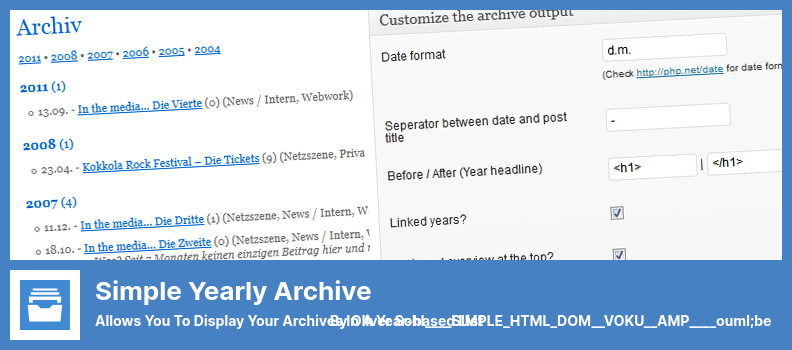 Simple Yearly Archive is a WordPress plugin that allows you to easily display an archive of your older posts. With this plugin, you can select different options for formatting dates and choose whether or not to display comments or categories. You also have the option to display an excerpt and thumbnail for each post.
One of the key features of the plugin is that it allows you to view all your blog posts in one long list. You can choose to display them chronologically or in reverse chronological order, based on your preferences. This makes it easy for you and your readers to navigate through your past content.
The plugin also provides a navigation menu on the left-hand side of the page, which allows visitors to jump directly to a specific year. This is especially useful if you have been blogging for a while and want to quickly access posts from a specific time period.
Unfortunately, Simple Yearly Archive only supports archives for blog posts and does not have support for pages or other custom post types. Keep in mind that it only displays archives for posts that have not been unpublished.
Key Features:
Easily display the archive on any page or post using shortcodes
Limit the output of information to specific categories
Display all published posts separated by their year of publication
View your archive collections as a WordPress yearly archive
Make Archive Page Easily With Full Customize
Archive Page is a WordPress plugin that allows you to easily format and display your website's archive content using shortcodes. With this plugin, you can create archive pages that are both simple and elegant, providing a solution to your archiving needs.
One of the key features of the plugin is the ability to format items in the archive list using shortcodes. This means you can customize the heading, and list type, and even add a custom title for each item in the list. It's a great way to organize and present your archived content.
Another useful feature is the ability to display a shortcode that shows all the available documents on your site. This can be helpful if you have a large amount of content and want to provide an easy way for visitors to access it. While you can't modify the output of these shortcodes directly, you can customize them on the shortcode tab.
It includes eight different shortcodes for displaying and navigating your content. These shortcodes cover a range of archive options, including daily, monthly, and annual archives of blog entries, as well as recent blog entries, categories, tags, and authors. It's a comprehensive tool for organizing and accessing your archived content.
One of the standout features of the plugin is its simplicity and speed in creating archive pages. With just a few shortcodes, you can have an archive page up and running in no time. It's a user-friendly experience that even beginners can easily navigate.
Lastly, this plugin supports all languages, making it accessible to users around the world. No matter where you're located or what language your content is in, Archive Page can handle it.
Key Features:
Shortcode customization for formatting archive content
Quick and easy creation of archive pages
Various options for displaying blog posts
Support for all languages
Archivist is a powerful WordPress plugin that allows you to customize and edit your website's archive pages. With the plugin, you have full control over the design and content of your archive page, allowing you to highlight important information and make it more visually appealing.
One of the standout features of the plugin is the ability to create multiple templates for your archive pages. This means you can have different layouts and styles for different sections of your website, allowing you to showcase your content in a way that suits your brand and audience.
By using archive template tags, you can control various aspects of the display, such as the number of posts shown per page, the order in which they are displayed, and the formatting of the content. This can help you create a more visually appealing and user-friendly archive page.
In addition to the template customization options, it also offers the ability to modify the archive template itself. This means you can exclude any content that you don't want to appear on your archive page, giving you complete control over what is visible to your readers.
Archivist also provides asynchronous pagination, which means that your archive page will load quickly and efficiently, even if you have a large amount of content. Pagination controls are conveniently placed at the top and bottom of the archive page, making it easy for readers to navigate through your content.
Key Features:
Asynchronous pagination for fast loading times
Pagination controls at the top and bottom of the archive page
Easy insertion of archive template tags for customization
CSS stylesheet for additional styling options
Multiple templates for customizing archive pages
Ability to modify the archive template and exclude unwanted content
Improves On The Default WordPress Archive Shortcode and Sidebar Widget
Annual Archive is a versatile WordPress plugin that offers an excellent solution for displaying your archived blog posts. With the enhanced version, you can even include custom post types.
One of the standout features of this plugin is the ability to view your archives by day, week, month, year, or alphabetically by title. This gives you the flexibility to organize your posts in a way that suits your needs.
In addition to the standard archive options, it offers support for custom date formats. You can also display archives based on post types, categories, or subcategories. This level of customization allows you to create personalized lists that cater to your specific requirements.
If you want to further customize the appearance of your archives, you can enter custom CSS on the settings page. However, most of your modifications can be made directly within the plugin's shortcode, using its handy shortcode attributes.
One notable advantage of using the plugin is that you have the ability to sort your lists by decade. This makes it easier to navigate through your archives and find posts from a particular time period. Additionally, you can apply filters to search for posts of specific types.
Another great feature is the option to use a shortcode to create archive lists. This shortcode can be placed anywhere in your sidebar or even within another shortcode. This flexibility allows you to seamlessly integrate your archives into different areas of your website.
You can set the frequency at which you want to view your archives, whether it's daily, weekly, monthly, or annually. This enables you to easily keep track of your past posts and gain insights into your content distribution.
Annual Archive also improves the default WordPress archive page shortcode and sidebar. It enhances the functionality and appearance of these elements, giving you a more polished and user-friendly experience.
Key Features:
Sortable archives by decade and filter options for specific post types
Use of a shortcode for creating archive lists anywhere on your website
Flexible viewing options, including daily, weekly, monthly, or annual archives
Improved default WordPress archive page shortcode and sidebar
Frequently Asked Questions
What are WordPress archive plugins?
WordPress archive plugins are tools that help organize and showcase your website's archived posts, categories, and tags in a user-friendly and visually appealing manner. They help improve navigation and make it easier for visitors to browse through your past content.
Why should I use WordPress archive plugins?
Using WordPress archive plugins offers several benefits. Firstly, they enhance the user experience by allowing visitors to easily explore your website's past content.

Secondly, they improve website navigation and make it simpler for users to find specific topics or posts they may be interested in.

Lastly, archive plugins can also have SEO benefits by creating organized and accessible archives that search engines can crawl and index, potentially boosting your website's visibility in search results.
What features should I look for in WordPress archive plugins?
When choosing a WordPress archive plugin, it's important to consider features such as customizable layouts, responsive design, search functionality, pagination options, and integration with your theme.
Additionally, look for plugins that offer support and regular updates to ensure compatibility with the latest version of WordPress.
Conclusion
In conclusion, we've explored the top four WordPress archive plugins, both free and pro, to help you optimize your website's archive functionality. We discussed the features and benefits of each plugin, allowing you to make an informed decision based on your specific needs.
For more in-depth tutorials and resources on WordPress plugins, I highly recommend checking out the BetterStudio blog. They provide valuable insights and step-by-step guides that can further enhance your WordPress experience.
To stay up-to-date with the latest tutorials and WordPress tips, make sure to follow BetterStudio on Facebook and Twitter. By doing so, you'll be the first to know about new releases, updates, and valuable resources.
Thank you for taking the time to read this article. If you have any questions or encounter any issues related to the WordPress archive plugins discussed, please don't hesitate to leave a comment in the section below. We're here to assist you and provide the support you need. Happy WordPressing!