Are you looking for the best WordPress widget plugins to enhance the functionalities of your website? Or maybe you are wondering if these plugins are worth investing in. If either of these concerns is running through your mind, then you have come to the right place.
In this article, we will be exploring the top 8 WordPress widget plugins that you can use to make your website more functional and visually appealing. Whether you are a beginner or a professional, it's always a good idea to have these plugins installed on your WordPress site.
Did you know that adding widgets to your WordPress website can make it more engaging and increase user interactions? These widgets can help improve the design and functionality of your site, making it more user-friendly.
In this article, we will be discussing the best WordPress widget plugins that you can use to add some extra functionality to your site. So, without further ado, let's dive right in and explore the top 8 best WordPress widget plugins that you can use to take your website to the next level.
Best Widget Plugins for WordPress
If you're a WordPress website owner, chances are high that you're always looking for ways to improve your website's functionality and features. That's where the best widget plugins for WordPress come in.
Take a look at our top picks for the best widget plugins – both free and premium – to find the right one for your website needs.
Collection of Custom Widgets For WordPress Plugin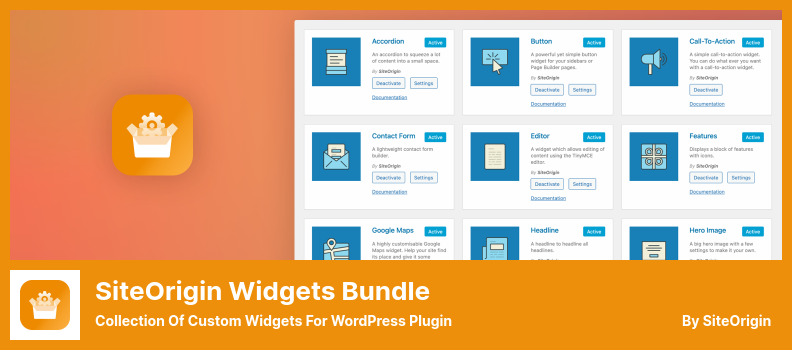 SiteOrigin Widgets Bundle is a widget that allows you to create modern and engaging websites with minimal effort. You can customize your website with buttons, sliders, maps, images, carousels, features, icons, and more, directly from the keyboard.
Furthermore, this plugin works with many major SEO plugins and can be used in conjunction with other SiteOrigin plugins such as the Page Builder, Block Editor, and others.
Furthermore, the live widget search interface is incredibly useful, enabling you to search for specific widgets and add them to specific themes or plugin widget areas quickly.
The plugin offers both Classic Editor and Layout Blocks for inserting widgets. Additionally, the Widgets Bundle comes with full integration with the Block Editor, available through the SiteOrigin Pagebuilder.
One of the bundle's most prominent features is the ability to display Carousels with any video, text, multimedia, or other content. It also offers a list of features displayed with an icon next to each, making it visually engaging for users.
The widget's button style can be easily adjusted to fit your website's overall design, allowing users to create contact forms effortlessly and keep intense information confined to a small space.
Key Features:
Compatible with major SEO plugins
The live widget search interface
Offers both Classic Editor and Layout Blocks
Comes with full integration with the Block Editor
Users can create contact forms with ease
Intense information can be confined to a small space.
New Visual Editor widget Type Plugin for WordPress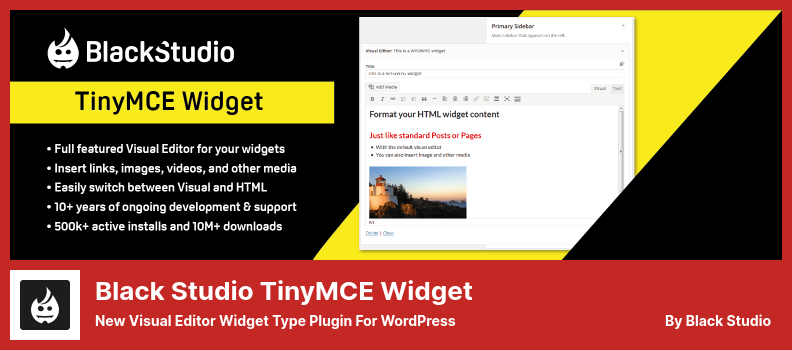 Black Studio TinyMCE Widget is a powerful plugin for WordPress that not only allows you to add widgets to your sidebar but also the addition of multiple media files to your repository.
With this plugin, you can add images, videos, and other media to your blog posts or webpages using WordPress Media Library, with the option to link to existing WordPress pages or posts or external sources.
One of the key benefits of the plugin is its ease of use. While working on a document, you have the option to switch between Visual mode and HTML mode.
This allows developers to easily create content in WordPress' visual editor. The plugin offers the ability to use shortcodes, smiles, and embedded previews in the widget text as well as support for these features.
Accessibility mode is another important feature of the plugin. This mode makes it very easy to insert rich text widgets into your sidebars, without needing to have any advanced knowledge of HTML. Developers will appreciate the distraction-free editing mode, making it easier to modify the theme.
The plugin provides WYSIWYG editing capability for the widgets in the sidebar. This means the widgets will look the same in the editor as they will on your website.
With Black Studio TinyMCE Widget, you'll be able to edit widgets and any other element of your site as if it were the native TinyMCE editor on WordPress. In Customizer, users are able to preview and edit their customizations in real-time.
Key Features:
Switch between Visual mode and HTML mode while working on a document
Use shortcodes, smiles, and embedded previews
Makes it very easy to insert rich text widgets into your sidebars
Add images, videos, and other media to your blog posts or webpages
Link to existing WordPress pages or posts or external sources
WYSIWYG editing capability for the widgets in the sidebar.
Business & Technology Idea Sharing Plugin for WordPress

Using Blog Designer Pro, you can easily create beautiful and informative blogs for your website. There are more than 50 custom-designed templates to choose from, so it's easy to create your own blog. Besides that, you can customize the look and feel of your blog with the plugin's color, font, and other layout options.
One of the most appealing features of the plugin is its simplicity. Even if you are new to website development, this plugin is designed to be easy to use. And, with the option to customize your templates, it gives you an intuitive and engaging way to showcase your blog content.
Say goodbye to boring and unappealing blogs that don't attract customers. The plugin increases traffic by making your blog more visually appealing, which can help drive sales and engagement on your website.
Other noteworthy features include the ability to display posts according to categories and tags, which has never been seen before. Plus, it's possible to showcase your content using a slideshow slider, making your posts more interactive and engaging.
If you want to keep your viewers updated on the latest industry news, Blog Designer Pro provides the perfect platform. With a variety of categories and styles to choose from, your visitors will be drawn to your website for new products, tutorials, and much more.
Key Features:
Customizable blog templates
Increases website traffic and engagement
Displays posts by category and tag
Offers a slideshow slider for interactive content
Provides updates and news on the latest industry trends
Intuitive layout customization options.
A Better Search Engine Replace Plugin For WordPress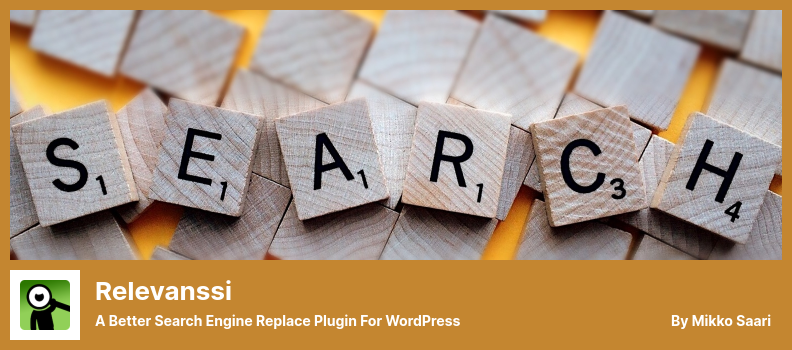 Relevanssi is a smart search tool with a customizable menu and searches results based on relevance rather than date. It allows for PDF document searching, multiple website searching, and the addition of custom fields. The weighting of titles, tags, and comments can also be adjusted.
One of the standout features of the plugin is the ability to match partial words if their complete counterparts are not an exact match using fuzzy matching. Quotation marks can also be used to search for phrases within quotations.
The search results are organized by the plugin, and users can see the search terms when they click on a search result. Custom excerpts can be used to show the location of the hits alongside the corresponding search terms.
It's important to note that Relevanssi can consume up to hundreds of megabytes of database space, which may cause issues on some hosting plans if you don't have enough space for your database tables.
However, it's possible to log queries, show the most popular queries, and restrict searches to categories and tags using a hidden variable or the plugin settings.
Key Features:
Flexible search with customizable weighting
Fuzzy matching for partial words
Quotation mark searching for phrases within quotations
Custom excerpts for showing the location of the hits
Logging queries and showing popular queries
Restricting searches to categories and tags.
Instagram Posts Displayer Plugin For WordPress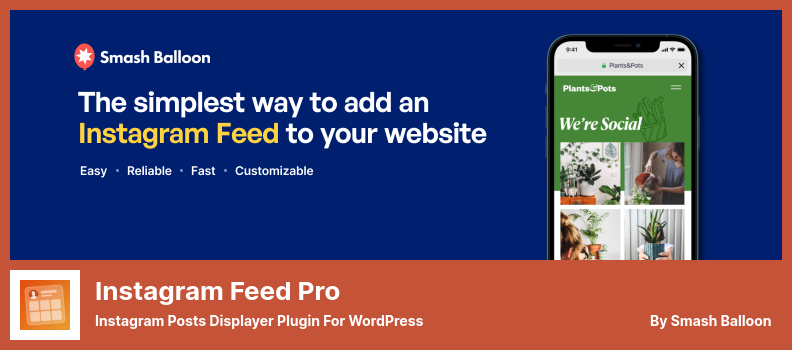 With Instagram Feed Pro, website owners can showcase one or more Instagram feeds in any format they like. WordPress blog owners can attract new followers to their accounts and build a stronger community if they integrate custom Instagram feeds into their blogs and position them strategically.
The plugin is easy to set up and use and allows you to display images simultaneously from various Instagram accounts. It is fully responsive and device-agnostic, so you can display it on any device.
Upgrading to the pro version gives you access to more advanced features, such as a lightbox on your screen, specific hashtags for each post, or the ability to view likes and comments.
This allows you to develop an Instagram marketing strategy for your business and keep your Instagram followers engaged at all times. The site's content can be automatically updated from Instagram, so it is always up-to-date. Your website will automatically display your Instagram photos, saving you time.
Key Features:
Attract new followers to your account
Develop a stronger community around your brand
Customize Instagram feed features
Display images from multiple Instagram accounts simultaneously
Develop an Instagram marketing strategy for your business
Keep your followers engaged at all times.
Drap & Drog Photo Gallery Plugin for WordPress
Envira Photo Gallery is a user-friendly and intuitive WordPress plugin that allows you to create stunning photo galleries and video albums without any coding knowledge. It is responsive, SEO-friendly, and social sharing ready.
Additionally, the plugin uses watermarks on your images to protect them from theft and includes a fantastic range of features like pagination and Instagram feed imports, among others.
It also includes deep linking, which means your gallery and images rank higher in search results. Visitors can link directly to individual images within a gallery using the links provided by the plugin. This is a great way to speed up your page, improve user experience, and increase your gallery's traffic.
This plugin enables you to add videos from multiple sources like YouTube, Vimeo, and Wistia, to your video gallery, and display them in a professional manner.
Additionally, you could choose your most attractive photo as a cover photo and share your photos on social media sites such as Facebook, Twitter, and Pinterest.
Key Features:
Built-in pagination and Instagram feed imports
Drag-and-drop gallery creator

Watermarking feature for image protection

Share photos on

social media sites

.

Gallery element available in the Elementor page builder
Deep linking for search engine optimization
WordPress Popups for Optins, Email Newsletters and Lead Generation
Popup Builder by OptinMonster is a plugin that allows you to create highly customized pop-ups or sidebar widgets that collect information from your visitors.
With its quick and easy pop-up maker, you can create email subscription forms, announcement bars, spin-a-wheel forms, and gamified pop-ups for your site in just a few minutes.
In addition, the desktop popup maker of the plugin allows you to create mobile-specific pop-ups, which will only be displayed when the user has a mobile device. This is especially useful when promoting mobile app downloads or special offers to mobile users.
The integration of the plugin with email marketing services such as HubSpot and MailChimp also brings in all the necessary contact information of your existing list of contacts, making it easier for you to manage everything in one place.
Using the drag-and-drop builder, you can easily customize forms according to your preferences and design them from scratch or choose from the free templates.
Key Features:
Gamification coupon wheel for a higher conversion rate
Add scroll boxes for product categories, related posts, and coupons
Create beautiful popups for WooCommerce.
CRM, Email Marketing, Live Chat, Forms & Analytics Plugin For WordPress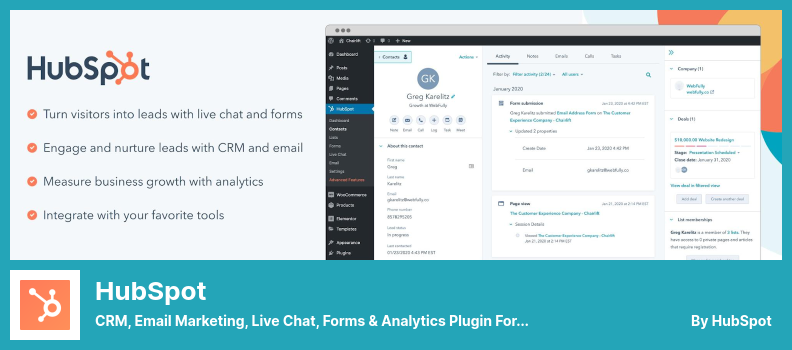 HubSpot is an all-in-one platform with tools for marketing, sales, and customer service. The platform is powerful individually, but the real magic happens when they are combined.
With the plugin, you can easily maintain relationships with your customers, engage users with live chat and chatbots, integrate forms into your website, and create email marketing campaigns using the all-in-one WordPress plugin.
Hubspot's CRM is an indispensable tool for any business looking to grow. It stores all your customer data in one place and provides a 360-degree view of your customers. The CRM can automate marketing, sales, and customer service processes, ensuring that you never miss an opportunity.
With this plugin, you and your teams will have a complete overview of the customer interactions on the site, making it easier for everyone to work together to resolve any issues they may encounter.
With the plugin, you can store all your data in one location. Integrating with OptinMonster and MailChimp, you can access all customer information, as well as information about newly acquired prospects.
It is convenient to use this plugin because you will not have to move data from one software tool to another, which makes life for the individuals who are considering using it easier.
Frequently Asked Questions
What are WordPress widget plugins?
WordPress widget plugins are add-ons that can be installed on a WordPress website to add extra functionality to its sidebar or footer areas. These plugins allow users to easily add features such as social media icons, contact forms, image galleries, and more to their website's layout.
How can WordPress widget plugins benefit a website?
WordPress widget plugins can benefit a website in many ways by adding extra functionality, improving user engagement, and enhancing the website's design and aesthetics.

These plugins can also help users save time and effort by reducing the need for manual coding or design work and can help improve the website's overall performance and speed.
Conclusion
In conclusion, we've covered the 8 best WordPress widget plugins, both free and pro. From customizing your sidebar to boosting your social media presence, these plugins offer a range of functionality to enhance your website's user experience.
If you're interested in more related tutorials, be sure to check out the BetterStudio blog. And don't forget to follow us on Facebook and Twitter to stay up to date with the latest WordPress tips and tricks.
Thank you for reading this article. If you have any questions or problems with implementing these plugins, feel free to leave a comment below. We are always here to help!