Are you a WordPress website owner in search of the best lightbox plugin to enhance your user experience? Or perhaps you're wondering what exactly a lightbox plugin is and why it's important for your website?
Well, you've come to the right place! In this blog post, we'll be diving into the world of WordPress lightbox plugins and recommending the top eight options available in both free and pro versions.
Now, you might be asking yourself, why do I even need a lightbox plugin for my WordPress website? Well, here's an interesting stat for you: studies have shown that websites with lightbox functionality see a significant increase in user engagement and conversion rates.
By displaying images, videos, or even entire galleries in an overlay box that pops up when clicked, lightbox plugins allow your visitors to focus on the content without any distractions. It's like giving your website a professional touch and ensuring that your media content shines.
So, what can you expect from this article? We'll be exploring the top eight WordPress lightbox plugins that are not only highly rated but also packed with features to bring your website to the next level.
Whether you're looking for a free option or willing to invest in a pro version, we've got you covered. So, sit back, relax, and get ready to discover the perfect lightbox plugin for your WordPress website.
Best Lightbox Plugins for WordPress
If you're looking to enhance your WordPress website with stunning image galleries and interactive media displays, you'll definitely want to check out our selection of the best WordPress Lightbox plugins.
These plugins offer a seamless and elegant way to showcase your images, videos, and other media content, adding a touch of interactivity and sophistication to your website. So, let's dive in and discover the amazing features and benefits these plugins have to offer!
Create Beautiful Galleries, Customize Them, and Add Your Preferred Styles in Minutes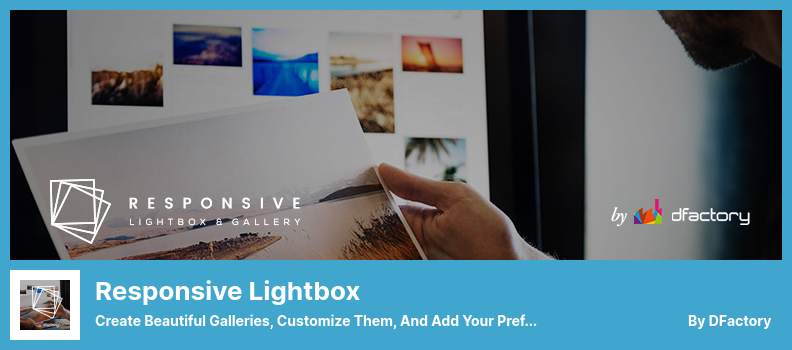 Responsive Lightbox is a WordPress plugin that allows you to create stunning lightbox effects for different mobile devices. With this plugin, you can display your images, galleries, videos, and audio sources in attractive lightboxes that enhance the user experience on your website.
Users have generally found this plugin to be enjoyable and effective, although it's worth noting that the support team may sometimes take a while to respond if you encounter any difficulties. Nonetheless, the plugin is one of the most popular options available for creating lightboxes in WordPress.
This plugin has seven different lightbox scripts so you can choose which layout and experience you want. One of its biggest selling points is its versatility. With these lightboxes, you can brand them to match your website's theme, making your presentation cohesive and visually appealing.
Among its features, it lets you showcase multiple images in an organized manner by displaying images from individual posts as galleries. In addition, lightboxes can also show the title, description, caption, alternate text, and description of an image, so your visitors know a little more.
Another useful feature of this plugin is the ability to enter a selector for the lightbox. This allows you to designate specific elements on your website that will trigger the lightbox effect when clicked, giving you more control over the user experience.
Aside from that, Responsive Lightbox lets you customize the size of native WordPress gallery links, so your lightbox goes together seamlessly. Those using WooCommerce will be able to use this plugin, so they'll be able to show their products in an eye-catching way.
Key Features:
Display images from individual posts in a gallery format
Show title, description, caption, alternative text, and description of images
Enter a selector for the lightbox effect
Modify the size of native WordPress gallery links
Compatible with WooCommerce
A Very Simple and Customizable Lightbox That is Easy to Add to Your WordPress Website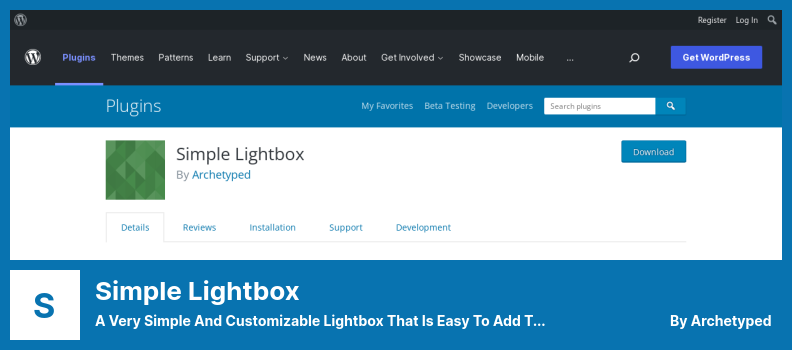 Simple Lightbox is a free WordPress plugin for adding light boxes to your posts and pages easily. It has a nice user interface and works well in general. It lets you customize your lightbox and email newsletters so your audience knows what you're talking about.
With this plugin, you can customize it to fit your website's design and style. You can also make your lightbox mobile-friendly, so it's easy to view on any device. Add it to posts, pages, widgets, top menus, and categories on your website to customize it to your specifications.
Using this plugin, you can display images individually or as slideshows. You can customize the visual experience by setting transitional effects, animation, slide show speeds, and overlay opacities. Links can also be inserted into widgets and grouped for a slideshow effect with this plugin.
Another handy feature of the plugin is the keyboard navigation feature, which allows users to navigate through the lightbox using their keyboard, making it easier for those who prefer not to use a mouse.
As an additional benefit of this plugin, it also provides additional context for your images, such as descriptions and captions, which can give you a better understanding of your pictures.
Key Features:
Designs combining darkness and light
Grouping links for a slideshow
Keyboard navigation feature
Insert links into widgets
Amazing pre-built themes
A Stylish Premium WordPress Lightbox Plugin
FooBox is a great WordPress plugin that creates a visually stunning and socially friendly method of managing the media on your website, making sure your users are able to experience the full potential of your website.
In addition to embedding seamlessly with most popular media gallery plugins, such as Envira Gallery, NextGEN Gallery, and Jetpack, it also works with the Genesis Framework.
In addition to this, each lightbox contains the tools for visitors to share images on social media networks by simply clicking on them. This makes it easy for visitors to share images on social media networks with a few clicks of the mouse.
It also offers a range of responsive and visually appealing effects that are sure to capture the attention of anyone who lands on your site. Plus, you have the flexibility to customize each element to perfectly match your theme's design.
The plugin consists of a JavaScript and stylesheet that provide easy access to turn on and off specific options according to your preferences. You can even add a unique element to catch the attention of your users.
Key Features:
Watch YouTube and

Vimeo videos

directly in the lightbox

Access to Metabox for easy management of your media
View various HTML content in the lightbox, including tables, etc.
Display WooCommerce product images as lightboxes
a Tool That Permits Viewing Photos Videos in Real Large Sizes With a Unique and Interesting Design
WordPress Lightbox is a powerful tool that allows you to effortlessly activate a lightbox effect on your WordPress website. With this plugin, you can easily customize the style, speed, and settings for overlay closure, as well as set up looping for slideshows.
However, these features are only available in the basic version of the program. If you want to unlock the rest of the features and numerous advanced settings, you'll need to upgrade to the pro version.
One of the standout features of the plugin is its contemporary design capabilities and the array of useful settings it provides. Even in the free version, you'll find a limited range of features that can greatly enhance your website.
One such feature is the highly adaptive display, which automatically adjusts the layout of the page based on the device it's being viewed on. This ensures that your website remains mobile-friendly and accessible to all users.
When it comes to displaying your images, it offers seven different types of lightboxes to choose from. This allows you to select the perfect style that aligns with the overall design of your website. You also have the option to customize the lightbox to ensure it seamlessly integrates with your site's aesthetics.
In addition to these features, the plugin also offers the ability to add buttons for easy sharing of your images. You can choose from twelve different types of popups, giving you the flexibility to create engaging and interactive experiences for your visitors.
Furthermore, the plugin allows you to add watermarks to your photographs once they have been displayed in the lightbox, adding a layer of protection and branding to your images.
If you're looking to incorporate videos into your website, it has got you covered. The plugin allows you to stream links for popular platforms like YouTube and Vimeo directly within the lightbox, providing a seamless viewing experience for your visitors.
In terms of image display, the pro version of the plugin offers even more functionality. With this upgrade, you can view up to eight image frames instead of the three provided in the free version. This allows for a more immersive and visually appealing image browsing experience on your website.
You can use WordPress Lightbox to show off your photos the way you want on your website. It lets you share videos and stream videos, plus display your images adaptably and in a different lightbox style. You can customize and display images in more ways with the pro version.
Key Features:
Add buttons for easy sharing
Choose from twelve different popups for your images
Option to add watermarks to displayed photographs
Stream links for YouTube and Vimeo
View up to eight image frames in the pro version
WP Featherlight is a WordPress plugin that provides a minimalist lightbox feature for your images and videos. It is incredibly easy to use and requires no modifications. This plugin is so lightweight that it almost feels like it doesn't exist, but rest assured, it will enhance your website's user experience.
With the plugin, you can display your standard WordPress images and galleries in a simple and elegant lightbox popup. The best part is that you don't need to go through any complex configurations or setups. Just install the plugin, and it's ready to work its magic.
If you ever decide that you don't want to use the lightbox feature for specific posts or pages, the plugin gives you the option to disable it directly from the post editor. This way, you have complete control over when and where the lightbox appears on your website.
One of the standout features of the plugin is its remarkable support and developer team. They are always available to assist you and address any issues or questions you may have. You can rely on their expertise to ensure that your lightbox feature runs smoothly and seamlessly.
Throughout your website, you'll find various applications of the lightbox effect, thanks to WP Featherlight. Whether it's images, videos, important iframes, or other AJAX content, this plugin has got you covered. It produces stunning, large lightboxes that add a touch of elegance to your media.
Key Features:
Exceptional support and a dedicated developer team at your service
Select the "Link to Media File" option when uploading images or galleries
Disable the lightbox for specific purposes with ease
Various applications of the lightbox effect throughout your site
Allows You to Embed Videos On a Page Using Lightbox Overlay Display
WP Video Lightbox is a powerful plugin that offers an array of useful capabilities for WordPress websites. It not only allows you to display images in your lightbox but also supports videos, making it a versatile tool for showcasing your media content.
The Ultimate version of this plugin offers customizable settings, including the ability to customize the size, expansion, width, and height of each element. You can also adjust opacity and animation speed to create a visually appealing experience for your visitors.
There's even the option of loading YouTube videos, retrieving thumbnails, or turning off suggested videos. The main advantage is that it's able to handle a lot more video types than the basic plugin can. That way, you can control the playback experience and keep your visitors coming back.
Furthermore, along with its many features, the plugin also provides excellent customer support so that you may contact them with any questions or concerns you may have regarding its use.
The plugin is user-friendly and has a straightforward interface, making it easy to embed videos using shortcodes. By utilizing high-quality lightbox effects, your landing pages and sales pages will truly stand out from the crowd.
Key Features:
Embed media files with anchor text or anchor images
Excellent customer service for support and assistance
High-quality lightbox effects for visually appealing pages
Easy embedding of videos using shortcodes
Customizable settings for size, expansion, width, and height
Option to customize opacity and animation speed
A Simple and Powerful Plugin to Add Lightbox to Your Website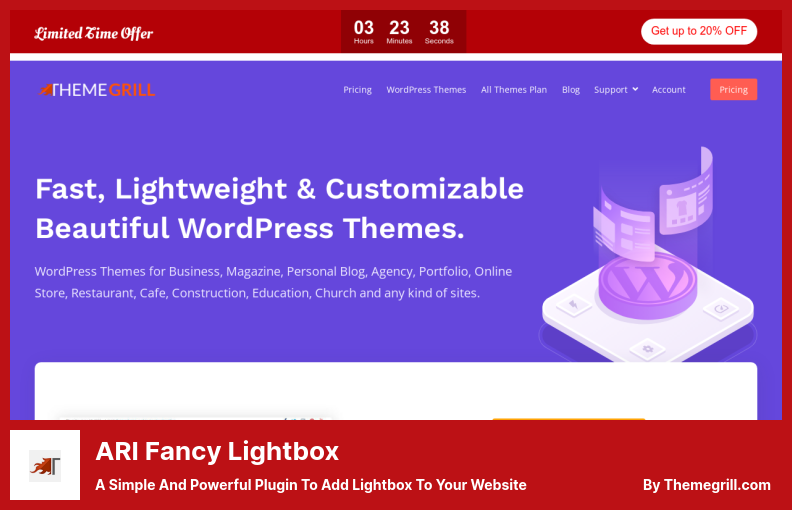 ARI Fancy Lightbox is an easy-to-use WordPress plugin that allows you to create stunning pop-up images, videos, and galleries without any coding knowledge. It seamlessly integrates with native and Jetpack galleries, giving you the option to display images in fancybox pop-ups.
What sets the plugin apart from other plugins is its social media features. With the addition of sharing buttons, you can easily make your website more social and increase its viral potential. This is a great way to encourage users to engage with your content and share it with their own networks.
Another impressive feature of the plugin is its compatibility with a wide variety of internet browsers. No matter what browser your users are using, they will be able to fully experience your pop-up content without any compatibility issues.
One of the key advantages of this plugin is its flexibility in displaying content. It allows you to display both custom HTML and web pages in the lightbox, giving you the freedom to showcase your content in a way that best suits your needs.
The plugin also offers the option to automatically open a lightbox when a page is loaded using shortcodes. This can be a useful feature if you want to draw immediate attention to a specific image, video, or gallery upon landing on a page.
Lastly, ARI Fancy Lightbox provides support for deep linking. This means that you can easily link directly to a specific image or video within a lightbox, allowing users to easily navigate to the content they are most interested in.
Key Features:
Social media sharing buttons for increased social engagement
Compatibility with a wide range of internet browsers
Ability to display custom HTML and web pages in the lightbox
Automatic lightbox opening using shortcodes
Support for deep linking to specific content within the lightbox
Ajax Loading Plugin for Post or Page Which Helps Users to Open WordPress Post or Page in a Lightbox Style

Quick View is a fantastic tool for WordPress websites that allows users to open post and page content in a lightbox style. Unlike some other tools, it is budget-friendly and offers various lightbox templates with amazing animation effects. It is also responsive and enhances the overall appearance of your website.
One of the standout features of the plugin is its modern and unique interface. It seamlessly integrates with Visual Composer, offering users a wide range of customization options. With dozens of different lightbox templates to choose from, you can easily find the one that suits your style the best.
Additionally, the plugin also allows the user to choose from three different sizes for the lightboxes, thus allowing them to select the one that best suits their content and displays it in an attractive manner.
Using it is a breeze, thanks to its compatibility with WordPress shortcodes. You can easily incorporate the lightbox feature into your blog posts, enhancing your visitors' experience. The collection of stunning animation effects adds a touch of interactivity to your content, keeping your audience engaged.
For those with coding knowledge, it provides the ability to create custom CSS and CSS selectors. This level of customization ensures that your lightbox perfectly aligns with your website's design and branding. On top of that, Quick View also offers access to the Back to Top button, allowing users to easily navigate your content.
Key Features:
Custom CSS and CSS selectors
Compatibility with Visual Composer
Wide selection of lightbox templates
Four different sizes of lightboxes
Integration with WordPress shortcodes
Stunning animation effects
Frequently Asked Questions
What is a lightbox plugin?
A lightbox plugin is a tool that adds a responsive and user-friendly image and video viewing experience to your WordPress website.

It allows you to display images and videos in a modal or overlay window, providing a cleaner and more engaging way for your visitors to view your media content.
Why should I use a WordPress lightbox plugin?
Using a WordPress lightbox plugin can enhance the visual appeal and functionality of your website. It provides a sleek and modern way to showcase your images and videos, making them more interactive and captivating for your audience.

Additionally, lightbox plugins often offer customization options, allowing you to personalize the appearance and behavior of the lightbox to match your website's style and branding.
What are the benefits of using a premium lightbox plugin?
Premium lightbox plugins often provide more advanced features and extensive customization options compared to free plugins.

They may offer additional animations, transition effects, and layout options, allowing you to create a more unique and visually appealing lightbox experience for your visitors.

Premium plugins also typically come with dedicated support from the plugin developers, ensuring that any issues or questions you have are promptly addressed.
Conclusion
In conclusion, we have explored the top eight WordPress Lightbox plugins, both free and pro, to enhance the functionality and aesthetics of your website. These plugins offer a range of features and customization options, making it easy to find the perfect fit for your needs.
If you want to dive deeper into WordPress tutorials and learn more about optimizing your website, be sure to check out the BetterStudio blog. There, you'll find a wealth of resources and guides to help you make the most out of your WordPress experience.
To stay up to date with the latest tutorials and tips from BetterStudio, be sure to follow us on Facebook and Twitter. We regularly share valuable insights and updates that can help you stay ahead in the WordPress world.
Thank you for taking the time to read our article. We hope it has provided you with valuable information and insights. If you have any questions or need further assistance, please don't hesitate to ask in the comments section below. We're here to help! Happy WordPress-ing!