Do you need the best WordPress plugins for Lightbox?
To help you do that, we reviewed a number of best WordPress plugins and selected the best Lightbox WordPress plugins. Our plugins have the best features, support, and user-friendly interfaces, and are compatible with all the latest WordPress themes.
Here is a list of WordPress plugins for the lightbox. These WordPress plugins can also be used for Responsive Lightbox, Lightbox Popup, Video Lightbox, and many more.
As a result, we present you with the best WordPress Lightbox plugins in 2022:
Create Beautiful Galleries, Customize Them, and Add Your Preferred Styles in Minutes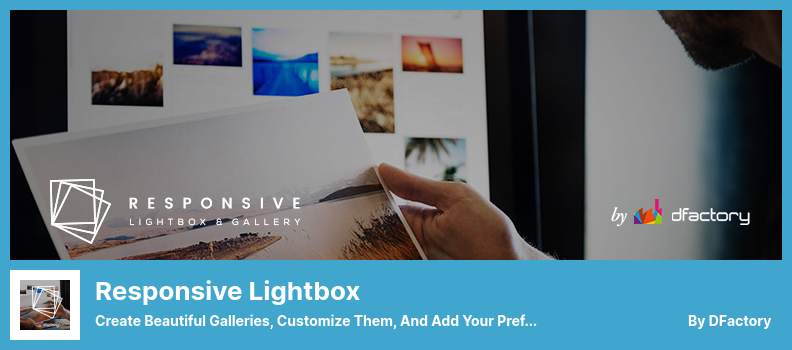 Responsive Lightbox is one of the most popular options available for creating lightboxes on WordPress, which displays your photographs in an enhanced or larger format within a new window or tab.
You will be able to create different lightbox styles for different types of mobile devices using this plugin.
Using this tool, you can display images, galleries, videos and audio sources in boxes, or pop-up lightboxes with superior quality on any platform. You have a choice of seven different lightbox scripts, depending on the layout and user experience you are seeking to achieve.
Lightboxes are customizable and can be branded to match your website's theme, so that they are cohesive with the appearance of the site.
In general, users seem to enjoy the plugin, however, if you are having difficulties, you may need to wait some time for the support team to respond.
---
💵 You can also download the Free version of this plugin.
Key Features:
There is an option to display images from an individual post in a gallery
Lightboxes can display title, description, caption, alternative text, and description of an image
There is an option to enter a selector for the lightbox
There is the possibility of modifying the size of native WordPress gallery links
Compatibility with WooCommerce is designed
Random Reviews:
It was surprisingly hard for me to find a simple and nice photo gallery where I can see a light box after clicking the main picture. I tried at least ten different ones and none worked like I expected. Thanks to you we have found what we need!

I have tried a lot of plugins for image galleries, even very expensive ones. Then I found this which is very useful, easily usable with the standard wordpress gallery and above all free, in its basic functions, which are many.

It has become my go-to solution these days
A Very Simple and Customizable Lightbox That is Easy to Add to Your WordPress Website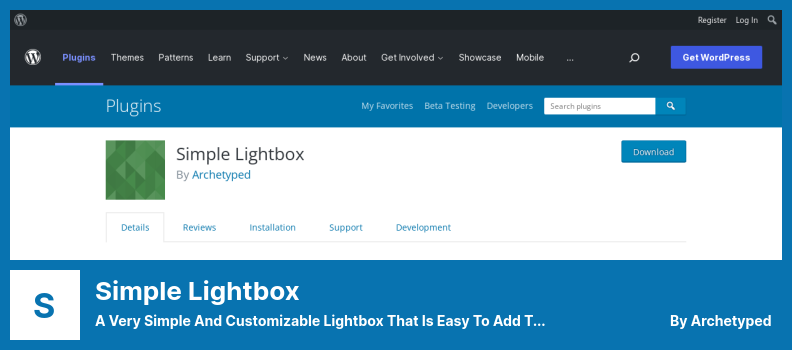 Simple Lightbox is another free plug-in rated rather highly based on most reviews because it offers both an easy and quick way of adding a lightbox to your posts and pages. It does provide a decent user experience and in general, works well enough.
Additionally, the lightbox can be customized to match the style and design of your website. It incorporates a mobile-responsive nature that allows it to be viewed on any device, and it can be customized to suit your specifications.
In addition, you can add the lightbox to everything from posts to pages to widgets; from menus to categories, from the homepage to widgets. Also, you can display images alone or in slideshows and set transitional effects and animations, slideshow speeds, and overlay opacities.
Moreover, you will have unlimited options with add-ons to help you create eye-catching lightbox images and email newsletters that will dazzle and impress your audience
---
💵 You can get this plugin for Free.
Key Features:
Links can be inserted into widgets
Themes are pre-built and amazing
Designs that combine light and darkness
The option of grouping links and playing a slideshow
The keyboard navigation feature is available
Shows metadata for a media file such as description, caption, etc
Random Reviews:
I was unable to get it to display images on WordPress 5.8.3en_au using PHP 7.4.27.

Nice lightbox, almost no configuration. Works great with my current theme, still a 100 score on Google Pagespeed. Thanks!

It works with some custom post types and post formats too thanks to the developer's help. Just some options, then a click to show any image as a lightbox!
A Stylish Premium WordPress Lightbox Plugin
An excellent plugin from FooPlugins is the FooBox plugin, that creates a smooth user interface to display your media in a socially friendly manner. By socially friendly, they mean that each lightbox includes share icons, allowing you to share images easily on social media.
The plugin comes with a set of responsive and visually stunning effects that will capture the attention of anyone who enters your site. There is also the option to customize each element to perfectly match your theme's design.
Whether you are using WordPress' media gallery plugins on your site or not, you can apply this amazing tool to them as well since FooBox has been designed to be a compatible plugin with some of the most popular ones, including Envira Gallery, NextGEN Gallery, Jetpack, etc.
It consists of a Java script and stylesheet that provide comfort of access, to turn on and off each option to suit your preference or to add a unique element to catch the attention of your users.
---
💵 You'll always be able to update the plugin for free for 12 months after purchasing FooBox plugin for $29.
Key Features:
Images for WooCommerce products can also be displayed as lightboxes
Viewing videos from YouTube and Vimeo videos is possible in the lightbox
Provides access to Metabox
It is possible to view various HTML content in a lightbox, including tables, bulleted lists, and numbers
a Tool That Permits Viewing Photos Videos in Real Large Sizes With a Unique and Interesting Design
Additionally to its contemporary design capabilities and nuances with also numerous useful settings, WordPress Lightbox which is just an outstanding tool comes with a free but great version that provides a limited range of features.
Activating the lightbox, selecting the style, speed, settings for how to close the overlay, and setting the loop for slideshows are all limited to the basic version of the program. The rest of the features and numerous settings are only available in the pro version.
It presents a highly adaptive display that inverts the layout of the page according to the device on which it is being displayed. This remarkably important feature enhances the mobile friendliness of the site.
Choose from seven different types of light boxes to make your images pop up. You can adjust the lightbox so that it fits with the design of your website.
---
💵 No worries at all, as this plugin comes with complete documentation and 24/365 support. You can get it for $15.
Key Features:
The ability to add buttons for sharing
There are twelve different types of popups that can be applied to your images
Watermarks may be added to photographs in the lightbox once they have been displayed
The ability to stream links for YouTube and Vimeo
It is possible to view up to eight image frames in the pro version, as opposed to three in the free version
You will never find a plugin so simplistic and useful as WP Featherlight. It is a jQuery plugin that is so lightweight you would almost assume it does not exist. Basically you just need to install it to make it work.
You will then be presented with a minimalist lightbox that automatically opens your images and videos. This lightbox cannot be modified in any way, but the point is that it is very easy to use.
Using this outstanding tool, all standard WordPress images and galleries can be displayed as a simple lightbox popup for viewing. It nicely does not require any configuration, so its installation should not require any additional setup.
Should you not wish to display a lightbox, the post editor provides the option of disabling it on individual posts or pages. It produces a stunning, large lightbox for your images and allows you to lightbox videos, iframes, and other AJAX content.
---
💵 It is FREE. There is no charge.
Key Features:
Whenever you are uploading an image or a gallery, you will be able to select the Link to Media File option
There is the possibility of disabling the lightbox for specific purposes
An incredibly amazing support and developer team that are always there for you
Throughout the site, various applications of the lightbox effect are used
Random Reviews:
* It is exactly what it promises, as light as a feather.

It's not full of options, but it does the job well and without bloat. When I need it, it just works. Thanks for sharing it and for the continuous updates.

I have just tried a few different lightbox plugins, all of which failed to work and had 100's of options. After looking at featherlight and integrating it directly, this one popped up and I am happy to report 'it just works.' Thanks for sharing this!
Allows You to Embed Videos On a Page Using Lightbox Overlay Display
In addition to the free WordPress Lightbox Plugin mentioned above, there is WP Video Lightbox which allows you to not only display images in your lightbox, but also use videos. And for a free plugin, it is quite user friendly and decent as well.
Its primary advantages include the ability to perform tasks such as loading YouTube videos, retrieving thumbnails, and disabling suggested videos. Additionally, you can set it to auto-play videos in a lightbox.
In addition to the above capacities, you may also customize the size, expansion, width and height of each element using the plugin, in addition to customizing opacity and animation speed.
The Ultimate version of this great plugin features an array of useful capabilities, including several customizable settings, and it works with a variety of video types that the basic version of this tool is unable to handle.
---
💵 Download the free Lite version or purchase the premium version for a small fee.
Key Features:
Embedding media files can be accomplished with anchor text or anchor images
Providing excellent customer service
By using high quality lightbox effects, your landing pages and sales pages will stand out from the crowd
It is easy to embed videos with the shortcodes
Random Reviews:
Could be improved for mobile a little, but still perfect for me, thanks!

A SyntaxError occurred: uninitialized token ';'

Plugin does not support mobile devices, i.e., it looks bad on a mobile device. Beware implementing this plugin and then being disappointed by the mobile appearance of the plugin.
A Simple and Powerful Plugin to Add Lightbox to Your Website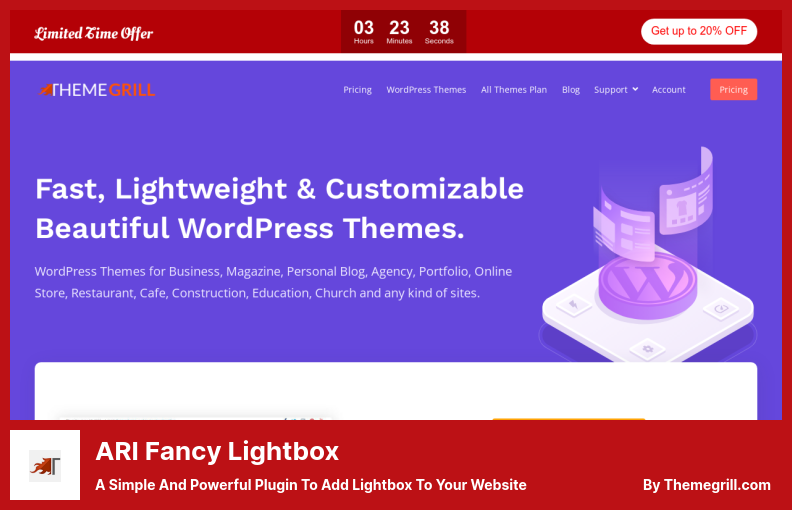 Our list of the best WordPress lightbox plugins includes the ARI Fancy Lightbox plugin because of its social media features. It also provides a substantial set of customizable settings, making it an excellent choice for our list.
With a responsive design that accommodates all types of device screens, your users remain engaged with your content.
It is extremely easy to use and almost anyone can navigate it without requiring any additional modifications. It supports images, videos, and other major gallery plugins capable of playing videos, without requiring additional coding.
Following your purchase of this plugin, you will be entitled to support for six months, following which you will need to renew your subscription.
A fancybox pop-up is displayed for images taken from native and Jetpack galleries tiled, circle. After installing the plugin, images in galleries will appear in fancybox pop-ups.
---
💵 Plugin charges $12 and includes 1-year of updates and support.
Key Features:
The addition of sharing buttons and social features makes websites more social and viral
Compatibility with a wide variety of internet browsers
Lightboxes may display both custom HTML and web pages
A lightbox can be opened automatically when a page is loaded by using shortcodes
Provides Support for deep linking
Ajax Loading Plugin for Post or Page Which Helps Users to Open WordPress Post or Page in a Lightbox Style

With Quick View, we offer yet another awesome premium WordPress lightbox that we really adore. This plugin allows your users to open your post and page content in a lightbox style. It is fast, efficient, and will enhance your website's appearance.
visitors can easily open WordPress pages and posts using a lightbox without being taken to another page. This is a useful feature that should be included in your blog posts. It can enhance your visitors' experience and can be a totally game changer.
There are many different types of lightbox templates available; you can select the one that suits your style the best. In addition to that, these templates have amazing animation effects that you can add. Also, they are responsive and wonderful.
The only downside for this amazing tool is that the developer team does not update and support it much frequently which can be an issue for some users, but mostly it is fine. However, unlike some other tools like FooBox it is not so costly and expensive.
---
💵 With $15 comes 12 months of free support and updates.
Key Features:
Interface that is modern and unique
The elements of Visual Composer are available
There are dozens of different Lightbox templates available
The ability to pick from four different sizes of lightboxes
Suitable for use with WordPress shortcodes
A collection of multiple stunning animation effects
Custom CSS and CSS selectors can be created
Access to the Back to Top button is available
Random Reviews:
My dear! My dear! Thank you! I was looking for this kind of functionality since 2 years and finally I found Quickview. It works very well… the CSS is great to customize.. and the support is fast. It's the best plugin I've bought in this marketplace, works perfectly, no conflicts… smooth and elegant ! Keep up the good work!

It's great!

There is no documentation and no support for the product
Plugins for Lightbox for WordPress: Final thoughts
You can use these Lightbox WordPress plugins in a variety of ways to increase your website traffic. Below is our list of what we think are some of the best plugins for Lightbox.
We hope this article will be useful to you. We regularly publish articles describing the best WordPress blog themes and the best WordPress plugins for bloggers, and these are often voted for, referred to, and shared by our audience.
It doesn't matter what the Lightbox plugin is that you have in mind, even then – leave a comment. You will be helping expand the scope of this read. Is it your goal to support us? Simply share this post on Facebook and Twitter or other social media accounts.