Do you want to find one of the best WordPress plugins to create the Request a Quote page?
This article will discuss the best WordPress plugins to create the Request a Quote page. You can select one that you and your potential shoppers will love. All the plugins listed here come with out-of-the-box features and possibilities. Other than that, they can all be used with all WordPress templates.
We'll show you the best WordPress Get a Quote, Instant Quotes Generator, and Quote Builder plugins so you can select one that you and your potential shoppers will love.
Let's check our decisions and suggestions for the best Request a Quote WordPress plugins in 2022:
Price Estimates And Quote Forms Tailored To Your Needs
Request a Quote for WooCommerce is one of best WooCommerce plugins developed by WooCommerce to create estimations and customized quotations. This feature allows your customers to add products to their quote basket just as they do when purchasing items from a shopping cart.
The process of adding products to the quote basket is similar to the process of placing an order in your shopping cart when using this instant quotes generator plugin.
In addition to B2C and B2B transactions, this plugin can also be used for retail and wholesale trades.
Request a Quote For WooCommerce plugin enables you to modify the message displayed above the quote submission button, the text of the quote button, and more.
It also enables you to modify the message displayed above the quote submission button, the text of the quote button, and more. After a customer submits their quotation request, redirection is possible to a specific page on your website.
---
💵 With this plugin support team, you will be able to accomplish your dream job, and you can get 12 months of support for only taking the plugin for $69/Y.
Key Features:
Price information can be replaced with custom text
More than one product can be added to a quote basket
Possible sorting of fields and making them mandatory or optional
Automatic email notifications for customers and administrators
Limitless fields for quotation submissions
Providing customers with the option of offering a price
Multi-Menu insertion for multiple quotes
Quote status (Pending, In-Process, or Cancelled)
The creation of an order from a quote
Make Your Dreams a Reality With Solution-Focused Forms
The formidable plugin is one of the best WordPress form builder plugins. As a result of its powerful features, it is ideal for creating online calculators.
The pricing field within Formidable is the essential element in creating an eCommerce solution. Furthermore, it works in conjunction with your existing WooCommerce products and extends the functionality of WooCommerce.
A multitude of other forms can be developed with Formidable Forms. If you wish to add a quiz to your WordPress website, you may find this helpful.
Formidable Forms offers both design tools and visual design tools so that you can customize the appearance of your form.
---
💵 Version Pro is paid, Version Lite is free.
Key Features:
Analyzing browser histories to determine which pages users have visited before submitting
Drag-and-drop functionality for easy use
Including a quote on the booking form
Advanced functionality
Quick and secure payment processing via Stripe, PayPal, etc
Random Reviews:
One of my favorite and most productive plugins.

Formidable Forms makes building forms simple and beautiful compared to other form builders. Excellent videos and documentation. More than a form builder**

A simple to use tool for creating effective and clear forms
Create Professional Quotes And Invoices That Your Clients Can Pay Online
Sliced Invoices is one of the best WordPress invoicing plugins that allows you to automatically invoice your customers and receive payments. You may be wondering, does it have something to do with the list of the best WordPress quote plugins?
Here's how we answer that question:
The plugin's payment capability allows clients to view and pay for quotes, and all client interactions can be monitored from the dashboard.
Even though it does not integrate with WooCommerce, it is a better fit for businesses that offer services than physical products.
Similar to Formidable, Sliced Invoices is also integrated with PayPal for credit card processing. But the free version does not support payments made via other payment providers, such as Stripe.
There is also a problem with the multilingual translation feature.
---
💵 Two versions of the program are available: $79/Y Pro and $79/Y Free Lite.
Key Features:
Complete invoicing and payment management capability
Optimum choice for contractors, freelancers, and other service-oriented businesses
Detailed reporting features and extensive visuals
Templates for quotes and invoices that reflect your business' branding
Assessing the income generated and the quotes received
Random Reviews:
It's easy to use, exactly what I needed. I've used it for months now with no issues. Thank you for making such a great plug-in.

I used Sliced Invoices before 2016, and have used the Premium Agency Bundle since 2016. Sliced Invoices is a very capable invoice plugin. It also has many premium add-ons available. I would recommend anyone seeking invoice functionality to try this plugin.

Other than that, the update to the 'add invoices' page is blank. Otherwise, the plugin is great.
Boost Customer Loyalty By Using Data-Driven, Agile Decision-Making
MakeWebBetter is another WordPress quotation plugin that lets you accept quotation requests. The plugin will allow you to add a quote request form to your WordPress website. The form will enable users to request a quotation for your services.
With the help of this get a quote for WordPress plugin, merchants can also offer multiple services through their quote forms. These services will appear in the Services field of your quotation form so that your customers may select them based on their personal preferences.
The user receives an automatic email confirmation when the form has been submitted. The quotation form is also available for use by guests. In combination, these features have positioned MakeWebBetter among the top WordPress quote builders.
Additionally, MakeWebBetter sends an email notification upon receiving a quote request, just as with the Request a Quote for WooCommerce.
---
💵 No charge is associated with it. It is FREE.
Key Features:
Redirect users to the appropriate page after they submit the quote form
Quotations can be given different statuses
The ability to enable/disable quote status and service taxonomy
Fields of the quotation form can be enabled or disabled
Boost Your Sales By Converting Unsure Clients Into Buyers!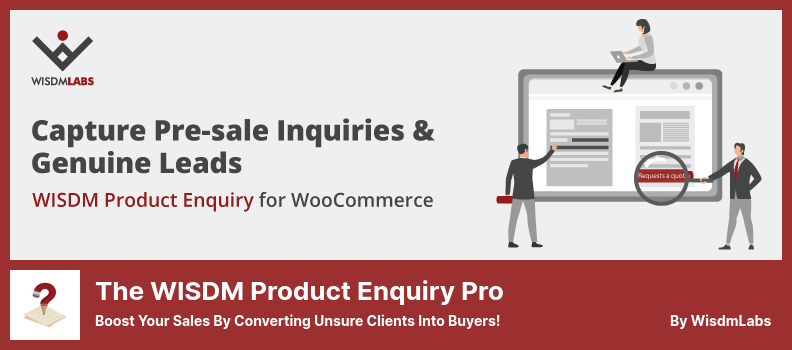 WISDM Product Enquiry Pro for WooCommerce is another excellent request for quote plugin. It is recognized as one of the most popular plugins for streamlining the process of automation and the selling of large items.
This can be accomplished by utilizing all the tools at your disposal to create and customize a quote request form, which can include CAPTCHA verification, file uploads, etc.
By completing the form, customers can request quotes for multiple items or variants of one item, along with generating an automated quote from within their WordPress dashboard; Thus, saving time and preventing them from having to leave the site.
However, it is essential to note that the premium version provides significantly more functionality than the free version; but it is considerably more expensive.
---
💵 It is free to download the Pro version, but you must pay for the Lite version.
Key Features:
Preparation and negotiation of purchase quotations
Learn more about the needs of your customers
Building relationships with genuine leads
Increase sales by converting uncertain customers quickly
Addressing the concerns and questions of customers
Random Reviews:
We needed some help with one of the plug-ins from WisdomLabs. They responded promptly and provided code snippets that helped us get our site up and running perfectly quickly. BIG THANK YOU TO YOU GUYS AGIN!!

Great plugin and excellent customer support, always reply me within hours of my request

Excellent plugin! Works perfectly.
Create Smarter Forms And Surveys With The Drag And Drop Form Builder
WPForms is a powerful form builder that allows you to create almost any type of form quickly and easily. To simplify your work further, you can use one of the pre-built templates, for instance, requesting a quote.
By using the Conditional Logic feature, you can display specific fields in response to the information provided by your clients. For example, you can show different options based on the service type selected by your customers.
The drag-and-drop interface and the infinite number of customization options make this plugin extremely easy to use. Also, you will have access to countless forms fields you'll need to create a comprehensive get a quote form without wasting time.
---
💵 Premium: $79/Y, Lite: $0
Key Features:
Forms that are tailored based on previous interactions with fields
Notifying you when visitors request quotes from your website
Notifying clients when their form has been completed
Customized forms can be created to match your brand
Collecting all the necessary information from your users with minimal effort
Form submission without reloading a page
Including fancy fields, such as multiple-choice, checkboxes, etc
Random Reviews:
It's very simple to use and set up

* Easy to use. Look good. Customizable.

Great plugin. Doesn't slow down my site in any way.
Manage Complex Wholesale Businesses With All The WooCommerce Extensions
Wholesale Suite enables you to provide customers with wholesale pricing and an instant quote, so they can place orders as soon as possible. It is compatible with various popular WordPress and WooCommerce themes and plugins.
It provides store owners with the ability to offer wholesale pricing to specific customers. In many respects, it is similar to Request a Quote for WooCommerce, which makes it a valuable feature for WooCommerce business-to-business sellers.
Plugins such as these are much-appreciated by wholesale customers, especially if you sell bulk items.
---
💵 There is a premium version that costs $297/Y and a free Lite version.
Key Features:
Compatibility with multiple websites
Themes of all types are supported
Changing the wholesale price text and role name
Compatibility with the WooCommerce CSV import and export tools
WPML provides translation services
Private stores and WooCommerce catalogs are supported
Disabling coupons for wholesalers
Aelia Currency Switcher, WPML Currency, and WOOCS support currency conversion
Wholesalers are informed of the retail price/hidden from them
Random Reviews:
Designed for wholesale use and easy to use…

With so many features and such great support, this plugin is excellent*br

The plugin works as I want for now. I am still experimenting with it, but so far I have had no problems. It looks straightforward to install and set up. We are just getting started with wholesale, and this plugin fulfills my need for the time being. They are an active team, and I receive information from them constantly.
Conclusion
Thanks for visiting Better Studio and reading the best Request a Quote WordPress plugins list. You can use these plugins to increase your site design and setting if you are an advanced webmaster.
We hope you liked this article and found it helpful.
Interested in starting to make money with your website immediately? Learn about the best plugins for bloggers and the best WordPress hosting services.
We would love to hear from you. If you have a comment or question about the presented plugins, you can let us know by leaving a comment. Please share it on Facebook, Twitter, or other social media if you enjoyed the article.