Have you ever wondered which WordPress plugin is the best for requesting quotes on your website? Well, you're in luck! In this blog post, we'll be discussing the 7 best WordPress Request a Quote Plugins for 2023, both free and pro options included.
According to a recent study, adding a request for a quote feature to a website can increase leads by up to 45%. So, if you're looking to boost sales and conversion rates, adding this feature to your website is definitely worth considering.
In this article, we'll take a closer look at the best WordPress Request a Quote Plugins available in 2023. We'll provide you with all the information you need to choose the best plugin for your website, whether you're looking for a free or a pro option. Let's get started!
Best Request a Quote Plugins for WordPress
If you are looking for the best quote plugin for your WordPress site, then look no further. Our list of the 7 best Request a Quote plugins (both free and pro versions) will help you find the perfect fit for your needs. Be sure to check out our top picks below!
Price Estimates And Quote Forms Tailored To Your Needs
Request a Quote for WooCommerce is a plugin that allows you to create customized quotations and estimations for your customers. With this plugin, your customers can add items to their quote basket and request a quote just as they would when purchasing items from a shopping cart.
The plugin comes with a variety of features that enable you to modify the message displayed above the quote submission button and the text of the quote button. You can also redirect your customers to a specific page on your website after they submit their quote request.
This plugin is perfect for B2B and B2C transactions, as well as for retail and wholesale trades. The process of adding products to the quote basket is similar to the process of placing an order using a shopping cart.
One of the standout features of the plugin is the ability to replace price information with custom text. This allows you to provide more detailed information to your customers about pricing. Additionally, you can add more than one product to a quote basket, and sort fields and make them mandatory or optional.
Automatic email notifications can be set up for both customers and administrators, and there are limitless fields for quotation submissions. Customers also have the option of offering a price, and multi-menu insertion for multiple quotes is possible.
Finally, you can keep track of the quote status, whether it's pending, in-process, or cancelled. And, the plugin also allows you to create an order from a quote.
Key Features:
Custom text for price information
Multiple products in the quote basket
Sorting and mandatory/optional fields
Limitless fields for quotation submissions
Multi-menu insertion for multiple quotes.
Make Your Dreams a Reality With Solution-Focused Forms
Formidable Form Builder is a powerful WordPress plugin that allows users to build forms and online calculators with ease. The plugin's pricing field comes in handy for creating eCommerce solutions that work in conjunction with WooCommerce products.
As well as this, there is also a plugin available that has been specifically designed for the creation of quizzes and offers both design tools as well as visual tools to make the process of customizing them much easier.
This plugin offers drag-and-drop functionality, making it easy to create forms quickly. Its advanced functionality includes analyzing browser histories to determine which pages users have visited before submitting a form. The inclusion of a quote on the booking form allows for easy quoting.
In addition, Formidable Form Builder provides quick and secure payment processing through popular platforms like Stripe and PayPal. This feature is perfect for businesses that require online payment processing.
Create Professional Quotes And Invoices That Your Clients Can Pay Online
Sliced Invoices is a powerful WordPress invoicing plugin that simplifies the process of invoicing your clients and receiving payments seamlessly. It is ideal for freelancers, contractors, and service-oriented businesses looking to automate their billing process.
Using the plugin, you will be able to create detailed reports that include detailed visualizations so you can get a clear picture of how your invoicing and payments process is going.
One of the standout features of the plugin is its ability to customize quotes and invoices according to your business' branding. This personal touch reflects your business' identity for a professional look. All the client interactions can be monitored from the dashboard, giving you complete control over the invoicing process.
The plugin boasts complete invoicing and payment management capability, making it an excellent fit for service-oriented businesses. It does not integrate with WooCommerce but is still a better fit for businesses that offer services than physical products.
One of the limitations of Sliced Invoices is the multilingual translation feature, which needs improvement. The plugin allows PayPal for credit card processing, but the free version does not support payments made via other payment providers, such as Stripe.
Key Features:
Detailed reporting features and extensive visuals
Payment capability that allows clients to view and pay for quotes
Automatic invoicing and payment management
Customizable templates for quotes and invoices
Ability to monitor all client interactions from the dashboard.
Assessing income generated and quotes received.
Boost Customer Loyalty By Using Data-Driven, Agile Decision-Making
The MakeWebBetter WordPress quotation plugin enables website owners to put a contact form on their website for their users to fill out to ask for a quote on the services that they offer.
There will be a quote request form added to WordPress websites using this plugin, which will allow you to ask for a quote for a wide range of various services offered by a merchant, all of which will be displayed on the website.
The quotation form also sends an email notification upon receiving a quote request, and users receive an automatic email confirmation when the form has been submitted.
This plugin allows merchants to redirect their users to the appropriate page after submitting the quote form, and quotations can be given different statuses based on their progress.
Furthermore, website owners can enable/disable quote status and service taxonomy, and fields of the quotation form can be turned on or off according to their preferences.
Key Features:
Quote status and service taxonomy can be enabled or disabled
Quotations can be given different statuses based on their progress
Fields of the quotation form can be enabled or disabled
Users can be redirected to the appropriate page after submitting the quote form
Email notification is sent upon receiving a quote request
Automatic email confirmation is sent to users upon submitting the form.
Boost Your Sales By Converting Unsure Clients Into Buyers!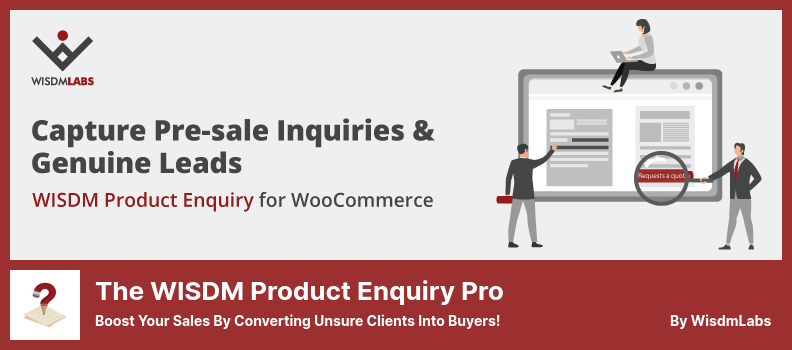 With WISDM Product Enquiry Pro, WooCommerce sites can request quotes with no hassle. With it, customers can ask for quotes for multiple products or variants of the same product and it streamlines the process of selling large items. It saves customers time and keeps them on your site all the time.
The premium version of the plugin offers significantly more functionality than the free version, including CAPTCHA verification and file uploads, to create and customize a quote request form.
Using this plugin will also provide you with the opportunity to learn more about the needs of your customers so that you can form relationships with them you become more aware of their needs and become more familiar with them.
One of the significant benefits of using this plugin is that it increases sales by converting uncertain customers quickly. By addressing the concerns and questions of customers, the plugin enables businesses to build trust and establish long-lasting relationships.
Key Features:
Prepares and negotiates purchase quotations
Helps to understand customer needs
Builds relationships with genuine leads
Increases sales by quickly converting uncertain customers
Addresses concerns and questions of customers
Provides a customizable quote request form.
Create Smarter Forms And Surveys With The Drag And Drop Form Builder
This is a WordPress plugin called WPForms which is a form builder that makes it easy for you to create any kind of form, whether it's a quote form, contact form, or survey form.
A drag-and-drop approach, pre-built templates, and extensive customization options are some of the features the plugin offers to make the form-creation process easy and efficient.
One feature that stands out in the plugin is a feature called Conditional Logic, which takes a set of rules and applies them to fields so they can adapt based on the user response based on the rules that the software has established.
Besides this, there is also a wide range of form fields right included within the plugin, which you can modify in whatever way fits your needs, so you can have an extremely high level of control over how your forms are displayed and what content is displayed on them.
Key Features:
Spam protection is provided
AJAX form submission.
Conditional Logic fields
Email notifications are provided
Customizable branding is available
Minimal user input
Manage Complex Wholesale Businesses With All The WooCommerce Extensions
Using Wholesale Suite, you will be able to provide your customers with wholesale price information, as well as a quote in an instant, which will allow them to place an order as soon as possible as soon as they find what they are looking for.
There are a variety of popular themes and plugins for WordPress, including the WooCommerce theme and the WordPress Comments theme. The plugin can be installed on a variety of different WordPress installations.
The plugin provides store owners with the ability to offer wholesale pricing to specific customers. In many respects, it is similar to Request a Quote for WooCommerce, which makes it a valuable feature for WooCommerce business-to-business sellers.
The plugins such as this are highly appreciated among wholesalers since they make it easier for them to sell large quantities of products to their clients, which makes it possible to generate a substantial profit.
Key Features:
Compatible with various websites
Flexible pricing and role name
Support for WooCommerce CSV import and export tools
Private stores and catalogs
Disabled coupons for wholesalers.
Frequently Asked Questions
What is a request for a quote plugin?
A request-a-quote plugin is a tool that allows visitors to your WordPress site to ask for a quote or estimate for a service or product. It's a great way to generate leads and capture potential customers who want to know more about your offerings.
Why do I need a request a quote plugin?
If you offer services or products that can't be priced easily, a request-a-quote plugin is a must-have. It allows potential customers to get in touch with you and ask for more information without committing to a purchase.
It also gives you an opportunity to connect with them and build relationships that can lead to more sales down the line.
What are the benefits of using a pro request a quote plugin?
A pro request a quote plugin can offer more advanced features, such as the ability to create multiple forms, customize fields and layouts, and integrate with payment gateways.
It can also provide better customer support and technical assistance. However, these may come at a cost, so you should evaluate your needs and budget before investing in a pro plugin.
Conclusion
To sum up, we have covered the top 7 WordPress plugins for requesting a quote on your website, both free and paid. Each plugin comes with its unique features, and it's up to you to pick the one that suits your needs best.
If you want to learn more about optimizing your WordPress website, be sure to check out the BetterStudio blog. We regularly post useful tutorials, tips, and tricks to help you get the most out of your website.
Don't forget to follow us on Facebook and Twitter to stay up-to-date with our latest tutorials and updates. And if you have any questions or run into any problems while setting up your website, let us know in the comment section below. Thank you for reading!