Have you ever struggled to manage your WordPress media library?
With so many files to keep track of, it can be challenging to find what you're looking for quickly. That's where WordPress media library plugins come in. But with so many options available, how do you know which ones are worth your time and money?
In this article, we'll take a look at the 9 Best WordPress Media Library Plugins of 2023, both free and paid, to help you make an informed decision.
We'll explore each plugin's unique features and benefits, as well as any potential drawbacks to consider. Whether you're a blogger, business owner, or anyone in between, these plugins can save you time and streamline your workflow.
If you're struggling to keep your WordPress media library organized and efficient, you won't want to miss this list of top media library plugins.
Let's dive in!
WordPress Media Library Folders & File Manager
FileBird is a WordPress plugin that helps users with the organization and management of media files, providing many useful options to its users. With this plugin, you can easily manage your media library and save yourself from the frustration and confusion created by disorganized files.
The interface of FileBird is integrated seamlessly with the WordPress backend, meaning that it has the same aesthetic as the WordPress platform, making it easy to use.
The plugin provides an intuitive folder structure that allows users to drag and drop media files into folders directly from the WordPress media interface, which is very similar to how one might organize their files on their computer's file manager.
FileBird also supports several popular audio, video, and image file formats, making it an all-in-one solution for managing media content.
It is compatible with various plugins like WooCommerce, Elementor, and WPBakery, and popular themes such as Divi builder and Publisher theme.
The free version of FileBird can be downloaded for free, allowing users to create numerous folders. However, there is a limit to the number of folders that can be created.
If you need more freedom in creating folders and file uploads, you will have to purchase the FileBird Pro version, which comes with unlimited folders and file uploads and 6 months of developer support.
Key Features:
In one ZIP archive, you can export the contents of an entire media folder, including its subfolders and files
Easily change the source folder of any file by placing it in the details portion of the modal
Ability to expand and collapse the sidebar with ease, giving you complete control over all WordPress media library folders
The tree view option also allows you to hide levels in addition to the hierarchical one
Drop or drag files into folders to upload them or bulk move them into folders
Select a specific folder or previously opened folder when the program starts
Most Complete Content Protector Plugin for WordPress
WPShield Content Protector is a must-have complementary plugin for WordPress media library to protect your website's media files from being stolen by unauthorized sources.
This plugin offers 15 built-in content protectors that safeguard all types of content, including text, video, audio, and source codes.
One of the unique features of this plugin is its ability to limit the right-click menu items, which enables you to disable options such as save as, view source code and inspect element. Although right-click is not disabled completely, there are several restrictions on it to prevent theft of your content.
Another exclusive feature of WPShield Content Protector is the ability to disable the Inspect Elements system. Inspect Elements is the primary tool for bypassing content protectors, but this plugin has an option that clears the site content if the developer tool is opened to prevent any copy of your site content.
This plugin also provides protection for your WordPress website's videos by eliminating the download button and hiding the URL of the video file location, ensuring that your videos are safe from being downloaded illegally.
WPShield Content Protector prevents site content from being printed in all possible ways. It allows users to use the print feature, but it adds a watermark on the printed content, protecting your valuable content from unauthorized printing or copying.
In conclusion, WPShield Content Protector is an all-in-one solution for WordPress media library protection because its the best WordPress content protection plugin.
Its unique features and built-in content protectors make it a must-have tool for website owners who want to protect their valuable content.
Key Features:
All-format content protection with 15 protectors
Compatibility with any WordPress theme or plugin
Exclusive feature to disable Inspect Elements system
Clears site content when developer tools are opened
Focused on protecting website content from spammers and hotlinking
Prevents loading of website content into iFrames on other sites
Advanced features and settings for customization
Comprehensive step-by-step documentation
Prevents stealing of traffic or creating security issues
Random Reviews:
I sell courses on my website and I did not want someone to be able to easily copy/paste my content using a right-click. This plugin did this as advertised. I recommended using right click limiter to allow visitors to right-click on links for opening in new tab. it disables the view source and copy in menu.

I use this photo protector for my photography and it kept all my photos from being downloaded. In the first week after I started using it, I received many emails from bloggers asking for image files, when I had not received even one email for a year before.
A Custom URL For Medias WordPress Plugin
WP Media Folder is a WordPress plugin that enables you to organize your media library using a real folder and media URL structure. It comes with a drag-and-drop interface that allows you to create a hierarchy of folders and subfolders with ease, making it an excellent tool for managing content.
The plugin offers a range of features that make it stand out from other media management plugins available in the market. First and foremost, it provides unmatched support behind the scenes, ensuring that you have all the assistance you need to manage your content effectively.
WP Media Folder also boasts stunning photo galleries and an embeddable PDF feature that allows you to set up your media presentation according to your preferences.
You can present your content in whatever manner you choose, making it a key tool in your arsenal if you are looking for an all-in-one media management solution.
With WP Media Folder, you can manage media files using virtual folders (custom taxonomies) available to the user in the WordPress Media Library.
The plugin creates real server folders based on these virtual folders when installed, enabling you to create a real media folder structure without the need for the WP Media Folder plugin (although integration with that plugin is optional).
However, before activating or using this plugin, it is essential to make a FULL BACKUP as it is designed to assist with a very sensitive WordPress core functioning. Overall, WP Media Folder is an excellent choice for anyone looking for a reliable and flexible media management solution for their WordPress site.
Key Features:
As new media appear in folders, they will automatically be added to the gallery
Media files can be dragged and dropped onto your site from the plugin
A gallery can be easily created from the media folders
Gallery image sizes can be specified
Media structure can be imported and synchronized with the JoomlaUnited plugin with this plugin
Huge Image Uploading Plugin For WordPress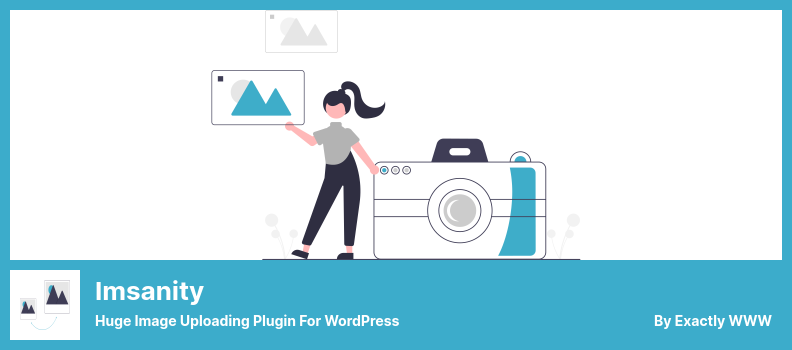 Imsanity is a powerful WordPress plugin that helps you optimize your images by automatically resizing them after uploading.
Large and bloated images can quickly eat up your storage space and cause your website to load slower. However, manually resizing each image can be time-consuming and wasteful. That's where Imsanity comes in.
This free plugin allows you to easily compress and resize your images based on their size and dimensions. Simply upload your files to your WordPress site, and the plugin takes care of the rest. If a contributor uploads an image larger than your standard size, Imsanity automatically shrinks it to fit.
One of the best features of Imsanity is bulk resizing. This means you can quickly and easily scale down a group of images without having to select them individually. This feature saves you lots of time and effort.
If you're looking for a way to optimize your website's images without spending hours resizing them manually, Imsanity is the perfect solution. It's easy to use, flexible, and free. Plus, it's compatible with most WordPress themes and plugins.
Key Features:
Each language from the different languages it supports will be automatically downloaded when you install the plugin
Set the maximum width and height of images as well as the JPG quality
Upload any image as a bulk resize, and it will be scaled automatically
Uploading large images will be automatically resized to a more 'normal' size
Provides the option of converting BMP and PNG files to JPG for even greater savings
Media Library Folder & File Manager For WordPress
Real Media Library is a WordPress plugin that simplifies media management on your website. With this tool, you can create folders that contain thousands of images for easy organization and accessibility. You can also embed collections of images directly into posts or pages for improved sharing.
This plugin provides a file manager that allows users to drag and drop files into the appropriate folder, making it easier to keep track of where everything is stored. If you need to store the same document in two different locations, you can use two folders or create shortcuts with Windows Explorer or Mac Finder.
Real Media Library also offers advanced filtering functions and automatically organizes files in ascending order in your library, making it more convenient to find what you're looking for. In addition, the plugin integrates with popular page builders, themes, and plugins like WooCommerce, WPML, and Polylang.
Overall, Real Media Library is an excellent choice for anyone who needs a reliable and efficient media management system.
It's compatible with many popular tools and provides a user-friendly interface that simplifies the process of organizing and sharing images on your website. If you're looking for a media library plugin, Real Media Library is definitely worth considering.
Key Features:
Drag and drop or using a criterion (for example, by arranging the folders in ascending order) can be used to rearrange folders
Use Gutenberg shortcode or Gutenberg block to create dynamic galleries based on the files within a folder
A single toolbar from which you can operate all your folders (create, rename, delete)
Sort folder contents manually or automatically using either drag and drop or criteria (e.g., A-Z)
Create shortcuts for files and folders in multiple locations, using a small amount of physical storage space
Unlimited Folders to Organize Media Library For WordPress
Folders is a free tool that allows you to create subfolders for different types of content, making it easy to organize and find files quickly. It is an excellent option for those who want to keep their website's media library well-organized and accessible in the WordPress admin dashboard section.
With Folders, you can customize your experience by moving files from one place to another with ease, creating an organized atmosphere with just a few clicks. This feature saves you a lot of time and effort by keeping your vast collection of content in order.
Another great advantage of Folders is its compatibility with all popular page builders, themes, and plugins like WooCommerce, WPML and Polylang. You can easily create more complex image galleries using Justified Image Grid and FooGallery, which are two of the most popular plugins for creating impressive image galleries within WordPress.
Designers who want to maintain a client's website pages' proper order will find Folders helpful when organizing files. You can mark a folder with a star or name it uniquely to indicate its primary objective. This approach will help clients recognize what is essential to keep on their website and what can be removed.
Key Features:
Organize your media files, such as photos, videos, music, and posts, into folders
Create a directory of all your pages, media, and content, so they don't get lost and to keep them organized
Ability to replace a media file with another file by replacing the multimedia file on your website
The ability to identify specific folders in your WordPress projects and tasks is essential if you wish to find content more quickly
Make the task of managing your own content more convenient with this content manager plugin
Stunning Gallery Maker for WordPress
FooGallery is a fantastic WordPress media library plugin that allows you to create beautiful and stunning photo galleries in minutes. It offers dozens of pre-built themes, so you can choose the perfect one for your website.
With FooGallery's advanced settings, you have full control over customizing your images to fit your website's style and design. This plugin provides an easy way to manage both your media files and galleries within your website's backend and frontend.
FooGallery has many features, including lazy loading, simple pagination, gallery widget, drag-and-drop reordering, and albums. It's also compatible with Gutenberg, mobile devices, retina displays, and popular web browsers.
FooGallery's live demos offer an excellent opportunity to experience the value it brings to your website first hand. With minimal time and effort required, you can create jaw-dropping galleries that will take your viewers' breath away.
Key Features:
Getting a visual representation of your galleries in real-time lets, you make changes in the back-end while you are using the front-end
A complete video gallery support system is available
Using Media Tags or Categories, you can add multiple layers of filtering to your gallery
The ability to import videos from YouTube, Vimeo, as well as other services
For PRO, you will get page numbers, 'load more,' and infinite scrolling
Auto & Manual Rename For WordPress
Media File Renamer is a reliable and user-friendly WordPress plugin that helps you manage your media library files.
This plugin is designed to organize your files with ease, making them easy to recognize at a glance. It ensures that all the media items in your gallery have names that are easy to understand and use, resulting in an improved user experience.
This automatic tool changes the media files' names according to their titles, making it effortless for users to access and utilize them. The plugin removes any symbols and punctuation, combines words with dashes, and assigns the new string as the file name.
Additionally, it updates all instances of these file names on your pages and posts to reflect these changes, eliminating broken media embedded on your pages and posts.
By naming your images and media files consistently and with the right keywords, you can improve your search engine optimization. This feature provides an added benefit for website owners looking to boost traffic to their site.
Key Features:
Replace the anonymous files with the original files
Numbering of the files in order to enable renaming if two of them have the identical name
Automatically name posts, products, and other post types based on their attached content, or their ALT text
The file will be moved to another directory after it has been moved
Media Files Managing WordPress Plugin
Enhanced Media Library is a plugin that enables you to categorize and tag your WordPress Media Library items properly in order to display them in the right order on your website.
This plugin provides a virtual folder-like approach to categorizing media files, but it does not offer a visual folder view into the component. Instead, you tag each image manually and utilize drop-down menus to sort them out.
This plugin has the added benefit of allowing you to create custom taxonomies, or custom categories or tags, which means you can categorize files based on more than one type of category. The folder method is similar in terms of functionality, but it allows for a bit more flexibility; however, creating folders is not possible with Enhanced Media Library.
The standard way of assigning categories is either one-by-one or bulk selecting images from a collection. You may then filter media items based on those categories and tags by using the drop-down menus.
The plugin also enables you to add or remove file types and to allow or disallow uploading. If you choose to do so, you can incorporate a file type into the media filter of the plugin.
When exporting/importing your media library from one WordPress site to another, you should use the export/import function provided by WordPress. However, if you wish to utilize Enhanced Media Library on the new site, you must maintain the same settings as those applied to the export/import function.
Key Features:
Automatically categorizes items according to the type of post you uploaded
Media items can be categorized, tagged, or taxonomies using an unlimited number of categories, tags, or custom categories
Use drag-and-drop to re-order images on the page
Filter the media items by a variety of categories, tags, and authors using the drop-down filters
FAQ
What is a WordPress media library plugin?
A WordPress media library plugin is a tool that enhances the functionality of the default media library in WordPress, adding features such as better organization, image optimization, and more.
Why do I need a media library plugin for my WordPress site?
A media library plugin can help you better manage your media files, making it easier to find and use them on your website. Additionally, some plugins offer features like image compression, which can help improve your site's load times and overall performance.
What are some features to look for in a WordPress media library plugin?
Some key features to consider when choosing a media library plugin include the ability to organize files into folders or categories, image compression and optimization, bulk file editing capabilities, and support for different file types.
Conclusion
In conclusion, we've explored nine of the best WordPress media library plugins in 2023, both free and paid, to help you manage your site's media more effectively.
We have discussed each plugin's features, pros, and cons to assist you in making an informed decision that meets your specific needs.
For more articles related to WordPress, themes, and plugins, be sure to check out the BetterStudio blog. Here, you'll find a wealth of useful information and tutorials to help take your website to the next level.
To stay up-to-date with the latest developments in WordPress and get notified when new tutorials are published on our blog, be sure to follow BetterStudio on Facebook and Twitter. Our social media channels are packed with exciting updates, tips, and tricks to help you become a better WordPress user.
Thank you for taking the time to read this article. If you have any questions or comments about the content we covered, please feel free to share them in the comment section below.
We're always happy to hear from our readers and respond to their queries as soon as possible.