Are you looking for the best WordPress plugin for pagination for your website?
So, to assist you in finding the best plugin that meets all your preconditions, we are showcasing the best WordPress plugins. Because all the plugins we offer are speed optimized, well-coded, user-friendly, SEO-optimized, have five-star support and work well with all WordPress theme options.
In summary, all of these plugins assist with pagination. Additionally, you can use the plugins below for Homepage Pagination, Customized Pagination, Page Break, and Pagination With Numbers.
Best Pagination Plugins for WordPress 🥇
Add a header to begin generating the table of contents
Check out this list of best Pagination WordPress plugins in 2022:
Helps You To Create Fancy Pagination Links For Your Blog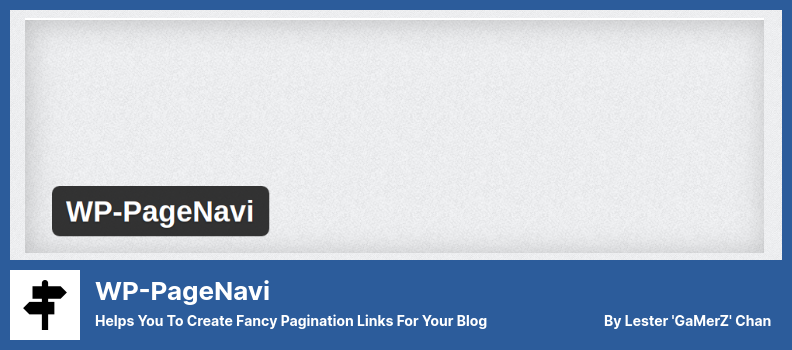 The WP-PageNavi plugin is the most popular pagination plugin for WordPress, currently boasting more than one million active installations. It generates a template tag called wp_pagenavi() that can be used to modify the navigation menu associated with your WordPress blog.
A new tab appears in Settings, where you can set the number of pages to display and choose the text to show for the current, first, and the last page break.
One of the most important weaknesses of this plugin is that it cannot integrate seamlessly with WordPress page builders such as Gutenberg blocks or Elementor widgets, which would display breadcrumb symbols on individual pages
A drop-down menu offers options for changing pagination style, including next and previous page indicators. This plugin also provides the ability of pagination with numbers to set the number of pages you want to display.
---
💵 It is Free and there is no need to pay!
Key Features:
The pagenavi-css.css file can be copied from the plugins directory to the theme's directory
The settings page allows you to disable the use of pagenavi.css by unchecking the option and adding the style directly to your theme's style.css file
It is possible to modify the default class names that are assigned to page navigation elements with filters
This template tag provides a fancy navigational link using wp_pagenavi()
Random Reviews:
Since I've been using Comic Easel for years, I realized this plugin was part of that theme. Now that I'm aware, I've installed it and customized it to my liking.

The current customization is good, but it would be better with more customization

I'm grateful to the developer for contributing this excellent plugin for the community. Thanks.
Improve SEO By Providing More Links To Your Content
The WP-Paginate plugin is actively used by more than 40,000 websites, and it is constantly improved to improve its capabilities.
A selection of style and color options, as well as the ability to add custom CSS to pagination links, can be found under the Custom CSS tab of the WP-Paginate Settings.
The plugin has added pagination for post comments since version 1.1, which can be very useful for cleaning up comment sections on popular posts and the feeling that users are not overwhelmed by comments or responses to other users.
---
💵 Pro version is $49d, and Lite version is free.
Key Features:
With the Custom CSS tab in WP-Paginate Settings, you can define custom CSS for your pagination links
By adding more links to your content, your site will become more visible in the search engines
A flexible and straightforward plugin for pagination
The pagination feature can also be used for post comments
Random Reviews:
A gayet is a good man. The world is a good place. The people are good. The world is a good place.

My pagination shows in between the posts instead of at the end after activating this plugin.

A good plugin for paginating an entire website
Customizable WordPress Content Splitter And Navigation Plugin
Your WordPress website can have customized pagination with Pagination by the BestWebSoft plugin. It allows you to automatically include Homepage Pagination on your website home page, blog, archives, or search results.
You can also choose how it is displayed – above or below your main content, or custom through advanced features.
This plugin provides a variety of customization options, including the ability to change the hover, background, text, and border color, as well as the width and radius of the border. It also provides videos and documentation to assist in the setup process.
---
💵 The Pro version costs money, the Lite version is free.
Key Features:
Pagination can be added to comments PHP templates and PHP files via a function
The 'Load More' button should be displayed after the page has loaded
The compatibility with Divi page builder has been improved
Pagination of the home page, the blog, the archive, the search results, and the paginated posts/pages will be automatically added
Several types of pagination are available, including numerical (default), infinite scrolling, and next/previous buttons
Suitable for video galleries and photo portfolios
Random Reviews:
I setup this plugin and it didn't work well on my site. There was to paginations. I tried to deactivate but didn't work. Still there are two paginations. One is wordpress default and the other is this half working plugins pagination. Also I create a ticket but still no answer.

This plug-in allows you to configure your pagination as you see fit.

Yes, I tested this plugin the free version, and it works just fine with Firefox, but with Opera, we keep fetching posts on the homepage, after the numbering bar. I don't know how to stop this. Anyway, please make something about this fetching posts. Thanks a lot.
Allows You To Enable Pagination On Pages Posts And Categories
You can sort your posts, pages, and categories alphabetically by using the Alphabetic Pagination plugin. If your settings are correct, you can also sort your comments alphabetically. Other sections can also be enabled with this feature.
Optionally, you can choose an Auto or Custom implementation, which determines where post types and post status selections should appear, and in what location the DOM element should appear.
The advanced version, complete with shortcodes, is recommended if you wish to apply pagination to specific pages, posts, or taxonomies. The advanced version is the best choice if you require a custom implementation, shortcode, and permissions.
---
💵 The Lite version is free, the Pro version costs .95.
Key Features:
Automation of the implementation process
A list of users' shortcodes
Pagination and single-page listing based on jQuery/JS
Design and implementation of custom solutions
A list of shortcodes for listing/results
Hiding/showing pagination if there is only one post available (ON/OFF)
Using shortcodes for pagination
Turn on/off Empty Alphabet display(ON/OFF)
Organizing alphabetically
Random Reviews:
The plugin is exactly what I needed and the customer support was fantastic! I highly recommend this plugin for simple alphabetic pagination.

Fahad was very prompt in resolving my pagination issue so that specific categories could be displayed. I really appreciate your dedication. I recommend others to use this fantastic plugin.

There is no doubt that this is the most user-friendly and functional plug-in for A-Z Listing. I highly recommend it for your site. Thank you so much Fahad for your support. May you always remain blessed.
We've reached the end of the road
We have also listed a few WordPress plugins you need to use if you want to create a great site.
We hope you enjoyed our article on the best WordPress Pagination plugins.
In addition, you may also wish to review our articles regarding the best WordPress security plugins to improve the security of your site, as well as our articles regarding the best WordPress hosting providers.
Interested in sharing the article on Facebook or Twitter? Just ask.