Looking for the best WordPress Photo Gallery plugins?
In this article, we will show you the best WordPress plugins for the Photo Gallery so you can choose the one you and your customers will love. The plugins will look great on any device, work well with all popular WordPress themes, and offer good support.
Although there are many Photo Gallery plugin choices out there, we chose the best ones. Nonetheless, these plugins can also be used on Responsive Galleries, Grid Galleries, and Video Galleries.
Check out the following Photo Gallery WordPress plugins in 2022:
Powerfull Gallery Plugin for WordPress
Envira Gallery is another freemium gallery plugin Nathan Singh purchased in early 2018. Currently, there is a version that is available for download. Your brand may only need the core plugin in order to generate an impressive gallery.
Nevertheless, many of the most fantastic features can only be found in the premium plugin galleries, which are available for a fee.
Envira Gallery has a lot of appeals primarily because of its interface, like Modula, which is designed to make it as simple as possible for users to quickly and easily establish a nice-looking gallery using WordPress.
Despite the fact that the free version is excellent for showcasing your basic gallery, the various premium plans offer you all sorts of outstanding services, such as the ones below: Social sharing buttons, Video support, Albums, Watermarking, and Image deep linking, WooCommerce support.
It has an easy-to-use interface, and you're able to build your galleries by dragging and dropping. You don't need to know any code in order to create a gallery. Once your images have been dropped into the correct location, all you have to do is hit the 'Publish' button.
Using Envira Gallery, you can create mobile galleries that look great on smartphones and tablets. As the image size changes, the gallery moves accordingly, adding or removing photos if needed.
It is possible for you to integrate WooCommerce to sell your photographs and receive payments via a payment gateway such as Stripe.
Key Features:
By deep linking, you can send users more information about the photos in your collection
Social media pages can be linked to your galleries, and the photos from those pages can be shown
Provide several templates in the free version, which saves you from having to create a new gallery
Organize your galleries by assigning tags and categories
Additional useful add-ons include WooCommerce support, Proofing, Lightroom, and more
Provide standard features, including social media sharing buttons
Video can be used in galleries with the Pro versions
Most Complete Content Protector Plugin for WordPress
WPShield Content Protector is a must-have WordPress plugin if you want to protect your site's images and photo galleries from content theft. This content protector comes with 15 built-in features that safeguard all types of content, ensuring you don't have to use multiple plugins to secure your website.
The plugin is compatible with any theme and plugin for WordPress and works quickly, ensuring your site's content remains safe.
It offers an option to disable the right-click menu, but what sets it apart is the ability to limit the right-click menu items – a unique feature exclusive to this plugin. Save as, view source code, and inspect element are among the disabled menu items.
Moreover, WPShield Content Protector has an exclusive feature that disables the Inspect Elements system, which is the main tool for bypassing content protectors. No other content protectors have this option, making WPShield Content Protector an exceptional choice.
If someone tries to copy your site content by opening the developer tool, the plugin clears the site content immediately, preventing any such action.
Overall, WPShield Content Protector is an excellent content protection plugin that provides comprehensive step-by-step documentation to assist you in setting up and protecting your site's content. Check out their website to learn more about their features and options.
Key Features:
has 15 built-in content protectors that safeguard all types of content, including text, video, audio, and source codes.
 This plugin protects all formats of content, eliminating the need for multiple plugins to secure your site.
exclusive in offering the option to disable the Inspect Elements system, the primary tool for bypassing content protectors.
The plugin is easy to use and set up, making it suitable for users of all levels of experience.
It offers excellent customer support and a dedicated team that is available to help you with any issues that may arise while using the plugin.
Random Reviews:
I use this photo protector for my photography and it kept all my photos from being downloaded. In the first week after I started using it, I received many emails from bloggers asking for image files, when I had not received even one email for a year before.

I tried many content protections and all of them have lack of features but it does a great job and brings protection on the top level. There may be other plugins that offer similar functionality, but I have found that this plugin is the only one that disables the developer's tools and CTRL+SHIFT+C completely
Mobile-Friendly Image Gallery For WordPress
The Photo Gallery by 10Web plugin integrates a WordPress gallery system with many quality features for free as well as for paid users alike.
By making this plugin accessible to anyone who wants an image gallery on their website, 10Web has made sure that it has both flexibility and ease of use to please every user.
Feature-wise, users will have access to some simple grid gallery formats, a file and media library manager, and options for adding watermarks, cropping thumbnails, connecting to social accounts, as well as other options.
There is even an option to make slideshows or lightboxes, a handy free benefit for the website users. However, they do impose limitations on the number of galleries and lightboxes that can be implemented.
It is possible to create more galleries with paid versions. You can also incorporate features such as gallery layouts and layout variation, rating and commenting, social sharing, e-commerce and audio and video support, and auto-updates from Instagram and Facebook.
Several of these features are available as add-ons – so make sure to buy only the features you need to keep the software light and compact.
Photo Gallery by 10Web by design aims to be as simple to use as possible to enable you to get started rapidly irrespective of the version you choose. Ideally, it has been designed for those looking for a relatively inexpensive and robust premium tool without needing anything excessively complex.
💵 There are two versions of the plugin. The Premium version is charged.
Key Features:
Adding relevant tags and metadata to images can enhance your SEO
Organizing your galleries and albums will enhance the look and feel of your website
Increase your visitors' engagement by using images in your posts and pages, as well as increase your posts' pageviews
Complete control over the style, optimization, and display of visual content on your website
Provide a well-designed website that gets results and incorporates photos that are relevant and displayed in beautiful layouts
Responsive Photo Gallery For WordPress
Gmedia Photo Gallery is another solid option for making image galleries on WordPress websites, even if it doesn't have as many downloads as other options here. Gmedia comes with 4 different image display blocks that can be used to support the image display you desire on the Gutenberg block editor.
You can create galleries, albums, categories, and tags by choosing the appropriate block. It is a high-quality, visually pleasing gallery program that allows you to personalize plenty of settings from the back-end to ensure smooth operation.
Perhaps if you're someone who gets overwhelmed by the sheer number of settings that can be altered, you would be better off avoiding this one. It is still possible to try out the free version for those who want a tighter grip on their settings.
As part of the pro version of Gmedia, you can upload video, audio, and images from your dashboard. Additionally, you will receive the option to share the content via social media and email.
You are able to arrange your photos perfectly by dragging and dropping your photos to the appropriate spots, saving you time and energy. As for the paid options on this list, Gmedia Photo Gallery is one of the most affordable ones, so there is no point in overlooking it.
Key Features:
The ability to display your own Gmedia albums on the author profile page
Build a custom gallery query filter using specified parameters
Template for full-page galleries of the 'GmediaCloud' platform with permalink support
Provide a widget for viewing albums and galleries
Images, albums, tags, and galleries are accessible through the admin interface
Display related media for WordPress tags and categories
Easily create, save, and display music waveforms with the WaveSurfer music module
Gallery Plugin For WordPress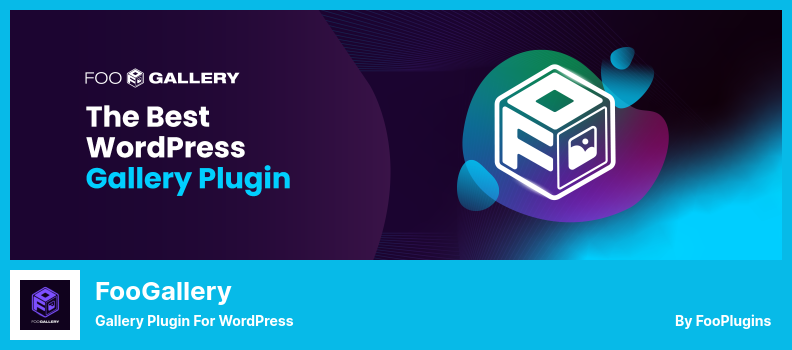 The FooGallery gallery plugin is a freemium solution like many other options here. Although this option comes with a free version, we note the fact that it comes with the functionality that comes with this version.
FooGallery is a free plugin from FooPlugins that allows its users to access six different image gallery templates, including masonry grid and thumbnail galleries, and lightboxes (after installing another free plugin made by FooPlugins).
In addition, the free version of the application also allows you to create your own galleries. It is also possible to set border sizes, hover effects, load icons, and loading effects for your galleries, then sort them into albums for the convenience of better managing your assets.
There is also a drag/drop feature on FooGallery to arrange images, and you can place your gallery in a Gutenberg block or use a shortcode to include your gallery. Combining it with custom CSS allows you to get along pretty well with FooGallery.
FooGallery Pro is also an affordable option that offers features such as extra templates, video gallery support, image filters, gallery filtering, lazy loading, and more hover and loading effects for the user.
Furthermore, infinite scrolling is a remarkable premium feature that makes it easy for you to display more images on one page rather than adding more pages. This eliminates extra steps of navigation and avoids extra clicks by users.
Key Features:
Display sales ribbons for products on sale
Getting your images sold online
Providing support for product variations
Buttons for adding to cart on thumbnails
Product categories can be used as filters in WooCommerce
Make a single master product from all your gallery items
Provide product details (including variations) as a Lightbox
Quickly build a dynamic gallery using your WooCommerce products
Gallery Layouts For WordPress
NextGEN Gallery is a hugely popular and feature-rich gallery plugin for WordPress that photographers and other visual artists should consider. NextGEN was explicitly created for professionals, as you can see from the features it offers.
In the first place, there are various ways to display photos in a gallery, including tiles, slideshows, mosaics, and masonry grids, for example. The free version offers you just two of these, which are still enough for a basic gallery. However, the premium version gives you the possibility to play with as many as you wish.
As well as being able to alter the general appearance of galleries, the plugin also lets you convert the details. With this tight control, this program is an excellent choice for those who want to present their photos exactly how they wish.
In addition to the standard plans, the pro plans also come with features to offer image galleries to businesses online.
These features include deep linking, e-commerce tools, photo uploading and organization tools, image watermarking, built-in gallery management, digital downloads, lightboxes, and even coupons.
In case you should encounter any problems, you'll also have access to personal support. It is most useful on websites that will display a large number of photos – business sites that want to display a few gallery images here and there may find it overkill.
On the other hand, the plugin is a quality product that will be of great use to creative professionals who want fine control over how their images are displayed and sold to clients.
Key Features:
Provide a comprehensive image e-commerce system
Photo proofing is built directly into NextGEN Pro to help you manage your client workflow
Automate print fulfillment with WordPress to sell photos
Provide accurate sales tax calculations worldwide, regardless of the country of origin of your customers
Take payments via PayPal, Stripe, or checks with ease
Gallery Creating Plugin For WordPress
With Modula, you can create stunning photo and video galleries quickly and easily using a highly user-friendly WordPress gallery plugin from Macho Themes. You can easily customize Modula's range of customizable options to customize your gallery the way you like it.
You can easily resize images within Modula's custom grid functionality, as well as be able to control their heights, widths, aspect ratio, and other features in your gallery.
You can change this by changing the gallery setting from 'creative gallery' to 'custom grid' and then changing the dimensions of the images in your gallery by clicking and dragging on the bottom right-hand corner of the photos.
When there are so many WordPress users, regardless of experience or level of skill, Modula caters to all of them, so you can give it a try.
With their drag-and-drop tools and customization options, it is possible to get a gallery that can fit your needs in less than five minutes, just like one of their demo galleries.
Modula offers advanced customization capabilities where users can apply CSS to individual galleries. The combination of this and their well-written documentation creates a truly exceptional user experience.
It even has a custom grid function that is included in the accessible version of Modula, which you can download from the official WordPress plugin repository. The way your galleries are displayed can be altered by playing around with settings such as margins, shadows, border-radius, and more.
Key Features:
Allows you to design custom grids
Choose from masonry grids, lightbox galleries, or regular square grids to fit your needs
Social media buttons let your visitors share your photographs with others
A total of over 40 built-in hover effects are available to make your galleries look more appealing
Resize images in the gallery container for all grid parts, and all grid parts are customizable
You can add videos to your galleries, all with simple links to the videos
Easy to create lightbox galleries with different included styles
Grid Gallery for WordPress Plugin
The Meow Gallery is a project from Meow Apps, a team of French and Japanese developers located in Tokyo.
In addition to five free gallery layouts (tiles, masonry, justified, square, and cascade), a Gutenberg Block, and a shortcode to help you manage your galleries, the free version also includes support for multiple languages.
There aren't many WordPress plugins that can do what this one does better than this one. Meow Gallery is a nice little shopping cart plugin. It made the process of uploading and inserting a gallery into a post a lot faster than the other programs.
The premium version of the application comes with extra customer support, additional features, and licenses allowing you to set up multiple sites.
As well as working with Lightroom (things like WP/LR Sync), Meow Gallery also works with WordPress; the process of synchronizing them can be done with a single click.
One of the five layout options available as part of the free version of this gallery plugin is the Headers layout, showing that this is a powerful option for anyone who manages a photoblog.
It is important to note that, as stated in the introduction to this plugin, I would argue that the Meow Gallery plugin was the fastest of the ones taken into consideration when uploading photos, publishing them, and liking how they came out.
The tiles themselves are made up of various colors, the images are not cropped, and there is a reasonable margin between them in addition to the modern design.
Key Features:
Ability to synchronize with Lightroom to edit and send the finished products to the gallery on your website
Ability to select from a lot of layouts, including justified, masonry, and square
Add exciting effects to your galleries' pictures with the Meow Gallery plugin's photo filters
Using the lazy loading tool, you can create a faster overall website and a better end-user experience
Adding music and other audio tracks to your images is possible
Quick search allows you to find the Gutenberg module
Link your gallery items to internal and external links
Fully Fledged WordPress Gallery Plugin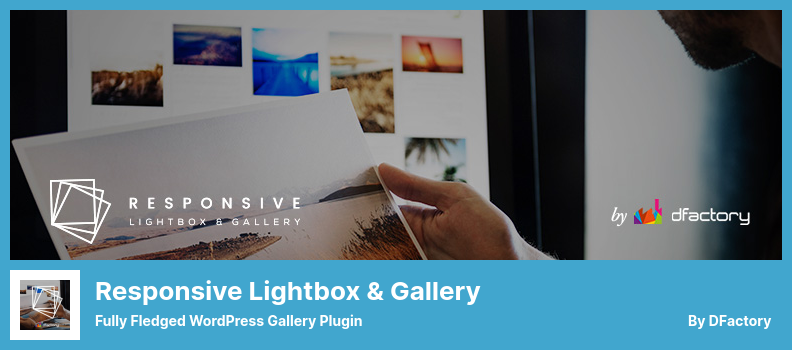 Responsive Lightbox & Gallery is another popular plugin that appears in the WordPress gallery space. For a good reason: responsive lightboxes and galleries take a modular approach to their features, more so than the others we've discussed.
You can play around with the three included templates and settings with the plugin's five included templates, which are entirely free to use. If you wish, you can customize your installation further with extensions that you can purchase.
You will save money and storage space if you pay for and install only the features you need instead of installing features you don't need.
These extensions will provide features such as different gallery views, stylish lightboxes, and remote galleries (i.e., using images from external sites) to make the user's experience much more enjoyable.
Additionally, you can purchase all extensions in a bundle to save money. It is apparent from the name that this plugin is predominantly designed to work with lightboxes. You will need this plugin to display photos one by one using the lightbox functionality.
With responsive lightbox and gallery plugins, you can make your website SEO friendly, as well as fast and lightweight when it comes to page loading, making it stand out among the crowd.
Key Features:
Upload images from the Media Library or Post them as attachments
A selection of eight responsive lightbox scripts you can easily choose between them
A beautiful collection of the grid, slider, and masonry gallery templates
Remote Library provides access to millions of images
Support for Iframes, Ajax, HTML5, and Inline lightboxes
Adding media folders to a drag-and-drop interface
Media Library option for importing remote images
Easily create galleries with this powerful tool
Video Gallery Creating For WordPress
The All-in-One Video Gallery by Team Plugins360 can be used by WordPress users who are looking for a dedicated video option for their galleries. This plugin makes it possible for you to display video galleries on your site that can be searched, which is a powerful way to keep viewers engaged on your page.
With its no-code nature and intuitive interface, The All-in-One Video Gallery no longer requires website owners to know the coding details to get started.
This plugin allows you to hold videos from sites such as YouTube videos, Vimeo videos, and related video sites and place your own videos – it supports all popular video file formats. Playback buttons have been added as well so the user can control the video throughout.
There are several ways by which you can organize videos on the server, including setting tag categories and assigning IDs to videos. The free version of the plugin offers simple grid and list view options, while the premium version provides a list of more layouts.
This plugin comes with a free version the plugin, which allows users to display galleries in other formats (popup and slideshow), upload audio content, generate thumbnails, and ensure their site is SEO friendly.
There is no need to know any coding. It can be used on all kinds of websites that need a single video player, such as a small video-sharing website like YouTube or Vimeo or even a sizable video-sharing site like Facebook.
Key Features:
More than 100 settings (STILL COUNTING) enable you to customize the plugin to the maximum you need
Adding videos to your website is done as POSTS using the plugin's own custom post interface
Providing HTML5 video player which supports MP4, WebM, OGV, YouTube, Vimeo, Dailymotion, Facebook, and many other embeddable players
Tags and categories can be created in an unlimited number
Controls include pause, play, timer, progress bar, duration, quality switcher, speed control, volume control, and subtitles on/off
Videos are categorized and tagged so that they can be grouped together
Photo Gallery, Images, Slider Creator For WordPress
With no need to adjust the settings, the Robo Gallery plugin produces stunning results from the very beginning. There is also an instant publication Gutenberg module provided that can be used to publish immediately without the need for any shortcodes unless you prefer to use it.
In a similar fashion as some other WordPress plugins, this particular feature is similarly implemented with your Gutenberg blocks, and in doing so, the process is dramatically sped up.
Whether or not you forgot to save the gallery or what its appearance of it will be before publication, there's no doubt as to whether or not you made a mistake. The collection can be tested out before it is launched so that you know exactly what to expect.
The YouTube demo is a nice thing to see, and a blog style is definitely something worth considering if you want to include a gallery of featured images that can constantly update.
The gallery also provides access to Vimeo videos, making your gallery a more flexible solution for all content creators to share and showcase their content. Image Gallery by Robo plugin seems to use sleek, user-friendly default settings, which seem to be very user-friendly.
To recreate my test gallery, I published it out of the box without touching a single setting to see how it would look right out of the box. Although there are quite a few settings available in the program's free version, I think that the default gallery looks rather good with no alterations made at all.
Key Features:
Easy-to-use gallery with a large number of configuration options and an intuitive interface for setting up galleries in just a few clicks
Up to 150 configuration options can be combined to modify all types of galleries created by wizards
Mix any type of gallery with any kind of content because of the incredible flexibility of the interface
Multiple photo formats, videos, linked images, and a lightbox gallery with social media integration are all available in one gallery
Create a new gallery using the new gallery configuration wizard
Create an image slider with different navigation modes with just a few clicks
Various types of preconfigured galleries with multiple themes that can be customized to suit your needs
Use multiple sources for your video gallery, including playlists, channels, or a list of the YouTube video links
Security, Backup, Speed, & Growth Plugin For WordPress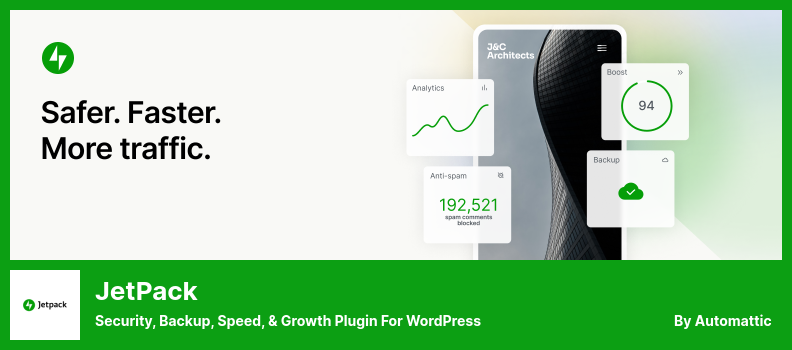 Automattic's Jetpack plugin is a pretty popular multipurpose plugin that integrates several WordPress features into self-hosted WordPress sites. The new feature that will be implemented is an enhancement to the gallery functionality built into WordPress core.
Jetpack's photography galleries are not as robust as previous photo gallery plugins; it's still a good option for creating the simplest photo galleries, mainly if you're already using Jetpack for your site.
You are also free to use Jetpack galleries, so there is no need to worry about any additional upgrades. The Jetpack package includes tons of add-ons and features, but the gallery functions are all included for free.
Jetpack has the unique capability of allowing you to remove numerous other plugins you may be using. A site's performance is typically more extraordinary with fewer plugins, so many site owners opt for Jetpack and other such tools.
Some site owners dream of having an all-in-one plugin that brings together the functionality of several plugins. That is why Jetpack makes sense. In conclusion, if you are only looking for a simple, clean, and free gallery plugin, Jetpack looks like the ideal option.
The other Jetpack features can also facilitate your goal of taking advantage of things like backups, brute force blocking, and social media sharing to help simplify your process in the future.
You will not be charged for some of the features, but other features will need to be paid for. Creating your gallery with Jetpack can also be a great idea if you already have Jetpack set up for something else on your site.
Key Features:
Easy to add simple, clean galleries without much editing required
Activate the Image CDN tool, which ensures that the images load quickly and don't slow the site down
Using the Jetpack galleries is optional, so you aren't forced to use them
Users can drag and drop a tiled gallery block into a page or post to create a quick gallery
Add a new name to each gallery, activate a random order, and use more columns to customize them
Provide captions to all images in the gallery or remove them for a cleaner look
The last words
It was the list of the best WordPress plugins for 2022. If you spend a few hours using these plugins, you can create a fabulous site.
📌 Recommended: Our articles about the best WordPress blog themes and best WordPress plugins for bloggers are also highly recommended.
Thank you for reading this article. I hope you found it helpful.
Is there a plugin that should be in the list above? Let us know in the comments below! Please share the article on Twitter or Facebook.