Are you a WordPress website owner in search of the perfect photo gallery plugin? Look no further! In this blog post, we will be discussing the 12 best WordPress photo gallery plugins, both free and pro options, to help you showcase your beautiful images with ease.
Now, you might be wondering, why should I invest in a photo gallery plugin? Well, according to recent statistics, websites with engaging visual content receive 94% more views than those without.
Not only that, but users tend to spend more time on websites that have visually appealing galleries. So, if you want to captivate your audience and increase user engagement, a photo gallery plugin is the way to go.
Currently, there are a number of picture gallery WordPress plugins available on the market, and in this article, we will highlight their features and benefits to help you find the best plugin for your needs.
Whether you're a professional photographer looking to exhibit your portfolio or a business owner showcasing your products, these plugins will help you create stunning galleries that leave a lasting impression. So, let's dive in and discover the perfect plugin for your WordPress website!
Best Photo Gallery Plugins for WordPress
If you are looking to spruce up your WordPress website with stunning photo galleries, look no further! In this section, we'll introduce you to the best photo gallery plugins for WordPress, both free and pro.
Get ready to enhance your website with beautiful images that will captivate your visitors and keep them coming back for more. Don't forget to check out the fantastic selection of plugins we have lined up for you in this article!
Powerfull Gallery Plugin for WordPress
In Envira Gallery, you can create visually stunning galleries on your WordPress website with a freemium plugin. You don't need any coding knowledge to create a gallery, just drag your images in and hit publish. The user-friendly interface lets you drag and drop images to create and customize the gallery.
One of the standout features of the plugin is its ability to create mobile-friendly galleries that adapt to different screen sizes. This means that your galleries will look great on smartphones and tablets, automatically adjusting the layout to add or remove photos as needed.
The free plugin is great for showcasing your basic gallery, but the premium plans come with a bunch of awesome things. You can share photos online, add videos, organize albums, watermark your photos, sell them with WooCommerce, and take payments via Stripe or other payment gateways.
The plugin also offers deep linking, which allows you to send users more information about the photos in your collection. You can link your galleries to your social media pages, showcasing photos from those pages directly in your galleries. This adds a dynamic and interactive element to your website.
The plugin provides several pre-designed templates in the free version, saving you the hassle of creating a new gallery from scratch. You can also organize your galleries by assigning tags and categories, making it easy for visitors to find specific photos.
In addition to these features, Envira Gallery offers various add-ons such as WooCommerce support, proofing, and integration with Lightroom. These add-ons enhance the functionality and versatility of the plugin, allowing you to create unique and professional galleries for your website.
Key Features:
Deep linking to provide users with more information about photos
Social media integration for showcasing photos from your pages
Pre-designed templates for easy gallery creation
Organize galleries using tags and categories
Standard features like social media sharing buttons
Ability to include videos in galleries with premium versions.
Most Complete Content Protector Plugin for WordPress
WPShield Content Protector is a must-have WordPress plugin that keeps your site's images and photo galleries safe from content theft. With 15 built-in features, it offers comprehensive protection for all types of content, eliminating the need for multiple plugins.
There is no other plugin on the market with the unique capability to restrict right-click menu items, and disabling options such as save as, view source code, and inspect elements with the right-click menu.
It's compatible with all WordPress themes and plugins, so it'll keep your content safe and secure in no time. The best thing about it is that it disables Inspect Elements, which is the main tool for bypassing content protectors. This exclusive option means it's a great tool for keeping your website safe.
One of the biggest advantages of the plugin is its simplicity. The plugin is easy to use and set up, making it suitable for users of all levels of experience. Plus, it comes with comprehensive step-by-step documentation to guide you through the setup process and protect your site's content effectively.
In terms of support, WPShield Content Protector offers excellent customer service. Their dedicated team is available to assist you with any issues you may encounter while using the plugin. Whether you need help troubleshooting or have questions about the features, they provide you with the support you need.
Random Reviews:
I use this photo protector for my photography and it kept all my photos from being downloaded. In the first week after I started using it, I received many emails from bloggers asking for image files, when I had not received even one email for a year before.
Mobile-Friendly Image Gallery For WordPress
With 10Web Photo Gallery, you can add a wide variety of features to your WordPress website. It is a beautiful plugin that seamlessly integrates with your website, allowing you to upload pictures with ease and offering both free and paid options.
With this plugin, you'll have access to various grid gallery formats, a media library manager, and options for adding watermarks and cropping thumbnails. It even allows you to connect your galleries to social accounts, providing a seamless sharing experience.
With simplicity in mind, this plugin is great for those who don't want a complicated premium tool. This plugin is so easy to use, you can get started right away, whether you use the free or paid version. If you want an image gallery on your site without breaking the bank, this plugin's perfect for you.
One of the standout features of this plugin is its flexibility. It has ensured that it caters to the needs of all users by offering various add-ons that can be purchased separately. This way, you can customize the plugin to suit your specific requirements, keeping it lightweight and compact.
In addition to all its amazing features, the plugin also allows you to create slideshows and lightboxes for your website, which is a great free benefit for your visitors. However, keep in mind that there are restrictions on the number of galleries and lightboxes that can be implemented.
If you opt for the paid versions, you'll have the ability to create more galleries and unlock additional features such as gallery layouts, rating and commenting, social sharing, eCommerce support, and auto-updates from Instagram and Facebook.
Key Features:
SEO enhancement through relevant tags and metadata for images
Improved website aesthetics by organizing galleries and albums
Increased visitor engagement with image utilization in posts and pages
Complete control over the style and optimization of visual content on your website
Well-designed layouts that incorporate relevant and beautiful photos.
Responsive Photo Gallery For WordPress
Gmedia Photo Gallery is a solid option for creating image galleries on WordPress websites. It may not have as many downloads as other plugins, but it offers some great features.
With this plugin, you can create galleries, albums, categories, and tags using different display blocks. This allows you to customize the image display according to your preferences, especially if you're using the Gutenberg block editor.
With the plugin, you can customize settings from the back end, ensuring a smooth experience. Nevertheless, if you want a simpler interface and fewer options, this might not be your best option. However, the free version lets you try it out and see what it's capable of.
If you decide to upgrade to the pro version, you'll have access to additional features. This includes the ability to upload videos, audio, and images directly from your WordPress dashboard. You can also easily share your content on social media and through email.
One of the time-saving features of the plugin is its drag-and-drop functionality. You can arrange your photos effortlessly by simply dragging and dropping them into the desired positions. This eliminates any hassle and makes the organization process much more efficient.
In terms of cost, the plugin is one of the most affordable options on this list of WordPress photo gallery plugins. It provides excellent value for your money, making it a worthwhile consideration for website owners.
Key Features:
Display Gmedia albums on the author profile page
Create custom gallery query filters using specified parameters
Permalink support for full-page galleries on the 'GmediaCloud' platform
Widget for easy viewing of albums and galleries
Admin interface for managing images, albums, tags, and galleries
Display related media based on WordPress tags and categories.
Gallery Plugin For WordPress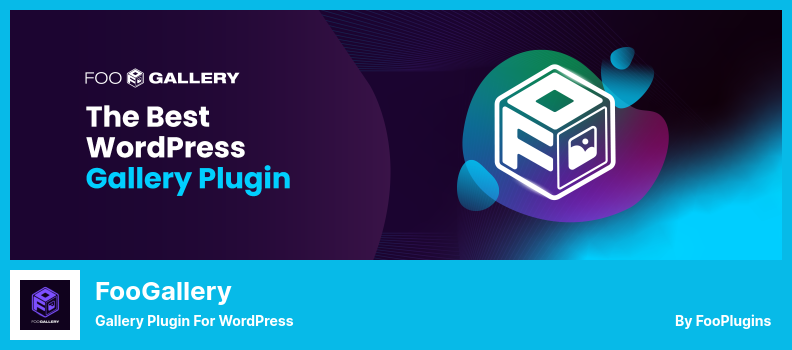 FooGallery is a versatile WordPress photo gallery plugin that offers a range of features. With a free version available, it provides functionality right from the start. One standout premium feature is infinite scrolling, which allows for seamless navigation and eliminates the need for multiple pages.
The plugin also includes a drag-and-drop feature for easily arranging images, and it can be integrated into a Gutenberg block or used with a shortcode. Additionally, the plugin offers six different image gallery templates, including masonry grids, thumbnail galleries, and lightboxes.
To enhance your gallery, you can combine the plugin with custom CSS. The plugin also offers an affordable Pro version, which unlocks extra templates, video gallery support, image filters, gallery filtering, lazy loading, and more hover and loading effects.
The free version of the plugin allows you to create your own galleries and offers the ability to customize border sizes, hover effects, load icons, and loading effects. You can also organize your galleries into albums for better asset management.
Key Features:
Display sales ribbons for products on sale
Sell your images online with ease
Add to Cart buttons on thumbnails
Use product categories as filters in WooCommerce
Create a single master product from your gallery items.
Gallery Layouts For WordPress
NextGEN Gallery is a powerful plugin designed specifically for photographers and visual artists who want to showcase their work on WordPress websites. This feature-rich plugin offers a wide range of tools and functionalities to help professionals present and sell their photos.
One of the standout features of the plugin is its deep linking capability, which allows users to link directly to individual images within their galleries. This makes it easy for visitors to share and bookmark specific photos, enhancing the overall user experience.
For those looking to monetize their photography, the plugin provides eCommerce tools that enable users to sell their images online. The plugin offers features like photo uploading and organization tools, as well as image watermarking to protect copyright.
Additionally, the plugin includes built-in gallery management, digital downloads, light boxes, and even coupons, making it a comprehensive solution for online photography businesses.
Another key advantage of the plugin is the availability of personal support. If users encounter any issues while using the plugin, they can access dedicated support from the team behind it. This ensures that photographers and visual artists have assistance when needed, allowing them to focus on their craft.
It's worth noting that while the plugin is a robust solution, it may not be necessary for websites that only require a few gallery images here and there. This plugin is most beneficial for websites that have a large number of photos to display.
This plugin is perfect for creative professionals who want complete control over how their images are presented and sold to their clients, which is what makes it such a great choice for them.
There are lots of ways to make a gallery. The free version lets you choose from tiles, slideshows, mosaics, and masonry grids. It also comes with two display options, which are good enough for a simple gallery. It's fun to experiment with all the display options with the premium version, so everyone can see your work.
The pro plans also come with business-specific features like photo proofing. In addition to comprehensive image eCommerce, we have an integrated photo proofing feature to keep clients on track, automated print fulfillment to make selling photos easily, and accurate sales tax calculations around the world.
Furthermore, NextGEN Gallery supports multiple payment options such as PayPal, Stripe, and checks, making it convenient for users and their customers.
Gallery Creating Plugin For WordPress
Modula is a highly user-friendly WordPress gallery plugin from Macho Themes that allows you to create stunning photo and video galleries quickly and easily. It offers a range of customizable options, allowing you to customize your gallery to your liking.
One of its standout features is its advanced customization capabilities, where users can apply CSS to individual galleries. This, combined with their well-written documentation, ensures a truly exceptional user experience.
The plugin caters to all WordPress users, regardless of their experience or skill level. It even has a custom grid function included in the accessible version, which you can download from the official WordPress plugin repository.
This function allows you to alter the way your galleries are displayed by playing around with settings such as margins, shadows, and border radius. You also have the ability to easily resize images within the custom grid functionality and control their heights, widths, aspect ratio, and other features in your gallery.
Changing the gallery setting from 'creative gallery' to 'custom grid' and adjusting the dimensions of the images is a breeze. Simply click and drag on the bottom right-hand corner of the photos to make the necessary changes.
With Modula's drag-and-drop tools and customization options, you can have a gallery that fits your needs in less than five minutes, just like one of their demo galleries.
Key Features:
Allows you to design custom grids
Choose from masonry grids, lightbox galleries, etc.
Social media buttons let your visitors share your photographs with others.
Resizes images in the gallery container for all grid parts
Ability to add videos to your galleries with simple links
Easy creation of lightbox galleries with different included styles.
Grid Gallery for WordPress Plugin
Meow Gallery is a wonderful WordPress plugin developed by the Meow Apps team, which consists of French and Japanese developers based in Tokyo, that we are especially happy to present to you.
This plugin truly stands out among its competitors, as it excels in its performance and usability. It streamlines the process of uploading and inserting galleries into posts, making it much faster and more efficient than other options available.
The premium version offers additional customer support, extra features, and licenses that allow you to use it on multiple websites. This added support and functionality make it a worthwhile investment for those who require more advanced options and want to manage multiple sites seamlessly.
One notable feature of the free version of the plugin is the Headers layout option. This layout is particularly powerful for individuals managing a photoblog, offering a beautiful and visually appealing way to showcase their images.
The tiles used in the gallery are displayed in various colors, ensuring that the images are not cropped and providing a reasonable margin between them. The overall design of the galleries is modern and visually pleasing.
In addition to the Headers layout, the free version provides users with five other gallery layouts to choose from: tiles, masonry, justified, square, and cascade. This variety of options allows users to customize their galleries to suit their specific needs and preferences.
Alongside these layouts, the plugin also offers a Gutenberg Block and shortcode, making it easy to manage and integrate galleries into your website. The free version also includes support for multiple languages, catering to a wider range of users.
A standout advantage of the plugin is its exceptional speed when it comes to uploading and publishing photos. It outperforms other plugins in terms of efficiency and user satisfaction.
Furthermore, Meow Gallery seamlessly integrates with Lightroom through plugins like WP/LR Sync, allowing for easy synchronization of the two platforms and simplifying the process of managing and displaying your photos.
Key Features:
Improve your website's performance and user experience
Add music or other audio tracks to your gallery's images
Easily locate the Gutenberg module for Meow Gallery
Ability to link your gallery items to both internal and external links.
Easily edit and send finished photos from Lightroom to the gallery
Add exciting effects and filters to enhance the visual impact of the pictures
Fully Fledged WordPress Gallery Plugin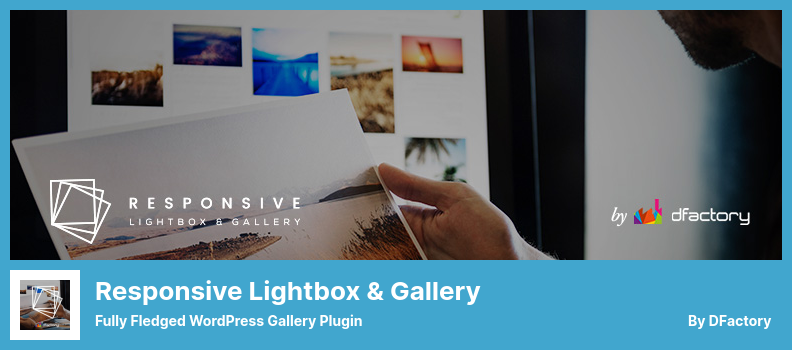 Responsive Lightbox & Gallery is a popular WordPress plugin that offers a modular approach to creating responsive lightboxes and galleries. With its customizable templates and settings, you can easily create a visually appealing and user-friendly gallery for your website.
The plugin provides three free templates and five additional templates that you can purchase as extensions. These extensions offer features like different gallery views, stylish lightboxes, and the ability to use images from external sites.
In addition to improving SEO and page loading speed, this plugin has a lot to offer. With responsive lightboxes and gallery plugins, you'll optimize your website for search engines and make sure it loads fast and efficiently. Then your website will stand out and your visitor's experience will be better.
Another advantage of this plugin is its flexibility and cost-effectiveness. Instead of installing features that you don't need, you can choose and pay for only the features that are necessary for your website. This not only saves you money but also reduces unnecessary storage space.
If you're looking to showcase your photos using a lightbox functionality, this plugin is a must-have. It allows you to display photos one by one in an attractive and interactive way, enhancing the visual appeal of your website.
Key Features:
Upload images easily from the Media Library or as attachments
Choose from a selection of eight responsive lightbox scripts
Supports Iframes, Ajax, HTML5, and Inline lightboxes
Import remote images directly from the Media Library.
Enjoy a beautiful collection of grid, slider, and masonry gallery templates
Access millions of images through the Remote Library feature
Video Gallery Creating For WordPress
With All-in-One Video Gallery, users can easily add video galleries to their website using the WordPress plugin, developed by Team Plugins360, which is available for free.
With this plugin, you can create searchable video galleries that keep your viewers engaged. You don't need to have any coding knowledge to use it, making it accessible to all WordPress users.
This plugin supports various video hosting sites like YouTube and Vimeo, as well as popular video file formats. You can import videos from these sites or upload your own videos. It also includes playback buttons, so users have control over the video.
The free version offers additional features like popup and slideshow formats, audio content uploads, thumbnail generation, and SEO optimization. You can organize your videos using tags, categories, and IDs, and the plugin provides both simple grid and list view options.
What sets All-in-One Video Gallery apart is its no-code nature and intuitive interface. You don't need to worry about technical details or coding knowledge. The plugin simplifies the process of adding video galleries to your website.
Key Features:
HTML5 video player that supports various embeddable players
Unlimited creation of tags and categories
Controls include pause, play, timer, progress bar, duration, etc.
Categorization and tagging of videos for easier grouping.
Over 100 customizable settings for maximum flexibility
Videos can be added as posts using the plugin's custom post interface
Photo Gallery, Images, Slider Creator For WordPress
Robo Gallery is a WordPress plugin that allows you to create stunning galleries for your website without having to tweak any settings. One of its key features is the instant publication Gutenberg module, which lets you publish your gallery without the need for any shortcodes. You can also use the plugin with your Gutenberg blocks, making the process even faster.
If you're looking to showcase your featured images in a blog style, Robo Gallery has got you covered. It offers a YouTube demo and supports Vimeo videos, giving you a flexible solution to share and showcase your content. The plugin comes with sleek and user-friendly default settings, making it easy for anyone to use.
One of the best things about Robo Gallery is that you can preview your gallery before publishing it. This way, you can make sure that everything looks exactly the way you want it to. In fact, I tested it myself and was impressed with how good the default gallery looked right out of the box, without making any changes.
Key Features:
Image slider with various navigation modes
Multiple pre-configured galleries with customizable themes.
Easy-to-use gallery with a user-friendly interface
Mix different types of content, like photos, videos, and linked images
Lightbox gallery with social media integration
Use multiple sources for your video gallery.
Security, Backup, Speed, & Growth Plugin For WordPress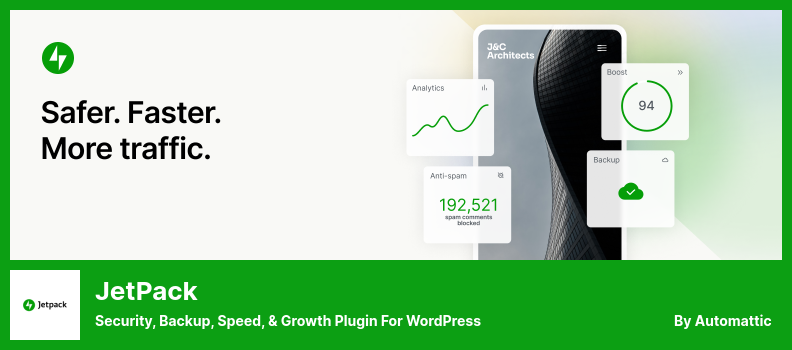 JetPack is a multipurpose WordPress plugin that integrates various features into self-hosted WordPress sites. One of its new enhancements is the improved gallery functionality.
While its photography galleries might not be as robust as other photo gallery plugins, it is still a solid option, especially if you are already using Jetpack for other aspects of your site.
This plugin lets you make simple and clean photo galleries without much editing. It's also got the Image CDN feature, so your images load fast and don't bog down your site. It's optional, so if you don't like the gallery, you don't have to use it.
With this plugin, you can easily drag and drop tiles into a post or page in order to easily create a photo gallery. Drag-and-drop gallery blocks can be placed on pages and posts to create an image gallery in a matter of seconds.
You also have the option to give each gallery a unique name, activate a random order for the images, and customize the number of columns. Additionally, you can add captions to all the images in the gallery or remove them for a cleaner look.
One of the advantages of using the plugin is that it allows you to consolidate multiple plugins into one. This can help improve your site's overall performance since fewer plugins often lead to better load times.
Jetpack also comes with a range of other features, such as backups, brute force blocking, and social media sharing, which can streamline your website management process.
Key Features:
Easy and straightforward process to add simple, clean galleries.
Image CDN tool ensures fast loading of images without slowing down the site
Optional use of galleries allows flexibility in choosing preferred gallery plugins
Drag and drop tiled gallery blocks into posts or pages
Customization options like unique gallery names, random image ordering, etc.
Ability to add captions to enhance the gallery's visual appeal.
Frequently Asked Questions
Can I customize the appearance of the photo galleries created by these plugins?
Absolutely! Most WordPress photo gallery plugins, both free and premium, offer a wide range of customization options to suit your website's design and branding.
You can typically adjust settings such as gallery layouts, thumbnail sizes, hover effects, slideshow transitions, and more. Additionally, some plugins even allow you to add custom CSS code to further personalize the appearance of your galleries.
Do these plugins have any additional features besides creating galleries?
Yes, many of these plugins offer additional features to enhance the functionality of your photo galleries.
Some common features include lightbox galleries for fullscreen viewing, social media sharing buttons to promote your images, image protection for copyright purposes, and integration with popular page builders for easy gallery creation.
Premium plugins often provide even more advanced features like image watermarking, eCommerce integration, and video support.
What are the benefits of using WordPress photo gallery plugins?
WordPress photo gallery plugins offer several benefits. Firstly, they provide an easy and convenient way to showcase your photos on your website.
With these plugins, you can organize and display your images in a visually appealing manner, attracting more visitors to your site.
Additionally, these plugins often come with various customization options, allowing you to personalize the look and feel of your photo galleries.
Lastly, WordPress photo gallery plugins are user-friendly, making it simple for even beginners to create stunning galleries without any coding knowledge.
Conclusion
In conclusion, we have explored the 12 best WordPress photo gallery plugins, both free and pro, to enhance your website's visual appeal. We discussed the features and benefits of each plugin, helping you make an informed decision based on your specific needs and preferences.
If you found this article helpful, I encourage you to visit the BetterStudio blog for more related tutorials and informative content. We strive to provide valuable resources to help you optimize your WordPress website and stay up to date with the latest industry trends and techniques.
To stay in the loop and receive regular updates, I recommend following BetterStudio on Facebook and Twitter. By doing so, you can be the first to access our latest tutorials, guides, and tips, ensuring you never miss out on valuable information.
Thanks for taking the time to read this article. We appreciate your support and engagement. If you have any questions or run into any problems, please let us know in the comments below. Feel free to reach out if you've got any questions, feedback, or insights. Thanks again and have fun exploring gallery plugins!