Are you a WordPress website owner struggling to find the perfect masonry plugin to enhance your website's layout and design? Look no further. This article lists the 6 Best Masonry WordPress Plugins for 2023, both free and paid, to make your search easier.
Masonry plugins are essential for showcasing images, videos, and text content in a visually appealing manner. They use a grid layout to arrange the content and adapt it to any screen size, providing a seamless experience for website visitors.
According to recent statistics, websites with visually appealing layouts generate 66% more engagement from users than those without them.
In this article, we'll explore the top 6 masonry plugins for WordPress, including their features, specifications, and pricing options. Whether you need a full-width display or a customizable grid layout, we've got you covered. So, let's jump right in and find your ideal masonry plugin.
Best Masonry Plugins for WordPress
When it comes to laying out your WordPress website's content and images in an organized, visually appealing manner, installing a masonry plugin can be a game-changer.
In this section, we'll take a closer look at some of the best options available, ranging from free to paid. Get ready to enhance your site's design and user experience with the help of these top-rated masonry plugins for WordPress.
WordPress Blog Layout Plugin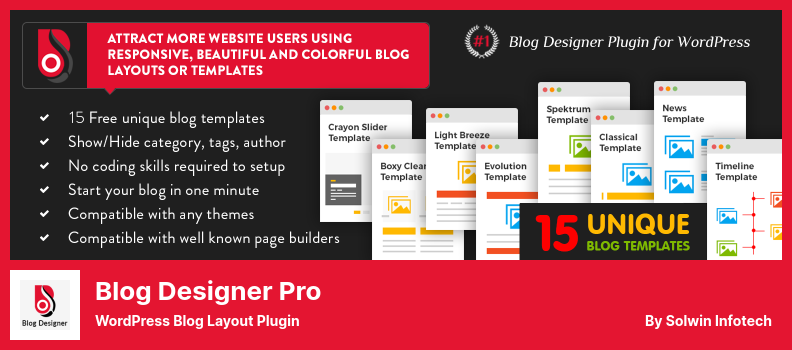 Blog Designer Pro is a fantastic WordPress plugin that allows bloggers to create an elegant masonry-style layout for their WordPress blog. This image gallery plugin offers over 50 unique blog templates to enhance the visual appeal of your blog, in addition to providing the ability to create and edit single-page layouts.
With the Blog Designer Pro plugin, users have the flexibility to design their blog layout aesthetically with both grid and masonry layouts, making blog posts and pages visually appealing.
Stylizing content has never been easier since users can modify various settings, and text colors, and choose alternative background colors for their posts. It's effortless to manage the number of posts per page and easily integrate shortcodes, making post creation and styling a simple task.
One exciting feature of Blog Designer Pro is its cross-browser support, which allows blog designs to remain consistent across different browsers. Selecting multiple post categories and using the page selection option to show blog posts on any page is a breeze.
By utilizing this plugin, bloggers can create a range of posts, such as portfolios and fashion blogs, with ease.
While this plugin may be relatively higher in price than other plugins on the market, the price is well worth the enhanced looks and functionality that Blog Designer Pro offers.
Key Features:
Create an elegant masonry-style layout.
Over 50 unique blog templates to choose from.
Manage posts per page.
Cross-browser compatibility.
Modify settings from admin panel.
Easily stylize content with various options.
Multiple post category selection.
Alternative background color selection for posts.
Design your blog page as per your requirements.
WordPress Portfolio & Masonry Layout Plugin
Portfolio Designer is a powerful WordPress plugin that helps you showcase your work with gorgeous image galleries that adapt seamlessly to your website's look and feel.
This plugin features a masonry layout and responsive coding to create spectacular galleries or displays with four different types of layouts. You can easily add sliders, galleries, and justify to your website.
The plugin offers typography settings with a wide range of options, such as font color and font size. Additionally, it adds a new custom post type to your site that uses image, audio, and video thumbnails.
You have the ability to select the alternate background color for posts and you can easily manage the number of posts per page.
With over 50 proprietary effects and animations that are designed to highlight your work, Portfolio Designer is an ideal solution for anyone looking to display their portfolio online in order to attract potential clients.
Besides the ability to display your portfolio title, links, descriptions, etc., the plugin also has two default portfolio layouts: Grid and Masonry. There is even a thumbnail settings panel for image size selection.
Portfolio Designer lets you effortlessly create unlimited types of posts and multiple portfolios for your website. Plus, it's easy to show portfolio posts on any page with page selection.
Key Features:
Display portfolio posts on any page with page selection
Offers typography settings
Adds a new custom post type with image, audio, and video thumbnails
Ability to select alternate background color for posts
Provides two default portfolio layouts: Grid and Masonry
Thumbnail settings panel for image size selection
Easy management of posts per page
Effortlessly create unlimited types of posts and multiple portfolios
Masonry Layout & Image Gallery Plugin for WordPress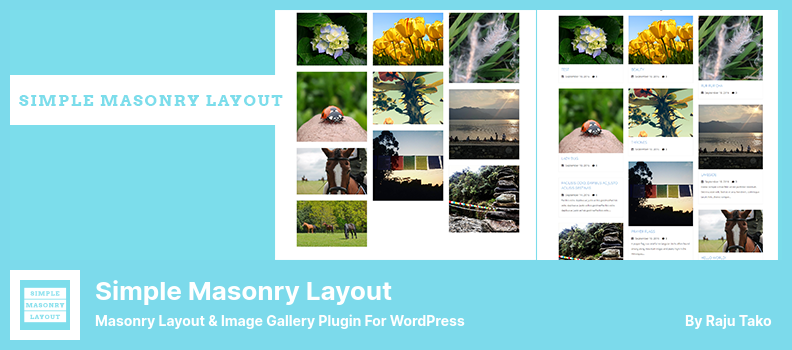 Simple Masonry Layout is a plugin for WordPress that allows for masonry layouts to be inserted into posts with the use of simple shortcodes. This photo gallery plugin offers stunning features such as a masonry layout gallery for posts and a simple gallery pop-up.
The shortcode can be used in both the page editor and the template files of the blog layout being created. With Simple Masonry Layout, you can create a beautiful masonry-style layout for your WordPress website.
The plugin offers a masonry layout blog from the specific category, defining the categories to display in a masonry layout. Additionally, users can create a masonry layout gallery for posts, which makes the posts look alluring and visually appealing.
Furthermore, the plugin includes a simple gallery pop-up, which adds a touch of focus to the selected photo in the gallery.
One of the most significant advantages of this masonry gallery plugin is the ease with which simple shortcodes can be used. With the shortcode, users can customize the masonry layout and make it more aesthetically pleasing.
Moreover, the shortcode can be utilized in both the template files and the page editor of the blog layout.
Key Features:
Inserts masonry layouts with shortcodes.
Masonry layout gallery for posts.
Simple gallery pop-up.
Customizable masonry layout.
Shortcode use in template files.
Shortcode use in the page editor.
A beautiful masonry-style layout.
Easy to use.
Creates visually appealing layouts.
Image Gallery & Post Grid WordPress Plugin
Essential Grid is a powerful WordPress plugin that enables you to create stunning galleries without any coding skills. It offers various layouts, including even, masonry, and cobbled, to showcase your work in the most effective way possible.
Unlike other plugins, the gallery loads smoothly and quickly on all devices, making your content accessible to a wider audience.
This plugin also includes built-in features such as image watermark copyright & right click protection to ensure that your work is safe and secure online. You will be able to create as many skin variations as you like using the visual skin editor. With this feature, you can customize your galleries to make them more unique and eye-catching.
Essential Grid's drag-and-drop builder is incredibly user-friendly and provides an intuitive way to create your galleries. You can easily automate the process of uploading content from other sites, making it easy to add new content without any hassle.
This plugin comes with more than 50 customizable templates, which means you don't have to start from scratch when creating a new gallery. You can use these templates to jumpstart your project, and then customize them to your liking.
Essential Grid is also a safe option for WordPress websites. It is regularly updated to ensure it works seamlessly with WordPress, and it undergoes rigorous security checks to keep your website safe from hackers.
Key Features:
Automated content uploading
No coding skills needed.
Quick gallery loading
Safe for WordPress websites
Visual skin editor for customizing skins
Built-in image protection features
Even, masonry, and cobbled layouts available
50+ customizable templates
WordPress Responsive Portfolio Plugin
Media Grid is a powerful plugin that enables users to create stunning masonry portfolios on their WordPress websites. It boasts advanced features that allow for strong portfolios with filters and pagination to be created in seconds.
This plugin is commonly used to create stylish grid displays, combining various media types dynamically or manually. With deep links available for SEO purposes, Media Grid ensures that your website's content will rank well on search engines.
It's important to note that there is no free version of this WooCommerce masonry layout plugin, but it's well worth the investment. With this plugin, users are not limited in how they present their content. They can add pictures, videos, audio files, and even content from different media types for a more personalized experience.
Media Grid boasts several impressive features. It creates a fully responsive image slider with captions and video support. Users can add customizable sliders to their displays and use customizer controls. They can even display products from their WooCommerce store in different ways.
The plugin offers various pagination options, including an inline slider that perfectly integrates into a grid sizing system. With 10 preset looks, users can quickly change their displays. They can also use the CSS editor to further customize their media grid and incorporate icons into their designs.
Key Features:
Allows for customizable presentations using the customizer controls
Displays WooCommerce store products in unique ways
Offers an inline slider that perfectly integrates into grid sizing system
Provides simple static images without lightbox
Creates fully responsive image sliders with video support
Customizable sliders with captions
Offers various pagination options
10 preset looks to quickly change displays
Uses CSS editor for further customization
Incorporates icons in designs
Post Grid & Blog Layout WordPress Plugin
The Post Grid is a WordPress plugin that allows you to customize the grid of your website. You can choose from a variety of layouts and customize each column separately. It also lets you exclude certain blog posts from the product grid by selecting the option to display only posts that belong to a specific category.
The plugin gives you complete control over the appearance of your archived posts and other elements of your website, letting you view changes as you alter columns on the Post Grid. You can even select which posts are displayed and which fields should be displayed.
By using this plugin, you can customize the content of your site in a variety of ways, making it a useful tool for anyone who likes to modify the content of their site.
Key Features:
Clearly defines which content is sourced for your grids
Filters' posts by their author
Provides you with good control over how your grid looks
Adds multiple rules to your filters
Uses the shortcode that's generated for each grid to insert a layout into a post or page
Creates a grid layout to display as many posts or pages as you like
Gives you the ability to choose how many columns your grid will consist of
Allows you to customize each column separately
Excludes specific blog posts from being displayed
Enables you to select which posts are displayed and which fields should be displayed.
Frequently Asked Questions
What are Masonry WordPress Plugins?
Masonry WordPress Plugins are tools that help you create masonry-style grid layouts for your WordPress website. These plugins allow you to display your posts or portfolio items in a grid format that can be easily customized to suit your needs.
Why would I need a Masonry WordPress Plugin?
If you want to showcase your content in a visually appealing way that makes it easy for your visitors to browse and filter through, then a Masonry WordPress Plugin can be a great choice. These plugins can help you create stunning displays for your blog posts, portfolios, galleries, and more.
What are the benefits of using masonry WordPress plugins?
Using masonry WordPress plugins can add visual interest to your website and help retain visitors longer. The layout presents content in a unique and visually appealing way. Moreover, visitors are more likely to interact with your content when the layout is attractive and easy to navigate.
Conclusion
In conclusion, we have covered the top 6 masonry WordPress plugins of 2023, both free and paid. We have discussed each plugin in detail, highlighting their features, pros, and cons, to help you make an informed decision while selecting the perfect plugin for your website.
If you want to explore more WordPress-related tutorials, do check out BetterStudio's blog. We regularly publish informative and insightful posts to keep you updated on the latest WordPress trends, plugins, and themes.
To stay connected and get the latest tutorials, do follow BetterStudio on Facebook and Twitter. You can also join our mailing list to get direct updates straight to your inbox.
Thank you for taking the time to read this article. If you have any questions or face any problems while implementing the plugins, feel free to leave a comment below. Our team will be happy to assist you in any way possible.