Are you a WordPress website owner in search of the perfect presentation plugin? Look no further! In this blog post, we will explore the six best WordPress presentation plugins, both free and pro, that will help you take your website to the next level.
Now, you might be wondering, why I need a presentation plugin for my WordPress site. Well, let me share some interesting stats with you. Did you know that websites with engaging and interactive presentations have been proven to have lower bounce rates and higher conversion rates?
By incorporating a presentation plugin into your website, you can captivate your audience and keep them on your site for longer. So, let's dive into the world of WordPress presentation plugins and explore the top options available.
Whether you're looking for a free plugin to get started or are willing to invest in a pro version for advanced features, we've got you covered. Get ready to transform your website and leave a lasting impression on your visitors.
With that introduction out of the way, let's get started with our list of the six best WordPress presentation plugins. Strap in and get ready to take your website to new heights!
Best Presentation Plugins for WordPress
If you are looking to add an extra touch of professionalism and interactivity to your WordPress website, look no further than these top-notch presentation plugins, perfect for showcasing your content in a visually stunning way.
Get ready to captivate your audience with dynamic slideshows and engaging presentations – check out the best plugins in this article and take your website to the next level!
Embed Slideshare Presentations or Documents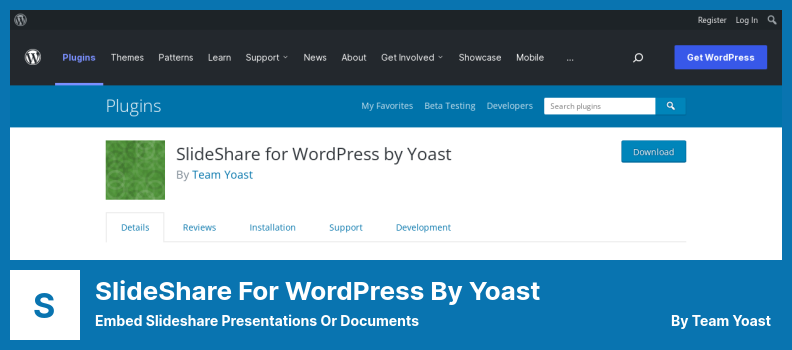 SlideShare for WordPress by Yoast is a fantastic plugin that allows you to incorporate presentations seamlessly into your WordPress content. Whether you're a blogger, marketer, or website owner, this plugin is a must-have for adding visual appeal and engaging your audience.
With this plugin, you have complete control over where your presentation appears in your post, giving you the flexibility to update and customize it as needed. After reviewing your presentation on SlideShare, simply copy the embed code and paste it into your post by clicking on the share button. It's that easy!
One of the best features of this plugin is its simplicity. It's incredibly user-friendly, making it a breeze to embed SlideShare presentations into your WordPress content.
You have the option to either use the embed code provided by SlideShare or simply copy and paste the presentation URL. Say goodbye to complicated technical steps!
You can easily find and install it as a WordPress plugin on the official site. It's important to note that the plugin is still in development, so the creators welcome bug reports and pull requests on their GitHub repository. Your new feedback is valued and helps to improve the plugin further.
Key Features:
Effortlessly embed SlideShare presentations and

document files
Easy access to SlideShare presentations with just a click
Compatible with WordPress versions 5.6 and higher for seamless integration
Simple copy and paste functionality for the embed code
Embed Any Documents in Your WordPress Website
Document Embedder is a lightweight WordPress plugin that allows you to easily incorporate various document formats into your presentations, making them more visually appealing. Whether you're a seasoned user or a beginner, this plugin is designed to be user-friendly and requires no special skills.
With this plugin, you can seamlessly integrate PDF files, Adobe Photoshop, and XML paper specifications from Google Docs and Adobe Photoshop into your presentations. This versatility allows you to choose the file format that best suits your needs, whether it's Word, PowerPoint, Excel, PDF, PPT, or Apple Pages.
One drawback of this plugin is that it currently does not offer translation options. However, the good news is that it is completely free to use. So, if you're looking for a simple yet effective way to make your presentations more engaging, it is definitely worth considering.
One of the great features of this plugin is that there are no restrictions on the number of documents you can embed. You can upload as many documents as you want, as long as each one does not exceed 20 MB in size. This allows you to include all the necessary documents in your presentations without worrying about file size limitations.
In order to use Document Embedder, you need to have WordPress version 3.1 or later. Once installed, the plugin is easy to use and integrates seamlessly with your WordPress website. Simply follow the instructions provided, and you'll be able to enhance your presentations with embedded documents in no time.
Key Features:
Maximum document size of 20 MB
A wide range of document formats supported
An unlimited number of documents can be uploaded
Options for Word, PowerPoint, Excel, PDF, and Apple Pages
Embed Word, Excel, Powerpoint, PDF File and More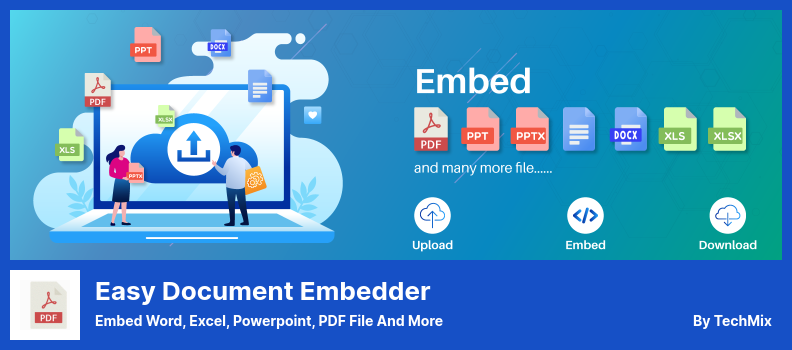 Easy Document Embedder is a user-friendly WordPress plugin that allows you to effortlessly add documents and media links to your website. With just one click, you can populate your blog with files such as PDFs, Microsoft Word, Excel, and PowerPoint documents.
One of the standout features of the plugin is its customizable panel in the Gutenberg editor. This allows you to tailor the plugin to fit your specific needs and preferences, saving you time and effort in the process.
Not only is the plugin packed with useful features, but it has also been designed with efficiency in mind. Despite its many capabilities, it won't slow down the loading speed of your website.
This means that you can enjoy the benefits of the plugin without sacrificing the performance of your site. Another key advantage of using the plugin is its compatibility with WordPress 3.0.
This ensures that the plugin works seamlessly with your website, providing you with a smooth and intuitive experience. The plugin was created by professional authors who understand the needs of everyday users, so you can trust that it will meet your expectations.
Key Features:
Customizable settings for the separate panel
Support for a wide range of document formats
Lightweight design that doesn't impact website loading speed
Compatibility with external and internal media links
Integration with the Gutenberg editor
Create Presentations in No Time
Presenter is a versatile WordPress plugin that allows bloggers and website owners to easily incorporate visual elements into their content. Its user-friendly features and compatibility with multiple browsers make it a valuable tool for enhancing your online presence.
With this plugin, you have the option to create your own custom themes to align with your brand's unique style. This allows you to maintain a consistent and cohesive look throughout your website.
The plugin seamlessly integrates with popular web browsers like Internet Explorer, Firefox, Chrome, and Safari, ensuring that your presentations can be accessed by a wide audience. Additionally, you can take advantage of various remote control presenters to give your presentations a professional touch.
One of the standout features of the plugin is its use of Reveal.js, a powerful presentation framework. This enables you to create visually stunning and captivating slideshows that can be easily shared on your website.
Another advantage of using the plugin is the ability to link your presentations to various pages on your site. This allows you to showcase your work in a unique and interactive way, guiding visitors to explore more of your content.
Getting started with it is simple – all you need is WordPress version 4.8 or higher. Once installed, you can immediately begin creating impressive presentations for your blog or website. Furthermore, since the plugin hosts your presentations directly on your site, there's no need to rely on external platforms such as SlideShare.
Key Features:
Works seamlessly with presenter remote controls
Customize and create your own themes
Compatibility with all major browsers
Option to link presentations to your website
Utilizes the powerful Reveal.js presentation framework
Direct hosting on your website for convenience
Responsive Image Slider for WordPress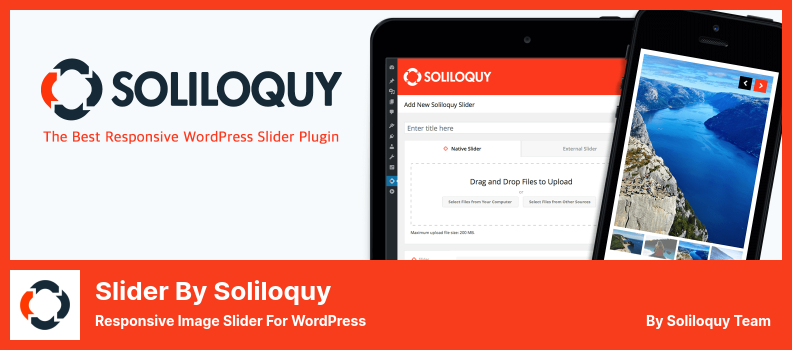 Slider by Soliloquy is a powerful and user-friendly slider plugin for WordPress that allows users to create responsive images and video sliders in just a matter of minutes.
One of the standout features is its drag-and-drop interface, which makes image uploading and rearranging incredibly easy, even for those who may not be the most tech-savvy. This makes it a perfect choice for anyone looking to create visually appealing sliders on their WordPress website without any stress or difficulty.
Another exciting feature is its compatibility with Gutenberg, the new editor in WordPress 5.0. This means that users can now add slider blocks directly to their website pages with ease, without the need for any complicated coding or plugin configuration.
This compatibility is a fantastic addition for those who are already using Gutenberg or plan to use it in the future. It comes in two versions: a free Lite version and a premium version with advanced features. The Lite version offers a range of useful features for users who are just starting out and may not have a budget for a paid version.
However, if you're looking to take your slider game to the next level, the premium version is definitely worth considering, as it provides advanced features that can help enhance the presentation of your WordPress website even further.
In terms of performance, it has undergone several optimizations to ensure that it performs well both on the front-end and back-end. This means that your website's loading speed will remain fast, which is crucial for both SEO and user experience.
By using Slider by Soliloquy, you can create visually stunning sliders in just a few minutes while maintaining fast loading speeds on your website.
Key Features:
Create product slideshows with just the click of a button
Use custom CSS to further customize and personalize your sliders
Include or exclude certain products from your list
Choose from a variety of available templates
Benefit from a fast and Google-friendly HTML markup
A Free Presentation Plugin
Slides & Presentations is a WordPress plugin that offers an easy way to create and manage presentations on your website. One of its standout features is the speaker view, which allows you to view notes and timers for your current, next, and previous slides.
This feature ensures that you stay organized and on schedule during your presentation. Adding slides to your presentation is a breeze with the plugin. It provides a slide block and container that you can use after installation.
Whether you want to customize the iframes, background colors, gradients, or even images, this plugin gives you the flexibility to create a visually appealing presentation that suits your needs.
With this plugin, you can create a custom post type called 'Presentation' on the front-end of your WordPress website. This post type can then be displayed as a presentation using Reveal.JS.
It's compatible with WordPress version 5.3 and newer, and it's recommended to have both Gutenberg and this plugin installed and updated for optimal functionality.
While there isn't a dedicated support team for this plugin, the best part is that it's completely free to use. If you're looking for a straightforward way to create presentations using WordPress, Slides & Presentations is definitely worth considering.
Key Features:
Customizable font size and color
Speaker view for better organization during presentations
Enhanced block editor with a dedicated 'Slide' block
Easy customization of backgrounds, gradients, images, and iframes
The option to import and customize fonts
Frequently Asked Questions
What are presentation plugins for WordPress?
Presentation plugins for WordPress are tools that allow you to create and design presentations directly within your WordPress website. These plugins enable the creation of visually appealing and interactive presentations with added features like animations, charts, and multimedia content.
Why should I use presentation plugins for WordPress?
Using presentation plugins can be beneficial for bloggers, business owners, educators, and anyone who wants to engage their audience with visually stunning and interactive content.

It can help you deliver your message effectively, showcase your products or services, and create a memorable experience for your visitors.
What are some things to consider when choosing a WordPress presentation plugin?
When choosing a presentation plugin for WordPress, it's important to consider factors such as ease of use, compatibility with your theme and other plugins, customization options, and pricing (if applicable). It's also a good idea to read reviews and try out demos before making a final decision.
Conclusion
To recap, we've explored the top six WordPress presentation plugins, both free and pro options, in this article. We've discussed their features, benefits, and how they can enhance your website's presentation.
If you're looking for more in-depth tutorials on this topic, we encourage you to visit the BetterStudio blog. They have a wealth of related tutorials and resources that can further assist you in optimizing your WordPress website's presentation.
For the latest updates and new tutorials, be sure to follow BetterStudio on Facebook and Twitter. It's a great way to stay connected and informed about all things WordPress.
Thank you for taking the time to read this article. We hope it has provided you with valuable insights. If you have any questions or need further assistance, please don't hesitate to leave a comment below. We're here to help and would love to hear from you.