Are you a WordPress website owner looking to embed Vimeo videos on your site? If so, you might be wondering which plugins are the best for the job. Well, look no further! In this article, we'll introduce you to the 5 best WordPress Vimeo plugins for 2023, both free and premium.
Vimeo is a popular video-sharing platform that many content creators use to showcase their work. However, embedding Vimeo videos on your WordPress site can be tricky without the right plugins. That's where this article comes in.
We've done the research and gathered the top 5 plugins that will make adding Vimeo videos to your site a breeze.
In this article, we'll give you an overview of each plugin, including its features, compatibility, and pricing. Whether you're a blogger, photographer, or business owner, you'll find the perfect plugin to suit your needs. So, without further ado, let's dive into the 5 best WordPress Vimeo plugins for 2023.
Best Vimeo Plugins for WordPress
If you're looking to enhance your WordPress website with video content, one of the best ways to do it is by adding Vimeo plugins. Check out our list of the top 5 best Vimeo plugins for WordPress in 2023, both free and premium options available, to take your website to the next level.
Video Gallery is a leading WordPress plugin for displaying an array of video content on your website without a hitch. It works seamlessly on all WordPress versions and offers a modern and sophisticated interface that is easy to navigate.
With Video Gallery, you can showcase videos from top hosting sites such as Vimeo, YouTube, Wistia and even your own website with a few simple clicks.
This plugin comes equipped with 16 free themes that boast a clean and responsive design, making it easily accessible to your website's users. The hover effects are simply magnificent, providing an overall impressive aesthetic to your video content. Additionally, the user-friendly editor makes the process simple and hassle-free.
Video Gallery permits unlimited shortcodes, which means you can create multiple video galleries for your website. You can also add, update, and remove your galleries seamlessly, making it an extremely convenient and user-friendly plugin. The plugin is also compatible with popular WordPress themes, and all HTML and CSS coding work smoothly together.
One of the many standout features of Video Gallery is the ability to add custom links to single videos within gallery views. You can also assign multiple categories, making it simpler for users to navigate through and find relevant videos.
Video Gallery supports all major video hosting platforms, so you never have to worry about missing out on your favourite ones.
Some of the other notable features include controlling the color, size, and alignment of all description text. Moreover, Video Gallery works well on modern smartphones with impressive gallery animations.
Key Features:
Hover effects provide a great visual experience.
Compatible with various WordPress themes.
Multiple categories for easy video navigation.
Works seamlessly with all major video hosting sites.
16 free themes with a clean and responsive design.
Custom links can be added for individual videos.
User-friendly editor for hassle-free options.
Unrestricted shortcodes for unlimited galleries.
Control color, size, and alignment of description text.
Video is the future of content marketing
All-in-One Video Gallery is a plugin that provides a seamless and enjoyable experience when uploading videos to your website. You can easily create attractive and searchable video articles, improving your search engine ranking without needing to know complicated code.
With this plugin, you can embed single or numerous films from YouTube and Vimeo on your site. It allows you to build infinite catalogs, generate articles, and edit as desired. You can also label the videos as features, and it supports translation, autoplay, and looped videos.
This plugin offers a wide range of controls for the player, including play/pause buttons, a timer, a progress meter, a duration, a quality switcher, a speed control, a volume button, a fullscreen button, and the ability to turn on or off subtitles.
Videos can be categorized and tagged, and the custom HTML5 video player supports MP4, WebM, OGV, and embeddable video players such as YouTube, Vimeo, Dailymotion, and Facebook.
With this plugin, videos are posted to the site as posts, which have their own user interface, so it won't affect your regular WordPress posts.
You can also embed code from any third-party video player, and autoplay, loop, muted, and preload subtitles are all available as playback options (WebVTT). Additionally, you can create as many categories, subcategories, and tags as you like.
Key Features:
Multiple playback options (autoplay, loop, etc.)
Customizable video player controls
Support for various video players
Easily categorize and tag videos
Third-party video player embeds possible
Translation support
Infinite catalogs and articles
User-friendly post interface
Wide range of play controls
Responsive design.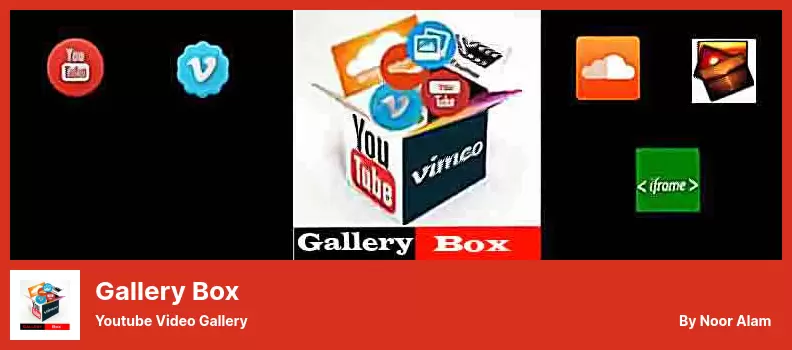 Gallery Box is a versatile WordPress plugin that allows users to create stunning image and video galleries. With support for Vimeo, YouTube, image carousels, sliders, portfolios, and more, it gives users the ability to customize and build an attractive picture gallery that's sure to impress visitors.
One of the most notable features of this plugin is the hover effect that opens all photos in a seamless lightbox.
This plugin is also very user-friendly and customizable, thanks to its support for WordPress page builders. Additionally, Gallery Box provides support for both ascending and descending orders, three different masonry grid styles, and an advanced image gallery.
With an Elementor widget, a portfolio gallery, and no limit to the number of images in the gallery, this plugin is a must-have for anyone who needs a quick collection of images.
Key Features:
Offers support for ascending and descending order
Supports three different Masonry grid styles
No limits on the number of images in the gallery
Advanced image gallery features
Has an Elementor widget accessible
Includes a portfolio gallery gallery
Provides a wide selection of hover effects
Offers a unique configuration panel
Provides support for unlimited color options
Offers a quick collection of images.
Everything you want in a YouTube plugin
YourChannel is a top-of-the-line plugin that is perfect for anyone looking to add YouTube videos to their WordPress website. With features like caching and auto-play, this plugin is perfect for video. It also offers a variety of other features such as single video or channel video.
This plugin allows you to personalize your video display with banner graphics, usernames, and an account image and is RTL-compatible, ensuring that it can be used by anyone in any language. It has an easy-to-use visual builder, which makes customization a breeze!
YourChannel allows you to choose from seven different video thumb styles and displays videos in Lightbox. It's easy to adjust and supports shortcodes on pages, articles, and other fields.
YourChannel supports translation and the UI concepts can be translated easily. The plugin's instructions are straightforward and offer simple autoplay configurations. The cache mechanism of YourChannel makes sure that pages load quickly, while seamless and quick transitions create a polished look for your website.
Key Features:
Cache mechanism ensures fast page loading
Customize video display with banner graphics, usernames and images
RTL-compatible
Visual builder for easy customization
Easy to translate UI concepts
Straightforward instructions for using shortcodes
Autoplay configurations available
Supports translation for any language
Loads files only when shortcode is present
Seamless and quick transitions
Vimeo Video Gallery WordPress Plugin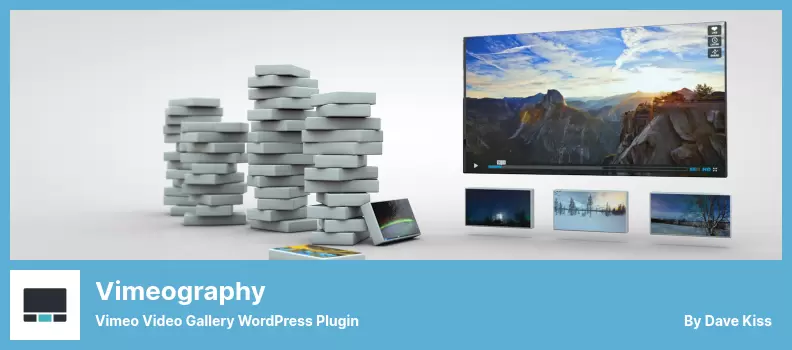 Vimeography is a WordPress plugin that enables you to create a visually appealing video gallery on your website with Vimeo videos. No technical experience is necessary to utilize this free plugin's features.
You can easily incorporate video galleries into your site's pages or posts, as well as into a template, thanks to Vimeography. The editor allows you to tweak themes and adjust website design. Moreover, pages load in the blink of an eye due to the built-in caching system.
Vimeography offers a range of outstanding features. You can reveal hidden videos, build auto-playing mixes, and employ custom sorting. The plugin supports Vimeo video interaction tools, including end screens, cards, and email capture.
Users can create links to videos in their library that can be shared with others. Download links can be enabled to make videos available for download. Galleries that can be searched can be created, as well as an infinite collection of videos.
With Vimeography, users can make changes and personalize themes to fit their website's design.
Key Features:
Build auto-playing mixes
Reveal hidden videos
Custom sorting capabilities
Supports Vimeo video interaction tools
Create shareable video links
Download links to make videos available for download
Create searchable galleries
Infinite video collection
Ability to personalize themes
Built-in caching system for fast page loading.
Frequently Asked Questions
What are Vimeo plugins for WordPress?
Vimeo plugins for WordPress are tools that enable website owners to display Vimeo videos on their WordPress site. These plugins make it easier to embed videos, customize the appearance and functionality of the player, and improve the performance of video content.
What are the benefits of using Vimeo plugins for WordPress?
Using Vimeo plugins for WordPress can provide several benefits, such as improving website load times, enhancing the appearance of video content, increasing engagement with visitors, and enabling better tracking of video analytics and performance.

Additionally, these plugins may offer advanced features like video playlists, responsive design, and integration with other tools and platforms.
What criteria should I consider when selecting a Vimeo plugin for WordPress?
When choosing a Vimeo plugin for WordPress, it's important to consider factors like ease of use, compatibility with your WordPress theme and other plugins, the range of features and customization options, the performance and load times of video content, and support and updates from the plugin developer.

Additionally, you may want to consider the cost of premium versions and any additional features and support they offer.
Conclusion
In this article, we have explored the top five Vimeo plugins for WordPress users. These plugins come in a variety of options, including free and paid versions, and offer a range of features to enhance your video content on your website.
If you're interested in learning more about WordPress or video plugins, be sure to check out the BetterStudio blog for even more related tutorials and how-to guides.
Don't forget to follow BetterStudio on Facebook and Twitter to stay up to date with the latest tutorials and updates.
Thank you for taking the time to read our article, and if you have any questions or comments, please feel free to leave them in the comment section below. We'd love to hear from you!