Are you looking to find the best WordPress Vimeo plugin? You have a problem detecting the best plugin for Vimeo, don't you?
In this article, we'll show you the best WordPress plugins for Vimeo so you can choose one that you and your potential customers will love. These plugins are thoroughly evaluated and chosen to assist you with good features and support for WordPress themes to make sure you will choose the best Vimeo plugin for your site.
We chose plugins that are the absolute best for Vimeo. Nevertheless, these plugins work well for Vimeo Video Gallery, Vimeo Embed, Vimeo Widget, and Video.
In addition, we recommend taking a look at our selection of video player plugins and video magazine themes.
Best Vimeo Plugins for WordPress 🎥
let's check this hand-selected list of the best Vimeo WordPress plugins in 2022:
YouTube Gallery
The Video Gallery is the greatest and most popular video gallery plugin for WordPress. It is fully compatible with the most recent WordPress versions. It provides your website a luxury appearance while being very user-friendly.
It is possible to display videos from sites such as Vimeo, YouTube, and Wistia in the Video Gallery. A few simple steps can assist you in creating a remarkable video gallery for your website.
The Video Gallery's simple design is very responsive across all devices. The user-friendly editor makes the process simple and painless. There are 16 free themes included with the clean design. Because of the hover effects, the complete appearance is great.
---
💵 All the impactful capabilities are produced with this plugin, and you can get all the updates by downloading this plugin for Free.
Key Features:
In gallery views, you may add a custom link to single videos
Multiple categories for watching the video are supported
All major WordPress versions are supported
Videos are available indefinitely (YouTube, Vimeo, Wistia & MP4)
Control the color, size, and alignment of all description text
Add, update, and remove galleries
Generator of limitless shortcodes
On contemporary smartphones, gallery animations perform nicely
YouTube, Vimeo, Wistia, and MP4 are all supported
The hover effects are both beautiful and fantastic
works well with your current HTML and CSS
Themes for Video Galleries – 16 free options
Support popular WordPress themes
Random Reviews:
Very happy of my choice with this plugin for my video gallery (Vimeo). It looks very nice on my website and I can really adjust a lot of things. The support was really reactive and efficient to resolve a little problem I had in the beginning. Thanks

I am very happy with this gallery plugin. The pro version may be much better. But, as a free gallery plugin, it fulfills my all requirement.

I really liked the plugin. I already use it on my 2nd site. This topic was modified 2 months ago by
Video is the future of content marketing
Video uploading with the All-in-One Video Gallery plugin is an especially enjoyable experience. By using this plugin, you can create attractive, searchable video articles while improving your search engine ranking.
To get started, you don't need to know any complicated code, and you may embed single or numerous films from YouTube and Vimeo on your website.
Simply build infinite catalogs, generate articles, and edit as desired with this all-in-one video gallery plugin for WordPress. This also allows you to label the videos as features. This video gallery addon supports translation, and the movie may be autoplay or looped.
---
💵 There is a Pro version for $47 as well as a Free version integrated.
Key Features:
Controls for the player include play/pause buttons, a timer, a progress meter, a duration, a quality switcher, a speed control, a volume button, a fullscreen button, and the ability to turn on or off subtitles
The ability to categorize and tag videos
A custom HTML5 video player that supports MP4, WebM, OGV, and embeddable video players such as YouTube, Vimeo, Dailymotion, and Facebook, among others
Videos are posted to the site as POSTS, which have their own user interface. As a result, the plugin has no effect on your regular WordPress POSTs
Embed code from any third-party video player is possible
Autoplay, loop, muted, and preload subtitles are available as playback options (WebVTT)
Create as many categories, subcategories, and tags as you like
Random Reviews:
The plugin is simple but has almost all the features, I am glad I chose it. Excellent support; the response is fast and they always solved my issues. I'll definitely recommend this one.

It is the best video plugin of all wordpress! It has solved the problem of organizing and ordering more than 2,000 videos for me !! Thank you ! You get 5 stars because you don't have 20 because you deserve them! Great job !! If you have any questions, they answer right away and try to help you! Congratulations !

Very good plugin
Youtube video gallery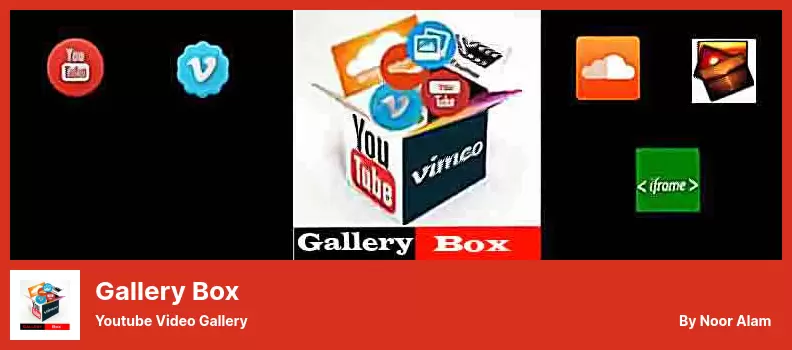 If you are looking for the best free WordPress video gallery plugin, Gallery Box is a good choice. With this plugin, you are able to build an attractive picture gallery that includes an image carousel, a slider, a portfolio, and videos from Vimeo.
The Gallery Box is extremely customizable, simple to use, and includes features such as support for Youtube, Vimeo, carousel images, Iframes, and advice images, among others. Also, it supports WordPress page builders.
The finest feature of Gallery Box is the hover effect, and all of the photos open in a seamless lightbox. You may use Gallery Box to access three different masonry grid types as well as creative panels.
---
💵 The Lite version is free, the Pro version is $24.
Key Features:
Support for both ascending and descending order
Support for three different Masonry grid styles
There is no limit to the number of images in the gallery
Advanced image gallery
Gallery Box now has an Elementor widget accessible
Portfolio Gallery is available
There are a lot of hover effects
A one-of-a-kind configuration panel
Support for an unlimited number of colors
A quick collection of images
Random Reviews:
Galleries are not created automatically. You need to add all the video links manually from Vimeo, which you can just as well do with WordPress or a Page Builder. The fact that it requires manual link creation is not stated in the product description, it just says Vimeo Gallery – Pro. But when refund was requested for Pro version, it was refused outright.

This is the best solution for the Iframe lightbox.

In a clear violation of wordpress's T&C's, this author decided in the last revision to remove all functionality in this free version to force users to upgrade to his "pro" version for the same functionality that was free. Further, he removed the last "working" version from his svn, but left on the earlier bug ridden versions. This author is clearly unethical.
Everything you want in a YouTube plugin
YourChannel is one of the greatest plugins available for WordPress Youtube videos, as it includes a number of features such as caching, auto-play, single video, channel video, as well as a host of others.
YourChannel may be used to show banner graphics, usernames, and a photo of an account, among other things. This plugin enables you to design layouts and choose font icons based on your taste.
YourChannel displays the video in Lightbox and allows you to choose from seven different video thumb styles. The adjustment is straightforward. Shortcodes for pages, articles and other fields are supported by the YourChannel platform.
This WordPress plugin is RTL-compatible and has a visual builder that is very efficient and simple to use for everybody.
---
💵 The Premium version costs $19 while the Lite version costs $0.
Key Features:
UI concepts (videos, playlists, loading… and so on) may be translated quickly
Instructions for using a shortcode in the post editor are straightforward
There are some autoplay configurations
supports translation
Only if a shortcode is present will files be loaded
Transitions are very seamless and quick
A cache mechanism is used to ensure that pages load quickly
The shortcode may be used in pages, posts, and custom fields
Random Reviews:
Thank you for taking the time to create such an awesome plugin 🙂 really helped me show my channel easily

I can't pay for Premium version with PayPal, Could u Please help me ?

Great plugin and easy to shortcode but are this limited video channel shows and where the youtube chatting room? can you update one.
Vimeo Video Gallery WordPress Plugin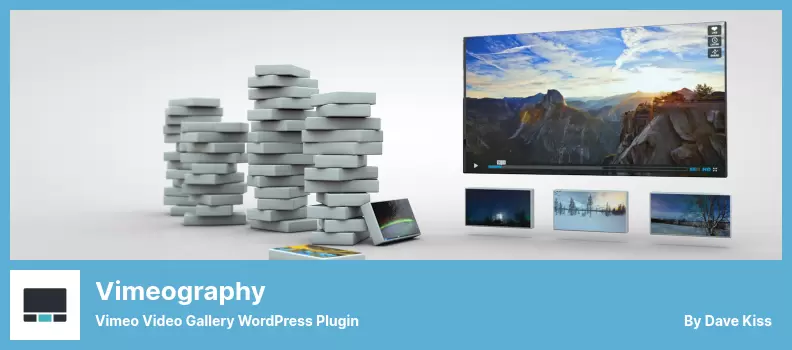 A Videography plugin has been developed specifically for the purpose of creating a video gallery on a WordPress website using Vimeo videos.
This free WordPress plugin enables you to construct an enticing website with videos that are perfectly tailored without the need for any technical knowledge.
Incorporating video galleries into pages or posts, as well as into a template, is simple with the help of Vimeography. It provides you with the ability to tweak the themes and alter the design of the website using the editor. The built-in caching system guarantees that pages load in a blink of an eye.
---
💵 You can get Lite for free, but Premium charges $99.
Key Features:
Reveal hidden videos, build auto-playing mixes, use custom sorting, and much more with this powerful tool!
Vimeo video interaction tools are supported (end screens, cards, email capture)
Create links to videos in your library that may be shared with others
Make your videos available for download by enabling download links
Create galleries that can be searched
Display an infinite collection of video
Make changes and personalize the themes
Random Reviews:
Vimeography simply and seamlessly displays my Vimeo videos. The integration was easy and Dave provided fast and thorough support when a few issues popped up.

Es el único plugin que he encontrado que te permite insertar una galería bonita de Vimeo. Fácil e intuitivo. El soporte atiende rapidísimo y revisando de verdad tus dudas ¡De 10!

Dave has been nothing short of amazing in helping to solve a few issues. This product is also extremely well written and designed. Certainly recommend and can't speak highly enough of the customer service.
Conclusion To The Top Vimeo Plugins!
We have gathered the best WordPress Vimeo plugins in this article. Each person with a website can use these plugins.
We hope this article was profitable.
Do not hesitate to ask questions. Just send a comment. We ask you to share this post on your social accounts.