Are you worried about your WordPress website being susceptible to brute force attacks? Fear not! We've got you covered with our list of the 13 best WordPress brute force protection plugins, both free and pro.
In this article, we'll discuss the importance of having strong website security and highlight the top 13 plugins you can use to enhance your website's security against brute force attacks.
Did you know that weak passwords make up 80% of website breaches? Additionally, WordPress sites are targeted over 90% of the time due to their popularity among website owners.
So, whether you're a novice website owner or a seasoned expert, these plugins will provide the peace of mind you need to protect your site from malicious attacks. Let's dive in!
Best Brute Force Protection Plugins for WordPress
If you're looking for extra security measures to protect your WordPress website, you'll want to check out the best brute force protection plugins available.
In this article, we've highlighted 13 of the top options, both free and pro, to help keep your website safe and secure. Make sure to read on to discover which ones are right for you.
The Most Popular WordPress Firewall & Security Scanner
Wordfence Security is a WordPress security plugin that provides firewall and brute force attack protection, among other features. It inspects your posts, plugins, theme files, WordPress comments, and core files for malicious code, spam, and errors.
In light of a DDoS attack, it allows you to track specific IP addresses and block them if necessary. Moreover, Wordfence's routine and automatic security examinations notify you of any threats, vulnerabilities, and corrupted files, so you can address them accordingly.
With WordPress being a popular target for attacks, hacking attempts, code injections, and similar attacks, the plugin proves to be helpful in monitoring your website.
However, it doesn't provide much assistance to webmasters since most attacks originate from different IP addresses that may be spread across multiple global networks, making it challenging to block them.
Wordfence Security offers some unique features such as multisite keys, the ability to sign in via your cell phone, auditing of passwords, and real-time traffic monitoring of everything from Google crawl activity to human visitors and bots to logins and logouts.
Additionally, it eliminates the need for installing a separate spam filter plugin and provides tools for country blocking, manual blocking, brute force protection, real-time threat defense, and web application firewalls.
Key Features:
Offers unique features such as multisite keys, sign-in via cell phone, etc.
Provides firewall and brute force attack protection
Monitors website for malicious code, spam, and errors
Allows tracking of specific IP addresses and blocks them if necessary
Eliminates the need for a separate spam filter plugin
Provides tools for country blocking, manual blocking, brute force protection, etc.
Helps You Fight Against Brute Force Attacks By Blocking Login for The IP
Loginizer is one of WordPress's most reliable brute force protection plugins, designed to keep malicious attacks at bay. This plugin includes practical functions to help fortify your website's security, such as Two-Factor Authentication, ReCAPTCHA, and PasswordLess Login.
To counter brute force attacks, the number of login attempts allowed can be restricted. If a user fails to log in after a certain number of attempts, their account will be locked, and access will be blocked.
The plugin also enables IP blocking, blocking login attempts from specific IP addresses once it has reached their maximum attempts. It also protects your passwords to prevent guessing by hackers. The Pro version of the plugin offers additional security features, such as custom write-force security.
With this plugin, you can whitelist or blacklist IP addresses for login, giving you control over which IP addresses have access. It also includes other methods for preventing brute force attacks, such as changing the login URL slug.
One of the plugin's most notable features is Two-Factor Authentication, which delivers a 6-digit code to your email address before logging in. Another is the use of a Challenge Question and Answer alongside the password for added protection.
Other features include replacing the WordPress admin area link with anything else, and the integration of Google's reCAPTCHA on login screens, Comments sections, and registration forms, among others.
Key Features:
Two-Factor Authentication is provided
Challenge Question and Answer addition
Replacing WordPress admin area link.
Brute force attack prevention
IP blocking and whitelisting/blacklisting
Custom write force security
Auditing, Malware Scanner and Security Hardening
Sucuri Security is a comprehensive WordPress plugin that offers excellent protection for your website against hackers and malware. This plugin uses multiple layers of protection to ensure that only real visitors access your website.
The plugin can be used on various websites such as Joomla, Drupal, PHP, NET, and HTML. Upgrading to Sucuri's Web Application Firewall service can take your website's security to the next level by utilizing virtual patching, DDoS protection, CDN performance optimization, signature detection, and bot blocking.
One of the best features of this plugin is its ability to create a cloud proxy firewall that filters all traffic before it reaches your hosting server. This firewall eliminates any malware installed on your website and blocks any attempts by hackers to compromise your site.
With this plugin, you can schedule scans of your website to detect any vulnerabilities in your WordPress website's pages that could lead to malware, suspicious redirects, iframes, and link injections. The remote scanner does not examine the files in your website's code, which determines how it functions.
Sucuri Pro provides additional features that allow you to activate a firewall that blocks traffic from multiple points of presence worldwide. The firewall can protect your website from DDoS attacks and brute force attacks by providing you with visibility over all incoming traffic.
Key Features:
Scans for malware, suspicious redirects, iframes, and link injections.
Multiple layers of protection against hackers and malware
Compatible with various website platforms
Upgrading to Web Application Firewall enhances website security
Creates a cloud proxy firewall that filters website traffic
Detects vulnerabilities in website pages
Made By WordPress Experts to Make WP Sites Safer and Faster, and Help You Grow Your Traffic.
Jetpack is a powerful WordPress plugin that combines valuable features from WordPress.com into a single package that is customizable and can be added to your self-hosted website.
There are a lot of features in the plugin, like security technologies, analytics, engagement tools, and display options, so you don't have to worry about WordPress attackers. In general, the interface looks cluttered, so you can't specify or deactivate modules because it's cluttered with toggles and submenus.
It is easy to use and highly configurable, so it's great even for people who don't do a lot of WordPress management. This plugin has a lot of features like CDNs, performance, list building, email marketing, security, backups, etc. Depending on what you need, you can enable or disable different modules.
With the Protect module, you can protect against brute force attacks, prevent illegal transactions, and whitelist your sites, so it's an industry-recognized security plugin that's free. For people who don't want to pay for security but want to make sure they don't get scammed, it's an awesome option.
Besides automating your backups, Jetpack also lets you set up plugins that update automatically, and let you know if there's any downtime every five minutes. It detects, removes, and secures your login process, and filters spam from your comments, contact forms, and product reviews.
Key Features:
Automated backup process
Automated malware detection and removal
Brute force attack protection
Filtering of spam submissions.
Provides Secure Login to WordPress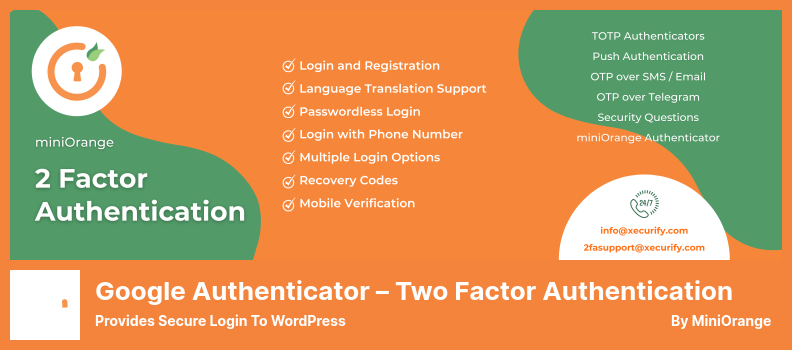 Google Authenticator – Two Factor Authentication by MiniOrange is an essential tool that provides an additional layer of security during the login process. Hacking attempts commonly occur during login, and this plugin is helpful in such situations.
The login process is also secured by two-factor authentication, which helps make it less vulnerable to tampering since it sends a push notification to your phone in addition to sending a push notification to your email.
In addition to BuddyPress and Ultimate Member, the plugin supports AD, Azure AD, Okta, and even Mini Orange. As a result, the authentication process can be customized based on user type, increasing security. You can also specify the role of the users required to be authenticated.
One of the features that set this plugin apart is that it provides effective protection against login area vulnerabilities. It also allows for the customization of the two-factor authentication method according to its ease of use.
Furthermore, QR codes, security questions, push notifications, soft tokens, and TOTP-based authentications such as Duo, Microsoft, and Google Authenticator can all be configured.
Although it has the disadvantage of making mobile login more complicated, MiniOrange Google Authenticator remains one of the best security plugins available. It is affordable, easy to use, and provides effective two-factor authentication methods and additional login security.
Key Features:
Custom login pages created with a shortcode
The customizable authentication process for different user types
Option to configure push notifications, soft tokens, security questions, etc.
Effective protection against login area vulnerabilities
Customizable two-factor authentication method for ease of use
Mitigates Brute-force Attacks By Limiting The Number of Login Attempts
WP Cerber Security provides all-around protection against hacker attacks, malware, spam, and Trojan horses. This security plugin comes with a built-in scanner to keep your website safe and secure. One downside is that the scanner can take some time to scan everything.
It offers a wall of protection against any type of penetrator, ensuring your site files are free from any vulnerabilities. If it detects malware or infected files, it will automatically fix the issue for you. The Pro version of the plugin gives you the option to schedule automatic web scanning and file recovery hourly or daily.
It's a layer of security in case of a DoS attack. If you're under attack, you can even set a lockout policy that's more restrictive, but make sure you whitelist specific IP addresses so you don't lock yourself out. You can customize the plugin's login attempt limit too through the Main Settings tab too.
The plugin also includes a feature to conditionally disable the REST API, preventing unauthorized users from accessing the admin control panel. The Hardening feature is easy to use and applies vital security measures to enhance the security of your WordPress site.
The plugin comes with an intuitive reporting dashboard that provides valuable insights and notifies administrators regularly. It rarely causes issues, and Legacy mode allows you to load the site before adding additional components.
With the Remote configuration control and the ability to block PHP file uploads, WP Cerber Security protects your website from intrusion and keeps your website safe from any security breaches.
Key Features:
Reporting Dashboard with valuable insights
Regular notifications to administrators
Block PHP file uploads
Rarely causes issues
Remote configuration control
Protection against intrusion and DoS attacks.
Stops Brute Force Attacks and Optimizes Your Site Performance
Limit Login Attempts Reloaded is a versatile plugin that is highly effective in defending your WordPress site against malicious brute force attacks. It does this by providing secure login pages and allowing you to manage the number of possible login attempts.
You can use it on any WordPress website, including WooCommerce and custom login pages. The plugin's premium version includes advanced features like lockout logs and the ability to unlock locked admin from another WordPress page.
The multi-site functionality and support for custom origin IP addresses make this plugin a practical choice for those who require added security. It is also compatible with Wordfence and Sucuri. This plugin is a great solution for anyone who needs to improve the security and performance of their website.
By limiting login attempts and using anti-hacking technology, brute force attacks are tougher to execute, which makes your site faster and more secure. This plugin warns you via email if someone tries to get in without waiting, and freezes their account if they don't wait for a while.
The plugin offers features like custom IP origination, IP blocking/unblocking, compatibility with GDPR, backup options, and XMLRPC gateway protection. The plugin allows whitelisting and blacklisting of IPs and usernames and setting arbitrarily the number of login attempts for a specific IP address.
Key Features:
Provides secure login pages for WooCommerce
Automatic backup is provided
Intelligent IP blocking/unblocking
Compatible with GDPR and multiple sites
Custom IP origins for Cloudflare and Sucuri
Longer lockout intervals for better security.
Gives You The Best Security Solutions With Powerful and Easy-To-Use Features
Using Hidden My WP Ghost, you can protect your WordPress site from SQL injections, XML-RPC attacks, and brute force attacks. You don't have to change any files or directories, and it doesn't hurt SEO or load times. It protects against hacker bots by changing and hiding plugin paths and themes.
This plugin is compatible with all servers and hosting providers and supports all WP Multisite plugins. It works well with Wordfence, iThemes Security, and Sucuri, providing an additional layer of protection against hacker bots.
The plugin has three security levels: Default, Safe Mode, and Ghost Mode. The Ghost Mode, which is the most secure level, can break some themes and designs.
The plugin has an average loading time of only 003s, making it faster than 90% of WordPress plugins. The Change Paths feature masks the trail of common WordPress folders that are easily guessable and penetrable. This feature can also disable access to XML-RPCs and REST APIs.
There is also a security scanner software included in this plugin, brute force protection, and one of the security measures referred to as Recaptcha used for authentication purposes.
Additionally, it is compatible with CDN services, supports Apache, Litespeed, and Nginx in addition to IIS, and offers variable configurations for limiting login attempts. It also protects against cross-site scripting attacks.
Key Features:
Security scanners and brute force protection
Ghost Mode for robust security
Protection against cross-site scripting attacks
Recaptcha login security measure
Compatibility with CDN services
Variable Configurations for limiting login attempts.
Secure Firewall & Secure Malware Scanner
Security Ninja is a security plugin exclusively available on CodeCanyon that performs a security scan in just a few minutes and detects any holes or weaknesses on your website. It can quickly advise you if anything is amiss and provide solutions to any problems.
The plugin conducts a malware scan on your server, using heuristic analysis, code samples, and patterns to determine if any files are malicious or not. Although not all flagged files are malicious, you can whitelist files that should exist and delete files that shouldn't exist from the plugin's interface.
The plugin also includes brute force checks on passwords, removing accounts with weak passwords, and educating users about security. The free version of the plugin compares your website with the defaults and does not affect the site, making it an excellent option for those unsure about making changes.
With the plugin, you can perform more than fifty tests to identify problems with passwords, user accounts, file permissions, database security, plugin and theme versions, and other security risks. However, the Website Hardening and Site Performance Check features received below-average ratings.
For those who prefer an automatic plugin that handles security issues, the It Pro plugin is an excellent option, which includes an auto-fixer, firewall, malware scanner, events logger, and scheduled scanning options.
Additionally, Security Ninja notifies you when someone edits files or installs plugins, checks plugin compatibility, and blocks access from certain countries in addition to detecting modifications and extra files on your WordPress site. You can also schedule core and malware scans to run automatically.
Key Features:
Blocks access from specific countries
Verifies WordPress core updates and plugin compatibility
Provides automatic resolutions to detected issues
Proactively blocks malicious IP addresses and requests
Schedules core and malware scans
Performs brute force checks on passwords.
Secures WordPress Websites Without Needing a Degree in Cybersecurity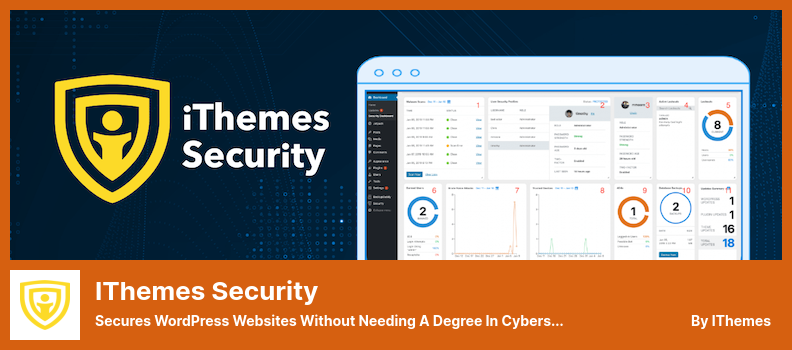 iThemes Security is an excellent plugin that prevents unauthorized access to your WordPress website. This plugin encrypts site communications and compares available files while preventing automated attacks.
It also secures your website by enforcing various security policies such as encryption, password protection, and prevention of unauthorized editing of files. However, it's important to actively monitor your site to ensure it remains safe after installing this plugin.
The free version uses Sucuri to scan sites for malware and provides tips on how to resolve any identified issues. Additionally, the plugin allows you to grant permission to specific IP addresses for user accessibility.
Additionally, you can add IP addresses that have attempted to attack your site to your blacklist, and also remove trusted IP addresses that have been accidentally included on the blacklist as well.
iThemes Security's System Tweaks modify your server configuration for better security, while the Notification Center sends alerts, news, and security updates regarding the Pro version. Email notifications are provided upon detection of threats for a quick response.
Key Features:
Configures SSL protocols for secure server-browser communication
Grant permission to specified IP addresses
Changes login page name and denies access to Admin area
Provides an IP address breach list
Ability to remove mistakenly-blacklisted IPs
Modifies server configuration for security with System Tweaks.
Comprehensive, Easy to Use, Stable and Well Supported WordPress Security Plugin
All In One WP Security & Firewall is a versatile and popular WordPress plugin that helps secure websites. It provides several features such as malware detection, vulnerability protection, password protection, anti-spam protection, user monitoring, database backups & firewalls.
Basic features are not intrusive and allow normal website operation while enhancing security. The Strength Meter offers an analytic report with a scoring system for novice webmasters to improve their website security.
The plugin is user-friendly with an intuitive interface and can be used by both beginners and advanced users. Additionally, it has three categories of features: Basic, Intermediate, and Advanced. Users can compare features against other security plugins to select the best for their website.
This plugin is different from iThemes Security with additional features such as login lockdown, blacklisting of certain users, strong password creation, and default 'admin' username detection.
Key Features:
Restrict certain users with the blacklisting tool
Graphical analysis of your website performance and section points
Protection against brute force attacks with Login Lockdown
Easy detection of default 'admin' username and changing it
Strong password creation with password strength tool
Backing up and restoring Wp-config and htaccess files.
Stop Brute Force Login Attacks, SQL Injections, Cross-site Scripting Xss, and Other WordPress Vulnerabilities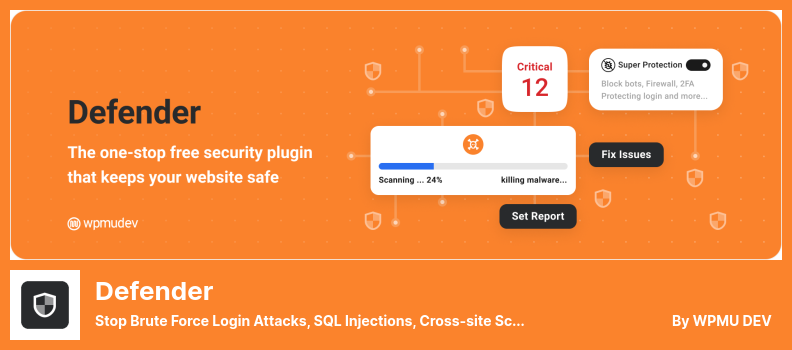 Defender is a WordPress security plugin that offers several unique features for free. It gives you a firewall with IP blocking, malware scanning, brute force login protection, and security threat notifications.
When you install it, it will identify any security vulnerabilities for your site, so you can fix them right away. This plugin is perfect for WordPress website owners that want to keep their websites safe from hackers.
The plugin provides malware detection, where it scans your entire site, identifies any suspicious files, and suggests potential suspicious files that you can remove if necessary. Security Tweaks is a feature that allows you to learn about security vulnerabilities and improve your website.
After receiving the information via the 'Status' link, you can view the changes that have been applied. The plugin also checks any plugins and themes installed on your site, guarding you against malware concerns.
When comparing your WordPress repository with the directory, it identifies any changes and enables you to restore the original files with a simple click. Its "How to Fix" section explains how to deal with any unidentified security issues. Its Pro version includes cloud backups with 10GB of online storage, audit logs showing changes, automated security scans, and blacklist monitoring.
Defender notifies you about IP lockouts and sends you reports, ensuring files are scanned unlimited times. Google two-step verification and log-in screen masking assure your website is well-protected. Audit Logs keep track of every user's actions, while the brute force attack shield protects logins through Timed Lockout.
The plugin also provides a logging and IP Blacklist manager, along with a 404 limiter to block vulnerability scans. Lastly, when you suspect a hack or data breach, Defender enables you to reset all your passwords automatically.
Key Features:
Malware detection with suggested potential suspicious files
Replaces plugins and themes with those in the WordPress repository
Includes cloud backups, audit logs, automated scans, and blacklist monitoring
Notifies you about IP lockouts and sends you reports
Audit Logs keep track of every user's actions
A brute force attack shield protects logins via Timed Lockout.
Automatically Fixes 100+ Known Issues/conflicts With Other Plugins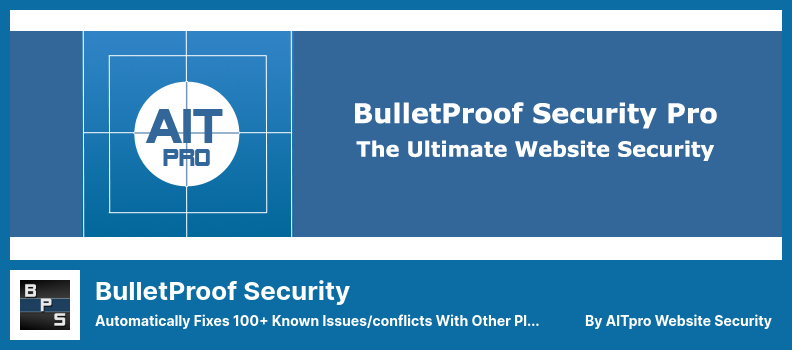 In BulletProof Security, you get a rule-based firewall that protects your WordPress site. For those who want hands-on security and a plugin that mainly deals with database, firewall, and login security for WordPress, this plugin is perfect. Make sure your permalinks are configured right before installing the plugin.
The plugin features an Auto Restore Intrusion Detection and Prevention System, which tracks all changes made to all files on your website. If any changes or new files are detected, the plugin will restore or quarantine files until their contents are reviewed.
Also, the plugin has a feature that can help protect against brute-force attacks, which are prone to occur with WordPress, which is why this security feature is crucial.
The plugin offers manual and scheduled database backups, security logging, and HTTP error logging, as well as the option to turn on maintenance mode, so you can make changes without hindering your users.
However, the plugin is not the most user-friendly, and it may only appeal to advanced developers interested in some of its unique features, such as online Base64 decoding and anti-exploit protection.
Key Features:
Option to turn on maintenance mode
Rule-based firewall for WordPress users
Auto Restore Intrusion Detection and Prevention System
Login security feature to prevent brute-force attacks
Manual and scheduled database backups
Online Base64 decoding and anti-exploit protection.
Frequently Asked Questions
What are WordPress brute force attacks?
WordPress brute force attacks are attempts by hackers to guess your login credentials by repeatedly trying different username and password combinations until they gain access to your website. These attacks can be automated and can cause damage or steal sensitive data from your website.
Why do I need a WordPress brute force protection plugin?
A WordPress brute force protection plugin can help reduce the risk of successful attacks by limiting the number of login attempts, blocking suspicious IP addresses, and strengthening password requirements. Without this protection, your website may be vulnerable to hackers and cyber-attacks.
Do I need to pay for a WordPress brute force protection plugin?
While some of the best WordPress brute force protection plugins are available for free, there are also paid versions that offer additional features and support. It's important to assess the level of protection you need for your website and choose a plugin that fits your budget and security needs.
Conclusion
In conclusion, we have discussed the top 13 best WordPress Brute Force Protection plugins, both free and pro versions. We have covered the features, pros, and cons of each of these plugins to help website owners make an informed decision about which plugin to choose for their WordPress website.
If you enjoyed this post and would like to learn more about WordPress, security, and website optimization, be sure to check out the BetterStudio blog. We regularly post tutorials and in-depth guides on a variety of WordPress-related topics.
Don't forget to follow us on Facebook and Twitter to stay up-to-date with the latest tutorials, news, and updates from BetterStudio. We strive to provide the most helpful and informative content for our readers.
Thank you for taking the time to read our article. If you have any questions or comments about the topic, feel free to leave a comment in the section below. We would love to hear from you and help you in any way possible.