Trying to find the best WordPress Internal Linking plugins?
Here are the best WordPress plugins for Internal Linking. You can use them to set up a site without wasting time searching for a long list of plugins. The WordPress plugins we will present to you below provide different features and options, some of which are even better than some premium plugins. Once we've finished, all the top WordPress themes will work with these plugins.
There are the following WordPress plugins made explicitly for internal linking. However, this selection of WordPress plugins also includes plugins suitable for external linking.
Take a look at these 2022's best Internal Linking WordPress plugins:
Help You Gain The Value of Powerful Internal Links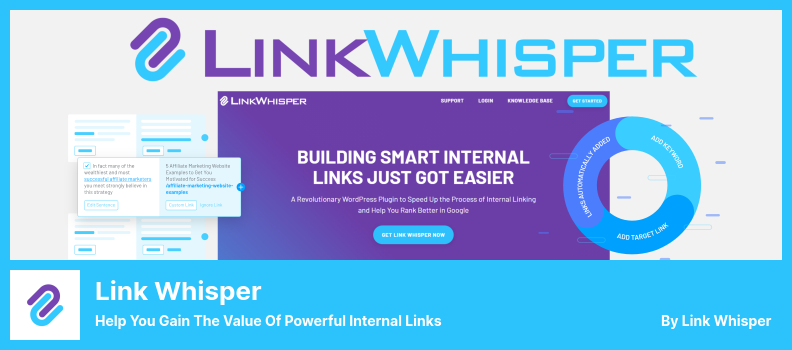 Link Whisper provides the most potent internal linking plugin available. With the help of a plugin such as this, you can get link suggestions that can improve your SEO and rank better in search engines.
With this plugin, you can utilize artificial intelligence to automatically suggest anchor text as you write your article in WordPress.
In the post editor, you will find suggested links, and you can also add links from there. You must select the links you wish to include and click the 'Update post' button.
This plugin has an excellent link reporting dashboard with a view of internal and outbound links and external links.
Furthermore, by clicking the Inbound internal links column and clicking 'Add', internal inbound links can be added to newly published posts to prevent orphaned content.
In addition, you may be able to control the words or phrases suggested for links, resulting in a more appropriate and optimal selection of links.
💵 Free download for the Lite version, and $77 for the Premium version.
Key Features:
There is a broken link checker available
Compatible with Gutenberg Editor
Suggestions can be generated automatically
Reports are available in a powerful format
A bulk link changer is included
Random Reviews:
You'll find links to other posts by searching your other posts with this plug-in.

Despite the free version looking neat, I'll likely use this app more often.
Best SEO Plugin for WordPress
In the past few years, Rank Math SEO has become one of the most popular SEO plugins for WordPress in its category. It has now become one of the best alternatives to Yoast SEO.
The Link Suggestion feature is one of many features offered by this exceptional SEO plugin. Using this plugin, you can easily create internal links between your posts on your website as you write them. This makes it much simpler to link between posts on your website.
In the section called 'Link Suggestions', the editor offers suggestions for links. You may copy a link or insert it directly from there.
Several useful features are available in this plugin, including internal linking, making it the perfect SEO tool.
In terms of ease of installation and ease of use, this plugin is a great choice if you are looking for a plugin that will handle all aspects of your SEO strategy.
💵 Pro and Lite versions are available. The pro version costs $129.
Random Reviews:
I have improved the content I write for my clients using this plug-in. Beneficial.

I was amazed by their knowledge; they answered all my questions no matter how many I had.
The First WordPress SEO Plugin
One of the most popular WordPress SEO plugins, Yoast SEO, is still incredibly popular today. This plugin also offers the capability to improve your search engine rankings and set up landing pages on your site via internal links.
Similarly to Rank Math's Link Suggestions feature, it analyzes the content of your posts and recommends appropriate links to include.
As well as the linking functionality of this plugin, you can take advantage of other features.
It must be mentioned that Yoast SEO's internal linking suggestions feature is available only in the premium version.
Furthermore, this plugin maximizes the speed of your entire website by using a new method for organizing data in WordPress.
In this plugin, IndexNow is integrated so you can send ping messages to search engines like Microsoft Bing whenever you update your content.
💵 There is a Premium version and a Lite version of the Yoast SEO plugin. The Premium version costs $99, and the Lite version for free.
Key Features:
Site breadcrumbs

can be controlled completely

There are suggestions for internal linking
A set of advanced XML sitemaps is available
A wide range of crawl settings are available
Templating for titles and meta descriptions is available
Random Reviews:
Thank you so much for developing this plugin. It's the best SEO solution I've seen.

It is a great On-page SEO plugin that I've used for my website On-page SEO for two years now.
Gives You The Ability to Monitor and Optimize Your Internal Links
You can create as many internal links as you like on your website using the Interlinks Manager plugin for WordPress.
This plugin allows you to analyze your website's internal links to determine the number of interstitial links, the number of visits your internal links generate, and several other things.
Furthermore, this plugin can calculate the link juice associated with each URL. A further benefit of this plugin is that it provides links suggestions for your posts, which can be used to create internal links relevant to your content.
It is possible to create internal links based on certain keywords or phrases. It is also possible to use the Interlinks Optimization field to track the progress of the internal links during the editing process.
💵 A Premium version of this plugin is available for $39 and a Free version.
Key Features:
There are several suggestions for internal links
A link juice calculator is included
Links are analyzed with a link analyzer
The ability to track links is available
Random Reviews:
There is no better plugin for WordPress to present a full summary of your internal links easily; hopefully, the reports will be even better.
Manage All External & Internal Links
The External Links plugin allows you to control all external and internal links on your site. This plugin allows you to decide whether an external or internal link is sponsored and whether it opens in a new window.
This external linking plugin allows you to identify every single link on your site, whether it has broken links or not, whether it has been redirected, and what the target and rel attributes are.
In addition, this plugin allows you to determine what page the broken link links to and whether it is outdated. Once the plugin is activated, all internal and external links can be configured via the plugin's admin interface.
With this plugin, you can filter the output and change links. The database content of posts, pages, widgets, etc., will not be affected by this plugin.
💵 The premium version costs $109.
Key Features:
User data is not tracked, collected, or processed
No third-party services are used, or CDNs are utilized
The output can be filtered, and the links can be modified
WPMU is supported
Random Reviews:
Thank you for creating such an awesome plugin for links. I appreciate it.

Creates conflict – only applicable to basic needs
SEO Auto Linker for WordPress
Internal Link Juicer is a plugin that allows users to improve internal linking. With this plugin, you can automatically create internal links once you have configured your keywords.
This plugin completely customizes how internal links are displayed and created within your website.
Suppose you wish to whitelist certain posts, diversify your anchor text, or customize your link output. In that case, you have a variety of options available to you.
During the design of the plugin, affiliates, bloggers, agencies, and businesses were specifically taken into account.
Once your keywords have been configured, this plugin automatically generates links from your blog posts to your website pages.
This plugin allows individual posts to be blacklisted if they contain links that should not be generated. It is also possible to create a whitelist that allows links to specific types of content.
💵 You can download the Lite version for free, and the Premium version costs $69.99.
Key Features:
A perfect workflow has been established
It is possible to control the linking of pages in full
It is possible to customize the output of your links
The behavior of the linking can be configured
Keywords can be imported automatically
Random Reviews:
Despite the plugin's great functionality, it takes a lot of CPU. The CPU requirement is very high if you update a few articles in five minutes. This feature needs to be improved. Additionally, it would be helpful if the index could be updated manually or automatically, once or twice a day instead of every time an article was updated.
Set Links Automatically to Your Provided URL
The Internal Links Manager plugin can automatically create links to the URL using the URL you provided. It is only necessary to provide the necessary parameters to get started.
Since this keyword automatically links to a specific URL, whenever you use it on any of your posts or pages, the plugin will automatically generate a link to it.
Your users will be more likely to find relevant content if you choose your primary keyword and include links to relevant content.
As a side effect, your visitors will spend more time on your website to acquire more information about your product. So, your bounce rate will decrease, which is important for your Google ranking.
Internal links are also an essential component of SEO. With this plugin's help, you can create a site architecture and spread link equity among your pages.
💵 Free Internal Links Manager plugin.
Key Features:
Creates a link to a URL automatically
Search engine optimization (SEO) is boosted
An automated internal linking system is available
You can import and export your data with a single click
Provides an improved user experience
Random Reviews:
The developer helped me get the plugin removed, but I didn't succeed.

Kudos to the developer of this SEO plugin! It works as it should. One of the better SEO plugins out there!
Lastly, the last look at the Top Internal Linking plugins!
If you read this text, we discussed the best WordPress internal linking plugins to make your site look modern. When you use these plugins, your site will look great.
📌 Note: We strongly suggest checking our list of expertly selected top WordPress hosting providers to enhance your website's performance. You may also wish to consult our list of best WordPress security plugins to enhance your website's security.
You are in our thoughts and prayers.
We'd love to hear your thoughts. Leave a comment. If you like this list, please share it with your friends on Facebook or Twitter.