Are you struggling to find the right internal and external linking plugins for your WordPress website?
The search can be overwhelming with so many options available, but fear not! We've got you covered with our hand-picked list of the 7 best WordPress external and internal linking plugins for 2023.
In this article, we'll provide an overview of each plugin, including its features, pros, and cons. We'll also add some statistics and facts about each plugin to help you make an informed decision based on your specific needs.
Internal and external linking plays a crucial role in improving your website's SEO, increasing page views, and decreasing bounce rates.
With the right plugins, you can automate the process and ensure that your readers have a seamless experience navigating through your website.
So without further ado, let's dive into the world of WordPress linking plugins and discover the best ones for you!
Help You Gain The Value of Powerful Internal Links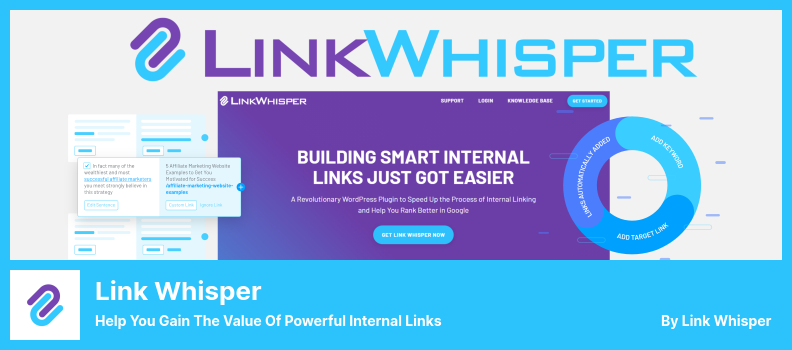 Link Whisper provides the most potent internal linking plugin available. With the help of a plugin such as this, you can get link suggestions that can improve your SEO and rank better in search engines.
With this plugin, you can utilize artificial intelligence to automatically suggest anchor text as you write your article in WordPress.
In the post editor, you will find suggested links, and you can also add links from there. You must select the links you wish to include and click the 'Update post' button.
This plugin has an excellent link reporting dashboard with a view of internal and outbound links and external links.
Furthermore, by clicking the Inbound internal links column and clicking 'Add', internal inbound links can be added to newly published posts to prevent orphaned content.
In addition, you may be able to control the words or phrases suggested for links, resulting in a more appropriate and optimal selection of links.
💰 Note: BetterStudio users get an exclusive $15 discount by using this link!
Key Features:
There is a broken link checker available
Compatible with Gutenberg Editor
Suggestions can be generated automatically
Reports are available in a powerful format
A bulk link changer is included
Best SEO Plugin for WordPress
Rank Math SEO is a fantastic WordPress SEO plugin that has climbed the ranks to become one of the most popular WordPress SEO plugins in recent years. It is an excellent alternative to Yoast SEO, which is a well-known plugin in this category.
One of the standout features of Rank Math SEO is its Link Suggestion feature. This tool makes it remarkably simple to create internal links within your posts while you write them. By going to the 'Link Suggestions' section, suggestions for links are provided, and you can copy or insert them directly from there.
The plugin offers various other valuable features, such as internal linking, making it an ideal SEO tool. If you are looking for a plugin that handles all aspects of your SEO strategy, Rank Math SEO is an excellent choice because of its ease of installation and use.
In conclusion, Rank Math SEO is a powerful plugin that deserves its reputation as an essential tool for any website owner. With its impressive features, ease of use, and effectiveness at boosting search engine rankings, it is undoubtedly worth checking out.
The First WordPress SEO Plugin
Yoast SEO is one of the most well-known WordPress plugins for SEO, and it continues to be popular today. This plugin offers a range of features that can help you improve your search engine rankings and set up landing pages on your site through internal linking.
Similar to Rank Math's Link Suggestions feature, Yoast SEO analyzes your post content and provides recommendations for appropriate links to include. However, it should be noted that the internal linking suggestions feature is only available in the premium version.
Aside from its linking capabilities, Yoast SEO also has other useful features, such as the ability to maximize the speed of your entire website by using a new method for organizing data in WordPress.
Additionally, IndexNow is integrated into this plugin, allowing you to send ping messages to search engines like Microsoft Bing whenever you update your content.
In conclusion, Yoast SEO is a powerful WordPress plugin with a broad range of features that can help you improve your site's search engine rankings and optimize your content for better results.
Although some of its features require a premium subscription, the plugin's free version still offers a wealth of valuable tools that make it worth considering for any website owner looking to enhance their SEO efforts.
Gives You The Ability to Monitor and Optimize Your Internal Links
Interlinks Manager is a must-have plugin for WordPress website owners who want to boost their site's internal linking strategy. With this tool, you can create and manage as many internal links as you wish, making it easier for visitors to navigate your website.
One of the most significant benefits of the Interlinks Manager plugin is its ability to analyze and track your website's internal links, providing you with valuable insights into which pages are generating traffic and link juice.
Additionally, the plugin offers suggestions for relevant internal links that can be added to your posts, further optimizing your content for search engines.
Another feature of Interlinks Manager is the ability to create internal links based on specific keywords or phrases, ensuring that your visitors can easily find related content on your website. Moreover, the plugin's Interlinks Optimization field enables you to monitor the progress of your internal links as you edit your posts.
Key Features:
There are several suggestions for internal links
A link juice calculator is included
Links are analyzed with a link analyzer
The ability to track links is available
Manage All External & Internal Links
External Links is a powerful WordPress plugin that lets you take control of all internal and external links on your website. With this plugin, you can easily set whether a link is sponsored or not, and choose if it opens in a new window or not.
This plugin allows you to identify every single link on your site, whether it has been broken or redirected, and what the target and rel attributes are. It is an excellent tool for keeping track of your website's links and ensuring that they are all working correctly.
The External Links plugin also gives you access to a range of configuration options, so you can filter output and change links according to your specific needs. The best part is that it won't affect the database content of your posts, pages, widgets, and other items on your website.
Key Features:
User data is not tracked, collected, or processed
No third-party services are used, or CDNs are utilized
The output can be filtered, and the links can be modified
WPMU is supported
SEO Auto Linker for WordPress
Internal Link Juicer is a plugin designed to enhance internal linking. It allows users to automatically create internal links by configuring keywords. The plugin provides complete customization in terms of how internal links are displayed and created on the website.
One of the benefits of Internal Link Juicer is that it enables bloggers, affiliates, agencies, and businesses to use their specific requirements while customizing their link output. Users can also blacklist certain posts from generating links or whitelist specific content types for link generation.
With Internal Link Juicer, you can diversify your anchor text and generate automatic links from your blog posts to your website pages. Once configured, the plugin generates links from every post to your desired web pages.
Notably, this plugin is perfect for those who want to improve their website's SEO ranking. Having optimized internal linking helps search engines crawl and index a website faster, leading to improved visibility and traffic.
Key Features:
A perfect workflow has been established
It is possible to control the linking of pages in full
It is possible to customize the output of your links
The behavior of the linking can be configured
Keywords can be imported automatically
Set Links Automatically to Your Provided URL
Internal Links Manager is a WordPress plugin that automates the creation of links to specific URLs using provided parameters. With this plugin, you can select your primary keyword and include relevant content links that will help users find more useful information on your site.
By including internal links in your content, your visitors will spend more time on your website, reducing your bounce rate, and improving your Google ranking.
Additionally, internal links play a crucial role in optimizing your site for search engines, and with Internal Links Manager, you can create an effective site architecture and spread link equity among your pages.
Using the Internal Links Manager plugin is straightforward and doesn't require any technical knowledge to get started. You only need to provide the necessary parameters, and the plugin will automatically generate links to your specified URL whenever you use your selected keyword in your posts or pages.
Key Features:
Creates a link to a URL automatically
Search engine optimization (SEO) is boosted
An automated internal linking system is available
You can import and export your data with a single click
Provides an improved user experience
FAQ
What are the benefits of using external and internal linking plugins for WordPress?
Using external and internal linking plugins can help improve the SEO of your website by making it easier for search engines to crawl and index your content.

Additionally, these plugins provide a better user experience by allowing visitors to easily navigate between related pages on your site.
How do I choose the best external and internal linking plugins?
When choosing an external and internal linking plugin for your WordPress site, consider factors such as the specific features you need, your budget, and user reviews. It's also a good idea to test out several different plugins to see which one works best for your site.
Why should I use external and internal linking plugins?
Using external and internal linking plugins for your WordPress website will enhance its SEO by improving site architecture, making it easier for search engines to crawl and index your content.

It will also provide a better user experience for visitors and encourage them to browse more pages on your site.
Conclusion
To sum up, in this article, we have discussed the 7 best WordPress external and internal linking plugins for 2023, both free and pro options. We have covered a range of features and benefits that each plugin offers, helping you to make an informed decision about which one is best for your needs.
If you found this article helpful, be sure to check out our blog at BetterStudio for more related tutorials and helpful resources on WordPress and website development.
For even more updates and insights, follow us on Facebook and Twitter to stay up-to-date with the latest tutorials and news from BetterStudio.
Thank you for reading our article and we hope it provided valuable information for you. If you have any questions or issues regarding the content we covered, please feel free to leave a comment below and we will be happy to assist you.