Are you looking for a WordPress plugin for Content Protection?
Looking for a quick answer? We recommend the Content Protector Pack plugin for content protection in WordPress.
You can choose from the handcrafted list of WordPress plugins we have complied for you with advanced settings that are impactful to ensure better security also these plugins are compatible with all WordPress themes. Choose your favorite plugin from the handpicked list we created for you to make a site that can stand apart from the rest.
This plugin listing contains plugins associated with Content Copy Protection usages. We have curated this list to help you choose the most suitable plugin also for Content Copy Protection, Disable Right Click, Secure Copy Content, No Right Click On Images, Disable Copy-Paste on WordPress.
Furthermore, you can use a WordPress activity log plugin to keep track of your users' activities on your site, rather than employing a password protection plugin for monitoring private information on your site.
Best Content Copy Protection Plugins for WordPress 🔒
Add a header to begin generating the table of contents
Listed below are the top WordPress plugins for Content Protection in 2022:
Ultimate WordPress Content Protection Plugin
The Content Protector Pack is the best WordPress Content Copy Protection plugin as our choice for the variety of features and security levels that it provides.
It protects content from copying and uses several techniques as well as JavaScript and CSS to keep your page and posts protected. This technique is an innovative method that is not available in other WordPress plugins.
This plugin helps you by WordPress disable right-click features to make the use of shortcut keys possible to protect contents. These shortcuts can be CTRL+X for cut, CTRL+C for copy, CTRL+V for paste, CTRL+A for select all, CTRL+U for view source, and more like them.
---
Key Features:
This version has the option for Watermarking and you can disable the image drag and drop function
Get full control on Right-click or context menu
With a right-click on images, text boxes, links, plain text, and more like them, it will show alert messages
It supports jQuery and uses HTACSSE rules
Admin can exclude home page or single posts from being copy protected
It has the option of disabling copy protection for admin users
This WordPress secure copy content has 3 protection layers for JavaScript, RightClick, and CSS
It has very aggressive image protection, which means it's impossible for expert users to steal your images
Compatible with all major theme frameworks and browsers
This plugin tested in IE9, IE10, Firefox, Google Chrome, and Opera
Works on smartphones and iPhones
Random Reviews:
It is one of the most amazing and frequently updated plugins I have ever installed. I highly recommend this plugin for anyone looking to protect their original content and posts.
WordPress Content Protection Plugin
Secure copy content protection and content locking plugin is a WordPress security plugin that was designed to protect a website from plagiarism and WordPress content curation plugins that copy your website content or create duplicates.
It has all the features of WordPress disable right-click, WordPress secure copy content, and no right-click images. It also has the feature of WordPress to disable copy-paste to disable unwanted settings.
This plugin is easy to use with copyrighted materials that can take a few seconds to install and work. This WordPress content copy protection protects you from unwanted settings and lets you disable them. It works well both on PC and mobiles and lets you find any plagiarism.
---
💵 For example, the premium version of this plugin costs $price, while the free version is zero dollars.
Key Features:
WordPress disables the right-click feature, which ensures you the best quality in SEO from the aspect of the copyright sign
The copy-protected feature which lets you turn off drag and drop
Easy installation, which lets you install this WordPress content copy protection plugin in a matter of seconds
A new shortcode will be created automatically after pressing the "Add new" button
The option of disabling shortcode
Write the password for content in an orange square to show the number of users who entered the password for displaying the content
Selecting specific users to display the content without a password
There is a possibility to show restricted content for specific users
The option of disabling left-clicks, developer tools, F12, and more customizable options
Has various style settings
Random Reviews:
Upon installing this plugin, I was unable to use Elementor Pro and Updraft Plus, which were capturing backups*

Works well. After using the free version, we tried the Pro plugin. We had some issues and contacted support, which responded promptly. The plugin is highly recommended for anyone who needs to protect their posts and original content.

Thanks for the wonderful plugin, all content is protected.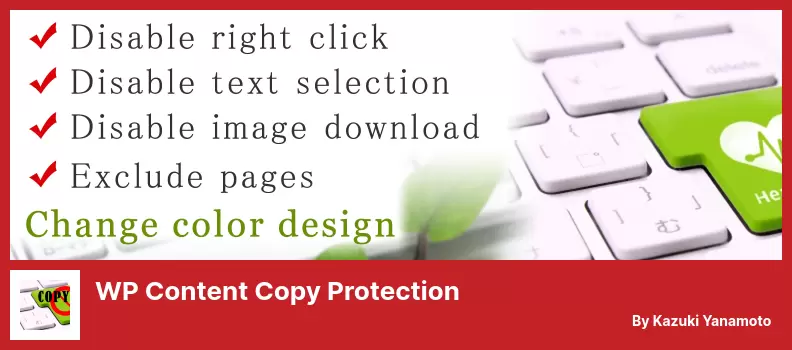 This open-source WordPress secure copy content protection plugin provides an excellent security level. WP content copy protection with a color design plugin will protect your site from stealing data, copying contents and images.
This plugin uses concise JavaScript and CSS codes to avoid harmful and unwanted effects on your website's SEO. It also has the option of alerting you if anyone right clicks on your content or images.
WP Content Copy Protection with Color Design plugin works well on tablets and smartphones. This WordPress disable copy paste plugin helps you shut the copy-paste option off.
---
💵 For free, you can download this plugin.
Key Features:
WordPress disables the right-click option without giving the alert window
You have the option of changing the alert messages and can exclude login users from the options page
You have the option of excluding the pages and posts and protecting only specific ones
With this WordPress content copy protection plugin, you can protect the WordPress print preview page using the CTRL+P shortcut
The option of using various shortcuts without any need to select the text
The option for disabling image download and hiding/showing alert messages with this WordPress disable right-click plugin
It can also restrict keyboard shortcuts, text selection, image drag and drop, and more like them
Random Reviews:
Then people can copy not by right clicking, but by pressing the keyboard. Those are great.

* This plugin is amazing and updated frequently. It does not cause any issues with my blogs like other plugins in this category. Thank you!

It's simple, but it works!
The WP Content Copy Protection plugin is very suitable for the security of WordPress websites. You can protect your site from stealing, and disable the drag, drop, and saving options through mobile or personal computers.
It does whatever you need, and by using the free version, you can use essential features. This plugin is non-resource-based and absolute WordPress Content Copy Protection for the owner of sites.
This plugin has the option of WordPress no right-click images. This option can disable right-click context menu on all contents. It can save functions on default video and audio embeds.
---
💵 The plugin costs $19, but it can also be found as a free download.
Key Features:
This plugin can disable text selection, saving, dragging, and dropping on PC and mobile devices
It has essential image protection that can automatically remove image link URLs
It can disable Copy methods from onscreen keyboard and shortcuts. Thanks to the WordPress disable copy-paste feature
It will secure your upload directory and sub-directories from public access
JavaScript validation feature in WP content copy protection plugin can display error messages. The activation will take place at the time when disabled in the user browser
In Windows operating systems, this plugin can disable keyboard copy shortcuts
It has the option of 'Source view', 'Save Page', and 'Print' key functions
There are no negative side-effects on your SEO or any obtrusive popups or alert messages as they are famous for defaming your site
It is a non-resource-intensive plugin that works silently in the background, without any need for manual customization, configuration, or coding skill
Random Reviews:
When you open it in Firefox, only the options to accept, view, download, etc. appear. So using those options may not be convenient for you.* br> But taking out that detail in the rest blocks it well, I hope this is fixed in a new update.* Greetings and congratulations!

The following errors can be found on this page: Error on line 501 at column 6: XML declaration allowed only at the start of the document Below is a rendering of the page up to the first error. After many days of investigation, the problem has finally been discovered. Please install this plug-in carefully!

I've just installed 'Absolute Enable Right Click & Copy' and easily copied everything.
WP Copy Protection

Smart Content Protector plugin is a Content Copy Protection plugin for protecting images and text on WordPress sites. It can help to avoid plagiarism.
It is one of the best WordPress disable copy-paste that works well once the plugin has been activated. This plugin uses an image watermarking feature, advanced image protection, and a very responsive lightbox to help your site shine.
With regular updates and the best features for support, the Smart Content Protector plugin will let you customize. You can disable drag and drop, choose where this plugin can work, disable the viewing of the original image, and more items like them.
---
💵 Be sure to check out this inclusive WordPress plugin. It's pricey.
Key Features:
It is supported by various operating systems like Linux, Windows, and Mac OS X
Protection for several Text and Image methods using Responsive Lightbox Image Watermark
The feature of disabling the Mouse Right Click and Possible Shortcut Keys for Cut, Copy, Paste, Select All, View Source, and more like them
Log those IP addresses that copied the contents
User-Level Content Protection (Members/Guests)
Various Message Alert Options for Print Screen ALT + PrtScn, PrtScn, and CTRL + PrtScn
You can add the plugin to the homepage, the all-pages page, or the custom pages/posts page in the settings
The custom pages/posts can include/exclude specific pages/posts for protection
Different setting types like Text Protection, General, and Image Protection Settings for customizing
Have a check box on the Settings Page for disabling Smart Content Protector
Random Reviews:
It works awesome for me now, thanks for keeping it current!br>

The best plugin of its kind, with good support.

Thank you for your great plugin: it protects my blog from autoblog (AGC) theft, I really appreciate it!
Opt-In Content Locker for WordPress
The Opt-in Locker is one of the best WordPress content locker plugins that are very useful for locking important content. This plugin is modern and has been secured with CSS3 AJAX-driven opt-in form.
It can lock important content and help to hide important content until the user-submitted contact details. This plugin is very user-friendly and uses PHP and JavaScript for handling problems with caching plugins.
With the best Front-End features, Opt-In content lock for WordPress can enhance the functionality of the website. This easy-to-install plugin will let you integrate with WordPress-native Personal Data Tools.
So, install and activate the plugin on your WordPress site. And have your best experience with one of the best WordPress content copy protection plugins.
---
💵 The $17 of the Opt-In Locker plugin is $17.
Key Features:
The option of remembering subscribed visitors who already subscribed to the page by using cookies
It has a soft locker mode which makes the contents visible for search engines, and a locking option for users through JavaScript
Support for iContact, AWeber, Mailster, Sendy, Mad Mimi, MailChimp, Benchmark, and GetResponse. This support feature will let content details be submitted to each of them by using the API
WYSIWYG editor with a visual editor for editing content of the subscribe box
It has the feature of accepting shortcodes to insert them inside the subscribe box
Support for CSV format allows all data to export as a CSV file for use with any newsletter plugins
It supports terms & conditions to enable or disable them for opt-in forms
It supports Google/Universal Analytics event tracker to track show/subscribe events [in BETA version]
Using the GDPR-ready feature, you can add a checkbox that users must tick to unlock the content
This WordPress content copy protection plugin is a translation-ready plugin. It can translate into several languages
WordPress Best Practices Feature, which means no alerts from Plugin Check and WP_DEBUG will be needed
Random Reviews:
My website, DesignerCandies.net, uses this product along with Mailster, and it generates 50 new subscribers each day.

Simple, light, easy to use locker. You only get 2 fields – name and email, you cannot add more than that.

Thanks for sharing. Simple
WordPRess Content Password Protection
Passster is one of the best WordPress password protection plugins. It has WordPress disable right-click, WordPress secure copy contents and disables copy-paste feature and more like them.
This plugin will protect your site with various protection methods such as Area protection. Page protection, Global protection, using captcha are other instances of protection in Passster.
You can use one to a hundred passwords in this fabulous plugin. Passster has a WordPress no right-click images feature that lets you restrict your page content or any of the features you wish. This WordPress Content Copy Protection plugin has 3 protection modes to support all famous page builders.
---
💵 In addition to the premium version for $139, there is a free version available as well.
Key Features:
Modern Coding standards and SHA-2 password protection
It has valuable and well-thought-out settings which let you activate cookies and Page builder support
You can manage your keys for external services
Give direct access to protected areas with a unique Base64 encrypted link to your users and audiences
Edit colors, sizes, descriptions, and more with instant updates and within the WordPress Customizer
It has various filters and action hooks to change every detail about your content protection experience
It works well with well-known page builders such as WP Bakery Pagebuilder, Beaver Builder, and Elementor
Random Reviews:
After having some trouble with WPWP-plugin I was seeking alternatives. I came across Passster by coincidence and decided to give it a try. All my needs were met. I'm satisfied with Passster and think about using it in other related situations as well.

This was great, but now it seems that you have to enter the right password AND have some luck to unlock content. Otherwise you get an error message for 'security check failed'.

PPWP-plugin caused some errors that could not be fixed (also without assistance from support). Passster worked great, and support was more than quick (responded in under 24 hours).
WordPress Copyright proving service
Copyright proof is a WordPress content copy protection suitable for protecting copyright. It is also great for copy protection and proves your ownership.
It has the option of obtaining a time-stamped and signed digital certificate of WordPress content. Thanks to the WordPress secure copy content feature provided in copyright proof.
It has lots of customization features that let you enable the anti-theft features to copy-protect your content. You can also record the IP addresses of attempted introductions.
This plugin supports many users, a new WordPress block-based editor, and more like them. Georgia Tech evaluated and validated all the processes and implementation for a high level of security.
---
💵 It is FREE. There is no cost associated with it.
Key Features:
You can insert combined certification
Have copyright and licensing option,
The feature of attribution notice, and place them at the end of the post
Variety of features such as WordPress disable right-click
WordPress has no right-click images, and WordPress disables copy-paste features
For the newest version of PHP (PHP 5.1.2 and later), premium users can preserve all contents independently of WordPress
The option for bulk-digiprove up to 30 posts/pages and 150 for personal users
Tested only with the AMP and Compatible with Gutenberg block editor
The option of displaying your post URL on the Digiprove website
Recording IP addresses of people trying to take your content
Supports many users
Random Reviews:
'There has been a critical error on this website. Please check the email inbox of your site administrator for further instructions.'

Excellent customer service

I have to thank you for this wonderful plugin. It's a great way to protect your content.
An Overview Of Everything We Have Discussed
We discussed WordPress Content Protection plugins for WordPress in 2022 in this article. We suggest the Content Protector Pack plugin for content protection in WordPress.
We hope you enjoyed our article on the best WordPress Content Protection plugins.
Also, if we missed any Content Protection plugins from the list, please let us know in the comments. Please share this post on your social media platforms.