Are you a WordPress website owner who's worried about the security of your content? Do you want to protect your online assets from unauthorized access and theft? If yes, then you've come to the right place.
In this blog post, we'll be introducing you to the 7 best WordPress content protection plugins that you can use to safeguard your website's content. These plugins are designed to prevent anyone from stealing your articles, images, videos, and other digital assets.
According to recent statistics, around 30,000 websites get hacked every day, and 43% of those attacks target small businesses. Therefore, content protection is a crucial aspect of website security that should not be ignored.
In this article, we'll explore the top WordPress content protection plugins that offer various features such as password protection, encryption, user role-based access control, and more. So, let's dive in and find out which plugin is best suited for your needs.
Best WordPress Plugins for Content Protection
If you're a WordPress site owner who's concerned about content theft and unauthorized use, then you'll want to check out these top-rated WordPress plugins for content protection.
With a mix of free and pro options available, there's something for everyone on this list. So take a look and see which plugin(s) might be the perfect fit for your unique needs and situation.
Most Complete Content Protector Plugin for WordPress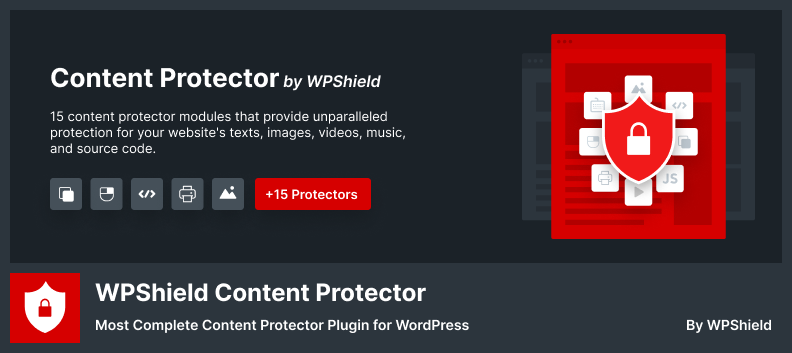 WPShield Content Protector is a powerful WordPress plugin for protecting all types of content on your website. With 15 built-in protectors, it can secure text, video, audio, and source codes, so there's no need to install multiple plugins. This means that you can save time and effort while keeping your website safe from unauthorized access.
There is one unique feature of this plugin: you can restrict right-click menu items. While others only disable the right-click menu, this plugin allows you to choose which items you want to restrict. You can, for instance, prevent users from saving, viewing source code, or inspecting elements.
This plugin also lets you turn off the Inspect Elements system, which is a great way to get around content protectors. It's a common tool to get around them, but this plugin lets you turn it off. Using this plugin will clear your content, so someone can't copy it if they try to use it.
Overall, WPShield Content Protector is an excellent choice for anyone looking to protect their website's content. It works quickly, is compatible with any WordPress theme or plugin, and offers comprehensive step-by-step documentation to help you get started. Check out their website to learn more about all of its features and options.
Copy Protection with Color Design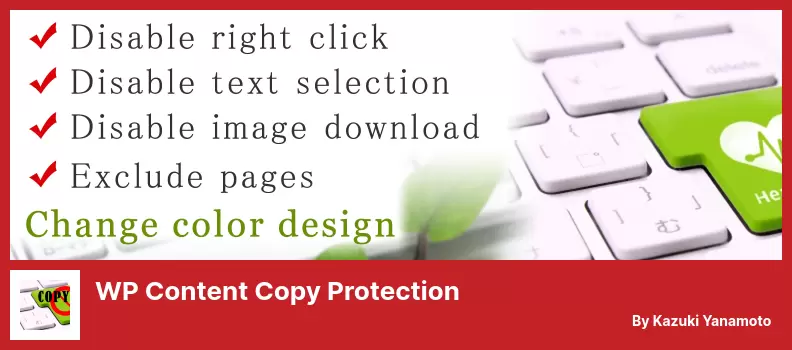 The WP Content Copy Protection plugin, which has a mixture of colors, will protect the contents and images on your site from being stolen and copied by others.
In this plugin, there are no advanced features, such as a right-click menu limiter, disabled JavaScript protection, or Developer tools protector. Although this plugin is suitable for very basic site protection, it can be bypassed, so you should be aware if you choose it to protect your website content.
This plugin uses concise JavaScript and CSS codes to avoid harmful and unwanted effects on your website's SEO. It also has the option of alerting you if anyone right-clicks on your content or images.
You can use this WordPress disable copy-paste plugin to disable copy-paste capability on your tablets and smartphones so that the functionality of copy-paste is disabled.
This plugin has a lake of advanced features like the right-click menu limiter Disabled JavaScript protection or even Developer tools protector. This plugin is appropriate for very simple protection but can be bypassed so please do not it if you choose this plugin for protecting your site content.
Key Features:
Protect the print preview page using the CTRL+P shortcut
Disable image downloads and hide/show alert messages
Restrict keyboard shortcuts, text selection, and image drag and drop.
Disable right-clicking without an alert window
Customize alert messages & exclude login users
Selectively protect pages/posts
WordPress Content Protection Plugin
A WordPress plugin called Secure Copy Content Protection is designed to keep your website and your content secure against plagiarism, content duplication, and other kinds of misuse.
This plugin offers all the standard features found in WordPress content protection plugins, such as disabling right-clicking, no right-click images, and protecting copy-paste settings.
The installation process of this plugin is quick and easy, and you can have it up and running in just a few seconds. Once installed, you can disable any unwanted settings that could potentially lead to content theft, both on PC and mobile devices.
Nevertheless, it is important to take into consideration that despite this plugin's suitability for basic site protection, it might not be sufficient for protecting sites that need more advanced protection.
The plugin lacks advanced features like right-click menu limiters, disabled JavaScript protection, and a Developer tool protector. Additionally, it's worth mentioning that determined users may still find ways to bypass this plugin's protection measures.
Key Features:
User password protection with an orange square display
Specific user access without a password
Restricted content display for specific users.
Disable right-click feature

Smart Content Protector is a WordPress plugin that can help protect your website content from being copied and used without permission. This plugin features image watermarking, advanced image protection, and a responsive lightbox to give your site an added layer of security.
Upon activation, this plugin offers a variety of configuration options, such as disabling drag and drop, choosing where the plugin can work, and disabling the viewing of the original image. These features are designed to help prevent plagiarism and unauthorized use of your content.
However, it's important to note that the plugin is an outdated method for protecting website content, and newer methods can easily bypass it. For stronger protection, it provides updated protections to safeguard your website content.
Key Features:
Protection for text and image using Responsive Lightbox Image Watermark
Disable mouse right-click and shortcut keys for copying and pasting
Supported by Linux, Windows, and Mac OS X
Logs IP addresses of content copiers
User-level content protection (for members/guests)
Excludes specific pages/posts based on user needs.
Opt-In Content Locker for WordPress
The Opt-in Locker plugin has been recommended as one of the best WordPress content locker plugins that actually work well at locking important content on your website.
This plugin comes with an excellent CSS3 AJAX-driven opt-in form, which makes it more modern and secure to use. Once installed and activated, you can easily lock important content and hide it from visitors until they submit their contact details.
The plugin is very easy to use because it is built on PHP and JavaScript which uses PHP to ensure that this plugin does not cause any issues with the caching plugin.
You can also enjoy the best Front-End features by integrating this plugin into your website. One of the best things about the plugin is that it allows you to integrate with WordPress-native personal data tools.
WordPRess Content Password Protection
In this article, we are going to explore Passster, a WordPress plugin that is designed to protect your content by disabling certain features such as right-clicking, copy-paste, and secure copying.
With various protection methods like Area protection, Page protection, Global protection, and Captcha, the plugin ensures that only authorized users can access your website's content.
Additionally, the plugin allows up to a hundred passwords to be used in the plugin and offers three modes of protection, making it compatible with all popular page builders.
The plugin is an effective solution for those seeking robust content protection on their WordPress websites. Its features, including the disabled right-click and no-copy images functions, make it more challenging for unauthorized individuals to steal or copy your content.
Using the plugin, you can secure your site using different methods. The plugin provides you with multiple options for protecting specific areas or pages on your site or everything globally. In particular, it supports a variety of page builders, making it a great choice for those that use them.
Key Features:
Activate cookies and Page builder support
Manage keys for external services
Direct access to protected areas with a unique encrypted link
Modern coding standards
Edit colors, sizes, descriptions, and more with instant updates.
WordPress Copyright proving service
Copyright Proof is a WordPress plugin that provides content copy protection by proving ownership and preventing theft. This plugin offers the ability to obtain a time-stamped digital certificate of your WordPress content, ensuring that you have proof of ownership.
In addition to its anti-theft capabilities, one of the best features of this plugin is its ability to select from a number of different parameters for copy protection for your files.
You can also record the IP addresses of individuals attempting to infringe on your content rights. Another advantage is this plugin supports multiple users and a new block-based editor for WordPress.
Accordingly, this plugin has been evaluated and validated by Georgia Tech, so you can rest assured that there is a high level of security in place and that it will provide you with peace of mind.
Key Features:
Compatible with Gutenberg block editor
User-friendly interface with an easy setup process.
Combined certification for copyright and licensing option
Attribution notice feature to place at the end of the post
Disable right-click and copy-paste features
Frequently Asked Questions
What are WordPress content protection plugins?
WordPress content protection plugins are tools that help website owners protect their digital assets such as images, videos, texts, and downloadable files from thefts or unauthorized usage. These plugins offer features like copy protection, password protection, user role access, watermarks, and more.
Why do I need content protection plugins for my WordPress site?
If you have original content on your WordPress site that you want to monetize or protect from plagiarism, it's crucial to use content protection plugins.
These plugins can prevent unauthorized copying, sharing, and downloading of your content, thereby safeguarding your intellectual property. They can also help you restrict access to specific pages or posts based on user roles or passwords.
Are there any free content protection plugins available for WordPress?
Yes, several free content protection plugins are available for WordPress and the best is WPShield Content Protector. While these plugins offer a basic level of protection, they may not have advanced features like user role access or automatic watermarking, which are only available in premium versions or other plugins.
Conclusion
In conclusion, we have discussed the 7 Best WordPress Content Protection Plugins (Free & Pro) that you can use to secure your website and content. These plugins will not only prevent unauthorized access but also help to keep your content safe from theft and plagiarism.
If you're interested in learning more about WordPress and its plugins, be sure to check out BetterStudio's blog for more related tutorials. We cover a wide range of topics, including WordPress security, performance, and optimization.
To stay up-to-date with the latest tutorials and tips, we encourage you to follow BetterStudio on Facebook and Twitter. You'll get notified when we publish new content, and you'll be able to engage with our community of WordPress enthusiasts.
Finally, thank you for reading this article, and we hope it was helpful in protecting your WordPress site's content. If you have any questions or problems, please feel free to leave them in the comments section below, and we'll do our best to assist you.