Looking for the best WordPress Infinite Scroll plugins?
So, we would like to introduce you to our hand-picked list of the best WordPress plugins for posts infinite loading. We eliminated plugins that weren't mobile-friendly and speed-optimized. The plugins work cleanly and best with all popular WordPress themes.
We selected plugins designed explicitly for the Infinite Scroll. However, we also chose plugins designed for the WooCommerce Infinite Scroll and Elementor's Infinite Scroll.
Let us begin with the list of the best WordPress Infinite Scroll plugins of 2022:
The Ultimate WordPress Infinite Scroll Plugin for Lazy Loading Posts
An Ajax Load More plugin has been designed to be compatible with eCommerce plugins such as WooCommerce and Easy Digital Downloads.
This is one of the most popular auto-scroll WordPress plugins. This plugin is fully customizable and uses Ajax-based queries to load elements on single pages, posts, comments, etc. The lazy loading feature allows users to load the details only when scrolling or displaying them.
The plugin has a repeater template functionality and a handy shortcode builder. The templates define how your content is displayed at the front end of your website.
With repeater templates, you can customize your own template, ensuring that your content matches your website's other content.
You can easily add an infinite scrolling option to Elementor Posts and WooCommerce listings without doing any programming work, thanks to the Elementor Widget Connector and Ajax Load More.
A plugin such as this allows you to query WordPress for numerous different types of content. You may specify your query by the Post Type, the Post Format, the Date, the Category, the Tags, Custom Taxonomies, the Search Term, the Authors, etc.
💵 The Lite version is free of charge, and the Pro version is pricey.
Key Features:
Ability to create custom shortcodes by modifying WordPress query parameters
Support and integration of masonry layouts with applications
A progress indicator appears with every AJAX request
Create consistency across your network sites by using repeater templates
Random Reviews:
Plugin not recommended, it may break your site even after uninstalling it. I deactivated the plugin, removed it, and the pagination code is no longer visible. They should bring this up upfront in the description. Now I have to reinstall from 0.

This is the best plugin for infinite scroll in WordPress! It works great! The developer has included many examples very easy to follow so even with no programming knowledge one can use it without problems.
Simple and Direct Navigation, Even From a Mobile Device
The YITH Infinite Scrolling is one of many infinite scrolling plugins available for WordPress. Still, it loads content as the user scrolls down the page and is supported by both mobile devices and desktop themes.
By using this plugin, you will be able to display all the content on the website on one page after only a brief loading period. This has the added benefit that you won't need to create additional pages for different content categories.
Furthermore, it also provides other features in addition to the automatic infinite scroll, such as the load more button and Ajax pagination. Additionally, the URL of the current page can also be updated whenever new elements are loaded using Ajax.
By using the plugin, you can enable infinite scrolling for your store pages and other site areas, including blogs, product reviews, and comments.
You can select the scroller style that you would like to use on the page from the preset options at the bottom of the scrolling menu.
You can also change the type of paging used, such as pagination, infinite scrolling, or a Load more button. You can also customize the animation of the page loading and much more.
💵 Integrated into the Pro version is a Free version.
Key Features:
Utilizing a mobile device or tablet makes accessing the internet simple and convenient
Contains transition effects for loading more posts
Displaying the product line as unified
Ability to create a multilingual website by integrating WPML and Loco Translate
Allows you to run an eCommerce store using WooCommerce
Random Reviews:
This plugin came to my attention and I am happy to use it This topic was modified 1 month ago by

Version 1.0.0 of Fairy Lite does not work
WP Security, Backup, Speed, & Growth
As one of the most popular WordPress plugins for infinite scrolling, JetPack is capable of doing many things. For example, it can secure your WordPress site, increase traffic, engage your readers, and secure your website.
Furthermore, it provides readers with features such as infinite scrolling, customizability in contact forms, email subscription, and tools to engage them on the site.
Several plugins such as Jetpack can enhance many aspects of your WordPress website, with a specific focus on security, design, marketing, and performance. Their primary objective is to help your website run smoothly, quickly, and efficiently.
One of Jetpack's most valuable features is its ability to provide infinite scrolling for archive pages. You can choose between regular pagination, clicking the 'load more' button, or allowing unlimited scrolling. Jetpack lacks any fancy customization options, but it does pretty well.
The auto-scrolling plugin immediately increases the performance and speed of your website. It also has auto-load functionality, which helps your pages, posts, and media load as you scroll down your website.
💵 While the Pro version costs $Needs Quote, the Lite version is free.
Key Features:
Monitor your website's uptime and downtime, and be alerted when either of these conditions changes
Provide traffic analysis, network security, content creation, etc
Enabling you to restore the backup at any time
Ability to choose an automatic backup system that will back up your website in real-time
Random Reviews:
Just wanted to say thanks for Jetpack support. I've always received prompt and thorough replies (the few times I've had to contact them), and they have always solved my problem.

Thanks for your help. I forwarded your message to the host administrator and the problem was resolved. Quick and efficient assistance.
Allows You to Add The Magic of Infinite Scroll On Your Website
Catch Infinite Scroll is a Free WordPress plugin that allows you to display content sequentially or horizontally on a page. The design for this plugin was inspired by Jetpack's content scrolling feature.
Several loading problems result from the use of this plugin, resulting in visitors encountering issues while moving from one page to the next.
It is also possible to include a 'Load More' button to request further loading of content and the content that loads as you scroll down the page.
Using this plugin, you can customize your site by adding custom images, loading additional content, writing your own content, and many other tools. The plugin comes with a demo site to try it out on your own website.
Despite the limited customization options, Catch Infinite Scrolling offers unparalleled simplicity if you are looking for something simple, easy to use, and capable of doing whatever you desire. Catch Infinite Scrolling is the best plugin available.
💵 This plugin is available in a free version and a Premium version that costs $24.
Key Features:
Easily modify the border radius and the border width of the buttons
By providing our services, we can assist you in enhancing user engagement on your WordPress website
Ability to customize your content depending on the font size and family you prefer
The ability to load more buttons or enable infinite scrolling
Random Reviews:
A gray loading screen appeared on my first page when using the Elementor editor. All other pages worked properly with this plugin. I tried with each plugin until I got it to work. The plugin caused the issue with Elementor, so now I'm unable to use it.

This theme does not work on Fairy Lite Version: 1.0.0 [please check].
Custom Post Type Ajax Load More is The Flexible Solutions for WordPress
You can use the WordPress Ajax Load More and Infinite Scroll plugin to create many posts on one page, all at once, and lower bounce rates due to it being a free plugin. It's a quick, convenient way of using many posts at one time.
The use of a custom post type with the WordPress Ajax Load More and Infinite Scroll plugin is an ideal solution for those looking to view many posts on one page.
This Ajax load more function was designed as a particular post type for WordPress. You can use it to load a few posts and provide infinite scrolling for all the other posts. This creates a fantastic blog listing in a short period.
As a result of the WordPress Ajax Load More and Infinite Scroll plugin, your posts are not only loaded until you scroll down, but you also enhance your users' experience.
It is essential to know that some posts may not be loaded infinitely. You may also add a 'load more' button so that your users can view other posts as they scroll down.
💵 You buy the download and install this plugin for Free.
Key Features:
Designed to be lightweight and fast while being performance-optimized
The ability to load only certain types of posts or post statuses
A variety of templates are available in the system
Using a custom template, you will be able to modify listing behavior and integrate it into your theme
Random Reviews:
It made developing my site functionalities possible in less than a day (instead of spending days or even hundreds of dollars to code each loop by myself). Thanks a lot!

In one day, this plugin helped me build my blog's website.
Easily Convert Default Product Pagination Into Infinite Scroll or Ajax Pagination
The 'WooCommerce Infinite Scroll and Ajax Pagination' plugin allows users to choose from three different pagination options. These options include unlimited scrolling, endless scrolling with a load more button, and Ajax pagination.
It is now possible to use infinite scrolling in conjunction with the lazy loading of WooCommerce thumbnails. Only the thumbnails will be loaded when the user scrolls down and not when the page loads, therefore saving server resources and improving the speed of your site.
The plugin is functional and offers some unique features that make it possible to customize it effectively. First, it can handle Javascript-based layouts, such as Masonry and Isotope Grids, which some WordPress themes utilize.
In addition, the WooCommerce Infinite Scroll and Ajax Pagination plugin offer an easy import/export feature, which enables you to use the same settings on multiple web pages.
The following page items are displayed as your visitors scroll up by utilizing an auto-scroll system. When they click on a load more button, the following page items are displayed. Ajax pagination can create links to pages without requiring your website to be refreshed.
💵 It doesn't matter if you are a beginner or a developer-the WooCommerce Infinite Scroll and Ajax Pagination plugin is incredible for you. You can get it for $17.
Key Features:
Using Simple Ajax Pagination, the content can be scrolled to the top of the page
Ability to call back when users need to through an administration panel
Ability to manage your browser history through Ajax pagination
Support for all modern browsers is provided
Ability to adjust the loader image under the 'Options' tab
Random Reviews:
Excellent plugin and excellent support!

Customer support is excellent. It works very smoothly and efficiently. It is worth every penny to make your website look next level. Thank you.
Forgot The Next Page Click and Wait for The Load List of The Posts
When using Infinite Scroll and Ajax Load More, your posts will load faster, and your readers will not have to visit another page to view them. You can list your posts on another page by utilizing endless scroll, so your readers will not have to visit another page to view them.
It would be beneficial for your development team if you could add the class names of the infinite scrolling and the load more buttons to change their color and text.
Instead, users will have the option of scrolling down to discover all the available content. Additionally, you can also add a 'load more' button by using the shortcode. The shortcode can also be used in the listing pages of the blog, including the archive, categories, and author listings.
It is possible to modify the template loop file in your theme to customize the appearance of your post lists using this WordPress plugin.
💵 The plugin is free. There are no charges associated with it.
Key Features:
Includes customizable post listings for users
It is capable of accommodating any special needs and requirements you may have
Changing the loading image is quick and easy by changing the settings
It is possible to change the text of the button and the 'Load More' button through this functionality
Random Reviews:
Hello, Fast and convenient. Thanks.

Also, it is a responsive plug-in. Easy for new users to use.
Easiliy Works With Unlimited Pages
Sbthemes has developed an excellent plugin called Animated Infinite Scroll. It is a multi-platform solution that can be used by both WordPress sites and WooCommerce and BuddyPress sites.
Furthermore, you can enable Ajax Pagination, which is automatically triggered for you when you click on the 'Load More' button. You have the option to use infinite scrolling to load more posts for you, or you can click on the 'Load More' button.
It is possible to see different demos, depending on the type of site you are creating. Demos are shown for a shop, a blog, and the pagination options, with posts reaching various page lengths, demonstrating the plugin's flexibility.
By selecting from over 130 animation styles, Animated Infinite Scroll can be customized to match your own style. Additional features include access to a custom selector that can be used in conjunction with custom themes and the ability to apply custom classes to the loading button.
This plugin can be used for isotope and masonry layouts and to set different animation effects for each page. You can also change the current pagination into infinite scrolling and import/export CSV and JSON files.
💵 The plugin charges $15 and provides free support for 12 months.
Key Features:
Scrolling to the top of the page is possible with Simple Ajax Pagination
Users of the administration interface can set up callbacks
Manage your browser history through Ajax pagination
Support the import and export of CSV and JSON files
Random Reviews:
I really appreciate the quick and professional service I receive from this company. Very pleased in every way!

An ignorant team thinking the plugin will never be updated after four years! What a disappointment!
Helps You Filter Your Post By Category Terms With Ajax Including Infinite Scroll
You might be looking for an easy-to-use ajax category filter plugin that can filter posts easily. If this is the case, developers recommend Post Grid with Ajax Filter. It can be easily customized to allow users to find what they are searching for.
In addition to enabling you to load posts using a grid layout, it will also allow you to filter them by category with Ajax, including infinite scrolling. It will allow you to load bases using a grid layout and filter by category.
With this plugin, you can create a grid layout for your posts and add a button that, on click, will display new posts based on the recent posts you have read.
Content can be displayed in shortcodes anywhere in the body of your page. This plugin is capable of displaying animated content on post-load. It also supports Grid Layout and Pre-Build Layout.
💵 The Post Grid with Ajax Filter is an exceptional plugin that is Free.
Key Features:
You can display the post grid anywhere on your website by using shortcodes
It is possible to sort the posts ascending, descending, by date, etc
Filtering results provides the option to limit the number of results displayed
Enables the specific term associated with a category to be displayed or hidden
Random Reviews:
Easy to install. Just type in the shortcode [am_post_grid], and the post will be displayed.

I like this plugin that you have created. By adding a few new options, you will have the best plugin on the market.
Load Products From Next Page Via Ajax With Infinite Scrolling
Utilizing the Load More Products for WooCommerce WordPress plugin, you can add more WooCommerce products in two different ways. Products from the following pages of your site can be added in three different ways.
There are several ways to define navigation, such as pagination, loading more or infinite scroll. You may set different types of navigation for mobile devices, limit the number of products per page, and customize a loading mechanism.
These ways will update automatically every time a new page is displayed. The URL is also automatically updated for every new page shown, but you may choose not to use this feature.
In addition, you may also add custom text to the loading image and the loading more button. The loading image and the loading more button may also be customized according to your preference; 40 different animation styles can be selected.
It is possible to inject custom code with the help of JavaScript hooks with plugins. JavaScript hooks allow code injection either before or after an existing session.
You will also find an administration demonstration on the demo sites, enabling you to understand how the plugin works on an administrative level.
💵 It offers a free Lite version as well as a paid Pro version.
Key Features:
Be used with translation plugins, such as WPML
Provide JavaScript hooks that allow users to integrate custom code into the application
It is compatible with many popular themes, such as Storefront, Avada, Divi page builder, etc
Loading images with Font Awesome icons
Random Reviews:
The program works as it should.

It does what it claims and updates the entire store. Keep it up! I am very satisfied with it!
Allows You to Load Your Infinite Posts While Scrolling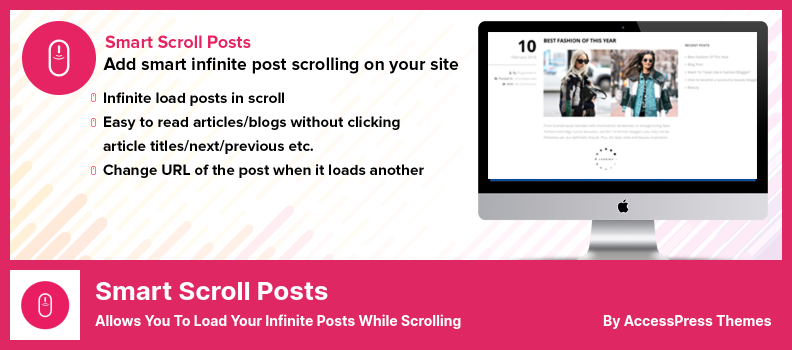 Smart Scroll Post enables you to display an unlimited number of posts and load multiple blogs simultaneously. This plugin is only intended to be used when your readers want to skim through another blog or post immediately following the one they are currently reading.
You will not have to click again to find previous or subsequent posts. Simply scroll down, read everything, and you will not need to click again to find prior or subsequent posts.
The Smart Scroll Post WordPress plugin has a feature that will enable you to load another post with each scroll. You can use this with all positions, a category of posts, or a custom post type. This WordPress plugin could not be more straightforward to use.
Additionally, the Smart Scroll Post plugin enables you to specify HTML Markup, which will be displayed after the URL you specify before the post loads. As soon as scrolling begins, you will be presented with another URL.
💵 You will always have this plugin updates and free support after downloading it. It is Free.
Key Features:
Design compatible with Internet browsers
Select the categories for which smart scrolling should be enabled
By changing the title while scrolling, the URL can be updated on-the-fly
Include CSS CLASSES in your HTML code by using this extension
Random Reviews:
After installing the plugin, adding CSS classes in containers when scrolling or covering a post This topic was modified 4 years, 2 months ago by

It works right out of the box (just edit the target class per the instructions), but it also allows you to change the style of the output to generate the posts in any way you'd like.
My final thoughts on selecting an Infinite Scroll WordPress plugin
We think this article was helpful to you as you sought the best WordPress Infinite Scroll plugins. These are inventive plugins that will improve your website.
📌 Note: By regularly publishing articles on the best WordPress blog themes and best WordPress plugins for bloggers, we receive votes, referrals, and shares from our audience.
Infinite Scroll WordPress plugins can be found by browsing this list. We hope you have been able to find the perfect match for your website.
If you liked the article, please share it on Facebook and Twitter. If you have questions, please ask.