Are you interested in the Best WordPress WordPress Video Player plugins?
Here we have accumulated only the best WordPress Video Player WordPress plugins, with an in-depth review of them to help you pick the right one. These WordPress plugins are programmed beneficially with many features.
In summary, all of the following plugins are for the WordPress Video Player. But also, you may use these plugins for HTML5 Video Player, Video Playlist Plugin, and WordPress Self Hosted Video Player. We make sure that all of the following plugins are working with popular WordPress themes.
If you want to add an audio player to your website, please check out our article on WordPress audio player plugins.
Here is the best WordPress Video Player WordPress in 2022:
WordPress HTML5 Video Player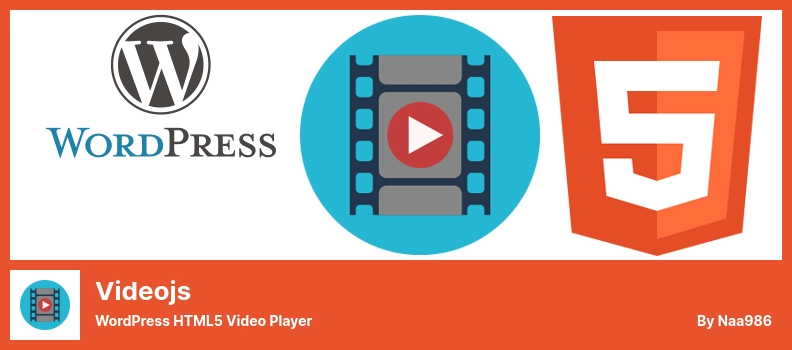 VideoJs Player is one of the best HTML5 video players that can support a variety of things. Based on the statistics and studies that have been done, they have concluded that more than 450,000 sites currently use it. So, if you also want to share videos on your sites, you can use this powerful player.
The design of this web player is completely proprietary and is made for HTML5. VideoJs Player also supports a wide range of features, the most important of which are the following:
– Flash Video
– Vimeo Videos
– YouTube Videos
– HTML5 Videos
– Local Videos: The videos that are hosted in your WordPress hosting.
Among the practical features of this player, we can mention the ability to play video on the desktop screen and mobile phone. These features have made the VideoJs player popular.
VideoJs player has been able to attract more people due to its various features.
Undoubtedly, one of the main features of this player is that it can open any format. For example, it executes files in older formats without any problems. These formats include MP4 and WebM.
This player is also highly compatible with a variety of specific formats such as HLS and DASH. In addition to the above, with VideoJs Player, you will see a great user interface for streaming live streams, which is a huge advantage of its kind.
This player is designed in a way that can create complete trust in the user's mind. Also, its design looks great, but it can also be designed more creatively. You can use CSS code to create a personalized-looking player.
If you need to add more features and capabilities to your site, there is no need to worry. Because you have a documented plugin and you can make the most of them. Also, the player community has already designed all of these plugins and skins, and you can easily install them all. These include Chromecast, IMA, and VR.
Other features and advantages of VideoJs Player include its ability to be supported anywhere. In general, the video you have should be compatible with any app and software. That's why the great team of this player has made every effort to be able to do something to support any modern browser you can think of.
These are just some of the features of this powerful player. Since this player is organized and designed by several teams, it can bring the best advantages and benefits.
💵 Get all the modern features of the VideoJs plugin for Free.
Key Features:
Fully responsive design
Automatically hide video window controllers during playback
You can put your video files inside a post/page and wherever you like
Ability to automatically play the video file when the page is rendered
Ability to add preview image and playlist image
Full-screen mode support
You can embed video files into your website using VideoJs Player
Ability to use the same video gallery, multiple times per page with the previous format or a new and different format
Random Reviews:
Awesome plugin, active development, some features (hls streams) missing. This topic was modified 1 year, 1 month ago by cmunich.

Excellent plugin, Thank you, works straigthforward on Laptop/Smartphone (Android) It allows LearnPress videos to be responsive (they are not responsive natively). This topic was modified 1 year, 7 months ago by
MP4 Player, Video Player for WordPress
HTML5 Video Player is the name of a very professional WordPress plugin in the field of video playback on the site, which can easily place your favorite videos in the HTML5 framework in different places of the site and pages among different content.
Some of the features are fully responsive design, support for MP4 and WEBM formats, playback of game files (flash and…), full-screen capability, video preview image, playlist, audio control, and management and description insertion of this plugin.
This plugin gives high quality to your videos in all major browsers. Also, for better SEO performance, this plugin fully supports your custom titles and video descriptions.
This plugin includes three types of players:
1- Right-side playlist
2- Bottom playlist
3- Simple versions
This plugin also offers five pre-designed templates to choose one of these five templates to design your pages.
💵 You can download this plugin for Free from the following link.
Key Features:
Support for multiple players on one page with the same format or completely different format
Ability to play MP4 and WEBM videos (in browsers that do not support MP4 video playback)
Automatically hide controllers when playing video
Ability to add an image or a list of preview images to introduce videos
Sound control and the ability to adjust the initial volume
Ability to add captions to the video if desired
Support for HTML and CSS code
Full-screen mode support
Responsive design
Random Reviews:
I gave it two stars because it sure looks like it would do what I wanted it to do. But… It uses the guttenburg block thing. That is the most confusing mess of crap that wordpoop ever did. So since I can not use the classic editor I can not use this plugin.

Good job my friend This topic was modified 3 weeks, 1 day ago by fantab01.

Had issues with hiding controls. Now the option is there, but auto play doesn't work on IOS!! If hiding controls work and the plug-in functions on IOS (like it did before) it would be 5 star perfect. Please fix ASAP ! UPDATE: Whatever issues I was having initially have now been fixed. This plug-in is great !! This topic was modified 4 months ago by luxtools. Reason: problems solved
Simple WordPress Video Player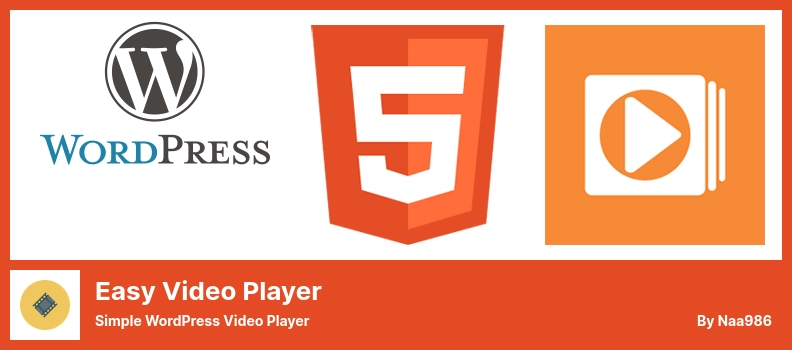 Easy Video Player plugin lets you quickly put your favorite videos on your page or post and display them to your users. You can also view videos using internal and external links.
It is very easy to customize and make changes with this plugin. It lets you control entirely your video player's size and aspect ratio, skin, loop, video player format, and more.
It is designed and implemented based on js, can play custom videos and videos available on YouTube and Vimeo.
The player introduces the relevant videos in mp4 format (the best format to run on web pages). This plugin displays videos in a fully responsive format.
💵 Free plugin. It does not charge anything.
Key Features:
Embed video responsively for a better mobile viewing experience
Ability to play videos in MP4 and WEBM format (in browsers that do not support MP4)
Automatically hide video window controllers during playback
Ability to add preview image and playlist image
Support for HTML and CSS code
Ability to change parameters such as width, length, playlist width, video box width, and color, enable/disable autoplay, and repeat loop
Random Reviews:
Simple and works.

I wanted to speed up loading and playing for ".mov" files. The embeded shortcode for the videos worked brilliantly, now the videos work on PCs and Mobile hones. Awesome plugin.

Excellent, awesome // of course really INCREDIBLE!
Advanced Video Player for WordPress
Ultimate Video Player Plugin is a powerful responsive video/audio player for WordPress that allows you to play various audio and video files on your website.
This player plugin has an intelligent advertising system by which you can display your ads to users like YouTube. Through this, you can advertise your products. This plugin has various other features, such as a video display with different qualities that allow users to watch the video in the desired quality.
This WordPress plugin supports unlimited playlists, and any playlist can have unlimited videos.
This plugin will work on mobile devices and computers no matter which browser is used.
💵 It's an advanced plugin developed by a robust author. Its price is $69 .
Key Features:
Support for several video display qualities
Ability to display ads in videos
Ability to select the subtitle language
Ability to select the playback speed or playback of movies
Ability to create playlists,
Ability to create or delete download buttons for videos,
Ability to select YouTube video quality
The possibility of showing ads at the beginning of the movie
The possibility of playing infinite movies without any restrictions
Audio and video file support
Ability to create playlists
Ability to display multi-quality video
View video only to logged-in users
Support for HTTP Live Streaming / HLS / M3U8 video in all browsers
Random Reviews:
good video player

I got this player wanting to utilize it on one of my sites. I was having some issues trying to get it working with my theme. Diablo spent all weekend working with me in trying to get his player to work properly. It comes to find out, that his player works awesome. It was the theme's fault for not letting the player do it's thing.
Embed Plus for YouTube
Embed Plus is one of the best Youtube video plugins that enables you to embed a YouTube video, YouTube gallery (channel or playlist), and even a YouTube live stream to your WordPress website. You can customize these videos in a wide variety of ways. This plugin focuses on performance with the ability to defer JavaScript while serving minified CSS and JavaScript.
You can use the plugin to increase the performance of your website because the plugin supports Facade mode, and this mode loads a lighter version of the player until it is clicked. When the player is clicked, the original version of the player will load.
The Embed Plus plugin improves your site pages' initial load time because this plugin executes critical and non-critical JavaScript code only when a page is fully loaded.
Embed Plus supports both old and new WordPress editors. By installing the plugin on your website, you will see the YouTube wizard button in both editors, and you can use it to upload your YouTube videos to your website.
The plugin is also compatible with several popular page builders such as Elementor and Visual Composer. You can use this plugin from any of the page builders you use using shortcodes.
With this plugin, you can embed a playlist or a gallery of videos on your website. The plugin will play these videos on your website one by one; there is no need for users to click on any video.
The point to note in this plugin is that the order of a YouTube gallery or a playlist is based on their order on the YouTube site and will be embedded on your website in the same way.
The plugin can have an Easy "Insert" button for both the Visual and Text modes of the editor. The plugin also can embed an entire YouTube channel as a (non-gallery, single embedded player) playlist.
💵 Its included for free on the Lite version and for $49 on the Premium version.
Key Features:
You can hide the YouTube site logo from embedded videos
You can loop for embedded videos and play them in a loop
You can show player controls to users or hide them
Automatically start playing your videos
Auto Hide controls until hovering
Show/hide related videos at the end
Many pre-built templates for playing YouTube videos, all of which support Ajax technology
Random Reviews:
Thank you for developing this! It helped me such a great deal!

good plugin

Great plugin
World's Best YouTube Plugin
WordPress YouTube is one of the best plugins in the world that you can embed YouTube Videos, Channels, and Playlists on Your Website. This plugin is an easy way to embed YouTube videos.
You can get reports on played videos, impressions, playlists, and channels to the users.
By using this plugin, you can organize and display videos in an impressive gallery view. You can also display video galleries in five stylish views: Thumbnails, List, Carousel, Table, and Blog Style.
This plugin has a wide variety of gallery loading effects: Fade In, Scale Up, Flip, Pop up, etc.
Another feature of the plugin is showing channel and video info, such as titles, descriptions, comments, likes, and more.
You can customize the embedded videos design, the height, and width of the videos, player alignment, progress bar color, and more.
You can easily set up the plugin. You can activate your API key and set up the WordPress YouTube plugin in a few minutes.
💵 All the impressive options are offered by this plugin, and you can get all the updates for 1 year by picking up this plugin for $20 .
Key Features:
Allow visitors to share your videos on social media websites
Easy Setup
Video Galleries supports
Gallery Views
Ability to add load effects
Show Video & Channel Info
Display Social Buttons
Support full Customization
Provide reports to users
WordPress Video Player Plugin
Elite Video Player is a modern and complete script that supports advertising systems and other popular video platforms such as YouTube, Vimeo, Google Drive, Dropbox, local videos, and Amazon S3.
Slow (only mp4 required). Display your videos on your site in all browsers and devices with this unique and powerful video player.
Elite Video Player is the name of one of the best scripts under HTML5, with which you will be able to set up a video streaming system on your website.
One of the most prominent features of this plugin is its live stream service, which supports HLS and M3U8 formats. With this plugin, you can display your videos in all your browsers and devices with this unique video player on your website. You can also put YouTube videos individually, playlists, or YouTube channels on the website. You can use the default YouTube player or even customize it yourself.
This plugin supports any YouTube video in 360 ​​Virtual Reality Viewer and YouTube LiveStreaming formats. In addition, you can create a combination of all videos such as Vimeo, Google Drive, YouTube, local, and more in one playlist. The ads section of this script supports pre-roll ads, mid-roll ads, post-roll ads, video ads, and pop-up ads. You can set any or all of these ads for each movie.
With Google Analytics, you can check how many times each video has been viewed and downloaded. Your comment has been clicked. In the following, we will mention some other features of the Elite Video Player script.
The WordPress Elite Video Player plugin gives you various video playback options to play your videos like a video-sharing service. This plugin allows you to display your ads brilliantly in your videos. Also, this plugin is fully responsive and will display your videos well on different devices.
Elite Video Player Plugin supports Google Drive, Dropbox files, Amazon S3, and Amazon cloud drive movies. This can be done if you need to display an image or a gif instead of a movie.
💵 It costs $59 and is equipped with 12 months of support and free updates.
Key Features:
Pre-roll, mid-roll, post-roll, and pop-up ads that work with YouTube, Vimeo, or your hosted videos, playlists, and user channels
Has a lightbox mode
Supports YouTube, Vimeo, self-hosted and GoogleDrive hybrid and Amazon S3 videos
Subtitle support
Optimized for mobile devices and touchscreen laptops (Responsive design)
Use multiple players on the same page
Ability to share on social networks
Has a super easy to use interface
Random Reviews:
Creative Media –

excelent

super
WordPress Video Gallery Plugin
This plugin is one of the top plugins used by thousands of people today for WordPress video galleries. It easily works with multi-channel galleries, YouTube API, deep linking (generating separate URLs for all videos), and MPEG-Dash for high-quality playback.
Other highlights of this movie gallery builder plugin include drag-and-drop capability, support for subtitles, and easy social media sharing buttons for each movie. It also helps you track how your videos are performing using an internal analytics tool.
Using the Video Gallery plugin, you can easily create multiple galleries with beautiful effects on your site.
One of the cool features here is that you can direct videos from Youtube to display. Of course, you can also upload your videos somewhere and enter the address here.
By clicking on the add video option, you can display the videos with the address.
The ability to upload a video on YouTube and display it on your site is one of the features that helps your website with attractive video display and link building.
💵 With $39 , you will get all the excellent features of the Video Gallery plugin plus 12 months of support time.
Key Features:
Provide 5 pre-prepared templates with customization capabilities
Support for all features such as manually selected movie gallery, mixed video gallery, video playlist gallery, single movie setting, and more
Supports a variety of video playback sources
Ability to have multiple galleries in one
Extensive admin panel (ability to manage multiple galleries from a single panel)
Subtitle support
Easy to install (install and prepare this plugin in less than three minutes)
Ability to generate shortcodes
Connects to Vimeo API and YouTube API
Link to movie gallery (shared link to a specific movie)
Fully compatible with iPhone and iPad devices (Fully responsive)
Everything you want in a YouTube plugin
The YourChannel plugin easily handles a vast amount of YouTube videos. You can turn your WordPress site into an organized and structured video gallery. You can also add banner images, profile pictures, and usernames, display all kinds of videos, even single videos, etc.
This plugin supports seven different video display styles and essential features for the beauty of your WordPress video gallery.
This plugin lets you change parameters such as width, length, playlist width, video box width, and color, enable/disable autoplay, and repeat loop.
💵 You buy the download and import this plugin for Free.
Key Features:
Fully responsive design (suitable for any device)
Has multiple skins (offers five types of skins)
Ability to use the same video gallery, multiple times per page with the previous format or a new and different format
Ability to play videos in MP4 and WEBM format (in browsers that do not support MP4)
Full-screen mode support
Automatically hide video window controllers during playback
Ability to add preview image and playlist image
Add the necessary description for the movie
Support for HTML and CSS code
Random Reviews:
Thank you for taking the time to create such an awesome plugin 🙂 really helped me show my channel easily

I can't pay for Premium version with PayPal, Could u Please help me ?

Great plugin and easy to shortcode but are this limited video channel shows and where the youtube chatting room? can you update one.
The Top WordPress Video Player plugins, Final Thoughts!
We revised the best WordPress WordPress Video Player plugins. Despite this, you should consider your website priorities. Choose a ready plugin and extend your site.
It's our hope that we've given you enough information. We suggest you check the best WordPress blogging themes for creating blogs and making passive income.
Any questions? Just ask. Please share this post on your social accounts.