Are you tired of the disorganized mess of digital assets on your WordPress website? Do you find it difficult to manage all the files and media efficiently?
Say no more! We have compiled a list of the six best WordPress digital asset management plugins (both free and pro) that can help you declutter and organize your website effortlessly.
In this article, we will introduce you to the six best digital asset management plugins for WordPress. Did you know that the average website has over 6 GB of data? This includes images, videos, and other media files that can accumulate over time.
Without proper management, this can slow down your website and affect its performance negatively. By using one of these plugins, you can streamline your digital assets and boost your website's speed and user experience.
Let's dive into the world of digital asset management on WordPress and explore the features, pros, and cons of each plugin. Whether you're a photographer, blogger, or small business owner, these plugins will help you organize your media files, save you time, and enhance your website's functionality.
Best Digital Asset Management Plugins for WordPress
Managing digital assets can be a real challenge for WordPress site owners, but luckily there are some fantastic plugins available to help. In this section, you'll discover our top picks for the best digital asset management plugins for WordPress – so be sure to check them out!
Digital Asset Management Simplified
Using Brandfolder, you can manage your digital assets like a pro. Designed for marketers, designers, and creative professionals, this plugin lets you access and control all your digital assets from a cloud-based interface. Users can make the most of data analysis with the AI and ML features of this plugin.
This plugin works with a bunch of other platforms, like Shopify, Google, HubSpot, Salesforce, Marketo, Canva, and Slack, so you can manage and collaborate on files everywhere. Using the AI features, users can find out how their files are doing and see statistics like views, downloads, and shares.
The plugin also offers powerful search functions that allow users to quickly find files within their library. It also ensures that digital assets are secure by allowing authorized access to them, and allows users to track the usage of their files.
The customizable embeddable shortcode allows users to add their digital files to widgets, menu bars, and posts with ease. The plugin is fully editable directly from the WordPress dashboard.
In a nutshell, Brandfolder is an excellent all-in-one digital asset management solution for WordPress users. Its advanced features and user-friendly interface makes it an ideal choice for businesses and individuals looking to streamline their digital asset management process.
Key Features:
Easy file import
Embeddable on widgets, menu bars, posts
Uses AI for data analysis
Editable from the WP dashboard
Powerful search functions.
WordPress Media Library Folders & File Manager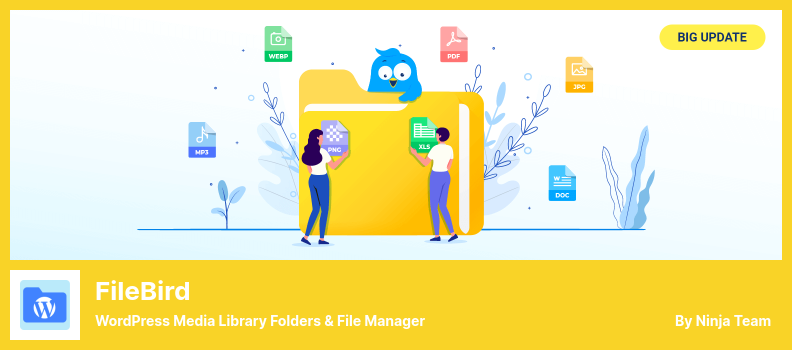 In addition to revolutionizing the WordPress media library interface, FileBird maintains seamless integration with the existing WordPress interface so there is no disruption to either.
With its user-friendly interface, transparent user menus and drag and drop capabilities, users can easily create, rename, move, and delete folders, managing their media resources to suit their needs.
Using this plugin, you can easily add any media file you want as a media file to your articles and pages by simply selecting the file from the relevant folder or category in the post or page menu bar.
Unfortunately, auto-categorizing isn't supported on this plugin, but the six months of developer support offered with the Pro version is a great addition.
Key Features:
Handles thousands of media items
Works with popular plugins such as Elementor Page Builder.
Six months of support from developers
Easily edit, delete, or create a file with a right-click
Unlimited folders and file uploads with the Pro version
A Handy Media Library WordPress Plugin
Enhanced Media Library is a WordPress plugin for managing media content on your website. You can use this tool to organize files using WordPress and add tags and categories to your media files, making digital asset management integration and implementation easier.
The PRO version of this tool eliminates limits on bulk editing and adds advanced search features, making it a great choice if you have a lot of media content to manage.
One of the key features of the plugin is its native WordPress interface, which makes managing files straightforward and intuitive. While this user interface may be outdated compared to some other tools on the market, it gets the job done and offers several additional small changes to your media library interface.
For example, you can view or hide metadata related to your media library, and you can apply taxonomies to media files using different plugins. With these taxonomies in place, you can sort and filter your media library by the label to quickly find the media files you need.
While the setup process for the plugin can be somewhat complex due to the use of taxonomies and other features, this plugin offers a range of useful features to help you manage your media content.
For example, you can auto-categorize media resources, create and assign unlimited taxonomies, and use drop-down filters to filter media items by category. Additionally, you can select and reorder files in bulk, add unlimited categories and tags to manage files and add taxonomies to media files using other plugins.
Key Features:
Native WordPress interface
Lifts bulk editing limits and adds advanced search features
Auto-categorizes media resources
Create and assign unlimited taxonomies
Use drop-down filters to filter media items by category
Select and re-order files in bulk.
The Best WordPress Plugin for Managing the Media Library
Media Library Assistant is a useful digital asset management plugin that improves the way WordPress users interact with media. It offers different shortcodes for sorting, displaying, and organizing your images, including a gallery shortcode.
With this tool, you can include images, videos, and other media files in your blog posts seamlessly. Additionally, you have complete control over the images in your gallery, allowing you to add objects directly to your gallery and alter scientific categorizations.
One unique feature of the plugin is the ability to update the author and taxonomy terms for multiple posts at once. Moreover, there are various styles and templates available for each gallery, each marked up differently and styled to suit individual needs.
The search filters include captions, slugs, and alternative texts, providing users with complete control over the styles, markups, and content of each gallery.
Key Features:
Integrates with Jetpack and Enhanced Media Library
Supports WPML and Polylang multilanguage plugins
Easy media file uploading
Slideshows and thumbnails
Alter scientific categorizations
Displays media file size and location on the website.
Unlimited Folders to Organize Media Library Files
In WordPress, there is a plugin named Folders that allows you to categorize all the posts, pages, and files on your website and can be accessed and searched as a whole, which makes it easy to organize everything on your website.
You can also customize the order and hierarchy of your folders and create subfolders. It's a free and invaluable tool that simplifies the entire process for your own website and your clients.
The plugin's interface is user-friendly and allows you to tweak your WordPress blog's appearance to your preferences. The drag-and-drop feature makes it easy for everyone to use, and it supports various file types such as videos, images, audio, and texts.
One downside to Folders is that it doesn't integrate with Jetpack, which could be a deal-breaker for some users. If this is important to you, then the Media Library Assistant plugin might be a better option.
Key Features:
Supports all custom post types by default.
Change the hierarchy of folders easily 
Download entire media folders
Ability to undo actions
Customize labels and fonts
Dynamic folders and subfolders are available
WordPress Plugin to Use Categories in the WordPress Media Library.
Media Library Categories is a WordPress plugin that allows you to easily categorize your media library items. Whether you want to add categories one by one or in bulk, this plugin has got you covered.
One of the biggest advantages of the plugin is that it does not affect the speed of your WordPress website after installation, unlike many other plugins.
This plugin enhances the searchability of your media library by allowing you to add categories beyond the default WordPress categories. By categorizing your media items, you can easily locate the item you are looking for, making it easier to find the right image or video for your post or page.
With this plugin, users can filter the library with taxonomy filters and search for particular categories. Also, the plugin makes it easy to modify the category of a large number of objects all at once. Furthermore, incorporating filters while inserting media into your pages or posts is also very easy.
The shortcode integration feature makes it possible to display images from specific categories in a gallery. Updating existing items with new categories is a breeze with Media Library Categories. The plugin allows users to add, edit, or remove categories from media items.
Key Features:
Does not slow down website speed
Extends category functionality beyond WordPress default categories
Enhances media library searchability
Allows bulk modification of a large number of objects
Easy filtering of media library items
Shortcode integration allows for the display of images in a gallery.
Frequently Asked Questions
What is a digital asset management plugin?
A Digital Asset Management (DAM) plugin is a tool that allows WordPress users to manage their digital assets, such as images, videos, audio files, and documents, more efficiently. It helps users organize their files, search for specific files, and optimize their assets for use on their websites.
Why should I use a DAM plugin on my WordPress site?
Using a DAM plugin on your WordPress site can help you manage your digital assets more effectively. With a DAM plugin, you can organize your files, keep track of your assets, and easily find the files you need.
It can also help you optimize your files for use on your website, improving the user experience and potentially boosting your SEO.
Do I need a pro version of a DAM plugin for my WordPress site?
Whether or not you need a pro version of a DAM plugin for your WordPress site depends on your specific needs.
If you have a large number of digital assets, need more advanced organization and search capabilities, or require additional features like watermarking or digital rights management, a pro version may be worth the investment.
However, if you only need basic file management capabilities, a free version of a DAM plugin may suffice.
Conclusion
To sum up this article, we discussed the top 6 WordPress digital asset management plugins that are both free and pro versions. These plugins can help you to manage your media files, documents, and other digital assets seamlessly.
If you are interested in learning more about WordPress and its related tutorials, we suggest you check out the BetterStudio blog. Our blog is packed with informative articles that can help you to enhance your WordPress experience.
Don't forget to follow BetterStudio on Facebook and Twitter to stay updated on the latest tutorials and insights. We are here to help you with all your WordPress needs.
Thank you for taking the time to read this article. Please feel free to share your thoughts or ask any questions in the comment section below. We look forward to hearing from you!