Looking for the most effective plugin for your WordPress blog, But not sure which plugin is right for you?
This article includes some of the best WordPress plugins you can find on the Internet for blogs. These plugins are speed optimized, easy to use, and have the latest features. They also work smoothly with all WordPress themes.
We have selected plugins that are ideal for your Blogs. They are valuable for Bloggers, Blog Layout, Websites, and Blog Designers. At the end of this post, you can choose the WordPress plugin that suits your blog and raises your level.
In order to create a good blog, you will need an SEO-optimized, well-coded WordPress theme. We, therefore, compiled a list of the best WordPress themes for bloggers that you can use to improve your blog.
Best WordPress Plugins for Bloggers 📝
Add a header to begin generating the table of contents
Would you like to find the modern plugin for Blogger in 2022? Let's begin:
Build Professional Pixel-Perfect Websites With an Intuitive Visual Builder
Elementor is considered one of the most popular page builders for WordPress, and it's a perfect fit for bloggers. You can use it to create a blog or run an eCommerce store; it will assist you in doing both, and it is compatible with all WordPress sites.
Accessible, intuitive, and easy to use, Elementor's front-end editor boasts several pre-built pages. Using Elementor templates will prevent you from having to build your own creations from scratch.
This plugin allows you to quickly switch between any blog component by simply dragging and dropping. Any changes you make will be instantly visible. You can learn how to use it within minutes and modify any part of your blog.
With Elementor, you can build a website that will conquer the competition.
---
💵 Free to use, but you have to pay to upgrade.
Key Features:
A high level of customization for your blogs
It is possible to undo and redo actions and see revision histories
Maintenance mode is available for special circumstances
Fully responsive and mobile-friendly design
Random Reviews:
I have over 50 client websites, and all the Elementor updates in the last months have caused so many problems! I can close my agency if this continues. I gave Elementor 3 stars in all the years when it worked, even after updates.

Using the testimonial carousel is fantastic. I love the yin/yang symbol, the flipping photos, and the ease of using it without being a web developer.

Plugin for building WordPress pages.
The Most Popular WordPress Plugin for Just About Everything
Jetpack lets you manage your WordPress websites just like you would with a fully-featured website management system. A better plugin cannot be found since it was developed by the same people who designed WordPress.
With this plugin, you can track various site statistics. Thus, analyzing how many visitors or readers you have on your site and identifying strategies for increasing their number.
The plugin also features an integrated post views counter system and social media integration to assist with ranking, similar to Yoast SEO. Your posts can also incorporate social sharing buttons to encourage social networking.
In addition to preventing spam, it scans your website for malware. It also restricts brute force attacks, which means your blog and website remain protected.
---
💵 There is a paid version and a free version.
Key Features:
Provides you with the ability to create beautiful designs and blog layouts based on your preferences
A single dashboard for managing multiple websites
A lazy image loading experience is provided for mobile devices
Search engine optimization for Google, Bing, Twitter, Facebook
Random Reviews:
Since 2005, Jetpack Support has mostly helped me.

My XML-RPC file issues were resolved thanks to your support.

*Response from support is easy to understand and very helpful.
Build Popups and Email Campaigns to Increase Sales and Grow Your Business
OptinMonster is a WordPress email marketing plugin with targeting capability that helps you maximize leads, encourage visitors who have left your site to subscribe to your mailing lists and convert them into repeat customers. It is the most effective WordPress plugin for generating leads and optimizing conversions.
It is a powerful tool that can be used by bloggers, business websites, and eCommerce websites.
In addition to being equipped with hundreds of templates geared toward conversions, this plugin offers A/B testing, slide-ins, geolocation targeting, and announcement bars. It also includes conditional pop-ups and email subscription forms for mobile sites.
By taking advantage of this plugin's display targeting functionality, you can ensure that the right message reaches the customer at the right time. Furthermore, opt-in forms can be designed to visually appeal using Drag-and-Drop.
---
💵 Both versions are available: Premium $14/M and Lite free.
Key Features:
Create gamified coupon wheel optins to increase conversions on WooCommerce
Content lockers can be created from inline campaigns
Countdown timers can be used to create an atmosphere of urgency and scarcity
Create sticky headers to display a countdown timer, free shipping notices, and more
Convert traffic into sales by incorporating full-screen interstitials and welcome mats
Random Reviews:
OptinMonster is perfect for managing campaigns on one or multiple web pages! I was looking for a tool to create a conversation mechanism and I found it in OptinMonster.

Our website eCommerce marketing program was strengthened by optinmonster. It was easy to sign up and select the level we needed, and the support with the FREE first campaign was great. I've rarely come across a plugin with this level of service, support, and delivery!

Great pluhin, easy to set up even for someone who hasn't created a pop up before. I had a query it was answered very quickly and with very clear instructions and offer of further help if needed – luckily I didn't but know they are there if I need 🙂
Re-Engage Your Customers Through Targeted Push Notifications
PushEngage lets you send targeted messages and announcements to your visitors via browser-based push notifications. Integrating the plugin into your blog will give your readers an additional way to subscribe, resulting in more subscribers.
With this plugin, you can send email newsletters and push notifications that encourage engagement and drive traffic to your sites. This lets you stay in touch with your audience even after they have left your site.
The messages will be delivered directly to their mobile devices or web browsers.
The plugin also offers similar features to OptinMonster, including A/B testing and features such as trigger campaigns, dynamic segmentation, opt-in reminders, and advanced analytics.
Its primary drawback is the limited amount of notifications it can send per month to up to 2500 subscribers.
---
💵 There is a paid version and a free version.
Key Features:
Notifications are available on Chrome, Firefox, Opera, Microsoft Edge, and Safari, irrespective of the device being used
All subscribers will receive push notifications when new articles are published
Different attributes can be used to segment subscribers, such as browser, location, interest, etc
It is possible to optimize campaigns using Push Analytics data
A campaign may be automatically generated based on customer actions
Designed to support both HTTP and HTTPS websites
Random Reviews:
I easily installed the plugin, and it helped me gain more traffic.

It doesn't deserve any stars, supporting is delayed for days, paid plans are too high. Other than that, the free plan fails to activate it, as in the terms and conditions I would not recommend using this plugin

The plugin helped me increase traffic. Easy to install and use.
Fully Customizable, Search Engine Crawlable, and GDPR Compliant Feeds
Smash Balloon is a WordPress social media feed plugin that enables you to share updates with your clients through social networks directly from your WordPress site. Integrating your social media feeds into your WordPress site will create a greater visual appeal. It is an effective way to build a following.
It will not slow down the performance of your website, and there is a Load More button to ensure photos do not take up too much space. You can also share your images on your Facebook Feed, Twitter Feed, and YouTube Vides Feed.
Several social feed plugins will enable you to post user-generated content from social media: Facebook and Instagram custom feeds, Twitter custom feeds, YouTube feeds, and Social Wall Pro (which will combine Instagram, Facebook, Twitter, and YouTube feeds into one feed).
Since you can have real people create your content, you are able to increase conversions, social proof, sales, and trust in your website, demonstrating to others that you are an expert in your niche.
---
💵 The free version cost $598/Y, and the premium version cost $598/Y.
Key Features:
The feed can be customized according to your preferences
Words and hashtags can be used to automatically filter content
SEO-friendly, GDPR-compliant, and fast
The ability to display the Facebook feeds from your page or group
Random Reviews:
A simple and easy-to-use interface.

br>Nice job, easy work and highly functional/br>

A really good plugin that works well, and the support was excellent, even though we're using the free version.
The All-in-One Plugin for Building Astounding WordPress Membership Sites
MemberPress plugin for WordPress supports the creation of online courses, discussion forums, and membership sites. The plugin additionally offers you the capability of restricting access to specific pages, posts, or custom post types.
A significant feature of this plugin is that it allows you to create subscription plans and regulate access to content based on those plans. It supports multiple payment options, such as Stripe, PayPal, and Authorize.net.
It also allows you to limit guest authors' access to your blog when your blog grows, which can help you maintain perfect control over your blog's content.
MemberPress has been integrated with many popular email marketing platforms, including MailChimp, ConvertKit, and others, to communicate with your customers.
---
💵 It is possible to download the Premium version for $279/Y and the Lite version for free.
Key Features:
Online courses are built and sold efficiently with a powerful LMS platform
Utilize Easy Affiliate to build non-salaried sales teams
Coupons can easily be customized to increase sales and increase customer loyalty
Keep your customers engaged by releasing content on a timetable and expiring content access
Create powerful paywalls for WordPress in a few clicks
Random Reviews:
I've never seen a worse plugin than the MemberPress Basic plugin.

This adds any custom page to the Account Menu. Easy to install and use. I didn't have any problems adding a link. Thanks

I really like this plugin, it works perfectly, and it is very easy to use. Thanks a lot!
A Security Suite Designed to Enhance Your Current Security Posture
Sucuri is one of the best WordPress security plugins that assist in uptime monitoring and scanning a website continuously to ensure that it remains protected and secure from unauthorized access and site activity logs. It is developed by one of the leading security companies in the world.
The establishment of a secure environment for your online business should be considered a high priority. Sucuri provides this service.
The dedicated servers protect your website against DDoS attacks, malware, XSS attacks, brute force attacks, content copy protection, and spam comment attacks. If your website is not covered, we recommend installing a firewall today.
One other benefit of Sucuri is that it automatically adds a Cache Delivery Network layer to your website, significantly increasing its speed.
---
💵 There is a premium version that costs $199.99/Y, while the free/lite version charges nothing.
Key Features:
Hardening your security by implementing measures such as hiding your WordPress version and protecting your uploads directory
Site security activities are logged as login attempts, unsuccessful login attempts, etc
File Integrity Monitoring detects any changes to your files
Monitoring blacklists to determine whether your website is being blocked for security reasons
Use security notifications to remain abreast of any suspicious activity occurring on your website
Scanners that detect malicious code on your site remotely
In the event of a breach, your site will be assisted by the Security Actions team
Random Reviews:
Loses connection at all times. Won't accept new key.

Thank you for providing the free version.

Recent hacker activity has saved me time and money as a result of this plugin. Great plugin. Thanks for great work.
Use Lazy Loading to Improve The Performance of Your Website
Lazy Load by WP Rocket plugin makes your website run faster while taking up less space. This plugin combines the features of several existing caching plugins to streamline the caching process.
Cached versions of your website enable you to save server resources and assist search engines in indexing your website, as well as being accessible immediately by search engines.
By taking one second longer than expected to load your WordPress website, you can lose 7% conversions, 11% page views, and 16% customer satisfaction.
That's why it is crucial to have this plugin; The slow speed of your website is detrimental to your search engine ranking, resulting in diminished traffic.
There is only one negative aspect to the plugin: it is a paid plugin. However, it is the most accessible and beginner-friendly caching plugin available.
---
💵 The plugin comes in both a Lite and Premium version. The Premium version costs $price and the Lite version costs $0.
Key Features:
The possibility of hosting local copies of Google fonts
Implementation of Google Analytics for loading code from your server
Optimal minification of CSS, HTML, and Javascript
Initiate a rollback to a previous version
Exporting and importing settings
Improves database performance by implementing database optimization
Integration with Cloudflare and other CDNs
Random Reviews:
This will make the website load faster.

My testing found that it had no effect on Google Page Speed scores. The Lazy Load for Videos plugin works better.

My favorite is this one, because it replaces the YouTube player js with a small picture. I appreciate the effort rocket team put into it.
World's Most Popular Open-Source eCommerce Solution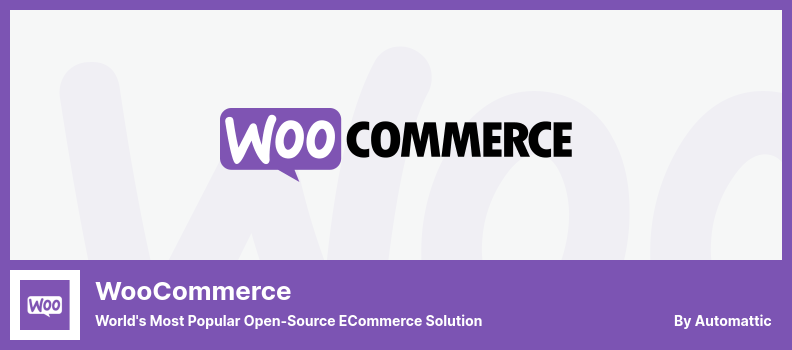 WooCommerce makes it possible for you to build a highly customizable eCommerce store. If you are interested in the most popular eCommerce plugin for WordPress, this is an excellent option.
Here we have created a list of the best WooCommerce themes and best WooCommerce plugins that can be of great assistance to you when building your own internet store
It is an open-source publishing platform that lets users control their blog's content and data. It comes with both free and paid extensions that can be used to enhance the functionality of your blog.
Suppose you utilize WooCommerce to construct a store. In that case, you can effectively integrate both content and commerce, regardless of creating a site for a startup or a retail website.
WooCommerce provides an easy way to manage your business's metrics that matter most. Because of this, you can grow your business, reach your target audience, and manage your marketing and social media campaigns.
Finally, you can export your entire website content should you decide to migrate to another platform in the future. This is because WooCommerce allows you to move your website from one platform to another.
---
💵 There is no charge for the plugin and all future updates will be free.
Key Features:
Easy printing and scheduling of USPS labels from your dashboard
Digital products, such as ebooks, can also be sold online
Many WooCommerce payment gateways are available

Integrate Google Ads, HubSpot, Mailchimp, and Facebook to strengthen your marketing and social communications

Integrate Google Ads, HubSpot, Mailchimp, and Facebook to strengthen your marketing and social communications
Random Reviews:
It delivers exactly what it promises with a very simple and objective user interface.

It takes so much time to add the price when you put out of stock, I don't know why the application has been upgraded to be better but the feature takes more time to modify.

I have updated my shop, but my store has gone down. Thank goodness I have backups….
Delivers Real-Time Writing Suggestions Wherever You Are Writing Online
The Grammarly browser extension contains features including plagiarism detection, grammar check, vocabulary expansion, and more. It is compatible with WordPress blogs.
This can significantly reduce the chances of accidentally overlooking minor grammatical and spelling errors when writing a blog post.
Suppose you leave these errors on your website or blog. In that case, your reader may believe that you are unprofessional, which may negatively impact your business's reputation.
It is difficult to convey the tone you want to share in writing. Grammarly includes a feature that lets you hear how your written message will sound to others before you send it.
Although Grammarly does not have a WordPress plugin, you don't necessarily need one. Simply add the extension to Safari, Firefox, Chrome, or Edge. You will be guided through correcting mistakes as you type.
You can access Grammarly for free, but you will gain access to additional features such as vocabulary suggestions and plagiarism detection if you upgrade.
---
💵 The theme for $12.5/M can provide an updated plugin all the time.
Key Features:
Offers writing suggestions in real-time for Gmail, Google Drive Docs, Twitter, LinkedIn Posts, and other websites
Save time by reducing the amount of time spent on proofreading and polishing
Improve grammar, style, tone, and other aspects of the document
Ability to write across multiple platforms with confidence
First-Ever Solutions-Focused WordPress Form Plugin On The Market
Formidable Forms is one of the best WordPress form builder plugins that can create complex, form-based solutions with elaborate add-ons. You can select from a variety of different packages depending on your needs.
You can create various advanced forms using Formidable, including quizzes, surveys, payment forms, registration forms, and profile forms.
It is possible to view all quiz results in the plugin's splendid dashboard. Additionally, when a user fills out a web form, it is automatically saved in your WordPress database, so you will not lose any leads.
Your forms can be filtered, formatted, and displayed directly on your website using their Views feature. Since their forms are mobile-friendly and lightweight, they will help your website load faster.
The plugin allows you to disable IP tracking and disable saving submissions so that your lead forms and payment forms do not track IP addresses. You also have the option of adding GDPR consent checkboxes to your contact and payment forms.
With these features, blog posts, events calendars, job boards, and rating systems can be easily created.
---
💵 In addition to being integrated as a free download, this plugin costs a price.
Key Features:
Contextual logic for smart forms
Integrates with a variety of email marketing and payment platforms
Contains a powerful mathematical formula for simple and advanced calculations
Form submissions are represented graphically and statistically
Random Reviews:
The most productive and favorite plugin of mine.

With Formidable Forms, I have seen the plugin in action, and it does everything very elegantly. The documentation and video tutorials are great, too.

Easily create clear and efficient forms
Final Thoughts
In this post, we examined the best WordPress plugins for blogs. With the help of the right plugins, anyone can create a quality blog in just a few hours.
We hope our list helps you find the right plugin.
If you have any questions, please comment below. And if you liked this post, please share it on Facebook, Twitter, and other social media to support us.