Are you trying to find the best WordPress plugins for Google AdSense? What are the preferences for WordPress plugins? Is it hard to choose from one?
We will share the list of the best WordPress AdSense Plugins in this post. The WordPress plugin should have excellent features, be easy to use, be suitable for both desktop and mobile users and be compatible with WordPress themes.
Ultimately, all of these plugins are great for AdSense. You are searching for a relevant AdSense plugin, but that's not the same as the perfect AdSense plugin? In the end, these plugins can also be used for AdSense Auto Ads, Advertising, Sell Ad Space, AdSense Widget, and Classified Ads. Select a plugin for your website that will elevate it to the next level.
In addition, we have compiled a list of the best AdSense optimized WordPress themes that can be helpful for you since many of them, like the Publisher theme, have AdSense features built right in.
Consequently, here are the best WordPress plugins for Google AdSense in 2022:
AdSense Ads Manager for WordPress
With the Easy Google AdSense plugin, you can easily manage and monetize Adsense ads on your website. With this plugin, you do not need to manually add Adsense ads to different parts of your website.
To add Adsense ads to the site, all you have to do is enter your Google AdSense Publisher ID in the plugin settings. Easy Google AdSense will automatically display that ad optimally on your website.
💵 It doesn't matter if you're a developer or an amateur. The Easy Google AdSense plugin will benefit you. It is free.
Key Features:
This plugin optimizes Adsense ad codes using machine learning
The plugin checks to see if the ad complies with Google's policies. If the ad does not comply with Google rules, it will not display it and show a warning message to the website owner
You can specify how many ads are to be displayed on each site page and each ad to be displayed in which part of the page (header, sidebar, footer, etc.)
Easy Google AdSense allows you to specify which web pages show an ad on them
In addition, the plugin has a section called Exclude specific pages, which can be used to specify that Adsense ads are not displayed on particular pages
Random Reviews:
The author is right. This is actually about something else. After installing this plugin, Google marked my site as 'AdSense Publisher Policy Violation'.

One of the easiest AdSense plugins to use.

I love this. It's so simple.
Ads Management Plugin for WordPress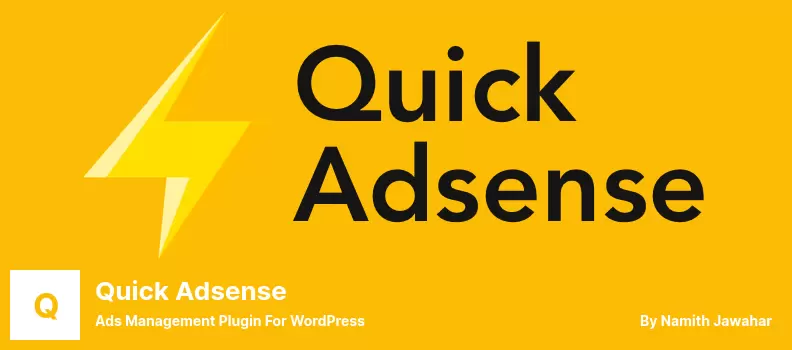 Quick Adsense is a plugin for managing ads on WordPress websites. With this plugin, you can easily add codes related to Adsense or any other ads platform to your blog or website.
Quick Adsense can randomly place an ad anywhere in your post. Placing Adsense randomly within a post is an excellent way to experiment with various ads formats & placements besides optimizing your Adsense.
If many regular visitors frequently revisit your blog, randomization will likely catch their attention.
Quick Adsense is easy to work with, and you can easily configure its settings.
💵 A free Lite version is available, as well as a $49 d Pro version.
Key Features:
You can consider the default location for ads. You can place ads at the beginning of posts, in the middle of posts, at the end of posts, before the last paragraph, or after certain images
You can also choose the location of the ads randomly and do not define a specific area for the ads
It is easy to work with Quick Adsense. It has an exemplary user interface to work with, and you can easily do the necessary configuration
No coding knowledge is required to use this plugin. You can display Adsense ad codes on your website by copying and pasting them
With this plugin, other advertising platforms can be used and are not limited to AdSense
You can display up to 10 ads per page
The plugin has a Geotargeting feature, which means that only ads related to specific countries can be displayed on the website
Plugins are tools for measuring the performance of Adsense ads located on your website. As a result, you can measure the effectiveness of various advertisements
Random Reviews:
I like the simplicity of the template. It does everything it should. In fact, I wish it was redesigned to be easily integrate with Bbpress ITP.

Whenever I update it, the settings get reset. Also, the ads disappearbr> Such a PITA! I'm moving away from and away from thembr> This topic was modified 2 years, 6 months ago by LS.

It's terrible, man!
Google Adsense Plugin for WordPress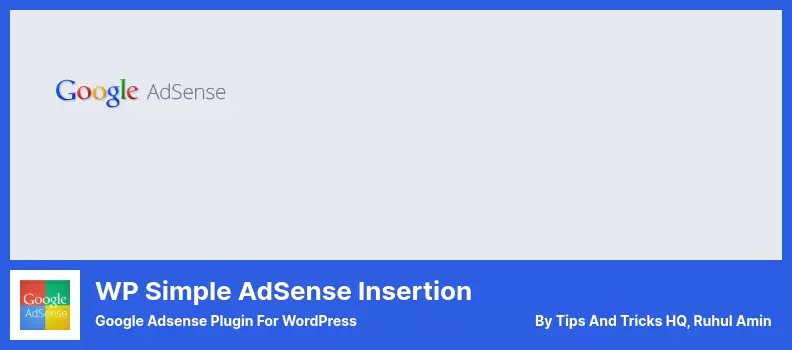 With WP Simple AdSense Insertion, you can insert Google Adsense ads between your posts or pages. You can add Adsense ads to your website by using shortcodes or calling a PHP function in the theme template file.
Working with this plugin is easy. Adsense ads can be inserted anywhere on the website (posts, pages, and sidebar) by using a shortcode. This plugin also adds the ability to insert Adsense ads into your website articles automatically.
You can also use this plugin to store any ad code (it doesn't have to be just Adsense code).
Using the WP Simple AdSense Insertion plugin, you can add AdSense ads to the website in two ways:
The first method is to use shortcodes (for example [wp_ad_camp_1]). Or you can use a theme's template file to call up a PHP function (such as ) And use it to place ads on the site.
💵 The plugin is free of charge. No fees apply.
Key Features:
AdSense code can be automatically inserted at the end of every article
Insert in-article advertising code automatically
This plugin can be used to store any ad code (it isn't limited to just Google Adsense code)
Random Reviews:
It works well, has been modified 9 months ago by

Thank you to the developers! The plugin is working great!

Simple plug-ins like this are what I love to use
Multi-Purpose WordPress Advertising Manager
One of the best tools for managing ads on WordPress websites is the Ads Pro plugin. Ads Pro is a paid plugin for handling ads. It helps you manage the ads on your website, place them wherever you want, and show them to your users.
This fantastic tool supports a template and grid system to show matched and user-friendly ads on your site, and it's 100% free from Adblockers.
💵 This plugin comes with all the updates and 12 months of support. It costs $57 .
Key Features:
This plugin is fully responsive, so it works on all kinds of devices
The plugin has Geographical targeting features that allow you to define your ads for people in certain countries and cities so that only these people can see your ads
It has scheduling tools to display ads. You can determine how long ads are active on your website
Display your ads in more than 20 different ways (sidebar, floating, video, background, corner peel, grids, hover, and others)
25+ ready-to-use Responsive and User-friendly Ad Templates
This plugin has tools to measure the effectiveness of one or a group of ads. You can use it to see clicks, views, and CTR in real-time
Random Reviews:
Great job!

Exceptional features!

The #1 marketing manager*
Professional, All In One Ad Manager for WordPress
Adning plugin is a simple and powerful tool for managing ads on WordPress websites. The focus of this plugin is on creating and managing banner ads.
This plugin comes with integrated Google AdSense banners and can create HTML 5 banners and place them on the website.
Adning plugin has many useful features that make it very easy to work with the plugin.
Adning is a fully functional tool for managing different types of ads created using different advertising platforms. This plugin is paid for, and you can buy it from the CodeCanyon website.
Using Adning, you can show different types of ads on the site, such as HTML ads, Image and text ads, Ads within pop-ups, Video ads, Ads within content, Post feed ads, Notification bar ads, Full-width background ads and etc.
Like all other paid plugins, you'll also be able to sell ad spots on your site directly to advertisers with this plugin.
💵 Get 12 months of free support and plugin updates with $29 .
Key Features:
Create, Manage and Display Unlimited ADS
Auto Positioning & Display Filters
Targeted Advertising
Special Google AdSense Support
HTML5 Banner Support
Use page builders like Gutenberg, Visual Composer, Elementor to create banners
Random Reviews:
We're always up-to-date

When I could find the documentation the last time, there was no explanation of how to use content filters. Now I can't even find the documentation (there aren't any links to it anywhere on the developer's support pages).

There was a problem with licensing management: every time your website was migrated from local development to test site and back again, you had to contact support so the license was removed. Also, it didn't work when we got an SSL certificate and it was only 'https://' instead of 'http://'. Of course the license was invalid.
WordPress Ads Manager
A WordPress plugin for managing in-post ads on WordPress websites, WP In Post Ads is the ultimate ad management tool.
With WP In Post Ads, you can easily manage different ads and place them on the website. This plugin has a timer, and it can be specified that ads appear on the website or are hidden after a specific time.
WP In Post Ads is a complete plugin for managing ads. However, working with this plugin is easy, and you can easily use different parts.
This plugin allows you to place ads anywhere on your website.
Following are some of the ad places: At the beginning of your blog post, At the end of your blog post, After a specific number of paragraphs, and by using a specific shortcode.
💵 Plugin users receive a free 12-month support time. Price is $price.
Key Features:
Split-testing different ad positions are possible
Tracking ad view counts to see what's generating the most revenue
A set number of days after which ads are shown or hidden
Hide ads from logged-in users Customize how ads display for different types of content
Ad data can be integrated with Google Analytics
WordPress Ad Manager & AdSense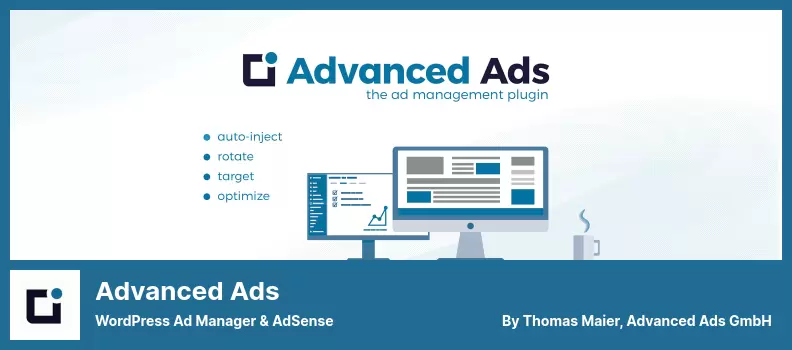 Advanced Ads is a simple ads manager plugin and can manage various ads on the website. Advanced Ads supports all types of advertising and works well with most advertising platforms such as Google Adsense, Google Ad Manager, Amazon ads, or media.net ads.
This plugin implements all Google AdSense policies well and acts according to them.
Using this plugin, you can place various ads on the website, including text and display ads, native ads (In-article, In-feed, matched content), Auto ads, and Auto ads for AMP. You can manage them well.
Advanced Ads supports most advertising platforms such as Google AdSense, Amazon, BuySellAds, Google Ad Manager (formerly Google DoubleClick for Publishers, DFP), Ezoic, media.net, Booking.com, Tradedoubler, Awin, Getyourguide, The Moneytizer, Infolinks.
One of the features of the plugin is to disable ads on specific pages of the website. You can also display multiple ads on the website using ad blocks. With this plugin, ads can be displayed automatically on the website.
You can also specify specific pages in the plugin settings and display ads on them. Another notable feature of Advanced Ads is that it allows you to hide ads from bots and web crawlers.
Advanced Ads is a responsive plugin that displays ads well on a variety of devices. Another plugin feature is pre-defining a specific location on your website where ads are placed by default.
💵 A free Lite version can be downloaded, and a $49 Premium Version can be purchased.
Key Features:
There is no limit to the number of Adsense ads you can add to your website
It shows the amount of revenue earned from Adsense ads in the website dashboard
You can change the WordPress settings directly from the WordPress dashboard
It supports all types of Google AdSense ads such as Google AdSense display ads, native ads like In-feed ads, In-article ads, matched content ads, Google AdSense Auto ads, and Google AdSense Auto ads for AMP
You can change the type and size of ads without going to your Google Adsense account
This plugin hides AdSense ads on 404 pages of the website
Random Reviews:
Plugin that's excellent

For several years I have used it and I recommend it

This is a great plugin! Very helpful!
WordPress Ad Manager & AdSense Ads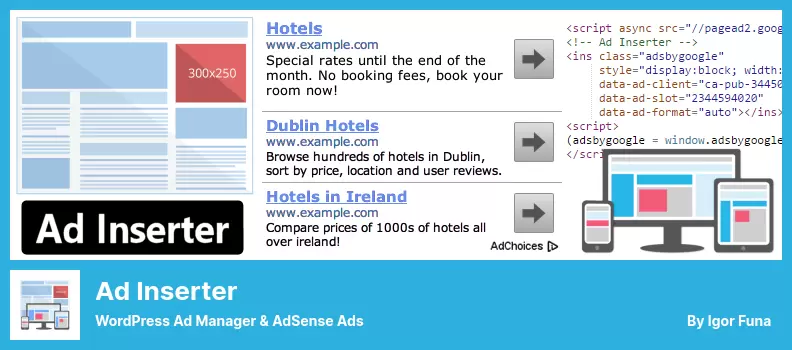 Ad Inserter is another ad management plugin for WordPress websites that includes many features for inserting ad-related code optimally on the website.
Using this plugin, you can place different ads on the website, easily manage them, and use ads as a passive income resource.
In addition to Google AdSense and Google Ad Manager (also called DoubleClick for Publishers), this plugin supports Media.net, Amazon Native Shopping Ads, Infolinks, and custom rotating banner ads.
Ad Inserter is more than a plugin for inserting ads. There are many advanced options, such as inserting opt-in forms, header scripts, JavaScript, CSS, HTML, PHP, analytics, tracking, and advertisement code anywhere on the page.
💵 A premium version is available for $20 , while the free/lite version is free.
Key Features:
Supports Google Adsense ads and displays them well on the website
Ad Inserter supports the Google Ad Manager platform well
This plugin automatically places ads on posts and web pages
With Ad Inserter, you can place ads anywhere (such as before/after content, before/after a certain number of paragraphs, before/after images, in site headers, or other items)
You can disable advertisements on specific posts and pages with this plugin
Ad Inserter inserts code for various ads on AMP pages
The Ad Inserter plugin has a timer and places ads on the website at regular intervals
You can expose ads to people living in a specific country or city using Geolocation tools in the premium version of this plugin
Random Reviews:
Despite its many features, this plugin has an intuitive interface. Given how many features this plugin has, I was shocked at how easy it is to use. I rarely review plugins, but it would have been criminal of me to pass this one up. Bravo! This topic was modified 3 days, 5 hours ago by admin.

Thanks a lot for this wonderful plugin! I have a huge website with over 200 pages and it is a chore to manually insert codes or shortcodes. This plugin makes my life much easier! Thanks a lot!

My favorite thing about it is its simplicity and ease of use.
WordPress Ads Manager
WP AdCenter is a powerful and advanced plugin for managing ads on WordPress websites. Working with WP AdCenter is easy, and you can easily learn how to work with it.
This plugin displays all types of ads correctly on the site. It supports popular advertising platforms such as Google AdSense, Amazon Shopping Ads, Media.net, InfoLinks, and more.
WP AdCenter supports various ad formats. As a result, by installing and activating this plugin, you can use the following advertising formats:
– Google AdSense Auto ads
– Native ads
– Display ads
– In the article, ads
– Infeed ads
– Link Units
You can manage the size and position of the ads. Also, you can control the rotation of the banners or display ads on your screen.
💵 It includes 12 months of free support from the team. This plugin can be bought for $47 .
Key Features:
You can place ad scripts anywhere on the website. Also, you can let third-party sign up and host ads in your website's ad spaces
A light and fast plugin that does not slow down the website
You have complete control over the ads placed on the website. You can change the necessary items according to your wishes
The plugin has tools for analyzing and improving ad performance. Therefore, you can determine the effectiveness of each type of advertising. As a result, you can choose the best type of advertising that earns you the most
This plugin integrates with the PayPal payment system, and you can use it
Ads & Adsense Ads Plugin for WP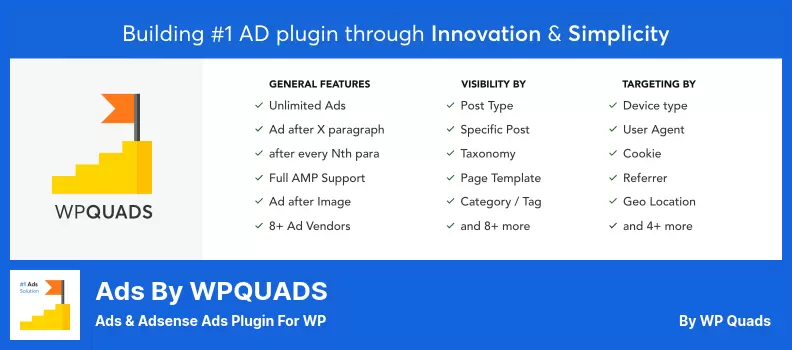 Ads by WPQUADS is a complete and advanced plugin for managing various ads. This plugin is coded most optimally and does not slow down your website.
Ads by WPQUADS is a comprehensive ad plugin. Many websites with very high traffic use this plugin.
With this plugin, you can add as many ads as you want to your website without any restrictions.
This plugin has a feature to disable ads on certain pages of the website. As a result, you can prevent ads from displaying on these pages.
Ads by WPQUADS has tools for tracking and reporting the performance of ads placed on the website. As a result, you can find the most appropriate place and type of advertising.
WPQUADS ads have geo-targeting tools that allow you to display ads to people in certain cities and countries.
With Ads by WPQUADS, you can display ads anywhere on your website, such as site headers, before/after several paragraphs, at the beginning/end of a post, or elsewhere.
The plugin supports various advertising platforms. In addition to Google Adsense, you can also use them.
The supported ad platforms include the following: Google Adsense, DFP was known initially as Double Click for Publishersbut has been switched to Google AD Manager Yandex Direct Ads, MGID Ads, Taboola Ads, Media.net ads, MediaVine Ads, Outbrain Ads, Infolinks Ads.
💵 This plugin comes in Lite and Pro versions. The Pro version is $0, and the Lite version is $0.
Key Features:
A modern, easy-to-use options panel built with ReactJS
Integrates seamlessly with AMP plugins such as AMPforWP, Official AMP by Google, and BetterAMP by BetterStudio
It provides deep integration with Google Adsense ad types like Display ads, In-feed ads, In-article ads, and Auto ads. It allows you to define fixed or responsive sizes for your ads
Currently, eight ad vendors are supported, and 20 more are on the development roadmap, as the developer said
You can control which advertisements appear on which posts with 10 conditional ad visibility positions
Support for custom image banners
Adsense ads with lazy loading
There are 4 types of notifications you can add to an ad blocker–bar, Popup, Page Redirection & Block Message. You can decide whether to display it only once or on every visit
This plugin was developed to keep the speed of your site high by loading only the code that it needs at the time of execution, making it small and fast, and giving it a great number of hooks that are easily extensible by third parties
Random Reviews:
I think this is the greatest plugin ever built*

Recommendation

The interface is easy to use
This Concludes the Top Google AdSense Plugins!
Nevertheless, in this tutorial, we discussed the best WordPress AdSense plugins. Nevertheless, you should think about your site priorities. If you hope to improve your site, you can use them.
We wish we had helped you think more clearly and construct a confident decision for a decision based on that decision. You may also want to see our article on the best WordPress blogging themes and best WordPress page builder plugins.
We would appreciate it if you shared this article on Facebook or Twitter if you found it useful. If you have any comments about the plugins presented, let us know by leaving a comment.