Are you a WordPress website owner that needs assistance finding the best Google AdSense plugins for your website? If so, you've come to the right place. In this post, we will highlight some of the best plugins that are available to help you maximize your AdSense earnings and optimize your website's performance.
Our aim is to provide you with an insightful guide that incorporates both free and paid options. With numerous alternatives on the market, we have picked the top ten AdSense plugins that we believe will help take your website to the next level.
In this article, we will cover everything about the 10 Best Google AdSense Plugins for WordPress in 2023. So, let's get started!
Best WordPress Google AdSense Plugins
If you're a WordPress website owner looking to monetize your site with Google AdSense, you're in luck – there are plenty of plugins available to make the process easier. Check out the following list of the 10 Best Google AdSense Plugins for WordPress 2023 (Free & Paid) to find the perfect fit for your site.
AdSense Ads Manager for WordPress
Easy Google AdSense is a WordPress plugin that allows its users to manage and monetize Adsense ads on their website effortlessly. The plugin eliminates the need to manually add Adsense ads to different parts of your website.
With just a simple step of entering your Google AdSense Publisher ID in the plugin settings, the plugin will automatically display that ad optimally on your website.
This plugin has machine learning that optimizes Adsense ad codes, making it easier to manage and adjust. It's proactive in checking website compliance with Google's policies. Should your website be non-compliant, the plugin will not display the ad and notify you immediately.
Easy Google AdSense offers several features that can simplify your Adsense ad management. You can set how many Adsense ads you would like to display on your website, and where these ads will appear.
For example, you can choose to display these ads in the header, footer, or sidebar of your WordPress site. This allows you the flexibility to choose where the ads are located to get the most visibility.
Additionally, you can specify which pages Adsense should show on, and exclude specific pages that you don't want Adsense to appear. This means you have complete control over where your ads are appearing. You can use the Exclude specific pages section of the plugin to set where you don't want Adsense ads to appear.
Key Features:
Provides detailed statistics and earnings reports for Adsense account.
Provides seamless integration with other WordPress Ad plugins or third-party ad networks.
Offers friendly customer service support.
Optimizes Adsense codes with machine learning.
Proactively checks website compliance with Google's policies.
Allows users to specify where the ads will appear and how many to display.
Allows you to choose on which pages Adsense ads should appear.
Includes a feature to exclude Adsense ads on specific pages.
Automates Adsense ad placement.
Provides warnings for non-compliance with Google policies.
Ads Management Plugin for WordPress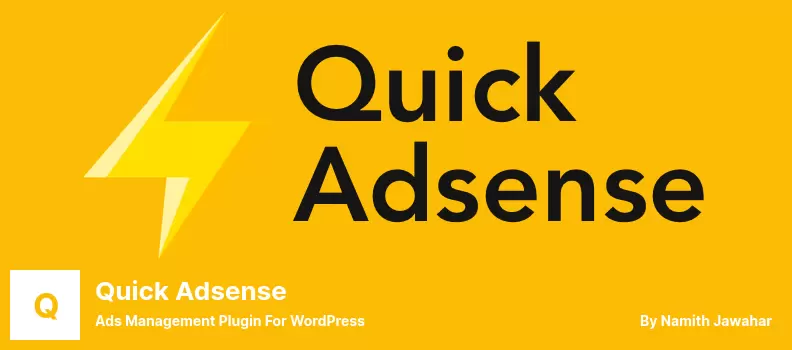 Quick Adsense is a WordPress plugin that manages ads on your website. It allows you to add codes for AdSense and other ad platforms to your blog or website easily and randomly places ads anywhere within your post. This plugin is perfect for experimenting with different ad formats and placements to optimize your AdSense.
One of the best things about Quick Adsense is that it gives you full control over the location of your ads. You can choose from default locations such as the beginning, middle, or end of posts, and place them before the last paragraph or after certain images.
Alternatively, you can choose to place ads randomly anywhere within your post to keep things fresh and catch your visitors' attention.
Quick Adsense has an intuitive and easy-to-use interface, so you can easily configure your settings without any coding knowledge. All you need to do is copy and paste AdSense ad codes, and you're good to go. Furthermore, you are not limited to AdSense. You can also use other advertising platforms like Media.net or Infolinks with this plugin.
The plugin has a limit of displaying up to 10 ads per page, which is handy to have your website's loading speed as fast as possible. One of its best features is geotargeting, which allows you to display ads specific to particular countries. This way, ads will only show for visitors in those countries.
Another advantage of using Quick Adsense is the plugin's performance measuring tools. You can easily measure the effectiveness of various advertisements on your website, which will ultimately help you optimize and monetize your content effectively.
Key Features:
Can show ads based on specific countries
Helps to optimize website monetization
Easily control the location of ads
User-friendly interface
No coding required
Compatible with other advertising platforms
Can display up to 10 ads per page
Google Adsense Plugin for WordPress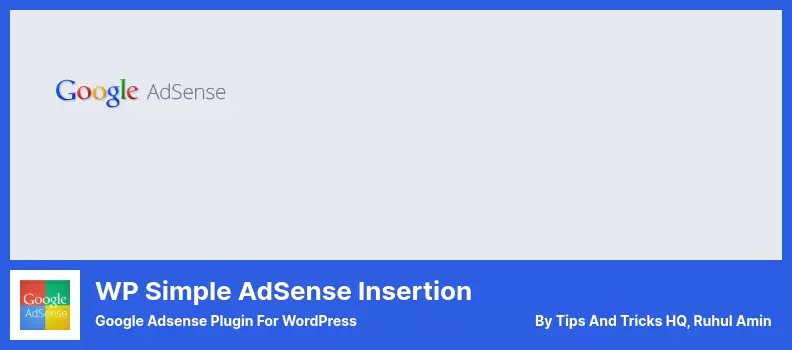 WP Simple AdSense Insertion is an advanced WordPress plugin that allows website owners to insert Google Adsense ads between posts or pages.
The plugin provides two easy ways to add Adsense ads – using shortcodes or by calling a PHP function from the theme template file. You can also use this plugin to store any ad code other than Google Adsense.
The best thing about WP Simple AdSense Insertion is its ease of use. This plugin allows you to add ads to any part of your website, whether it is a post, page, or sidebar, using a shortcode. The plugin also automatically inserts AdSense ads at the end of every article and provides in-article advertising code to monetize your website.
One of the most remarkable features of WP Simple AdSense Insertion is that it lets you store any ad code other than Google Adsense. This feature provides website owners with more flexibility to monetize their website assets by promoting various products and services in addition to Adsense.
Key Features:
Automatic AdSense code insertion at the end of every article
In-article advertising code insertion
Store any ad code other than Google Adsense
Multi-Purpose WordPress Advertising Manager
Ads Pro is an advanced plugin designed specifically for WordPress websites to manage and handle ads. With this plugin, you can easily manage the ads on your website, place them wherever you want, and show them to your users.
The fantastic thing about Ads Pro is that it supports a template and grid system to show matched and user-friendly ads on your site, and it's 100% free from Adblockers.
One of the best things about Ads Pro is that it is fully responsive and works on all kinds of devices. Additionally, the plugin has Geographical targeting features that allow you to define your ads for people in certain countries and cities so that only these people can see your ads.
With scheduling tools, you can display ads for the amount of time you want them to appear on your website. Plus, you can display your ads in more than 20 different ways like sidebar, floating, video, background, corner peel, grids style, hover, and others.
With over 25 ready-to-use Responsive and User-friendly Ad Templates, you can quickly customize the ads on your website.
Finally, Ad Pro has tools to measure the effectiveness of one or a group of ads. You can use it to see clicks, views, and CTR in real-time and manage your ads accordingly.
Key Features:
Fully responsive
Geographical targeting feature
Scheduling tools
Multiple ad display options
25+ ready-to-use ad templates
Real-time analytics and tracking
Easy customization
Free from Adblockers
Advanced ad management tools
Increases ad revenue.
Professional, All In One Ad Manager for WordPress
Adning is a powerful tool that can effectively manage ads on WordPress websites. The plugin specifically focuses on banner ads with integrated Google AdSense banners and the ability to create HTML5 banners. Advertisers can easily sell ad spots directly on their website using this paid plugin from CodeCanyon.
Adning is a fully functional tool that manages different types of ads such as text ads, pop-up ads, video ads, notification bar ads, and full-width background ads. With this plugin, website owners can use HTML ads, image ads, and ads within their content. The plugin is easy-to-use thanks to its many useful features.
The auto-positioning and display filters in Adning allow website owners to set precise positions and filters for their ads. The targeted advertising tool ensures that visitors see only ads that are relevant to their interests. Additionally, Adning provides specialized support for Google AdSense ads and Google AMP support.
With Adning, website owners can create banners using popular page builders such as Gutenberg, Visual Composer, and Elementor. The plugin supports unlimited ads, making it easy to create, manage, and display ads on their website.
Key Features:
Create unlimited ads
User-friendly auto-position and display filters
Targeted advertising tool
Specialized Google AdSense support
Ability to create banners with Gutenberg, Visual Composer, and Elementor
Google AMP support
Various ad types are available
Notification bar ad option
Full-width background ad option
WP In Post Ads is a versatile WordPress plugin that manages in-post ads on WordPress websites. This ultimate ad management tool provides flexibility in ad placement, including at the beginning of your blog post, at the end of your blog post, after a specific number of paragraphs, or by using a specific shortcode.
The plugin allows ads to be placed anywhere on your website, and with a timer, ads can be hidden or displayed at specific times.
One of the best features of WP In Post Ads is its split-testing option, allowing users to test different ad positions to determine what generates the most revenue. Additionally, tracking ad view counts provides insight into a post's performance.
The plugin allows users to set a specific number of days after which ads are shown or hidden, and ads can be customized for different types of content, making it a complete ad management solution.
WP In Post Ads also allows for the integration of ad data with Google Analytics, making it an essential tool for any website that utilizes Google AdSense. Its user-friendly interface makes it easy to use for those new to WordPress and ad management tools.
Key Features:
Split-testing different ad positions
Tracking ad view counts
Specifying times for ad display or hiding
Customizable ads for different types of content
Integration with Google Analytics
User-friendly interface
Ad placement flexibility
Complete ad management
Hide ads from logged-in users
WordPress Ad Manager & AdSense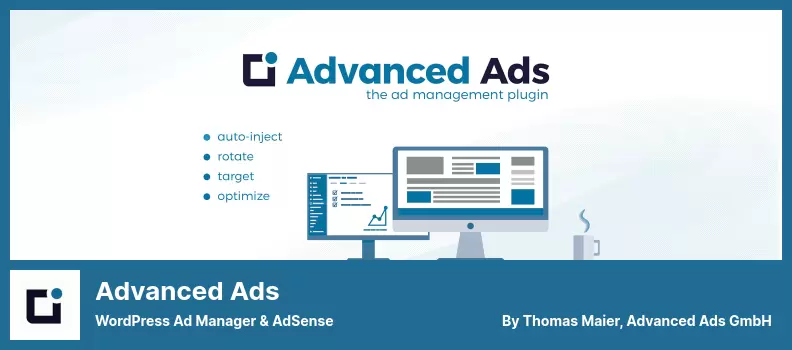 Advanced Ads is a straightforward ads manager plugin that simplifies the process of managing various ads on your website. It functions excellently with most online advertising platforms, including Google Adsense, Amazon ads, and Google Ad Manager, to mention a few. This plugin follows all Google AdSense policies, ensuring that your ads adhere to them.
Its essential features include the ability to disable ads on specific pages of the website, display multiple ads blocks, and showcase ads automatically on your website.
You can display ads on particular pages by specifying those pages in the plugin's settings. Another notable feature is the option to hide ads from bots and web crawlers, keeping them exclusive to human visitors.
Advanced Ads allows you to showcase diverse kinds of ads on your website, including text and display ads, native ads such as In-article, In-feed, matched content, Auto ads, and Auto ads for AMP, which you can efficiently manage. As a responsive plugin, it displays ads impressively on a range of devices.
Additionally, this plugin's features include in-depth compatibility with Google AdSense technology, the ability to manage unlimited Adsense ads on your website, show ads earnings directly on the dashboard, and alter settings from the WordPress dashboard.
You can easily change the type and size of your ads without visiting your Google Adsense account. Lastly, it hides AdSense ads on 404 pages.
Key Features:
You can change WordPress settings directly from the WordPress dashboard
No limitations to the number of Adsense ads you can add to your website
Revenue earned from Adsense ads is shown in the website dashboard
Supports all types of Google AdSense ads
Easily change the type and size of ads
Hides AdSense ads on 404 pages
WordPress Ad Manager & AdSense Ads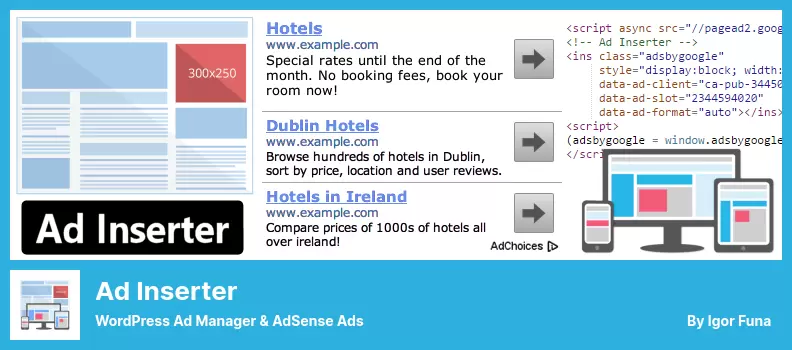 Ad Inserter is an ad management plugin for WordPress websites that allows you to insert ad-related code into your website optimally. This plugin is not only for Google AdSense and Google Ad Manager but also supports other advertising platforms like Media.net, Amazon Native Shopping Ads, Infolinks, and custom rotating banner ads.
Ad Inserter is more than a plugin for inserting ads due to its many advanced options, such as inserting opt-in forms, header scripts, JavaScript, CSS, HTML, PHP, analytics, tracking, and advertisement code anywhere on the page.
Ad Inserter supports Google Adsense and Google Ad Manager ads, which are displayed very well on the website. This plugin also auto places ads on posts and web pages.
You can place ads anywhere on your website with Ad Inserter, including before/after content, before/after a certain number of paragraphs, before/after images, in-site headers, or other items. You can also disable advertisements on specific posts and pages with this plugin.
Ad Inserter inserts code for various ads on AMP pages. With this plugin, you can place ads on your website on a timer at regular intervals. The premium version of Ad Inserter's plugin also has geolocation tools that enable you to expose ads to people living in a specific country or city.
Key Features:
Supports Google Adsense and other platforms
Auto places ads on posts and web pages
Allows ads to be placed anywhere on website
Disable advertisements on specific posts and pages
Inserts code for various ads on AMP pages
Places ads on the website at regular intervals with a timer
Geolocation tools in the premium version to expose ads to specific locations.
WP AdCenter is a robust and advanced plugin for managing ads on WordPress websites. It supports several popular advertising platforms like Google AdSense, Amazon Shopping Ads, Media.net, and more.
With this plugin, you can easily manage different types of Google AdSense ads like Auto ads, link units, in-feed ads, and in-article ads, ensuring they display correctly on your site.
This plugin also gives you control over the size and placement of ads as well as the ability to rotate banners or display ads on your screen. With support for various ad formats, you can use multiple advertising formats to maximize your revenue.
One of the standout features of WP AdCenter is its flexibility. You can place ad scripts anywhere on your website and allow third-party sign-ups to host ads in your website's ad spaces. Despite its powerful features, the plugin is light and fast, ensuring it doesn't slow down your site.
WP AdCenter provides you with complete control over the ads placed on your website, giving you the ability to make necessary changes according to your wishes. It also includes tools for analyzing and improving ad performance, helping you choose the best type of advertising that earns you the most revenue.
Finally, WP AdCenter integrates with the PayPal payment system, allowing you to receive payments for your ads easily. In summary, WP AdCenter is an excellent ad management plugin for anyone looking to increase their website's revenue while maintaining control over their ads.
Key Features:
Complete control over ads
Tools for analyzing and improving ad performance
Manage Google AdSense ads
Third-party ad hosting
Maximize your revenue.
Supports popular advertising platforms
Multiple ad formats
Flexible placement options
Ads & Adsense Ads Plugin for WP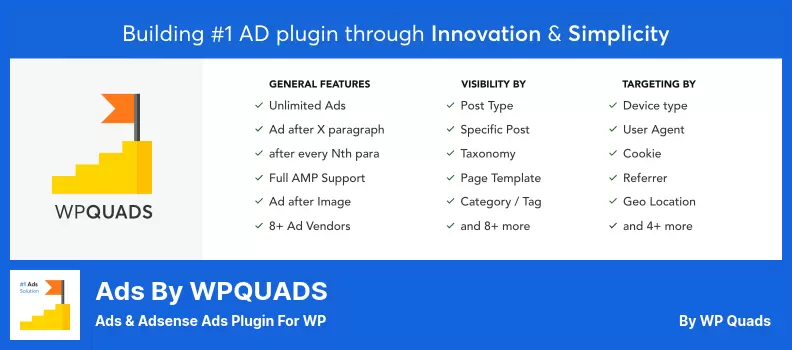 Ads by WPQUADS is a powerful and comprehensive plugin for managing various ads on your website. With its advanced coding, the plugin does not slow down your website, making it a great choice for high-traffic sites. It supports various ad platforms, including Google Adsense, Yandex Direct Ads and more.
One of the best features of WPQUADS is its geo-targeting tools. You can display ads to people in specific cities and countries. This allows you to create a more personalized and effective ad campaign.
With its flexible options, you can display ads anywhere on your website, such as headers, paragraphs or post beginnings. You can also track and report the performance of ads, finding the most appropriate place and type of advertising.
One great advantage of this plugin is that you can add as many ads as you want to your website without any restrictions. Moreover, you can disable ads on certain pages of the website, preventing ads from displaying on those pages.
Key Features:
Adsense ads with lazy loading
4 types of notifications for ad blockers
Developed to keep the speed of your site high with small, fast and extensible code.
Easy-to-use options panel built with ReactJS
Integrates seamlessly with AMP plugins
Supports Google Adsense ad types like Display ads, In-feed ads and more
8 ad vendors currently supported, with 20 more on the way
Control which advertisements appear on which posts with 10 conditional ad visibility positions
Support for custom image banners
Frequently Asked Questions
What is AdSense, and why would I need a plugin for it?
AdSense is Google's advertising program that allows website owners to earn revenue by displaying relevant ads on their sites. A plugin helps to optimize AdSense implementation on your WordPress site, making it easier to manage ads and increase revenue.
How can I optimize AdSense revenue with a plugin?
An AdSense plugin can assist in optimizing ad placement, testing, and analysis to achieve maximum revenue. Some plugins offer features such as ad blocking, ad rotation, and ad visibility options to help with this. Additionally, having a mobile-responsive theme, quality content, and consistent traffic can all increase AdSense revenue.
What are some benefits of using AdSense plugins on WordPress?
AdSense plugins can simplify the process of adding AdSense ads to your WordPress site, as well as provide additional features such as ad placement optimization, ad blocking, and ad rotation.

They can also help you comply with AdSense policies and regulations, and provide detailed analytics to track your ad performance.
Conclusion
In this article, we have explored the top 10 Google AdSense plugins for WordPress. We discussed both free and paid options, and highlighted their unique features to help you make an informed decision for your website.
We hope you found this article helpful. For more related tutorials, be sure to check out our blog at BetterStudio. We strive to provide helpful resources for WordPress website owners like you.
If you want to stay up-to-date with the latest tutorials and news from BetterStudio, we encourage you to follow us on Facebook and Twitter. Our social media accounts are a great way to stay connected and get timely updates.
Thank you for taking the time to read this article. We hope it has been useful and informative. If you have any questions or comments, please feel free to leave them in the comment section below. We are always happy to hear from our readers.