Are you worried about the security of your WordPress website? Do you feel like it could benefit from an added layer of protection? If you answered yes to either of these questions, then you've come to the right place.
In this blog post, we'll be discussing the nine best WordPress firewall plugins, both free and pro, that can help keep your website safe and secure. WordPress firewall plugins act as gatekeepers to your site, monitoring and filtering incoming traffic to prevent malicious attacks or spam.
The importance of these plugins cannot be overstated, as they can protect your website from devastating consequences such as data breaches, malware, and hacking attempts. In fact, according to a report by Wordfence, there are over 90,000 attacks on WordPress websites every minute.
In this post, we'll be reviewing the top nine firewall plugins for WordPress based on their effectiveness, ease of use, and affordability. Without further ado, let's dive into the details and help you find the perfect firewall plugin for your WordPress site.
Best Firewall Plugins for WordPress
If you're looking for ways to secure your WordPress website, one of the first steps is to find a reliable firewall plugin to help protect against threats.
In this section, we'll highlight some of the best firewall plugins available for WordPress, whether you're on a tight budget or looking to invest in a more advanced security solution. Be sure to check out our top recommendations below!
WordPress Plugin for Firewall & Malware Scan
Wordfence Security is a popular WordPress plugin designed to protect websites from various security threats. With its help, users can keep tabs on changes and track malicious IP addresses to ensure website security.
This plugin provides protection against malware, file changes, brute force attacks, and SQL injections. Although the free version does not include the application-level firewall, the Premium Edition offers more advanced protection against DDoS attacks.
The plugin works effectively against spam and malicious traffic in order to prevent them from reaching the server, which results in a reduction in downtime for your website.
It also monitors websites for SQL injections, scans files for content safety, and repairs WordPress files. Real-time firewall rule updates and IP blocks are offered, along with a login page CAPTCHA. Two-factor authentication is also available, unlike All In One WP Security & Firewall.
The plugin reduces server load and tracks all website changes. However, it does not include a content delivery network CDN for distributing content, which is a limitation.
Key Features:
Monitors website for SQL injections
Blocks malicious traffic before they reach the server
Real-time firewall rule updates included
Tracks all changes made to the website
Reduces server load
Scans files for content safety.
A Comprehensive, Easy to Use WordPress Security Plugin
All In One WP Security & Firewall is a comprehensive web security plugin for WordPress websites. It offers vulnerability tests, advanced technology, and the latest security practices.
The plugin has three segments for users of all levels: Beginner, Intermediate, and Advanced. With its free vulnerability scanner, users can examine their website security level with the point grading system.
The plugin enhances website security by reducing vulnerability risks and identifying malicious access. Plus, it prevents hot-linking of website images, blocks fake Google bots, strengthens passwords, locks out IP addresses, and denies bad and malicious query strings.
With its PHP code protection feature, your website's code is safeguarded from hackers. Besides, the plugin also stops user enumeration and keeps IP addresses from repeatedly attempting login after failing. Moreover, it's a useful option for those who prefer a firewall plugin-free security solution.
Key Features:
Google Recaptcha is included
Hot-linking prevention is available
Password strength tools
IP address lockout
Block fake Google bots
Deny bad query strings.
The Best Firewall WordPrss Plugin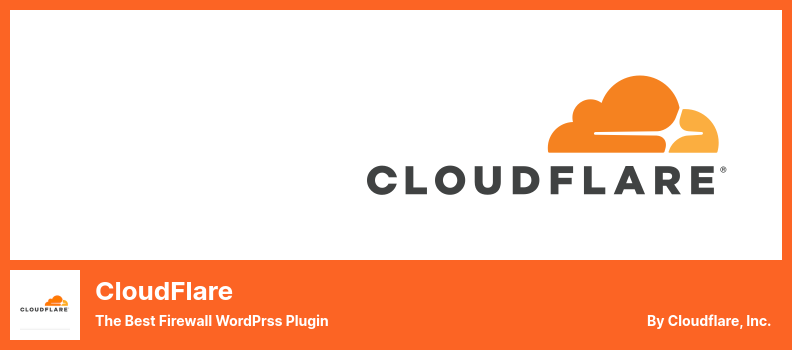 Cloudflare is an impressive WordPress plugin that helps enhance the loading speed of WordPress sites by providing a content delivery network. It also safeguards businesses against malware attacks, malicious threats, and spambots.
Using the plugin like a CDN provides various security features, and firewall filtering aids in managing bandwidth utilization, enabling faster loading of webpages even during high traffic times.
The plugin is available in both free and pro plans. The pro plan offers extra features such as a website application firewall. Although it lacks a CAPTCHA choice for login pages, it helps to filter DNS-based traffic and provides protection for server performance, applications, and devices.
By utilizing Cloudflare, your website will run smoother, save up to 60% of its bandwidth, and reduce downtime during periods of high traffic when the website is experiencing unusually high traffic.
The plugin protects your website from bot abuse and offers a great range of servers to enhance higher bandwidth utilization. Using the plugin gives you an opportunity to use CDN features and filter DNS traffic to maintain top-class website performance.
Key Features:
Prevents bot abuse
Filters DNS-based traffic
Improves bandwidth utilization
Boasts a broad network of servers
Provides a CDN feature.
Lightweight, Super-fast Firewall WordPress Plugin
BBQ Firewall is a lightweight firewall plugin ideal for protecting your WordPress website against a range of threats. Its filtering system blocks harmful network requests like base64 requests and excessively long string length requests.
Using Jeff's 6G/7G firewall rules, the plugin enables your site to be as fast as possible while also allowing it to be protected against the common attacks that your site is likely to encounter.
Not only is the plugin a great option for beginners, but more advanced users can also customize firewall rules beyond what is provided in the htaccess file. This plugin is especially useful for those who aren't comfortable editing htaccess files directly.
With no adverse effect on page speed, BBQ Firewall offers a secure solution for protecting your website against SQL injection and cross-site scripting attacks, protecting it from bad bot attacks, and preventing unsafe character requests. Additionally, you can upload executable files safely.
Key Features:
Allows safe executable file uploads.
Protects against bad referrers
Allows customization of htaccess files
Prevents unsafe character requests
No adverse effect on page speed
Protects against bad bot attacks
Firewall, Malware Scanner and Security Hardening WordPress Plugin
Sucuri Security is an amazing WordPress plugin that is designed to protect your website from hacking attacks and many other potential threats. It comes with brute force protection, malware removal, and blacklist removal services, all of which combine to offer a reliable security solution for your website.
Your website will never experience downtime due to security reasons while using the plugin. What's even better is that it also provides website application firewall (WAF) technology to safeguard you from hackers.
Additionally, it has a unique way of handling website traffic via its proxy servers. Every request that goes through its proxy servers is scanned to ensure that it's safe to visit before redirecting you.
In addition, the plugin will ensure that your website is protected from bot attacks and spam and will optimize caching to ensure the highest performance possible for your website.
Some of the features offered by the plugin are file integrity monitoring, security activity auditing, protection against cross-site scripting (XSS), security notifications, and protection against SQL injection attacks.
Password cracking prevention is also available to prevent site abuse, while post-hack security actions can be taken to minimize further damage. Further, Sucuri Security offers website acceleration options and provides an additional layer of security for your website too.
Key Features:
Brute force attack prevention
File integrity monitoring
Security activity auditing
SQL injection protection
Password cracking prevention
Post-hack security actions.
WP Security & Firewall WordPress Plugin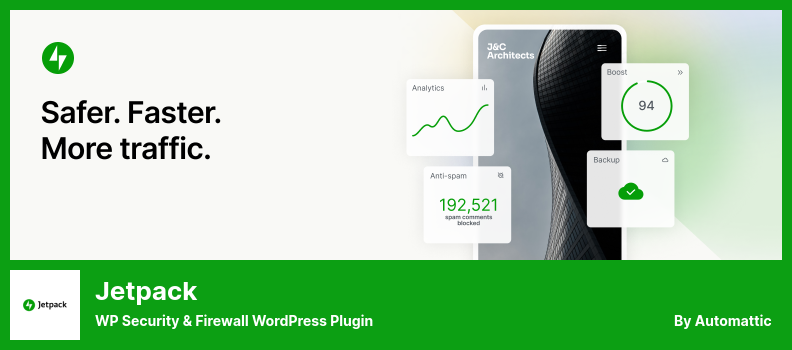 Jetpack is one of the most widely used WordPress plugins, providing an array of features to improve the security and functionality of your website. This application-level firewall blocks malicious traffic before it even reaches the hosting server, similar to Wordfence.
Despite being a heavy plugin, Jetpack's free plan offers basic protection against brute force attacks. However, the plugin's advanced features require upgrading to a paid plan.
It's essential to note that even though this plugin has a firewall, it isn't specifically a security plugin. It offers a range of functions, including marketing campaigns, performance, design, and WordPress security.
The plugin provides anti-spam features, monitors your site uptime, offers reliable user support from WordPress experts, and provides advanced site stats.
With Jetpack, you can restore everything with just a single click, back up your whole site in real-time, and receive instant downtime alerts. Moreover, it provides tools for SEO and solid customization.
Key Features:
Provides advanced site stats
Offers reliable user support from WordPress experts
Provides anti-spam features
Restores everything in just a single click
Provides tools for SEO
Offers solid customization tools.
Firewall & Malware Scanner WordPress Plugin
Security Ninja intercepts all requests before reaching the server to prevent server load and save bandwidth. This plugin provides brute force attacks and firewall protection against malicious users. The pro version offers cloud-based firewall protection.
The plugin secures HTTP/HTTPS requests before being sent. It scans and sanitizes files, directories, and subdirectories. The plugin has cloud firewall protection with more than 600 million known malicious IP addresses. However, it does not have a Google Recaptcha option.
The Ninja firewall plugin complements the BBQ Firewall plugin by handling firewalls. It significantly boosts your website's speed and only allows real traffic to pass through your server.
IPv6 compatibility, real-time detection, and event notification features are available. The rule sets are configurable, enabling you to enable and disable individual rule sets to filter out malicious scripts.
Key Features:
IPv6 compatibility is provided
Real-time detection and event notification
Configurable rule sets
File integrity monitoring
Boosts website speed
Secures all directories.
WordPress Plugin for Protection Against All Malware & Bad Bots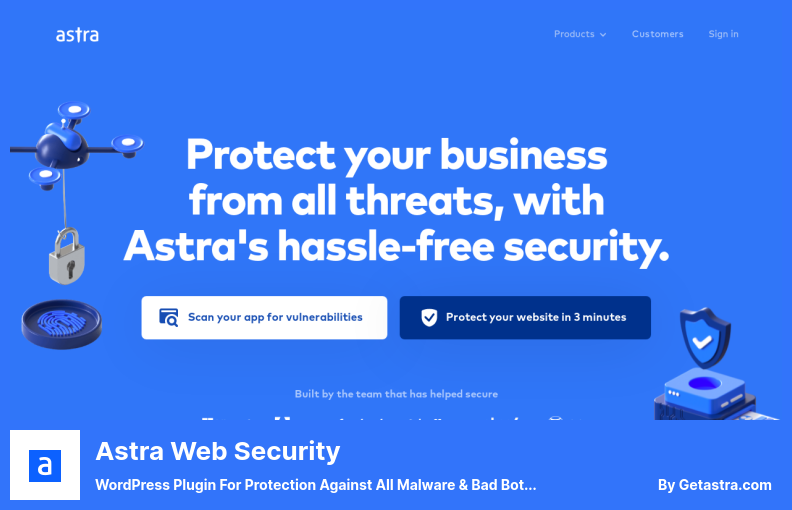 Astra Web Security is a WordPress plugin that protects your website from malware, SQL injections, and XSS attacks. It offers real-time protection by scanning and cleaning malware on-demand and monitoring blacklists in real time.
With its simple, intuitive dashboard, you can secure your website in under ten minutes. Notable brands, including Gillette, Ford, the African Union, and Oman Airlines, use this plugin. Although there is no free plan, the Astra security suite includes many features.
The plugin logs all attacks and offers a complete security audit in its easy-to-navigate dashboard. It also includes country blocking and whitelisting, installs as an extension on your website (no DNS changes required), and blocks bad bots.
The Astra Web Security plugin offers IP profiling and tracking to detect suspicious behavior and employs a robust community-powered security engine, protecting your website against over 100 cyber attacks.
Key Features:
Stops SEO spam
Offers complete security audit
Logs all attacks in an intuitive dashboard
Includes country blocking/whitelisting
Blocks bad bots
Offers IP profiling & tracking.
Number One WordPress Firewall Plugin
iThemes Security is an all-in-one security plugin that protects your site against malicious software and hacking threats. This software is equipped with features such as vulnerability detection, file integrity checks, security hardening, limiting login attempts, spam detection, and 404 detections, to name a few.
The main feature of this plugin that sets it apart from other tracking plugins is that it has a backend dashboard that allows you to monitor the activity logs and tracking records from the backend.
This plugin locks out suspicious IPs, checks plugins and 404s, and even sets an "Away Mode" while you're not updating your site, so you don't have to worry about its effectiveness. For added security, you can get email notifications about file updates and use two-factor authentication.
Perhaps the most notable feature of this plugin is its ability to enforce strong passwords, which is a crucial element of cybersecurity. Additionally, if you purchase the pro version, you will receive scheduled backups, premium support, and protection for two websites.
Key Features:
Receive email notifications for file updates
Enforces strong passwords.
All-in-one security plugin with vulnerability detection
Backend dashboard for monitoring tracking records
Lockout for suspicious IPs
Use two-factor authentication
Frequently Asked Questions
What is a firewall plugin in WordPress?
A firewall plugin in WordPress is a security plugin that acts as a protective barrier between your website and any malicious attacks. It controls incoming and outgoing website traffic and allows you to customize settings according to your needs.
Why do I need a WordPress firewall plugin?
A WordPress firewall plugin is essential to protect your website from hackers and malware attacks. It also provides continuous monitoring, spam protection, and advanced security measures to ensure that your website is secure and well-protected.
How can I choose the best WordPress firewall plugin?
To choose the best WordPress firewall plugin, you should consider factors such as compatibility, reliability, effectiveness, and user-friendliness. It would help if you also considered whether the plugin caters to your specific website needs, such as e-commerce, blogging, or business sites.
Conclusion
To recap, in this article, we have discussed the nine best WordPress firewall plugins that are available both for free and pro versions. Choosing any of the mentioned plugins will ensure that your website remains secure from various online threats.
If you want to know more about WordPress plugins or related tutorials, make sure to check out our BetterStudio blog. We provide in-depth guides, tips, and tricks to help you manage and optimize your website.
Lastly, don't miss out on any of our latest tutorials and updates. Follow us on Facebook and Twitter to stay up-to-date with our latest content and insights.
Thank you for reading this article, and if you have any questions or problems while applying the tips discussed above, feel free to leave a comment below. Our team will be more than happy to assist you.