Are you a WordPress website owner in need of a reliable survey and poll plugin? Look no further! In this blog post, we will be discussing the 8 best WordPress survey and poll plugins, both free and pro options, that are sure to meet your needs.
Now, you might be wondering, "Why do I need a survey and poll plugin for my WordPress website?" Well, surveys and polls are an excellent way to engage your audience and gather valuable feedback.
The information you obtain from them will provide you with more insight into your readers' preferences, opinions, and needs, which will help you to make informed decisions regarding the content and functionality of your website.
We're here to show you the best survey and poll plugins. You'll find both free and paid options, so no matter what you're looking for, you'll be able to find one that works for you. With these plugins, you can create and manage surveys and polls in no time at all.
So, if you're ready to enhance your website's user experience and gain valuable insights from your audience, let's dive into the world of WordPress surveys and poll plugins!
Best Survey & Poll Plugins for WordPress
If you are looking to gather feedback or engage your audience on your WordPress website, look no further than the best survey and poll plugins for WordPress.
These powerful tools will allow you to easily create and manage surveys and polls on your site, helping you make informed decisions and keep your visitors engaged. Check out the following products to find the perfect fit for your needs.
Simple And Fast Survey and Poll Creating Plugin
CrowdSignal is a WordPress survey and poll plugin that aims to make creating surveys and polls as easy and efficient as possible. It is developed by Automattic, the same company behind WordPress.com, which is quite an interesting fact.
One of our favorite features of the plugin is the ability to send interactive surveys via email. This means that your audience can receive the survey directly in their inbox and fill it out without having to navigate to another website. It's a convenient and user-friendly way to gather responses.
Not only can you share the survey results on your blog, Facebook, Twitter, and other social media platforms, but it also provides analytics tools. These tools allow you to gather information such as the total number of responses and completion rates, giving you valuable insights into your audience's opinions.
What makes the plugin impressive is its seamless integration with WordPress. It's designed to work well with the platform and is developed by a team of experienced developers. This ensures a smooth and reliable experience for users.
Another great feature of the plugin is its ability to create beautiful and responsive surveys that can be viewed on all devices. You can customize the look and feel of your survey by choosing from pre-made themes or selecting your brand colors without any coding knowledge.
Once your survey is set up, you can analyze the results by exporting them to popular tools like Google Sheets or Excel. This allows you to further analyze and manipulate the data for deeper insights.
Key Features:
Export responses to Excel or other spreadsheet applications
Block users from answering twice to ensure accurate data
Create surveys, polls, ratings, and regular questions
Host an unlimited number of surveys on your website
Directly link to the plugin without the need for exporting
Enhance survey functionality with audio and video uploads
Contact Form, Survey & Quiz Forms Plugin for WordPress
Formidable Form Builder is a WordPress plugin that allows users to easily create a wide range of forms, surveys, and quizzes on their websites. With a simple and intuitive user interface, it offers a great solution for those who value minimalist designs and elegant interfaces.
One of the standout features of the plugin is its ability to create not only standard forms but also widget questionnaires and interactive modules. This means that users can not only create surveys but also construct any type of interactive module they can imagine, such as projects that use forms and polls.
For those who require more advanced functionality, the premium version of the plugin offers innovative forms, quizzes, and conditional logic. It also includes features such as payment forms and marketing integrations with PayPal and Stripe payments.
In terms of compatibility, Formidable Form Builder is designed to work seamlessly with most WordPress themes. This means that the forms created using the plugin will look fantastic on small devices, ensuring a great user experience for visitors to your website.
Key Features:
Integration with mailing services to

collect email addresses

and build subscriber lists

Multiple-page surveys for extensive data gathering
Ability to collect payments through surveys
View survey results easily once they have been submitted
Create unlimited forms on your website that accept complete entries
Exams, Tests and Quizzes Creating For WordPress
Watu Quiz is a versatile WordPress plugin that allows you to effortlessly create quizzes, tests, surveys, and polls on your website. With this plugin, you can easily create interactive quizzes and questionnaires, and display the results instantly after the user has completed them.
One of the key features of the plugin is its ability to assign grades and points to each question, giving you the flexibility to create custom grading systems. This means that you can set different grades and point levels for each quiz or online exam, ensuring accurate and personalized results.
As a part of the plugin, you have access to an intuitive user interface within the WordPress admin panel. This allows you to manage questions, analyze responses, and observe user activity within the site.
It also offers a wide range of options for embedding quizzes and surveys into your posts or pages using shortcodes. This allows you to seamlessly integrate surveys into your content and engage your audience.
The plugin also offers an embeddable code feature, which enables you to include surveys directly on your website by simply creating a post and inserting the code. This makes it extremely convenient to gather valuable feedback and insights from your visitors.
It can be utilized in various ways, from educational purposes and research studies to data analysis and marketing campaigns. By creating quizzes and surveys, you can boost user engagement and interaction on your website, creating a more enjoyable and interactive experience for your visitors.
WatuPRO is the paid version, which gives you more features and functionality. It's a great extension for businesses and professionals because it can be integrated into any WordPress-powered site seamlessly. You can use it to make quizzes, surveys, and exams for a variety of uses.
Watu Quiz is optimized for mobile and touch-friendly use, ensuring that your quizzes and surveys can be accessed and completed on any device. It is compatible with all modern web browsers, both on desktop and mobile devices.
Key Features:
Provides quizzes, tests, surveys, polls, and questionnaires
Allows for open-ended essay prompts
Randomly selects questions from a pool of available options
Easily embed quizzes and surveys into posts or pages using shortcodes
Supports multiple choices for all quizzes and questionnaires
Getting User's Opinion Plugin For WordPress

A user-friendly survey tool, Modal Survey makes it easy to create surveys. You don't have to worry about button size, color, or design with its built-in themes. In addition, it lets you customize what users see based on their responses. With just a few clicks, you can even add social sharing buttons.
One standout feature of the plugin is the option to display survey results in percentages, giving you an easy-to-understand view of the data. Unlike other form plugins, this tool is specifically designed for surveys, polls, and quizzes, offering a dedicated solution for question-based feedback.
The plugin also provides a range of visual elements, quizzes, and polls, enhancing user interaction with the survey. This allows you to create immersive and engaging experiences for your audience. The ability to display feedback in pie charts and bar graphs further adds to the visual appeal of the data.
According to CodeCanyon reviews, Modal Survey is highly regarded as the top-rated survey plugin on the platform. In addition to its quality builder, it offers customizable options that go beyond what free plugins typically provide.
Key Features:
Integrates with email newsletter services like MailChimp and AWeber
Utilizes various filters to sort through the data collected from surveys
Enables the creation of redirects based on user responses to previous questions
Supports surveys with multiple correct answers for each question
Facilitates easy backup, import, and export of data
Quiz, Exam and Survey Plugin for WordPress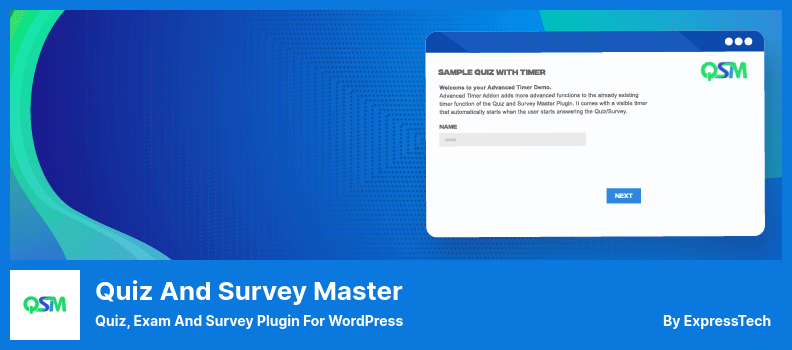 Quiz And Survey Master is a WordPress plugin designed for users who want to focus on creating surveys without the hassle of additional survey elements. With its simple design and visual block builder, this plugin offers a comprehensive array of features for creating and displaying surveys on WordPress pages and posts.
One of the standout features of the plugin is its category system, which allows you to tag your questions and organize your data for easier analysis and chart creation. This makes it convenient to combine data from other sources with your surveys for a more comprehensive view.
The plugin offers a wide range of survey and quiz question types, including multiple-choice radio buttons, drop-down selections, and fill-in-the-blanks. This flexibility allows you to create surveys that suit your specific needs and gather information from your users in a variety of formats.
Customization is another strong point of the plugin. You can easily customize the text, questions, and messages that appear after users submit their answers. This means you can create a personalized experience for your users and collect the information you need in a way that aligns with your objectives.
One feature that sets Quiz And Survey Master apart is its ability to create surveys and quizzes with open-ended subjective questions. Unlike traditional quizzes that require correct answers, this option allows you to gather subjective feedback and insights from your users, making it ideal for gathering opinions or conducting research.
Key Features:
Integrate Google Analytics for funnel optimization.
Export results to Google Sheets or Excel
Access a collection of surveys for event planning and employee engagement

Visualize responses with bar, pie, and box plot charts

Create and post unlimited surveys on your site for free
Surveys and Polls Builder For WordPress
YOP Poll is a WordPress plugin that allows you to create surveys and polls on your website. It offers a variety of features that make it easy to gather data and analyze the results.
Using this plugin you can view results in percentages instead of raw numbers, which is really helpful if you want to see how popular each option is relative to how many votes there are. It's also possible to sort the results either automatically or manually, depending on your preferences.
The plugin makes it easy to create surveys and polls. In the WordPress dashboard, there's a section where you can create the questions and answers, as well as set options like how many votes you want and when the survey ends. Your survey can be customized to fit your needs with this flexibility.
While the interface of the plugin may not be the most visually appealing, it is straightforward and easy to use. It provides basic templates to get you started and eliminates the need for complicated coding. You can receive both single and multiple responses, and schedule multiple surveys to run simultaneously.
Once you've created your survey, you can easily publish it on your website and access the results. It allows you to customize the survey pages to match your preferences by adjusting the settings. This level of customization ensures that the surveys and polls seamlessly integrate with the design of your website.
You can block or log certain people from accessing the surveys to make it easier for them. That can be helpful if you want to restrict participation to some groups. You can also archive your surveys with YOP Poll so you don't have to worry about your website's interface getting messy.
Key Features:
Search and filter option for reviewing past polls
The survey scheduling tool for setting the time of the survey revealed
Display multiple surveys simultaneously on your site
Create surveys without complex additions, thanks to custom fields
Simple and visual poll creation with quick field changes
Powerful Data Capture Fueled WordPress Plugin
Using Gravity Forms, you can create advanced surveys in a user-friendly format on your WordPress site. Just click a button and you'll be able to post surveys right on your WordPress site. Changes you make to the surveys are automatically displayed, so no hassles for you and your visitors.
To access the survey functionality, you will need to install the Survey Addon. While the default plugin allows you to create introductory surveys, the Survey Addon unlocks powerful form-building capabilities with minimum effort and no restrictions. It is highly regarded as a form-building plugin designed for power users.
With this plugin, you'll be able to build a professional-looking form with ease, even if you're new to WordPress or form-building. It offers over 30 form fields in a beginner-friendly interface, so no matter what you're familiar with, you can still build it.
Is your WordPress site experiencing slow load times due to a slow host? Look no further! With the plugin, you can have peace of mind knowing that your surveys and forms are backed by cutting-edge servers and 24×7 world-class support. This ensures that your surveys are delivered quickly and efficiently to your visitors.
The Survey Addon also allows you to integrate survey results, user interaction, and market research tools into your surveys. This gives you the flexibility to customize your surveys based on your specific needs and gather valuable insights from your audience.
Whether you're looking to create a simple contact form, a bug logging system, or a detailed customer feedback survey, Gravity Forms has got you covered. Its extensive range of features and customizable options make it a versatile and reliable choice for any website owner.
Key Features:
Email notifications with survey response links
Over 30 different field options
Conditional logic based on survey responses
Various unique and standard field types
Detailed survey result tracking
Seamless integration with your WordPress site
Advanced Form Builder For WordPress

eForm is a premium WordPress survey plugin that allows you to create online surveys with ease. It's popular on CodeCanyon because it offers a combination of survey features, payment elements, and quizzing elements.
One of the standout features of the plugin is its extensive templates library, which allows you to categorize and filter templates for easy access to things like payment forms and surveys. This makes it incredibly convenient and helps you stay organized.
You can use sliders and multi-page questionnaires, plus other cool tools, with the plugin's easy-to-use interface. If you want to make sure only registered users can give feedback or access certain content, you can even ask for their login information before letting them complete your survey or access your website.
In terms of data management, the plugin provides an easy-to-use interface and generates comprehensive reports that give you a visual representation of how people reacted to your survey. These reports also offer valuable insights and trends that can inform your future decision-making.
The plugin also integrates with third-party tools like AWeber, MailChimp, and reCaptcha, so you can use these powerful tools along with your surveys, making it easier to implement and use them together with your site.
Plus, you can connect your survey or quiz with Zapier, so you can connect it to any app or service you want. Your surveys can even come with Stripe or PayPal buttons so you can get paid quickly. And if you need to use MailChimp, eForm has direct integrations so it's easy to get started.
Frequently Asked Questions
What are the advantages of using WordPress survey and poll plugins?
WordPress survey and poll plugins offer several advantages. Firstly, they allow you to gather valuable feedback and insights from your audience. By asking targeted questions, you can better understand the needs and preferences of your website visitors.

Additionally, these plugins enable you to engage with your users and encourage them to actively participate in your website. This interactive element helps to increase user engagement and create a sense of community.

Lastly, survey and poll plugins provide you with the ability to make data-driven decisions, as you can analyze the responses and use the insights to improve your website or business.
What features should I look for in a WordPress survey and poll plugin?
When choosing a WordPress survey and poll plugin, consider the following features. Firstly, make sure the plugin allows you to create both surveys and polls to cater to different needs. Look for customizable templates and designs to match your website's aesthetics.

Additionally, check if the plugin offers various question types, such as multiple choice, rating scale, or open-ended questions. It's also beneficial to have advanced reporting and analytics capabilities to gain insights from the responses.

Lastly, consider if the plugin provides integration with third-party tools or platforms, such as email marketing services or CRMs, to streamline your data collection process.
Can I create surveys and polls with the pro versions of these plugins?
Absolutely! The pro versions of these plugins offer even more advanced features and customization options for creating surveys and polls. With these pro versions, you can create interactive and engaging surveys and polls to gather valuable insights from your audience.
Conclusion
In this article, we've talked about the eight best WordPress poll and survey plugins, both free and paid. We've talked about what makes them so great and how you can use them to engage your audience. Now it's up to you to choose the plugin that's right for you!
If you want to dive deeper into WordPress tutorials and explore more related topics, we recommend checking out the BetterStudio blog. They have a wealth of useful articles and resources that can help you optimize your website and take it to the next level.
To stay updated with the latest tutorials and tips from BetterStudio, make sure to follow them on Facebook and Twitter. By doing so, you won't miss out on any valuable insights and recommendations they share.
Thank you for taking the time to read this article. If you have any questions or encounter any problems while implementing these survey and poll plugins, feel free to leave a comment below. We're here to help and guide you every step of the way. Happy polling!