Hey there! Are you a WordPress website owner looking for the perfect real estate plugin? Well, you've come to the right place! In this blog post, we'll be diving into the eight best WordPress real estate plugins, both free and pro versions, to help you enhance your website and take it to the next level.
A real estate plugin can be very helpful for your website. It can help showcase properties, manage listings, and attract more buyers. If you want to maximize your real estate website's potential, consider using a specialized plugin.
But first, let's talk a little bit about what you can expect from this article. We'll be sharing some eye-opening stats and fascinating facts about the real estate industry and how having the right plugin can greatly impact your success. So, get ready to be amazed by the possibilities that await you!
Alright, now that you're all pumped up and intrigued, let's jump right into our list of the eight best WordPress real estate plugins that will revolutionize your website. Trust me, you won't want to miss out on these game-changing tools!
Best Real Estate Plugins for WordPress
If you are looking to enhance your WordPress real estate website, look no further! In this section, we've curated a list of the best real estate plugins for WordPress that will take your site to the next level.
So, let's dive in and discover the perfect tools to help you showcase properties, manage listings, and bring in potential buyers. Don't miss out on these must-have plugins – keep reading to find out more!
Number One Property Management WordPress Plugin
Essential Real Estate is a powerful property management plugin for WordPress websites. It offers a wide range of features and customization options to help you manage your property listings effectively.
With the plugin, you can configure invoices, taxonomies, user types, and more. This plugin allows you to easily generate invoices based on geolocation and integrate social media login options. You can also customize the layout and functionality of the plugin to suit your needs.
One of the standout features of the plugin is the ability to add individual agents to your listings. This is great for real estate agencies or anyone who wants to showcase different agents or brokers on their website.
The plugin also provides a user-friendly interface for adding and updating listings, as well as the option to add 360-degree virtual tours. This makes it easy for potential buyers or renters to explore properties right from your website.
What sets the plugin apart is its generous offering of premium features for free. You can access all of its powerful tools without having to pay additional fees for add-ons. This makes it a cost-effective option for WordPress website owners.
However, it's worth noting that there is a learning curve involved in using this plugin. While it offers a wealth of features, it may take some time to fully understand and utilize them. If you're short on time and need immediate results, this learning curve could be a downside.
One of the key benefits of using Essential Real Estate is its support for global payment methods. You can accept payments from buyers or renters using popular payment gateways such as PayPal, Wire Transfer, and Stripe. This flexibility helps maximize your revenue and make the buying or renting process seamless for your customers.
Key Features:
Custom data fields for

additional listing features
Well-designed default listings for a professional look
SEO-friendly custom post-type slug configuration
No additional fees for add-ons, and access to all features
Easy addition and modification of listing attributes
Property submissions via both front and backends for convenience
WordPress Plugin for Building Powerful Real Estate Website
Estatik is a WordPress plugin that offers advanced features, like Google Maps integration, to enhance the functionality of your website while maintaining a clean and minimalist interface.
With the plugin, you have the option to create listings with features such as slideshows and responsive galleries. It also allows for multilingual listings, giving you the ability to reach a wider audience.
One standout feature of the plugin is its fields builder tool, which makes it easy and quick to create customized fields for your listings. The number of custom fields you can create is unlimited, giving you full control over the information you want to showcase.
In the PRO version, you also have the option to create custom labels, subscribe to newsletters, and utilize advanced search functions. With the purchase of the PRO version, you'll receive premium support for a full year and access to the download area, ensuring you have all the resources and assistance you need.
The ability to customize categories and manage listings directly from the frontend simplifies the management process, while social sharing features help you promote your listings effectively.
Flexible WordPress Plugin for Your Real Estate Business
WPL Real Estate is a powerful plugin that offers a range of features to help you effectively manage your real estate website. Compatible with Divi, it can be referred to as a Divi Real Estate plugin. With this plugin, you can easily create, update, and manage listings in a simple and user-friendly dashboard.
One of the standout features of the plugin is its ability to handle various types of listings, including rentals, sales, vacation rentals, and short-term rentals. You can effectively manage all these features within the plugin. This allows you to showcase a comprehensive range of properties on your website.
Another great aspect of the plugin is its support for multiple agents. You can list multiple agents and showcase their services, allowing visitors to learn more about your team before contacting them. This feature is particularly useful for agencies with fewer agents.
SEO is crucial for any website, and the plugin understands that. The plugin integrates with MLS databases in an SEO-friendly manner, ensuring that your listings appear organically and automatically. This helps boost your website's visibility in search engine results, attracting more potential clients.
The pro version offers even more advanced features. The price for the pro version can be determined by requesting a free quote if you're interested in purchasing it. Additionally, WPL Real Estate provides excellent customer support, ensuring that you receive assistance when needed.
Key Features:
Supports over 100,000 listings and unlimited users

Cloud web hosting

Easy navigation and descriptive menus
Listhub integration add-on
Best Real Estate Plugin For WordPress
WP Real Estate is a WordPress plugin that stands out from the crowd with its automatic listing updates. This feature sets it apart from other plugins and ensures that your real estate website always has the most up-to-date information. Its robust framework and template system allow for easy customization.
With this plugin, you have the ability to create landing pages that showcase specific types of properties, making it easy for potential buyers or renters to find exactly what they're looking for. It also offers a range of real estate listing options, allowing you to display your properties in lists or grids.
One of the standout features of this plugin is the inclusion of Google Maps and custom fields. This makes it easy for visitors to your site to view property locations and access additional information. Additionally, it includes advanced search tools and IDX and MLS integration, making it a powerful tool for real estate agents.
Despite its many advantages, it's important to note that the free version may come with less than satisfactory customer service. However, for real estate agents looking to showcase their properties online, this plugin offers a wealth of features and functionality.
WP Real Estate can be used by owners of WordPress websites in the real estate industry. The plugin is designed to provide a range of useful features to help with managing real estate listings and properties.
Key Features:
Easy-to-use image galleries with drag-and-drop functionality
The ability to add both external and internal features to any listing
Regular updates to ensure compatibility and improved performance
Listing types, including options such as House, Villa, and Land
Automatic insertion of contact forms into listings

A status bar that appears over the property's image
The Easiest WordPress Plugin To Show Property Listings
Easy Property Listings is a free real estate plugin that offers a user-friendly interface for managing property listings on a WordPress website. It allows you to create a real estate website without any coding knowledge or theme modifications.
The plugin is designed to provide mobile-friendly listings. It also provides multi-language support. Additionally, the plugin includes a selection of free WordPress themes to choose from, which can be used to customize the appearance of the website.
One of the standout features of the plugin is its ability to provide statistics on the number of advertisements posted during a specific period. This feature allows you to gain valuable insights into the performance of your listings.
The plugin offers beginner templates. It also provides extensible code, which means that the code can be modified and extended to add new features or customize the existing ones according to the user's needs. This makes it easier for users to customize the system without having to write code from scratch.
However, it's important to note that not all of the necessary extensions, such as Sliders and Listing Templates, are free. These extensions can enhance the functionality of the plugin but come at an additional cost.
In terms of compatibility, it works seamlessly with popular WordPress frameworks like Genesis and Headway. The plugin also integrates easily with any WordPress site, allowing you to leverage its features regardless of your existing setup.
With over 150 custom fields available, Easy Property Listings makes it easy to customize your listings according to your specific requirements. This level of customization ensures that your property listings are tailored to your target audience.
Key Features:
Worldwide MLS systems integration
Compatible with Genesis and Headway WordPress frameworks
Seamless integration with any WordPress site
API documentation is available

Beginner templates and extensible code for further customization
WordPress Plugin for A Scalable Property Management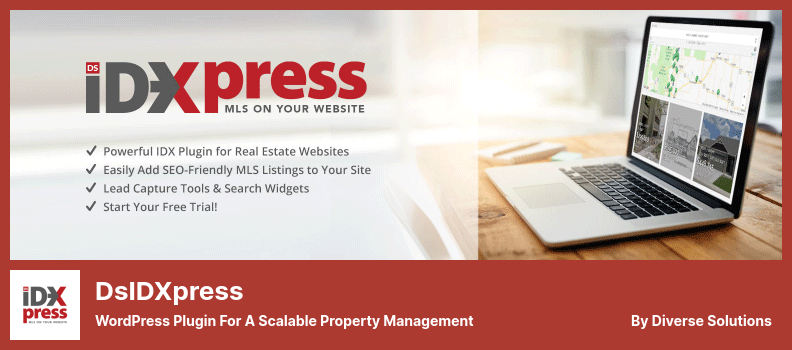 dsIDXpress is a WordPress plugin for property management that allows you to access over 700 IDX feeds across the United States and Canada. It offers various optimization features for listings, such as optimized page titles and listing pages, instead of relying on XML sitemaps.
The plugin has an inbuilt search tool that combines two different search features: MLS (Multiple Listing Service) and map search. By combining these two search features, users can easily find the properties they are interested in.
One of the standout features of the plugin is its ability to display beautiful photographs and essential details about homes, such as price, bedroom, and bathroom count. With the use of shortcodes, widgets, and custom pages you can showcase your listings anywhere on your website.
To ensure your website is fully SEO friendly, it provides powerful lead generation tools and integrates with Google Maps. It also offers a built-in CRM (Customer Relationship Management) system that allows you to store, organize, and track your leads.
Not only is the plugin mobile-friendly and responsive, but it also enables you to customize the display of the results page to match your website's design. With the ability to have multiple MLS feeds on one website, you can provide a comprehensive real estate experience for your visitors.
Another handy feature of it is the option to send out listing alerts to your audience on a daily or weekly basis. This keeps them informed about new listings that match their criteria and helps drive engagement.
Installing the plugin is a breeze, thanks to its easy installation process. Whether you're a beginner or an experienced WordPress user, you'll have no trouble setting up and utilizing this plugin.
With its wide range of features and seamless integration with WordPress, dsIDXpress is a valuable plugin for real estate website owners looking to enhance their property listings and provide a user-friendly experience for their visitors.
Key Features:
Powerful lead generation tools to capture and convert potential buyers
Google Maps integration for enhanced property location display
Hundreds of indexable pages to boost your website's visibility
Built-in CRM to efficiently manage and track your leads
Customizable results page display to match your website's branding
Listing alerts are sent out daily or weekly to keep your audience engaged
No. 1 WordPress Plugin to Build Your Property Website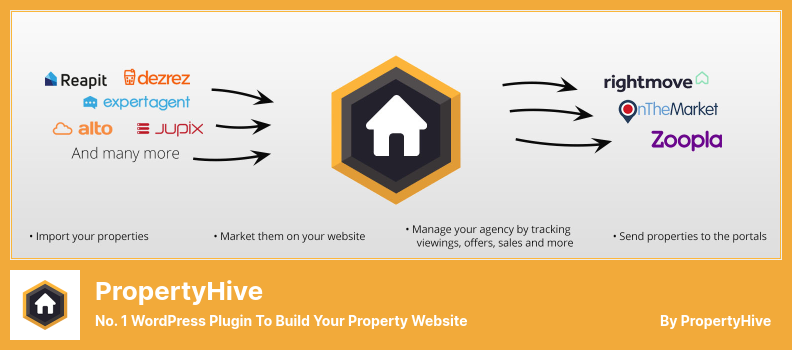 PropertyHive is a powerful WordPress plugin that allows you to customize the layout of your properties and start using your real estate website immediately. It offers a wide range of features to help you manage your properties and streamline your real estate business.
One of the key features of the plugin is its ability to import data from various real estate CRMs, making it easy to transfer your existing property listings to your website. You can also list your properties on multiple local real estate websites, expanding your reach and attracting more potential buyers.
Managing your properties is a breeze with the plugin. It provides you with an all-in-one tool to handle tasks such as tracking applicants, sending emails to potential buyers, archiving appraisals, and keeping tabs on the status of offers. Everything can be done through the user-friendly WordPress panel.
This plugin has additional premium add-ons that can be integrated without modifying the original plugin. These add-ons include map search, applicant matching, and sales tracking, which can be used to customize your real estate website according to your needs.
What sets the plugin apart is its commitment to continuously improving and releasing new functionalities. The team behind the plugin regularly updates it with new features, ensuring that you always have access to the latest tools to help your real estate business thrive.
To give you peace of mind, it offers a 30-day money-back guarantee on all its add-ons. This means you can try out the premium features risk-free and see if they truly enhance your website's performance and functionality.
Whether you're a small real estate agency or a large firm, it can power your entire operation. It's a versatile plugin that can handle residential and commercial properties, as well as other real estate-related tasks. No matter the size of your portfolio or the complexity of your business needs, it has got you covered.
PropertyHive also stands out for its compatibility with major software providers. You can easily import property data from popular CRM systems, ensuring a smooth transfer of information without any hassle.
Key Features:
Extensive selection of free and premium add-ons
Map search functionality
Regular release of new features
Suitable for powering entire real estate agencies
Appraisal storage and offer tracking
Import of property data from major software providers
Property Management Plugin for WordPress Website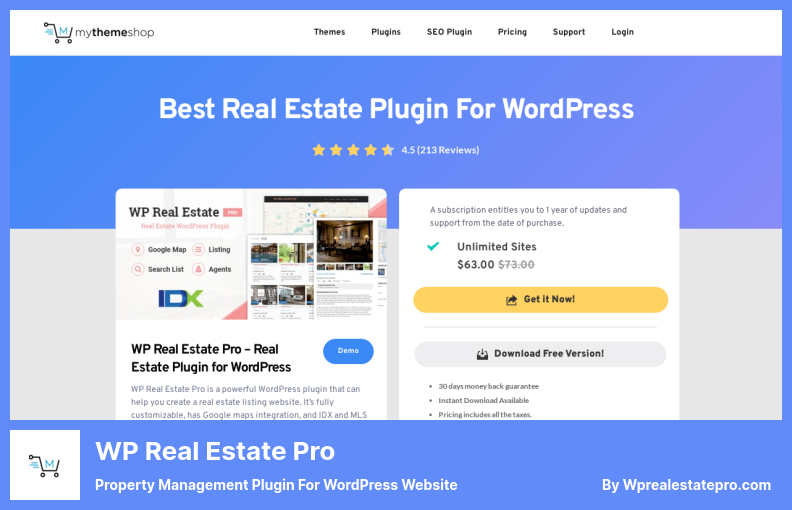 WP Real Estate Pro is a user-friendly WordPress plugin that includes a listing module and a stunning photo gallery. Setting up this plugin is easy and it has a clean, appealing design. Customization options are available if desired.
One of the standout features of this plugin is the ability to accept payments through PayPal and Stripe. However, it is not clear how to enable translations, which is a downside.
If you're a WordPress user who doesn't have a lot of time to spend customizing a plugin, the plugin is perfect for you. It allows you to quickly configure settings, pages, templates, and options right after installation.
This plugin also seamlessly integrates with Visual Composer's page builder and offers additional features like AJAX functionality for searching, ratings, reviews, subscriptions, and payments.
With WP Real Estate Pro, you can create a professional real estate website without the hassle of extensive customization. Upgrade your website and enhance its functionality with this powerful plugin.
Frequently Asked Questions
Can I integrate these real estate plugins with my existing WordPress website?
Yes, most real estate plugins are designed to seamlessly integrate with your existing WordPress website.

You can install and activate these plugins, and then customize them to match the look and feel of your website. They usually provide documentation and support to help you with the integration process.
Do these real estate plugins support multiple languages?
Yes, many real estate plugins offer language support. This means that you can translate the plugin into different languages to cater to your global audience. Some plugins even come with built-in language files or support popular translation plugins like WPML or Polylang.
What are the advantages of using pro (premium) WordPress real estate plugins?
Pro (premium) WordPress real estate plugins offer advanced features and extensive customization options that cater to the specific needs of real estate professionals.

These plugins often come with additional functionalities like property submission forms, membership management, integration with MLS (Multiple Listing Service) databases, responsive design, and more.

They also provide dedicated customer support, ensuring that any issues or concerns are promptly addressed. While pro plugins come at a cost, the investment can significantly enhance your website's performance and help you stand out in a competitive market.
Can I use multiple WordPress real estate plugins on my website?
While it is technically possible to use multiple real estate plugins on your WordPress website, it is not recommended. Using multiple plugins can lead to conflicts and compatibility issues, resulting in a compromised user experience and potential technical difficulties.

It's best to carefully choose a single real estate plugin that meets all your requirements and stick to it. This ensures smooth integration and a seamless browsing experience for your website visitors.
Conclusion
In this article, we discussed the eight best WordPress real estate plugins, both free and pro options. We covered a range of plugins that can enhance your real estate website, from property listing plugins to mortgage calculators.
If you want to dive deeper into the world of WordPress plugins and learn more about how to optimize your real estate website, be sure to check out the BetterStudio blog. They have a wealth of tutorials and resources that can help you get the most out of your website.
To stay up to date with the latest tutorials and tips from BetterStudio, consider following them on Facebook and Twitter. This way, you'll never miss out on the latest updates and valuable insights.
Thank you for taking the time to read this article. If you have any questions or problems related to the content we discussed, please feel free to ask in the comment section below. We're here to help and provide any assistance you may need.
Remember, your real estate website can greatly benefit from the right WordPress plugins, so don't hesitate to explore these options and see how they can elevate your online presence. Happy plugin hunting!