Are you searching for the best Divi add-ons & extensions for WordPress?
This article will assist you in picking the most useful Divi Addons with the right features for your WordPress website. We also make sure these plugins are working properly with the latest versions of Divi and all of the WordPress themes for Divi
To establish the fantastic first impression you need to gain a new regular reader, you can take advantage of these Divi Extensions & Addons, WooCommerce Plugins for Divi, Divi Custom Modules, and Divi Elements.
Therefore, here are more than 11 best Divi Addons WordPress plugins for 2022:
Take Divi to The Next Level and Build Amazing Websites With Ease
Divi Supreme Pro is a premium WordPress plugin for Divi. As you know, Divi Builder is one of the most powerful drag-and-drop page builder available for WordPress. The Divi theme is very versatile and can be used to build any website. Still, it lacks several significant features.
These features would make it easier for website builders to create stunning, prominent websites without relying on code. This is where Divi Supreme Pro fulfills this void.
To create this WordPress plugin, the developers combined 9 years of experience with 12 years of development. It provides a complete solution with everything you'd expect from a website builder to create a well-designed website. But that is not all that Divi Supreme Pro offers.
Supreme doesn't just focus on modules and extensions. It also provides various other comprehensive services, including web design, Divi page repair, and even page moving. If you have issues related to Divi or WordPress, Supreme is the ideal solution for you.
A total of over 40 new and innovative modules can be added to the Divi builder with this Divi addon. These modules make it possible to develop even more complex designs, including Gradient Text, Flipbox, Text Divider, Typing Effect, Like Button, Glitch Text, Icon Divider, Icon Numbers, and others.
All of these Divi elements are customizable, allowing you to customize the components based on your preference.
However, this plugin does not consist of additional modules related to WooCommerce. Further, the free version has very limited design options. Only with the Pro version, you can use hover animations and video/image lightboxes.
💵 Free Lite and $49 Premium versions are available.
Key Features:
Includes a popup creator, a scheduled element, a responsive viewer, a shortcode for libraries, and more
Includes 6 amazingly useful Divi extensions that will revolutionize the way you use Divi to design websites
Provides layouts for a wide range of websites, including freelancer listings, yoga listings, travel listings, SaaS listings, and more
There are many options available with the free light version that you cannot access with Divi Builder
Random Reviews:
Adds some enhancements to DIVI that make it easier to achieve more sophisticated designs without having to add a single line of code.

It is easy to use and thus fast to set up. Excellent for obtaining excellent results.

Here are some free options that are simple and useful.
Do More in Less Time With Divi Plus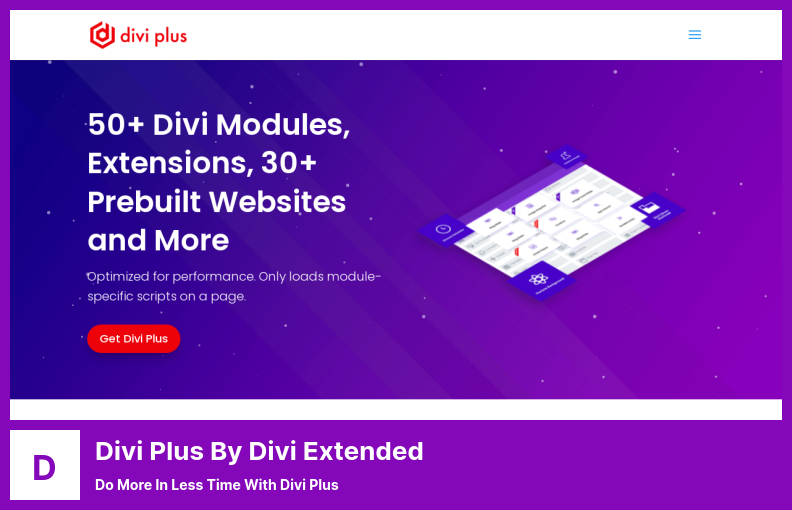 Divi Plus is a third-party plugin for Divi, developed By Divi Extended. With its help, you can add tools to the builder that can be used in various ways. It provides access to a very comprehensive set of Divi modules, allowing you to enhance or extend Divi, and make even the simplest of Divi sites useful.
The features of Divi Plus include Flipbox, Modal, How To Schema, Fancy Heading, Content Toggle, Form Styler, Logo Slider, Timeline, Twitter Modules, and Facebook integration, as well as Lottie Animations, image masks, text highlighters, text animators, bar counters, and more.
Divi Plus includes 50+ modules and four additional extensions for the page builder and six pre-built websites, and 50+ starter templates that can be imported instantly. The starter templates are categorized according to different application categories, such as agencies, photography, and construction.
The plugin also includes extensions for scheduling, visibility management, background particles management, and shortcode libraries.
Divi Plus comes with a set of features for building a unique website. Using it, you can incorporate both functional elements into your website and give it a certain level of personalization. And if you are just getting started, Divi Plus includes 200 pre-made sections to choose from.
💵 The author of this plugin has written it very well, and it is fully documented. You can get this plugin right now for $79.
Key Features:
Provides coverage across industries and niches
Customizable pre-built sections can be added, modified, or duplicated
A well-designed modules panel lets you easily select which modules you would like to use and which are not needed
Designed to perform at its best
Modules give you extensive control over how your Divi theme website looks and functions
Provides greater functionality for sections, rows, and columns
Loads a page's scripts only if they are specific to the module
eMail Opt-In And Lead Generation Plugin For WordPress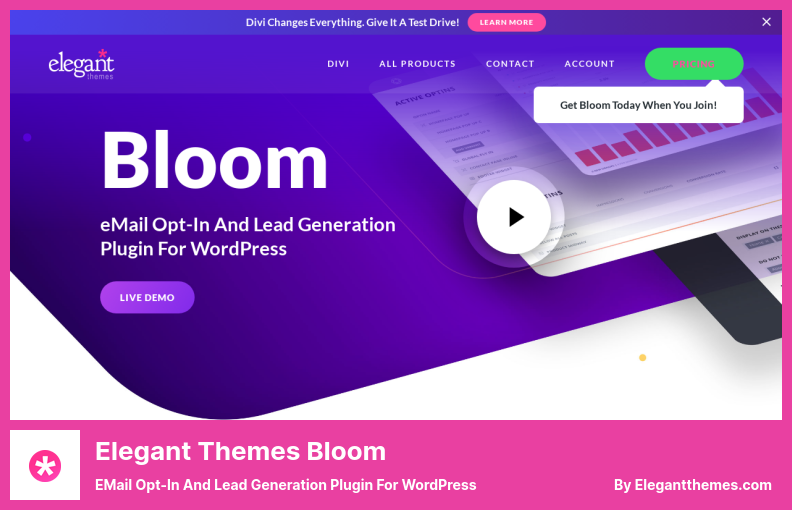 Elegant Themes' Divi Marketplace offers several plugins for Divi. Bloom, for example, is a popular plugin used to convert site visitors into subscribers. Other features include creating triggers, targeting users, and analyzing subscriber processes.
Suppose you have an e-mail list built using a WordPress e-mail opt-in plugin that works with significant e-mail marketing services. In that case, your subscribers will keep coming back to your site when you publish new content.
This Divi plugin helps set up attractive opt-in forms for your WordPress site that are simple to use. It allows your website to accomplish spectacular effects and more.
With Bloom, you can collect customer e-mail addresses for sending newsletters, running campaigns, etc. Bloom can be integrated with e-mail tools such as Mailchimp or MailerLite, or CRM services such as HubSpot.
As an opt-in form creator, Bloom doesn't disappoint. You can choose from over 100 different opt-in form templates, each with its own unique look and feel. You can modify these templates according to your specific needs.
For example, you can utilize the locked content opt-in if you wish to require users to enter their e-mail addresses to access your content. Furthermore, you can utilize the inline opt-in to include an opt-in directly within a blog or webpage. Finally, you can utilize your own CSS design using custom CSS.
However, the plugin does not include a drag-and-drop builder or an exit-intent trigger. Also, it can not be purchased as a standalone product.
💵 The plugin comes with updates and 12 months of support. The cost is $89.
Key Features:
A total of 115 templates are available, giving you a lot of options
A straightforward user interface makes it easy to use
Six different types of opt-in forms let you grow your list in different ways
Includes A/B testing, analytics, and many customization options
Powerful Tools to Customize the Divi Theme
The Divi Toolbox by Divi Lover is an add-on to the Divi Theme, a component of the Divi Page Builder. In addition to extensions, it contains several Divi custom modules and valuable features that enhance the functionality of Divi Page Builder.
It is especially useful for those who wish to make quick and simple modifications to their Divi website but don't want or are unable to input HTML or CSS codes. The toolbox is fully straightforwardly integrated with the Divi Customizer; thus, it will be suitable for beginners and professionals alike.
The Divi Toolbox adds over fifty unique customization options so that you can tailor your Divi website to suit your specific needs. When the Divi Toolbox is activated, more customization options are added to the Divi Customizer.
You can customize headers, footers, mobile menus, and blogs as part of the dashboard. Furthermore, you can select 3D tilt effects, particles, parallax scrolling, pop-ups, and typing effects.
The plugin offers many features that can assist you in improving the look of your website.
For instance, you can alter Divi Theme and update your site's look or logo. You can also edit the layout of your blog, create a better footer, and fine-tune your menu on a mobile device.
This Divi extension adds new functionality to Divi's setup options and settings, allowing designers to avoid adding new modules to their themes. However, compared to its competitors in the market, this plugin has fewer features.
💵 In addition to this, the plugin comes with one year of free support.
The Most Powerful and User-Friendly Divi Carousel Plugin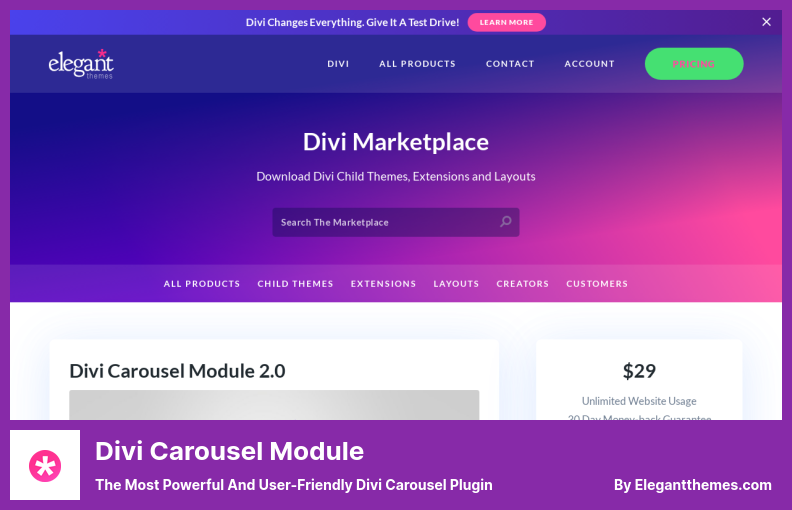 Our next pick is the Divi Carousel Module plugin. With its help, you will be able to create an attractive and responsive carousel using the Divi Builder. With this plugin, you will be able to have any number of carousel sliders on your website.
An extensive collection of visual templates is provided with the plugin, allowing you to begin using it right away. The plugin's advanced designs and customizable layouts will allow you to immediately improve your projects' efficiency and quality.
By using these features, you can manually control almost every aspect of the website. In addition, some specially designed layouts have been created with multiple design variations that may be downloaded from the demo page and used on your website.
You can customize a carousel with any image, button, and background. You can also choose the scroll effect, the width, the timing of the slider, effects, loops, remote playback, and almost anything else you can imagine.
This plugin allows you to create stunning 3D-looking carousels with its cover flow effect. It can be used for logo carousels, testimony carousels, team carousels, and ordinary content carousels, among other things.
If you are using Divi Builder, we recommend using this plugin. Because it comes with all the functionality you need to create a beautiful and responsive carousel.
💵 Buy the Divi Carousel Module plugin for $29 and get a range of additional services.
Key Features:
Both Visual and Backend Builder are supported
Provides color options for item borders, dots, and arrows
Custom spacing, button settings, and font settings are available
Features a sizing option for the carousel
Unleash The Power of Divi & The Events Calendar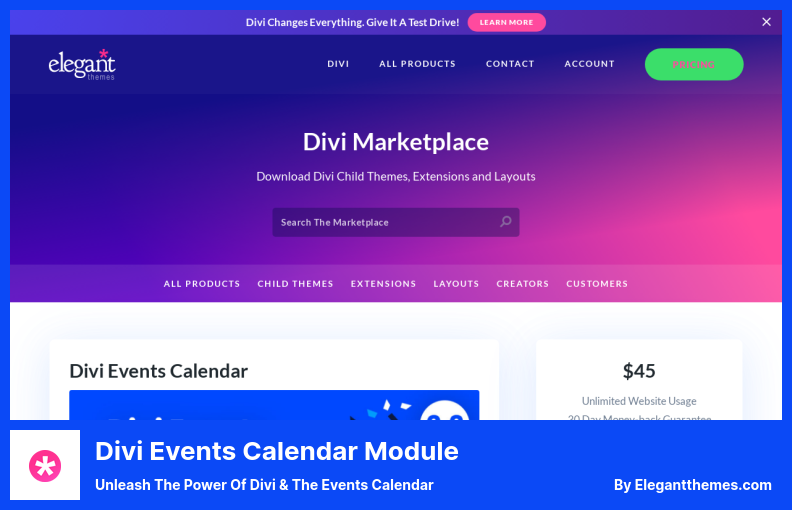 With the Divi Events Calendar Plugin, you can view, style, and edit events on The Events Calendar right from your Divi Visual Builder. Events Calendar is the default calendar plugin for WordPress. It works with Divi, but you have to use a shortcode to incorporate it into your Divi layout.
Divi and The Events Calendar both provide styling options from the WordPress dashboard. But this makes it challenging to integrate the styling into the Divi's layout. So, Divi Events Calendar renders The Events Calendar as a Divi module to solve the problem.
This is the only way to connect Divi and The Events Calendar with custom Divi modules.
Over 105 settings within this module allow you to display your events in a beautiful list or grid. Using the Divi settings, you can show, hide, adjust, and style any element within the module.
Using the Events Feeds module, you can search and filter events according to your preferences. These filters can be rearranged, removed, or added based on 48 separate settings that are entirely customizable.
In addition to the drop-down menus and the drop-down texts, each active filter and individual filter can be tailored to your liking. This allows you to customize the way filters appear.
Please note that The Events Calendar plugin must be installed first before using the Divi Events Calendar. Otherwise, the plugin will not function properly.
💵 The price for all the features and options listed above is $45, and if that is not enough for you, you will receive 12 months of free support.
Key Features:
You can stack the event details on separate lines in all of the feed and carousel content layouts
You can switch between showing and hiding event information, buttons, pagination, images, titles, icons, labels, and so much more using toggles
Contains settings for styling the text in each module, such as event titles, details, excerpts, and days on the calendar
You can control the margins, padding, background color, border settings, and box shadows for individual events
You can choose the number of columns and layout alignment for your events feed or carousel (Just like Divi Carousel Module)
A One-Stop Solution To Web Design For All Divi Users
Like Divi Plus, The Divi Essentials is an excellent third-party plugin for Divi. It brings all the essential features to build a great website. The plugin provides over 60 Divi Builder modules. The modules have a variety of animations and features to help make your Divi website look exceptional.
As part of the plugin, you will have access to over 55 website demos that will suit your needs, but if that is not enough, you will also have access to 500 prebuilt layouts. These modules include text animation, flip boxes, reviews, carousels, dual-button, rating, divider, multi-headings, and glitch text.
Divi Essentials provides many other valuable elements, such as 3D cube sliders, Gallery Sider, Divi Reviews, Divi Creative Team, Divi Button Module, Divi Testimonial Carousel, etc. Each of these elements can be customized to meet your requirements.
A 3D Cube Slider displays slide on each side of the cube as the cube rotates. A submodule creates each slide, which can be styled together or individually. Unlike an actual cube, this feature allows you to display unlimited sides.
In conclusion, if you want to boost the professionalism of your Divi website, this is the right choice for you.
💵 The price of this plugin is $49.
Key Features:
You can select the hover direction and choose between 19 hover effects
The Next Button lets you customize the size, color, and animations of the icon, border, and colors
With lots of animations and design features, your Divi website will have a professional appearance
With Circle Image, the image gets centered within a circle and can be hovered over for a variety of options
Creating the content with a text editor lets you integrate media and code
Images can be colored by adding an edge
The Next Blurb adds pre and post-heading text, multiple backgrounds, three-dimensional hover effects, and tilting hover effects
Brings Beautiful Responsive Tables to The Divi Builder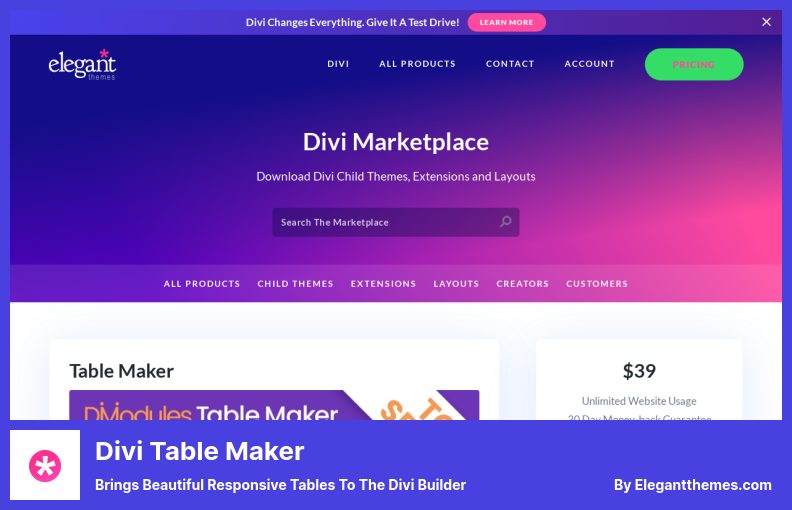 The Table Maker plugin allows you to integrate highly customized responsive tables into your Divi website. This module lets you customize the table according to your preferences, including columns, headers, footers, and individual columns.
Tables can be created in any type you like, for instance, tables with product information, comparisons, questions and answers, and much more. For content, pictures, buttons, icons, and other elements can be added for the table to be informative and attractive.
Besides scrolling, your tables will also be responsive on mobile devices. The module allows you to configure the tables to display as blocks and accordions at different breakpoints.
You can also arrange the tables by row and column, add as many columns as you like, and adjust the heights and widths of each table. Lastly, you can split the tables by row and column.
The Advanced Customization features include text alignment, rounded corners, borders, box shadows, and accordion toggles. Suppose you wish to customize both rows and columns.
In that case, you can set different colors for odd and even-numbered columns or add various stripes for odd and even-numbered columns individually.
If you intend to use tables on your website, this is a must-have plugin for your Divi themes and Divi builder. It is a lightweight plugin that makes tables look elegant and easy to use. Although it has limited functionality, it is still an excellent plugin.
💵 You'll get all the features and plugins plus 1-year updates for the plugin.
Key Features:
Lines and gaps can be used to frame tables. Lines place a space between each table cell, giving backgrounds some visibility
Despite complex table configurations, multiple rows and columns can be supported in table cells
Tables can be displayed as columns or rows, depending on a tablet or phone size, and can be set to display as blocks or accordions
A combination of flexible and fixed units can be used for column widths and row heights
Scrollable tables are available, with sticky column and row headers to keep headers visible forever and pinnable to the edge
Each table can have a combination of table content, column headers, column footers, and row headers, as well as row footers
Give Your Elegant Themes' Divi Theme a Boost
Divi Booster is developed by DiviBooster.com. It provides a variety of codes to help Divi users create and change their websites. These codes can be added to the Divi Booster plugin and used quickly.
The changes made by these codes will directly affect most of Divi's configuration options, including Headers, pages, articles, modules, sidebars, footers, menus, plugins, etc.
Although you can copy and paste the code from the instructions, the Divi Booster plugin has so many additional variables. It proves to be worth its weight in gold in terms of time saved. Once you install the plugin, set your preferences, and you are all set. Code is not required.
Using Divi Booster, web designers will be able to create websites that will offer them all the additional features they have always wanted. It provides a list of options complementing Divi's native features. Instead of the CSS box, the options can be accessed via a single keystroke.
Now, we can realize our dream of creating websites with the features we love.
As one of the latest Divi plugins, it features eleven accordions with different options such as colors, links, etc. Each accordion also provides a link to the documentation. The save button is always available at the top of the screen. This way, you don't have to look for it.
Additionally, the Site Speed feature in this plugin provides functionality for compressing the Content and blocking scripts from showing up in the Map module excerpts that are not required.
Both of these features, when combined, can reduce loading times even further than the compression Divi already provides.
However, with the Visual Builder, you cannot customize much; a hover border is shown when you hover over a module.
💵 Using $39, you can purchase the Divi Booster plugin.
Key Features:
A compression algorithm reduces the size of your visitor's download before it's delivered to their browser
Allows you to bypass PageSpeed Insight's recommendation to enable compression without using any other plugins
The blurbs and gallery modules may be customized with your own icons
All links in the footer can be centered using the settings
The standard builder settings let you set a minimum button width for CTA buttons
Replacing the footer links with your own text or HTML is possible
Fully White Label Your Website Branding With Divi Ghoster
There are several reasons why white labeling WordPress themes and plugins may prove helpful for your brand and for your customers. This option removes any reference to Divi or Extra from your website for anyone visiting, regardless of their ability to access the back-end.
Further, suppose you choose a custom branding name and logo for Divi/Extra. In that case, all Divi/Extra branding will be automatically replaced with your own branding, including the Divi Builder, theme options, dashboard, and source code.
You can switch on Ultimate Ghoster to hide all Divi/Extra-related plugins like Divi Switch, Divi Bars, Divi Booster, and the Divi Ghoster plugin itself. Also, you can choose whether to show or conceal the Premade Layouts, Product Tours, and other features by simply checking a box.
Divi Ghoster is undetectable by even the most sophisticated theme detectors. The plugin completely hides its status while installed, and it will never appear in the WordPress dashboard or on the plugins page. To locate Ghoster, you must click on a specific link or use a keyboard shortcut.
This plugin would be handy for agencies or businesses that resell Divi services. However, please note that your clients are unaware of other places they can get Divi support, including Elegant Themes or Facebook groups related to Divi.
💵 $29 lets you purchase Divi Ghoster plugin.
Key Features:
By making the Divi/Extra theme detection software invisible, you can protect your theme code
It is possible to customize the colors of the Divi Builder
The default WordPress login page can be customized
Widgets can be created to customize the dashboard
Paths to Divi theme and plugin files can be changed
The Best Divi WooCommerce Customizer and Styling Plugin
Divi Bodycommerce by Divi Engine is a Divi WooCommerce Shop Customizer plugin, designed to make it easier than ever to create and manage a WooCommerce store. It is another great option for e-commerce stores seeking to offer their customers a seamless shopping experience.
It comes with various useful features, including animated product images, ajax shopping carts, dynamic search pages, a new layout, and a login page. In addition, it is fully compatible with Divi and WooCommerce to streamline the development of your online store.
With Divi BodyCommerce, you can show the front and back of your products, create sales funnels that increase your conversion rate, and sort your products in product galleries to organize them by category.
You can also create thank you pages to ensure your new customers are well-cared for once they reach their destination.
The account page allows your users to customize their experience according to their interests. It shows all the information they have entered and enables them to amend any necessary details.
As well as these features, it includes optional form fields, custom emails, a mini-cart, customizable badges, etc.
The mini-cart option will be very convenient for clients. Because it will generate a drop-down menu when they click it, allowing them to assess whether there are still many items in their basket.
Custom checkouts and a practical customer-centric approach are other elements that help website designers build high-quality websites for e-commerce companies.
However, cart products and cart totals modules in Visual Builder do not display when activated. But they can be used to create content.
💵 The plugin is the work of a professional author and costs $24.
Key Features:
To provide your users with a better user experience, you can create personalized account pages
Provides customers with quick access to their basket contents
Upon clicking the mini cart option, a drop-down menu is displayed
By using custom cart icons, you can allow users to customize them to match the theme of their online store
Enhances customer satisfaction by lowering 'shopping cart corpses'
Shops based on Divi WooCommerce can be aligned to meet the needs of customers
Final Thoughts
Our experts discussed the best Divi extensions & addons in this article. All of them are compatible with WordPress and will help you create a fantastic website to attract more readers.
We hope you found this list beneficial. We regularly publish articles describing the best WordPress blog themes and the best WordPress plugins for bloggers, and these are often voted for, referred to, and shared by our audience.
If you enjoyed this article, please leave a comment and share it on Facebook, Twitter, and other social media channels.