Are you a WordPress website owner who's looking for the best Divi plugins and extensions? If yes, then you're in the right place. The plethora of options available in the market can make it challenging to choose what works best for you.
In this article, we'll be discussing the 11 best Divi plugins and extensions, both free and pro, that'll help you enhance your website's functionality and elevate your user experience.
Did you know that over 1.3 million websites use the Divi theme by Elegant Themes? This makes Divi the most popular WordPress theme in the market and makes it increasingly important to make your website stand out.
We're going to look at the 11 best Divi plugins and extensions in the following section. In the end, these plugins and extensions will improve your website's performance, functionality, and design. Let's dive into Divi plugins and extensions without further ado.
Best Divi Plugins & Extensions for WordPress
In this section, we'll explore some of the best Divi plugins and extensions available for WordPress websites.
If you're interested in unlocking the full potential of Divi and making your website more functional and dynamic, be sure to check out the following products we recommend.
Take Divi to The Next Level and Build Amazing Websites With Ease
You can use Divi Supreme Pro to build your website all in one place. With over 40 modules, you don't have to code. They've got Gradient Text, Flipbox, Text Divider, Typing Effect, Like button, Glitch Text, Icon Divider, and Icon Numbers, to name a few.
Aside from being super customizable, this plugin offers a bunch of other awesome services, like web design, Divi page repair, and page moving. On top of that, it offers a bunch of other cool stuff. It has some limitations, but the Pro version has some cool hover animations and lightboxes for videos and images.
One of the best things about Divi Supreme Pro is that it offers a variety of layouts catering to a wide range of websites, including freelancer listings, yoga listings, travel listings, SaaS listings, and more.
It also includes six incredibly helpful Divi extensions that will revolutionize the way you use Divi when designing your websites. Additionally, it includes a popup creator, a scheduled element, a responsive viewer, a shortcode for libraries, and more.
Key Features:
Over 40 innovative modules to enhance website design
High customization options for each module
Includes a variety of layouts for different website types
Six essential Divi extensions to simplify the website building
Offers comprehensive services like web design and Divi page repair
Free light version features options not available with Divi Builder.
Do More in Less Time With Divi Plus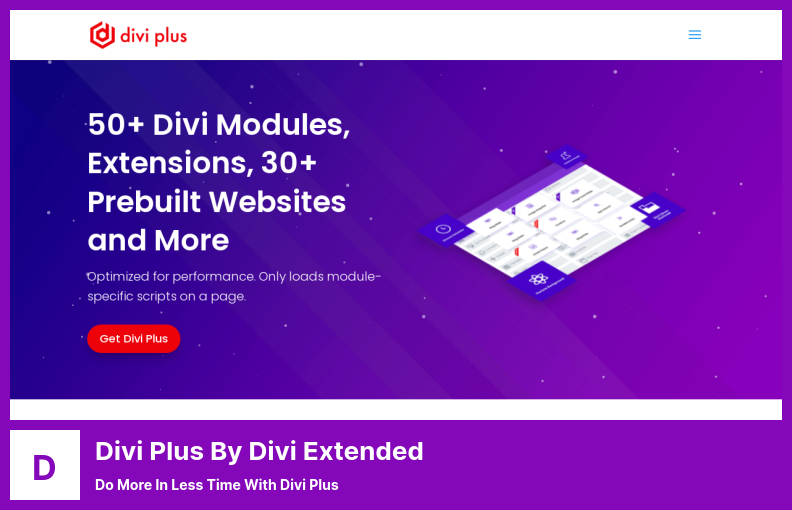 Divi Plus By Divi Extended is a powerful third-party plugin for Divi. It lets you improve and personalize Divi even further with its extensive set of 50+ modules and four additional extensions, including image masks, text animators, and bar counters.
What makes this plugin stand out are its features, namely Flipbox, Modal, How to Schema, Fancy Heading, Content Toggle, Form Styler, Logo Slider, Timeline, Twitter Modules, Facebook integration, and Lottie Animations.
You can also choose from 50+ starter templates aimed at different industries and niches, including agencies, photography, and construction company. With customizable pre-built sections, you can easily add, modify, or duplicate them according to your website's needs.
The plugin is designed to work at its best. It comes with an intuitive modules panel that allows you to select which modules you would like to use and which you don't.
Moreover, it provides greater functionality for sections, rows, and columns, letting you have extensive control over how your Divi theme website looks and functions.
One of the plugin's best features is that it only loads a page's scripts if they are specific to the module. This improves the website's performance by avoiding any unnecessary script loading.
Key Features:
50+ starter

templates for different industries

and niches

Customizable pre-built sections
Various modules and four additional extensions
Intuitive modules panel for selecting modules to use
Greater functionality for sections, rows, and columns
Optimized script loading for better performance.
eMail Opt-In And Lead Generation Plugin For WordPress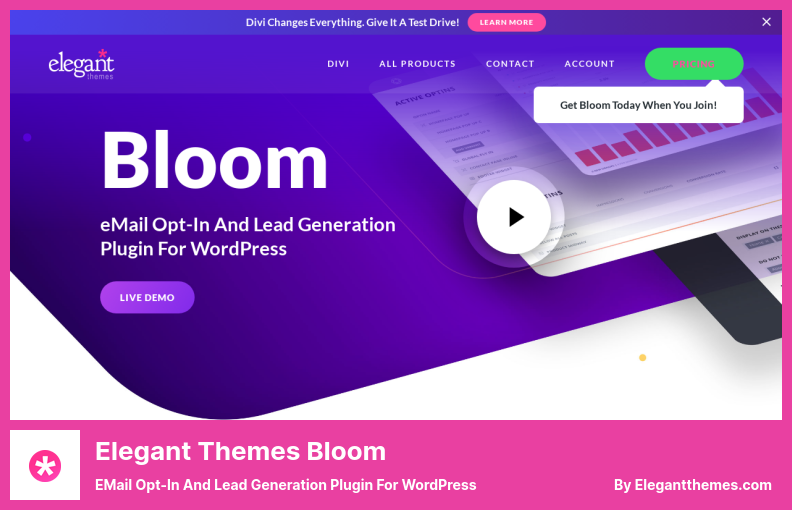 Elegant Themes Bloom is a popular plugin that helps turn site visitors into subscribers. It offers an opt-in form creator with over 100 different templates that are entirely customizable according to your specific needs.
Furthermore, the templates' unique look and feel let you set up attractive opt-in forms for your WordPress site that are simple to use without requiring any coding skills.
There are six opt-in forms in the plugin, like pop-ups, fly-ins, and widgets, so you can grow your list the way you want. You can also analyze subscriber processes, create triggers, and target users. It's easy to set up and has a really straightforward interface.
Bloom's locked content opt-in provides a way to require users to enter their e-mail addresses to access your content. Furthermore, including an opt-in directly within a blog or webpage is also possible with the inline opt-in. Finally, Bloom enables you to design the opt-in form the way you want using custom CSS.
The plugin doesn't include a drag-and-structure builder or an exit-intent trigger; however, it can be integrated with several e-mail tools like Mailchimp and many CRM services like HubSpot. You can also collect customer e-mail addresses for sending newsletters, running campaigns, etc.
Key Features:
Convert site visitors into subscribers.
Offers over 100 different opt-in form templates
Modifiable templates as per your specific needs
Six different types of opt-in forms
Provides triggers and targeting options
Lets you analyze the subscriber process.
Powerful Tools to Customize the Divi Theme
Divi Toolbox is an add-on to Divi Theme and Divi Page Builder. It contains several extensions, custom modules, and valuable features that enhance the functionality of Divi. The plugin adds new functionality to Divi's setup options and settings, making it easier for designers to avoid adding new modules to their themes.
The plugin is fully integrated with the Divi Customizer which makes it easy to use for beginners and professionals alike. It offers a wide range of over fifty unique customization options, allowing you to tailor your Divi website to suit your needs.
With the plugin, you can easily customize headers, footers, mobile menus, and blogs as part of the dashboard. The plugin also provides 3D tilt effects, particles, parallax scrolling, pop-ups, and typing effects to make your website look more engaging.
Moreover, it offers features to assist you in improving the look of your website, such as the ability to edit the layout of your blog, create a better footer, and fine-tune your menu on a mobile device. The plugin makes it easy to alter your Divi Theme and update your site's look or logo.
The plugin offers several key features to enhance the functionality of your website. With the smartphone customization option, you can easily adjust the footer and customize your pop-ups.
Divi Toolbox offers beautiful hover effects with a 3D effect, and unique blog layouts to make your website stand out. Other features provided by the plugin include unique graphics for the preloader, navigation integration, and customizable headers.
Key Features:
Unique graphics for preloader
Easy smartphone customization
Customizable footer and pop-ups
Beautiful hover effects with a 3D effect
Customizable headers are available.
The Most Powerful and User-Friendly Divi Carousel Plugin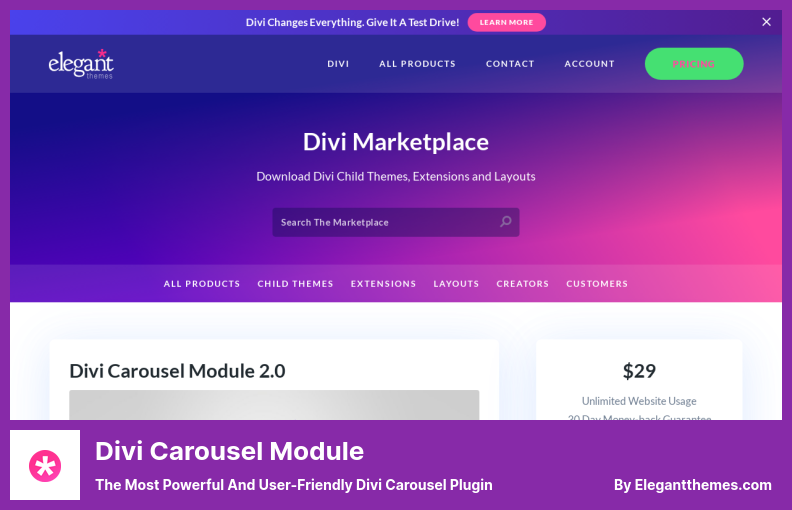 Divi Carousel Module allows you to create a responsive carousel for your website using the Divi Builder. You can have as many carousels as you like with this plugin. This plugin is perfect for those who are using Divi Builder, as it has all the functionality you need to create a beautiful and responsive carousel.
This plugin has an amazing cover flow effect that allows you to create stunning 3D-looking carousels. It can be used for logo carousels, testimony carousels, team carousels, or any other content carousels.
You can customize a carousel with any image, button, and background. The customization options are extensive, including scroll effects, width, slider timing, effects, loops, remote playback, and many more.
Divi Carousel Module gives you full control over almost every aspect of your website. They also provide specially designed layouts with multiple design variations that can be downloaded from the demo page and added to your website.
An extensive collection of visual templates is provided with the plugin, allowing you to start using it immediately. The plugin's advanced designs and customizable layouts will allow you to improve the quality and efficiency of your website.
Key Features:
Custom spacing, button settings, and font settings are available
Supports both Visual and Backend Builder
Provides color options for item borders, dots, and arrows
Features a sizing option for the carousel.
Unleash The Power of Divi & The Events Calendar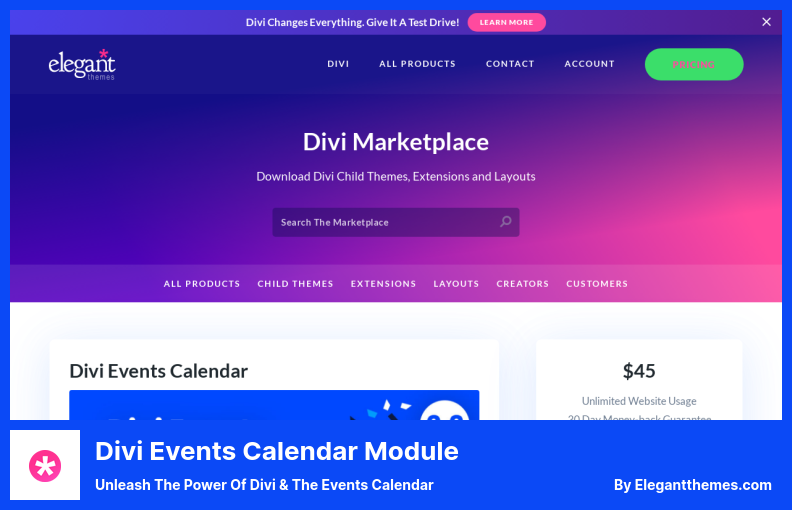 The Divi Events Calendar Module gives you the ability to style and edit events on the Divi Events Calendar without having to get your hands dirty with shortcodes to do so.
By rendering The Events Calendar as a Divi module, it enables easy integration of styling options and makes customizations effortless. However, keep in mind that The Events Calendar plugin must be installed before using Divi Events Calendar.
This plugin allows for thorough customization, with over 105 settings available to display events in either a list or grid format. The Events Feeds module offers more than 48 customizable filters that can be arranged to your preference.
Additionally, you can customize the look and feel of the filters, including the active filter, as well as the drop-down menus and text for each of the individual filters.
With Divi Events Calendar Module, the event details can be displayed on separate lines and toggles can switch between showing or hiding specific event information, buttons, pagination, images, titles, icons, labels, and more.
Moreover, you have the ability to make changes to margins, padding, backgrounds, borders, and box shadows for each individual event within a presentation.
Key Features:
Stack event details on separate lines
Toggle between showing or hiding specific information
Customize text styling
Control margins, padding, background color, etc.
Choose the number of columns and layout alignment
Customizable active filter and individual filter drop-down menus and text.
A One-Stop Solution To Web Design For All Divi Users
Divi Essential is a great third-party plugin for Divi that brings all the essential features to build a professional-looking website. With over 60 modules, the plugin provides a variety of animations and features to make your Divi website stand out.
You can customize each of the elements to meet your specific requirements, including the 3D Cube Slider, Gallery Slider, Divi Reviews, Divi Creative Team, Divi Button Module, Divi Testimonial Carousel, and more.
There's a 3D Cube Slider feature that lets you rotate slides on every side of the cube. You can style each slide individually or together, so you can display unlimited sides. It has a bunch of other valuable elements, so it's a great choice for boosting your Divi site's professionalism.
The plugin also offers over 55 website demos and 500 prebuilt layouts, ensuring that your website will meet your needs. You will also find text animation, flip boxes, reviews, carousels, dual-button, rating, divider, multi-headings, and glitch text modules.
You can customize the Next Button's icon, border, and colors, along with the size, color, and animations of the plugin. Color your images, add edges, integrate media and code into the text editor, center them within a circle, and much more. You can also have pre- and post-headings, multiple backgrounds, and hover effects.
Key Features:
3D Cube Slider
Customizable Next Button
Text Editor Integration
Edge Coloring of Images
Multiple Website Demos
Next Blurb with Hover Effects.
Brings Beautiful Responsive Tables to The Divi Builder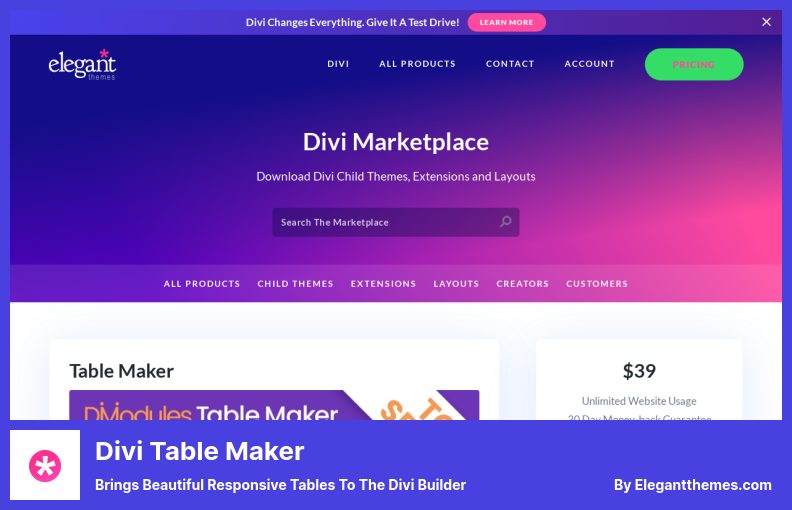 The Divi Table Maker plugin provides you with the ability to create highly customized tables for your Divi website, according to whatever style and format you desire.
It provides you with endless possibilities in terms of customization- from adding columns, headers, and footers, to changing individual columns and configuring tables to display as blocks and accordions at different breakpoints.
Plus, the tables are also mobile-responsive and scrollable. Creating tables with this plugin is effortless, and you can add images, buttons, icons, and other elements to enhance the information provided.
The plugin is lightweight and easy to use, making it a must-have for anyone using Divi themes and Divi builder. Though the plugin has limited functionality, it still makes tables look elegant and straightforward.
The advanced customization features include rounded corners, borders, box shadows, and accordion toggles, and you can set different colors for odd and even-numbered columns or add stripes for odd and even-numbered columns individually.
Key Features:
Scrollable tables are available, with sticky columns and row headers
Lines and gaps can be used to frame tables
Multiple rows and columns can be supported in table cells
Tables can be displayed as columns or rows
The possibility of adding images, buttons, icons, and other elements
Options to set different colors and stripes for odd and even-numbered columns.
Give Your Elegant Themes' Divi Theme a Boost
Divi Booster is a plugin developed by DiviBooster.com that supplies codes for easy website creation and customization. These codes can be added to the plugin and used quickly, helping to reduce loading times.
The plugin modifies most of Divi's configuration options, such as headers, pages, articles, modules, sidebars, footers, menus, and plugins. It offers a list of options complementing Divi's native features and can be accessed via a single keystroke instead of the CSS box.
This latest Divi plugin has eleven accordions with different options such as colors and links, each with a link to the documentation. The Site Speed feature compresses content and blocks scripts that are not needed.
Furthermore, the save button is always available at the top of the screen for ease of use. With the plugin, you can create websites with all the additional features you have always wanted.
The customization options of the Visual Builder are limited, but with Divi Booster, you don't have to copy and paste code from the instructions. The plugin provides many additional variables that save time and effort. Once installed, set your preferences, and you're all set.
Key Features:
Compression algorithm for faster loading times
Bypass PageSpeed Insight's recommendations for compression
Customizable blurbs and gallery modules with personal icons
Center links in the footer using settings
Set minimum button width for CTA buttons
Replace footer links with custom text or HTML.
Fully White Label Your Website Branding With Divi Ghoster
Divi Ghoster is a plugin that provides white-labeling options for WordPress themes and plugins. It removes any reference to Divi or Extra from your website, making it perfect for agencies or businesses that resell Divi services.
There is also the option of replacing all Divi/Extra branding with your own custom branding, by removing all Divi/Extra branding, including the Divi Builder, theme options, dashboard, and source code, and using your own branding.
With Ultimate Ghoster, you can hide all Divi/Extra-related plugins, including Divi Switch and Divi Bars, as well as choose whether to show or conceal the Premade Layouts and Product Tours by simply checking a box.
Furthermore, the plugin is undetectable by even the most sophisticated theme detectors, hiding its status while installed. To locate Ghoster, you must click on a specific link or use a keyboard shortcut.
Key Features:
Protects your theme code
Customizable colors for Divi Builder
Dashboard widgets for customization
Change paths to Divi theme and plugin files.
The Best Divi WooCommerce Customizer and Styling Plugin
The Divi BodyCommerce plugin from Divi Engine offers users a smooth online shopping experience by integrating an integration with WooCommerce Shop Customizer, which is a WordPress tool.
With features like custom checkouts, dynamic search pages, and customizable badges, this plugin helps designers build high-quality online stores that offer customers a personalized e-commerce experience.
The plugin also includes animated product images, ajax shopping carts, and a login page to further enhance the online shopping experience. Additionally, it is fully compatible with Divi and WooCommerce, saving designers time and effort.
While the cart products and cart totals modules in Visual Builder do not display when activated, they can still be used to create content. The account page feature lets users customize their account details while the mini-cart option provides customers with quick access to their basket contents.
Key Features:
Personalized account pages
Quick access to basket contents
Streamlined checkout process
Animated product images.
Frequently Asked Questions
Why should I use Divi plugins and extensions?
If you're using the Divi theme for your website, plugins and extensions can provide additional functionality and customization options that the theme itself may not offer. These tools can help you take your website to the next level and create a more seamless user experience for your visitors.
Do I need to be a developer to use Divi plugins and extensions?
Not necessarily. While some plugins and extensions may require advanced technical knowledge or coding skills, many are designed to be user-friendly and accessible to website owners and administrators.
However, it's always a good idea to read the plugin or extension's documentation and make sure you understand its functionality before installing it on your website.
Are there any free Divi plugins and extensions available?
Yes, there are many free options available. These free tools can be a great way to enhance your website's functionality without spending any money.
Conclusion
In conclusion, we have covered the most powerful and useful Divi plugins and extensions available in the market today. With these tools, you'll have everything you need to take your website to the next level.
If you're interested in reading more tutorials and resources about Divi plugins, be sure to check out the BetterStudio blog. Also, don't forget to follow BetterStudio on Facebook and Twitter for the latest updates on our tutorials and other helpful resources.
We appreciate you taking the time to read our article and hope you found it valuable. If you have any questions or problems with the article, please feel free to ask us in the comment section below. Thanks again for reading!