Are you looking for the best WordPress plugin for Map?
As a result, to get you the best WordPress plugin that suits all your requirements and needs, we present you with the best Map WordPress plugins. They are practical, offer many features, and support the entire library of WordPress themes.
We chose plugins that are well-suited for Maps. What if you are searching for a Map related plugin, but it isn't the specific Map plugin? These plugins work for Google Maps, Location, Multi-Location, Physical Location, Mapping, Interactive Map, Travel Map, and Map Plugin Without API.
Here are the top WordPress map plugins for 2022:
Mapping & Physical Location WordPress Plugin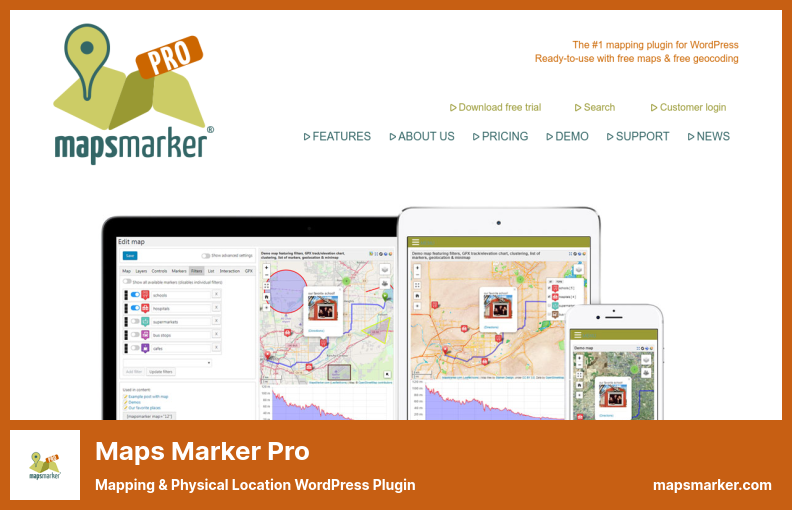 With Maps Marker Pro WordPress plugin, your site can be customized and augmented. Using this mapping plugin, you are able to create highly customized maps by integrating OpenStreetMap, Google Maps, and Google Earth.
Aside from enabling you to create your own maps with multiple locations (using the colors of a mall, or incorporating the theme of your hotel), this Google map plugin also allows you to create 800 custom icons and layer markers.
This interactive map offers more than 600 settings and customization options, so you can design the map to your preference. In addition to improved performance, the plugin provides users with sophisticated map filters, live map updates, QR codes, etc.
With this program, users are able to map or share any location, route, or track, and markers are customizable according to individual requirements.
However, Maps Marker Pro comes at the expense of a high price. It is far more expensive than some of the other plugins we listed below. Also, if you need a map plugin without API, we highly recommend this one.
💵 It has 12 months of support and free updates for $273.34.
Key Features:
Includes bulk updates to markers by importing or exporting
Geometric shapes can be drawn on your maps with polyline support
Your maps will be easily accessible when you build posts or pages in Gutenberg (like Interactive Geo Maps)
Offers augmented reality to create any scenario
Share real-time location and motion are included
Adds a map with GPX Tracks to display your route, distance, pace
Marker animations and popups included
Map pins can be added and the location updated as you move
Offers multiple markers for each layer with a marker clustering option
No API key is required to run Maps Marker Pro
The Most Comprehensive WordPress Map Plugin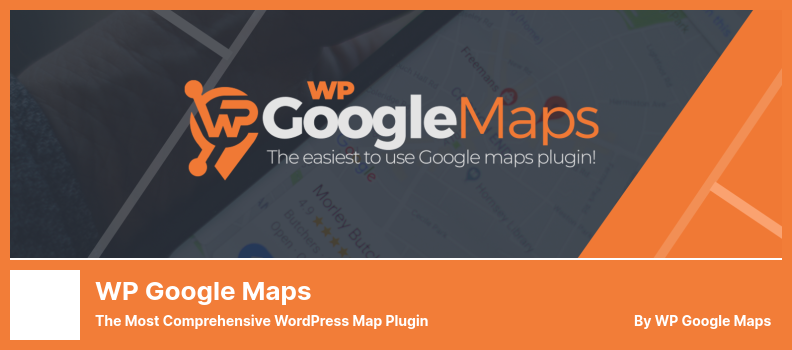 The WP Google Maps is one of the best WordPress Google Maps plugins. With this plugin, you can integrate Google Maps into your WordPress website quickly and easily.
The freely downloadable physical location plugin provides an array of powerful features that will allow you to easily create custom maps on your website.
The addition of markers to your sitemap can enhance its features through address information, the selection of the type of map, and the addition of a widget or shortcode.
There is a pro version of the plugin that includes more powerful features. It is also available for free download which allows users to add a number of pixel markups to Google Maps with no advertising or links.
Right-clicking and dragging markers on the map will allow you to place them precisely where you want. You can also add animations, polygons, and polylines, as well as select from four map types.
Moreover, Google Maps autocomplete and localization is supported, in addition to four different map types.
💵 Premium version of the WP Google Maps plugin costs $39.99, while the Lite version is free.
Key Features:
Marker data can be quickly edited by importing or exporting to a CSV file (just like MapifyLite plugin)
Guests can mark their own starting point or destination on maps with markers
Provides enhanced store locator using user location and store category search
Templates for store locators, directional maps, etc are available
Links, images, videos, directions, locations, and categories that can be added to markers
Offers terrain, roadmap, hybrid, and satellite different maps
Map colors, height, width, alignment, and zoom level can be customized
Full-screen maps
Custom fields and categories that can be used to filter markers
Random Reviews:
For tourist websites, the plugin in the Pro/Gold version works well. Especially the individual configuration and display of the POIs and polylines are well taken care of. The support is quick and helpful – thanks Steven. We are looking forward to even more features, especially for the polylines.

I purchased the Pro Add-on and encountered a problem trying to create new maps. I posted on the support forum and received a reply from Matthew within minutes, who found the cause and implemented a fix within minutes. Everything is now working and a very useful plugin. David

Excellent support (Matthew). This topic was modified 4 days, 21 hours ago by
WordPress Google Map Plugin
With the Interactive Geo Maps plugin for WordPress, users can create interactive Google maps. In addition to more than 200 different maps, this plugin also provides advanced features for creating custom maps for your website.
This plugin allows users to create maps easily and quickly with its free version, and more sophisticated maps may be created with its Pro version.
By using the premium version, you can customize the color of regions, each market, the tooltip, the map projection, and the zoom level. Additionally, you can also try the premium version for seven days absolutely free if you'd like to compare the two options.
Moreover, after the plugin has been installed, you simply customize your map using the built-in options. Finally, you use the shortcode or Gutenberg block to insert it in your post (as with Maps Marker Pro).
💵 Basic: Free, Premium: $2.49/M.
Key Features:
Add round colored markers
Mobile-friendly interface included
Easily create maps of continents and regions
Offers vector icon markers
Included flexible color markers
Adds custom image markers
Defines the center of the map and zoom level
Exports map as an image or PDF file
Creates as many maps as you want
Extensive customization options included
Random Reviews:
Despite having tried several of them, this plugin stands out and is the most effective for my purposes. As with other more advanced (and not hard to use) plugins, you will need to learn it to be able to use it effectively, but once you have, it can be a real powerhouse.

Great tool. It takes some time to figure out how it works. But it's very useful and can do a lot.

The plugin is a great tool. You can do more than you think with it. And the support is fantastic.
The Best Mapping Plugin for WordPress
MapifyPro Mapping plugin for WordPress is offered as a free and a paid. Google Maps API, as well as OpenStreetMap API, are supported. Through this tool, you are able to integrate Google Maps into your website, as well as embed customized maps.
There is a lite version that allows you to import images and videos and customize marker locations, while the pro version offers more sophisticated functions.
By using MapifyPro, you can display maps on your WordPress website without relying on Google Maps; its own mapping API provides unique features, such as magnification or rotating the map. You can even provide directions to a certain marker.
You will no longer have to worry about Google's policies frequently changing by using the location showcase plugin.
💵 You can choose between two versions: Premium for $19/M and Lite for free.
Key Features:
Adds as many locations as needed via a CSV file
Adds a video and photo gallery to any map
Provides cluster feature for multiple locations
Adds a location directory under the map for better interaction
Includes 100% responsive maps
Displays customized map tooltips
Styling option for tooltips and pop-ups is available
Provides an option to share map locations on social media
Creates maps using any image
Ensures that your users view the maps properly from any device
Random Reviews:
Highly recommended. Installed this on my travel blog. I have been trying map plugins for quite a while. This one does not need a Google Maps API key which made setup very easy.

The Mapifylite popups have improved the appearance of the two sites I manage. They allow visitors to locate my business addresses easily and help buyers find me more quickly. I can't wait to get the Pro version! This topic was modified 1 year ago by!
Google Map Plugin for WordPress
Using the Easy Google Maps WordPress plugin, you can easily embed Google maps into your WordPress site.
There are two versions of this plugin: a free version and a paid version. There are three ways to embed this tool in your site: pop-ups, widgets, and shortcodes. You can create maps in WordPress using the live builder by entering coordinates and locations and adding map markers.
Shortcodes can be used to insert this plugin into posts, pages, and template files of your WordPress site. In its free version, the plugin offers all of the features necessary for integrating Google Maps into your WordPress website.
Through this plugin, you can mark your business location on Google Maps and display it effectively. Your location can also be displayed with photos, videos, and a description to give customers a better idea of what your business offers.
💵 The Lite version is free, while the Pro version costs $.
Key Features:
Offers unlimited map markers and location
Provides table view or markers
Allows you to embed using shortcodes or PHP code
Plays around with shapes and figures on the map
Offers KML layers, import, and filters
Social sharing buttons are available
Includes multiple routes
Import/export Google Maps and markers are available
Adds customized and colorful icons to the Google map
Random Reviews:
It's a wonderful plugin with great support (thank you for your precious help Ole.)

Plugin support is lacking due to recent updates.

You can stop looking if you're looking for a Map plugin for your client who doesn't know what they're doing. This interface is so ugly it makes your head spin. Seriously, it's the worst interface for your client. They'll be bugging you all day how to do this, how to add that. No way, no thanks.
Google Maps & Physical Location Plugin for WordPress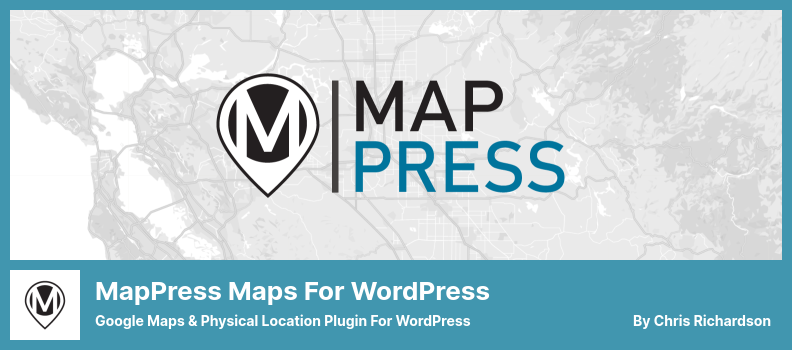 The MapPress plugin for WordPress includes full integration with Google Maps, enabling you to include markers and modern and traditional editors.
WordPress users are now able to display an interactive Google Map on their posts and pages with the help of this plugin.
Although the pro version of this plugin contains a wide range of useful features not available in the free version, one of the best features is that it is not over bloated with extraneous features.
You shouldn't use this plugin if you want your travel blog to have an appealing look with travel maps. This map is intended to be professional and straightforward.
💵 Free and for the Pro version.
Key Features:
Add custom map markers
Allows you to build maps based on custom fields
Offers the option to show visitors' locations on the map
Offers unlimited map markers
Full-screen maps included (as with WP Google Maps)
Stores locator search functionality
Create a map with latitude and longitude coordinates or address
Embed maps with a shortcode, widget, or Gutenberg block (like Interactive Geo Maps)
Define the zoom level for the map
Includes nine map themes
Random Reviews:
*A very user-friendly plugin*

So far the site is exactly what I wanted, even though I am still testing and designing it.

Great plugin, easy to use, but it does sometimes display an 'Obsolete jQuery version' error. You can usually fix the error when you go into inspector, and then make the changes anyway.
The Most Advanced Google Maps Plugin For WordPress
The Advanced Google Maps Plugin for WordPress provides the ability to integrate different customized maps into your WordPress website. It is possible to import CSV files into the program (as WP Google Maps does) and to generate maps without specifying a latitude or longitude.
Despite its popularity, this plugin might seem to be a standard piece of software, but one of the reasons for its success is the fact that every feature of it works perfectly and you receive excellent customer support. It is regularly updated by the developers as well.
There is usually little difficulty finding locations, but if you do not know where the location is, or if it is hidden in the woods, you may enter coordinates.
💵 In addition to the price, this plugin comes with a year's free support.
Key Features:
Ideal for BuddyPress and Gravity Forms
Adds an unlimited number of extra fields
Advanced maps customization options included
Data from JSON and other files can be imported within seconds to fill in your maps
Offers a smart Geocoding system
Tour companies can create customer itineraries
Offers the ability to display WordPress posts in Google Maps
The frontend submission form allows you to link to real estate listings and accept contact information
Convert Excel sheets and MySQL databases to Google maps
Adds marker clusters on Google Maps
Physical Location Plugin for WordPress
With the Image Map Pro WordPress plugin, you can create any kind of map and hotspot images that you can possibly dream up. A web interface is available through which you can generate custom images, maps, pins, and SVG polygon shapes that can be exported and displayed on your website.
You can also access large collections of pre-built maps after upgrading to the plugin, which allows uploading images, generating prototypes, and generating floor plans.
Additionally, you can trigger specific actions based on how visitors interact with your website, as well as insert animated markers and upload images to use as backgrounds.
The plugin allows the user to utilize images, and pins to showcase their creative work. This plugin has been designed with creativity in mind.
💵 Working with this plugin is very easy, and you can purchase it for a small price.
Key Features:
Offers zoom capability in the editor for precise design
Offers fullscreen mode
Over 50 country maps are included
Built-in FontAwesome icons are included
Using images makes maps of structures, products, and even humans
When building your map, connects shapes
Polygon shapes, animations, and image backgrounds are available in the style control
Using JavaScript and HTML API, extends the built-in functionality
Tooltip content builder is included
Last Thoughts on the Top Map Plugins!
We reviewed the best WordPress Map plugins in the above text. With a few hours of labor, you can have a terrific website using these plugins.
Thanks for reading this article. We hope you enjoyed it.
The following links can be used to learn more about how our subscriber's rate, use, and communicate the top WordPress blog themes and popular WordPress blog plugins.
If you've used any of these plugins, let us know what you do (or don't) like about them in the comments. Don't forget to share this post on Twitter & Facebook.