Are you looking for the best WordPress plugins for Google Maps websites in 2022? Do you have the struggle to find the best plugin for Google Maps?
In this post, you will discover the best WordPress plugins on the market and recommendations for specific situations. All these plugins are clean and robust and work properly with all WordPress themes. We hope you will have decided on the best plugin for your Google Maps website by the end of this post.
We chose plugins that are ideal for Google Maps. Despite this, these plugins work well for multi-location maps, map markers, mapping, map builders, and SVG maps.
Ready to find the wonderful plugins for Google Maps in 2022? Let's get started:
Map & Google Map Widget for WordPress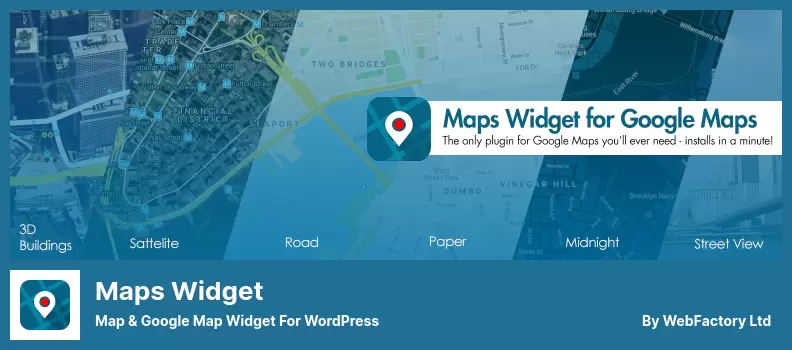 If you would like to display a map in a sidebar widget, the Maps Widget makes it simple to display a Google In case you wanted to display a Google Map in a sidebar widget, the Google Maps Widget lets you do just that.
Maps can be customized in lots of ways, like in size and type – road, satellite, terrain, or hybrid – as well as in color, labels, and links.
The thumbnail map can be clicked on to go to a larger interactive map in a lightbox. You can link the map to a URL and adjust the zoom level.
With the paid version, you can also customize and embed maps via a widget instead of a dedicated Settings page.
---
💵 FREE!
Key Features:
Maps can also be embedded by using widgets in the paid version
There is also an option to replace a static thumbnail map with an interactive one when the user clicks, which improves performance
The free version allows you to place one marker, while the paid version allows multiple markers
The density of markers can be used to cluster them together
The Pin Filter is a paid feature
The Pin Filter is also available for Android and iOS
Creating a static thumbnail map allows you to open the interactive map in a lightbox
Random Reviews:
Sigh I have tried all the steps recommended but relying on Google is the pits. Sometimes the thumbnail shpows up as a broken imahe and sometimes as a link to a larger map – If I could get it to work…I would lovge it but alas it is difficult

Very useful, thanks.

That's 3+ hours I won't get back trying to get this plugin to work. 🙁 I even paid for the PRO version and while I can get it to show a basic map IF you click on a link that says "Click to open a larger map"… I cannot get it to do anything more than that.
Google Maps Widget for WordPress
Google Maps for WordPress is a useful tool to highlight a delivery area on the contact page map and for many other purposes. It is available in nine different themes or you can design your own.
Markers can be easily added to a map by entering their address and dragging them to exactly the location you desire. They may be animated as well.
You can create a single map with WordPress.org's free version, but if you wish to create multiple maps, you will need to upgrade.
By adding a map widget to your sidebar, your visitors can switch from satellite to street-view 
without leaving your site.
---
💵 You can download the Lite version for free or the Pro version for $59.
Key Features:
Shapes can be added to maps
Create your own map or choose one from 9+ pre-made themes
With the paid version, you can make unlimited maps (in the free version, you can only create one map)
You may use the default Google Maps information window or the new modern information window
Adding markers to the map is as simple as dragging and dropping
Functionality to locate stores built-in
The map marker list can be created in four different ways: one for the essential list, one for the table, one for the carousel, and one for the advanced table
Random Reviews:
Thanks

Matthew Lau responded with answers to my support questions quickly and was very friendly, clear and concise. Thank you Matthew! ~Betty

Flippercode helped me implement what I was looking for. Their plugin customization was extremely affordable and their responses were super fast! The plugin itself is extremely user friendly too. We will definitely be purchasing from them again for our other sites!
Google Maps Widget for WordPress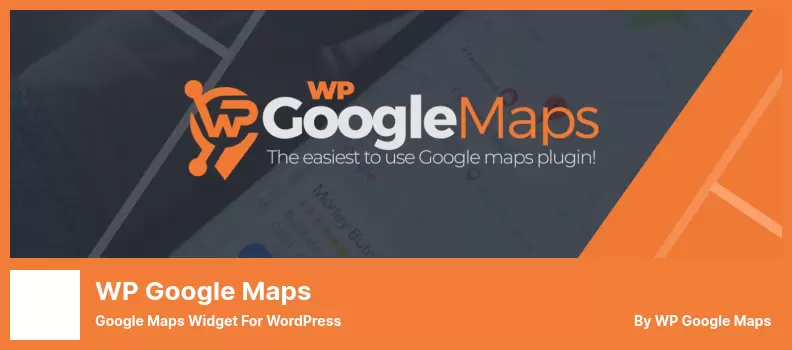 A Google maps plugin that is easy to use. Add a customizable Google map to your WordPress posts and pages by simply pasting the shortcode.
Simple and no iFrames, perfect for contact page maps, routes, delivery areas, and anything else you can think of!
You can add markers, categories, and directions to your maps in the professional edition, which does not restrict you to one map.
You can use the visitor's location as the starting point for directions or make it the endpoint. Hide all map markers until the store locator has been contacted.
A custom map theme can be created, which allows you to view a map in full-screen resolution. The best part is that creating one takes less than 30 seconds.
Besides adding high-quality markers, you can also add categories, images, directions, and links to a map. You can select from up to 9 different map themes in the paid version.
---
💵 It charges $39 for the Pro version and 0 for the Lite version.
Key Features:
Quickly change the markers on your maps
Choose from nine popular map themes
You do not need to know any programming!
Simply type the URL, and you will be able to create a number of map markers
WordPress's most popular Google Maps plugin
Elementor Map Element and Block
Features Open Layers Maps or Google Maps
Random Reviews:
Great plugin, easy to install and configure. Thanks to Glen for the quick and accurate administrative support.

Good plugin and fast and helpful support from Matthew Lau, he helped me with a problem with my links in my map

It took only 1/2 HR to learn most features, I'm Ready to buy the PRO
The #1 Mapping Plugin for WordPress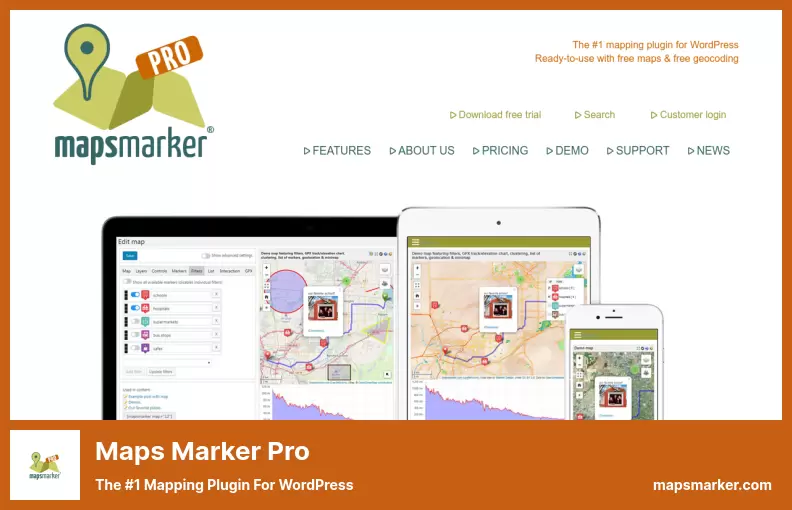 The Maps Marker Pro plugin for WordPress is a powerful tool for advanced users who want complete control over their maps.
A few familiarization exercises are required, but the advanced editor provides a few more features. You can create make-believe maps for games or for photographs.
Creating a marker, setting the map proportions, and assigning a layer is all that are needed to complete the map.
There is a dedicated tools page for backing up settings, defining default map settings, and defining the default map.
Maps Marker is a powerful tool to learn how markers and layers interact with maps. In the free version of the plugin, you have access to most of the main features. There are hundreds of settings to help you customize maps.
---
💵 This plugin offers dedicated features and makes your site look like no one else's. You can get the Maps Marker Pro plugin for $39.
Key Features:
No API keys are needed to use keyless geocoding providers like Algolia Places
Using the filters on the map on your front end, visitors can choose what they want to see
Make the maps more attractive and minimize loading time by creating animated marker clusters
Make your mark directly on the map using geometry layers such as polylines, polygons, circles, and rectangles
Simple and Powerful, Google Maps Plugin for WordPress
One of the simplest Google Maps plugins on this list, Simple Google Maps Shortcode, is called as its name suggests.
You can add Google Maps to your website using shortcodes – all you need is your Google Maps API key and the map address. WordPress Transients API will allow the map to be cached for three months.
A map can be altered in width and height, the mouse wheel scroller can be disabled, and the map controls can be disabled.
They are still very effective for some users despite lacking basic features found in other plugins, such as multiple pin support.
Simple Google Maps Shortcode is the perfect Google Maps solution for those who don't need bells and whistles.
The purpose of this plugin is just to make embedding a map from Google Maps easier without having to use an iframe.
---
💵 This WordPress plugin is Free.
Key Features:
Add a shortcode for displaying a single-location map
The shortcode parameter disables map controls and scrolling
For performance improvement, shortcodes cache maps for three months, though it is possible to adjust this setting
Shortcode parameters allow you to adjust the width and height of the map
Random Reviews:
It's so simple and easy to use! Best Google Map shortcode plugin I've ever seen. You guys are simply the best!

Simplesmente o que necessitava.

It works! Simple. Plug-in recommended to other users.
MapPress Maps for WordPress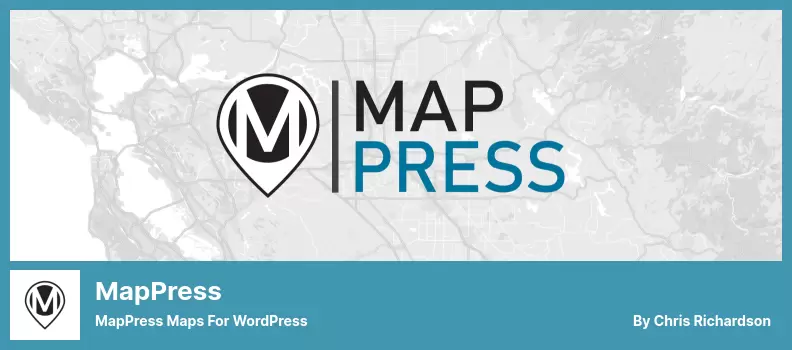 MapPress Easy Google Maps is one of the most popular free Google Maps plugins on WordPress. Just enter an address and get a Google map.
Multisite compatibility and Google Map API v3 compatibility are also included with the plugin, which supports street view with real-time traffic. Additionally, you can embed multiple maps on one page or post.
Features include real-time traffic reports, directional settings, and several views and WordPress printing options.
Aside from its compatibility with custom post types and multisite installations, it has useful features like shortcodes, street view, custom text, and real-time traffic. In addition, a pro version is also available if you decide you need more.
---
💵 It is free to use, but it costs $49 to upgrade to the Pro version.
Key Features:
All posts, pages, and custom post types can have unlimited maps and markers
Markers can also include custom text, images, and links
Maps and overlays with Google street view
provide directions to the location using Google mapping information
Using PHP for template and theme creation, maps can be generated
You can add a location by adding an address, a place, or latitude and longitude, or you can drag it into place
Random Reviews:
Great plugin, very flexible and easy to use. It can give a "Obsolete jQuery version" error but usually you can just go into inspector and delete the error, and then you can edit the map anyway.

I have been using MapPress Maps for WordPress for years and it has made a tremendous difference on my website. People often say the best feature of the website is the maps! Whenever I have a question or issue, the developer is right there to help out. It is definitely the best plugin I have!

My first choice map and geo plugin. Support is developer level and really helpful with a production site.
Powerfull Google Maps Plugin for WordPress
WordPress owners can import Google Maps from multiple sources and add custom icons and street views to maps using Advanced Google Maps Plugin for WordPress.
With this plugin, your maps will be much more user-friendly than with your typical Google Map embed. Add multiple direction options to your maps, use custom front-end filters to display more precise information about locations, etc.
Along with fun and relevant images, the icons are shaped like triangles, squares, and circles to give people an idea of what to expect when they arrive. You can also add addresses and coordinates to maps.
---
💵 It only charges $59 and includes 12 months of free support and updates.
Key Features:
You can also display multiple directions on the same map
Advanced Google Maps comes with several integrated plugins, including BuddyPress, Gravity Forms, and AirTable
You can also highlight areas by drawing custom shapes
You can customize your maps with Snazzy Maps skins
You can link to real estate listings and accept contact forms for specific homes with front-end submissions
Make your map settings responsive by using different settings based on the users' screen resolution
You can show descriptions of each listing beneath the map
Random Reviews:
I've never used this plugin however, it is so intuitively built, that it only took me a few hours to build out the map and locations (with custom pins) for my new dev site: – I couldn't be more pleased. Thank you, flippercode!

I was looking for a map plugin that could draw a radius circle around a pin point and it did exactly what I needed easily. I had some trouble getting my map to load but the support team were very helpful and got it working for me. I'd recommend this plugin 🙂

Quick response.
SVG Map Builder for WordPress

With Image Map Pro for WordPress, differentiation is taken to a whole new level thanks to its options to create any map you can dream up.
Furthermore, the plugin supports simple map import, undo/redo while map building, duplicate layers, and custom styles.
This plugin enables you to create interactive images based on image mapping and geographical information. Imagine creating a map of the store location or uploading a photo of your dream home.
---
💵 This plugin costs $39 and has 12 months of support.
Key Features:
The precision tool can be used to create custom shapes for highlighting specific areas of the map and modifying their dimensions and colors
Maps can be constructed within minutes by importing images and data
The images can be used to map anything, from buildings to products to even people
Using the drag-and-drop editor, you have full control over your maps
Random Reviews:
Perfect Customer support. Fast and Kind Thanks a lot

Works exactly as announced, straightforward, robust and reliable. Thanks a lot for this useful plugin!

Good plugin and great customer support! Fast and effective response by Yancho. Thank you 🙂
Advanced Map Builder Plugin for WordPress

In order to create a map, you can use the Progress Map plugin, a premium WordPress plugin that is designed for listing sites. The idea is that you can add different locations based on your website. You might want to consider your favorite burger joint, your real estate listings, or the hotel you are staying at as the location.
Using the Progress Map plugin, people can see what the most efficient route looks like without bringing up a second app to navigate. In addition, there are turn-by-turn instructions and a brief overview of the pathway.
In order to make Google Maps more user-friendly for your website visitors, you can control all of the UI elements such as zoom controls, map types, etc.
Besides its ease of installation, the plugin offers numerous map designs, supports custom functionality, as well as mobile touch-swipe navigation, and much more.
---
💵 You will always have plugin updates for 12 months of free support after purchasing the Progress Map plugin for $59.
Key Features:
When it's selected, the carousel targets the location on the map, so it works even better for finding listings
Listings of hotels, real estate, restaurants, jobs, and stores
Control directly from the powerful admin panel
Everything is carefully considered and it's fast (SVG icons in Map)
Random Reviews:
Amazingly well made plugin, which does everything you would ever need and alot more! The options for customization, the support, the ease of use – everything is just top of the line. You can't go wrong with this plugin!

Very satisfied with the service: I have had the plugin more than once, and there was a problem recently. I was able to benefit from the corrected plugin update, at no additional cost. This is exactly what I'm looking for, simple and effective.

The documentation for this product is super thorough! I wish I understood it a bit better, but I'm not a developer, so I do struggle a bit. But when I do struggle, the customer support is quick and accurate. They've helped me a dozen times which has allowed me to set up this feature on sites for multiple clients. I highly recommend this plugin!
Advanced Store Locator WordPress Plugin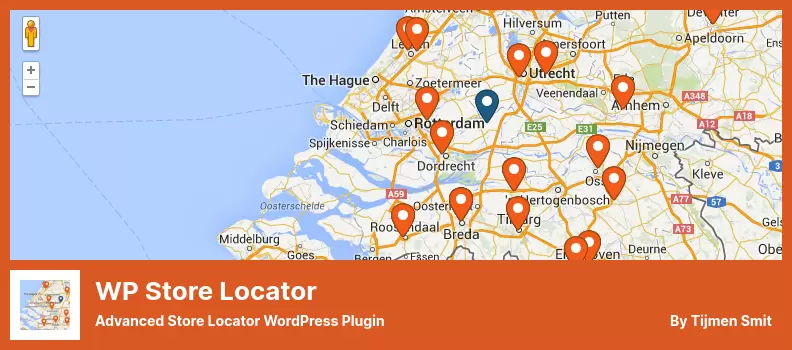 With WP Store Locator, you can manage your locations in a very simple and powerful way. Maps are excellent for displaying destinations for both traveling and leisure. However, they can also be handy for your business as well.
Locations can be filtered by radius and users can get directions to each place. Moreover, each center can have additional information, such as the number of the center, its operating hours, etc.
You can also create maps that are useful in all of your target markets when using the WordPress Store Locator plugin since it is fully compatible with multilingual plugins.
A search bar can be added to display results based on a radius limit. Custom labels are also possible, along with adjusting map appearance. All locations on the map come with driving directions as well.
---
💵 This plugin was produced by a professional author, and It is Free.
Key Features:
A shortcode can be used to add blank maps or maps with single markers
Additionally, you can include contact details, descriptions, and hours of operation for each listing
The map can be viewed by selecting a geographical region using an API key, a region, or simply typing a city
Marker clusters are available to consolidate numerous listings in certain areas
Categories and radius search features are available for filtering
There is an option to create unlimited store locator maps with pins and searching capabilities
Random Reviews:
Really helpful devs

Hola! Es muy bueno, solo le falta poder agregar las redes sociales en la info del texto emergente.

Would love to be able to add additional fields for the information that is collected. Would also like to be able to customize the fields.
Some Final Thoughts On How To Select a Google Maps WordPress Plugin
The plugins above are the best around for Google Maps. If you hope to have a better website, just choose one of these plugins to extend your site.
Thanks for reading this selection of the best Google Maps WordPress plugins. I hope you have found an advanced new plugin for your website. We also suggest you check the best WordPress blogging themes.
Please leave your feedback in the comments section. We would love to hear from you. be sure to share this post with your friends.