What are the best WordPress plugins for Google Maps?
We have reviewed a variety of plugins and compiled the best WordPress plugins for Google Maps so that you can find one that suits your needs exactly. In conclusion, these plugins work seamlessly with all the top WordPress themes.
Generally, all of these plugins are for Google Maps. WordPress plugins included in this selection have Interactive Map Plugin, WordPress Google Maps Multiple Locations, WordPress Map Plugin Without API, Simple Google Map Plugin, WordPress Google Maps Widget, Elementor Google Maps Widget, Google Maps Advanced Search, and many others that may be relevant to you.
Now let's check the top 2022 Google Maps plugins for WordPress:
The Most Comprehensive & User-friendly Maps Plugin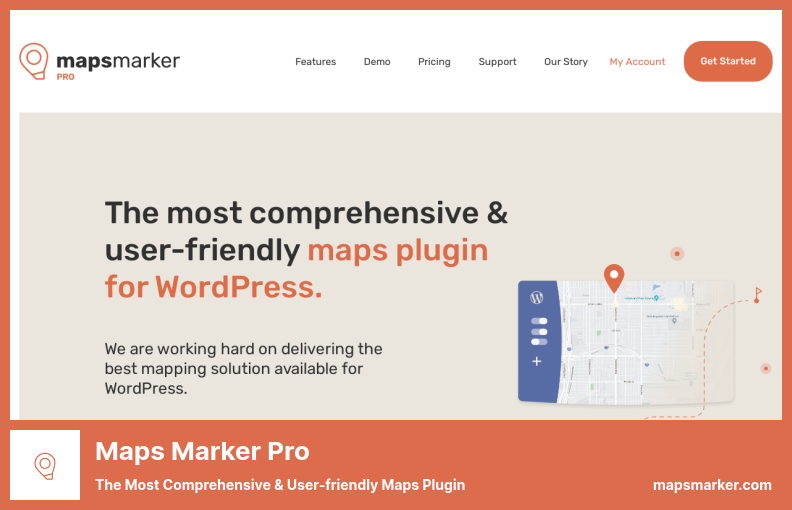 The Maps Marker Pro plugin is one of WordPress's most popular and widely used premium mapping plugins. It is possible to create a wide variety of maps using this plugin.
It is possible to create a map containing several locations and markers of your choice with the help of this plugin.
Further, this WordPress google maps multiple locations plugin allows you to choose between various base maps, such as Google Maps, Bing, Mapbox, OpenStreetMap, and so on.
Additionally, this plugin is capable of creating maps in multiple languages. The plugin is compatible with WPML translation and the Polylang plugin, two of the most popular translation plugins.
Moreover, this plugin allows you to choose between several geocoding providers, including TomTom Geocoding and Google Geocoding, and so on.
It is possible to create animated marker clusters on a map using this plugin. This plugin also allows you to display GPX tracks.
💵 If you buy the plugin for $49, you will also get 12 months of support.
Key Features:
Allows offline sharing of maps through QR codes
A cluster of animated markers can be created for each map
Tracking in GPX format is supported
Date, name, and distance sort markers are provided
A filtering feature makes it easy to navigate the map
Maps can be created in a variety of formats
Adds a Customized Google Map, Map Block or Store Locator
It is possible to integrate Google maps with WordPress with the help of the WP Go Maps plugin. With this plugin, available as a freemium service, you can easily create custom Google maps.
This Google maps advanced search plugin allows you to embed customized Google maps or store locators into your WordPress posts and/or pages using a shortcode.
You may use this plugin to display maps on your contact page, routes, maps showing delivery areas, or any other application you may have in mind.
You can create a Google map with as many markers as you wish with the free version; however, several additional features are available with the Pro version.
With the Elementor map block integration straight out of the box, it is possible to create Elementor Maps, map blocks, and map widgets.
It is also possible to create custom Google maps with the pro version, which includes high-quality markers with descriptions, images, categories, links, and directions for each location.
💵 Lite version is free, whereas the Pro version costs $39.
Key Features:
Adding your map theme is possible
Map markers can be exported/imported as a CSV file
Map markers can be described, linked, and illustrated
Adding categories to a map is possible
Map categories can be filtered in an advanced manner
Random Reviews:
The plugin is amazing for what it does; even when using the Pro version, you can do anything you imagine. Had a problem with my side configuration that Matthew found and resolved in 3 minutes.
Create Interactive Maps With Regions and Coloured Markers
Interactive Geo Maps is another freemium plugin for WordPress that allows you to include interactive Google maps on your website.
While its free version offers some basic map capabilities, the pro version can produce maps with greater engagement.
Furthermore, you can create and display some beautiful maps for free, even if you do not want to purchase the Pro version of the plugin.
Using this interactive map plugin, you can create your first interactive map and display information about your visited countries, travel maps, office locations, representative statistics, or whatever else you can imagine.
This plugin allows you to create an interactive, touch-enabled SVG map and embed it directly into your HTML5 webpage. It supports most modern browsers and mobile devices as well.
Using this plugin, you can create maps that utilize the amCharts visualization library, which provides many different types of maps.
💵 The pro version of the plugin costs $29.
Key Features:
A map of a continent or region can be created
Icon markers can be found in vector format
Maps can be exported as images or PDF files
Markers for custom images can be added
The possibility of adding colored markers is provided
The map center and zoom level can be defined
Random Reviews:
A fantastic plugin that's so easy to use and clean!! The maps look fantastic, and you can customize them so much; I can't wait to use them. The developer, Carlos, was incredibly knowledgeable and quick to respond when I had a few questions. I give this plugin a resounding five stars!!
The Ultimate Maps for WordPress
Mapify offers both a free and a paid version and is widely regarded as the best WordPress mapping plugin available.
The lite version allows you to create standard maps with images, videos, and custom map markers. For more advanced map functions, you can upgrade to the Pro version.
The Pro version of the plugin uses its mapping API, eliminating the need for Google Maps API to display maps on WordPress. However, you won't be concerned about Google's frequent policy changes.
Using this WordPress map plugin without API, you can share every location and its details via social media and improve your SEO since each location is crawled by search engines such as Google and Bing.
Using this plugin, you can make it easier for customers to find your products on your site, showcase a conference, and capture travels in the exact location they are traveling.
💵 Purchasing this plugin costs $19, but downloading it for free is also possible.
Key Features:
Social media sharing is available for map locations
Maps can be enhanced with videos and photos
The map can be enhanced by adding a location directory
Displaying customized map tooltips is possible
Several locations can be clustered together
Tooltips and pop-ups can be styled
Random Reviews:
Recommend. I installed this on my travel blog after trying various map plugins for quite some time. This one does not require a Google Maps API key.

It helps my visitors locate my business addresses easily and gives my pages a better look with the popups. I'll get the Pro version soon!
Create Easy Google Maps in a Minute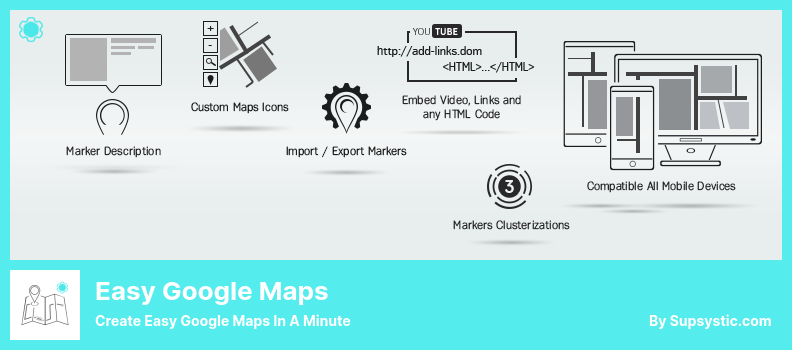 Easy Google Maps, a popular WordPress plugin, makes it simple to create Google maps online. This plugin enables you to create Google maps quickly and easily due to its flexibility and ease of use.
Also, this WordPress Google maps widget is free and paid, so you can determine which is most appropriate for your needs.
It is possible to embed Google Maps with a shortcode, display it as a pop-up or use the widget provided by this plugin.
Using this plugin, you can easily display a beautiful map on your website, allowing your clients to locate you on Google Maps while viewing your webpage.
Through this plugin, you can display the interior pictures of your business in color and pinpoint its precise location.
You may include photos and videos in the description of your Google Map marker so that potential clients can gain a better understanding of the appearance of your restaurant or shop.
💵 The Lite version is free, and the Pro version costs $46.
Key Features:
Google Maps can be customized with colorful skins and beautiful images
Map marker descriptions can include an image, video, email, or phone number
Importing and exporting map markers are flexible
Google maps can be created with map markers and locations
You can add a map with a shortcode or PHP code
Random Reviews:
This plugin isn't bad; there are a lot of settings available. However, it doesn't work when you buy the paid version, and the support doesn't respond; they send an advertisement. The use of traffic information is therefore limited. A time limit cannot be set, nor photos may be placed where the user wants them to be.

Overall, an excellent experience – thanks!
Make a Perfect Map With a Thumbnail & Lightbox
In order to display a map on your home page, footer, or header sidebar, you should add the Maps Widget for Google Maps plugin to your website. Like the Elementor Google maps widget, this plugin can add maps anywhere on your site.
It is also possible to customize the maps by the appearance and design of your website using this plugin.
Since its primary focus is speed and fast loading, this plugin provides fewer features than other maps plugins.
With the Pro version of this simple Google map plugin for WordPress, the interactive Google maps options are displayed within a lightbox or can be used to replace the thumbnail Google map in place.
In the pro version of the plugin, you can embed Google maps into thumbnails and interactive maps and add an unlimited number of markers with custom descriptions.
💵 The plugin comes in a free and premium versions. The pro version costs $29.
Key Features:
A built-in block for the modem WordPress editor is included
Maps can be created in an unlimited number, and pins can be added
Maps can be embedded anywhere on your WordPress website
You can display maps in a lightbox for a better view
There are advanced map customization options available
Random Reviews:
The thumbnail sometimes appears as a broken image, sometimes as a link to a larger map – If I could get this to work…I would love it, but alas, it is difficult.

They have this whole video about how 'EASY' it is to set it up. But it didn't work one bit. Getting an API key doesn't work.
The summary
We checked the best WordPress Google Maps plugins, but you should consider your website priorities. Additionally, you can use them.
📌 Note: We strongly suggest checking our list of expertly selected top WordPress hosting providers to enhance your website's performance. You may also wish to consult our list of best WordPress security plugins to enhance your website's security.
This post helped you decide whether or not to use the Google Maps plugin.
Please tell us what makes your favorite WordPress plugin unique in the comments. You can follow our latest articles on Facebook and Twitter! Please share this post with your friends!