Are you a WordPress website designer looking for the best Visual Composer WordPress themes for 2023? Do you have concerns about finding the right theme that fits your needs? Well, you're in luck!
In this blog post, we will explore the top 12 Visual Composer WordPress themes that are sure to impress and elevate your website design game.
Not only are these themes visually stunning, but they also offer a plethora of features and functionalities that will boost the performance of your website. From customizable layouts to mobile responsiveness, these themes are designed to impress both you and your website visitors.
In this article, we will provide you with an overview of each of these themes, highlighting their unique features, benefits, and potential use cases.
Whether you're looking to create a stunning portfolio website, a professional business site, or an engaging blog, there's a Visual Composer WordPress theme on our list that will meet your specific requirements.
So, without further ado, let's explore these top-notch themes and find the perfect fit for your WordPress website.
Best Visual Composer Themes For WordPress
In this section, we've compiled the 12 best Visual Composer WordPress themes for 2023 that will take your website design to the next level.
Get ready to unleash your creativity and build a website that stands out from the crowd.
Check out these amazing themes and let your imagination soar!
MultiPurpose WordPress Theme with Variant Page Builder Visual Composer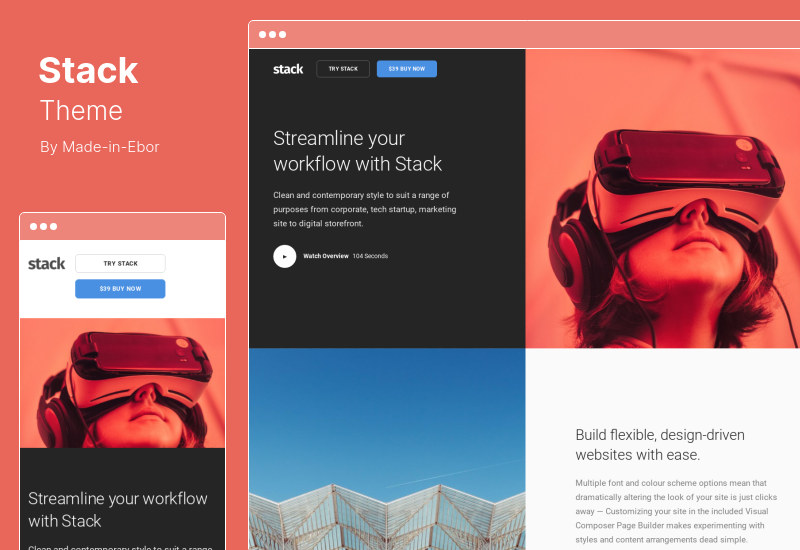 Stack is a Multi-Purpose Variant Page Builder and Visual Composer WordPress theme that is perfect for various types of websites, including business, corporate, education, and event websites.
Whether you're looking to create a real estate or restaurant website with a one-page portfolio and parallax effects or transform your multi-page corporate website into a sleek landing page, this theme has got you covered.
You don't need to worry about customizing the design manually, as each page of the theme comes with a beautiful flourish that adds a touch of elegance to your website.
One of the highlights of Stack is its developer-friendly code, making it easy to customize and tweak the theme to your liking.
The Stack theme also offers different layouts for Masonry, a popular design style that creates a grid-like structure for displaying your content.
Key Features:
Multiple layouts for

Masonry design style
Carousel elements for interactive sliders and carousels
Easy-to-use Visual Composer for effortless page-building
Responsive design for seamless viewing on all devices
SEO-optimized for improved search engine visibility
Integration with popular plugins for added functionality
Dedicated support team for assistance and guidance
A Comprehensive Magazine WordPress Theme
The Voux is a versatile and user-friendly WordPress theme that caters to the needs of diverse websites such as food, personal blogs, newspapers, and travel sites.
With the inclusion of Visual Composer, you can easily customize your website without any coding knowledge. Its responsive and retina-ready design ensures a seamless viewing experience on any device.
This premium WordPress theme offers five distinct homepage styles, allowing you to choose the perfect one for your website. The best part is that you don't need any coding knowledge to get started with this theme.
Not only is The Voux incredibly easy to use, but it also ensures that your website looks great on any device. With its responsive design, your website will adapt seamlessly to various screen sizes, providing an optimal viewing experience for your visitors.
Key Features:
Drag and drop functionality for hassle-free design
No coding required, making it accessible to all
Visual Composer for easy customization
Imported data for a quick start
Fully responsive for a seamless experience on any device
Retina-ready screens for stunning visuals
One Page Parallax WordPress Theme
North is a WordPress theme designed specifically for agencies and creative studios. It boasts an elegant and clean design, making it visually appealing to users.
This theme comes with the popular Visual Composer plugin, which allows for easy customization of the theme to suit individual preferences.
The North is built to be fully responsive, meaning that it will adapt seamlessly to different screen sizes and devices. This ensures that your website will look great and function properly on both desktop and mobile devices.
Another notable feature of North is its compatibility with the Twitter Bootstrap 3.2 framework. This framework provides a solid foundation for the theme, ensuring that it is robust and reliable.
It also supports the use of parallax effects, adding a dynamic element to your website.
Key Features:
Compatibility with

Contact Form 7 plugin

for easy communication with visitors

Fully responsive design for optimal viewing on any device
Multiple Font Awesome icons to enhance your website's visual appeal
Powerful theme customization panel for easy customization
Filtering and isotope portfolios for organizing and showcasing your work
WooCommerce compatibility for creating an online store
Regular updates and dedicated support for a reliable and hassle-free experience
Responsive MultiPurpose WordPress Theme
Total is a powerful and versatile WordPress theme that is perfect for freelancers and professionals who work with a variety of clients.
With Total, you no longer need to spend time searching for a new theme for each client, as it can be used for a wide range of websites, including blogs, businesses, corporate sites, and photography portfolios.
Total also boasts an impressive array of customization options. You can use the WordPress Customizer in combination with the WPBakery Page Builder to create a website that perfectly suits your needs.
Whether you're a small business owner, a wedding planner, a blogger, or a non-profit organization, Total has got you covered.
Key Features:
Simple mega menu

for easy navigation.

Hover effects to add interactivity to your website.
Local scroll option for a smooth scrolling effect.
Responsive design for a seamless browsing experience on any device.
Masonry grids and post carousels for visually appealing content presentation.
Creative MultiPurpose WordPress Theme
Roneous is a Creative Multi-Purpose WordPress theme that caters to agencies, portfolio layouts, shops, and various other websites. With a plethora of unique features, Roneous ensures that your site will stand out from the competition.
This theme is incredibly versatile, allowing you to create a website for any purpose, whether it be for business, personal, or educational use.
One of the notable advantages of Roneous is its inclusion of Visual Composer and Slider Revolution. Additionally, Roneous seamlessly integrates with other popular plugins like WooCommerce, WPML, and Contact Form 7, allowing for a seamless user experience.
Roneous also provides 12 stunning blog pages, giving you plenty of options to present your blog posts.
Furthermore, Roneous includes the latest Google Web Fonts, giving you access to a wide variety of font options for your visual elements.
Key Features:
Custom post types for showcasing diverse content.
12 stunning blog page designs.
Integration with Google Web Fonts for stylish typography.
Ability to translate the website with WPML compatibility.
Customizable font options for visual elements.
Building Business Renovation WordPress Theme
Construction is an impressive WordPress theme designed specifically for building business and renovation websites. It's perfect for architecture firms, construction companies, and even mechanics looking to create a professional online presence.
With its user-friendly drag-and-drop page builder, Visual Composer, you have complete freedom to customize, edit, and modify your web pages to suit your needs.
No coding or technical skills are required, making it accessible for beginners and experienced users alike. You'll have your new website up and running in no time.
In addition to its user-friendly interface, Construction offers a range of features that enhance the functionality and aesthetics of your website. The theme also includes widgets in the bottom footer, adding an extra level of customization.
With approximately 700 Google Fonts to choose from, you can easily customize the typography and make your website stand out.
Key Features:
Customizable widgets in the bottom footer
Clean and commented code for optimal performance
Video and Parallax Backgrounds add captivating visual elements
Unlimited number of sidebars
Approximately 700 Google Fonts to choose from
MultiPurpose Responsive WordPress Theme
Navian is a WordPress theme that boasts the powerful WPBakery Page Builder, allowing you to easily customize and personalize the look of your website. With this theme, you can create stunning websites that perfectly reflect your preferences and style.
Navian has a professional and versatile design that can cater to any type of business or personal website. Whether you're running a blog, a magazine site, a corporate site, or a photography portfolio, Navian has got you covered.
Another advantage of Navian is its compatibility with all major web browsers. This ensures that your website will display correctly and function smoothly for all visitors, regardless of the browser they're using.
Navian also offers a variety of perfect portfolio layouts, making it easy to showcase your work or products in a visually appealing and professional manner.
You can easily share your content or connect with your audience through popular social media platforms, helping to increase your online presence.
Medical Center WordPress Theme
Medin is a Medical Center WordPress theme that caters to a variety of healthcare websites such as health clinics, ophthalmology centers, and hospitals.
With its fully responsive and retina-ready design, this theme ensures that your website looks great on all devices, including smartphones and tablets.
One standout feature of Medin is its choice of seven different layouts, including Weight Loss, Laboratory, Skin Surgery, Dentist Clinics, Ophthalmology, and Landing Page. This variety allows you to choose the layout that best suits your medical practice or clinic.
With Medin, you also have the option to customize the color scheme of your website, ensuring that it matches your branding and creates a cohesive look.
Additionally, Medin is compatible with the free WordPress Live Chat plugin, enabling you to provide live support and engage with your website visitors.
Key Features:
Compatible with Gutenberg for user-friendly content editing.
Integration with the free WordPress Live Chat plugin for live support.
Custom pages for showcasing services, doctors' profiles, testimonials, and more.
7 homepage layouts to choose from.
Multiple color schemes available for customization.
Visual composer for easy page creation and customization.
MultiPurpose WordPress Theme with Page Builder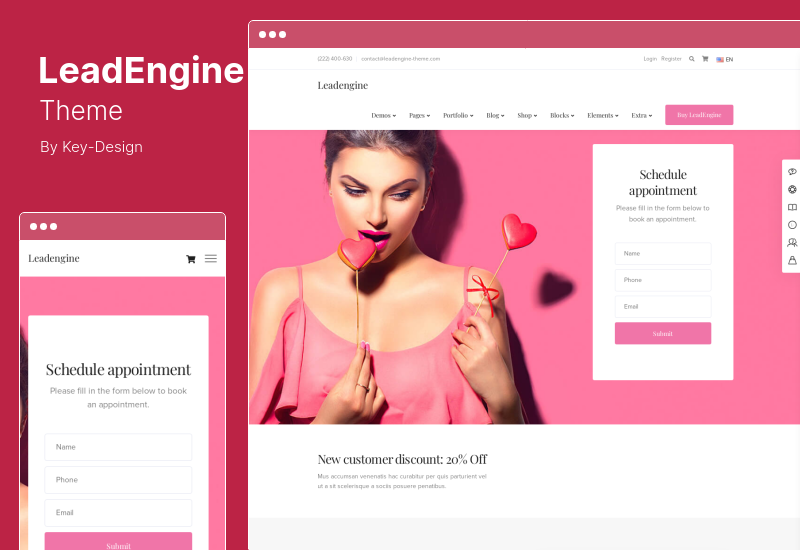 LeadEngine is a powerful Multi-Purpose theme that is perfect for app landing pages, businesses, creative agencies, Life Coaches, marketing agencies, and websites.
It provides an intuitive drag and drop feature that allows you to easily build a stunning website without any coding knowledge.
Whether you need a beautiful portfolio section, an engaging blog, or a captivating contact page, LeadEngine has got you covered.
The theme offers a range of tools and features that help you reach your intended audience quickly and effectively.
Additionally, LeadEngine offers an interactive Lightbox gallery, allowing you to showcase your images and videos in a visually appealing and engaging way.
Key Features:
Support for all major web browsers
Interactive Lightbox gallery
Excellent typography options
Over 40 custom elements in WPBakery Page Builder
Easy drag-and-drop interface
Extensive library of pre-designed blocks
Suitable for various industries and niches
No coding required
Price Comparison, Multi Vendor Marketplace WordPress Theme
REHub is a Multi-Vendor Marketplace WordPress theme that brings together the latest SEO trends and advanced features to create a unique website.
It caters to various business models and allows you to configure different components independently or as a whole.
This theme includes an Advanced Product Filtering panel, which allows users to easily find the products they're looking for. It also offers responsive comparison charts, making it effortless for visitors to compare different options.
Coupon enthusiasts will appreciate the several coupon functions available in REHub. You can showcase and promote discount codes, deals, and special offers effortlessly.
When it comes to eCommerce, REHub has you covered. It offers five different WooCommerce design layouts, enabling you to create a visually appealing online store.
Key Features:
Advanced Product Filtering panel
Responsive comparison charts
Unique Gutenberg modules
Multiple coupon functions
Five WooCommerce design layouts
MultiConcept Business, Shop, OnePage, Blog WordPress Theme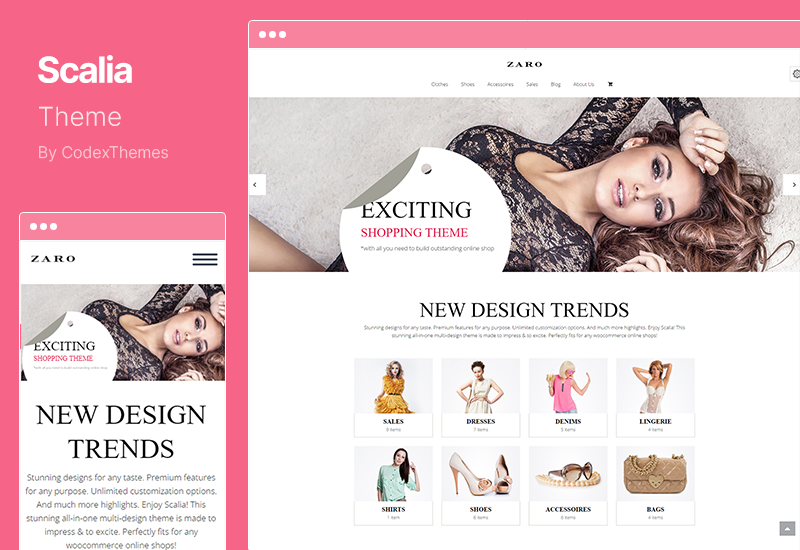 Scalia is a powerful WordPress theme that offers a range of features to enhance your website.
With over 150 pre-existing page templates, you can easily create and publish pages using the WPBakery page-building tool.
Whether you're a corporate, photography site, portfolio, or WooCommerce website, this multi-concept theme has got you covered.
One of the standout features of Scalia is the Font Manager, which gives you unlimited font options to choose from. This allows you to create a unique and personalized look for your website.
Additionally, Scalia seamlessly integrates with WooCommerce, making it easy to set up an online store and start selling your products.
Key Features:
Video Blog Items for seamless integration of video content into your blog.
Unlimited font selections with the Font Manager.
Seamless integration with WooCommerce for easy online store setup.
Four different hover styles to enhance interactivity.
Multiple portfolio types per item for versatile showcasing of your work.
Various hover types for further customization options.
Frequently Asked Questions
What is Visual Composer?
Visual Composer is a popular plugin for WordPress that allows users to easily create and customize website layouts. It provides a drag-and-drop interface, making it simple for beginners to design their websites without any coding knowledge.
Why should I use Visual Composer WordPress themes?
Using Visual Composer WordPress themes can greatly simplify the process of building a website.

With its intuitive interface and pre-designed templates, you can quickly create professional-looking websites without hiring a developer.

It offers flexibility, customization options, and saves you time and money.
How do I choose the best Visual Composer WordPress theme?
To choose the best Visual Composer WordPress theme, consider your website's purpose, design preferences, and desired features.

Look for themes that offer the specific functionalities you need, responsive design, regular updates, good customer support, and positive user reviews.

It's also helpful to explore demos and read documentation before making a decision.
Conclusion
In conclusion, we have explored the 12 best Visual Composer WordPress themes for 2023, discussing their unique features and benefits.
Whether you're a professional website designer or someone looking to enhance their WordPress site, these themes offer flexibility and customization options to suit your needs.
If you're hungry for more tutorials and in-depth guides, make sure to check out the BetterStudio blog. We regularly update it with the latest tips, tricks, and insights to help you make the most out of your WordPress experience.
To stay up-to-date with our latest tutorials and resources, be sure to follow BetterStudio on Facebook and Twitter.
We appreciate you taking the time to read our article, and we hope you found it helpful in your quest for the perfect Visual Composer WordPress theme.
If you have any questions or face any challenges while implementing the tips and recommendations we've shared, feel free to ask in the comment section below. We're here to assist you every step of the way!