Are you a WordPress website owner looking to enhance your site's functionality with Excel spreadsheet plugins? Look no further! In this blog post, we'll be exploring the six best WordPress Excel spreadsheet plugins, both free and pro versions, to help you find the perfect fit for your website.
If you're wondering why I even need to use an Excel spreadsheet plugin in conjunction with my WordPress website, here's why: I enjoy creating spreadsheets in an Excel document.
With these plugins, you can seamlessly integrate Excel-like features into your website, allowing you to create and manage dynamic spreadsheets, analyze data, and present information in a visually appealing way.
In this article, we'll dive into the top WordPress Excel spreadsheet plugins, providing you with all the information you need to make an informed decision.
Whether you're a small business owner, a blogger, or an eCommerce site owner, these plugins can greatly enhance your website's functionality and overall user experience. So let's get started and find the perfect Excel spreadsheet plugin for your WordPress site!
Best Excel Spreadsheet Plugins for WordPress
There is a powerful Excel spreadsheet plugin that you can add to your WordPress website if you are looking for powerful spreadsheet functionality!
In this article, we'll introduce you to the best Excel spreadsheet plugins for WordPress, both free and pro versions, that will revolutionize the way you manage your data. So, let's dive in and explore these amazing plugins!
Allows You to Import Live, Calculating Spreadsheets From Microsoft Excel
The Import Spreadsheets from the Microsoft Excel plugin is a game-changer for WordPress website owners who need to work with Excel spreadsheets. This powerful plugin allows you to import and load spreadsheets with live calculations directly from Excel, without any hassle.
Unlike an Excel compiler, this plugin takes your Excel spreadsheet and creates a live, web-based spreadsheet using HTML and JavaScript. This means that you can create and edit spreadsheets right within your WordPress website, without having to rely on Excel or any other external software.
Getting web applications done with this plugin is one of the best things about it. You can make a price calculator, a financial calculator, a health calculator, or even a graph with this plugin. Your Excel spreadsheet can be transformed into a user-friendly web app with just a few clicks.
This plugin requires the Spreadsheet-Converter add-in for Excel to work. You can convert Excel work into a web format and import it with the Import Spreadsheets plugin with this add-in, which works with Excel 2007 and later editions. It's easy to set up and the plugin gives you clear instructions on how to do it.
One of the standout features of this plugin is the automatic data verification through a web form. This means that you can ensure the accuracy and validity of the data entered into your spreadsheet.
As an added bonus, you will have access to all of the wonderful features of Excel right from your WordPress website, including its powerful formulas and functions, all of which are included in the software package.
Key Features:
Create shared forms
Import calculating-spreadsheets
Create web apps
Spreadsheets available in Excel and other formats
Automate the data validation process.
WP Table Builder is a plugin that allows you to create responsive tables on your WordPress website with ease. It offers a range of features to make table creation more accessible and user-friendly. The plugin is available for free in the WordPress repository, but there is also a paid version with additional helpful features.
One of the standout features of the plugin is its ability to import CSV and XML files into your WordPress website and display them as tables. Whether you have a single file or multiple files to import, this plugin can handle it.
If you already have tables created with the TablePress plugin, it is easy to import them into this plugin, so it is very convenient if you already have tables created with that plugin.
Not only does the plugin make importing easy, but it also makes exporting a breeze. You can export CSV/XML files from the plugin, which is useful if you want to use them on another website or share them with others.
The plugin also offers a range of customization options to make your tables look and function exactly how you want them to. With no limit on the number of tables you can add to a page using shortcodes, you have the flexibility to organize and present your data in the most effective way.
The drag-and-drop editor makes table creation a simple and intuitive process. You can easily add, delete, and rearrange rows and columns to customize your table layout. The plugin is also compatible with the Gutenberg editor, ensuring a seamless experience.
Key Features:
Unlimited tables using shortcodes
Drag-and-drop editor for easy customization
Compatibility with the Gutenberg editor
Sophisticated customization options
Simple importing and exporting.
Best WP DataTables Plugin for WordPress
Ninja Tables is a powerful WordPress plugin that allows you to create advanced data tables with ease. Whether you need to display pricing plans, product specifications, or any type of data, this plugin has got you covered.
One of the standout features of the plugin is its ability to create front-end table styles using the most advanced tools like Footables, Bootstrap 3, Bootstrap 4, Symmetric UI, and more. This means that you can customize the look and feel of your tables to match your website's design seamlessly.
Another great feature is the ability to import data from CSV and JSON files. If you have a lot of data stored in spreadsheets, you can easily bring it into the plugin and have it displayed on your website. Plus, if you make any changes to the spreadsheet, the plugin will automatically update the table on your site.
One of the most impressive things about the plugin is its performance. Even if you have thousands of rows of data, this plugin will not slow down your website. It is optimized to handle large data sets without any issues, ensuring that your site remains fast and responsive.
The Conditional Column Formatting feature is another handy tool offered by Ninja Tables. With this feature, you can create custom tables based on the conditions you apply to each column.
You can also highlight specific rows, columns, and cells based on predefined rules. This allows you to make your tables more dynamic and visually appealing.
Key Features:
Integration with

Google Sheets and Google Drive

for easy data management

Integration with WooCommerce for seamless e-commerce integration
Drag and drop functionality for easy column and row management.
Customizable column formatting for visually appealing tables
Sidebar option for viewing WordPress posts without leaving the table
Allows You to Easily Create and Manage Beautiful Tables
TablePress is a popular table plugin for WordPress that allows you to effortlessly import and export tables from various file formats, including Excel, CSV, HTML, and JSON. It even comes with free extensions to enhance its functionalities. The best part is that all these extensions are completely free of charge.
One of the standout features of the plugin is its ability to modify the style of the table, giving it a more modern look. This can be done by simply inputting CSS commands into the "Custom CSS" box in the plugin's options screen. No coding skills are required!
With this plugin, you can add a variety of features to your tables, such as sorting, pagination, filtering, alternating rows' colors, highlighting rows, and even printing names or descriptions.
All you need to do is select the appropriate boxes on the edit screen. It's like having a spreadsheet interface to edit your tables without the need for any coding.
Not only is the plugin easy to use, but it also provides support for a wide range of file formats. Whether you're working with Excel spreadsheets, CSV files, HTML tables, or JSON data, it has got you covered. You can import and export your tables seamlessly, making it a versatile plugin for any WordPress website owner.
Besides being easy to use and supporting a bunch of file formats, it's got a powerful editor as well. No matter what you're doing, you can add or delete rows and columns, modify cell contents, or reorganize your tables with ease. With the editor, you can control your tables and keep them organized.
To summarize, it is a must-have plugin for WordPress website owners looking to create and manage beautiful tables. With its easy-to-use interface, support for multiple file formats, and a range of customizable features, TablePress simplifies the process of creating and editing tables on your website or blog posts.
Key Features:
Shortcode is supported
Wide range of file format compatibility
Powerful editor for table customization
Extensions to enhance functionalities
Modern styling options
Sorting, pagination, and filtering capabilities.
an Ipushpull WordPress Plugin
Live Updates From Excel is a powerful WordPress plugin that allows you to easily display Excel data on your website and show live data updates from the spreadsheet.
With just a few lines of code, you can upload and display data on your site, making it perfect for displaying live scores for each sport, tracking data updates, and more.
To start using the plugin, simply download it and select the data you want to upload to the server. Then, install the plugin on your WordPress site and allow it to extract the data from your spreadsheet and insert it into your posts and pages using shortcodes. It's as simple as that!
You'll know that this plugin updates data in real time, which is one of its greatest features. The data on your site will always be updated, whether you update it yourself or someone else does. Your site won't need to be refreshed if you change the spreadsheet yourself or someone else does.
In addition to real-time updates, the plugin offers a range of other useful features. You can password-protect your data to ensure it's secure and only accessible to authorized users. The plugin also includes a WP Shortcode Generator, which makes it easy to generate shortcodes for embedding your data into your site.
If you're looking to visualize your data, the plugin also includes Excel charts that you can use to create visually appealing and informative displays. And if you want to stay informed of changes in your data, Live Updates From Excel allows you to receive real-time updates directly to your dashboard or email notifications.
Key Features:
Password protection feature for secure data access
WP Shortcode Generator for easy shortcode creation
Drag-and-drop functionality for embedding data in Excel
Excel charts for visualizing data
Real-time updates to keep your data current.
a Table Plugin That You Can Use to Create Sortable and Responsive Tables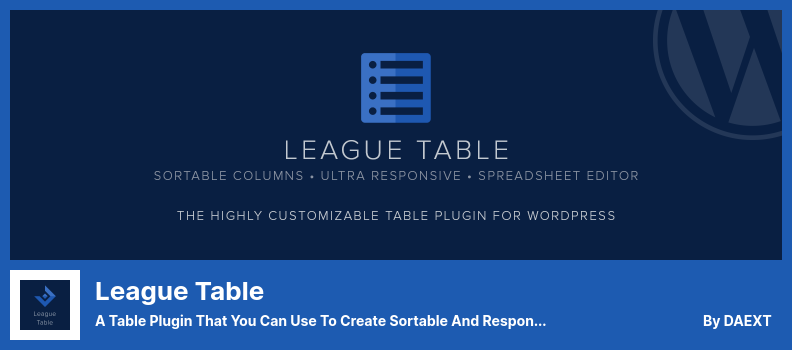 With League Table, you can create and customize tables for your website easily. Although it was originally designed for sports sites, it's versatile enough to work on any type of site. The plugin's straightforward editor lets users create tables in just a few clicks.
One of the standout features of the plugin is its ability to produce tables with automatic or fixed layouts. Users have the option to set the table width and adjust the spacing between individual columns, giving them complete control over the appearance of their tables.
Creating a table using this plugin is a breeze. Users can simply copy and paste information from popular spreadsheet editors like Microsoft Excel, OpenOffice, or Google Sheets directly into the plugin's editor. In under 30 seconds, the table can be created and published on the website.
Customization is key with the plugin. It offers over 135 options for users to customize their tables. Users can choose custom colors, fonts, and borders to match their website's design.
The plugin also provides responsive layouts, ensuring that the tables look great on any device. Additionally, users can adjust the size of the cells and add shortcodes to their tables for further functionality.
In terms of features, the plugin has several noteworthy ones. It supports multiple sites, allowing users to use the plugin across different websites. It also offers a variety of sorting methods for columns, giving users flexibility in organizing their data.
Additionally, League Table supports multilingual functionality, making it accessible to a global audience. Users can also make use of shortcodes to further enhance the functionality of their tables.
Key Features:
Variety of sorting methods
Multilingual functionality is provided
Shortcode compatibility is supported
Intuitive spreadsheet creation.
Frequently Asked Questions
What features should I look for in a WordPress Excel spreadsheet plugin?
When choosing a WordPress Excel spreadsheet plugin, look for features such as easy integration with Excel files, customizable table styles, responsive design, sorting and filtering options, formula support, data importing and exporting capabilities, and compatibility with popular themes and page builders.
What are the advantages of using WordPress Excel spreadsheet plugins?
Using WordPress Excel spreadsheet plugins allows you to easily create and manage dynamic and interactive tables on your website.
These plugins make it simple to import and display data from Excel files, apply custom styling to tables, and provide sorting, filtering, and search functionality. They also offer compatibility with different devices and screen sizes, ensuring a seamless user experience.
Can I use these plugins to create interactive Excel spreadsheets on my WordPress site?
Yes, many of these plugins offer features that allow you to create interactive Excel spreadsheets on your WordPress site. You can add formulas, sorting options, filtering options, and even allow users to edit the data directly on the website.
Conclusion
To sum up, in this article, we've discussed the six best WordPress Excel spreadsheet plugins, both free and pro options. We've explored their features, benefits, and how they can enhance your website's functionality.
If you're interested in learning more about WordPress and related tutorials, be sure to check out the BetterStudio blog. They have a wealth of informative articles and guides that can help you make the most of your WordPress website.
For the latest updates and tutorials, make sure to follow BetterStudio on Facebook and Twitter. They regularly share valuable content that can further enhance your WordPress experience.
Thank you for taking the time to read this article. If you have any questions or need further assistance with any aspect of the article, please don't hesitate to leave a comment below. We're here to help you get the most out of your WordPress website.