Are you a WordPress website owner looking for the best funnel builder plugins? Look no further! In this blog post, we'll be sharing the eight best WordPress funnel builder plugins, both free and pro, to help you optimize your website and drive more conversions.
Now, you might be wondering, why do I even need a funnel builder plugin? Well, here's a staggering fact: businesses with a well-defined funnel experience a 120% higher customer retention rate. That's right, implementing a funnel strategy can make a significant impact on your bottom line.
In this article, we'll dive into the top WordPress funnel builder plugins available in the market, their features, pros and cons, and ultimately help you choose the best plugin that meets your business needs. So, let's get started and supercharge your website's conversion rates!
Best Funnel Builder Plugins for WordPress
If you are looking to streamline your WordPress website's conversion process, look no further than these top-rated funnel builder plugins for WordPress.
Discover how these powerful tools can optimize your sales and lead generation efforts, starting with the best options we've hand-picked for you. Stay tuned to find the perfect fit for your website needs!
Landing Page Builder & Funnel Builder For WordPress
Optimize Press is a popular WordPress plugin that is designed to help online business owners maximize their sales without the need for additional tools. With its practical tools and features, the plugin allows users to create effective sales funnels right within their WordPress site.
One of the standout features of the plugin is its strong support team. Whenever you have questions or run into any issues, you can reach out to their support team via email and they will promptly assist you.
When it comes to optimizing WordPress conversion rates, the plugin offers a range of unique features. Users can customize their sales pages, add countdown timers to create a sense of urgency, embed videos to engage visitors, and add buttons to encourage action.
Additionally, the plugin provides GDPR-compliant landing page templates with select two-step forms, ensuring compliance with data protection regulations.
Another valuable feature of it is its free and lightning-fast product marketing theme. Users can easily create stunning landing pages to promote their products or services. The plugin also includes a payment plugin that securely stores buyer information, handles taxes, and allows for custom sales and the use of coupons.
Optimize Press goes beyond just capturing leads. It allows users to integrate email and CRM services to nurture leads and turn them into actual customers. With this plugin, you can create different funnels for different occasions, whether it's for running coupon campaigns, hosting webinars, or launching new products.
Key Features:
Customizable sales pages, countdown timers, videos, etc.
Integration of email and CRM services to convert visitors into customers
GDPR-compliant landing page templates with select two-step forms
The free and fast product marketing theme
Secure payment plugin for storing buyer information, tax details, coupons, etc.
Funnel Builder for WordPress
The Woofunnels plugin lets you build sales funnels for WooCommerce stores with a few drag-and-drops. You can create even more powerful and functional page builders with your WordPress site with this plugin. It's a great way to increase your revenue and customer base.
You can track how long your customers spend in your store and how many items they buy. That's one of the best features of the plugin. In the end, this data is invaluable since it lets you automate certain things, like sending discount coupons to customers based on their behavior.
When it comes to payments, it offers the most flexible and robust payment field for users. You can customize your payment options to fit your specific needs and provide a seamless checkout experience for your customers.
Another great feature of the plugin is its ability to create branded emails and send them to visitors. This creates a direct line of communication between you and potential customers, allowing you to build a relationship and nurture leads.
Additionally, the pugin provides detailed analyses of your funnel's performance, giving you actionable insights to optimize your funnel and increase conversions.
To make your pages even more visually appealing and engaging, it offers attractive themes that are sure to grab visitors' attention. These themes have been designed to significantly impact visitor attraction and increase engagement.
Lastly, Woofunnels includes a CRM builder feature that allows you to segment customers into different lists. This enables you to send targeted messages to specific customer groups, increasing the effectiveness of your marketing campaigns.
Key Features:
Integration with other page builder plugins
Creating branded emails and sending them to visitors
Categorizing customers into different lists for targeted messages
Analyzing every movement by customers on your website
Flexible and robust payment field.
LeadPages Publisher For WordPress
Leadpages is a WordPress plugin that allows you to easily create high-converting websites that turn visitors into buyers. With its simple drag-and-drop interface, you can create stunning landing pages and funnels in no time.
One of the standout features of the plugin is its powerful analytic tools for landing pages. These tools provide valuable insights into your visitors' behavior, allowing you to optimize your website for maximum conversions and sales. It's like having your own personal data analyst right at your fingertips.
The plugin has analytics, but it also has a bunch of other tools for boosting your business. It lets you build login tabs, warning bars, and pop-ups, so you can drive traffic and engagement. You can also integrate the plugin with your email service provider, so lead capture and nurturing gets easier.
But the plugin doesn't stop there. It can also be seamlessly integrated with major payment gateways, CRMs, and analytics software like Google Analytics. This means you can track your sales, manage customer relationships, and analyze your data all in one place.
For small businesses looking to grow their online sales, Leadpages is a game-changer. It streamlines the checkout process, ensures quick receipt delivery, and even supports recurring payments. It truly is one of the most powerful plugins for creating landing pages and funnels in the WordPress environment.
Key Features:
Powerful analytic tools for landing pages
Integration with major payment gateways, CRMs, and analytics software
Creation of landing pages connected to your site's email service provider
Ability to create login tabs, warning bars, and pop-ups
Time-based text pops for optimal visitor engagement
Streamlined checkout processing.
Page & Funnel Builder For WordPress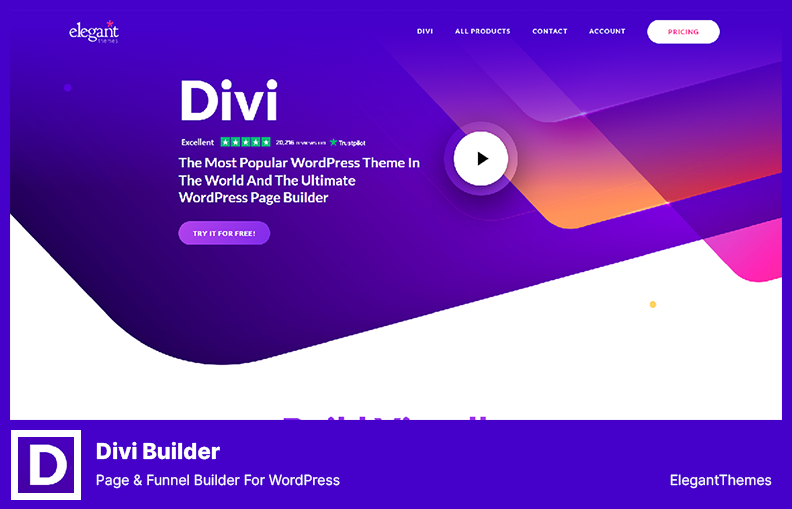 Divi Builder is a WordPress plugin that offers a wide range of modules and templates to enhance your website's design and functionality. With over 800 pre-designed templates and 100 web packages, you can easily create an attractive and user-friendly environment for your site.
The plugin eliminates the need for other plugins, which is one of its best features. You don't have to look for and install multiple plugins, because it already has opt-in forms, contact forms, pricing tables, testimonials, sliders, shortcodes, social media buttons, and interactive Google maps built in.
The customization options available with the pluin are extensive. You can easily tailor the advanced tools to match your site design and context. This level of customization allows you to create unique pages that resonate with your brand and audience.
One particularly powerful feature of the plugin is its mass editing capability. This feature makes it easy to create landing pages by allowing you to make simultaneous changes to multiple pages. It saves you the hassle of individually editing each page, giving you more time to focus on other important aspects of your website.
Another advantage of the plugin is its live design feature, where you can see your changes in real-time using the Visual Editor. This allows you to experiment and fine-tune your pages until they meet your exact specifications. It provides a seamless and intuitive editing experience.
In terms of performance, the plugin ensures fast loading times, which is essential for user experience. It also offers plenty of possibilities for customization, allowing you to create unique pages that stand out from the competition.
To add even more features to this already powerful builder, you can explore the best Divi builder extensions in our article. These extensions further enhance the functionality and versatility of the plugin, providing you with additional tools to create a standout website.
Key Features:
Simply drag and drop contact forms, pricing tables, etc.
Modules to add slideshows, headings, and other elements.
Landing pages with mass editing capabilities
Integrating different forms in one plugin
Marketing Toolkit For WordPress
Using the OpinMonster WordPress plugin, you can easily create popups and funnels. It has multiple campaign launches so you can get more visitors and convert more. It offers email support from 18 service providers, so you can keep in touch with your customers effectively.
One of the key features of the plugin is its pop-up campaigns, which are crucial for boosting your website's conversion rate and sales. These campaigns are available in 9 different categories and can be customized to suit your unique sales goals. They provide a great starting point for your marketing efforts.
Another standout feature of the plugin is its exit-intent functionality, which helps convert outbound traffic into regular subscribers. This feature allows you to capture the attention of visitors who are about to leave your site and turn them into loyal subscribers.
The plugin also includes a Drag & Drop pop-up builder, giving you full control over your pages and allowing you to customize them according to your site's needs.
OptinMonster offers a wide range of pre-designed templates, including the popular canvas template, which allows you to create a completely unique and eye-catching design.
Key Features:
Convert outbound traffic into regular subscribers with the exit-intent feature
Customize pre-designed campaigns from 9 different categories
Use campaign launches to build effective marketing campaigns
Interact with customers through various email providers
Get started quickly with pre-designed templates.
Page Builder Plugin For WordPress
The Beaver Builder plugin allows you to easily create and customize the layout of your WordPress website. With just a few clicks, you can create squeeze, sales, payment, and webinar pages in a sales funnel. It offers a range of powerful features, making it an excellent tool for increasing your sales.
One of the key advantages of the plugin is its simplicity and speed. Even if you have little to no experience with website design, you can quickly and efficiently create landing pages and funnels. Plus, you can enhance the functionality of Beaver Builder by exploring the best add-ons available for it.
With 12 pre-designed homepages and 11 internal page layouts, the plugin offers a multitude of options for creating diverse and visually appealing sites.
You can easily personalize your website by adding various elements such as titles, various maps, contact forms, buttons, sliders, and more. This flexibility allows you to create a website that perfectly suits your taste and meets your needs.
In addition, the plugin provides several modules that effectively design each page of your site. This means you can easily integrate different features and functionalities without any hassle.
Being able to use the software on multiple websites without paying for separate licenses is another significant advantage of Beaver Builder. This enables you to save money while still having access to all the features and tools it offers.
Key Features:
12 pre-designed homepages and 11 internal page layouts
Create titles, maps, contact forms, buttons, sliders, and more
Ability to create various types of pages
Use on multiple websites without paying for separate licenses
Offers several modules for effective page design.
Landing Page Builder Plugin
Kartra is a versatile plugin that offers a wide range of features to help you start, create, and grow your online business. With over 100 pre-designed templates, you can easily choose a funnel or advertising campaign that suits your needs or create your own.
This plugin also provides intelligent lead management, allowing you to tag leads, score them, track transaction history, and handle emails and support tickets efficiently.
One of the standout features of the plugin is its deep learning experiences and structured lessons. Whether you prefer text, video, or audio content, this plugin has you covered. You can create drip content to deliver information to your audience at the right time, increasing engagement and conversion rates.
The plugin also includes support solutions like live chat, canned responses, multi-agent collaboration, and departmental ticketing to provide excellent customer service.
Another impressive aspect of the plugin is its email marketing solution. It offers behavior-driven automation, allowing you to send targeted emails based on your customers' actions.
You can create custom tags, use flexible templates, and set up multiple trigger rules to ensure your email campaigns are effective. Additionally, the plugin provides SMS functionality for those who prefer text messaging as a communication channel.
Key Features:
One-click transactions with purchase tags for increased sales
Funnel maker and sales funnel maker for the streamlined design
Web host services for seamless website management
Automation design for efficient processes.
Intelligent lead management with tagging and scoring
Templates and behavior-driven automation for email marketing
Drag & Drop Funnel Builder For WordPress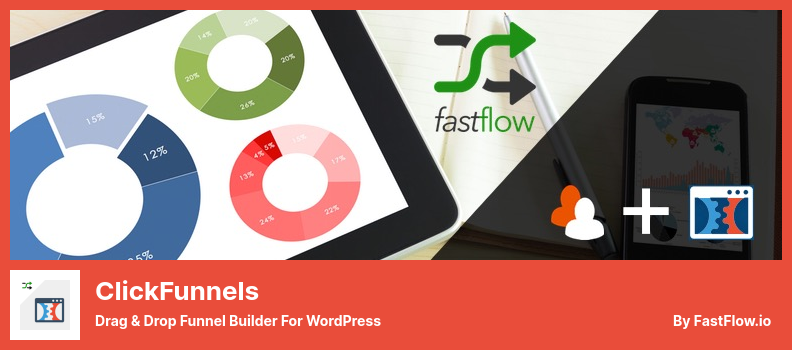 ClickFunnels is a powerful plugin that allows you to create sales funnels and pages with ease. With its Follow-Up Funnels feature, you can send targeted messages to your list of potential customers, increasing your chances of converting them into buyers.
A great thing about it is that you don't have to limit how many funnels and pages you can make. With the plugin, you can make as many as you want, so you have endless possibilities for marketing campaigns. It also includes over 30 landing page templates.
With thousands of users worldwide, this plugin has increased sales and ROI by getting people more engaged. Also, you'll have everything you need for automated email marketing, Facebook marketing, and more. With convenient tools and features, digital marketers will have an easier time.
One of the standout features of the plugin is its collection of over 26 pre-designed funnels. These funnels play a significant role in the growth and development of your business, as they are optimized for conversions and customer acquisition.
Whether you're a beginner or an experienced marketer, ClickFunnels is designed to make the process of building sales funnels on WordPress websites easy and enjoyable.
Key Features:
Offers over 30 landing page templates
Provides efficient tools for automated email marketing and Facebook marketing
Allows you to create funnels and pages without any limitations
Includes the Follow-Up Funnels feature to send targeted messages
Provides over 26 pre-designed funnels for business growth and development.
Frequently Asked Questions
What are funnel builder plugins for WordPress?
Funnel builder plugins for WordPress are tools that help users create and optimize sales funnels on their WordPress websites. These plugins provide a user-friendly interface and a range of features to guide users in building effective sales funnels, from lead capture to conversion.

They often offer drag-and-drop editors, landing page templates, email marketing integration, and analytics to track funnel performance.
Why should I use funnel builder plugins for my WordPress website?
Funnel builder plugins can greatly benefit your WordPress website by helping you optimize your sales process and improve conversion rates.

With these plugins, you can easily create attractive and high-converting landing pages, capture leads, automate email marketing campaigns, and track the performance of your sales funnels.

They provide a comprehensive solution for driving more leads and sales, saving you time and effort in building and managing your funnels.
What features should I look for in WordPress funnel builder plugins?
When choosing a WordPress funnel builder plugin, there are several key features to consider. Firstly, look for a plugin with a drag-and-drop builder interface, as this will make it easy to customize your sales funnels without any coding.

Additionally, consider the availability of pre-designed templates that you can use as a starting point. Split testing capabilities are also important, as they enable you to optimize your funnels for better performance.

Integration with popular email marketing services is another crucial feature to look for, as it allows you to seamlessly connect your funnels with your email marketing campaigns.
Conclusion
We've talked about eight WordPress funnel builder plugins, including free and paid ones. We looked at their features, pricing, and how they can help you convert more customers. I hope this article has helped you make a decision based on valuable insights.
If you are interested in exploring more tutorials related to WordPress and website optimization, we recommend checking out the BetterStudio blog. They provide a wide range of informative and helpful articles that can further enhance your website-building journey.
To stay updated with the latest tutorials and tips, I encourage you to follow BetterStudio on Facebook and Twitter. By doing so, you'll be the first to know about their new content releases and stay ahead of the game in the world of WordPress.
In conclusion, we'd like to thank you for reading this article. Thanks for being a supporter. Please don't hesitate to leave a comment below if you have any questions or encounter any problems implementing the suggestions mentioned in this article. We'd love to help you get there. Happy website building!