Are you a WordPress website owner looking for ways to improve efficiency and automate certain tasks on your site? Well, look no further! In this blog post, we will explore the 5 best WordPress automation tools and plugins for 2023, both free and pro options.
Now, you might be wondering, why would I need automation tools and plugins for my WordPress website. The answer is simple: to save time and streamline your workflow. With the right tools, you can automate repetitive tasks, optimize your site's performance, and enhance the overall user experience.
In this article, we'll dive into the top automation tools and plugins available for WordPress in 2023. We'll discuss their features, benefits, and how they can help you take your website to the next level. So, without further ado, let's jump right in and explore the exciting world of WordPress automation!
Best Automation Tools and Plugins for WordPress
Looking to streamline your WordPress website with automation? Check out these top-rated tools and plugins for 2023 that can save you time and effort.
The #1 No-Code Automation Plugin for WordPress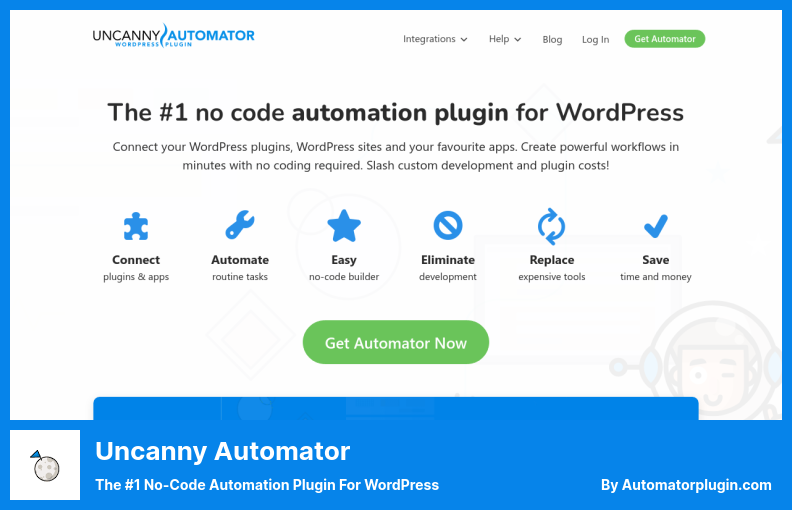 Uncanny Automator, the most effective application for automating your business, allows you to connect various applications and plugins without any coding.
With both Lite and Pro versions available, you can start with the free edition and upgrade for more advanced features. The only drawback is the slightly high price.
You have complete control over what triggers your automation, whether it's a page check, course completion, form submission, or webhook information.
You can add users to a membership system, change their roles, and even send data to Google Sheets or other applications. The possibilities are endless.
What sets Uncanny Automator apart is its compatibility with over sixty WordPress plugins and third-party applications. This means you can automate tasks like posting, managing your site, and more. It's a game-changer for improving efficiency and streamlining your WordPress website.
Key Features:
Seamless integration with popular apps like Zoom, Google services, and Mailchimp.
Delay or reschedule tasks as per your preference.
User-friendly interface suitable for beginners.
Extensive options for automatic triggers and events.
Generate keys for quick execution of recipes.
Compatible with widely-used WordPress plugins, including WooCommerce automation tools.
Create a Single Chatbot That Works in Multiple Messaging Platforms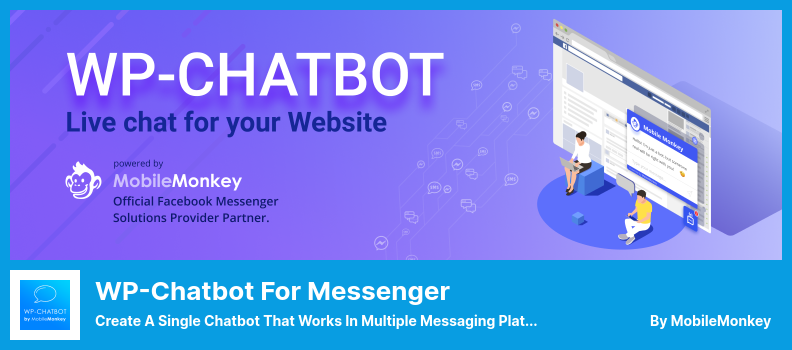 WP-Chatbot for Messenger is a popular WordPress chatbot plugin that allows you to seamlessly integrate live chat into your website. With a large number of active installs, this powerful tool is perfect for sending advertising messages and answering inquiries.
One of the standout features of WP-Chatbot for Messenger is its ability to provide a single inbox for all incoming communications. This includes integration with your Facebook page, making it easy to manage and respond to messages from clients.
Even when you're not online, visitors to your website can engage in live chat with you. This ensures that you never miss out on potential leads or customer interactions.
Setting up WP-Chatbot for Messenger is a breeze. After obtaining a valid API key from the NewsBooster website, simply enter it into the plugin's options. You can also customize where the subscribe box appears on your website, making it easy for people to join and receive messages.
Key Features:
Engage in discussions on Messenger and native online chat applications.
Benefit from a central mailbox for all incoming communications, including seamless Facebook integration.
Allow visitors to engage in live chat with you at any time, even when you're offline.
Enjoy the support of a fantastic and creative developer team.
Guarantee synchronization with your Business Profile and Facebook Messenger.
Experience effortless integration with other cool capabilities.
Follow a super quick and easy installation and setup wizard for a hassle-free experience.
WooCommerce Abandoned Cart Recovery, Order Follow Up Emails, Email Marketing Automation
Retainful, the greatest cart recovery tool, has gained popularity among eCommerce company owners as a promotional automation solution.
It helps automate marketing campaigns and tackle cart abandonment, which is a common issue in eCommerce. With Retainful, you don't have to worry about lost sales anymore.
To begin with, Retainful is an email marketing solution that specializes in delivering lost cart recovery emails. When customers abandon their shopping carts, Retainful steps in and sends them automated emails. It's like having a personal assistant take care of your email marketing tasks.
You can set up and activate different campaigns, including greeting emails, cart abandonment emails, gratitude emails, and purchase follow-up emails.
What sets Retainful apart from similar tools like Hubspot is that it specifically caters to WooCommerce users.
Once you activate Retainful, customers who meet the trigger requirements will automatically receive WooCommerce follow-up emails. These emails are designed to convince customers to reconsider and proceed with their abandoned shopping carts.
Key Features:
Dedicated and responsive support from the

developer team

.

Automation workflow generator for creating campaigns easily.
Supports trigger conditions, channel splits, and A/B testing.
Ready-to-use email templates.
Advanced dashboard with various features and functionality.
Email editor with drag and drop functionality for easy customization.
Automatic next order coupons to encourage more purchases.
Provides information on the state of the guest cart.
Send an Automated Email Series That Nurtures Leads and Targets Specific Contacts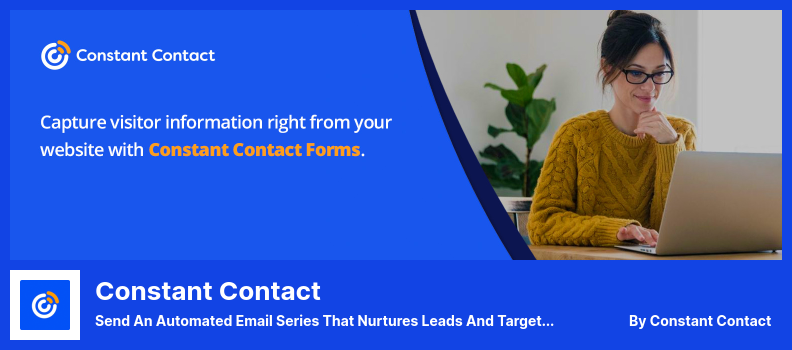 Constant Contact is a top choice for small companies in need of email marketing services. You can easily import your contact lists from various sources and let the user-friendly tools handle the rest. The software seamlessly integrates with other systems, allowing you to generate leads effortlessly.
With Constant Contact, you can track who is engaging with your emails and make strategic plans based on their behavior. You can even automate targeted emails based on how recipients interact with your messages. This feature sets it apart from competitors like Retainful.
One of the standout features of Constant Contact is its ability to continue communication with website visitors even after they have left your site. You can create automated email sequences for various purposes, such as building client relationships and selling products.
Key features of Constant Contact include the ability to add new signups to specific contact lists by creating custom landing pages with unique URLs.
You can also choose from a variety of beautifully designed templates to create your own format. The software offers simple popup registration forms to encourage website visitors to sign up for your mailing list.
While Constant Contact offers a plethora of features, it may be a bit overwhelming for beginners. However, for those familiar with email marketing, it provides a comprehensive solution to manage contacts, organize lists, and reach the most appropriate audience.
Additionally, it seamlessly integrates with popular WordPress plugins, including some automation tools.
Key Features:
Custom landing pages with unique URLs for targeted signups
Hundreds of beautifully designed templates to create your own email format
Simple popup registration forms to increase mailing list signups
Contact management and list organization in a single location
Integration with popular WordPress plugins and automation tools.
Automate Every Aspects of Your Online Marketing
HubSpot is a top customer relationship management (CRM) tool for businesses, both small and large. It provides excellent features for managing leads and automating various aspects of internet marketing.
As one of the best WordPress workflow automation tools, it seamlessly integrates with popular platforms like Salesforce for email marketing and lead generation.
You can start using HubSpot for free, which includes the essential functions. However, if you need more advanced features and tools, you'll need to subscribe to a premium plan.
It allows you to automate the updating of client information, keeping your database up to date. Plus, you'll have access to specific performance information about your company, which can help you make informed decisions.
One of the standout features of HubSpot is its centralized platform, where you can manage all your marketing, sales, and customer service activities. It provides a seamless experience where all client information is updated automatically.
Frequently Asked Questions
Are WordPress automation tools and plugins easy to use?
Yes, most WordPress automation tools and plugins are designed to be user-friendly and easy to use, even for beginners. They typically come with intuitive interfaces and provide step-by-step instructions for setup and configuration.

Additionally, many plugins offer extensive documentation and support to assist users in getting the most out of their features.
What are the benefits of using WordPress automation tools and plugins?
Using WordPress automation tools and plugins can save you time and effort by automating repetitive tasks, improving website performance, enhancing security, and optimizing your website for search engines.

They can also help you streamline your workflow, attract more visitors, increase conversions, and grow your online presence.
Are there free options available for WordPress automation tools and plugins?
Yes, there are several free options available for WordPress automation tools and plugins. Many popular plugins offer basic functionality for free, allowing users to get started without any cost.

However, there are also premium versions available for those who require advanced features and additional support.
Conclusion
To recap, in this article, we discussed the top 5 WordPress automation tools and plugins for 2023, both free and pro options. These tools and plugins can save you time and effort by streamlining various tasks on your WordPress website.
If you enjoyed reading this article and want to dive deeper into related tutorials and guides, I highly recommend checking out the BetterStudio blog. They have a wealth of resources and tutorials that can help you further enhance your WordPress website and make the most of these automation tools.
To stay up to date with the latest tutorials and tips, be sure to follow BetterStudio on Facebook and Twitter. They regularly share valuable insights and updates that can help you stay ahead in the WordPress game.
Thank you for taking the time to read this article. If you have any questions or encounter any issues while implementing these automation tools and plugins, please feel free to leave a comment below. We're here to help and happy to assist you in any way we can.