Recently one of our users asked us which is the best WordPress Client Portal plugin.
This post will share some of the best WordPress plugins for the Client Portal you can use. All the plugins listed here come with out-of-the-box features and possibilities. Other than that, they can all be used with all the advanced WordPress themes.
The following WordPress plugins were explicitly built for the Client Portal. Is it not precisely the Client Portal plugin you are trying to find? These plugins are also usable for the Client Login Portal, Client Management, Elementor Client Portal, and Customer Portal. Choose the WordPress plugin that suits your website and level it up.
Let's have a look at some of the best Client Portal WordPress plugins you can use today in 2022:
a Powerful Client Portal Plugin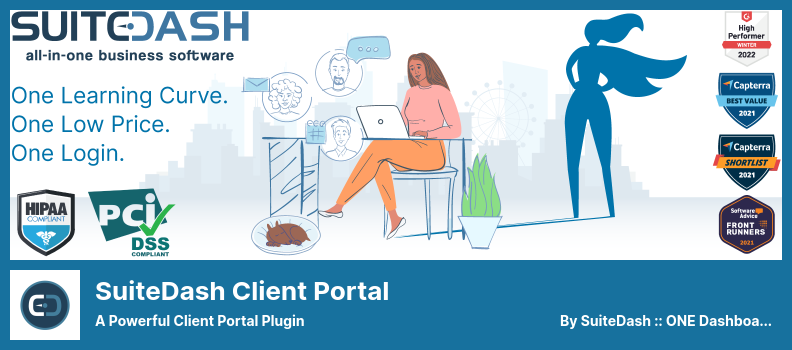 The SuiteDash Client Portal plugin provides an easy-to-use platform for creating and managing client portals. It is one of the best client portal plugins, including Elementor widgets for client portals.
Suppose SuiteDash customers have already set up custom URLs in their accounts. In that case, they can integrate those URLs with SuiteDash through this plugin.
This plugin replaces various applications, including CRM applications, form builders, cloud storage, project management, etc.
With this plugin, your staff and clients can access their SuiteDash environments directly from your website without visiting SuiteDash's login page.
This plugin allows you to add custom login functionality directly to your WordPress site so that the login functions in conjunction with SuiteDash.
With this plugin's continued development and updating, you can expect to receive new features and all the benefits it provides.
In addition, this plugin is fully supported, and you are welcome to provide suggestions.
💵 Pro version: $180, Lite version: Free.
Key Features:
Replaces apps like CRM,

form builders

, cloud storage, etc

New features and streamlines are added daily.
Adds a custom login feature to your website
Provides direct access to SuiteDash for your staff and clients
An all-in-one SaaS tool for all your client portal needs
Random Reviews:
We started with this company recently and now use this plugin to help our site visitors log into the portal. There is a method to embed your intake forms on the website, allowing your prospects to fill out the 'interest' form and immediately be added to your CRM funnel.
The Most Advanced White Label WordPress Plugin
You will appreciate the Ultimate Client Dash plugin if you wish to create an easy and seamless user experience for your website visitors.
This plugin allows you to create the perfect client portal/dashboard for your business thanks to its various features.
This client login portal features a color scheme of navy blue and green for a premium appearance. It is important to contrast the colors on your page with key icons and accents to make your content easier to read and understand by your users.
A plugin like this one is ideal for websites that allow users to navigate their way through the site smoothly and securely.
The free version of this WordPress plugin allows you to customize your login page with attractive fonts and interactive buttons. Although the plugin has some limitations, you can customize the client portal to your requirements.
It is also possible to restrict access to a particular piece of content within this plugin so that a client may access only that content.
💵 This plugin costs $25 and has a Free version for download.
Key Features:
Meta titles and descriptions for landing pages can be customized
Your branding needs can be met by customizing the look and feel
The landing page can be customized using CSS
Colors of admin links and buttons may be customized
Adding custom text to the login footer is possible
Random Reviews:
The plugin is awesome; we can do so many things. We buy the full vers. For agency, and that's perfect for us. Our customers have only the functions they need. Another great point: quick and helpful support. One of our best experiences with a WordPress plugin editor. Thanks a lot!
a Flexible and Easy-to-use WordPress Membership Plugin
The Simple Membership plugin provides a more secure environment for clients. Using this plugin, you can create a portal for your users, who can access your site only as members.
Once a user has successfully logged in, they can access protected content on their dashboard. An admin area with membership features is accessible through this WordPress membership plugin, sometimes referred to as a client portal-in-a-box.
This client management plugin allows clients to customize their websites with a WP editor that allows them to upload pages or create forums.
Additionally, this plugin provides you with the ability to create private browsing throughout the portal as well as set up content restrictions.
Furthermore, you may also attach files as well as gallery images to your posts. Moreover, the appearance of your portal can be customized in various ways depending on how you have configured your customization options.
Also, this plugin supports multiple languages, ensuring that you and your clients can communicate effectively.
💵 The price is $0. It is Free.
Key Features:
The password reset email can be customized for each member
Account status can be used to filter member lists
Posts and pages can be protected in bulk
Converts visitors into members by displaying teaser content
Compatible with all WordPress themes
Random Reviews:
This is a good plugin with everything I need for my membership site. Very prompt and patient support as well in response to my dumb questions. Highly recommended. J

Very simple to use with widespread options!
an Easy and Secure Way to Collaborate With Clients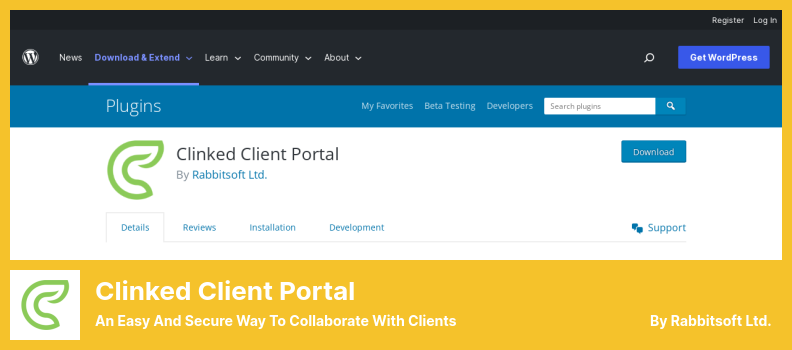 The Clinked Client Portal plugin is designed to meet the needs of businesses worldwide. It is expected that website owners will be able to communicate securely with their clients using this plugin.
Many IT assets are used by businesses, along with a wide variety of software solutions intended to improve productivity and efficiency.
This plugin allows business owners to provide their clients and partners with the most user-friendly websites.
With this plugin, you can manage and share important features with a private group if you wish to share content with them.
This plugin will integrate a collaboration tool into your website, enabling you to collaborate instantly on your website.
With this plugin, you can securely exchange files, share files with your clients, chat when they have questions, and so much more. You may also access this plugin's features by adding a widget to your website.
💵 The free version is included for download, while the pro version costs $83/month.
Key Features:
Comments and discussions

can be integrated with shared content

Files and videos can be viewed instantly.
Files can be shared in your own branded client portal
Activities Streams keep you informed of the latest updates and comments
Files can be stored in folder structures, including Google Docs
Random Reviews:
"I would like to define Clinked in one sentence, i.e.

I've only been using it for a few days, and already I'm amazed at its performance. I've already invited one of my clients to test this app, and so far, he is pleased. This is now my go app for all my client needs. Will update you as I progress.
Private User Pages and Login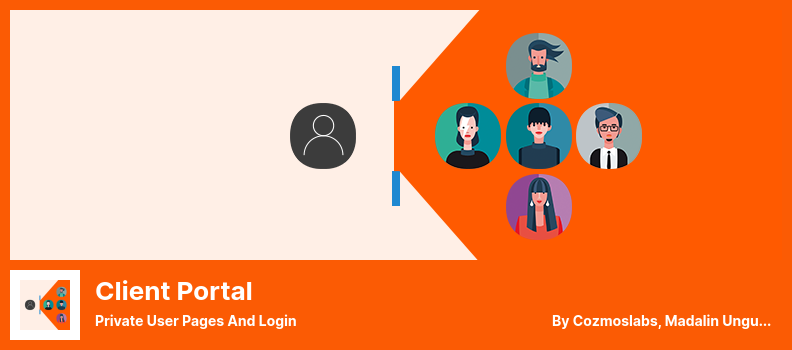 Using the Client Portal plugin from Cozmolabs, you can easily create an adaptable client portal that can meet all your clients' needs.
This plugin allows users access to a large amount of storage space and online space, where they may organize and manage their files.
With the help of this plugin, you can create private pages for each WordPress user who visits your website. Only the owner of a page or specific users will be able to access the content uploaded to it through this plugin.
This plugin has no dedicated login page or predesigned login page. Furthermore, you can use this plugin for the login and registration page. This plugin can easily embed a dynamic client portal into any website page.
This plugin will automatically redirect users to their private page and portal once they have logged in if it has been installed. This plugin may be customized to meet your needs in a manner that is convenient for you.
💵 You can download and install it for FREE.
Key Features:
Pages' content is only accessible by their owners on the frontend
Ensures that each user has a private page
Automated redirection to the user's private portal and page is provided
Dynamic client portals can be easily integrated into any page
Allows users to have access to a large amount of storage
Random Reviews:
The newest version does not work as I expected. It is more complicated and confusing when I edit user data.

As simple as this plugin is, it is wonderful! You can create private pages for your users and manage their content separately! Great little plugin.
Manage Private Content With WordPress
E-commerce websites carry risks, and you should be aware of them when designing them. The WP Customer Area plugin for WordPress will ensure the security and reliability of your customers and clients.
By installing this plugin, you will be able to manage the private content of your users from your WordPress website. This plugin provides all the functionality you need to do so.
This customer portal plugin will enable you to create a user-friendly and secure client portal and e-commerce website. This plugin offers the capability of sharing content between multiple users as one of its primary features.
This plugin also allows you to create a password-protected page that can be accessed only by a limited number of individuals.
It is possible to restrict certain content, such as credentials and identification, from being viewed by other users within the plugin to protect your customers' confidential information and files.
💵 Download the Free Lite Version and the $(Needs Quote) Premium Version.
Key Features:
You can use your themes and templates
Allows multiple users to share content
Content can be restricted from being viewed by others
Provides logged-in users with access to the secure customer area
It is possible to access private files and pages
Random Reviews:
Be aware the support is somewhat irregular, even for premium add-ons. So it is a waste of time if you need to solve urgent problems or consider asking for a refund. It is a pity; the plugin is exciting but needs regular support for success and some interface improvements.
Take Control of The WordPress Admin
Client Dash from Real Big Plugins can present your web page in a visually appealing manner. If you wish to keep your website neat, this plugin is ideal. This client plugin consists of an ordinary set of features in any standard client plugin.
This plugin includes the functionality necessary to integrate a minimal WordPress client portal onto your website, making it easy to use.
A user-friendly user interface makes the plugin easy to use for any user. The simplicity of the plugin will make it easy to navigate.
Further, this plugin provides functionality that allows website administrators to control the content of their websites. This plugin includes an integrated customization tool that allows you to customize the dashboard.
In addition, you can include full-featured admin pages on your site for use as sign-in and account access pages for users. The free version has a limited number of pages.
💵 Lite and Premium versions are available. The pro version costs $39.
Key Features:
It is possible to customize the admin area for each user role
Customize Admin Tool allows you to view your admin area in real time
All menu items can be reordered
It is possible to customize the widgets on the dashboard
You can simplify and customize the dashboard with numerous features
Random Reviews:
I installed. When I go to Settings, I am denied access.

This is the easiest backend editing plugin that I have come across. I just tested it, which is exactly what I have been looking for. It won't work unless you update the database (shows a link) after activating, so don't neglect to do that before using it. Great work!!
Finally, let's wrap up
As we reviewed the best WordPress Client Portal plugins before. If you are an incredible webmaster, you can use these plugins. These plugins boost your website design and options.
📌 Note: Additionally, you may find our list of top WordPress security plugins useful for enhancing the security of your website. We also recommend you look at our expertly selected WordPress hosting providers.
We desire that we've given you enough information.
Would you suggest a pure plugin? Do let us know in the comments section below. Please share this content with your friends via Facebook and Twitter if you find it compelling.