Are you tired of slow-loading WordPress websites? Do you want to optimize your website's performance and improve user experience? If so, you've come to the right place!
In this blog post, we will explore the five best WordPress Minify plugins available, both free and pro versions, to help you achieve faster page load times and better overall website performance.
In today's digital age, speed is everything. Studies have shown that users tend to abandon websites that take more than a few seconds to load. A slow website not only frustrates your visitors but also negatively impacts your search engine rankings. That's where Minify plugins come into play.
They allow you to optimize your website's code by removing unnecessary characters and spaces, reducing file sizes, and ultimately speeding up your website's loading time. In this article, we'll dive into the world of WordPress minify plugins and explore their benefits, features, and drawbacks.
We'll discuss how these plugins work, why they are essential for your website's performance, and how to choose the best one for your specific needs. So sit back, relax, and let's get started on the journey to a faster and more efficient WordPress website.
Best Minify Plugins for WordPress
If you are looking to optimize your WordPress website and improve its performance, if so, you'll definitely want to check out our roundup of the best minify plugins for WordPress.
These plugins can help reduce the size of your website's CSS and JavaScript files, resulting in faster load times and a better overall user experience. So, don't miss out on discovering the perfect Minify plugin for your WordPress site – read on to find out more!
An Easy to Use Manification WordPress Plugin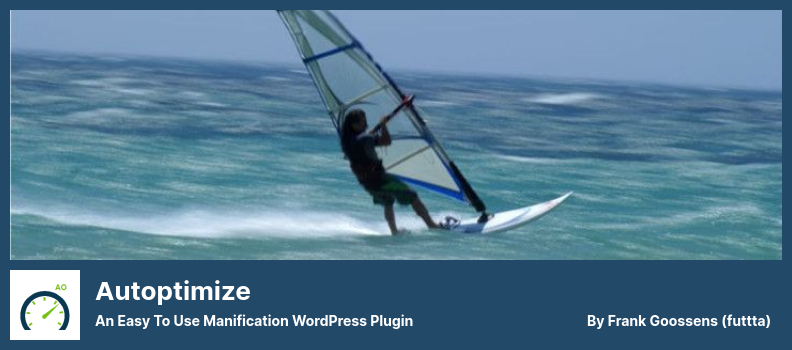 Autoptimize is a WordPress optimization plugin that offers a range of helpful features to enhance the performance of your website. It's beginner-friendly and easier to use compared to W3 Total Cache.
With the plugin, you can optimize and condense your website's scripts, saving them as cache. The plugin also allows you to automatically reload the optimized scripts whenever needed. You have the option to choose whether you want to optimize CSS, JS, or HTML code, thanks to the speed optimization tool.
One of the notable features of the plugin is its ability to optimize Google Fonts and WordPress' emojis' CSS and JavaScript. It also offers a lazy load feature, which helps speed up your site by loading images only when they're visible to the user. Additionally, it supports WebP and AVIF formats for image optimization.
The plugin efficiently removes unnecessary elements from WordPress core emojis, decluttering your website. It also seamlessly integrates with most sites and offers Gzip compression for improved performance.
The plugin also works well with Content Delivery Networks (CDNs), allowing for faster and more efficient content delivery. A Content Delivery Network (CDN) is a distributed network of servers that can be used to deliver content, such as images and videos, to users in a faster and more efficient manner.
Key Features:
Optimizes Google Fonts and WordPress emojis' in CSS and JavaScript
Robust features are available in the free version
Lazy Load feature for faster site loading
Image optimization for improved speed
Supports WebP and AVIF formats
Remove unnecessary elements from WordPress core emojis
Optimization & Minification Plugin for WordPress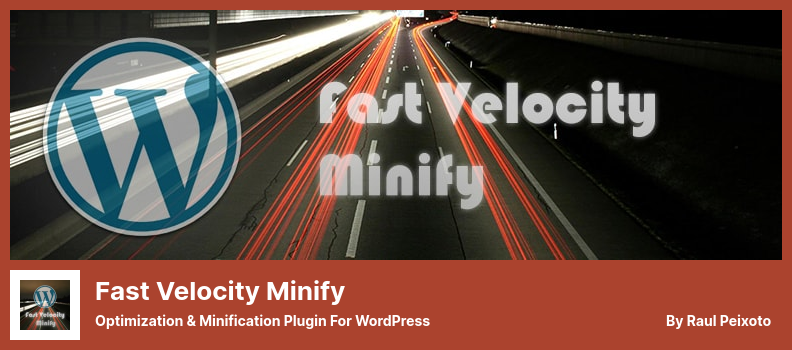 Fast Velocity Minify is a WordPress plugin that helps users optimize their website's performance by reducing the size of CSS files. It also allows advanced users to tweak certain settings for a more personalized experience.
The plugin comes with default settings that are suitable for non-technical users, but there is also a special page called 'Pro Optimization' for developers with experience in making advanced changes.
One of the key benefits of using the plugin is that it can significantly improve your website's ranking and performance by reducing the size of your CSS files. This means that your website will load more quickly, resulting in a better user experience for your visitors.
Additionally, the plugin provides the ability to disable Google Fonts merging, remove Google Fonts, remove HTML comments, and ignore predefined paths, giving you more control over the optimization process.
The plugin offers a range of features that make it a powerful tool for optimizing your website. It allows you to defer JavaScript and CSS files globally or only for PageSpeed Insights, ensuring that the order of scripts is preserved.
The plugin also keeps your original files safe by copying and duplicating them to the uploads directory. You can easily view a list of processed JS and CSS files in the status section, and remove unnecessary information from headers while minifying the HTML.
Key Features:
Allows global or selective deferring of JavaScript and CSS files
Preserve the order of scripts when using exclusions
Copies and duplicate original files for safekeeping
Provides a list of processed JS and CSS files for easy monitoring
Removes unnecessary information from headers while minifying HTML
Supports localized scripts for different language optimization
Speed Optimization WordPress Plugin
WP Rocket is a powerful WordPress cache plugin that offers a range of features to optimize your website's performance. It simplifies the process of minifying Javascript files, HTML, and CSS on your site, making it faster and more efficient.
With features like image lazy loading, combining Google fonts files, and deferring JavaScript execution time, the plugin helps improve the loading speed of your pages.
One of the standout features of the plugin is its ability to host Google Analytics code on your website. This means you can track your site's performance without needing to add additional plugins. The plugin also offers powerful page caching, caching preloaded pages to further enhance your site's speed.
Another benefit of the plugin is its regular updates, which ensure security, stability and reliability. The plugin is constantly improved to provide the best caching capabilities while staying up to date with the latest industry standards.
With this plugin, you can optimize not only Javascript files but also HTML and CSS files on your website. Unlike other caching plugins that require a steep learning curve, WP Rocket simplifies the setup process, making it user-friendly and accessible to all.
Key Features:
Image lazy loading to improve page load times
Combining Google fonts files for streamlined performance
The ability to delay JavaScript execution time for optimized loading
Deferring JavaScript files for better overall performance
Removing query strings from static resources to enhance caching
Settings import and export for easy management
Minification & Caching WordPress Plugin
WP Super Minify is a WordPress plugin that compresses and minifies HTML, JavaScript inline, and CSS sources. By doing so, it reduces the size of your website pages and improves loading times on Google. It is compatible with the latest version of WordPress, making it a convenient choice for users.
One of the key features of this plugin is its ability to compress and minify code, while also combining, caching, and minifying HTML, JavaScript, and CSS code. This makes your website more web-friendly and optimizes its performance.
Another advantage of the plugin is its lightweight nature. It offers a straightforward and easy-to-use interface, making it accessible for users of all levels of technical expertise. Once you have installed the plugin, the minification process takes less than a minute, and you can observe the changes on your live website.
However, it is important to note that the plugin has limited settings options. The only setting available to users is the compression level, which allows you to adjust the extent of compression or turn it off entirely if needed.
Key Features:
Quick installation and minification process
Real-time preview of minified pages
User-friendly and intuitive interface
Open source for continuous improvement
Minify PHP framework for comprehensive code optimization
Easy access to the changes on your live website
Autp Optimization Website Plugin for WordPress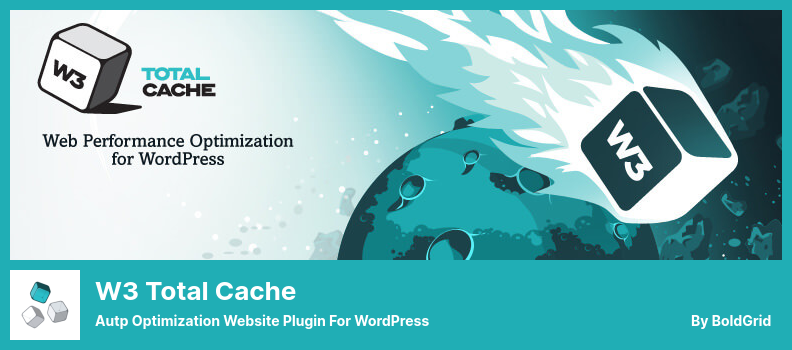 W3 Total Cache is a powerful performance enhancement plugin for WordPress that goes beyond just caching. It offers various options for advanced users to optimize their websites.
With this plugin, you can use different caching methods and even minify JavaScript, HTML, and CSS files. This helps to reduce the file size and improve the loading speed of your website. You have the flexibility to enable or disable minification, as well as set the plugin to automatically compress files.
One of its key features is the ability to minify RSS feeds, posts, and pages. This ensures that your content is delivered to users in a lightweight and optimized format. The plugin also supports object and database caching, which can further enhance the performance of your website.
The plugin is compatible with shared hosting and virtual private servers, making it accessible to a wide range of users. It also integrates seamlessly with content delivery networks (CDNs), allowing you to deliver your website's assets from multiple global locations for improved speed and reliability.
Another important feature is browser caching, which allows repeated visitors to your website to load pages faster by storing static files in their browser's cache. This helps to reduce the load on your server and provides a better user experience.
In addition to caching and minification, W3 Total Cache also provides support for Accelerated Mobile Pages (AMP), making your website mobile-friendly and optimized for faster loading on mobile devices.
Key Features:
Compatible with shared hosting and virtual private servers
Minification of RSS feeds, posts, and pages
Object and database caching
Caching of search results pages
Minification of JavaScript files
Frequently Asked Questions
What are Minify plugins for WordPress?
Minify plugins for WordPress are tools that help optimize the performance of your website by reducing the size of the files sent to visitors' browsers.

They work by removing unnecessary characters, spaces, and line breaks from your website's CSS, JavaScript, and HTML files. This compression process results in smaller file sizes, which in turn improves your website's load time.
Why should I use Minify plugins for my WordPress website?
Using Minify plugins for your WordPress website offers several benefits. Firstly, it improves your website's load time, providing a better user experience for your visitors.

Faster load times can also positively impact your search engine rankings, as search engines like Google consider page speed as a ranking factor.

Additionally, smaller file sizes help reduce bandwidth usage and server load, which can be especially beneficial for websites with heavy traffic or limited server resources.
What are the benefits of using pro (paid) WordPress minify plugins?
Pro (paid) WordPress minify plugins often offer advanced features and optimizations that go beyond what free plugins provide. They may offer more thorough minification techniques, compatibility with other optimization tools, automatic updates, and premium support.

If you have specific performance requirements or need additional features, investing in a Pro Minify plugin can be worth considering.
Conclusion
In conclusion, we have discussed the top five WordPress minify plugins, both free and pro options, that can help optimize your website's performance and reduce load times. These plugins offer various features and customization options to suit your specific needs.
To learn more about WordPress plugins and other related tutorials, we recommend checking out the BetterStudio blog. They provide in-depth guides and resources to help you make the most out of your WordPress website.
Don't forget to follow BetterStudio on Facebook and Twitter to stay updated with the latest tutorials and tips for WordPress. Their social media channels are great resources for staying in the loop and discovering new ways to enhance your website.
Thank you for reading this article. If you have any questions or encountered any problems while implementing these Minify plugins, feel free to ask in the comment section below. We value your feedback and are here to assist you. Happy optimizing!