Are you looking for an easy way to integrate Dropbox into your WordPress website? Perhaps you're wondering what the best options are, free or paid?
In this article, we'll be exploring the six best WordPress Dropbox plugins of 2023, both free and paid, to help you find the perfect fit for your website. Whether you want to manage media files, backups, or share files with your visitors, there's something for everyone on this list.
Let's dive into the world of WordPress Dropbox plugins and discover how they can streamline your website management and help you save time and effort.
Best Dropbox Plugins for WordPress
If you're looking to integrate Dropbox with your WordPress site, then our roundup of the best Dropbox plugins for WordPress has got you covered.
Check out our list of free and paid plugins that can enhance your site's functionality and make file management a whole lot easier.
WooCommerce File Sharing and DropBox Plugin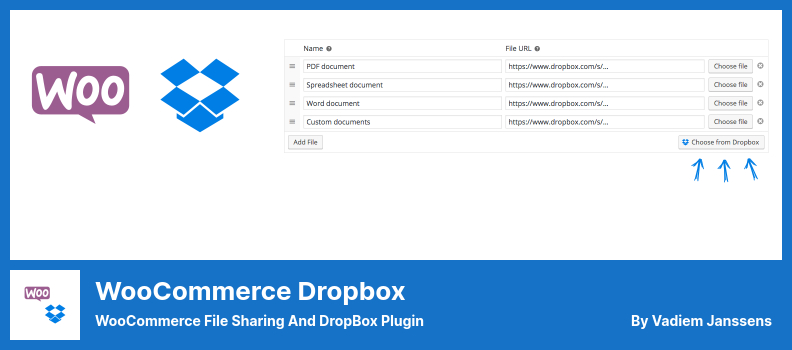 WooCommerce Dropbox is a nifty plugin that simplifies the process of offering digital products on your WooCommerce store.
With this plugin, you can select a product from a drop-down menu, and the plugin will handle the rest for you. The best part? It ensures that your site runs smoothly and efficiently even if you are hosting numerous products.
Whenever you update a file on your computer and synchronize it with Dropbox, WooCommerce will automatically serve the updated version to visitors.
But remember, this plugin isn't suitable for large files or videos. Also, make sure your website is suitably configured to serve downloads directly from Dropbox, rather than through your server.
This efficient plugin ensures that the website's database runs without clutter, and with end-to-end encryption, it's a great way to keep your website's sensitive data secure. Plus, editing and uploading files to Dropbox is a breeze, eliminating the need to log into your dashboard.
Key Features:
Works best for PDF files, Text documents, and Excel Documents.
Suitable for hosting numerous products on your site
Keeps your site lightweight and fast

Automatic synchronization of files to Dropbox for site updates.

Efficiently manages your website's database
Enables you to upload necessary files by creating a Dropbox account
Offers direct serving of downloadable products from Dropbox
End-to-end encryption for personal privacy management
Automatic update of downloadable files without logging in
Hassle-free editing, uploading, and drag-and-drop of files into Dropbox
Dropbox & File Sharing Plugin for WordPress
Out-of-the-Box is a plugin that makes it easy to display Dropbox files on your WordPress website. You don't need to know any complicated coding to use it. With this plugin, you can seamlessly access Dropbox and categorize your files in an organized manner.
You can remotely access Dropbox files through Dropbox browsers depending on your business needs. You can customize plugin settings and select the skin for your media player.
The plugin has several key features that set it apart from its competitors. You can export multimedia files to Dropbox, create beautiful picture galleries, and use lazy loading. There's an Upload Box that lets you upload files to Dropbox, and you can make a fully customizable upload form.
You can set permissions for specific users, use Shortcode Builder, and embed documents into your page with just the click of a button. Share links on your website and allow users to easily access your files.
You can display your documents or images in attractive lightboxes and even get Audio Player & Video Player to stream media directly from your Dropbox. Finally, you can share documents with clients through the WordPress file-sharing feature.
Key Features:
Share links on the website
Attractive lightboxes for images and documents
WordPress file-sharing feature
Audio Player & Video Player to stream media directly from Dropbox
Upload to Dropbox using Upload Box
Customizable upload form
Permission settings for specific users
Shortcode Builder
WordPress Backup, Restore and Clone Plugin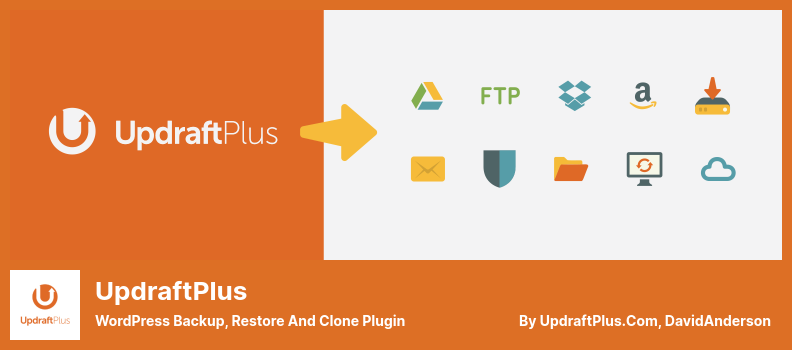 UpdraftPlus is a well-established WordPress backup plugin that provides users with a range of features aimed at making WordPress backup and migration easier.
Upon installation, UpdraftPlus provides users with detailed information about their backups and progress messages indicating the status of their backups. Once the backup is complete, detailed reports will be sent to users, regarding their backup.
With multisite support and an option to backup and restore individual websites, UpdraftPlus stands out among other backup plugins. Allowing users to backup individual websites and restore them individually without having to do it all at once.
UpdraftPlus offers backup and restore functionality with a range of cloud services, including Dropbox, Google Drive, Amazon S3, Rackspace Cloud, UpdraftVault, DreamObjects, FTP, and OpenStack Swift. Furthermore, the plugin offers advanced reporting functionality, database encryption, and a fast backup process that uses less server resources.
UpdraftPlus provides multiple storage options, including OneDrive, Backblaze, Azure, and SFTP. Additionally, non-WP files can be backed up to multiple remote sites. For users who require expert support, UpdraftPlus offers free dedicated support.
Key Features:
Multiple cloud service support
Multiple storage options
Database encryption
Advanced reporting
Faster backup with minimal server resources usage
Backup and restore individual websites
Non-WP files backup to remote sites
Free expert support
An Easy to Use WordPress Backup Plugin
BackupBuddy is a WordPress plugin that automatically creates scheduled backups for your site, which can be stored anywhere, including your Dropbox account.
With this plugin, you can also upload digital downloadable files to Dropbox directly from your site. It's an incredibly easy and affordable way to protect your website from crashes and other damage.
One significant advantage of BackupBuddy is that it comes with a feature that enables you to roll back your WordPress database, which is essential if you detect that your site has been hacked.
You can also store your backup files remotely and change your domain/URL. Furthermore, it notifies you with instant emails once backups are created.
In case of any issues, you can use the importBuddy functionality to restore your WordPress website. Another great aspect of this plugin is its customizable backup contents, which allow you to select specific components of your site to back up.
You can set it to regularly backup your site automatically, making sure that everything stays up-to-date effortlessly.
Although BackupBuddy is one of the best backup plugins on the market, its premium version's cost is higher compared to other options. However, connecting your website to Dropbox once means your backup files will be automatically stored there, so you won't have to repeat the process.
Key Features:
Store backup files remotely
Change domain/URL
Store backups off-site
Customizable backup contents
Restore WordPress with importBuddy
Restore WordPress website

Scheduled, automatic backup

Complete website backup
The perfect WordPress Backup Plugin
BackWPup is a plugin that allows you to back up your WordPress site and store it in Dropbox. It can also back up your files using several other platforms such as S3, FTP, and Google Drive.
This plugin has an excellent feature that creates a Zip file for easy website restoration. Additionally, you can schedule backups based on how often your website is updated, and these will be automatically stored in your Dropbox account.
Other features include the ability to store backups on platforms such as RackSpaceCloud and Microsoft Azure. It also generates a file with installed plugins and supports multi-site only as the network admin. You can even send logs and backups via email.
Key Features:
Multi-site support only as the network admin
Store backup to RackSpaceCloud
Generate a file with installed plugins
Store backup to Microsoft Azure
Backup and restore with Dropbox
Schedule backups based on your website's update frequency
Create a Zip file for easy restoration
Check and repair database
Encrypt backup archives
Dropbox & Backup Plugin for WordPress
Dropr is a fantastic plugin that upgrades the WordPress text editor. It allows you to easily perform a Dropbox backup process by simply dragging and dropping files.
You can create custom download buttons using the button customizer which will add them to your free downloads page for easy access to documents. These documents can be viewed in Chrome or MS Office online.
A detailed instruction manual is also provided for your convenience. With access to Dropbox files, images, PowerPoint presentations, and video tutorials, Dropr is the complete backup and customization solution you need.
Dropr offers you options to customize dimensions, captions, and hyperlinks, making it easier to tailor the experience specifically to your needs.
The plugin also supports multiple file types, making it versatile for use across different areas of work. Find Dropbox files easily thanks to Dropbox Chooser API and take advantage of the file chooser, where you can view, upload and search files from your Dropbox account.
Images can be placed conveniently in the visual editor and used as featured images. Dropr is translation ready, making it even more accessible to people worldwide. With its visual editor and featured image options, you won't be wanting more tools to help customize your content.
Key Features:
Dropbox Chooser API for easy file finding
File chooser for viewing, uploading, and searching Dropbox files
Customizable options for dimensions, captions, and hyperlinks
Supports multiple file types
Convenient visual editor for images and featured images
Translation ready for global use
Featured image options available
Frequently Asked Questions
What are WordPress Dropbox plugins?
WordPress Dropbox plugins are tools that allow users to connect their WordPress website to their Dropbox account, making it easier to manage and store files related to their website.
What are some benefits of using Dropbox plugins for WordPress?
Using Dropbox plugins for WordPress can offer several benefits such as easier file management, improved collaboration, more efficient workflows, and greater accessibility to files on the go.
What should I consider when choosing a Dropbox plugin for my WordPress site?
Some factors to consider when choosing a Dropbox plugin for your WordPress site include pricing, features, compatibility with your site's other plugins and themes, ease of use, customer support, and user reviews. It's important to research and compare options before selecting a plugin that best meets your needs and goals.
Conclusion
In conclusion, we discussed the six best WordPress Dropbox plugins for 2023, both free and paid options. These plugins can greatly enhance your website's functionality and make it easier to manage files and data.
If you found this article helpful, be sure to check out BetterStudio's blog for more related tutorials and tips. We strive to provide valuable content that can help you improve your website and online presence.
To stay updated on the latest tutorials and news, be sure to follow BetterStudio on Facebook and Twitter. We share new content regularly and engage with our community frequently.
Thank you for reading this article and we hope it was helpful for you. If you have any questions or encounter any problems while implementing these plugins, please feel free to leave a comment below. Our team and community members will be happy to help you out.