Are you looking for the best Audio Player WordPress plugin? Would you know where to begin looking for a WordPress plugin that meets your preconditions?
To assist you, we reviewed dozens of WordPress plugins and selected the best Audio Player WordPress plugins. We ensured that these plugins would work with all WordPress themes while selecting these plugins so you can stand out from the crowd
There are a number of Audio Player plugin choices available, so we chose the best. You may also use these plugins for Music Playlists, HTML5 Audio Player, and Music players as well.
If you are interested in starting a podcast, I suggest you look at the WordPress podcast themes available that you can use to create a podcast website and market your podcast.
Also, if you already have a website, you may want to check out the WordPress podcast plugins you may want to use to enhance your website.
If you wish to combine these plugins to create a music, band, or musician website, you may want to look at the WordPress music blog themes.
Have a look at this wide selection of the best Audio Player WordPress plugins of 2022:
MP3 Audio Player for WordPress
Sonaar music player is a plugin created by the Sonaar company. This plugin is one of the most accessible plugins to work with to play audio files on WordPress websites. Using this plugin, you can add unlimited numbers of playlists, albums, and audio tracks to a different part of the website, such as posts, products pages, or custom posts created by Elementor or shortcodes.
The Sonaar plugin is flexible, and working with it is easy. If you want to sell beats and music on your website, using the Sonaar music player is an excellent choice for you.
This plugin has an optional bar that you can use to display an optional jaw-dropping waveform bar under any of your audio players powered by WaveSurfer.js.
This plugin is designed professionally and is compatible with UX principles.
Using the Sonaar music player is easy. You can use it in 4 manners:
1. If you use Gutenberg in your WordPress website, you can add the MP3 player block in the Gutenberg Block Editor.
2. If you use the Elementor page builder, you can add the MP3 Player by Elementor widget.
3. Apart from these two methods, you can also use the shortcode to add the MP3 Player to your website.
4. If you use the premium version of the Sonaar player, you can use the playlist creation tool: Select multiple MP3 files. It will create posts, products, and custom posts in one click.
Briefly, if you need an MP3 player for your website, the Sonaar music player is one of the best choices for you.
---
💵 Free version Lite. Paid version Premium.
Key Features:
Create unlimited albums and playlists
Ability to upload unlimited MP3 and M4A files
Support MP3, audio, and radio
Ability to upload audio files from any post
Insert audio players using shortcodes
Insert audio players using the Elementor tool
Insert audio players using the Gutenberg Editor
Full support for Elementor page builder
Provide unlimited colors for the MP3 widget
Show/hide playlist Optional album cover
Add social share icons for each of your audio files
Ability to add CTA buttons
Random Reviews:
This is a slick looking audio plugin that has a wicked look to it*

Thanks Sonaar! I love this plugin. So easy to use.

Definitely good, but if we could integrate this into the pages, it would be even better
WordPress Podcasting Plugin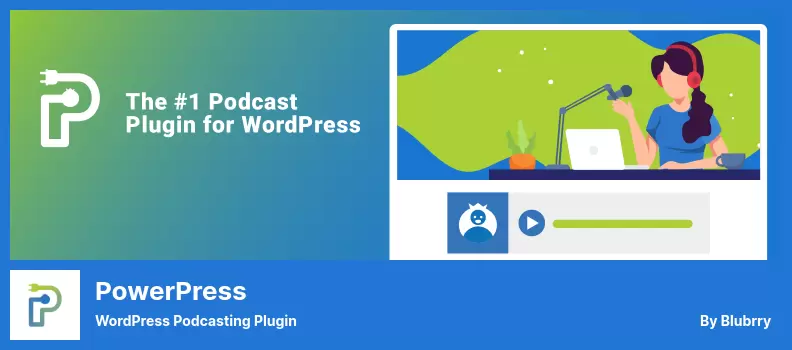 PowerPress plugin is one of the best WordPress podcast plugins that lets you upload, host, and publish a podcast directly from your WordPress site.
PowerPress is a dedicated WordPress plugin with many features that take the podcast listening experience to the next level. With this plugin, you do not need an external service. Everything from subscription options to built-in player and RSS management is done without needing a particular configuration.
An interesting thing about PowerPress is that it can be used to play podcasts and display other media. In terms of features provided by PowerPress, this plugin offers all the features that other players have.
The PowerPress plugin is free, but you need to purchase the Pro version to access advanced statistics and dedicated podcast hosting.
---
💵 This is a FREE service.
Key Features:
Support for all podcasts (iTunes and Google podcasts support)
Hybrid players (audio and video players with YouTube gallery capability)
Ability to skip to the desired part of the podcast
Optimized for search engines and then showed your podcasts to more people
Ability to import podcasts from SoundCloud, LibSyn, PodBean, Squarespace, or other RSS feeds
Support for multiple podcasts
Create podcasts from a variety of custom posts and various categories
Check the permanent media statistics through the WordPress admin dashboard
RTL Styles & Multi-language support
Support for adding emojis to podcasts
Random Reviews:
This review should be removed*

ALI3OLIThis topic was modified 9 months, 1 week ago by ali3oli.

In the past two years, I've used it at least a dozen times.
WordPress Music Play Plugin
The AudioIgniter plugin allows you to create music playlists. If your website is about playing music, lectures, meetings, and more, this WordPress plugin is for you.
If you are also looking for a professional music player, the AudioIgniter plugin is recommended. In this plugin, you can create unlimited music playlists. With this plugin, you can put the desired music or playlist you have created in your site posts, pages, tabs, and various custom posts.
Creating playlists with the AudioIgniter audio player plugin is simple. You can create a beautiful and professional playlist for yourself in a few minutes. The audio player plugin has been tested on over 150 free and non-free WordPress templates to ensure that this plugin works correctly. As expected, it performed very well on all WordPress templates.
If your work is related to podcasts or music, you should put a play on your site and comfort the visitor. A simple playlist can keep users on your site for a long time, increasing your SEO in Google.
Make your website more beautiful with a stylish and straightforward playlist and put all the music and podcasts together in one place. The AudioIgniter plugin does it for you.
Another feature of this lovely plugin is the full support of the Visual Composer page builder plugin, which allows you to place your playlist in any part of the page you want.
---
💵 It includes a Free Lite Version and a Premium Version for a nominal fee.
Key Features:
Bulk upload
Unlimited playlists and unlimited songs
Tested on over 150 WordPress templates
Visual Composer support
Access to widgets and shortcodes
Regular updates
Coding standards
Speed optimization
Random Reviews:
Very nice plugin with good support

Especially impressed with the excellent support the team provided.

Best audio player I have ever had on my website. This topic was modified 4 months, 2 weeks ago by
WordPress Wave Audio Player with Playlist
ZoomSounds plugin is one of the most modern and up-to-date audio player plugins for WordPress. The best thing about this plugin is that it offers excellent features. Through these features, you can design very attractive and user-friendly audio players.
Just like free plugins, you can access this plugin through the website dashboard or via shortcodes. This plugin also supports SoundCloud. Visitors have the opportunity to like the videos they like and post their comments.
---
💵 ZoomSounds is an exceptional plugin with a price of $20.
Key Features:
Support for HTML5 technology
Optimized for mobile and other smart devices
Easy and fast installation
Ability to add comments by visitors directly
Ability to play the audio file via SoundCloud using the API key
Duplicate playback based on the number of times set
Provide download options for playlists and single movies
Provide access to the download option only for users registered on your site
Support for embedded codes
Optimized for search engines
Open Sounds in ZoomBox – Open Player with Shopping Cart Script – ZoomBox
Ability to add MP3 files folder
Random Reviews:
Great plugin! Easy to use and great features.

It's the best plugin of its kind! :)*br

A perfect and very customizable solution*br
Waveform Audio Player for WordPress and WooCommerce
As you can guess from the name of the WavePlayer plugin, this plugin is another audio file player that uses a sound wave when playing audio. With this plugin, you can retrieve songs from your WordPress hosting or easily download from other cloud hosting services such as SoundCloud and integrate them with WavePlayer.
Other key features provided by WavePlayer include HTML5 support, responsive design, WooCommerce integration, and more. Another important feature of this plugin is its speed and performance, which do not slow down your website. You can also visually create playlists before publishing.
The WavePlayer plugin is one of the highest-rated plugins in Codecanyon. One of the plugin's great features is that you can use Product_id and product_url in the player so that people can go directly to the product page and make the music they want.
---
💵 The plugin, created by a well-known author, charges a fee.
Key Features:
Ability to create playlists
Ability to categorize songs
Ability to integrate with the WordPress media section
Ability to like music and podcasts
Ability to view the number of music plays
Ability to download music
Ability to add music to the playlist
Ability to customize the waveform
Ability to set playback options such as repeat, pause, and stop
Ability to upload an audio file by dragging and dropping
Ability to create albums on the website
Ability to adjust the volume
Random Reviews:
This is a very nice-looking wave player*

I appreciate your kind support too!

Best customer service ever!
HTML5 WordPress Audio Player
Compact WP Audio Player Plugin is a helpful plugin for those WordPress site administrators looking for a good player for audio files on their site. As we said, the Compact WP Audio Player plugin is a WordPress plugin for playing audio files on WordPress sites.
This plugin is compatible with all browsers and devices on Android, iPhone, iPad and reduces the size of audio files. As a result, it does not hurt to load the site quickly.
This plugin is based on a combination of HTML5 and Flash, which allows you to insert MP3 files into the content or pages of your site. One of the positive features of this plugin is that it has a shortcode, and you can easily insert your audio files in any part you want by inserting the shortcode of the Compact WP Audio Player plugin.
Also, the player created by this plugin is beautiful and exciting. Due to the high compression of the file, it does not reduce the website's loading speed and can be run in most browsers. The formats supported by the plugin are MP3 and OGG.
This plugin is compatible with different browsers such as IE7, IE8, IE9, Safari, Firefox, Chrome, etc. It is also compatible with iOS.
---
💵 Free download of this plugin is available.
Key Features:
Compatibility with HTML5
Ability to play audio files embedded in iOS devices
Fully responsive design
Ability to embed audio files in various posts or pages of WordPress
Ability to provide previews to shopping users
Ability to add audio player using shortcodes to any part of the page
Ability to play automatically as soon as the page loads using the autoplay option
Create podcasts by embedding mp3 or Ogg files
Does not take up significant space on your page
Provides sales preview of audio files
Random Reviews:
I use it for playing multiple songs on different pages. Exactly what I needed. Easy to use, and very clean.

It would be greater if there were a button on the editor's menu that prints the shortcode format directly into the content

Simple and effective.
Themify Audio Dock Plugin
Audio Dock is one of the most powerful audio player plugins for WordPress. As it is known, using this plugin, you can play music or any audio file on your website. Audio Dock is entirely free. Therefore, it is recommended that you try this plugin.
You can add an unlimited number of your favorite music. You can add your titles and choose from different colors for the scroll bar. If you are an artist or a musician who wants to display your art on a website, this is a great option.
Once installed, you can customize your playlist by going to Settings. You can also access features such as autoplay, bar settings, and color scheme through this section.
---
💵 The plugin is Free and there is limited free support in the WP.org forums.
Key Features:
Compatibility with all WordPress templates
Ability to add a custom title to each audio file separately
Fully responsive (fits all types of screens)
Ability to add an unlimited number of audio files
Customize the navigation bar and color the audio file icon
Random Reviews:
Bummer! As you browse the pages, it reloads.

This is a really gorgeous design!

Despite its flaws, I found the plugin to be a delight to work with, looks great on the template, and works exactly as expected.
WordPress Audio Player Pluign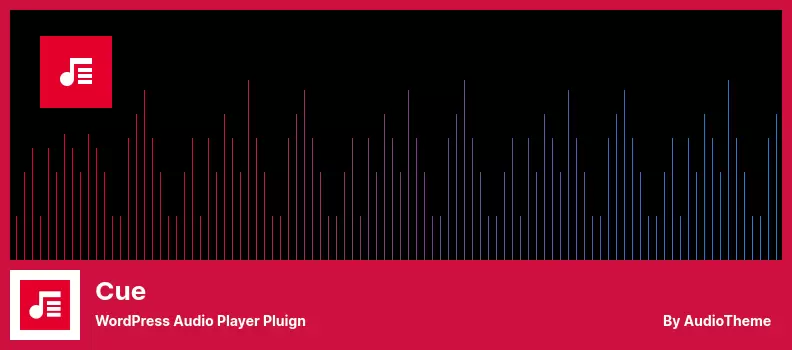 The next plugin for playing audio files is the Cue plugin. This plugin relies on the WordPress media editor to upload audio files to the library. From there, you can select your files and add them to the playlist.
The Cue plugin allows you to add and rearrange multiple songs to the list using the drag-and-drop feature. After adding the thumbnail, copy the corresponding shortcode and paste it into any page or post you want. Cue automatically fills in the audio file's title, song, and length, although you can change it manually.
The Pro version of this plugin offers various templates to change the player's appearance and purchase or download links. In addition, visitors can share playlists with their friends. You can also learn about how visitors interact with audio files.
---
💵 Free support is included with this plugin.
Key Features:
Responsive design
Ability to create unlimited playlists
Connect to an external source such as Amazon S3 or CDN
Player background image customization
Random Reviews:
This is the best player for mp3 playlists, good job guys and thank you.

The SSL security check was thrown off for the navigators.

In order to add a single audio file or a playlist along with a cover art file, I found the features in your plugin. I love it, and I will upgrade soon.
WooCommerce Products Music Player
Music Player for WooCommerce is one of the best music players for in-store websites. With this plugin, you can integrate a music player into the WooCommerce products, Dokan, and WCFM marketplaces. This plugin works with all WooCommerce themes.
Music Player for WooCommerce supports audio files in these formats: OGA, MP3, WAV, and WMA. You can also create M3U and M3U8 playlists with this plugin.
With Music Player for WooCommerce, you can add a playlist to website pages using WordPress page builders (Elementor, Visual Composer, or BeaverBuilder pages builder). You can also add your playlist with code editors such as Gutenberg in the form of a block.
Music Player for WooCommerce includes MediaElement.js. It is a music player compatible with all major browsers such as Internet Explorer, Firefox, Opera, Safari, and Chrome.
Music Player for WooCommerce is fully responsive, meaning that it works well on various devices such as PC, tablets, and mobile.
You can download the basic version of the plugin from WordPress Directory for free. The basic version of Music Player for WooCommerce has the features needed to include a music player on the pages of the products and the store.
The basic version of the plugin is available for free from the WordPress Directory. You can download and use it on your websites.
---
💵 It is a free plugin. There are no hidden costs.
Key Features:
Specific audio player for WooCommerce products, with support for most popular audio formats: OGA, MP3, WAV, WMA, and web browsers (Desktop and Mobile browsers)
Allows the integration with Dokan multivendor store
Protect the audio files for selling, create specific files for demo
Multiple skins available
Allows to generate playlists
Random Reviews:
It is easy to set up and use.

The plugin provides the capability to play music on your website and is integrated with Woocommerce. Simple and easy to use! It was last modified 3 months, 3 weeks ago by

Easy to use and really good.
Basically, The Bottom Line
Though, we reviewed the best WordPress Audio Player plugins. However, you should consider your website priorities. Pick a ready plugin, then expand your site the best way you can.
Thank you for reading this post on the best Audio Player WordPress plugins. Here is our article about the best WordPress blogging themes that you should check out if you're looking for one for your website
Please share your questions with us in the comments section. If you'd like to stay updated with our newest articles, like us on Facebook or subscribe to our Twitter. You can also send us comments on Facebook and Twitter.