Do you need to choose an operable WordPress plugin for an Editorial Calendar?
To assist you to do that, we discussed many WordPress plugins and accumulated the best Editorial Calendar WordPress plugins. Also, all these plugins are speedy and basic with lovely support and are compatible with all WordPress themes.
We produced this list of WordPress plugins for the Editorial Calendar. It's not exactly the Editorial Calendar plugin that you are searching for? These plugins are also usable for Content Calendar, Editorial Workflow, Display Posts in Calendar, Scheduling Calendar, Multi-author blog plugins, and Blog Calendar. Pick the WordPress plugin that fits your site and level it up.
We also suggest you check the best WordPress blogging themes, the theme is an advanced part of your blog site. Also for having an advanced blog to make money you can check our article for WordPress plugins for bloggers.
Best Editorial Calendar Plugins for WordPress 📅
Editorial Calendar and Workflow for WordPress
PublishPress is a plugin designed to increase productivity in various organizations. We can say that the PublishPress plugin is derived from the Edit flow plugin, but it has changed a lot over time. This plugin provides you with an editorial calendar that displays the content of your website for at least five weeks.
The PublishPress plugin also has both free and paid versions. You can download and use the free version of the plugin from the WordPress repository. To use the plugin's premium version, you can go to the PublishPress website and purchase the plugin from there.
With PublishPress, you can manage your content seamlessly with features such as editorial calendars, editorial comments, notifications, feedback to your authors, and custom statuses to manage workflows. It's a fast plugin and even works on all cheap WordPress hostings.
But to access advanced features like remainders, WooCommerce checklists, slack notifications, and content checklists, you have to buy the plugin's premium version.
💵 Lite and Pro versions of this plugin are integrated. The Pro version costs $69 , whereas the Lite version costs zero.
Key Features:
This plugin has an efficient editorial calendar that clearly shows the status of the contents
This plugin has a scheduling feature. You can use it to publish different types of posts, categories, and other items according to a schedule on the website
PublishPress lets you send notifications to coordinate with other members of your team
This plugin is easy to work with and requires minimal configuration. It is updated regularly, and you can be sure that the plugin adapts well to the changes
In addition, the plugin shows you a brief overview of the content for the next five weeks in the editorial calendar
This plugin allows you to customize situations such as 'pending reviews' and 'add images' for your team members
Allows you to leave editorial comments under any post you write
This plugin allows you to display Slack notifications on your website when you have the premium version
Random Reviews:
I love this plugin and it is very helpful for my daily routine tasks.

Related to the Content..

I've been using this plugin for years and love how easy it is to assign posts to writers and drag and drop posts to different days. Also, the colors really help me to quickly see which posts are being worked on, which are ready for review, and which are scheduled.
Editorial Calendar, Missed Schedule & Auto Social Share
SchedulePress is a powerful plugin for managing and scheduling your blog posts. This plugin focuses on both schedule posts and scheduling social media shares.
You can download and install SchedulePress for free from the WordPress repository, but in order to access its original and advanced features, you must purchase the plugin's premium version.
💵 You can download the Premium version for $49 and the Lite version for free.
Key Features:
Your website can be set up to automatically share on social media accounts. So, all you have to do is define a timeline for your content. Then the plugin will schedule the content on social networks like Facebook and Twitter
You also have many options for customizing the content. You can customize the content before publishing it on social media
Suppose you have multiple authors on your site, and they write content. In that case, the SchedulePress plugin will send them email alerts if their content changes on the site
Another excellent tool in SchedulePress is the auto-scheduler feature, which lets you set a specific schedule. The plugin publishes content according to that schedule
Random Reviews:
Got to help with removing old event posts that have already happened. Such a time saver being able to set expiration date at time of creation. Set it and forget it.

SchedulePress Plugin helped us a lot for our social media accounts. We were not able to manage the daily postings due to COVID-19 pandemic, our office was closed and still its not fully operational. Thanks for making such a great social media sharing plugin.

I was needing a good,

basic post calendar

to better view the scheduled posts for me and my contributing bloggers across a larger span of time. This plugin works well in the free version.
WordPress Editorial Calendar Plugin
Strive Calendar is a new and paid plugin for content creators to publish their content on schedule with minimal effort.
Strive Calendar has a beautiful editorial calendar. You can use it whenever you want to edit your posts or define a schedule for them or even change their schedule.
Working with Strive Calendar is easy, and even beginner users can easily work with different parts of it.
Strive Calendar is not just a content calendar tool. This plugin allows you to change the status of your posts. With this plugin, you can create a custom checklist and show it in the post editor. With a checklist, you record all the steps of publishing an article. When you publish a new article, you will not forget anything.
Strive Calendar also has tools for republishing old content. You can edit old content, and this plugin publishes them according to the defined schedule on the website.
Another notable feature of Strive Calendar is having a visual overview of all drafts of your website. With this feature, you will not forget any drafts and will not have any problems modifying drafts.
The Strive plugin is also more than a calendar plugin, allowing bloggers to take advantage of numerous other important features.
💵 This plugin is a Free plugin and hasn't any Pro or Premium version.
Key Features:
Content calendar for planning your posts
Post statuses that allow you to track your progress
Post checklists that check off items while you write
Post revisions that you can update outdated content
WordPress Editorial Calendar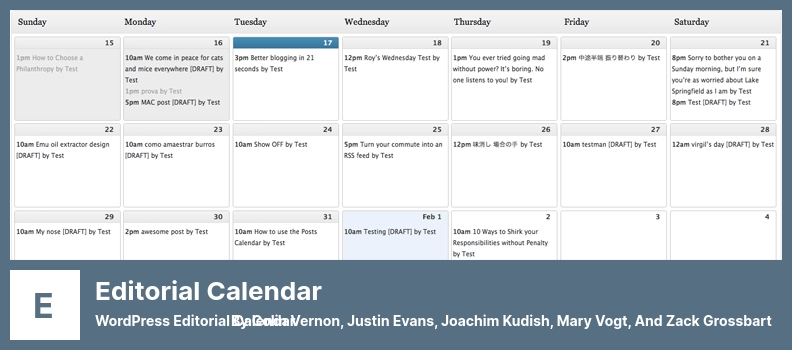 Editorial Calendar plugin is one of the oldest content calendar plugins. It can be downloaded and used from the WordPress repository. This plugin adds a calendar to your WordPress website dashboard, and you can use it to view your new content.
With this plugin, you can view all scheduled and published posts on the website dashboard. The Editorial Calendar plugin has a drag-and-drop feature for scheduling content. You can easily define scheduling for your content.
One of the best features of Editorial Calendar is that it shows the unscheduled drafts on the website in a small sidebar. From there, you can add your drafts to the calendar by dragging and dropping them to schedule them. You can also drag your scheduled posts to the sidebar to unscheduled them.
In general, the Editorial Calendar is an excellent plugin for creating a content calendar on your WordPress website.
💵 FREE!
Key Features:
An easy drag-and-drop interface for rearranging your blogs
It has a new draft drawer feature to edit and manage drafts quickly
There is an option to view your scheduled posts and arrange them by dragging and dropping them on the chosen date
It has a calendar view of all your articles and their respective status in your WordPress Admin Dashboard
You can use custom CSS to change post colors or styles in the calendar
Editorial Calendar enables direct editing of post titles, content, and times directly through calendar view
Editorial Calendar can easily manage articles from multiple authors
Random Reviews:
If you need a post-management plugin, Editorial Calendar is the greatest choice.

Hi I very like this plugin. work as i wish. and I have seen .php .js code file and comment, I like because explanation so polite. This topic was modified 1 year, 3 months ago by

Honestly, this is now a must-have plugin for me.
Advanced WordPress Editorial Calendar
CoSchedule is another content calendar plugin that was initially introduced to the world as a combination of an editorial calendar and a social media marketing calendar.
Today, CoSchedule is mainly known as a marketing calendar that you can use to schedule all your marketing activities such as content marketing, social media sharing, and email marketing.
CoSchedule is a premium plugin that costs around $80 per month to use. This amount is more expensive than other WordPress editorial calendar plugins. It is the biggest weakness of the plugin.
The CoSchedule plugin is well-designed and has a good user experience. You can easily use it in a WordPress dashboard.
The CoSchedule plugin provides you with an intuitive calendar that allows you to view scheduled and published posts.
You can work with this plugin using Drag and Drop and schedule your content with it or rearrange them.
In addition, the CoSchedule plugin integrated well with various social networks such as Facebook, Twitter, and Instagram. You can easily publish your posts on these social networks according to a schedule.
It also offers a lot more than an ordinary editorial calendar, including events, tasks, notes, and social messages.
Another feature of CoSchedule is the abundance of documentation and training videos. If you have trouble working with any part of the plugin, you can use these tutorials.
This plugin has built-in task and workflow management, which allows you to create a checklist for the tasks you need to do.
💵 This is a Free plugin.
Key Features:
CoSchedule offers a cross-functional calendar to bring visibility to your scheduling
The planning and management of team resources ensure that projects are completed on time
The plugin integrates with social media well to create and schedule a queue of social media posts after posting a new blog
Having a drag-and-drop interface to rearrange around
Random Reviews:
I have generated the support ticket and the support team haven't replied me on my ticket.

I had to create an account to use a trial of the plugin. Received a lot of useless emails (even twice a day). I wanted to delete the account to stop receiving the emails, but it is ridiculously difficult.

Cet outil est vraiment parfait pour automatiser vos publications sur les réseaux sociaux et créer une stratégie marketing organisée.
Editorial Calendar & Social Media Scheduling
Nelio Content is one of the most powerful and effective WordPress editorial calendar plugins that you can get from the WordPress repository. This plugin is well integrated with the most popular social networks such as Facebook, Twitter, Linked In, Google My Business, and other social networks. You can put your content on these networks and do content marketing.
This plugin allows you to automatically schedule, create, and promote your content efficiently on various social media platforms.
If you have a team that you work with, this plugin is one of the most suitable tools for team coordination, and you can move things forward in harmony with other team members.
The Nelio Content plugin has tools for measuring the performance of published content. As a result, you can change your content marketing strategies as needed.
You can download Nelio Content for free from the WordPress repository. If you want to use all of its features, you must purchase the plugin's premium version.
💵 You can get Lite for free, but Premium charges $108 .
Key Features:
This plugin allows you to ideate and schedule your work for the timely delivery of your project
Nelio Content offers a drag-and-drop interface to offer you the easiest way to create new Content and reschedule your posts and social messages
Having social media integration to share on various social media platforms like Twitter, Facebook, Instagram, Linked In, Google+, Tumblr, and more
You can measure your success and performance by integrating Google Analytics
The plugin allows you to coordinate with your team effortlessly to enable multiple users to work together efficiently
Random Reviews:
Nelio Content is a great editorial tool, perfect for planning content while also scheduling social media posts to promote your WordPress blog posts. To add to that, support is awesome!

Paid Plugin Free Version No Longer Works and also for FB Groups… For months now i have being trying to optimize my blog thinking it was something that have gotten broken and don't know it is rather this plugin that no longer works …Please can the auto posting added back at least to some social media …Facebook Groups also does not work

Si creas contenido con WordPress y necesitas un plugin para poder difundir todo el contenido, nelio es el mejor. Si además tienes el plugin premium te ayudará todavía más, aunque en algunas ocasiones con el free ya te valga. Merece mucho la pena la inversión del plugin, a mi me ha ahorrado mucho tiempo. ¡¡Muchas gracias al equipo de Nelio Software!
Finally, We Wrap Up
In this article, we helped you to find the selection of WordPress plugins for Editorial Calendar purposes. You can pick a ready plugin and improve your site. These plugins are inclusive.
I hope you enjoyed the total list of the best Editorial Calendar WordPress plugins. Please check the best WordPress magazine themes article because many of them have advanced features for content marketing.
Comment and let us know which Editorial Calendar plugin you end up selecting. Stay tuned for our fresh articles by following us on Facebook and Twitter! Please do not forget to share this post!