What is the best Avatar WordPress plugin for your site?
This article aims to help you choose the most advanced WordPress plugins for the Avatar so you and your potential buyers will be satisfied with your purchase. All the plugins listed here are both feature-rich and straightforward. To finish, all of these plugins work with the best WordPress themes.
All of the following plugins are for Avatar. Still, you can also use them for User Avatar, Upload User Avatar, Avatar Without Gravatar, Avatar Customization, Avatar Manager, and Custom Avatar.
Check out our picks for the best WordPress Avatar plugins in 2022:
One of The Most Useful Plugins for Users to Work With Avatars
The Profilepress plugin enables users to upload their avatars to their website with more features than the traditional methods provided by WordPress.
It can perform more than just uploading avatars and provide users with highly efficient solutions.
This plugin allows users to create their own custom avatar from any photo uploaded to their Media Library without any additional files or modifying images.
Since WordPress allows users to only customize avatars using Gravatars, this plugin can be used to create avatars from any photo uploaded to your Media Library.
In addition, users can upload default avatars to their WP User Avatar settings, even if they do not have a WP avatar image. Additionally, a default user avatar can be used if the user does not have a Gravatar image.
💵 Free: Basic, Premium: $79.
Key Features:
The avatar shortcode can be used with any theme
Any image you upload to the Media Library can be used as an avatar
You can allow standalone uploaders to be added to the front page or widget
Default avatars can be uploaded in the WP User Avatar settings
You can display Gravatar avatars without having WP user avatars
Random Reviews:
Thank you so much for making ProfilePress such a helpful tool. It lets me set up a friendly BuddyPress platform with a lovely layout and useful features.

I'm very happy I installed this plugin. It seems to do more than described. The support is great and quick responses to questions are often provided.
Adds an Avatar Upload Field to User Profiles
Like ProfilePress, the Simple Local Avatars plugin offers several exciting features, including its name. It allows you to change your avatar more quickly and efficiently than before.
As long as your host computer has been configured to accept images, you will be able to locate a folder in which you can store photos. This folder can be configured so that other users can also contribute photos to that folder.
Additionally, users with media permissions may upload their avatars directly to their profiles. In contrast, creators may upload them at any size by editing their profiles, scrolling down to the Avatar field, and clicking.
The plugin handles the cropping and sizing of your pictures. You may request particular sizes, and, as with Gravatar, you will receive the requested size upon request.
Unfortunately, the Super Socializer plugin is not compatible with this plugin.
💵 A powerful plugin from a powerful author. It is Free.
Key Features:
The avatar can be changed by other users
Avatars can be uploaded to the `uploads` folder
You may create an avatar of the desired size
A native interface is available
It is possible to enable the ability to rate local avatars
Random Reviews:
Would it be possible to skip the cropping step? I've already prepared the avatar image and don't need a cropped version in my media library. In cases where the avatars do not have square shapes, this plugin is useless.
Set or Remove a Custom Profile Image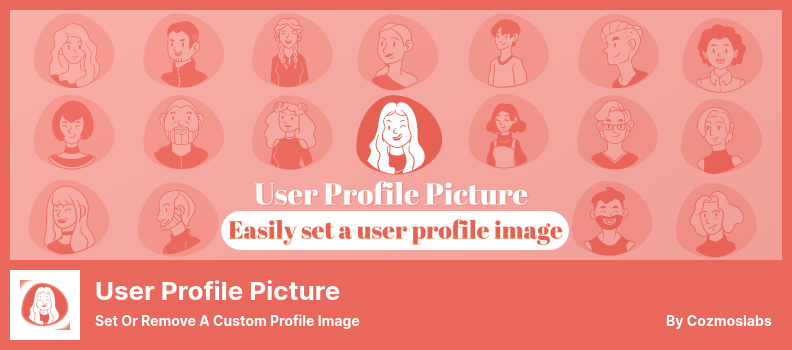 Using the User Profile Picture Plugin, you can see an example of the theme together with your avatar. This allows you to change the profile picture to the one you prefer.
As avatars represent the appearance of people or clients, people are more likely to trust websites with good features. This plugin allows you to upload a personalized profile picture if you desire.
You can easily change your avatar in a few simple steps, regardless of whether you are a new user. Using the standard WordPress uploader, you can remove the custom profile image in case you do not like the old one.
In addition, your clients will be able to modify the theme's appearance through a template tag, which requires that you output your theme to a theme file.
💵 All these features will be provided in the plugin, and It is Free.
Key Features:
You can upload your own profile picture
An option for overriding a user's default avatar can be found
It is possible to output content to a theme using a template tag
You can enhance your user's image profile by getting their picture
A custom profile image can be removed
Random Reviews:
I like how simple it is, how lightweight it is, and what it does. Thanks!

It works without a hitch. Tested on Zahirrahman.com running WordPress 5.5.1
a Sweet and Simple Plugin for Storing Avatars Locally
Like User Profile Picture, with the help of the Avatar Manager plugin, you can share, store, and manage client avatars securely regionally to enhance your site visitors' experience by making their avatars more attractive and compelling.
You can use a self-hosted avatar service for creating random avatars without Gravatar. But using Gravatar, you can allow your users to choose their own avatar for their profile page in a more convenient way.
Additionally, it contributes to a patch or aids considerably in addressing a current problem. The same can be said when you ask users to provide feedback to improve the functionality of your website. These suggestions will assist both you and your users.
The user can observe the right things and provide feedback to the plugin so that it can be improved accordingly.
Furthermore, the new native user interface contains several additional improvements, such as a workflow improvement, on-demand image generation, avatar customization, and customization of user permissions. Users are clearly satisfied with the new features.
💵 No Pro or Premium version is available for this plugin.
Key Features:
A contribution of feedback can make a significant impact
Five languages have been updated
Adding your own review to products is possible
The avatar of other users can be changed by the administrator
You can submit a patch or make suggestions to resolve a problem
Random Reviews:
The Avatar Manager was highly appreciated until a recent update caused problems with User Submitted Posts. (USP Pro)

It is a very useful plugin. I use it on all my sites that have posts that show the author. It works like a charm!
Creates a Gravatar Identicon Avatar
It is possible to change the avatar for your character in-game using the BP Local Avatars plugin, allowing you to select the avatar you like the most and upload it to the store.
With simple instructions, anyone who does not have an avatar can easily change their avatar, even if they are a new user. Gravatar Identicon can create Gravatar icons for avatars, thumbs, and full versions for every user that does not yet have an avatar.
Additionally, this plugin allows you to remove the profile image you currently use if you don't like how it looks. In addition, this plugin will enable you to create new users, register new users, log in to existing users, and bulk create user accounts and groups.
Although this is the case, if the customer does not possess an avatar when they leave a comment, the image will be automatically retrieved from the BuddyPress image directory.
Additionally, the plugin allows users to upload an avatar via their profile Groups may also upload their avatar via their profile.
💵 For this plugin, there is no charge. It's free.
Key Features:
The existing BuddyPress avatar is used
A Gravatar Identicon avatar may be created
You can upload an avatar for your group
Conforms to the dimensions defined
You can upload a user avatar via the profiles
Random Reviews:
Shane and his Philopress team have delivered another great plugin, and thanks to their friendly support, they are a pleasure to work with. 55. I use a number of Philopress products to run my Buddypress-powered community site.
Enables Custom Avatars for Users Without Gravatar
Users without a gravatar can use the Letter Avatars plugin to create an avatar that will appear in their posts Instead of using an image avatar.
You can create a letter avatar that will appear in your posts. If you use an email address as your avatar, your avatar will be the first letter of your email address.
There are currently no options for incorporating images, scripts, or font icons into the plugin. All letters will be rendered using either a font in your theme or a Google font.
Furthermore, since the plugin runs before the avatar is created, the avatar's dimensions are preserved. Additionally, the plugin provides extensive customizability. For instance, you can change the avatar's color, font, and size.
A style feature allows you to change the background and letter colors for your avatars and make a random choice for all of them since there is no need for external stylesheets or images.
Unfortunately, pages cannot be set to have padding or margins.
💵 A free version of the plugin is available for download.
Key Features:
Consistent with Yith reviews for WooCommerce
Fully compatible with your website
The color of the background can be changed
It is possible to change the color of the letters
You are capable of working with BuddyPress
Random Reviews:
After Installation, I Thought It Would Not Work With the Latest Version Of WordPress Because the Plugin Is Not Updated For A While, But It Works Just Perfect With Latest Version & Also Compatible With Elementor… And Finally, Support Is Great, Sibin Helped Me To Get A Custom Layout Quite a Lot.
As a conclusion
We discussed the best WordPress avatar plugins in this post. Choose a ready plugin, and boost your site in the best way.
📌 Note: We also suggest that you check out our articles on the best WordPress blog themes and best WordPress plugins for bloggers.
You have read this short list of the best WordPress plugins for the Avatar. We hope you found it helpful.
We would love to hear your questions in the comments. Don't forget to share this post on Facebook and Twitter.