Are you a WordPress website owner looking for the best avatar WordPress plugins? Perhaps you're unsure of which ones to choose or if they're worth the investment.
Well, you're in luck! In this blog post, we'll explore the top six avatar WordPress plugins that are available for both free and premium options. By the end of this article, you'll have a clear understanding of the best plugins to enhance your website's avatars and take your WordPress experience to the next level.
When it comes to avatars on your WordPress website, having the right plugins can make all the difference. These plugins offer a range of features and functionalities to enhance the appearance and customization options for your avatars.
Whether you're a beginner or an experienced website owner, finding the ideal avatar WordPress plugin is crucial in creating a visually appealing and user-friendly website.
In this article, we'll take a closer look at the six best avatar WordPress plugins available. We'll dive into their features, benefits, and overall performance, giving you the necessary information to make an informed decision.
So, whether you're looking to add avatars to your blog comments, author bio sections, or user profiles, keep reading to discover the perfect plugin for your WordPress website.
Best Avatar Plugins for WordPress
If you are looking to add some personality and visual flair to your WordPress website, look no further than our handpicked selection of the best Avatar plugins available for WordPress!
Whether you're looking for a free option or are willing to invest in a premium plugin, these plugins will help you create captivating and eye-catching avatars for your website. So why wait? Dive in and discover the possibilities that await you in this article!
One of The Most Useful Plugins for Users to Work With Avatars
ProfilePress is a WordPress plugin that goes beyond the basic avatar uploading options and offers users a range of powerful features. With this plugin, you can create custom avatars using any photo uploaded to your Media Library, without the need for additional files or image modifications.
One standout feature of the plugin is the ability to upload avatars to your website using default settings. Even if you don't have a WP avatar image, you can still upload default avatars to your WP User Avatar settings. This means you have more flexibility in customizing your website's avatars.
Additionally, the plugin allows you to use the avatar shortcode with any theme. This means you can easily integrate avatars into your website's design, regardless of the theme you're using.
Another great feature is the option to add standalone uploaders to your front page or widget. This makes it easy for users to upload their own avatars directly from the front end of your website, without the need to access the backend.
With ProfilePress, you have the ability to display Gravatar avatars even if you don't have WP user avatars. This ensures that users without a Gravatar image can still have a default avatar displayed on your website.
Key Features:
Avatar shortcode works with any theme
Use any image from the Media Library as an avatar
Standalone uploaders for the front page or widgets
Upload default avatars in WP User Avatar settings
Display Gravatar avatars without WP user avatars
Adds an Avatar Upload Field to User Profiles
Simple Local Avatars is a WordPress plugin that offers a convenient way to change and manage avatars on your website. With this plugin, users can upload their own avatars to a designated folder, and other users can also contribute to adding photos to that folder.
One of the standout features of this plugin is that it handles the cropping and sizing of your pictures. If you have specific size requirements for your avatars, you can request those sizes and the plugin will deliver them to you. This ensures that your avatars always look great and fit perfectly on your website.
Not only can users with media permissions upload their avatars directly to their profiles, but creators can also upload avatars of any size by simply editing their profiles and scrolling down to the Avatar field. This flexibility allows for easy customization and personalization.
Similar to other plugins like ProfilePress, the plugin offers a native interface that is user-friendly and intuitive. This means that even non-technical users can easily navigate and utilize the plugin's features without any hassle.
Additionally, this plugin also allows you to enable the ability to rate local avatars. This feature adds an interactive element to your website, allowing users to express their opinions and engage with the avatars on your platform.
Key Features:
Change avatars uploaded by other users
Upload avatars to the designated folder
Customize avatars to the desired size
User-friendly native interface
Enable rating of local avatars
Set or Remove a Custom Profile Image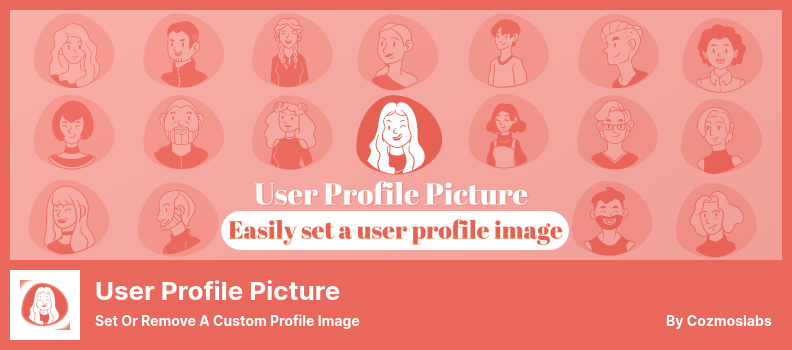 The User Profile Picture plugin makes it incredibly easy to change your avatar with just a few simple steps. Whether you're a new user or looking to replace your old profile image, it has got you covered. With the standard WordPress uploader, you can quickly upload and set up a personalized profile picture that truly represents you.
Having a unique avatar is important as it helps build trust with your website visitors. When people see a well-crafted avatar, they are more likely to perceive your site as professional and reliable. It allows you to enhance your online presence by uploading a custom profile picture that truly reflects your personal brand.
One great feature of the plugin is the ability to preview your avatar alongside the theme you're currently using. This is incredibly useful as it allows you to see how your profile picture aligns with the overall design and style of your website.
With this feature, you can easily make any adjustments or changes to your profile picture until you're completely satisfied with the result. Not only does this plugin cater to your personal needs, but it also offers benefits for your website visitors.
Your clients will have the ability to modify the appearance of the theme through a template tag. This means they can customize how your theme looks by simply outputting it to a theme file. It's a fantastic way to empower your clients and give them the freedom to personalize their browsing experience on your website.
Key Features:
Upload and set your own profile picture
Override a user's default avatar with a custom image
Output content to a theme using a template tag
Enhance your user's image profile by getting their picture
Easily remove a custom profile image if desired
Option to remove custom profile image
a Sweet and Simple Plugin for Storing Avatars Locally
Avatar Manager is a WordPress plugin that offers a range of useful features to enhance the avatar customization options on your website. With its new native user interface, this plugin brings several improvements, including on-demand image generation and customization of user permissions.
Users have expressed their satisfaction with these new features, proving their effectiveness in addressing their needs. One of the standout features of the plugin is its ability to provide a convenient and user-friendly way for your website visitors to choose their own avatar for their profile page.
Instead of relying on Gravatar, you can use the plugin to create and manage random avatars without any hassle. This not only makes it more convenient for your users, but it also adds a personalized touch to their profiles, making them more attractive and engaging.
Beyond avatar customization, it also allows you to securely store and manage client avatars locally. This feature adds an extra layer of security and ensures that your site visitors' avatars are protected. By utilizing this plugin, you can enhance the overall experience of your visitors and make their avatars more compelling.
In addition to its user-focused attributes, Avatar Manager also offers practical benefits for website owners. By providing a platform for feedback and suggestions, it enables users to contribute to its improvement. This direct engagement with users not only helps in resolving any existing issues but also fosters a sense of collaboration.
Key Features:
Feedback contribution for continuous improvement
Multi-language support for global accessibility
User-friendly avatar customization options
Securely store and manage client avatars locally
Administrator control over other users' avatars
Convenient patch submission and problem-solving suggestions
Creates a Gravatar Identicon Avatar
BP Local Avatars is a WordPress plugin that allows users to easily upload and change their avatars. It supports both individual users and groups, making it convenient for everyone.
The plugin provides simple instructions, so even new users can quickly update their avatars without any hassle. You can also create new user accounts, log in to existing users, and bulk-create user accounts and groups with this plugin.
One of the great features of the plugin is its compatibility with Gravatar Identicon. It enables you to create unique avatars for users who do not have one yet. These avatars can be customized for different purposes, including thumbnails and full versions.
Additionally, if a customer leaves a comment without an avatar, the plugin will automatically retrieve an image from the BuddyPress image directory. This ensures that there is always an image associated with their comment.
In addition to these features, you can also change the avatar for your in-game character using the BP Local Avatars plugin. This functionality allows you to select the avatar you like the most and upload it to the game's store.
Key Features:
Use the existing BuddyPress avatar
Create unique avatars using Gravatar Identicon
Upload avatars for groups
Adhere to defined avatar dimensions
Easily upload user avatars via profiles
Enables Custom Avatars for Users Without Gravatar
Letter Avatars is a WordPress plugin that allows users to create personalized avatars using letters instead of images. The plugin ensures that the dimensions of the avatars are preserved and offers extensive customization options, including the ability to change the color, font, and size of the avatars.
One of the key features of the plugin is that it allows users without a gravatar to create their own avatars using letters. Instead of having an image avatar, users can simply use a letter avatar that represents the first letter of their email address. This is a great option for those who prefer not to use an image or don't have a gravatar set up.
The plugin also offers a style feature that allows users to customize the background and letter colors for their avatars. This gives users the flexibility to create avatars that match their website's branding or personal preferences.
Additionally, the plugin offers a random choice feature, which allows users to have randomly generated letter avatars for a more diverse and unique look. One limitation of the plugin is that it does not currently support the use of images, scripts, or font icons within the avatars.
However, this is compensated by the fact that the plugin utilizes either a font from your theme or a Google font to render the letters, eliminating the need for external stylesheets or images.
It is worth mentioning that Letter Avatars is fully compatible with your website and works seamlessly with BuddyPress. This ensures that the plugin integrates smoothly with your existing setup, allowing you to easily implement it and start creating letter avatars for your users.
Key Features:
Preserves avatar dimensions
Extensive customization options for colors, fonts, and sizes
Create letter avatars for users without a gravatar
Style feature for customizing background and letter colors
Random choice option for unique and diverse avatars
Works seamlessly with BuddyPress
Frequently Asked Questions
What are avatar WordPress plugins?
Avatar WordPress plugins are tools or software that allow users to create and manage avatars on their WordPress websites. Avatars are graphical representations of users or personas that can be used in comments, user profiles, or to personalize the website.
Why should I use Avatar WordPress plugins?
Using avatar WordPress plugins can enhance user engagement on your website. Avatars add a visual element to user interactions and can make commenting and user profiles more interesting and appealing.
They can also help users distinguish between different commenters and add a personal touch to the website.
What are the advantages of using pro avatar WordPress plugins?
Pro avatar WordPress plugins often offer more advanced features and customization options compared to free plugins. They may provide additional avatar styles, allow integration with social media profiles, or enable users to create animated avatars.

Pro plugins also typically offer better support and updates, ensuring a smoother experience for website owners and users.
Conclusion
To recap, in this article, we discussed the six best avatar WordPress plugins, both free and pro options. We explored the features and benefits of each plugin, helping you make an informed decision for your WordPress website.
If you're interested in delving deeper into related tutorials and articles, we recommend checking out the BetterStudio blog. They have a wealth of valuable information on WordPress plugins and numerous other topics.
To stay up to date with the latest tutorials and resources from BetterStudio, we encourage you to follow them on Facebook and Twitter. This way, you'll never miss out on any helpful tips and tricks.
Thank you for taking the time to read our article. If you have any questions or encounter any problems implementing the discussed avatar WordPress plugins, please feel free to leave a comment in the comment section below. We're here to help and assist you in any way possible.