Are you a WordPress website owner looking for an efficient way to manage your employees? Here's your chance to find out about the four best WordPress employee management plugins, both free and paid. Here's a tool for syncing up your employee management process.
Now, you might be wondering why you need employee management plugins for your WordPress website. Well, let me share some stats and facts with you.
According to a survey, a staggering 71% of businesses believe that employee engagement is critical to their success. Additionally, companies with engaged employees experience 17% higher productivity and 21% higher profitability.
With these numbers in mind, it's clear that employee management isn't something to take lightly. That's why these plugins exist. From scheduling and assigning tasks to tracking performance, to providing feedback, they offer a lot of useful features and functionalities to help you manage your employees effectively.
In this article, we will delve into the top four WordPress employee management plugins, exploring their key features, pricing options, and user reviews.
Whether you're a small business owner or a large enterprise, these plugins can make a significant difference in optimizing your employee management process. So, let's get started and find the perfect plugin for your WordPress website!
Best Employee Management Plugins for WordPress
If you are looking for the best employee management plugins for your WordPress website, look no further! In this article, we've compiled a list of the top plugins that will streamline your employee management process and help you boost productivity.
So, why wait? Keep reading to discover these game-changing plugins and take your employee management to the next level.
The Human Resources Plugin for WordPress
WP-HR Manager is a powerful WordPress plugin that allows employees to easily access their performance and administrative tasks through a front-end view. It provides a back-end interface for HR personnel, line managers, and employees to efficiently manage human resources directly from your website.
One of the key features of the plugin is the ability to track employee holidays, leaves, and other administrative tasks. This ensures that you have a clear overview of your team's availability and can effectively manage their schedules.
With the Employee Portal and Human Resources Management system, employers can easily manage employee records, track attendance and absence records, communicate with team members, and review vacation requests.
The pro version of the plugin offers even more functionality, including the ability to synchronize multiple holiday calendars, import and export data, and perform other HR-related functions. This gives you greater control and flexibility in managing your workforce.
One of the standout features of the plugin is its free HR management software. This allows managers to monitor attendance, send employee announcements, and even recruit new members. With this plugin, you can efficiently handle typical HR functions without the need for external software or services.
Additionally, WP-HR Manager allows you to easily update your site with new features and plugins as needed, providing scalability and adaptability for your HR management needs.
Key Features:
GDPR compliance

for data control

Employee self-service features
Flexibility to update with new features and plugins
Free HR management software
Unlimited employee management capabilities.
Complete WordPress Business Manager With Hr, CRM & Accounting Systems for Small Businesses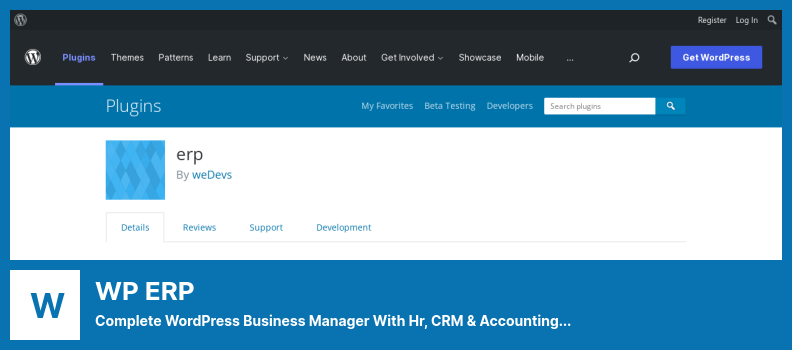 WP ERP is a powerful WordPress plugin that serves as a business manager for your website. With this plugin, you can easily manage your human resources, customer relations, and accounting all in one place.
One of the key features of the plugin is its CRM application, which allows you to enhance your business relationships with customers and increase profitability. This includes an integrated email platform, giving you a convenient way to communicate with your customers.
When you first access the plugin, you have the ability to add and edit all the information about your company, including its locations. You can create multiple departments and assign employees to each department based on their positional designations. This helps in organizing your team and streamlining workflows.
Managing employees becomes a breeze with the plugin. You can provide them with editable profiles, indicating which department they work for and what title they hold. This provides transparency and clarity within your organization.
Additionally, WP ERP allows employees to request leave in advance, making it easier to manage time off and vacations. The plugin also provides reports tailored to the age, gender, number of employees, and salary of each individual, making it easier to analyze and understand your workforce.
Key Features:
Editable employee profiles
Department and title management
Leave request management
Tailored reports for workforce analysis
Comprehensive accounting module
Human resource management.
Employee Directory for WordPress
Your employees will be easy to manage and organize with the Staff Directory plugin. Employee profiles can be added to your site. Besides tracking time and reminding employees, sending invitations, and more, new employees can be added with complete profiles.
Using the plugin makes it easy to find, classify, and group employees in the management system. In the plugin, you can search for employees by name or specific attributes that are listed on their profiles. You can use it to find the right employee for a particular job or task.
Additionally, the plugin offers the option to create individual employee profile pages for both intranets and extranets. This means that you can provide a dedicated space for each employee to showcase their skills, experience, and achievements.
The plugin also includes helpful features like sending emails and notifications to new employees during the onboarding process. This makes it easy to keep your staff informed and engaged from the moment they join your organization.
Another useful feature of the plugin is the ability to display information about employees and groups of employees using shortcodes. This allows you to showcase your team and highlight their expertise on various pages of your website.
To further enhance the user experience, the plugin offers a search function and sort bar, making it easy for both administrators and visitors to access specific employee information or filter search results.
Lastly, Staff Directory recognizes the importance of acknowledging and appreciating the contributions of your employees. The plugin provides the tools to recognize and reward your staff, which can make them feel valued and motivated to perform at their best.
Key Features:
Create employee profiles with complete information
Advanced search functionality for finding employees based on attributes
Dedicated profile pages for each employee
Send emails and notifications to new employees during onboarding
Display employee and group information using shortcodes
Access search results and sort them according to your needs.
Provides Smoothly Integrated Essential Hr Time and Attendance Functionality
The Employee and HR Manager plugin is a customizable tool designed to help you streamline and manage various aspects of your employee management and HR processes. With this plugin, you can easily generate reports, handle payroll and shifts, calculate salaries, and meet all your employees' needs.
This plugin offers a user-friendly interface that allows you to manage all these options effortlessly. Everything can be done through a single interface, saving you time and effort. Whether you need to track attendance, handle leave requests, or organize employee information, this plugin has got you covered.
One of the standout features of the plugin is its ability to mark attendance and check if employees are logged in with just a simple click. This feature simplifies the process and ensures accurate attendance tracking.
Additionally, you can easily organize and store employees' banking and personal information within the plugin. This allows for effective and efficient management of crucial employee details, keeping everything organized and easily accessible.
Key Features:
Single interface for easy management
Effortless attendance marking and tracking
Organize and store employee banking and personal information
Create multiple departments and designations.
Frequently Asked Questions
What are employee management plugins for WordPress?
Employee management plugins for WordPress are tools that help businesses effectively manage and organize their employees within the WordPress platform.
These plugins provide features such as time tracking, task assignment, performance evaluations, and communication tools to streamline team coordination and improve productivity.
What are the advantages of using WordPress employee management plugins?
Using WordPress employee management plugins can bring several advantages to your organization. Firstly, these plugins provide a centralized platform for managing employee-related tasks and information, making it easier to stay organized.

They also streamline communication and collaboration among team members, improving efficiency and productivity.

Additionally, employee management plugins often offer features for tracking attendance, performance, and leave, which can help HR departments in evaluating and rewarding their workforce.

Overall, these plugins can enhance employee management processes and contribute to a more efficient and engaged team.
How do I choose the right WordPress employee management plugin for my website?
When choosing the right WordPress employee management plugin for your website, it's important to consider your specific requirements and budget.

Start by identifying the key features and functionalities you need, such as attendance tracking, leave management, or performance evaluation. Explore different plugin options and compare their features, user reviews, and support offered.

It's also recommended to check the compatibility of the plugin with your WordPress theme and any other existing plugins on your site. If possible, test the plugin's free version or trial period to ensure it meets your expectations.

By carefully evaluating your needs and options, you can find the best employee management plugin that suits your organization's requirements.
Conclusion
In conclusion, we have explored the top four WordPress employee management plugins, both free and pro versions, in this article. We discussed their features, benefits, and how they can help you streamline your employee management processes.
If you use these plugins, you can provide your employees with a variety of tools that will help them be more productive, complete their task assignments, and communicate with one another.
If you want to delve further into WordPress tutorials and guides, don't forget to check out BetterStudio's blog. There, you'll find a wealth of information on various topics to enhance your WordPress website and optimize your employee management.
To stay up to date with the latest tutorials and resources from BetterStudio, make sure to follow us on Facebook and Twitter. We regularly share valuable content and updates that can help you make the most out of your WordPress website and employee management plugins.
We appreciate you taking the time to read this article, and we hope you found it useful. If you have any questions or encounter any problems related to the topics covered in this article, please feel free to ask in the comment section. Our team and community are here to support you and provide solutions to your queries.
Please accept our sincere thanks for being a part of our WordPress community, and we are looking forward to working with you on your WordPress journey!