Are you a WordPress website owner searching for the best WordPress preloader plugins? Look no further! In this blog post, we will explore the top six preloader plugins, both free and pro, that can enhance the loading experience of your website.
Whether you're worried about slow loading times or simply want to add a professional touch to your site, preloader plugins can make a significant difference.
So, what exactly are preloader plugins? Preloaders are the animations or graphics that appear on your website while it's loading. They not only keep visitors entertained during the loading process but also give the impression that your site is actively working.
The faster your website loads, the better the user experience, and the higher the chances of retaining visitors. Now, let's dive into the six best WordPress preloader plugins that can elevate your website's loading performance.
Add some stats or facts about the article here to build credibility and show the significance of utilizing preloader plugins. For example, did you know that websites that take more than two seconds to load experience higher bounce rates?
Furthermore, a one-second delay in page load time can lead to a 7% reduction in conversions. These numbers highlight the importance of optimizing your website's loading speed to retain and engage visitors.
In this article, we'll explore the top six preloader plugins available for WordPress websites. These plugins offer various features, such as customizable animations, easy installation, and compatibility with different themes.
Whether you're a beginner or have advanced coding knowledge, there's a preloader plugin that suits your needs. Get ready to enhance your website's loading experience and impress your visitors with these fantastic plugins.
Remember, a great website is not only about its content but also about the overall user experience. With the right preloader plugin, you can ensure that your website loads quickly, keeping your visitors engaged and satisfied. Let's explore the top six WordPress preloader plugins and take your website to the next level.
Best Preloader Plugins for WordPress
If you are looking to add a touch of style and professionalism to your WordPress website, look no further! In this article, we've compiled a list of the 6 best WordPress preloader plugins, both free and paid, that can take your website's loading time to the next level.
So why wait? Take a look at some of the amazing features and choose the perfect preloader plugin to enhance your site now!
Preloader Plugin for WordPress
LoftLoader is a powerful WordPress plugin that allows you to customize the appearance of your website's preloader animation. With this plugin, you can easily create a unique loading screen without any coding knowledge.
One of the standout features of the plugin is its collection of 19 different CSS3 animations. These animations are compatible with a wide range of browsers, ensuring that your preloader looks great no matter what device or browser your visitors are using.
Aside from these, the plugin offers four different types of ending animations, as well as seven different types of loading animation effects, of which two can be customized to make them suitable for your needs.
Your loading screen is completely customizable with this plugin. It lets you display it in any color, and you can add progress bars and counters to let your visitors know how the page is loading. If you want a minimalist approach, just put a simple animation in the background.
You can use the free version if you've got the basics, but you can get even more features with the Pro version, like device control and an enhanced settings panel. You can also customize your loading screen's look further with unlimited background options with the plugin.
Some other noteworthy features of LoftLoader include the ability to set a pause and close time on the loading screen, translation-ready and RTL support, and full compatibility with modern devices and screens.
Key Features:
Display the loader only once per session
Enhanced settings panel with WordPress customizer integration
Activate or deactivate loaders for portfolios and products
Unlimited loader color options
Unlimited background customization options.
WordPress Animation Preloader Plugin
WP Smart Preloader is a handy WordPress plugin that allows you to add a stylish loading spinner to your website while it is still loading. This plugin uses CSS animation instead of GIFs or images, making it lightweight and ensuring that your website doesn't get bogged down with unnecessary bulk.
One of the best things about the plugin is its compatibility with all modern browsers and devices, including those with touchscreens. Whether your visitors are using a desktop, laptop, tablet, or smartphone, they will have a seamless loading experience.
Another great feature of this plugin is its simplicity. You don't need to have any coding knowledge to use it, making it perfect for beginners. The customization options are also versatile, allowing you to easily match the preloader to the overall design and aesthetics of your website.
With this plugin, you have the ability to adjust the duration of the preloader, ensuring that it doesn't take too long and frustrates your visitors. Additionally, you can create custom CSS-based preloaders, giving you even more flexibility to create a loading animation that suits your website's style.
One major advantage of this plugin is that it doesn't interfere with the header of your website. It seamlessly integrates into the loading process, without altering the structure or layout of your header.
The plugin also offers an option to display the preloader only on the homepage or on the entire website, depending on your preference and needs. This level of customization ensures that you have full control over how the preloader is displayed.
Key Features:
No unnecessary bulk from GIFs or images
Adjustable preloader duration
Custom CSS-based preloaders
Header remains unaffected
Visual examination of content loading progress
Fades out as soon as content is loaded.
Loading Screen Plugin for WordPress
PageLoader is a WordPress plugin that allows you to create an impressive preloader page for your website. With a range of stunning features, it helps you turn your loading screen into a captivating branding campaign.
This plugin is compatible with all major web browsers and is fully responsive, ensuring that your preloader works seamlessly no matter how your visitors access your site. It can be easily integrated into any WordPress theme or WooCommerce theme, offering versatility and convenience.
One of the standout features of the plugin is the ability to create your own custom-loading image with animation effects. This allows you to personalize your preloader and make it unique to your brand. The plugin supports all modern display sizes, ensuring that your loading image looks great on any device.
In addition to the customizable loading image, it also offers the option to display a progress bar and customize the loading message. This gives you complete control over the user experience and allows you to provide informative and engaging content while your page loads.
It is worth noting that PageLoader is not an Elementor preloader plugin. However, it offers a range of features that make it a powerful tool for any WordPress website owner.
Key Features:
Ten professionally designed preloader icons to choose from
Option to display a close button during the loading process
Customizable typography, allowing you to match the preloader to your theme
Ability to set a custom delay for the loading screen to disappear
No limit on background-color options
Freedom to choose any preloader background color.
A Straightforward WordPress Preloader Plugin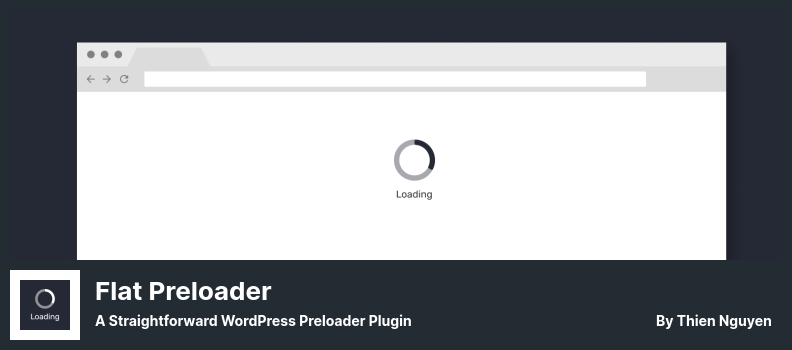 Flat Preloader is a WordPress plugin that allows you to display a preloader on your website. It gives you the option to show the preloader only on the home page or on all the pages, and it automatically adjusts the preloader based on the screen size of the user's device.
One of the best things about the plugin is its lightweight nature. Unlike some other plugins, it won't slow down the loading speed of your site. This is especially important for maintaining a positive user experience and improving your site's SEO.
While the plugin is a basic plugin, it still offers some customization options. However, it's worth noting that it may not be as customizable as other plugins like PageLoader or WP Smart Preloader. For example, you might not be able to use custom images with Flat Preloader.
One unique feature of Flat Preloader is the option to use an Emoji preloader instead of a regular preloader. This can add a fun and modern touch to your website. With its flat design approach, it allows you to create clean and minimal preloaders that align with the overall design of your site.
Key Features:
Retina-ready Gif images

for high-quality preloader animations

Set a delay time to fade out the preloader and show the loaded webpage
Ideal for users who want a simple preloader
Ability to add custom text to appear with the preloader
Flexibility to display the loading page anywhere on your website
Customizable text can be added under the preloader.
Cutom Preloader Plugin for WordPress
BH Custom Preloader counts as one the most notable, popular jQuery-based custom WordPress plugins and helps you to create an eye-catching image preloader page.
As a part of this plugin, you are able to upload your own image you wish to use as the preloader. You are also able to specify the background color of the preloader and its speed.
Furthermore, the plugin has 28 preloader images that are provided as part of the plugin package, which enhances the appearance of the preloader and makes it more appealing to the user.
The plugin can be selected to appear only on your homepage or on other pages according to your preferences. Additionally, the delay time of the preloader can also be specified by a number, as well as the opacity of the preloader body, if desired.
Key Features:
Excellent customer support for any queries or issues
Plug and Play installation
User-friendly dashboard for easy customization
Includes 8 CSS3 preloaders for added visual appeal
Admin options for convenient management
Beginner-friendly interface for hassle-free usage.
The Most Advanced WordPress Preloader Plugin
Using WordPress Preloader Unlimited, you can easily make and customize preloader animations. You can upload your own gif or select from a variety of options to create a custom loading screen with this plugin. Over 50 gorgeous CSS3 animated transitions, as well as 50 preloader animations, are available.
One of the standout features of this plugin is its versatility. WordPress developers have the ability to create loading screens that display text or images as a fill animation that covers the entire screen.
In addition to being able to specify a variety of variations for the preloader, you will also have to make sure to modify it so that it matches the aesthetics of your website, which will make it easier for you to customize it to fit your needs.
The plugin is regularly updated, ensuring that you always have access to the most recent loaders and features. It also offers robust customization options, allowing you to enable or disable the preloader on mobile devices and choose whether it appears on your entire site or just specific posts and pages.
For those looking to add some extra flair to their preloader animations, the plugin supports 2D/3D lettering, allowing for engaging and eye-catching effects. Additionally, you can set the timing for when the preloader hides, giving you control over the user experience on your site.
While WordPress Preloader Unlimited offers excellent functionality, it's worth noting that it is a paid plugin and is not available for free. However, the range of features and customization options make it a worthwhile investment for those looking to enhance the loading experience on their WordPress website.
Key Features:
Regular updates with the latest loaders and features
Trendy and eye-catching loader designs
Extensive customization options for a personalized experience
Flexibility to set the preloader for the entire site or specific posts and pages
Engaging animations with support for 2D/3D lettering
Timing control for when the preloader hides.
Frequently Asked Questions
What are preloader plugins for WordPress?
Preloader plugins for WordPress are tools that help improve the loading experience of a website by displaying a loading animation or image while the content is being loaded.

These plugins ensure that visitors don't see a blank or slow-loading page, keeping them engaged and preventing them from leaving.
Why should I use preloader plugins for my WordPress site?
Using preloader plugins can greatly enhance the user experience on your WordPress site. By displaying an engaging loading animation or image, it creates a sense of anticipation and provides visual feedback to visitors, letting them know that the website is still working in the background.

This helps to reduce bounce rates, improve overall user satisfaction, and make your website more professional and polished.
What are some factors to consider when choosing a preloader plugin?
When choosing a preloader plugin, consider factors such as ease of use, customization options, responsive design, compatibility with different themes and plugins, customer reviews and ratings, and whether it offers additional features like analytics or advanced loading options.

Also, it's essential to check if the plugin is regularly updated and supported by its developer because that makes a big difference.
Conclusion
To recap, in this article, we explored the top six WordPress preloader plugins, both free and paid options. These plugins can help improve your website's loading speed and enhance the user experience.
During our discussion, we were able to identify the features and benefits of each plugin, helping you to make an informed decision about which one is best for your needs.
If you're hungry for more WordPress tutorials and tips, be sure to check out the BetterStudio blog. We have a wide range of informative articles that can help you navigate the world of WordPress and optimize your website.
Want to stay up to date with the latest tutorials and resources? Follow BetterStudio on Facebook and Twitter! We regularly share useful content, including tutorials, tips, and updates, to keep you in the loop.
The WordPress preloader plugins have a lot to offer, so we hope this article helped you find the best one. Feel free to leave a comment below if you run into any problems or have any questions about these plugins. Our team is here to help you out. Happy website building!