Can't find the best plugin for Preloader?
We have handpicked and rounded up the best WordPress preloader plugins. You will definitely find one you like incredibly and use it on your site in 2022 and level up your website.
All these WordPress plugins listed here are feature-rich, user-friendly, and straightforward. Finally, these plugins work well across all WordPress themes.
We picked plugins that are ideal for the preloader. But you are not looking for an exact preloader plugin? These plugins are also functional for Loading Animation, Custom Preloader, Loading Screen, Image Preloader, and Elementor Preloader Plugin. Choose the WordPress plugin that you think suits you and levels up your website.
Best Preloader Plugins for WordPress 🥇
Here are the top WordPress plugins for Preloader, as of 2022:
Preloader Plugin for WordPress
Using LoftLoader, a WordPress plugin for custom preloader animations, you can customize the appearance of your preloader.
Four different ending animations are provided, as well as seven different loading animation effects, two of which can be modified. The loading page can be displayed in any color and can also include a progress bar and counters or it can simply display a loading screen with an animation in the background.
There is a free version of this plugin that is suitable for anyone who has a few special requirements. One unique feature of this plugin is the ability to customize the preloader's appearance without knowledge of coding.
The plugin provides 19 different kinds of animations. All of them are purely CSS3 animations and work across a wide range of browsers.
💵 You can download Lite for free, or Pro for a price.
Key Features:
Unlimited loader color
Customize the close button text
The loader can be displayed only once per session
Device control (Pro)
Enhanced settings panel with WordPress customizer
Product and portfolio loaders can be activated or deactivated
Unlimited background
Allows you to set a pause and close time on the loading screen between 5 and 20 seconds
Translation-Ready and RTL Support
Supports every modern device screen
Random Reviews:
This loader has been used on nearly 10 sites now. Works very well!

A good plugin, but support is slow. This topic was modified 8 months, 3 weeks ago by

Such an awesome plugin for adding site load to a website.
WordPress Animation Preloader Plugin
The WordPress Smart Preloader is another popular loading screen plugin that can be used in any industry.
The CSS spinner and throbber can be used to view the background loading of your website while it is still in progress.
With the plugin, you can use any modern screen that has a touchscreen, and it works across all browsers and devices (as with the WP Smart Preloader plugin). This plugin uses almost no HTML markup, making it extremely lightweight and fast.
This loading animation provider plugin is an easy-to-use plugin that can be modified without knowing how to code. Beginners will find it easy to learn. The preloader, although it is small, offers a variety of customization options and can be easily incorporated into the look and feel of your pages.
💵 Free lifetime updates are included with this plugin.
Key Features:
No Gifs or images that can add extra unnecessary bulk
Good module
Adjust the preloader duration
Custom CSS-based preloaders are also possible
No changing the header
If the substance stacks, it will be optically examined
Show the webpage when the preloader fades out
Icon to circle
Option to show preloader on only the homepage, or on the entire website
Random Reviews:
This plug-in is exactly what I expected. I installed it on my website. This topic was modified 1 year, 4 months ago by

Once it worked great, now it creates weird loops. Wonder why? This topic was modified 2 years, 8 months ago by**.

There are six predefined preloaders that you can use. You can also add your own custom code, HTML & CSS. Thank you, developer!
Loading Screen Plugin for WordPress
Making use of the PageLoader WordPress plugin for having the best preloader page possible, you are provided with many stunning, unique options. A number of excellent features are available to you so that you can turn your loading screen into a full-blown branding campaign.
There are a number of preloader plugins available for WordPress users. It is compatible with all major web browsers, is 100% responsive, and can easily be integrated into any WordPress theme and WooCommerce themes.
The possibility of creating your own loading image with animation effects is also available in case a custom loading image is not what you desire. The plugin can therefore be customized to meet your specific needs, as it supports all modern display sizes.
Furthermore, a progress bar can be displayed, and the loading message can be customized by using the plugin. It is also important to note that Pageloader is not an Elementor preloader plugin.
💵 Free and for a small fee for the Pro version.
Key Features:
Preloader icons include 10 professionally designed ones
Show your visitors a close button while your site's page is loading (as with LoftLoader)
Customizing the typography and using theme fonts
Make loading screen disappear with custom delay
No limit on background-color
No limit while choosing the preloader background-color
While the page is loading, show the users a custom message
Display icons and images simultaneously
The opacity of your background image can be adjusted
Choose from three animation speeds
Random Reviews:
The Free Version is superb as well!

My website would not look the same without this amazing plugin.

A fatal error occurred during activation of the plugin. Fatal error: Cannot redeclare add_action_links() (previously declared in C:/xampp/htdocs/wp_dazoon_fsa/wp-content/plugins/green-life-custom-scrollbar/scrollbar.php:71) in C:/xampp/htdocs/wp_dazoon_fsa/
A Straightforward WordPress Preloader Plugin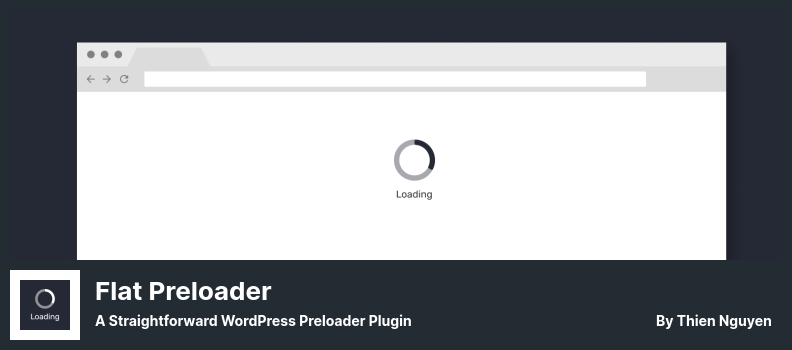 Flat Preloader WordPress plugin is an excellent tool for creating a coherent preloader page as you desire, especially if your website is designed with flat design language.
If you choose, the plugin can only display the preloader on the home page or on all the pages. It displays according to the target screen size, irrespective of the device.
Additionally, the plugin offers the opportunity to use an Emoji preloader instead of a regular preloader when you desire to do so. The use of a flat design approach allows users to use preloaders that are clean, minimal, and modern.
Due to its lightweight nature, it will not affect the loading speed of your site. As another basic plugin, some customizations may not be achievable or custom images may not be able to be used (unlike PageLoader or WP Smart Preloader plugin).
💵 Free download is available for this progressive plugin.
Key Features:
To fade out the preloader and show the loaded webpage, set a delay time
Retina ready Gif images
Suitable for users who want a simple preloader without having to customize it
An option to add a custom text to appear with the preloader
Preloader only on the home page or website wide
The loading page can be displayed anywhere
Set custom text to appear under the preloader
Supportive
Random Reviews:
It does what it is supposed to do. Simple.

It works exactly as it should, is simple to use, has almost immediate support from the developer. In less than an hour, he was able to identifies the issue and provided a fix which fixed the problem. If you're looking for a preloader that is easy to use and lightweight, look no further, this is it.

Other products have been tried, but this one is better than all of them and it works fine.
Cutom Preloader Plugin for WordPress
BH Custom Preloader counts as one the most notable, popular jQuery-based custom WordPress plugins and helps you to create an eye-catching image preloader page.
The plugin allows you to upload your own image for the preloader. It also enables you to specify its background color and speed. Additionally, the plugin provides 28 preloader images that enhance the appearance of the preloader.
The preloader can be selected to appear only on your homepage or on other pages according to your preferences. Additionally, the delay time of the preloader can also be specified by a number, as well as the opacity of the preloader body, if desired.
💵 The Pro version costs $10; the Lite version is free.
Key Features:
Plug and Play
Plugin dashboard
8 CSS3 preloaders
Admin option
Excellent support
Beginner-friendly
Random Reviews:
I purchased this plugin, then loaded it in a

DIVI site

. The free plugin worked but the paid did not. I sent a support request but never heard back.

My pro version of this plug-in cost $5 and it has been worth every penny! Excellent support – I asked the author how to change the fade time of the custom image preloader and he added it to the plug-in for me. Thank you very much!

I would like to thank everyone who downloaded the BH Custom Preloader*
The Most Advanced WordPress Preloader Plugin
WordPress Preloader Unlimited plugin is the number one custom preloader provider, which gives you the possibility to create unlimited CSS preloaders on your website.
You can create a number of different variations of the preloader, including your own custom variations. Working with this plugin, you will observe that it is highly versatile, and it can be tailored in every way.
Furthermore, there are 50 beautiful and well-designed CSS3 (as with LoftLoader) animated transitions with more than 50 preloader animations available.
To create your own custom image, you can upload your own gif image or choose from the various options. Then, you can select one of the available transition effects or animation effects.
WordPress developers can create a loading screen that will display any text or image as a fill animation that fills the entire screen.
There is only one significant drawback to this plugin, namely that you cannot use it for free and you have to pay for it to access it.
💵 Plugin was created by a powerful author, and it's fully documented. You can get it for $17 right now.
Key Features:
Always updated with the most recent loaders and features
Trendy loader
Robust customization
Enable or disable on mobile
Set/unset preloader for the entire site or just specific posts and pages
Engaging animations can also be made with 2D/3D lettering
Preloader hide timing
Lastly, we should mention
Throughout this post, we evaluated several Preloader plugins. You can use these plugins to increase your website's functionality.
We hope this list will prove helpful for improving your site and achieving your business goals.
If you think we have forgotten a better possibility, do let us know in the comments. We would love to add them. If you liked this article, please spread it on Facebook and Twitter. Thanks.