Tired of trying to find the best WordPress plugin for Affiliate Link Cloaking?
We have compiled the most popular Affiliate Link Cloaking plugins for WordPress for your convenience. These WordPress plugins have the best features, support, and primary interface to help you get started. We also ensure that our plugins work with all modern WordPress themes.
There are several plugins that I have designed specifically for Affiliate Link Cloaking sites. There are also plugins for WooCommerce Affiliate Link Cloaking, Affiliate Link Tracking, and many other related plugins.
We created a list of the best WordPress affiliate marketing themes that we compared themes and showcase the features. Also, we suggest you check our article for the best WordPress affiliate plugins.
Using the following list of best WordPress Affiliate Link Cloaking plugins, let's see which plugin is best for you:
Affiliate Links Manager with Link Cloaking, Link Redirection, and Amazon Affiliate Support
You can use Simple URLs to manage and track outbound links from your website that point to other websites, as well as copy and paste existing links to make it easier for customers to share. You can also shorten existing links for your website to make it easier for customers to share them.
In contrast to creating a page-based redirect, the creation of a custom post type is accomplished within your Admin menu, which results in fewer permalink conflicts and, consequently, better search engine results.
Even though it is famous as a tool for creating afiliate link cloaking for affiliate link, you should be aware that it is outdated and will no longer be supported by the development team. If you encounter difficulties when installing or with compatibility, you may be unable to find a solution.
---
💵 There is a free Lite version and a price for the Pro version.
Key Features:
You can make affiliate links in real-time inside your posts without having to install additional software
A tool for picking affiliate links that work similarly to the WordPress link picker
Incorporate standard hyperlinks or add-ons, including widgets and shortcodes, to further customize your site and extend functionality
Links can be shortened and cloaked with built-in affiliate tracking
Any WordPress editor can be used
Easily enables affiliate marketers to add affiliate links to posts, sidebars, and landing pages
Link categorization is organized hierarchically to facilitate link segmentation
Random Reviews:
It installs under a different name, and it doesn't deliver what it promises.

Great affiliate link tracking and cloaking tool. Discussion in 'Marketing Forums' started by chad9months, 2 weeks ago.
Link Management, Branding, Tracking & Sharing Plugin
Pretty Links provides reliable and robust link cloaking functionality. It is easy to install and utilize. It is packed with a variety of features that are useful for tracking and redirecting links.
It can depict both the number of unique clicks as well as the number of times a link has been clicked. This can allow you to track not only how many times a link has been clicked but also how many times the link is clicked by an individual.
Several different types of redirects can also be put into place. For example, 301 redirects can be set up for permanent redirects, or 302 307 redirects can be set up for temporary redirects.
---
💵 A free version and a premium version are available.
Key Features:
Analyzes the number of clicks for each link
Counts the number of unique clicks for each link
User-friendly Javascript and AJAX-based admin interface
You can create clean, simple URLs that will redirect to any other URL you would like on your website
You can view click details, including the IP address, the host, the browser (including the browser version), and the operating system
You can download hit details as a CSV file
An online reporting tool allows you to view a chart of clicks per day that is fully customizable
Creating random 3 to 4 character slugs for your URL or allowing you to create a custom slug for your website
Random Reviews:
It's great! The best link shortener! Thanks!

I've been using this plugin for years on most of my sites. Thank you.

It's very versatile and very useful, and it works perfectly
An Affiliate Link Manager for WordPress
You will be able to see cloaked links on your WordPress site quickly and easily using ThirstyAffiliates. It requires almost no setup after installation, and you can begin redirected linking immediately after installation.
In addition to the link tool, this plugin works seamlessly with your visual editor. The cloaking tool appears as a button within your toolbar.
By pressing the TA button, you will be able to search for your affiliate links by name. Alternatively, you can create cloaked links directly from your visual editor using the Quick Add command.
Even with Thirsty Affiliates' premium version, it may not be suitable for all WordPress users. If you need assistance setting up WordPress or searching for a more user-friendly plugin that offers dedicated support, you may be better off finding another solution.
💵 You can choose between two versions: Premium for $49 and Lite for free.
Key Features:
Link categorization according to hierarchy for easier segmentation
It allows for the easy integration of affiliate links into posts, pages, and even comments
Create standard links, shortcodes, and even images (with full integration of search functionality)
The Affiliate Link Picker Tool works much like the WordPress Link Picker Tool
Optimal affiliate link redirection for commission protection
Track your statistics and receive reports by clicking the button
Use the advanced link selector tool (click the cog icon on the editor after clicking the 'TA' button) to see more advanced options
Built-in affiliate link shortening and cloaking functionality
Random Reviews:
Easy to use and does the job! Thanks for the tool!

Easily handle affiliate links thanks to this handy tool. * It's super easy to set up and use.

It is the plugin that I use on my site, and I recommend it to all*
Allows You to Mask All External Links in Your WooCommerce Store
With the WooCommerce Cloak Affiliate Links plugin, WooCommerce affiliate link cloaking is possible and you can set up different types of redirects so that your affiliate links never appear on your website.
This plugin is free and allows you to set up 301 redirects, 302 redirects, and 307 redirects for your affiliate links.
Plugins such as this one offer the unique capability of adding a 'Disallow' command to a robots.txt file. Disabling this command prevents bots – such as Google's – from following external links on your site. This feature is essential for improving rankings on search engines.
This plugin does not have any tracking features, so you may want to reconsider if you are looking for a premium plugin that provides advanced tracking features. Unsurprisingly, this plugin does not have any tracking capabilities.
---
💵 Free plugin and free support are included.
Key Features:
Adding a 'Disallow' to your robots.txt file will prevent bots from accessing those external links
You can configure the redirect status code to either 301, 302, or 307
Providing the option of masking all external links inside your WooCommerce store
Search engine rankings may be improved by optimizing
Random Reviews:
What are the benefits of disabling external links?

This is exactly what I needed.
Helps You Manage All The Affiliate Links On Your Website
The Easy Affiliate Links plugin provides users with a number of features and tools that they can use to improve their affiliate link tracking on their website. This plugin is compatible with both the Classic Editor and Gutenberg Block Editor, and it enables tracking of all links on a website, regardless of whether they are cloaked.
A variety of features are available in this plugin, including automatic disclaimers and short links, as well as the capability to categorize your links.
It is an Amazon Associate Program condition that you cannot use redirects or cloaked links to direct visitors to its website. Amazon has explicitly said that you may not use cloaked links to direct visitors to its site, or else you may be banned.
However, this plugin will enable you to uncloak specific links to your site so that you do not violate Amazon's policy.
---
💵 While the Premium version costs $29, the Lite version costs $0.
Key Features:
Make use of regular links or affiliate HTML codes
Uncloak specific links for compatibility with Amazon
Provide your affiliate links with short URLs that can optionally be cloaked
Using Elementor's text widget, you can add affiliate links
Compatibility with the Classic Editor and the Gutenberg Block Editor
Utilize UGC and sponsored attributes to enhance your links
Random Reviews:
Thanks for your response. This topic was modified 3 months ago by

Works perfectly after activation. This is just what I needed in order to cloak and organize my links. Thank you!
The Most Powerful Tool for Creating Beautiful Short URLs And Hide Affiliate Links
Mainly, the URL Shortener plugin is aimed at marketers as it gives them the opportunity to shorten links that they can share on social media, via email, or simply through word of mouth.
You will not have to wait for your visitors' browsers to load a URL before being redirected to another, as the redirection process is lightning fast and seamless. There are no delays or lags for your frontend users when using this plugin.
Using the plugin, you can also hide your affiliate links so that you will always be able to claim credit for sales made from your website. In certain instances, external sites are capable of taking credit for sales made directly from their own product pages rather than through your links.
💵 The plugin costs nothing for the Lite version and $19 for the Pro version.
Key Features:
An easy process to create links to any page on your website!
When redirecting your visitors, external shorteners may be slow
Make changes to the settings in order to create short links that meet your needs
In addition, each short link will be tracked for whether it has been clicked
An excellent method of hiding affiliate links
Shorten the links to make them easier for your visitors to remember
Random Reviews:
Thank you! This is an extremely versatile and easy-to-use link shortener. I'm satisfied with it. Thanks a lot!

I greatly appreciate your simple yet intuitive plugin
Amazon Associates Affiliate Plugin for WordPress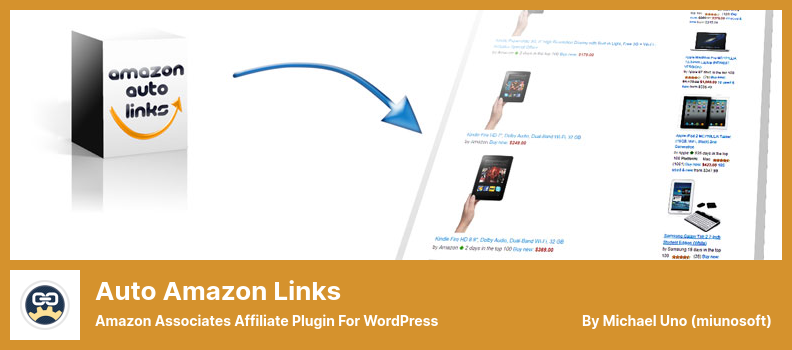 It might be of interest to you to use the Auto Amazon Links plugin if you use Amazon to sell your products.
Using Auto Amazon Links, you can display one of your products in your blog posts without using any shortcodes. The links can be placed in a slider section or in a sidebar for your visitors to click on so they can get more information about your products.
Businesses that are not Amazon Associates or do not sell their products on Amazon may wish to avoid this plugin. There are not many features that appeal to business owners who are not Amazon Associates.
---
💵 Free plugin.
Key Features:
Provides support for all of Amazon's localizations
Compatibility with PA API Version 5
Displaying a specific product in a post
Incorporation into posts and feeds automatically
No javascript is required
Affiliate links from Amazon with minimum effort
Transferring from the Amazon Associates link building program
Random Reviews:
Exceptional Search modes, configurations, and category, and product pages are remarkable

After reviewing it, I consider this plugin the best for adding products.
The Quickest Way To Create Amazon Affiliate Links
Providing links to Amazon products from your WordPress post editor, the EasyAzon plugin touts itself as the fastest way to generate affiliate links to Amazon products.
It works in a manner similar to the previous plugin, and it supports all Amazon affiliate locations, which is ideal for companies with overseas offices.
Moreover, the plugin offers training in Amazon Affiliate, which includes tips for building a successful affiliate site, techniques for maximizing Amazon commissions, and strategies for conducting keyword research.
It might be simpler to use a more straightforward plugin, especially for new WordPress users or web developers. EasyAzon offers limited support options. The plugin has been reported to conflict with other plugins.
---
💵 While the Premium version costs $49, the Lite version costs $0.
Key Features:
Features for adding items to a cart
Pop-ups for product information
A system for automatically compiling bestseller lists
A well-designed product box
Multiple affiliate IDs are supported
Link localization using an automatic process
Cloaking affiliate links on an automated basis
Random Reviews:
The plugin really works for me, but now I can't modify any settings, and I can't link my API This topic was modified 2 months ago by

It is exactly what I have been hoping for.
Affiliate Links & Click Tracking For Performance Marketers
With the ClickerVolt plugin, you can quickly test different URLs with your customers and cloak your links in order to determine which URLs will be the most effective for your business.
The plugin includes tools such as tracking click-through rates (CTRs) for the links on your landing pages, enabling split testing, triggering retargeting pixels when someone clicks on your links, and so on.
The plugin can be downloaded for free, and it provides all the functionality you require. If you would like their support assistance, you should consider purchasing the paid version, which provides all the same functionality.
---
💵 There are versions for $95 (Pro) and free (Lite).
Key Features:
Links are tracked within 1 millisecond of clicking, making it one of the fastest link trackers on the market
Compatible with Google Adwords, Bing Ads, Facebook Ads, etc
A depth funnel can be created in an unlimited number of depths using this plugin
Using the dashboard of the plugin, you can easily add redirect rules, link funnels, and change the plugin's settings
Random Reviews:
Sadly, development has stopped, sometimes giving me server errors. This topic was modified 1 year, 4 months ago by Renaat.

My first day using your plugin, but you deserve the 5 stars!! Now it's just easy to create a bit.ly web app with many choices
All that has been said in summary
The best WordPress plugins for your Affiliate Link Cloaking site are here. They're profitable, and you may have an excellent site by using these plugins.
Thank you for looking at our collection. We hope you liked it. Each month, we publish articles about the best WordPress blog themes and the best WordPress plugins for bloggers. You can vote on these posts, refer to them, and share them with your friends.
Interested parties are invited to submit comments. Please share this content on Twitter and Facebook as well. Thank you!