Are you a WordPress website owner in search of the best plugins to enhance your site? Look no further! In this blog post, we will be discussing the seven best WordPress multisite plugins, both free and pro options, to help you take your website to the next level.
When it comes to managing multiple sites on WordPress, it can be quite challenging to find the right plugins that cater to all your needs. That's where this article comes in handy! We have carefully curated a list of the top plugins that will make managing your multisite network a breeze.
In this article, we will dive into each plugin, discussing its features, benefits, and why it's worth considering. Whether you're new to multisite networks or an experienced user, we're confident that you'll find at least one plugin that will greatly enhance your WordPress experience. Let's get started!
Best Multisite Plugins for WordPress
If you are looking for the best multisite plugins for your WordPress website, look no further! We've put together a list of the top options, both free and pro, to help you enhance the functionality of your multisite network.
Discover the must-have plugins that will take your WordPress multisite experience to the next level". Check out our recommendations below and start optimizing your site today!
Grow Easier, Grow Faster, Grow Better
HubSpot is a powerful WordPress plugin that simplifies the management of contacts and marketing across multiple sub-sites of your WordPress site. It seamlessly integrates with the CRM, allowing you to store contacts, track visitor activities, segment lists, and send targeted email campaigns to build relationships.
With its drag-and-drop interface, creating forms, pop-ups, and live chats on your website becomes a breeze. You can easily design captivating forms and popups in minutes, thanks to its intuitive builder. Plus, the live chat feature enables you to reach out and assist your site visitors effortlessly.
One of the standout features of the plugin is its ability to sync and manage multiple sites. It gathers visitor interactions from all your sub-sites and centralizes them in one location for easy lead nurturing and analysis. This centralization helps streamline your marketing efforts and gives you a comprehensive view of your audience.
Another great feature of the plugin is its drag-and-drop email builder, which makes creating beautiful newsletters a breeze. You can design visually appealing emails without any coding knowledge, and easily customize them to match your brand's aesthetic.
The HubSpot plugin also provides analytics to help you identify which marketing and sales activities are successful, allowing you to optimize your strategies for better results.
WP Security, Backup, Speed, & Growth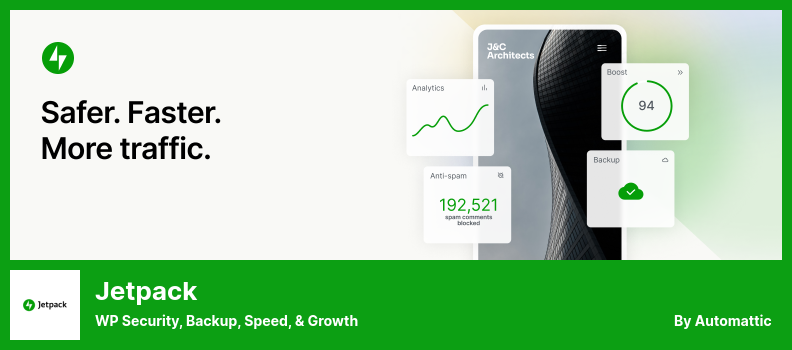 Jetpack is a versatile WordPress plugin that offers a wide range of tools to streamline your website administration. It can be used for both single websites and multisite networks, making it a valuable asset for WordPress administrators.
One of the great things about it is its ability to optimize appearance, performance, SEO, analytics, and security. With its free CDN (Content Delivery Network), your images will be automatically optimized, resulting in reduced page load times. This is a huge benefit, as faster load times can improve user experience and SEO rankings.
In terms of security, the plugin has you covered. It offers real-time backups, easy restores, malware scanning, and spam filtering. These features make it easy to keep your website safe and secure without the need for complex setups or additional plugins.
It also provides support for Google AMP (Accelerated Mobile Pages), which allows you to create high-performing websites that load quickly on mobile devices. This can greatly improve your website's user experience and mobile search rankings.
Another standout feature of the plugin is its ability to host high-speed, ad-free videos. This is especially important if you want to focus on your content and not be distracted by advertisements or recommendations.
With its Image CDN, you can save both money and bandwidth. The plugin allows you to offload your images and static files such as CSS codes and JavaScript to their CDN, resulting in faster load times and reduced server load.
Lastly, Jetpack offers a powerful and highly customizable search bar. This feature enables your users to quickly find the content they are looking for, improving overall website navigation and user experience.
Key Features:
Google AMP support for high-performing websites
Host ad-free videos that prioritize content
Image CDN for optimized images and static files
Powerful and customizable search bar
Quickly Swap Between User Accounts in WordPress At The Click of a Button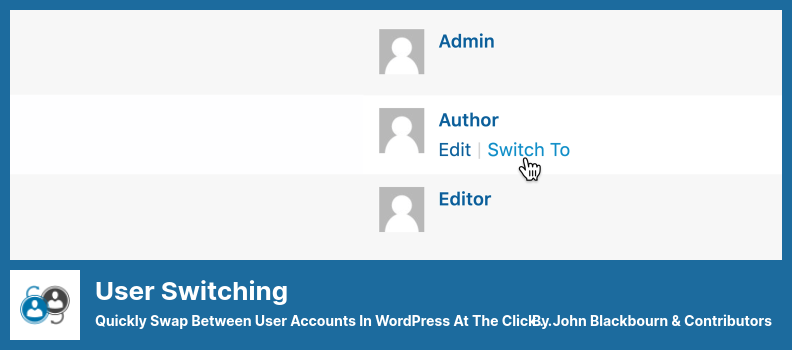 User Switching is a powerful WordPress plugin that allows website administrators to switch between user accounts instantly and securely. It eliminates the need to log in and out of different accounts, making testing, troubleshooting & debugging tool, and task performance much more efficient.
One of the key features of the plugin is its emphasis on security. Passwords are never disclosed during the switching process, and only authorized users have the ability to switch accounts. This ensures that sensitive information remains protected at all times.
The plugin also seamlessly integrates with WooCommerce, making it a great option for managing users on WooCommerce multisite networks. With this plugin, you can conveniently manage your users directly from your online store, saving you time and effort.
Another notable feature of the plugin is its compatibility with multisite networks. If your website has multiple registered users across different websites, this plugin allows you to easily switch between them all from the same administration area. This streamlines the user management process and ensures a seamless experience.
Key Features:
Provides full support for SSL administration
Offers user session verification whenever necessary
Ensures privacy protection for users
Uses a secure cookie operation similar to WordPress core authentication cookie
Access to other accounts is limited to administrators and super administrators
Simplifies the management of multiple user accounts on your multisite network
THE #1 WORDPRESS SEO PLUGIN
Yoast SEO is a powerful and popular search engine optimization plugin for WordPress websites. It offers a range of features to help improve the visibility and ranking of your site in search results.
With the plugin, you can optimize your content by transforming it into structured data, making it easier for search engines to understand and index. By using synonyms and key phrases related to your topic, you can ensure that your content is filled with relevant keywords to boost its visibility in search results.
One of the standout features of the plugin is its social preview tool, which allows you to see how your content will appear on platforms like Facebook and Twitter. This helps you ensure that your content is visually appealing and enticing to users when it is shared on social media.
In addition to these features, Yoast SEO also provides guidance on creating content that is easily readable and understandable by both humans and search engines. This ensures that your content is user-friendly and optimized for search engine algorithms.
Key Features:
XML sitemap creation wizard for improved site navigation
Transforming content into structured data for better search engine indexing
Use of synonyms and key phrases for improved keyword optimization
Social preview tool for visualizing how your content will appear on social media
Guidance on creating content that is easy to read and understand
Integration with Facebook and Twitter for seamless social sharing
Convert and Monetize Your Website Traffic
OptinMonster is a powerful WordPress plugin that can be installed across multiple sites in a network or activated individually for each site. It not only helps optimize email list growth and conversions but also provides comprehensive analytics to track your results across multiple channels over time. It improves your email list.
One great feature of it is its network activation capability, allowing you to set up customized campaigns for each WordPress site in your network. This means you can easily create high-converting pop-ups, modals, and lead-generation forms for all your WordPress websites.
If you're worried about visitors leaving your site without taking any action, it has got you covered. By detecting exit intent, it can show eye-catching pop-ups to those visitors who have the potential to become customers. This can significantly reduce your bounce rate and increase your conversions.
With its drag-and-drop functionality, you can easily customize your campaigns without any coding knowledge. The plugin also supports animation and sound effects, making your campaigns even more engaging.
Another great feature is the ability to use pre-built templates, saving you time and effort in designing your campaigns. There are several different types of campaigns supported, such as pop-ups, slide-ins, inline forms, and more, giving you flexibility in capturing leads.
It also offers advanced campaign triggers, allowing you to show your campaigns at the perfect moment. Whether it's based on time delay, scroll depth, or exit intent, you have full control over when and how your campaigns appear.
Lastly, OptinMonster provides A/B testing functionality, enabling you to test different variations of your campaigns and see which one performs better. This data-driven approach allows you to continually improve your conversions and maximize the effectiveness of your email list growth.
Key Features:
Drag-and-drop functionality for easy customization
Animation and sound effects support for engaging campaigns
Advanced campaign triggers for precise timing
Pre-built templates for quick campaign creation
Various types of campaigns are supported
A/B testing is available for data-driven optimization
Best Solution for Copy/update Posts and Pages From One Site to The Other Sites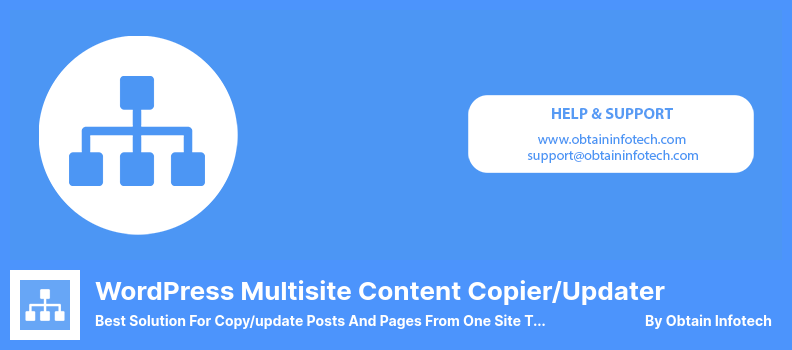 WordPress Multisite Content Copier/Updater is a handy plugin that automates the process of copying blog posts or pages from one subsite to another within your WordPress Multisite network.
It allows you to create templates for your new sites, ensuring that they have the same core content. However, you're not limited to just the template and its content – you have the flexibility to customize it as needed.
One of the best things about this plugin is that it offers a range of great features for free. However, if you opt for the pro version, you get the added benefit of being able to update custom post types and users. This makes it even more versatile and valuable for managing your multisite network.
The plugin makes it incredibly easy to transfer and update essential elements such as tags, categories, media, and document files. This ensures consistency and efficiency across your network, saving you valuable time and effort.
However, it's worth noting that the plugin does have a slightly complex interface, which may not be suitable for every user. Nonetheless, for those running a network with multiple brands, this tool is incredibly useful for seamless data sharing between sites.
Quick Access to Super Admin Resources
Multisite Toolbar Additions is a WordPress plugin that is exclusively designed for Super Admins. It offers a convenient way to manage, edit, and upgrade plugins, themes, and subsites within a multisite WordPress network.
This powerful tool eliminates the need for extensive clicking and browsing by providing an additional toolbar in the WordPress admin area. With the plugin, you can create your own custom navigation, allowing you to easily access all the resources you need without having to navigate through each individual site.
One of the great things about this plugin is its seamless integration with leading WordPress plugins. This means that you can access its functions directly from the toolbar, saving you even more time and effort.
The toolbar itself includes a collection of quick-access text links that will direct you to individual websites, panel accounts for network users, plugin and theme installation windows, and individual plugins. It offers a streamlined and efficient way to manage and navigate your WordPress multisite network.
Key Features:
WPML Support is provided
Full internationalization, with default language files for German and English
Customize the toolbar by adding a nav menu via the WP menu system

Viewable and accessible only to Super Admins and Site Admins

Provides a convenient theme editor for quick edits on the go
Frequently Asked Questions
What are WordPress multisite plugins?
WordPress multisite plugins are extensions or add-ons that provide additional functionality and features for WordPress websites that use the multisite feature.

These plugins help you manage multiple websites within a single WordPress installation, allowing you to create and control a network of websites from a central dashboard.
Why should I use WordPress multisite plugins?
WordPress multisite plugins offer several benefits. Firstly, they simplify the management of multiple websites, making it easier to update and maintain them.

Secondly, they allow you to share resources and settings across all sites on the network, saving you time and effort.

Additionally, multisite plugins provide tools for controlling user access, managing themes, and plugins, and optimizing performance for all your websites in one place.
Do these plugins support customization and flexibility?
Absolutely! The listed WordPress multisite plugins prioritize customization and flexibility, allowing users to tailor their websites according to their unique requirements.

They offer various settings, options, and integrations that empower users to customize the appearance, functionality, and user experience of their multisite network.

Whether you need to manage user roles, control site access, or implement specific design elements, these plugins have you covered.
Conclusion
In conclusion, we have explored the seven best WordPress multisite plugins, both free and pro. From enhancing website management to improving user experience, these plugins offer a wide range of features to take your WordPress multisite to the next level.
If you want to dive deeper into this topic or explore more tutorials related to WordPress plugins and themes, we highly recommend visiting the BetterStudio blog. They have a wealth of resources and guides that will help you make the most out of your WordPress website.
Don't forget to stay connected with BetterStudio by following them on Facebook and Twitter. By doing so, you will stay up to date with the latest tutorials, tips, and tricks to further enhance your WordPress skills.
Thank you for taking the time to read our article. If you have any questions or encounter any issues with the plugins we discussed, please feel free to ask in the comment section below. We are here to help and provide support along your WordPress journey. Happy multisite building!