Recently one of our readers asked us which is the best WordPress Image Compression plugin?
HTTP Archive indicates that images are roughly 50% of a typical web page's file size, so shrinking your images can make a significant difference in loading times.
This can be easily addressed by installing an image compression plugin since the plugin will automatically optimize images as you upload them. These plugins will not slow your WordPress hosting because they are working with API and compressing your images on their own hosts.
In this article, we are sharing the best plugins for WordPress. And towards the end, we'll provide you with some recommendations for exclusive scenarios. These plugins help you establish your online presence in the super-competitive playing field by providing features and design aesthetics.
We have collected the following list of Image Compression plugins to help you select a great plugin. Even so, you may also use these plugins for Image Optimizer, and Image Compressor.
The first step you should take before installing or optimizing images on your website is to create a backup of the WordPress site so that if anything goes wrong, you can easily restore it. You can do this by using the WordPress backup plugin.
Best Image Compression WordPress Plugins 🗜
So, here are over 7 Best Image Compression WordPress plugins for 2022:
WordPress Image Optimizer Plugin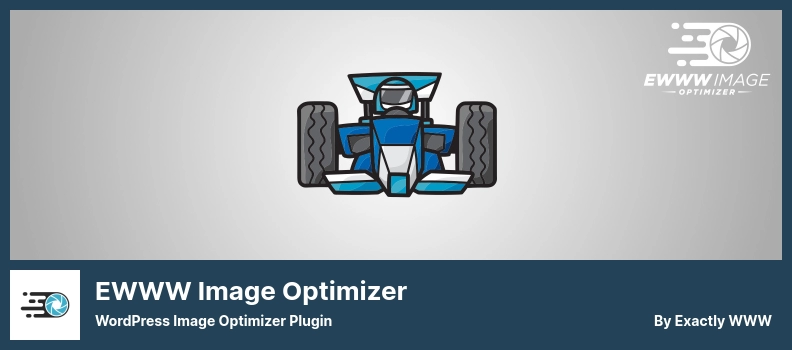 Images that are uploaded to a WordPress site have the largest volume. If you are careful, the images will be loaded after the site template is loaded. If these images are not optimal, they can slow down the loading of the site.
EWWW Image Optimizer plugin helps you optimize all the images you have uploaded to your site with one click. This will increase the loading speed of your site many times over.
This plugin uses lossless processes to reduce the size of WordPress images. It optimizes your loaded image using tools such as JPEGtran, TinyJPG, JPEGmini, and PNGout. This will improve the loading time of your images.
Ewww Image Optimizer plugin is a free and popular plugin to reduce the size of images in WordPress. With this plugin, you can automatically optimize the new images you upload and reduce the image size. You can also upload previous images and optimize them.
After installing and activating the plugin, a new option called Ewww Image Optimizer will be added to the WordPress counter. You can click to enter the plugin settings.
💵 You can download the Lite version for free or the Pro version for $84 .
Key Features:
Increase site loading speed
Improve and optimize site images
Supports all photo formats
High-speed backup capability
Very little use of server resources
Random Reviews:
The free version already brings a lot of functionnalities, and it works like a charm. Thanks a lot for the great job !!!

Ein sehr praktisches Plugin, um gute Ergebnisse zu erzielen. Für mich als WP-Anfängerin ein perfektes Tool.

Nice!
Optimize Images & Convert WebP
If you are looking for a way to increase the speed of your site, one of the ways is to optimize the site images.
The Imagify plugin allows you to optimize and reduce the size of your site images without losing quality and increasing your WordPress site's speed. Imagify plugin is the most advanced image optimization tool, and you can use this tool directly on your WordPress site.
One of the excellent capabilities of this plugin is to determine the amount of compression in three levels:
– Normal – no quality loss
– Medium – slight quality loss and excellent compression
– High – maximum compression
After installing this plugin, you can go to the Imagify plugin settings from the menu on the right side of your WordPress dashboard. First of all, to use this plugin, you must create an account for it. After creating the account, you must receive an API key to activate it and register for Imagify plugin settings to access it.
💵 The premium version costs $120 , the free version is free.
Key Features:
Increase site speed by compressing WordPress images without losing quality
Compress all existing images in WordPress and new images
Compress images in all sizes, including thumbnails and more
Compress Retina images from WP Retina x2
Compatible with WooCommerce Gallery
Compatible with NextGen Gallery
Resize existing images
Resize new images
Ability to customize Imagify plugin settings
Backup of original images to restore the original version of the images
Maximum compression limit of 25 MB or about 250 images per month for the free version
Random Reviews:
Agora eu não preciso mais me preocupar conferindo a otimização de imagens nos meus sites. Com Imagify, basta configurar logo após a ativação que tudo acontece automaticamente.

I tried out aggressive mode and there was too much detail loss on a 850x850pixel image for my liking. We sell small chrome finished items and it was too distracting and noticeable. Switched back to normal which offers less compression, so in the end, wasn't worth the purchase.

Bonjour, Pas besoin de modifier dans des applications dédiées (lourdes et pas forcément intuitives pour des débutants) ! Fait le travail rapidement, elle est super simple et facile à utiliser 👌😉 20Mb/mois pour l'offre de base gratuite est trop juste 😯😢
Lazy Load Images, Optimize & Compress Images
With the help of this plugin, you can compress if the images uploaded to your WordPress are not optimized or have a high volume, or can be compressed.
And you do not need to optimize each photo manually or upload them to online tools and download them again. So, this plugin also saves a lot of your time.
Compression here means reducing image size without affecting quality. Doing it manually is tedious and time-consuming. Again, the best way is to use photo compression plugins.
WP Smush can automatically compress all images seamlessly. It works on your old photos by compressing the images to the right size and fine-tuning them for the site.
With the help of this image optimization plugin, you can easily optimize all the images in the host and directory. Identify huge and small images and enable lazy loading. By doing this, you will help increase the loading speed of your pages and the SEO of your website.
💵 The Lite version is free, the Pro version is $60 .
Key Features:
Reduce site image size without loss of quality
Optimize WordPress images by reducing image size
Reduce site image size in a variety of formats
Reduce the size of site photos in host folders
Automatic optimization immediately after upload
Compress images in the WordPress library in batches (up to 50 simultaneous items in the free version)
Optimize WordPress images with standard web size (compress images up to 1 MB in the free version)
Random Reviews:
Perfecto para delegar la tarea de optimización de las imágenes, sobre todo si el usuario final no comprende (o no quiere) el tema de la optimización del peso de las imágenes.

Não sou especialista e, talvez por isso, seja uma pessoa indicada para recomendar este plugin, pois consegui usar de maneira descomplicada, melhorando o desempenho do meu blog.

Optimizing my images along with

lazy loading images

results in a huge difference with page speed. I've tried others but this is the only plugin in this category that I can recommend with confidence. This is a 5 star plugin without question.
All-In-One Image Optimizer Plugin for WordPress
Another excellent image size reduction plugin in WordPress is the WP Compress plugin. WP Compress is an image optimization plugin for WordPress that reduces file size by using local image optimization and live image optimization.
In addition, the plugin includes features such as Retina device support, lazy image loading. WP Compress was created from CDN to optimize WordPress images to speed up the site.
With this plugin, WordPress webmasters have the opportunity to optimize their uploaded images and reduce their size.
💵 There are two versions of the program: Pro ($108 ) and Lite (Free).
Key Features:
Compress images when uploading
Improved images in the WordPress library
WebP image optimization
Lazy loading of images
Retina device support
Prevention of over-compression
Auto resize images
Single image compression
Optimize a multitude of images with a single click
Save EXIF data
Complete statistics of optimized files
Download reports in PDF
Random Reviews:
If you use this plugin, your images will load, then they'll disappear, then they will fade-in. Really annoying! Other than that the plugin works as advertised, it reduces the size of your images. If you can get past your images fading in then you'll probably be happy with this plugin. When I disabled this plugin my images loaded instantly.

simply erased all my media library… Fortunately I had a backup

Easy to use. Optimised my site to an amazing degree
Image optimization & Lazy Load for WordPress
If you are looking for a WordPress image compression plugin with image optimization and lazy loading capabilities, we suggest the Optimole plugin.
This plugin is entirely cloud-based; it does not optimize images from the site server CPU and instead performs processes on a dedicated cloud processor (unlike EWWW).
It is a free WordPress plugin that makes your site lighter by reducing the size of the images without changing the appearance (the appearance quality of the images will be the same, and only the volume will be reduced).
This plugin compresses and delivers images anywhere via the CDN. Images are processed by lossy and lossless optimization techniques.
In addition, Optimole also has autopilot capability. When you install the plugin, everything is done automatically. You can monitor the status through the modern and user-friendly interface of this plugin.
One of the advantages of the Optimole plugin is that you can change the degree of image quality drop from low to high. Of course, if you are using the free version, you should be aware of the limitations set by this plugin.
The Optimole plugin is limited to delivering optimized images for up to 5,000 views per month. This means that if the 5001st visitor visits your site images in one month, the original images will be loaded with the original volume without optimization. So, if you have a busy site, you can get the Pro version of this good plugin.
💵 You can download the Lite version for free or the Pro version for $228 .
Key Features:
Automatic optimization of images
Optimize images based on browser and visitor device type
Supports a variety of images
Support for WebP and Retina images
Ability to provide optimized webP images if browser compatibility
Compatible with editors including Mentor
Includes lazy load option without jQuery
Ability to view the details of optimized images in the plugin dashboard
Ability to exclude specific images from lazy loading or volume reduction based on file information
Provide optimized images to 5000 views per month (unlimited in Pro version)
Random Reviews:
Really, this free plugin works as it should be, just GREAT. It is very easy to setup, and after that, …, OPTIMOLE MAGIC!!!

Beautiful plugin.

easy operation, fast registration, efficient image management
Image Optimizer Plugin for WordPress
One of the best ways to speed up WordPress is to reduce the size of the images and optimize them. 'ShortPixel Image Optimizer' is a powerful, easy-to-use, comprehensive, stable, and regularly updated image compression plugin. This plugin can increase your site's SEO rankings, increase the number of visitors and ultimately increase your site's sales.
ShortPixel Image Optimizer plugin helps us have a high-speed site by reducing the size of images. This technique increases the site's loading speed and increases the Google ranking of our site images. This plugin uses lossless technology to compress images and reduce their size.
This plugin automatically compresses all your old images and monitors the site to find new images. It consumes very low resources, does not reduce server load, and runs well on the shared cloud, dedicated, and VPS hosts. You can also optimize images in the media library or upload via FTP.
You can easily compress images through both Lossless and Lossy techniques and Glossy JPG (for high-quality optimization for photographers).
General optimization of images is also available to all users for free and the ability to restore if you are not satisfied with the compression results.
In addition, you can quickly test the optimization parameters and image quality with one click. In addition to the above, the ShortPixel Image Optimizer provides you with a 40-day report of detailed image optimization results.
To optimize old images, you can also go to the plugin settings section, select the images you want, and start optimizing images.
💵 You can get Lite for free, but Premium costs $48 .
Key Features:
Optimize photos in the WordPress library with one click
Low resource requirements
No limit on file size
Can be used to optimize photos on WordPress site on shared hosting, Cloud and VPS
Photo optimization in WordPress outside the gallery
Compatible with gallery and slider plugins
Modula WordPress Photo Optimization Gallery
Compatible with Retina
Optimize uploaded photos via FTP
Automatically convert PNG to JPG format to reduce image size in WordPress
Image optimization in JPG, PNG, GIF, and WebP formats (with support for GIF animation)
Optimize images in WordPress without loss of quality with the advanced glossy algorithm
Increase site speed in PageSpeed ​​Insights and GT Metrics results
Random Reviews:
Very fast, friendly and good assistance!

I knew we needed to do image compressions, but ShortPixel has exceeded my expectations. We have an average compression rate of about 73% on images. Granted we are using full quality images, but that's still impressive. All without any meaningful loss in image quality.

Great service
Image Optimizer & Compress Plugin for WordPress
The reSmush.it plugin is another popular plugin for reducing the image size in WordPress. This plugin will automatically reduce the size of the image in WordPress.
reSmush.it is the best image compression plugin for WordPress. This plugin automatically optimizes images when uploading and also allows you to optimize old images.
This plugin will also allow you to reduce the size of the images for the previous content. Using the plugin API, you can also select the desired level for the optimization rate. You can specify the level of optimization of your images using the reSmush API.
One of the disadvantages of this plugin, which cannot be considered a drawback, is that it is impossible to reduce images' size with a volume of more than 5 MB. I do not think that the images we use are more than 5 megabytes in size. You can first reduce the size and resolution of the image with computer software. Then, when the size is reduced, use this plugin to increase the amount of optimization.
This plugin uses the reSmush server API and various compression algorithms. This plugin also creates a backup of the photos for compression. You will have the original version of the images if you need to restore them. All features are enabled in the plugin, and the only limitation is the size of 5 MB of each image file.
💵 You can download this plugin for Free.
Key Features:
Completely free and has a simple user interface
Support for single, general compression as well as automatic compression when uploading
Ability to select the amount of compression based on need using image quality settings
Save statistics and image compression reports
Save backups during compression operations to restore if needed
Random Reviews:
I love it! It works flawlessly.

it helped my website's speed very helpful plugin , i recommend this plugin .

Considering what they offer it is really really appreciated!
WordPress Image Compression Plugins FAQs
Here are a few frequently asked questions about image compression that will hopefully help you out.
You should always write down your problems in the comments if they still haven't been resolved.
What is the best image optimization plugin for my site?
With our comparison of the seven WordPress image optimizer plugins in this post, Imagify stands out as having the highest compression rate for PNG images, even with the default settings.
Lossy vs. Lossless Compression: What's the Difference?
Lossy and Lossless are two conventional compression methods when it comes to picture compression. Lossy images result in a reduction in quality, while Lossless images mean a reduction in size.

Your image can be restored to its original form if you use Lossless compression. If you compress without loss, you do not lose image quality after optimization, but you won't get smaller file size for a faster download.
Do I have to convert my images to WebP?
The WebP image format is much more optimized for the web, so you should definitely consider converting your images to it. In addition to helping deliver better image quality, WebP has an optimized compression algorithm that reduces file size significantly.
What causes my image to be blurry after compression?
It is possible for lossy image compression algorithms to remove too much image data at times, which can result in blurry or pixelated images.

A quick fix would be to resize the image to a smaller resolution since less data is trying to fill in the resolution of the original image.
In Conclusion, Let Us Mention A Few Things
The best Image Compression WordPress plugins for WordPress in 2022 are discussed in this post. You can use these plugins in the best way to boost your website.
We want this article to help you to find the best WordPress Image Compression plugins.
You can also check our articles on the best WordPress blogging themes and best WordPress newspaper themes.
We're glad you have chosen to leave a comment. If you enjoyed the list, empower your friends to know about it on Facebook and Twitter.