Are you a WordPress website owner looking for the best digital download plugins to enhance your site's functionality? Or perhaps you're just starting out and are unsure about which plugins to choose?
Well, you've come to the right place! In this blog post, we will be discussing the eight best WordPress digital download plugins, both free and pro, to help you make an informed decision and take your website to the next level.
Now, you might be wondering, why should I even bother with digital download plugins for my WordPress site. Well, let me tell you, these plugins can revolutionize the way you showcase and sell your digital products.
Whether you're selling eBooks, music, software, or any other form of digital content, these plugins offer a seamless and secure way for your customers to make purchases and for you to manage your downloads.
The right plugin will enable you to easily manage your licenses, sales, and downloads from your WordPress website's dashboard, allowing you to manage all of these from one place.
The purpose of this article is to give you an overview of the top eight WordPress digital download plugins, plus we'll go over their features and benefits. It's easy to set up and integrate, and it has a bunch of customization options. So, read on if you're ready to take your digital downloads to the next level!
Best Digital Download Plugins for WordPress
If you are looking to sell digital products on your WordPress website, look no further! In this article, we've rounded up the eight best WordPress digital download plugins, both free and pro, that will make selling and managing your digital products a breeze.
Therefore, if you'd like to take your online business to the next level, keep reading to find out the perfect plugin for your specific needs when it comes to plugging in your website.
Membership Plugin For WordPress
MemberPress is a WordPress plugin that allows you to easily manage memberships on your website. With this plugin, you can sell digital goods, lock content, and offer subscriptions to your audience.
Furthermore, this plugin is also capable of providing a wider range of options when it comes to downloading files from the internet, including zip files, PDF files, and images, which are perfect for users who are familiar with using web browsers.
One of the standout features of the plugin is its ability to upload and categorize multiple files. You can easily tag and organize your files, and then display them using a simple shortcode. This makes it incredibly convenient for users to find and download the files they need.
Another great feature of the plugin is the ability to secure your files using its Rules. This means that you can protect your digital goods just like any other content on your website. You have full control over who can access your files and when.
MemberPress also integrates seamlessly with a variety of email marketing tools, including ActiveCampaign, Zapier, Elementor, MonsterInsights, AWeber, and Constant Contact. This allows you to easily synchronize your email marketing campaigns with your digital downloads.
Key Features:
Dynamic pricing pages

that convert without coding.

Multiple payment gateway options for greater flexibility.
Create and control expiration dates for coupons
Easy Affiliate feature for creating affiliate teams without paying salaries
Most Complete Content Protector Plugin for WordPress
Introducing WPShield Content Protector, a powerful WordPress plugin that helps you protect your digital items and courses from unauthorized access and copying. With its comprehensive range of features, this plugin ensures that your content remains secure at all times.
One standout feature of the plugin is its ability to disable right-click menus or restrict the items available in the right-click menu. This unique feature provides an extra layer of protection, preventing users from easily copying your content.
Another exclusive feature offered by this plugin is the ability to disable the Inspect Elements system, which is commonly used to bypass content protectors on other plugins. If the developer tool is opened, this plugin clears the site content, making it nearly impossible for anyone to copy your content.
The plugin also offers 15 built-in content protectors, making it a comprehensive solution for safeguarding different content formats, including text, video, audio, and source codes. With all these protectors in one plugin, there is no need to install multiple plugins to ensure the security of your site.
Setting up and customizing the plugin is a breeze, thanks to its user-friendly documentation, which provides step-by-step instructions. You'll have no trouble getting started and ensuring that your content is protected as desired.
One of the notable advantages of this plugin is its compatibility with any WordPress theme and plugin. Unlike other plugins that may have compatibility issues, WPShield Content Protector seamlessly integrates with your existing setup, allowing for a smooth user experience.
Random Reviews:
I sell courses on my website and I did not want someone to be able to easily copy/paste my content using a right-click. This plugin did this as advertised. I recommended using right click limiter to allow visitors to right-click on links for opening in a new tab. it disables the view source and copy in the menu.
Selling Digital Products With WordPress
Easy Digital Downloads (EDD) is an all-in-one plugin that allows you to effortlessly offer every type of downloadable product on your WordPress website. Whether it's PDF files, eBooks, or even WordPress plugins, it makes it easy to sell and manage your digital products.
With this plugin, you have access to widely used payment gateways like Stripe, PayPal, Google Pay, and Apple Pay, making it convenient for your customers to make purchases.
Plus, you can integrate popular marketing platforms like Mailchimp, AWeber, Dropbox backup, Amazon S3, and Zapier, expanding your reach and streamlining your marketing efforts.
With this plugin, you can track the downloads of your product files and watch how customers use them. You can easily keep track of when, where, and even where each download and purchase was made. Having this level of insight allows you to make data-driven decisions to boost your sales.
The plugin is a comprehensive eCommerce solution that makes selling digital products online a breeze. Whether you're selling software, documents, photos, eBooks, songs, graphics, videos, or other media files, its powerful features ensure a seamless experience for both you and your customers.
Using the plugin, customers can browse your products, add items to their carts, and complete their purchases easily and quickly. One of the key benefits is its flexibility when it comes to multiple purchases. The feature makes it easier for customers to buy multiple things at once, so they'll do that.
Another noteworthy feature of EDD is its control over file downloads. You have the ability to restrict how often users can download files from your website, ensuring that your digital products are protected and preventing abuse of your downloads.
Key Features:
Shopping cart system for customers to make multiple downloads at once
Ability to analyze customer data and track downloads from your product files
Integrated reporting platform for quick and easy access to stats and custom reports
Various payment gateways are supported for payment flexibility
Creation of discount codes to encourage customer purchases
Unrestricted distribution of your digital products
Free Digital Products Without Checkouts Plugin
Free Downloads WooCommerce is a WordPress plugin that allows you to offer free digital downloads on your WooCommerce store without the need for a checkout process. With this plugin, you can provide your users with the ability to download free products directly from shop listing pages.
One of the great features of this plugin is its integration with WooCommerce Memberships and Subscriptions. This means you have the flexibility to customize the plugin to meet your specific requirements and offer free downloads to certain members or subscribers.
Another useful feature is the ability to preview products from the shop pages with Quick View. This gives your customers the opportunity to see what they are downloading before making a decision.
With your server taking care of your download security, you won't have to worry about digital products. The plugin also lets you offer a catalog of tangible products, like audio files, course documentation, themes, and plugins, via single and multi-file downloads.
With the plugin, you have the option to allow customers to download their own purchased digital products from the individual product pages. This adds convenience for your customers and enhances their overall shopping experience.
The plugin also provides built-in support for PDF files, which is a popular and widely used format for digital downloads. This ensures that you can offer a variety of file types to your users.
Key Features:
No checkout process for free downloads
Built-in support for PDF files
Direct access to shop listings for downloading products
Download digital products directly from product pages
Integration with WooCommerce Memberships and Subscriptions
Quick View option for previewing products
Online Business Bulding Plugin for WordPress
Selz WordPress Ecommerce is a powerful plugin that allows you to effortlessly create an eCommerce website within your existing WordPress site. With features like a customizable buy now button and the ability to incorporate an entire store into your website, it makes it easy to set up and manage your online store.
The plugin has top-notch security. You'll have banking-grade encryption on your eCommerce site, so all transactions and credit card info will be safe. In addition to the SSL-encrypted checkout pages, it's PCI-compliant so your customers won't have to worry about security when they buy from you.
Another great aspect of the plugin is its seamless payment processing. You can easily process all major credit cards using Selz Pay, and it also integrates with popular third-party processors like PayPal and 2Checkout. This means you have flexibility in choosing the payment options that work best for your customers.
Using this plugin will allow you to build a fully functional online store out of your existing WordPress installation. Your dashboard lets you manage your eCommerce transactions, whether it's physical products, digital downloads, or services. It's easy to use and convenient for selling a lot of things.
In addition, the plugin has a permanent shopping cart, so your customers can add stuff to their cart while they browse. By doing this, they don't have to leave your site, so they have a smoother purchasing experience. You can also customize the shopping cart widget to fit your website's design, without any coding.
Checkouts in Selz are customizable. You can choose to have your customers check out on the same page or in a new tab with the overlay option. Regardless of what option you pick, your customers will stay on your site all the way through checkout, so it's seamless and consistent.
Key Features:
Easy access to third-party payment processors like PayPal and 2Checkout
Embed an entire Selz store on your WordPress site in seconds
Industry-standard security methods to protect all transactions
Integrate your content and merchandise to drive more traffic and convert followers into customers
Seamlessly integrate payment processing into your website
Random Reviews:
Despite liking the older version of this plugin, the latest updates are even better! So much simpler to use.
WooCommerce Quick Checkout Plugin
Digital Goods for WooCommerce Checkout is a plugin that eliminates unnecessary fields from the checkout process, making it faster and easier for customers to make a purchase. By enabling the quick checkout button, customers can seamlessly order goods from the shop or product detail pages.
Your customers will be able to order and shop on your website right away if you activate this plugin. For downloadable files or virtual products, it's especially useful. As a result, you don't have to ask for the customer's shipping and billing info, which isn't always necessary for digital goods.
There are a lot of benefits to this plugin, like that it improves the checkout process, which means less frustration for your customers. Having fewer steps and fewer fields makes your checkout process much easier, resulting in more sales.
Another great feature is the ability to offer quick checkout. Once enabled, customers can use this feature to swiftly complete their purchase without any unnecessary delays or distractions. This ensures a smooth and efficient shopping experience, which is crucial for customer satisfaction.
Additionally, this plugin guarantees quick delivery of the purchased digital products. Customers expect to receive their desired products instantly when buying downloadable content, and this plugin makes it possible.
Whether you're selling PDFs, ebooks, music, videos, audio files, or MP3s, this plugin has got you covered. You can offer a variety of downloads on your website, making it a versatile solution for selling digital goods.
Key Features:
Increased sales

for virtual products and downloadable content

Simplified checkout process, reducing frustration
Quick checkout feature for seamless purchases
Instant delivery of products to customers
Easy integration with product pages and tags
Quick checkout button for streamlined transactions
PayPal Payment Button for WordPress
WP Express Checkout is a WordPress plugin that simplifies the management of your online store's transactions and ensures a seamless checkout experience for your customers. With the help of shortcodes, you can easily place the payment button anywhere on your site.
Plus, the plugin offers an optional feature that allows customers to enter their desired amount at checkout. By using the PayPal Express Checkout API/Gateway, you can generate a shortcode to create a PayPal payment button for instant payments.
One of the best things about this plugin is that it keeps the entire checkout process on your site. Customers never have to leave your website and complete their payments in a convenient popup window. This not only provides a more professional and trustworthy impression but also increases conversion rates.
This plugin makes it super easy to sell your products or services through PayPal. You can use PayPal to pay your customers right on your website. What's more, the plugin allows you to download the files once the payment is completed. You can't delay your customers' digital files because they can get them right away.
A standout feature is the compatibility of this plugin with PayPal's Pay in 4 feature. With Pay in 4, your customers can split their payments into four easy installments. This makes it even more convenient for them to purchase your products or services.
Key Features:
Sell digital media files, such as music, video, pdf, ebooks, and more
Use download links that automatically expire for secure digital downloads
Set a minimum donation amount when accepting PayPal donations

Offer any kind of download, file, or digital product for sale

Accept payments through Venmo for added convenience
Quick and easy checkout process for selling products or services
Drag & Drop Form Builder For WordPress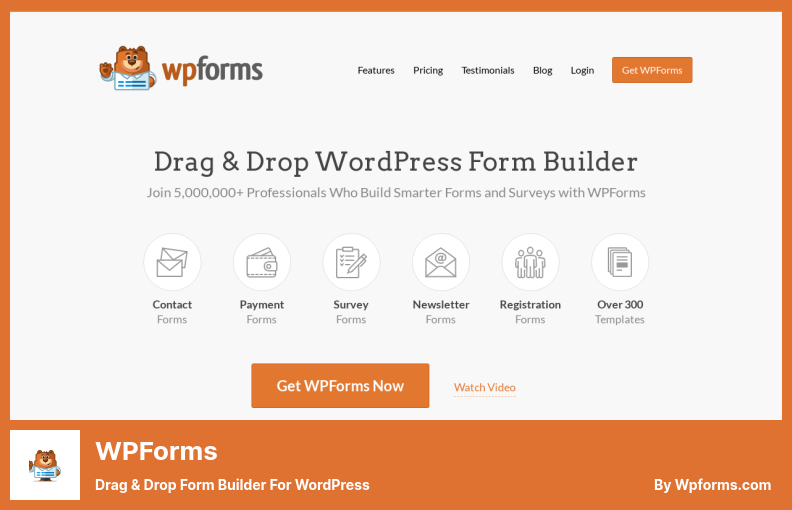 WPForms is a powerful WordPress plugin that allows you to create custom forms for your website. With its drag-and-drop builder, you can easily customize, add, or remove form elements to gather the exact information you need from your users.
Whether you want to collect donations, payments, or online orders, the plugin makes the process effortless with its Stripe and PayPal add-ons for seamless payment processing.
One of the standout features of the plugin is its GDPR consent form field, which gives subscribers the option to opt out of receiving spam marketing communications from you. This ensures that you are in compliance with privacy regulations and builds trust with your audience.
In addition to providing premade templates, it also includes a number of premade fields that are already included in the form, so you do not need to create the form from scratch each time.
Not only does the plugin make it easy to create forms, but it also offers smart features to enhance your form performance. Its automatic spam prevention feature uses smart captchas and spam protection to ensure that your forms are protected from unwanted submissions.
You can also connect your email marketing service with the plugin, allowing you to streamline your workflow by automatically adding subscribers to your email lists.
Another convenient feature of it is its smart conditional logic, which allows you to create dynamic forms that change based on user responses. This helps you gather more relevant information and create a personalized user experience.
When it comes to forming submissions, it has you covered. You can receive instant form notifications to your preferred lead sources, ensuring that you can respond quickly to inquiries and leads. This helps you stay on top of your communication and provide excellent customer service.
With WPForms, you don't need to hire a developer to create professional-looking forms. Its intuitive interface and easy drag-and-drop functionality make it accessible to anyone, regardless of technical expertise. You'll be able to create forms that match your brand and gather the information you need with just a few clicks.
Key Features:
Automatic spam prevention with smart captchas and spam protection
Seamless integration with email marketing services for efficient lead generation
Smart conditional logic for dynamic and personalized forms
Instant form notifications to stay on top of inquiries and leads
Intuitive drag-and-drop builder for easy customization
GDPR consent form field for compliance with privacy regulations
Frequently Asked Questions
What are digital download plugins?
Digital download plugins are tools that allow website owners to easily sell digital products, such as ebooks, software, music, or photos, directly from their WordPress site. These plugins enable users to manage and deliver digital files to customers and handle payment processing seamlessly.
Why should I use digital download plugins for my WordPress site?
Using digital download plugins offers several benefits. Firstly, it simplifies the process of selling digital products, providing a user-friendly interface for managing files and handling transactions
.
Additionally, these plugins ensure secure delivery of files to customers upon purchase, protecting your digital products from unauthorized access. Moreover, they offer customizable options to enhance the user experience and allow you to generate revenue by selling digital goods effortlessly.
What are the benefits of using WordPress digital download plugins?
WordPress digital download plugins offer several benefits. Firstly, they provide a secure and reliable platform for selling digital products, ensuring that your files are protected from unauthorized access or downloads.

Secondly, these plugins typically come with built-in features such as customizable product pages, payment gateways, and order management systems, saving you time and effort in setting up your online store.

Additionally, many digital download plugins offer flexibility in terms of pricing options, discounts, and promotional campaigns, allowing you to attract more customers and boost your sales.
Conclusion
This article discussed eight WordPress digital download plugins that can help you sell digital downloads online and enhance the functionality of your website. You can use these plugins to set up your site, customize it, and get advanced features like download tracking and integration with popular payment gateways.
If you're hungry for more WordPress tutorials and helpful articles, make sure to check out the BetterStudio blog. They have a wealth of knowledge and resources to help you optimize your website and make the most out of your digital downloads.
Don't forget to stay updated by following BetterStudio on Facebook and Twitter. By following them on these social media platforms, you'll be the first to know about their latest tutorials, tips, and news in the WordPress world.
If you've read this article, thanks! Please feel free to leave a comment below if you have any questions or are still unsure about anything. The BetterStudio team and community are here to help you out if you get any problems. Happy digital downloading!