What are the best WordPress plugins for WooCommerce Quick View?
To start, you need a WordPress site with a good plugin. For your convenience, we have compiled a list of the best WordPress plugins for WooCommerce Quick View in 2022. All plugins are highly supported and feature-rich. Furthermore, the plugins work with all the top WordPress themes entirely.
Plugins related to the WooCommerce Quick View are listed here. Yet, if you're looking for a WooCommerce Quick View plugin that's not the same WooCommerce Quick View plugin, these are the ones to check out.
📌 Note: If you would like to improve your store's appearance and functionality, we suggest you use a modern WooCommerce theme with the features you need and a beautiful design. You may also wish to check out our article on the advanced WooCommerce plugins for additional information about advanced plugins for your store.
Let's begin with the 2022 list of top WordPress WooCommerce Quick View plugins:
Allows Users to Get a Quick Look of Products
The WooCommerce Quick View plugin is one of WordPress's most convenient and accessible quick view solutions.
A 'Quick View' button is automatically added to your store's product pages following the installation of the plugin, enabling you to view all your products quickly. The option of enabling quick view for mobile devices is also available.
Besides the product title and image, the price and quantity can also be displayed in this plugin. With this plugin, users can add items to their cart when they click the cart button.
Furthermore, a combination of the next slider option and the previous slider option is provided by this plugin. If the plugin is activated, all products will be added immediately.
However, you may find this plugin useful if you are just starting and wish to have some basic features at your disposal.
💵 Free plugin without a Pro or Premium version. Support is available in the WP.org forums.
Key Features:
You can display product title, image, price, and quantity
A button for adding to the cart is included
The style options allow you to modify it easily
Both desktop and mobile versions can easily be enabled and disabled
Next and previous slider options are available
Random Reviews:
The plugin is great, and I have used it on a Woocommerce site I own. I find it interesting that the purchase can be completed in this manner. However, I do not give it a 5-star rating because I think mobile devices need improvements because the products aren't displayed properly in the quick view.
Allows The Customers to Have a Brief Overview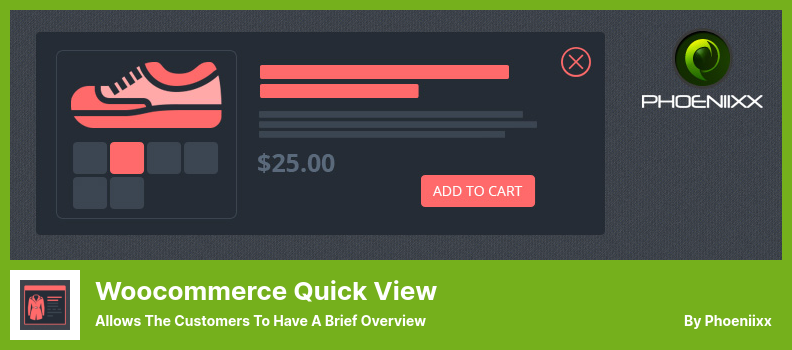 Through the Woocommerce Quick View plugin, you can display the quick view button on any of your WooCommerce products.
You can share your product on social media through the social sharing feature of this plugin. However, some features are available in the premium version, such as this one.
With this plugin, it is possible to enable product navigation in the quick view. Furthermore, quick view buttons can be customized by selecting the type and label, and it is possible to move the quick view button to a different location.
This plugin can customize multiple styling parameters, such as the color of the custom quick view button, the background color, etc. In addition, a social media sharing feature is available for products.
In addition to the quick view button appearing on all products following the installation of the plugin, navigation between the products will be facilitated with ease.
💵 Lite Version is free, Premium Version is for $39.
Key Features:
There is an ability to share products on social media
There is an option to select the quick view button type and label
A quick view option is available for enabling product navigation
Multiple styling options are available
It is possible to adjust the position of the quick view button
Random Reviews:
The free version is disappointingly lacking in features (almost none).

A fantastic new plugin works out of the box. A shame it is buried in the search results because it is so new. I have tried other plugins that weren't as successful.
The Easy Way to Speed Up Shopping Perfect
Using the WooCommerce Quick View Pro plugin, you can get quick views of your products in a few clicks. Customers can view a quick preview of a product by clicking either a persistent button or the product's image with this plugin.
Within a responsive lightbox, the quick view allows customers to view larger images, add quantities and variations to their carts, and select other options.
Furthermore, this plugin allows customers to return to the products section immediately for another purchase and directs them directly to the cart without needing user intervention.
Your store can be automatically configured to display a quick view of each product in the store with this plugin. Alternatively, shortcodes can be used to display the quick view on hover button anywhere on the website.
Furthermore, creating a product gallery in a quick view is possible by adding multiple images and enhancing them with zooming capabilities.
💵 At $79, you can buy this excellent plugin.
Key Features:
The display of quick views is not limited to store pages
There is an option to choose which product details to include
There are three layout options
The quick view button text is customizable
Provides support for all of the WooCommerce product types built-in
Allows You to Add a Quick View Button
The Quick View for WooCommerce plugin was designed to help you display your WooCommerce products simply and effectively if you need a reliable plugin for WooCommerce.
This plugin is lightweight and offers a wide range of features and options that will make it an ideal fit within your workflow. Additionally, you may select whether the quick view button appears before or after the Add to Cart button.
This plugin allows you to customize many features, including the location of the quick view button and the color and background of the button. Other free versions of many similar plugins do not offer this functionality.
In addition to offering a wide range of features that are available for free, this plugin will be a great addition to your WooCommerce store.
With this plugin, you can use any WordPress theme and WooCommerce plugin available on the market today.
💵 There are two versions, one is Free, and one is Pro for $39.
Key Features:
Background color can be selected for pop-up
The quick view button position can be customized
Colors can be selected for quick view buttons
You can change the quick view button text
You can show/hide the pop-up close button
Random Reviews:
Connecting and using the device is easy

There is a simple control panel that is easy to navigate. You can customize the buttons through CSS. Customer service is beneficial and responds quickly.
A Simple and Light Weight Plugin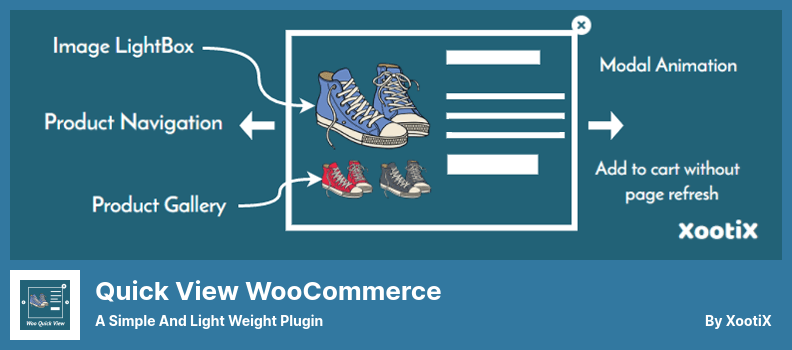 The Quick View WooCommerce plugin would be an excellent choice for users looking for a simple, easy-to-use, lightweight plugin.
Furthermore, several unique features are available through this plugin, which can be customized to suit the user's requirements.
Using the Quick View WooCommerce plugin, you can browse through a wide range of products without having to close it each time you wish to review one.
The plugin can be used for all types of products, including simple variables, external affiliate links, and grouped products. One of the many advantages of this plugin is that it allows users to browse a wide range of products.
This plugin can also access the quick view page by clicking on the link to access the product page. In addition, a quick view with an image gallery can be enabled.
The free Quick View WooCommerce plugin can be downloaded from the WordPress repository. The paid version can be upgraded for a fee.
💵 It costs $9 to buy the Pro version of this plugin, and the Lite version is free.
Key Features:
There is an

excellent animation

in the quick view modal

Customizable lightboxes are available for product images and galleries
All types of products are compatible.
You can visit the product page using the product link button
Navigation between products is possible
Random Reviews:
It was almost tempting to purchase the Premium version because of its dramatically reasonable price. However, I decided against purchasing it because it had no default quantity.

Thank you for providing us with such a helpful plugin
Allows Shop Owners to Set Up a Quick View Popup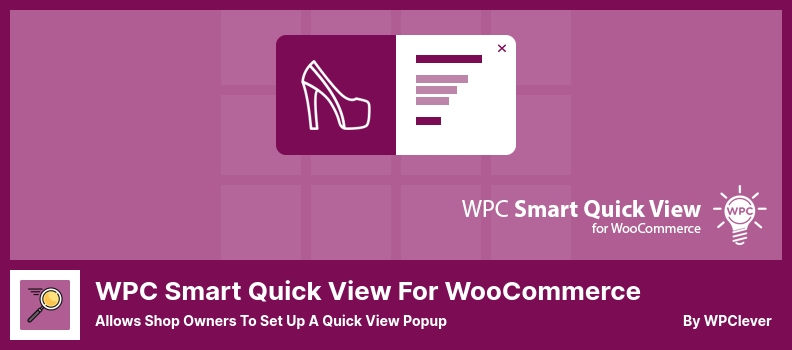 Using the WPC Smart Quick View for WooCommerce plugin, store owners can create a pop-up that displays details about products without having to leave the page they are currently located on.
Besides offering complete SEO optimization, this plugin is compatible with all WordPress themes and can be used with WPML.
Since this plugin is highly adaptable, your website will look great on many mobile devices, tablets, and laptop computers.
This plugin offers a variety of premium features, including the ability to customize quick view content, add lightbox images, and receive lifetime updates along with dedicated customer support.
It is possible to customize the text's color and the position of the quick view button on the screen. In this plugin, a quick view pop-up window allows you to browse the different products without closing the window.
💵 This plugin has free and premium versions. The premium version costs $29, while the lite version is free.
Key Features:
It is possible to add the quick view button with shortcodes manually
You can customize the quick view button by selecting the categories
Product navigation through the next and previous buttons is provided
A button link or pop-up window for the quick view is displayed
Button labels can be edited and translated
All WordPress themes are compatible
Random Reviews:
We were having issues with Smart Quick View, but Dustin from WPC support worked hard to provide us with solutions. We appreciate you helping us so quickly!

The plugin is absolutely brilliant. It works right out of the box. I asked support for help changing the color of the buttons to match my site, and they were more than happy to help. I'm highly impressed with the WPC family of plugins and recommend it to everyone.
Allows You to Set WooCommerce Quick View
The WooCommerce LightBox plugin can be used to create an easy-to-use quick view. Keeping with the plugin's name, it adds a lightbox feature to your product store, which can be used to view your products quickly.
In addition to being responsive, this plugin is also compatible with any theme designed for WordPress. You can configure the quick view button and popup according to your needs.
With the Pro version, you will be able to customize several key functions, including using a slider that displays product gallery images, changing the product price based on variations, and determining what content to display on the pop-up message.
This plugin allows you to browse from one product to another without having to close the Quick View window. This plugin will show a pop-up window containing the product's image, price, quantity, and an add-to-cart button.
💵 Premium: $39; Lite: free.
Key Features:
The pop-up for the quick view of the product is responsive
There is no need to make any adjustments
Setup and use are easy
Adapts well to all WordPress themes
You can display product image, title, price, quantity, and add to cart button with a pop-up
Random Reviews:
It is very close to being a scam, so if you buy it, you should be aware of that:

My WooCommerce website did not display images after I installed it.
Briefly summarizing
Here are the best WordPress WooCommerce Quick View plugins. These plugins will enhance your website.
📌 Note: We suggest you check out our articles on the best WordPress blog themes and best WordPress plugins for bloggers.
We hope this list will help you improve your site and achieve your business goals.
Whether you have a comment or a question, you can leave a comment below. Stay tuned for more articles via Facebook and Twitter. Please don't forget to share this post.