Have you ever wondered which WordPress plugins are best suited for graphic designers? Perhaps you're hesitant because there are so many options available, both free and pro.
Well, fear not! In this blog post, we will be sharing with you the five best WordPress plugins specifically designed to meet the needs of graphic designers.
Now, before we delve into the specifics, let us provide you with a few interesting statistics about this topic. Did you know that WordPress powers over 35% of all websites on the internet?
That's an incredible number! As a graphic designer, it's crucial for you to leverage the power and flexibility of WordPress to showcase your work effectively.
So, what can you expect from this article? We're glad you asked! In the following sections, we will introduce you to the top five WordPress plugins that every graphic designer should consider using. These plugins have been hand-picked based on their functionality, ease of use, and impact on enhancing your design workflow.
So without further ado, let's dive into the world of WordPress plugins and discover how they can revolutionize the way you approach graphic design on your website.
Best Plugins for Graphic Designers for WordPress
If you're a graphic designer looking to take your WordPress website to the next level, then you're in the right place. In this article, we'll be highlighting the best plugins for graphic designers that can help enhance your website's functionality and design.
So, buckle up and get ready to explore some amazing tools that can transform your website into a design masterpiece. Don't miss out on these game-changing plugins – read on to find out more!
A Customizable WordPress Gallery Plugin
Modula Image Gallery is a top-notch WordPress plugin that allows you to enhance the layout of your gallery pages with its amazing features like lightbox galleries, custom grids, and masonry grids.
The plugin is a must-have tool for graphic designers looking to showcase their creative portfolios and provide their clients with a better viewing experience.
The best part is, it's free! Although there is a premium version available, the free version is packed with enough features to meet the needs of most designers. With limited options in WordPress for creating stunning image galleries, the plugin stands out as one of the best graphic design tools.
One of the standout features of this plugin is the ability to create custom galleries that are truly unique. You can design a gallery that no other website on the web can replicate. This allows you to showcase your creativity and make your website stand out from the crowd.
Another great feature is that all galleries created with Modula Image Gallery are fully responsive. This means that no matter what screen size your visitors are using, your galleries will look flawless and adapt to fit perfectly.
A Full-fledged Gutenberg Block Toolkit
Qubely is a WordPress plugin that enhances the functionality of the Gutenberg block editor for graphic designers. With this plugin, designers can create flat gradients or line buttons, customize button icons and sizes, and adjust the spacing between icons and the block editor.
This plugin opens up a whole new world of possibilities for graphic designers using the Gutenberg editor. It provides a design toolkit that removes restrictions and allows for more customization options. Whether you're building a website or designing individual pages, it can help you achieve the desired look and feel.
One of the key advantages is the ability to add custom Gutenberg blocks to the editor. This means you can extend the functionality of the editor even further, giving you more options to create unique and interactive designs. From video backgrounds to gradient and background colors, it offers a wide range of customization features.
Responsive design is also a priority for this plugin. The plugin provides device-specific responsive controls, allowing you to tailor the appearance of your website for different devices. This ensures that your designs will look great and function seamlessly on desktops, tablets, and mobile devices.
Customizability is another highlight of the plugin. You have the flexibility to customize rows and columns, allowing you to create unique layouts and arrange content in a way that suits your design vision. This level of control enables you to make your website truly stand out.
Key Features:
Video backgrounds available
Gradient and background colors
Predefined content sections
Device-specific responsive controls
Customizable rows and columns
A Mobile Plugin for WordPress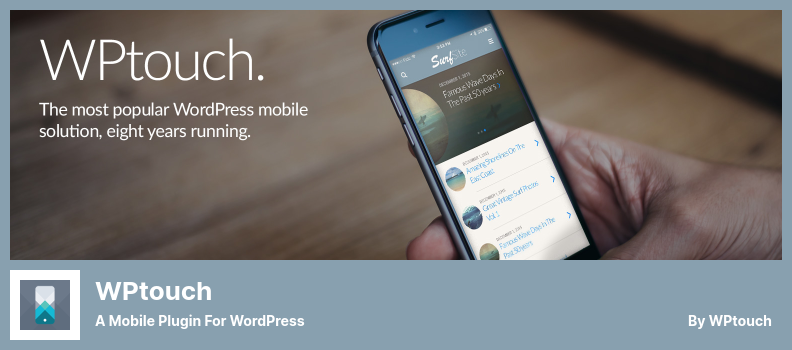 WPtouch is a WordPress plugin that allows you to easily design your mobile theme without needing any coding skills. It's perfect for anyone who wants to create a fast and lightweight, and attractive mobile version of their website.
You have complete control over the design elements of your site. You can customize everything from the colors and fonts to the layout and navigation, ensuring that your mobile version looks just as good as the desktop version. And the best part? You can do all of this without touching a single line of code.
One of the key benefits is that it helps to ensure that your mobile version of WordPress loads correctly before your visitors even arrive at your site. This is especially useful if you run a WordPress site on a mobile device, as it allows you to test and adjust the performance and appearance of your site on different devices.
If your site is already responsive and performs well on mobile devices, then you may not need to use the plugin. However, if your site is not responsive or if it struggles to load on mobile devices, then it could be a game-changer for you.
The plugin offers a range of features that make it easy for you to customize your mobile theme. You can choose from a variety of enhanced themes, allowing you to create an elegant and simple mobile experience for your users.
The plugin also includes improved caching options, which can help to speed up the loading time of your mobile site. And if you want to add some flair to your mobile theme, WPtouch provides options to enhance rich advertising and additional font choices.
Key Features:
Choose from a variety of enhanced themes
Improved caching options
Create an elegant and simple mobile theme
Additional font choices
Showcase Your Work In Minutes
WP Portfolio is a powerful WordPress plugin that allows you to easily set up and manage your portfolio. With its user-friendly interface, you can have your portfolio up and running in just a few minutes. It offers a wide range of advanced features that will help you showcase your work in a professional manner.
One of the standout features is its versatility. You can use it in various ways to display your portfolio, and it comes with a selection of themes that you can choose from directly within the plugin. This means you can customize the look and feel of your portfolio to suit your unique style and brand.
What sets the plugin apart from other WordPress portfolio plugins is its seamless integration with popular page builder plugins. This means you can easily design and customize your portfolio layouts using the page builder of your choice.
Whether you prefer Elementor, Beaver Builder, or any other popular page builder, the plugin has got you covered. Another great feature of the plugin is its lazy loading functionality.
This means that your portfolio images and videos will only load when they are visible on the screen, improving the overall performance and loading speed of your website. This is crucial for providing a smooth and seamless user experience for your visitors.
Customizable shortcodes are also available in the plugin, allowing you to easily embed your portfolio items and categories into any page or post on your website. This gives you full control over where and how your portfolio is displayed, ensuring maximum impact and engagement.
In addition to supporting image and video files, the plugin also allows you to showcase website portfolios. This means you can display live previews of your website designs, allowing potential clients to see your work in action. It's a great way to impress clients and land more design projects.
To summarize, WP Portfolio is a highly versatile and user-friendly WordPress plugin that makes it easy to set up and manage your portfolio. Its integration with popular page builder plugins, customizable shortcodes, lazy loading functionality, and support for image, video, and website portfolios make it a top choice for graphic designers.
Key Features:
Seamless integration with popular page builder plugins
Customizable themes and layouts for a unique portfolio
Lazy loading for improved performance and loading speed
Customizable shortcodes for flexible embedding
Support for image, video, and website portfolios
The Best Social Media Sharing Plugin
Monarch is a fantastic social media plugin for WordPress that allows you to display beautiful and customizable social media buttons on your website.
With the ability to choose from over 35 social networks, you can easily build and display your social following. Whether you prefer to use a shortcode or widget, it gives you the flexibility to display follow buttons wherever you want on your site.
One of the great features is the ability to customize the appearance of the social media icons. You can choose from a variety of button shapes, and select colors and hover effects to match your website's design. This ensures that the buttons seamlessly integrate with your site's overall look and feel.
In addition to customization options, the plugin also allows you to display the network names and social counts. This adds a touch of credibility to your social media presence and encourages visitors to connect with you on their preferred platforms.
What sets the plugin apart from other social media plugins is its powerful control panel. With this intuitive interface, you have complete control over the appearance and placement of your social media buttons.
You can choose to display the pop-up in different locations, such as the above thumbnails of images and videos, or as an automatic pop-up on fly-ins. For graphic designers, the plugin is a dream come true.
You have the ability to fully customize the appearance of the social media icons, ensuring that they align with your design aesthetic. You can also select which networks to include on your site, ensuring that you only showcase the social platforms that are relevant to your audience.
All in all, if you're looking for an elegant and highly customizable social media plugin for your WordPress website, look no further than Monarch. Its wide range of features and user-friendly interface make it one of the best choices available to WordPress users.
Key Features:
 Build and display your social following
Use shortcodes or widgets for easy display
Display network names and social counts for credibility
Customize button shapes, colors, and hover effects
Choose from over 35 social networks for inclusion on your site
Frequently Asked Questions
How do these plugins benefit graphic designers?
These plugins benefit graphic designers by providing them with tools and features that enhance their design capabilities. Free plugins like Elementor and Canva offer easy-to-use interfaces and templates, allowing designers to create visually stunning websites and graphics without extensive coding knowledge.

Premium plugins like Divi Builder and Revolution Slider offer advanced design options and customization features, giving graphic designers more control over the look and feel of their websites.

Additionally, plugins like WPForms and Envira Gallery provide functionality for creating contact forms and image galleries, respectively, helping graphic designers showcase their work and engage with their audience.
Can graphic designers use these plugins without any technical knowledge?
Yes, graphic designers can use these plugins without any technical knowledge. Many of these plugins offer user-friendly interfaces and drag-and-drop functionality, making it easy for designers to create and customize their websites and graphics.

Additionally, these plugins often come with pre-designed templates and layouts that can be easily modified to suit a designer's needs.
While some advanced features may require a deeper understanding of the plugin's capabilities, most designers can achieve great results without any coding or technical experience.
How can Elementor benefit graphic designers?
Elementor is a game-changer for graphic designers as it allows you to visually design your website without needing to code.

With its drag-and-drop interface, you can easily create stunning layouts and customize every element of your site. It gives you the freedom to bring your design ideas to life without the hassle of traditional coding.
Why is WP Smush important for graphic designers?
As a graphic designer, you understand the importance of visuals. WP Smush is an essential plugin for optimizing images on your WordPress site.

It reduces the file size of your images without compromising quality, ensuring that your website loads quickly and your designs look sharp. This can greatly improve the user experience and keep your visitors engaged.
Conclusion
To recap, in this article, we discussed the top five WordPress plugins for graphic designers, both free and pro options. These plugins can greatly enhance the design capabilities of your WordPress website and help you create stunning visuals for your audience.
If you enjoyed this article and found it helpful, we encourage you to check out the BetterStudio blog for more related tutorials and tips. We cover a wide range of topics that can further assist you in improving your design skills and creating a professional website that stands out.
Additionally, we recommend following BetterStudio on Facebook and Twitter to stay updated with the latest tutorials and resources. By doing so, you'll be the first to know about any new plugins or tools that can take your graphic design game to the next level.
Thank you for taking the time to read this article. We hope you found it valuable and informative. If you have any questions or encounter any issues related to the topics discussed in this article, please feel free to leave a comment below. Our team is here to help and provide solutions. Happy designing!