Are you a WordPress website owner looking for the best mega menu plugins? Or perhaps you're unsure about what a mega menu is and why you need it for your website. Don't worry, we've got you covered!
In this blog post, we will explore the six best WordPress mega menu plugins that are available for both free and pro versions. So, whether you're a beginner or an experienced WordPress user, keep reading to find the perfect mega menu plugin for your website.
Mega menus are highly customizable dropdown menus that allow you to display a wide range of content in a structured and organized manner. With the right mega menu plugin, you can create stunning and user-friendly navigation menus that enhance your website's overall user experience.
These plugins offer a variety of features such as multiple columns, images, icons, widgets, and even animations. So, if you want to take your website's navigation to the next level, investing in a mega menu plugin is a must.
Now, let's dive into the top six WordPress mega menu plugins that we've handpicked for you. We'll discuss their features, pros, and cons, so you can make an informed decision.
Whether you're looking for a free plugin to get started or a pro version for advanced functionality, we've got options for every budget and requirement. So, let's get started and find the perfect mega menu plugin for your WordPress website!
Best Mega Menu Plugins for WordPress
If you're looking to level up your WordPress website's navigation and create stunning mega menus, you've come to the right place! In this article, we'll be exploring the best mega menu plugins for WordPress that will take your site's menu to the next level.
So, buckle up and get ready to dive into these awesome plugins that will undoubtedly enhance your site's user experience.
Automatically Convert Your Existing Menu Or Menus Into A Mega Menu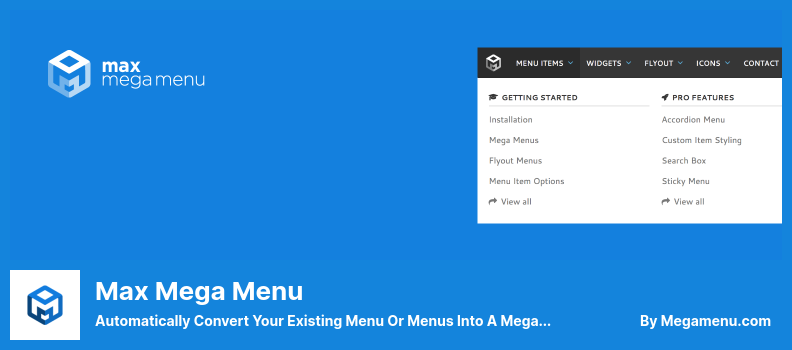 Max Mega Menu is one of the most popular mega menu plugins in the WordPress plugin directory, with a large number of active installations. This plugin seamlessly integrates with the WordPress menu builder, allowing you to easily add flyout menus to your website.
One of the key features of the plugin is its support for multiple mega menu locations. This means that you can have different mega menus in different areas of your site, giving you the flexibility to create menus that are tailored to specific sections or pages.
Furthermore, each mega menu location also comes with its own set of customizable options, allowing you to fine-tune the appearance and behavior of your menus.
You can customize your menu a lot with the plugin, but it's got a bunch of other stuff too. For example, you can add scrolling effects to your menus, making them look more dynamic and eye-catching. In addition, you can add WordPress widgets directly to your menus, so you can display additional content.
The plugin includes a built-in theme editor, which allows you to easily resize and style your menus to match the design of your website. You can also take advantage of the plugin's CSS3 animations, sub-menu styles, and unique icons to further customize the look and feel of your mega menus.
To make it even more convenient, Max Mega Menu automatically converts your existing menus into mega menus, complete with built-in widgets. This saves you time and effort, as you don't have to recreate your menus from scratch. You can simply style and customize your mega menus to meet your specific needs.
Key Features:
Ability to hide text, disable links, and hide on

mobile devices
Theme editor for easy resizing and styling of menus
Support for multiple menu locations on your website
Click the event to open the sub-menus for improved user experience
Off-canvas menu option for a hidden and space-saving menu
Option to show WordPress widgets directly in the menu.
WordPress Mega Menu Plugin
UberMenu is a paid WordPress plugin that allows you to add flexible mega menus and flyout panels to your website. With this plugin, you can customize transitions, typography, menu position (vertical or horizontal), and color scheme to create a unique menu for your site.
It also offers dynamic element creation, which means you can organize your sub-menus based on categories, posts, custom post types, and more. You can even include tabs within your mega panels if you have a lot of data to present.
One of the great features of the plugin is its ability to integrate shortcodes, custom HTML, widgets, and other elements into your menus. This means you can add extra functionality and customization to your menu content.
To make it even easier, there are over 50 different style options available in the WordPress customizer tool, allowing you to see real-time previews of your changes.
With UberMenu's mega menu capabilities, you can quickly and effortlessly create content-rich drop-down navigation areas on your site. These menus can display images and text in various forms to provide an engaging and informative experience for your visitors.
Key Features:
Customizable animations

and effects

Visually appealing menu layouts
User-friendly and easy to work with
Submenus with tabs for organizing content
Custom content and widgets for personalized menus
Background picture option for each submenu.
Generates Efficient Vertical Push, Sliding, Static Navigation, Icon Toolbar
Superfly is an incredible WordPress plugin that allows you to surprise your website visitors with a unique and eye-catching fly menu. When a visitor interacts with your site, the fly menu symbol appears, grabbing their attention and providing a seamless navigation experience.
One of the great things about the plugin is that you have full control over the styling of your menu. You can choose from a variety of transition effects, add icons to menu items, and customize the background color, pattern, picture, or even video that appears on the menu.
But here's the best part: you don't have to use sophisticated menu styles if you don't want to. It also allows you to design a simple vertical menu and then add mega menu features to the sub-categories. This gives you the flexibility to create a more conventional look while still enjoying the benefits of a fly menu.
One of the key advantages of the plugin is its mobile responsiveness. With limited space on mobile devices, it's crucial to have effective navigation. The plugin makes it easy to include a fly menu that works seamlessly on any screen size.
In addition, the plugin ensures GDPR compliance by not collecting or retaining any information about your site visitors. This gives you peace of mind when it comes to data privacy.
The plugin also comes with an amazing editor that allows you to add and style additional content or shortcodes. This gives you the ability to customize your menu even further and create a truly unique and engaging user experience.
When and where the fly menu shows up is up to you with Superfly. You can make it appear or hide it on mobile, desktop computers, or specific pages. You can even make it appear only to logged-in users. With this level of control, your fly menu always shows up when you want it.
Key Features:
Slide-in menu option
Static menu for a more traditional look
Tiny icon navbar for a compact design
Skewed panel for a modern and dynamic menu
Fullscreen mode for a visually immersive experience
GDPR compliance for data privacy.
Responsive Mega Menu Plugin for WordPress
WP Mega Menu Pro is a plugin that will allow you to create a powerful and robust menu system for your website, which will be easy to use, customize, and design, which will make your website look really professional.
With ten different layouts and fourteen attractive menu skins to choose from, you can create menus that perfectly match your website's design. Whether you prefer horizontal or vertical menus, the plugin has you covered.
One of the standout features of this plugin is its ability to customize triggers and transition effects. This means you can add interactive animations to your menus, making them even more engaging for your visitors. And with over a hundred customization options available, you can truly make your menus unique.
Another handy feature of WP Mega Menu Pro is the ability to restrict the appearance of menu items based on user roles. For example, you can limit certain menu options to only be visible to users with the Editor role, while hiding them from viewers. This gives you greater control over the accessibility of your menus.
Key Features:
Add tabs to your menu for better organization of data and sections
Customize colors, symbols, and fonts to match your website's overall look
Choose from over a hundred different customization options
Create both horizontal and vertical menus with ease
Customize vertical menus with mega menu features.
Choose from ten pre-designed templates for various types of content.
Simply And Easily Create A Slick And Professional Responsive WordPress Menu
Hero Menu is an excellent paid WordPress menu plugin that offers a user-friendly builder interface. With its drag-and-drop approach, you can easily insert menu elements and see where they go, thanks to color-coded visuals.
The plugin is especially convenient for eCommerce businesses as it seamlessly integrates with WooCommerce, allowing you to showcase your product items in your menus effortlessly.
One of the standout features of Hero Menu is its ability to import unique menu items with just one click. Whether you want to add a logo, search bar, or icon, it's all easily customizable.
This plugin empowers you to modify your website's menu regions in just a few simple steps, providing you with the freedom to create a multilayer drop-down menu system and insert icons into your panels.
Key Features:
Ability to include various elements like social media links and product images
Drag-and-drop interface for easy menu building
Flexible placement options for your menu, including vertical menus
Sixty color choices and a wide selection of typefaces for customization.
Create Mobile-Friendly Menu in WordPress
Responsive Menu is a remarkable plugin that enhances the navigation control of your WordPress website. With hundreds of settings and countless configuration options, it offers extensive modification capabilities.
It is so powerful and user-friendly that it can be used by anyone, regardless of whether they have programming skills or not, since the builder is designed to be visually appealing and easy to use.
A plugin such as this is particularly useful for those people who have an idea of what they want their website to look like and want a menu system that integrates seamlessly into it.
With the help of this plugin, you can ensure that fonts, text sizes, color schemes, as well as the overall layout and design of the theme are as customized as you like, and in a great deal of detail.
There is a standout feature in the plugin that allows you to use photographs to display the navigational sections of your site, so the sections look truly unique when viewed.
Key Features:
More than 150 adjustable options for complete customization
Create unique menu triggers to enhance user experience
Add logos and symbols to personalize your menu.
Customize elements such as text, border color, and backdrop for a cohesive look.
Frequently Asked Questions
What is a mega menu?
A mega menu is a type of menu that displays multiple columns of content in a dropdown format, allowing website visitors to easily navigate through various sections and sub-sections of a website.
Why should I use a mega menu on my WordPress website?
Using a mega menu on your WordPress website can improve the user experience by providing a clear and organized navigation structure. It allows visitors to quickly find and access the content they are looking for, reducing the chance of them leaving the site due to difficulty in navigation.
What are the benefits of using a pro version of a WordPress mega menu plugin?
The pro versions of WordPress mega menu plugins offer advanced features and functionalities that can enhance the appearance and functionality of your mega menus.
These include options for customization, additional menu styles, integration with other plugins, and priority support from the plugin developers.
Conclusion
To recap, in this article, we discussed the six best WordPress mega menu plugins, both free and pro options, to upgrade your website's navigation and user experience. We explored their features, benefits, and how they can help you create impressive and functional mega menus.
If you want to explore more related tutorials and articles, be sure to check out the BetterStudio blog. They have a wealth of resources that can further enhance your understanding and expertise in all things WordPress.
Additionally, don't forget to follow BetterStudio on Facebook and Twitter to stay updated with their latest tutorials, tips, and news. By doing so, you'll always be in the loop and can continue to improve your WordPress skills.
Thank you for taking the time to read this article. If you have any questions or encountered any problems while implementing these mega menu plugins, please feel free to ask in the comment section below. We're here to help and provide further guidance. Happy menu designing!