Are you a WordPress website owner looking for the best podcast plugins to enhance your website? Or perhaps you're overwhelmed with the vast selection available and don't know where to start? Don't worry, we've got you covered!
In this article, we will introduce you to the 10 best WordPress podcast plugins for 2023, both free and paid, that will take your podcast game to the next level.
Did you know that as of 2021, there are over 1.75 million podcasts worldwide, and this number is projected to increase in the coming years? With these staggering statistics, it's essential to stay on top of the game and choose the best tools for your WordPress website.
In this article, we will provide you with an in-depth review of each plugin, its features, and pricing, to help you make an informed decision about which plugin suits your needs. So, let's dive in and find the perfect podcast plugin for you!
Best Podcast Plugins for WordPress
If you've got a podcast and a WordPress website, then you're in luck. The WordPress Plugin repository is packed full of audio-focused plugins that can help you elevate your podcast game.
Take a look at our list of best WordPress podcast plugins for a hassle-free and seamless experience that is sure to keep your listeners engaged.
The Number One Podcasting Plugin for WordPress
PowerPress by Blubrry is an exceptional WordPress podcast plugin that allows users to post high-quality podcasts. Designed by podcasters for podcasters, this plugin offers all the necessary tools for creating an amazing podcast quickly and easily.
The Simple Mode is highly recommended for beginners, as it provides a stress-free way of getting started without worrying about feeling overwhelmed.
Once you're comfortable, you can move to Advanced Mode and take advantage of the plugin's advanced features and settings, all while expanding your podcast's reach through its built-in SEO tool.
One of the standout features of PowerPress by Blubrry is its SEO tool, which helps optimize podcasts for search engines and Apple Podcasts, ensuring greater discovery and growth potential.
Additionally, the plugin allows you to add a shortcode to your website or sidebar widget to create a pay-per-download page for your podcasts, making monetization easier than ever before.
Key Features:
Multilingual support for an international audience.
Advanced search engine optimization (SEO) tools for greater discoverability.
Easy integration with MemberPress.
Integrated HTML5 media player supporting YouTube videos and channels.
Simple and Advanced modes for customization and ease of use.
Multiple audio and video formats supported for maximum flexibility.

Seamless social media sharing options for greater engagement and exposure.

Easy to use subscription management tools.
Easy iTunes and Apple Podcasts integration.
Built-in video migration tool for smooth transitions.
The Best Way to Publish a Podcast Online
Buzzsprout Podcasting allows users to embed podcast episodes into any page or post on their WordPress site. It provides an easy-to-use dashboard that offers detailed analytics on podcast plays and audience information.
Users can also synchronize the release schedule of their podcasts and automatically optimize their audio files for publishing.
In addition, the plugin allows for seamless integration with Apple Podcasts, Spotify Podcasts, Google Podcasts, and other directory services. However, a Buzzsprout account and subscription are required to use this feature.
Moreover, Buzzsprout's flexible HTML 5 media player ensures that users can enjoy a smooth listening experience on their devices.
Key Features:
Detailed analytics for better understanding of the audience
Synchronization with the release schedule
User-friendly dashboard with intuitive navigation
90-day free trial available
Flexible HTML 5 media player.
Make a Bigger Impact With Your Podcast
Simple Podcast Press is a WordPress plugin that makes it easy to add podcasts to your website. It seamlessly integrates with Blubrry PowerPress and replaces the PowerPress player across your website.
Simply copy the URL of your website into the plugin's script and publish your episode, and your podcast appears on your site instantly.
In addition, Simple Podcast Press is compatible with other podcasting platforms, like BuzzSprout, Spreaker, Libsyn, and Apple Podcasts. Post your podcast directly to your website, no matter where you host your podcast.
Upon installation, the plugin generates an episode page for every podcast episode using your Apple Podcast URL, complete with a mobile-friendly player, episode description, and corresponding images.
The setup process for Simple Podcast Press is simple and user-friendly, and it provides integration with cloud-hosted podcasts. Further, you can promote your brand across multiple channels and share links via social media. Unfortunately, the plugin has no free version.
Key Features:
Simple setup process
Integrates with cloud-hosted podcasts
Promotes brand across multiple channels
Easy link sharing on social media
a Top-rated Podcasting Plugin
Seriously Simple Podcasting is a WordPress plugin that allows users to create and publish podcasts on their website using WordPress' native features.
It provides easy-to-use settings that enable users to display their podcast episodes, individual episodes, and their entire playlist using either a shortcode or widget.
Moreover, it supports custom post types for podcasts, audio and video format, and multiple podcasts simultaneously hosted on one website, all supported by an RSS feed for each podcast.
One of the advantages of Seriously Simple Podcasting is that its integrated platform, Castos, allows users to host their podcast files from their WordPress dashboard or anywhere else they might prefer.
The customized media player enables users to show their podcast image and modify its color to match their website's branding. Additionally, users can reach a broader audience through YouTube republishing.
For easy navigation, the plugin includes shortcodes and widgets to add archives, episodes, and playlists to the website. Overall, using Seriously Simple Podcasting is an excellent way to create and produce podcasts without any hassle, as it includes simple settings to get your podcast up and running quickly.
Key Features:
Supports an RSS feed for each podcast
YouTube republishing for wider audience outreach
Shortcodes and widgets to add episodes and playlists
Custom post types for podcasts
Simple settings to get your podcast up and running quickly
Customizable media player with easy-to-use settings
Supports both audio and video formats
Integrated platform, Castos, for hosting and publishing
Allows multiple podcasts to be simultaneously hosted on one website
Easy installation and user-friendly interface.
Allows for Publishing Podcast Episodes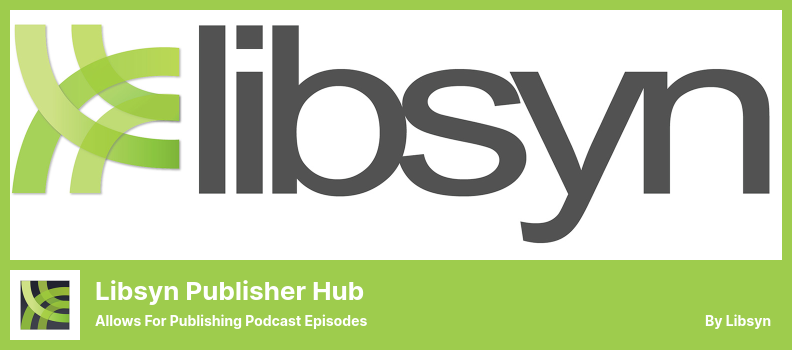 Libsyn Publisher Hub is a web-based plugin that makes it easy to connect your podcast with your WordPress website. It provides you with various features that help you create, schedule and publish your podcast episodes all from your WordPress dashboard.
With Libsyn Publisher Hub, you can schedule your posts, create drafts and even send updates to subscribers on premium content subscription service and opt-in advertising options for a good monetization strategy.
This plugin also offers you detailed audience statistics to give you a better insight into your audience's preferences and behavior, which is helpful if you plan to collaborate with advertisers or offer premium content.
One of the most significant advantages of this plugin is that it hosts and distributes audio, PDF files, and document files and blog posts.
It provides your blog's media files and produces an RSS feed without affecting your hosting provider. It also offers an option for your listeners to customize mobile apps for your presentation on iOS and Android devices.
With Libsyn Publisher Hub, you can add custom artwork for each episode, integrate it with WordPress seamlessly, and publish your episodes immediately or schedule them for later.
Key Features:
Seamless integration of Libsyn with WordPress
Custom artwork for every episode
Detailed audience statistics for better insights
Hosting and distribution of audio, PDF, and textual content
Scheduled posts for convenient publishing
Updates to subscribers on premium content subscription service
Opt-in advertising options for monetization
Publish immediately or schedule podcast episodes
RSS feeds without affecting your hosting provider
Customizable mobile apps for iOS and Android devices.
Makes It Easy to Create Podcast Feeds
Podlove Podcast Publisher is a WordPress plugin that enables users to manage, publish, and create podcast episodes right from their website. With this plugin, you can create both audio and video podcasts with a powerful HTML5 player included for easy listening and viewing.
The plugin also offers customization options that allow you to create podcast pages with your desired content.
Some of the standout features of the Podlove Podcast Publisher plugin are its HTML5 audio and video player, modular design, self-hosted and cloud-based podcast hosting integration, built-in subscription and download options, and complete customizability of appearance and functionality.
Key Features:
HTML5 audio and video player
Modular design for expansion
Self-hosted and cloud-based podcast hosting integration
Built-in subscription and download options
Complete customizability of appearance and functionality
Sermon Manager is The First WordPress Sermon Plugin
Sermon Manager is a plugin that allows you to publish sermons online. You can add speaker names, series, topics, books, and service types and a thumbnail image to the podcast. This plugin is specialized for a specific niche, but it has a wide range of features.
This plugin can support Apple podcasts and other podcasting tools and players. It can also embed YouTube and Vimeo videos. You can easily import and migrate sermons from other popular sermon plugins. Unfortunately, the migration process is limited to existing WordPress installations only.
Sermon Manager can be easily added to your webpage using a shortcode. The premium version has additional SEO tools. The plugin's flexibility is demonstrated through WordPress shortcodes, allowing for maximum customization possibilities. Attaching files and images to the podcast is also possible.
Key Features:
Customization through WordPress shortcodes
File and image attachment options for podcasts
Fully functional podcasting tool with extra features for sermons
Import podcasts from external sources
Addition of supplemental information for sermons
Makes It So Very Easy to Grow Your Podcast Audience
RafflePress is an excellent plugin for enhancing your WordPress site's podcasting capability. With its integrated contests and giveaway features, you can effortlessly grow your podcast audience on your website, boosting traffic and listeners.
Plus, this plugin is highly effective in quickly increasing your email subscribers by collaborating with your favorite marketing application. The giveaways are visually appealing and entirely responsive, allowing your listeners to take part in contests and giving you solid returns.
The plugin is versatile and can be used with various social media platforms like Facebook, Instagram, Twitter, and YouTube, among others. Viral sharing features are also included, automating word-of-mouth marketing.
Additionally, RafflePress provides a wide range of pre-built giveaway templates to choose from, making it easy to customize your giveaway. Other options for creating online giveaways are also available, and integrating the plugin into your favorite email marketing services or CRM systems is seamless.
Finally, the distraction-free landing page of the giveaway is highly optimized, providing optimal results.
Key Features:
Integrates well with favorite email marketing services or CRM systems
Integrates with popular social media platforms
Offers seamless word-of-mouth marketing automation through viral sharing
Provides pre-built, customizable giveaway templates
Offers several ways to create online giveaways
Highly optimized, distraction-free landing page for the giveaway
Easy to customize and design giveaways to your liking
User-friendly interface for setting up and managing giveaways
Can track engagement levels and measure results of giveaways
The plugin offers excellent value for its price.
You Can Get Information About Your Podcast Audience
MonsterInsights is a must-have plugin for podcasters who want to track their listeners' actions on their homepage. This comprehensive Google Analytics plugin allows you to visualize and interact with actionable analytics information directly on your website.
You can embed Google Analytics on your WordPress blog with ease to monitor the performance of your podcast homepage and track the most popular episodes.
In addition to tracking tools, MonsterInsights also offers a Search Console Report to help you assess your website's ranking on Google.
You can even track ads to determine the most effective placement on your site. With A/B testing, you can determine what works and what does not for your audience, thus creating better episodes and growing your audience faster.
With a user-friendly interface, MonsterInsights is intuitive and powerful. It automatically enables Google Analytics' advanced features when installed. Small businesses, large corporations, and favorite blogs alike use this plugin.
With its analytics dashboard, you will be able to receive information about your podcasters to help you create better episodes.
Key Features:
Track most popular episodes
Search Console Report to assess website's ranking on Google
Track ads to determine effective ad placements on your site
A/B testing to determine what works and what does not for your audience.
The WordPress Podcast Popup Plugin
OptinMonster is a plugin that allows effortless creation of visually appealing popups designed to advertise podcasts to website visitors.
The software boasts a user-friendly drag-and-drop interface, affording website owners access to multiple conversion features that can turn traffic into leads. It has fullscreen welcome mats, floating bars, and exit-intent popups, among others.
The plugin allows podcasters to create campaigns quickly and efficiently with a focus on email marketing, subscription forms, and new episode announcements, among other features.
By tracking users, the Exit Intent® Technology enables an understanding of website visitors' behaviors and time pot-in form popups to perfection. It also has a variety of templates that generate podcast subscribers with eye-catching forms.
Key Features:
Mobile-friendly popups
Flexible templates
Campaign creation from scratch
Onsite retargeting
Follow-up campaigns
Frequently Asked Questions
What is a podcast plugin?
A podcast plugin is a software extension for WordPress websites that allows podcasters to easily add audio and video files to their website and manage their podcast feed.
Why should I use a WordPress podcast plugin?
Using a podcast plugin on your WordPress website makes it easier to manage your podcast content, and allows your audience to easily subscribe to your podcast feed. It also provides useful features such as episode categorization and search optimization.
What are some important features to look for in a podcast plugin?
Important features to look for in a podcast plugin include compatibility with your WordPress version and theme, support for audio and video files of various formats, customizable audio player, SEO optimization, and automatic podcast feed generation.
Conclusion
In conclusion, we hope that this article on the 10 Best WordPress Podcast Plugins for 2023 has been insightful and helpful in your search for the perfect plugin. We've discussed both free and paid options, so you can choose based on your budget and needs.
If you're interested in more tutorials, tips, and guides related to WordPress, we encourage you to check out the BetterStudio blog. We have a plethora of helpful resources to make your website run smoother and more efficiently.
Don't forget to follow us on Facebook and Twitter to stay up-to-date with the latest tutorials and updates.
Thank you for taking the time to read this article. If you have any questions or problems with any of the plugins mentioned, please don't hesitate to leave a comment below. We're always here to help!