Are you a WordPress website owner looking to increase engagement and grow your audience? Hosting a giveaway can be an effective way to achieve these goals. However, with so many WordPress giveaway plugins available in 2023, it can be challenging to know which one to choose.
That's why we've put together a list of the 7 Best WordPress Giveaway Plugins (Free & Paid) for 2023. In this article, we'll introduce you to some of the most popular and reliable options on the market.
Did you know that over 34% of all websites on the internet are powered by WordPress? This means that by using a WordPress giveaway plugin, you'll have access to a vast community of users who are already familiar with the platform.
Without further ado, let's dive into our top picks for the best WordPress giveaway plugins in 2023.
Best Giveaway Plugins for WordPress
If you're looking to add some fun and excitement to your WordPress site, you might want to consider using a giveaway plugin.
In the following section, we've highlighted the 7 best giveaway plugins for WordPress in 2023, both free and paid. Don't miss out on these amazing tools that can help you increase engagement and grow your audience.
The Most Powerful Giveaway Plugin for WordPress With Zero Extra Charge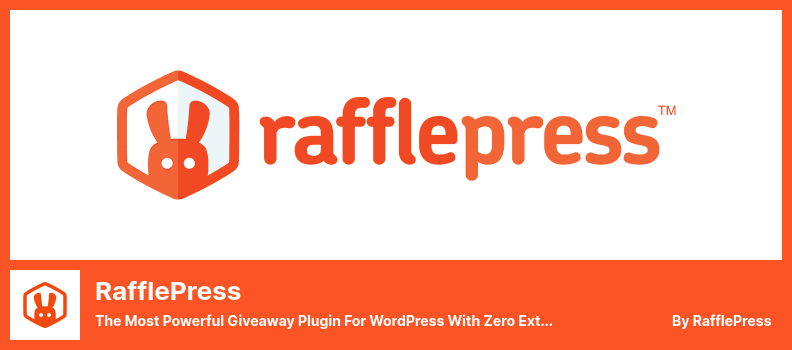 RafflePress is an incredible giveaway plugin available on WordPress, with millions of users. This tool is integrated with top email marketing platforms, allowing you to run contests and build your email list.
You can use the free version to create viral giveaways using the drag-and-drop builder and templates, with no financial commitment, or upgrade to the Pro Plan. Additionally, registration via social media, email confirmation, and access to the prize gallery is possible.
The plugin has limitless options for attracting contestants, including encouraging visitors to sign up for newsletters, follow you on social media, or visit specific web pages. It also includes mobile-responsive and SEO-friendly widgets, retargeting and success monitoring, single-click entry, and fraud detection.
You can create promotional landing pages and customize backgrounds, connect with popular social networks like Facebook, Twitter, and Instagram, and use word-of-mouth marketing to increase engagement and attract new visitors.
It also optimizes site speed, SEO, and conversions through lightweight, fast code and allows you to specify the start and end times of the competition. In summary, RafflePress is a comprehensive and efficient plugin for any WordPress website owner looking for a powerful giveaway tool.
Key Features:
Word of mouth marketing features
Mobile-responsive and SEO-friendly widgets
Retargeting and success monitoring
Single-click entry and fraud detection
Promotional landing pages
Customizable giveaway backgrounds
Integration with popular social media platforms
Optimization of SEO, site speed, and conversions
Pro Plan with social media registration and prize gallery
Specify start and end times of the competition.
The Best Platform To Grow Your Business
Gleam is a Giveaway tool for WordPress that is known for its effectiveness. It offers various marketing possibilities that can be highly beneficial for your website.
This plugin comes with anti-fraud and detection mechanisms, making it a reliable option for running contests that can increase your traffic and subscriber base.
With Gleam, you can also conduct giveaways on social media with ease. However, it should be noted that this plugin might not be the best option for those on a tight budget, as it carries a hefty price tag.
That said, even with its high cost, Gleam's online sweepstakes creator remains one of the most expensive options. As a result, some of its competitors are gaining popularity.
Despite its limitations, Gleam is still a user-friendly product. The installation process can be somewhat tricky, but the configuration wizard helps guide you through it.
In addition, it comes with widgets that are accessible on mobile devices, a one-click entry system, and templates that can be customizable for your contests. Gleam also has an interface that supports multiple languages, and it simplifies the process of selecting and displaying winners.
It even synchronizes data with Google Analytics, which is a huge plus for analyzing your website's performance.
Key Features:
Confirmation of

participation via email
One-click entry system
Accessible widgets for mobile devices
Eliminates invalid entries
Refer a friend form with custom links to engage users and increase reach
Template customization for contests
Interface that supports multiple languages
Simplifies the process of selecting and displaying winners
Synchronizes data with Google Analytics
Easily Launch And Manage Your Next Giveaway Without Coding
Rafflecopter is a powerful Giveaway Builder that lets you manage multiple giveaways on any website – even if you don't know how to code!
This WordPress plugin allows you to set up campaigns by copying and pasting the required content, similar to RafflePress. Despite being an expensive product, companies of all sizes, including Fortune 500 and independent blogs, use it to run their giveaways effectively. Rafflecopter can handle up to 100,000 entries, making it ideal for organizing global giveaway campaigns.
However, its free plan is limited, and to access all the features, you'll have to upgrade to a premium plan. Unfortunately, the plugin isn't compatible with iPhones.
One of the best features of Rafflecopter is that it enables you to establish connections with your clients and promote your product or service through social media channels.
The plugin's scalability and real-time market research capabilities allow you to enhance your visibility and increase engagement. It's also compatible with all major email marketing services, making it a convenient tool for marketing professionals.
With Rafflecopter, you can offer your clients easy-to-use widgets that allow them to enter and win prizes. You can also tailor your contests to fit any brand or occasion and provide customers with an interactive experience that fits their needs.
Key Features:
Establish connections with clients
Promote through social media
Scalability
Real-time market research
Compatible with major email marketing services
Easy-to-use widget
Customized theming
Tailored contests
Global campaign capabilities
Handles up to 100,000 entries.
Grow Your Email List With Viral Giveaways
KingSumo is a fantastic WordPress giveaway plugin that simplifies launching giveaways on your website. This plugin is user-friendly and easy to use, allowing you to select your prizes and optimize the plugin for mobile devices.
One of its best features is the ability to set start and end dates for future giveaways. It's also possible to integrate Facebook, Twitter, Instagram, and Facebook Messenger with your account to publish your content, and you can connect this plugin to your mailing list and email services.
With KingSumo, you can update your plugins for free and create unlimited giveaways effortlessly. Additionally, the plugin allows you to include a picture of the prize next to the description, utilize Facebook's pixel to analyze your Facebook activity, and upload your own logo.
If you encounter any issues while using the plugin, don't hesitate to contact the customer service department.
Key Features:
Create unlimited giveaways easily
Add a picture of the prize with the description
Use Facebook pixel to track Facebook activity
Upload your own logo
Boost Your Business With Viral Sharing And Word-Of-Mouth
Simple Giveaways is a WordPress plugin that allows website owners to run contests and giveaways easily. This plugin offers giveaway widgets and shortcodes to help promote your contest page, and even provides the option to host your contest content on a separate page.
The free version of the plugin exists but has limited functionality and customization options. To unlock all features, upgrading to the premium version is required.
One of the key features of Simple Giveaways is its ease of use. With this plugin, website owners can automate their contest process and run it efficiently. Similar to Gleam, Simple Giveaways also implements fraud protection measures, such as Match CAPTCHA, and provides basic contest tracking reports.
However, unlike Gleam, Simple Giveaways offers a limited range of entry options, including Facebook, Twitter, and several email marketing services.
If you're looking to run a contest or giveaway on your website, Simple Giveaways can make it simple and straightforward. With automated timing and winner selection, referral confirmation, countdown timer, and templates, this plugin provides all the necessary tools for a successful contest.
Additionally, Simple Giveaways is mobile-friendly and designed to be fast and efficient.
Key Features:
Fraud protection measures
Limited entry options.
Automated selection of winners
Referral and action confirmation
Countdown timer
Great templates for giveaways
Mobile-friendly
Easy-to-use interface
Contest content hosted on separate page
The Exact Contest Software You Need
WP Contest Creator is an outstanding tool for managing WooCommerce Giveaways. It allows you to quickly create and execute contests while tracking entries through various social media channels.
Unlike other options, it offers custom-built plugins rather than pre-made ones, making it a unique choice. However, the design options may require advanced skills, and the backend is quite complicated.
This plugin offers a variety of features, including a gamification tool that displays the highest scores, personalized email messaging for maximum participation, and guaranteed completion within 3-5 weeks.
Moreover, it enables customization, depending on your needs, and easy integration with popular email services and social media platforms.
Key Features:
. Custom-built Plugins
Social Media Channel Integration
Personalized Email Messaging
Guaranteed Completion within 3-5 weeks
Advanced Gamification Tool
Customizable Solutions
Easy Integration with Popular Email Services
Complex Backend Interface
Design Options Require Advanced Skills
Unique and Personalized Giveaway Plugin
The Most Powerfull Lead Generation Platform For Giveaways And Contests
Woorise is an all-in-one platform that allows you to create Photo Contests, quizzes, and surveys with ease. It's incredibly versatile and offers many templates and themes, or you may use the drag-and-drop builder to create your custom contest. It offers several features, but the most exciting ones are only accessible to premium subscribers.
One of the most valuable features of Woorise is the ability to grow your followers and engage them using social media. Additionally, you can monitor campaign performance using analytics to optimize your contest. This feature is essential for business and marketing purposes.
Woorise has a built-in detection system for fraud, and it adapts the visitor's experience by using conditional logic. Moreover, it offers one-click random selection of winners, which is a time-saving feature.
It's compatible with email solutions like Mailchimp, and the giveaways are mobile-friendly widgets for individuals to participate even on-the-go.
Another exciting feature of Woorise is that giveaways are offered in a variety of languages, making it accessible for worldwide users. It also exports results in CSV format which makes it easier to keep track of the progress and the responses.
Lastly, Woorise has built-in templates, saving you time on creating the contest from scratch.
Key Features:
Mobile-friendly widgets for giveaways
Giveaways are offered in a variety of languages
Results are exported in CSV format
Built-in templates
Detection system for fraud
Adapts the visitor's experience using conditional logic
One-click random selection of winners
Compatible with email solutions such as Mailchimp
Frequently Asked Questions
What are giveaways?
Giveaways are promotional tools used by businesses to create buzz around a product or service by encouraging customers to participate in a contest or giveaway with the chance to win prizes.
What are the benefits of using WordPress giveaway plugins?
Using WordPress giveaway plugins can help you increase engagement and traffic to your website. These plugins can help you incentivize your audience to share your content and engage with your brand, which can lead to higher conversions and brand loyalty.
How do I choose the right WordPress giveaway plugin for my business?
When choosing a WordPress giveaway plugin, consider factors such as your budget, the features you need, and the level of support you require. It's also important to read reviews and compare the different options available to find the best fit for your business.
Conclusion
In conclusion, we've discussed here 7 of the best WordPress giveaway plugins for 2023, which include both free and paid options. These plugins can help you to run successful giveaways and increase the engagement of your website.
If you're looking for more related tutorials and helpful information about WordPress and web design, please check out the BetterStudio blog. You can find a wide range of tutorials and insights on different topics related to web development and digital marketing.
Also, don't forget to follow us on Facebook and Twitter to stay up-to-date with our latest tutorials and news. We keep updating our social media pages with the latest insights and information every day.
Finally, thank you for reading this article. If you have any questions or problems related to this post, please feel free to ask in the comment section below. We're always here to help you.