Are you looking for the best Church WordPress plugin to stand out in this advanced world? Are you having a problem discovering a plugin for the churches?
We have produced a list of all those WordPress plugins good for the Churches to assist you. In summary, all the plugins here are feature-rich, with extensible support, easy to use, and compatible with all WordPress themes.
There are numerous church plugin choices out there, so we went with the whole best. But also for Church Membership, Donation Form, Prayer, Sermon Manager, and Events.
Below you probably can find the right and best WordPress Church plugins in 2022:
WordPress Content Moderation Plugin for Churches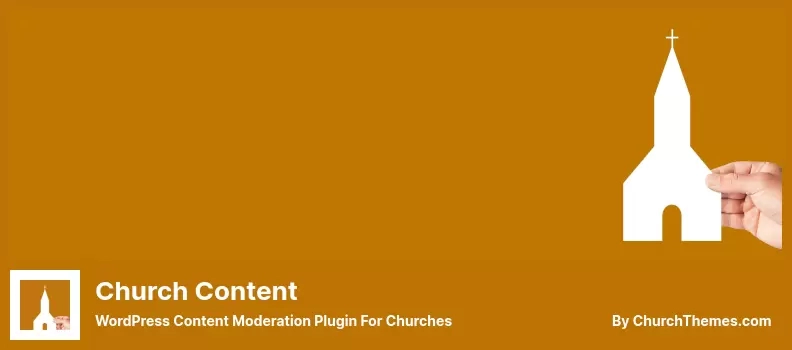 The church content plugin is a powerful WordPress plugin designed and developed by Church Themes. With the help of this plugin, it is possible to create a collection of sermons in any format you like.
To facilitate effective management of your sermons, events, church staff, and/or church locations, you can use this plugin on your WordPress website. This plugin has a central dashboard/location management feature.
In addition to managing upcoming events with this plugin, it also allows you to categorize the events in terms of date, time, place, and category of the event.
It is a plugin that provides you with a great deal of control over how your blog is organized and how the content is presented.
It is possible to store and organize sermons based on series, speakers, topics, or speakers and save sermons in video, audio, text, or PDF formats.
The plugin helps you create events, manage sermons, and more in one centralized location. If that is what you are looking for, then this plugin will be worth looking into.
Whether you offer information on the location of events on the church's website or customize the map to pinpoint the event's exact location, you can display the event's location on your website.
💵 There is a $129 pro version and a free lite version.
Key Features:
Events can also be managed in terms of dates, times, locations, and categories
Maps for your events can also be customized. You can pinpoint locations with just a click
A map showing the event location can be customized to pinpoint the exact place
This makes it easy to plan an event and manage events
It makes it easy to podcast sermons
Random Reviews:
I have been happy with their customer support and it only took me a few hours to convert the site to the new theme from the old risen theme using this plugin. Thank you so much for making it so easy!

Steven responds promptly, helpful, and politely to our requests when we run into issues with the theme or have a question regarding it.

The people at churchthemes.com are amazing about answering questions and responding to emails
I've used the themes for almost four years now, and I was a novice when I started
This topic was modified 1 year, 8 months ago by
WordPress Donation Plugin for Churches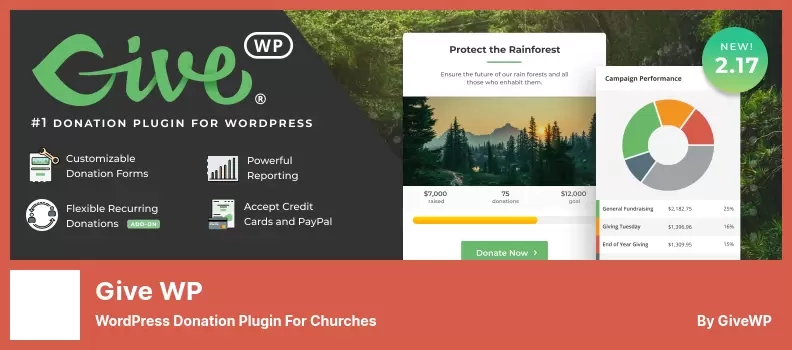 Then GiveWP might be a good fit if your goal is to manage your fundraising efforts on your WordPress website and accept donations online.
Besides allowing you to personalize your donation process, GiveWP provides features such as testimonials for donated funds, multi-level donations, campaign donation goals, currency switching options, and tax-deductible receipts.
All donations will be made through the donation forms embedded in your site, so your members won't need to visit another site to make their donations.
You can use GivingWP to create custom donation forms to collect one-time or recurring donations within WordPress. However, the interface is not as intuitive as WPForms'.
Use GiveWP to add donation upsells on your WooCommerce checkout screen. GiveWP dramatically enhances the tracking capabilities of your online store. It has seamless integration with Google analytics, along with enhanced tracking for e-commerce.
💵 There is a $249 premium version as well as a free version.
Key Features:
Forms, reports, and donor management are included
Provides accessible communication with your donors about gift-giving campaigns using email marketing services
You can create customized donation forms, keep track of statistics, manage donors, and manage charitable donations
There are a variety of third-party gateways and services available through this website, such as Stripe, PayPal, offline donations, etc
It offers flexible recurring donation options that other platforms do not allow. These features let donors control frequencies and amounts
Charge your donors a little extra if you want to avoid incurring credit card processing fees
Random Reviews:
Thank you for providing such a valuable service.

I'm glad

It's hands down the best donation plugin.
Sermon Manager Plugin for WordPress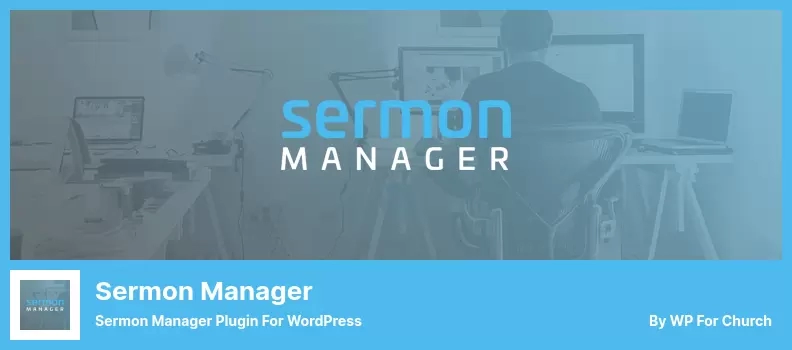 The Sermon Manager plugin offers a variety of features. Some church WordPress themes may come with sermon management built-in out of the box, but many will not.
A church website will provide a valuable feature for online sermons. This gives people who couldn't attend the service a sense of being there while also letting people reread or listen to last week's sermon during the week.
Using this plugin, you can categorize your sermons according to their topics, speakers, posting dates, and many others. It is also possible to embed videos using the YouTube video widget and Vimeo video widget.
The visual appeal of your content must be improved to achieve an increase in traffic in the world of online sermons.
With a great deal of content that needs to be documented, this plugin is an ideal tool for a church website. It provides podcasting support through the iTunes store.
💵 No fee will be charged. It is FREE.
Key Features:
It is possible to publish sermons quickly
The audio files can be attached
Support for the widest variety of media, including PDF, DOC, MP3, and video, is also available
It is even possible to embed YouTube and Vimeo videos directly into the document
There are many different ways to organize your sermons, such as sorting by topics, speakers, books, etc
Incorporating bible references through Bib.ly will help you make your sermons stand out
Random Reviews:
Does anyone know if this company is still in business? The plugin is useful and we have been paying for premium support, but they have stopped responding to support requests. I would like to buy the Pro version, but after seeing other reviews here that they also are not getting support, I am holding off until I hear back from someone at the company. Anyone?!??


No support and the templates do not work. Avoid. I've initiated a refund on the Sermon Manager Pro through my credit card.


The plugin has outstanding functionality, yet there are some issues that definitely need to be resolved
This topic was modified 2 years, 10 months ago by MATFIEJ. This topic was modified 2 years, 10 months ago by
Events Manager Plugin for WordPress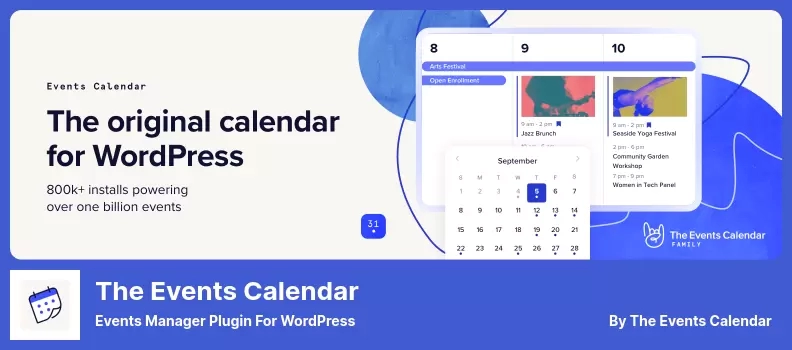 You can find a variety of WordPress event management plugins on the Internet. Still, one of the most popular is the Events Calendar plugin.
You can then use this to make sure you stay on top of all the events that are coming up. This will give your visitors a way to see the events all in one place.
It offers the functionality of displaying multiple events simultaneously from various sources. The events can be displayed in a list view or grid view, depending on how they are arranged.
If you choose to use this plugin, you will be able to add tickets to the site for sale or make them available to the general public. This plugin includes a variety of most sought-after features, in particular recurring events.
As well as valuable tools and analytics in the Events Calendar, there is also Facebook integration, even though you will need to purchase an add-on to use them. Nevertheless, you will be able to import Facebook data into event calendars for free.
The plugin is used across a wide range of niches. It is regarded as one of the most popular plugins available for WordPress calendars today. One of the reasons it is so widely used is how easy it is to utilize.
💵 This plugin is available for free as well as a premium version for a fee.
Key Features:
The plugin makes it easy to create and manage one-time and recurring events
There is a space on each event's listing for the event's image, making the listing very social media-friendly
You can also schedule recurring events if you choose
This allows you to create events quickly
It's integrated with Google Maps, which makes it even more convenient for you
It's fast to load on mobile browsers, too
Random Reviews:
I have downloaded the free trial, but I'm missing the following features:
It should be possible to set up cities first – so that you can record different events in one city, and then assign venues to cities…I see this is not possible? Cu Dino…

The plugin works, bought the PRO version and a few add-ons. The site in German had 404 problems with URLs of tags, venues, etc. Wrote to support, but didn't get a response for weeks. Luckily I fixed it myself recently.

The plugin has a great outlook, being simple yet effective.
WooCommerce Event and Donation Manager Plugin

The FooEvents plugin for WooCommerce lets you quickly sell unlimited tickets and manage free user registrations for physical and virtual events with powerful functionality. This is without the need for commissions or ticket fees.
It will allow you to sell tickets for church events, concerts, fundraisers, sporting events, etc. Using the WooCommerce Event and Ticket plugin.
You can sell digital products, physical products, and tickets on the same website using FooEvents and WooCommerce as a powerful combination.
In addition to this, they will also allow you to create unlimited types of tickets and provide you with the capability to manage your inventory and pricing.
Using the FooEvents plugin, you only need to install the plugin and configure it to start selling. It doesn't require any third-party plugins or services.💵 Get this modern, well-documented plugin for just $59 .
Key Features:
When users register for your events, you can also send custom branded tickets
You can send different kinds of tickets
You can export the attendee list as CSV
You can embed a barcode into the attendee list
You can have multiple events on the list
Management of the onsite ticket inventory can be done through the plugin
Random Reviews:
Ideal for events.

That's awesome, Simmy!

It looks great, it works, and it is user-friendly. I would definitely recommend to anyone who wants to make their event run smoothly and look good. I am very satisfied. Thank you for making it so easy.
Accept Donations with PayPal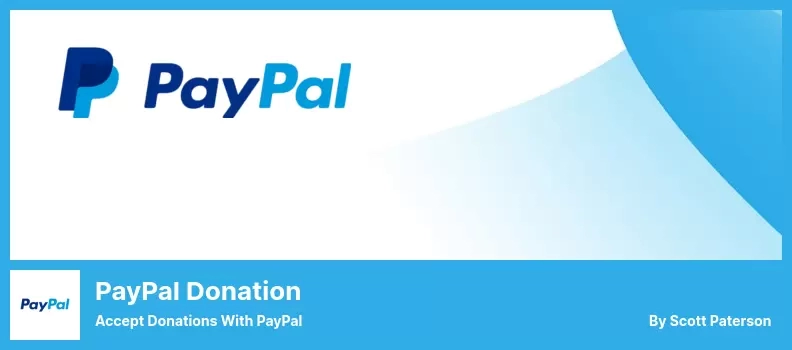 To enable PayPal donation functionality throughout your website, you can install the PayPal Donation plugin for WordPress. There will be various PayPal donation button options when you add the plugin to your church website.
The PayPal Donation button can be placed anywhere on your site. Your customers can donate money using their PayPal accounts or credit cards.
Your church members will appreciate this option because it allows them to contribute to your congregation without physically being present.
Suppose you don't have any coding expertise. In that case, you can still use this plugin to set up and start accepting donations immediately, even if you don't know-how.
💵 Free progressive plugin!
Key Features:
You can view donations made by logging into your WordPress dashboard
It has the capability of supporting 25 currencies
It includes built-in support for 18 languages
It also supports the capability for customers to make recurring monthly PayPal donations
It can be used with any WordPress theme you want
Random Reviews:
Setup was easy, and the system works well.

There is only one improvement that would be useful for multi-language sites: additional custom buttons. If you have more than one custom button (e.g. Custom1, Custom2), you can prepare buttons in different languages that have the same shape. Will not be a huge job for you.

The shortcode is not present, and neither is the widget under it, and I wasted over an hour looking for it. $75 please! That's what I'd like to be charged.
This topic was modified 3 years ago by Wendy.
Let Us Summarize It All By Saying
Thank you for being with us. in this article, we discussed the best WordPress church plugins. Keep in mind, that these plugins will assist you to increase your site.
Additionally, there are many excellent church WordPress plugins that you can use to promote your church website. Also, We hope you find your precondition.
Do permit us to know if you are determined to use any of the mentioned plugins. Please think about sharing this article on Facebook and Twitter if you enjoyed it.