What is the best Backup WordPress plugin for your site?
In this article, we feature the best WordPress backup plugins. You can use them today to set up a site without wasting time searching and finding a crowded list of WordPress plugins. The list includes only rapid plugins that are speed optimized, simple, have advanced features, and are working properly with all WordPress themes.
To learn more about the use of backup plugins, be sure to read our detailed article on how to back up WordPress websites.
Backup and restore features are included with WordPress hostings by default, but it is important to verify that they are working correctly and performing daily or hourly according to your site data.
Additionally, you need to ensure that the backup contains all data on your site, including posts and databases, as well as your WordPress theme and plugins, and all files associated with your site.
In order to help you choose the best Backup plugin, we compiled a list of Backup plugins. Plugins were also available for Automated Back-ups, Backup and Restore, and WordPress database plugins.
These plugins have more features, including the option for making a backup on an external drive. It is also useful when migrating your site to a new host.
Let's take a look at some of the best top WordPress plugins for Backup in 2022:
Most Trusted WordPress Backup Plugin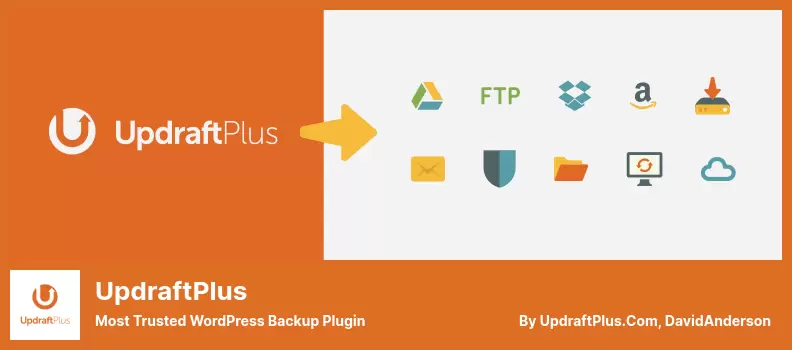 The most popular free backup plugin for WordPress on the Internet is UpdraftPlus, used on more than 2 million websites.
BackupPlus is one of the most popular backup plugins for WordPress websites. This plugin allows you to back up in cloud mode on Dropbox, Google Drive, Amazon S3, UpdraftVault, Rackspace Cloud, FTP, DreamObjects, Openstack Swift, and email.
What does the UpdraftPlus plugin do?
1. Backing up
Complete backup of all WordPress files, databases, plugins, and templates
2. Scheduling
Set a backup time
3. Restoring
Ability to restore backups through the WordPress control panel
---
💵 The plugin's premium version is free of charge. A free version can also be downloaded.
Key Features:
Easy copying and transfer of websites
Advanced reporting
Database encryption
WP-CLI support
Free dedicated support
Back up files and databases remotely and save them to any space
Multiple storage locations (e.g., OneDrive, BackBlaze, Azure, SFTP)
Random Reviews:
Thank you. I really like how you can restore specific databases, much more efficient than restoring the entire site. Keep up the great work.

Your plugin is a delight to use :)*br

Easy way to get full WP backups.
Most Reliable WordPress Backup Plugin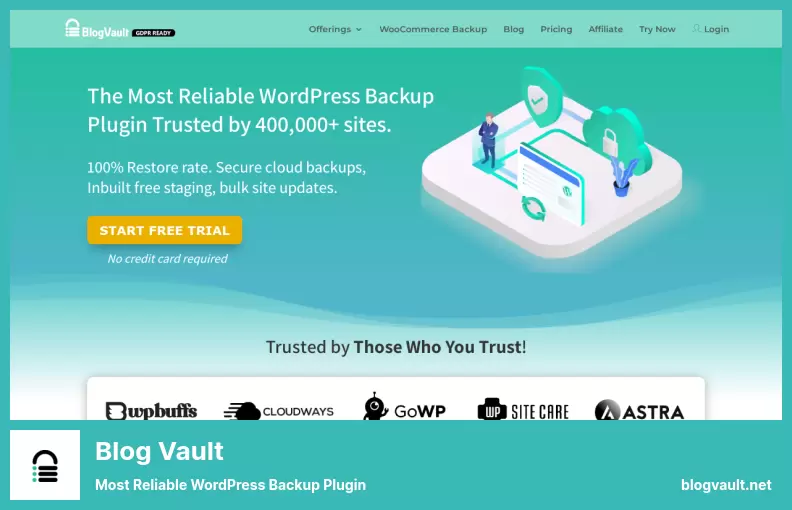 Blog Vault is also one of the most popular plugins for backing up WordPress websites. This tool is a service software instead of just a plugin.
This software automatically performs off-site backups and saves them on its dedicated servers, which reduces your server load to zero.
---
💵 Using $7.4/Month, you can have an exceptional plugin with many documents and 12 months of free support.
Key Features:
Automatically backs up your website daily. You can also give it your scheduled intervals for backup
incremental backups feature that only backs-up incremental changes to your website, which optimizes the performance of your website. In simpler terms, instead of backing up all your files daily or hourly, it only backs up updates created during an update on the site
This feature is excellent for large websites as it lets them make the most of their server resources. As a result, the website loads faster
It has the ability of multi-stage testing that you can use to test your website. You can open an account on this plugin to migrate the website to another host
The only problem is the pricing, which is relatively more expensive than other plugins
Popular WordPress Backup Plugin
Another great WordPress backup plugin is the BackWPup. This plugin has recorded over 600,000 downloads from the WordPress repository. BackWPup is available in both free and commercial versions.
This plugin is free to take full backups of your website and save them to multiple storage spaces and your computer. This plugin is straightforward to use. It also gives you the ability to automate backups and offers you a backup calendar.
Restoring the site from the backups of this plugin is also very simple. There are some exciting features in this plugin's Pro version such as permanent support and backup storage to Google Drive.
One of the main drawbacks of the free version of this plugin is the inability to recover WordPress backups from the WordPress dashboard. This means that we have to use database management to restore WordPress backups. For beginner users, WordPress backup recovery may be problematic.
---
💵 A Premium version of this plugin costs $69, while the Lite version costs nothing.
Key Features:
Automatic backup of WordPress
Backup of WordPress database
Backup of templates, plugins, media, and other items separately
Save backups on hosts
Transfer backups to cloud services such as Dropbox
Backup transfer via FTP
Send backups to email
Random Reviews:
After installing BackWPup, the checkout ceased working. Adding products to the basket caused a critical error. Once uninstalled, the webpage came back to life. This topic was modified 1 day, 15 hours ago by .

Using the Cloudflare CDN interfering Displays the following message: Job 'posts-daily' has started, but has not responded for 10 seconds. Please check information It works when I turn off Cloudflare Thank you

Hello, I'm using AWS S3 as a backup destination for BackWPup. The plugin works fine and is running stably. Thanks. I just noticed that Amazon launched S3 Glacier Instant Retrieval service in late November 2021. Do you anticipate adding this storage class as backup destination option?
Easy to Use WordPress Backup Plugin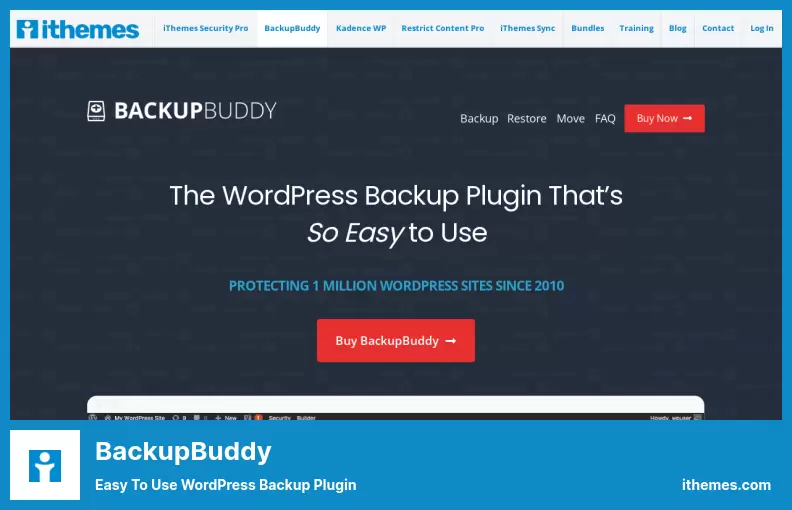 BackupBuddy is one of the most attractive WordPress backup plugins used by more than half a million WordPress websites. This plugin allows you to back up your WordPress daily, weekly, and monthly easily.
With the BackupBuddy plugin, you can automatically save your backups to cloud storage services such as Dropbox, Amazon S3, Rackspace Cloud, FTP, as well as Stash cloud services, and even email it to yourself. If you use the Stash service, you can also back up at any time.
This plugin has many features for backing up, restoring, and migrating a WordPress website. BackupBuddy plugin is a more powerful option than UpdraftPlus and VaultPress plugins.
The biggest advantage of using the BackupBuddy plugin is that it is free and can be installed and used on your website for free.
By installing the BackupBuddy plugin, you will have access to the top support forums, regular updates, and one gigabyte of Stash storage.
You can even use BackupBuddy to transfer and retrieve websites.
---
💵 The team gives free 12 months of support for this plugin. You can buy this plugin for $80.
Key Features:
You can back up the whole website, part of it, or even the database
Backup files are downloadable
Scheduling in Backing up
Backup files are stored in multiple locations
Notification via email. In such a way that after each backup, a notification is sent to you via email
Equipped with ImportBuddy tool
Scan for viruses and trojans. As a result, security on the website was increased
Equipped with BackupBuddy server tool to track hosting problems
Scan the database
Transfer website from one host or domain to another host and domain. Replace addresses in the new domain
Ability to encrypt files
Secure Backup Plugin for WordPress
BoldGrid Backup is an automated backup tool created by Bold Grid company. This tool allows you to back up your website easily and recover it if your website crashes.
You can also use BoldGrid Backup to migrate the website when changing hosts. You can set auto-scheduled backups or do it manually with just one click.
This tool can prevent errors, which automatically back up before each website update. If an update encounters an error, this tool causes the website to return to the backed-up version automatically. This is a unique feature that protects your website from update errors.
This plugin automatically backs up your WordPress site. BoldGrid Backup plugin helps you to restore the website from a backup when necessary.
Another advantage of the BoldGrid Backup plugin is the ease of working with it. With just one click, you can automatically back up the latest updated version of the site. This is one of the most important features of the BoldGrid plugin because it makes the site secure against updated errors.
With this plugin, you can save your backup on storage services such as 3Amazon S, FTP, or SFTP.
---
💵 The BoldGrid Backup is an advanced plugin that price is $2.5/Month.
Key Features:
Easy, Automated Backups
Automated Fault Protection
The plugin comes with the ability to automatically backup your site before updates and to automatically roll back updates if they fail
Easy Site Migration
It is as simple as installing the plugin on both WordPress sites, creating a backup archive on the first site, and restoring that archive on the second
Individual File Restorations
You have the option to restore a single file within the backup browser
Control Automatic Updates
You can even set Auto Backups to run before the update
Remote Storage Options
The plugin allows you to safely store backups remotely via Amazon S3, Google Drive, or FTP / SFTP
WordPress Migration Plugin
Using the Duplicator plugin is the most efficient and easy way to move a website to a new host. This plugin, which has more than 15 million installations so far, is one of the most widely used WordPress plugins.
The Duplicator plugin collects all the information on a website (database, template, plugins, etc.) in a zip file called 'Package'. You will have this package, and whenever you want, you can move your site to a new host or any server you want with a few simple clicks.
As mentioned, this plugin transfers all the information, so if you move to a new host, you will not need to install WordPress.
Like many plugins, Duplicator has a premium version that provides more features to the user. You usually will not need to get a premium version of this plugin. In other words, the free version will meet your needs.
---
💵 Both a free Lite version and a paid Pro version are available.
Key Features:
Transfer a WordPress from one host to another
Transfer website from localhost to hosting space
Ability to customize and transfer website files
Ability to store information on a website
Random Reviews:
It reaches 59% and produces an archive of 2.23 Mb.*

There are few useful and necessary plugins that work well.

Everything works just fine.
Backup and Staging for WordPress
WP Time Capsule is an excellent plugin if you want to back up your recent files instead of your entire WordPress website.
Your website can be backed up to your favorite cloud storage website, such as Google Drive, Dropbox, or Amazon S3, using WP Time Capsule.
Due to the fact that it doesn't compress and zip your backup files, WP Time Capsule consumes fewer server resources.
To use the WP Time Capsule on your website, you need to create a WP Time Capsule account, install the free plugin, and connect the cloud app to your plugin.
With this, you can send your website backup files to your desired location. Once you have completed a full backup, you can schedule a backup of recently changed files.
Any changes to your website will result in a real-time backup. Total storage space for your backup is minimized.
With the click of a button, the files are selectively transferred to the live website. Selective recovery is also available.
The WP Time Capsule plugin is an innovative and advanced way to back up your sites.
---
💵 The WP Time Capsule plugin costs It is free!
Key Features:
Protect your sites
Update your sites safely
Recover your sites quickly at a specified time
Your site can now be backed up in real-time, so you can go back to how it was just an hour ago
With a single-click staging, it's a breeze to test any change you are planning to do on your site
Random Reviews:
They have the fastest support, they don't ask dumb questions, and they don't have any control over the host's servers or existing data corruption or plugin conflicts. The many negative reviews about this are mainly due to support requests in the wrong place and server/communications issues.

The plugin works perfectly, provides great support, and they respond quickly and efficiently to inquiries. Highly recommended!

I have installed WP Time Capsule on numerous sites, and have never had an issue with support that was addressed at lightning speed. The product is great, and the support is outstanding. Highly recommended.
WordPress Site Moving and Migration Plugin
All in One WP Migration is a very powerful plugin with which you can transfer your website information. This plugin has had more than 2 million active installations so far, and the same number of installations can indicate its usefulness.
The user interface of this plugin is straightforward, and even if you are a beginner, you can easily transfer website information using it.
This plugin is entirely free, and you can download it from the WordPress repository and activate it on your website.
This plugin is very easy to use. You do not need to configure many settings because it only transmits information about your site and database.
---
💵 There is no charge for the All-in-One WP Migration plugin!
Key Features:
Custom uploads, extensions, theme folders, and more are supported
Compliant with the WCAG 2.1 AA Level standards for accessibility for people with disabilities
No limitations on the host or operating system
Supports a vast range of hosting providers
You can accomplish more with a long list of premium extensions
Compatibility with mobile devices
During import, website URLs are automatically replaced intelligently and flawlessly
Extract WordPress files on your computer with Traktor Desktop
Random Reviews:
I LOVE your plugin

There's nothing wrong with it if you want to import small sites, but do not attempt to import large sites because it's too slow and only exceeds 0.03%.

The free version must be really good for me to buy the paid version
We Will Close With These Words
In this post, we provided you with a wide variety of WordPress plugins for backup purposes. If you wish to backup and make your site data safe on the website, you can use them.
We hope this read is helpful to you. Please also check out our article on the best WordPress blogging themes.
Please let us know what you like (and dislike) about any of these plugins. Also, please follow us on Twitter and Facebook to be kept up to date with our latest blog posts!