Are you searching for a WordPress plugin for Login in a quick way?
Our team has compiled a list of the best Login WordPress plugins which will reduce your time and effort for your ease. All plugins on our list are user-friendly, essential, and feature-rich. In addition, they can be used with all WordPress themes.
The following WordPress plugins were explicitly created for Logins. This stack also has plugins related to User Registration, User Profile, Profile Builder, User Manager, Membership, Subscription, Custom Member Registration, WooCommerce Login Registration, etc.
Best WordPress User Login and Registration Plugins 🔐
Let's have a look at these WordPress Login plugins that will do you well in 2022:
WordPress Membership & Login Plugin
The MemberPress Profile Builder WordPress plugin makes it easy to manage subscriptions and membership by facilitating user registration. Because you do not need to write any code, this plugin makes it easy to create membership websites.
Upon installing the plugin, it is easy to enable user registration. It is also possible to generate various pages such as thank-you, account, and login automatically. Your membership website can be seamlessly integrated with forum functionality by using the bbPress plugin.
As soon as you have installed the plugin, you will be able to control access to your website. If you choose to make subscription-based content available to subscribers, they will have access to it in a way that you determine.
In addition to managing existing users, there are advanced options to the MemberPress plugin, such as viewing and sorting user profiles by date, adding new users, and editing their profiles.
---
💵 You will receive 12 months of free support and updates with this plugin.
Key Features:
Send users to the welcome page
Create WooCommerce login registration forms
With the custom shortcode, you can easily embed registration forms
Unlimited members
Unlimited sale of digital items
Customizable, unlimited coupon codes
Send new users an automated welcome email
Ecommerce store for members only
Access is automatically revoked when unsubscribed
Use a third-party plugin to connect the plugin and WooCommerce
User Profile Builder & Membership Plugin for WordPress
WP User Manager allows WordPress users to create accounts quickly and easily. By installing this plugin, you can build front-end registration forms easily in a few minutes.
Providing incredibly flexible and powerful features from account customization to password recovery, this user login plugin has an abundance of features. In order to integrate your registration forms into your website, shortcodes are provided with them.
Along with the free features provided by this plugin, a variety of paid extensions are also available. Additionally, you can display a directory of members, edit profiles, and send an email to new users notifying them of their registration.
It should be noted, however, that the plugin itself includes numerous free features such as SEO URLs, content restrictions, and custom redirects.
---
💵 $149 for the premium version and #free for the lite version.
Key Features:
Personal data exports
Account deletion tool
Easy-to-implement frontend forms
WooCommerce integration, like the MemberPress user profile maker plugin
Developer-friendly, beginner-friendly user registration forms
Translation-ready
GDPR data compliance
Username length minimums and maximums
Random Reviews:
Easy to use, practical, and efficient. We love it. Thumbs up to developers!

Their customer support was excellent. They helped me find a workaround for email overrides, which resolved my issue.

I've been impressed with the features, flexibility, and price of WP User Manager. This is a really well-designed plugin for WordPress and easy to use. There have been some unexpected issues, but the support has been great.
Membership, User Registration & Login Form WordPress plugin
By using the ProfilePress User Manager WordPress plugin, it is possible to configure your site to have frontend registration forms. In terms of WordPress themes, most of them are compatible with the plugin.
Shortcodes are included in the plugin that allows the user registration form to be displayed in any post, page, widget area, or sidebar. Having a thorough understanding of HTML and CSS is essential to creating a professionally-looking form.
When users log in, log out, or create an account, custom redirects can be created where they can be redirected to a different page.
Additionally, they provide templates customized for specific industries, which make it easy to access fields that are frequently used, rather than having to learn any programming language.
---
💵 For the free/lite version, $79 is charged. For the premium version, is charged.
Key Features:
Social logins are provided for Google, Github, and Facebook
Three professional add-ons
Users can edit their profiles on the My Account page and the Edit Profile form
Password fields and forms are unlimited
Customizable themes
Add-ons that support Multisite integration are available
Multi-step registration forms
Manage billing and shipping fields with a WooCommerce integration
Social login features
Unlimited forms and password fields are supported
Random Reviews:
The design is nice, clean, and intuitive*

They are good plugins and they support*br

Thanks very much! I am glad to have this resource!
User Regestration & Profile Builder WordPress Pugin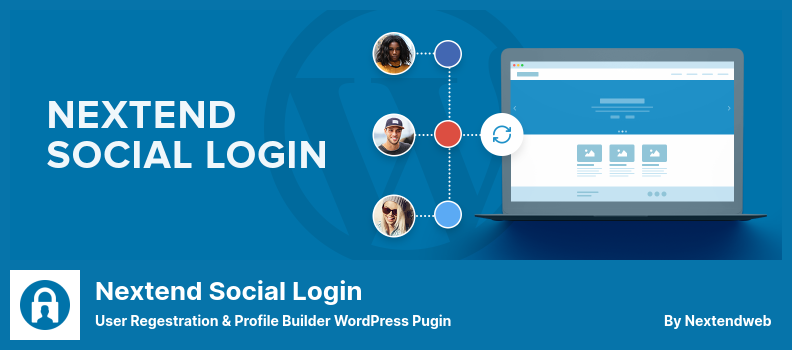 The Nextend Social Login WordPress membership plugin allows users to login and registers directly through their social networks. Using the plugin, users may use Facebook, Twitter, Google, and LinkedIn as login methods.
By allowing your users to sign in to your site using their Google or Twitter accounts rather than entering their details on the login screen, you can save them time.
Using this plugin, you can easily integrate your current WordPress login and registration forms in order to streamline the login and registration process.
You can have your users log in with any of the available options, and you can place the social login buttons wherever you desire them to appear.
---
💵 While the Lite version is free, the Pro version is priced at .95.
Key Features:
Allows Apple, LinkedIn, and Amazon login, etc
Determine whether each provider should ask for a username
Login widget and shortcodes
Define a custom redirect URL after the registration
Connected social profiles allow users to login via social networking sites
Users can register at the WooCommerce checkout with WooCommerce support (like the ProfilePress subscription plugin)
Configure easily which social media accounts you'd like to use to log in
Comes translation-ready
Providers can be configured to ask for an email addresses when registering
Easy digital downloads compatibility
Random Reviews:
This plugin makes it so easy to login

Simple to use and delivers on its promise…

Been a free user for more than 7 years of this plugin. Half a year ago upgraded to the paid version for 9+ websites. Beats the competition in all areas: documentation, setup, simplicity, integration, hooks/filters, UX, translation, flow, connection options (Apple ID + Discord too). Simply LOVE IT! The only regret I have, is not getting the premium license sooner.
Custom Login Page Customizer for WordPress
With LoginPress custom member registration, you can easily create custom login pages for your WordPress site without the need for any coding.
By using the LoginPress plugin, you can customize your login pages in multiple ways, such as adding your logo, creating error messages, and personalizing welcome messages, in order to fully customize your experience.
The login page can be customized in almost every possible way, including the colors and backgrounds, logos, paddings, and borders. In addition to being lightweight, this login page is also responsive, so there is no need to adapt it to any specific device.
In addition, the developers offer the capability to customize error messages and welcome messages accordingly. A pro version is also available for those who wish to add features such as a logout menu, social login, or custom widget.
---
💵 Download the Free version as well as the premium version for a fee.
Key Features:
A visual page editor
Hide login and auto-login
Preview your changes as you make them
Custom CSS compatibility
Translation-readiness
Make changes to the logo [image, size, margins, URL, and title]
Generates a unique URL for your certain users for who you don't want to provide a password to login into your site
Login and registration spam protection and real-time access to your website
Track users activities and login attempts by each user so you can limit the login attempts for each user
Random Reviews:
Support was helpful. Sent videos and screenshots to assist in describing the solution. Kind and went beyond the call of duty with advice.

A high-quality plugin, I've been using LoginPress Pro for a couple of years now. It's reliable, easy to set up, and has plenty of options.

I immediately loved this plug-in, but it was the customer support that blew me away. I realized I was missing registration info, contacted them, and to my surprise they sent me an easy to follow solution. As a webmaster, I have to say that this plug-in is brilliant with so many features and great instructions, and on top of it all it simply works!
Login & Registration Form Maker for WordPress
CM Registration and Invitation Codes for WordPress enable you to easily create professional-looking membership forms on your website.
Through the use of easily understandable forms provided by this plugin, you will be able to control who has access to your website and how they log in.
As a result of this subscription form maker, you will be able to create Ajax pop-up login forms and registration forms without writing a single line of code. Ajax login allows you to keep your customers on the same page, without having to refresh the page while they log in.
Additionally, this custom member registration plugin will allow you to send email confirmations and customized emails to your users.
If you upgrade to the pro version of the plugin, you will also be able to add advanced features with it, such as requiring new users to verify their email addresses and requiring invitation codes during registration.
---
💵 There is a free and premium version of the plugin. A free version is also available.
Key Features:
Show a popup div for login and registration
Support invitation codes
Supports reCaptcha
Integrate with membership plugins
Export all user data to a CSV file
Add additional registration forms
Easy to customize login labels
Random Reviews:
Is finally a plugin that simplifies the login process. It opens a pop up window and you can either register or log in. It's elegant, well-done, and the tutorial video tells you how to add the CSS class to the login link so it will open the pop up. Thanks! This topic was modified 4 years, 3 months ago by barbera.

Thanks for the plugin This is great

The design is elegant and the performance is excellent*br
Profile Builder & User Registration WordPress Plugin
Similarly to LoginPress, Custom Login Page Customizer provides you with the ability to completely customize your login page to match your website's look and feel and implement seamless user experiences.
Furthermore, this WordPress plugin allows you to customize other aspects of your website in addition to changing your logo, columns, alignments, background color, and form width.
In order to use this plugin, you will be able to edit the native WordPress Customizer without having to exit the screen, which makes it suitable for beginners and developers alike. You will be able to view changes as they take place in real-time without leaving the screen.
You must note that this plugin is quite expensive in comparison to other plugins like LoginPress or other plugins listed above.
---
💵 Users are free to use, but they have to upgrade to the Pro version at a cost.
Key Features:
Save time with plenty of unique templates to choose from
Excellent customer service
Hide/rename login
No coding required
Quick to set up and easy to use
Responsive design for users who login on their mobile device
Social login
Pre-designed templates
Animated login templates
Random Reviews:
Easy and effective to use.

You have a lot of options inside. It's easy to use and friendly. I am looking forward to future enhancements.

This program gives you the ability to edit everything. Highly recommended.
Membership, Profile &Registration Plugin for WordPress
When using WordPress User Frontend user Registration Plugin, registration and login to WordPress are far more powerful than simply creating the standard registration form.
WP User Frontend lets you create user profiles, add content, join communities, and more through a dashboard, editor, and uploader contained within your WordPress frontend.
Using this plugin you can also manage users, user profiles, and blog posts. You can add shortcodes to any WordPress page by copying and pasting the provided shortcodes.
Many features are included in the free version, allowing you to set up and manage your website's registration and login functionality, including the ability to allow specific user roles, post directly from the front end, set the status of posts, add messages, and to edit the text in the Post button.
---
💵 Free download of the Lite version. Price of the Premium version.
Key Features:
Advanced custom fields integration
The drag and drop builder allows you to quickly preview the look of your forms
Option for WordPress guest post submission
Custom redirection after login and submission
WooCommerce support (as with Nextend Social Login plugin)
Includes more than 20 modules (BuddyPress, Paid Memberships Pro, Social Login)
Guest post facility and post-approval system
Features 18 custom fields
Random Reviews:
In terms of revisions, the last revision is the most recent

This is an amazing plugin I'd recommend to anyone looking for an easy way to manage and optimise images.

Having a Rep is very helpful.
This is a round-up of the best Login WordPress plugins
You can also find some WordPress plugins listed here. Anyone who has a website can use these plugins.
We hope that you find this article helpful.
You can recommend a specific plugin in the comments section below. Want to help us out? Share this post on your Facebook and Twitter accounts or other social media accounts.