Are you a WordPress website designer on the hunt for the perfect bbPress forum theme? Look no further! In this blog post, we will be revealing the 12 best WordPress bbPress forum themes for the year 2023.
bbPress is a powerful WordPress plugin that allows you to easily integrate and manage a forum on your website. It's a fantastic tool for building an engaged community, fostering discussions, and providing support to your users.
So if you're looking to create an interactive platform for your website visitors, bbPress is definitely the way to go.
Did you know that websites with active forums experienced a 15% increase in user engagement? Additionally, forums can help boost your website's SEO by generating user-generated content and driving more organic traffic.
In this article, we'll be taking an in-depth look at each of these themes, highlighting their key features, customization options, and overall design.
Whether you're aiming for a sleek and modern look or something more traditional and user-friendly, we've got you covered.
So, sit back, relax, and discover the perfect bbPress forum theme for your WordPress website.
Let's get started!
Best bbPress Forum Themes For WordPress
Looking to create a thriving online community on your WordPress website?
In this section, we've rounded up the 12 best bbPress forum themes for WordPress that will provide you with the perfect platform for engaging discussions and seamless interaction.
Check out these amazing themes and unlock the full potential of your website's forum capabilities!
A responsive theme for bbPress plugin WordPress Theme
Forum is a bbPress WordPress theme that caters to forum, community, and bbPress forum websites. With Forum, you can create forums without unnecessary optional features and extensions.
It stands out with its beautiful design, well-organized layout, and impressive functionality, making it one of the top choices among bbPress themes available on ThemeForest.
The Forum theme ensures a smooth transition from any other WordPress theme, as all your content from bbPress will be automatically incorporated into the new theme, meaning you won't lose any important information during the switch.
The theme administration panel simplifies the process of managing your themes, making it effortless to navigate and customize your site according to your preferences.
Key Features:
Wide range of post formats for engaging content
Support for custom typography to enhance the overall look
Well-organized and visually appealing layout
Reuses all content from bbPress without any interruptions
Easy management through the theme administration panel
Polished and professional design
eSports Gaming WordPress Theme bbpress
Geco is an efficient and user-friendly solution that helps solve problems without the need for design or programming expertise. It's designed to be mobile-friendly, allowing users to access it from anywhere.
With features like WooCommerce, Slick Slider, contact forms, and pop-ups, Geco is perfect for gaming websites, online magazines, and community forums.
With Geco, you can easily create a professional and engaging website for your gaming or sports-related needs.
So whether you're a gaming company or a passionate blogger, Geco has got you covered.
More than a WordPress Dating Theme
Sweet Date is a bbPress WordPress theme that is perfect for community, BuddyPress, and business websites. This versatile theme allows visitors to access your website from any device, ensuring a seamless experience no matter where they are.
Whether you want to create a dating platform or a community website, Sweet Date has got you covered.
Another great feature of Sweet Date is its responsive design. With just a click of a button, you can deactivate the responsive features of your website, giving you more control over how your site appears on different devices.
Sweet Date comes equipped with Visual Shortcodes that allow you to create pages without any coding skills. You can simply drag and drop elements onto your pages, customize them to your liking, and voila!
Key Features:
bbPress compatibility for easy integration of a forum.
Visual shortcodes for creating impressive pages without coding knowledge.
Responsive design for a seamless user experience across devices.

Child theme support for hassle-free customization.

Option to restrict access to exclusive content for members.
Accordion and carousel features for dynamic page layouts.
Documentation Knowledge base WordPress Theme with Helpdesk Forum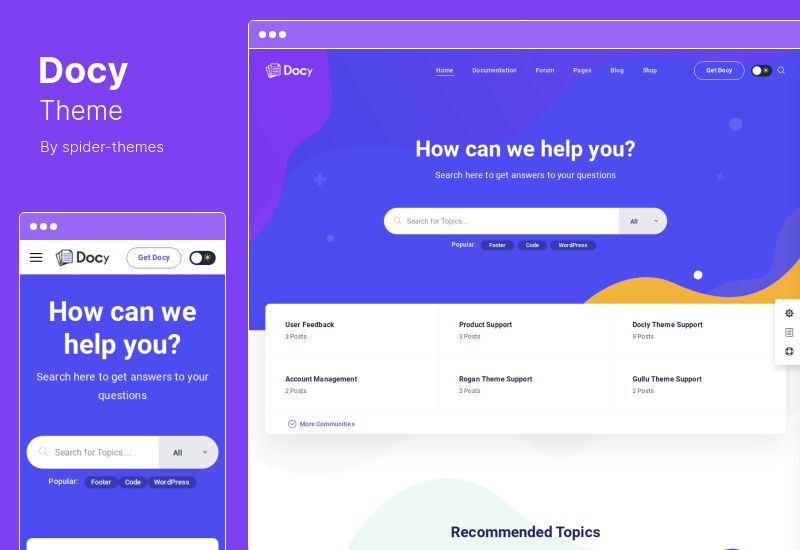 Docy is a bbPress WordPress theme that serves multiple purposes, including creating online documents, setting up a knowledge base, designing a documentation template, and building community websites.
With its powerful and responsive features, this theme allows you to quickly create product documentation for your next project.
Docy adheres to the W3C standards, ensuring that you maintain good coding practices while designing your documentation.
Whether you're creating API documentation, framework documentation, plugin documentation, software documentation, or any other type of documentation, Docy provides the necessary tools and resources to help you succeed.
Key Features:
Table of contents for easy navigation.
Integration with notes within the document.
Sticky and non-sticky header options.
Responsive design for mobile-friendly browsing.
Dynamic and informative preloaders for each page.

Customizable color schemes to match your branding.

Built-in search functionality for easy document discovery.
SEO-friendly structure to improve your search engine rankings.
Support Forum WordPress Theme
Sentric is a versatile Support Forum WordPress theme that can be used to create public or private forums on a wide range of topics. Whether you're into gaming, arts and crafts, fashion, or personal finance, Sentric has got you covered.
With its seamless integration with bbPress, Sentric allows users to easily create and manage forums.
The theme also supports an unlimited number of pages, making it perfect for websites that require extensive content organization. Plus, with its built-in search bar, visitors can quickly find what they're looking for on your website.
One notable feature of Sentric is its elegant design and focus on functionality. The layout is designed in a way that puts the user's content front and center. This ensures that the browsing experience is smooth and enjoyable for your visitors.
Key Features:
Sentric allows you to create a custom post type that serves as a plugin repository, making it easy for users to access and install plugins.
The theme seamlessly integrates with popular plugins, loading widgets as widgets within their respective themes.

You can easily select the appropriate theme from the

menu options

, making it simple to customize the appearance of your forum.

Sentric offers a wide range of Google web fonts that are available in internationalized versions, allowing you to customize the typography of your website.
Visitors can vote on useful articles in the knowledge base, allowing you to gauge the helpfulness of your content.
With the Forum Monitor feature, you can keep track of how topics are progressing and stay on top of discussions.
Knowledgebase Support Forum WordPress Theme RTL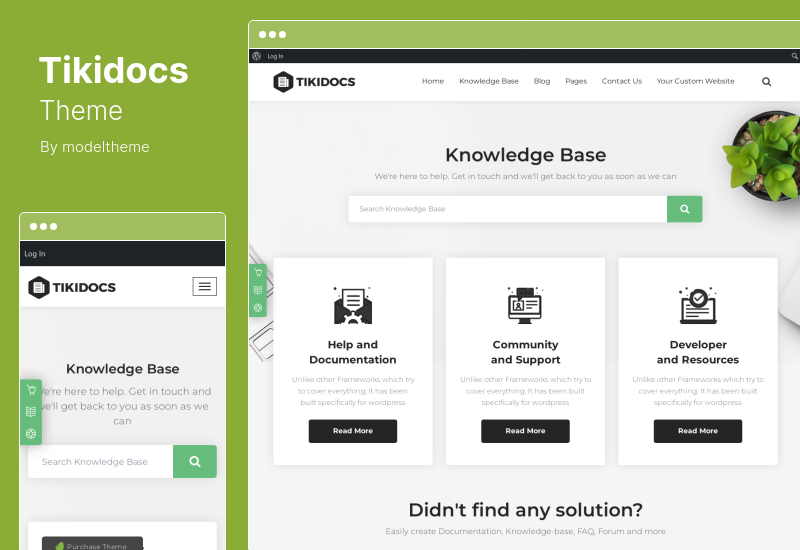 Tikidocs is a WordPress knowledge-based theme that serves as a central hub for information on website theme development. With Tikidocs, you can easily create an online library of self-help resources for any product, service, or subject.
This theme is particularly well-suited for support forums, documentation, software, and websites that require RTL (Right-to-Left) language support.
It offers a user-friendly interface and intuitive features that make it easy to navigate and manage your knowledge base.
One of the standout features of Tikidocs is its integration with social media platforms. You can share your blog posts on Facebook, MailChimp, and other social networks, making it effortless for your readers to spread the word.
Key Features:
Easy integration with social media sharing buttons.
Demo version available to showcase importer functionality.
Wide selection of fonts for customization.
Redux Framework for theme selection in settings.
Simple setup of Mailchimp functionality.
Regular updates for ongoing improvements.
Social Network WordPress Theme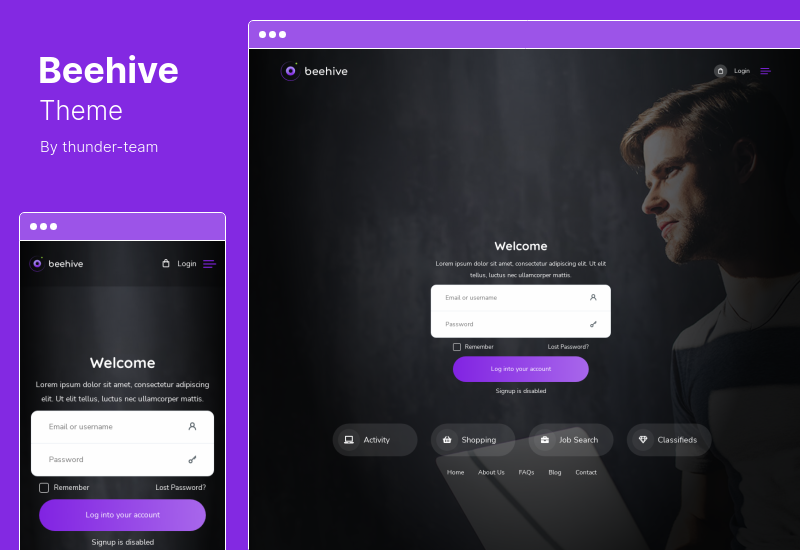 Beehive is an impressive BuddyPress theme that caters specifically to community, forum, shop, and social network websites. As soon as you land on the demo website, you'll notice the abundance of features it offers.
What sets Beehive apart from other themes is its ability to function as a complete social network, rather than just a forum.
It provides a standalone solution for WordPress websites, enabling the creation of forums and the integration of social networks. This means you can build a vibrant online community where users can engage and connect with one another.
Key Features:
Seamless Ajax-based search form for quick and convenient searches.
Flexible sidebar options for effective information display.
User-friendly login system for hassle-free member access.
Extensive theme options for easy customization.
Convenient color picker for selecting desired website colors.
Responsive Knowledge Base FAQ WordPress Theme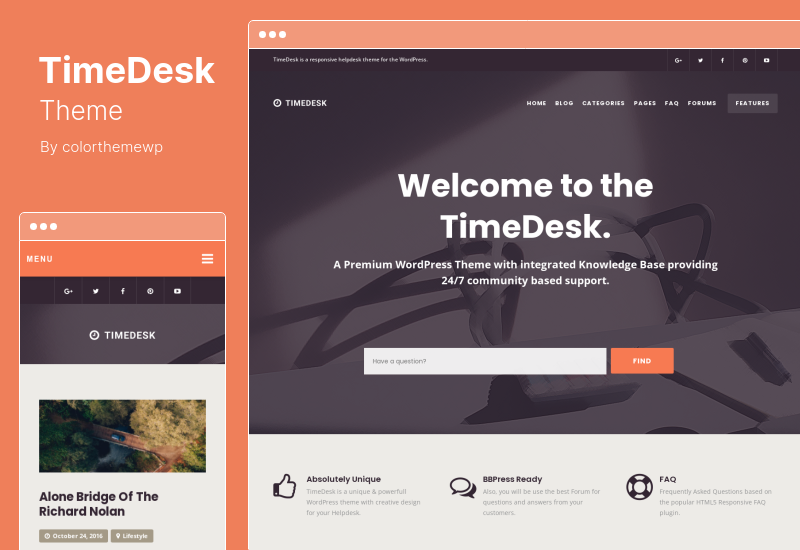 TimeDesk is an interactive multipurpose theme that supports knowledge centers, bbPress, and forum platforms.
It's packed with convenient shortcodes for easy site setup and comes with a user-friendly demo installer. This Knowledge Base WordPress theme is ideal for forum, bbpress, and RTL websites.
One standout feature of the TimeDesk theme is its sticky header, allowing for quick and easy live search results. Plus, you can easily create a store with WooCommerce integration.
All Google Fonts are supported, and you have the flexibility to customize the theme to fit your specific needs. The live search engine further enhances the user experience.
Key Features:
Multilingual support with WPML plugin
Customizable with support for all Google Fonts
Social sharing buttons for increased engagement

Sticky header with live search functionality

Seamless integration with bbPress for forums and threads
Responsive and compatible with various devices
Doctors Directory WordPress Theme
Doctreat is a Doctors Directory WordPress theme that is perfect for healthcare directory websites.
It not only has an attractive design but also runs smoothly on all web browsers and retina displays. With its wealth of functionalities, you can create a comprehensive doctor directory with a forum.
One of the standout features of Doctreat is its use of the Bootstrap framework. This ensures that your website will perform well on various mobile devices, including smartphones.
Additionally, Doctreat allows users to save their favorite doctors and hospitals, making it convenient for patients to access their preferred healthcare providers.
Key Features:
Email template editor with customizable options
Listing of favorite doctors and hospitals for easy access
Detailed individual pages for doctors and hospitals
Appointment on-call feature for convenient scheduling
Real-time translation support for multilingual users
Patient history feature for easy access to medical records
Powerful search functionality for quick and accurate results
BuddyPress GamiPress Social Community WordPress Theme
Vikinger is a versatile BuddyPress WordPress theme designed specifically for creating social networks, forums, and gaming websites. With Vikinger, you can easily set up and manage your own online community with all the essential features.
One of the standout features of Vikinger is its subscription system, which takes care of all the heavy lifting for you. This theme offers a wide range of functions, ensuring that you can fully enjoy the benefits of your community website.
Vikinger includes a bbPress forum, allowing your community members to engage in discussions and share their thoughts.
Another notable feature is the Twitch integration, which allows users to seamlessly stream and watch live gaming sessions.
Key Features:
Blog platform for creating engaging content.
Gamipress Points feature with Gold, Gems, and Emeralds credits.
Unique system for profile updates.
Share feature for post sharing.
Integration with Twitch for added functionality.
Private group manager for easy organization.
BuddyPress Membership WordPress Theme
OneCommunity is a theme that allows you to create an engaging and interactive discussion platform on your website. With over forty options to choose from, you can easily customize templates for key pages, fostering discussion and engagement among your users.
One of the standout features of OneCommunity is the ability for members to create and join member groups, extending engagement beyond the traditional discussion boards.
Additionally, OneCommunity seamlessly integrates BuddyPress and bbPress into its user interface. This means that users can not only post to the forum, but also discuss their activities on the site simultaneously.
OneCommunity also offers an Advanced Ajax Search feature, allowing members to get instant search results as they browse the forum.
Key Features:
Pre-built front pages with the Elementor Page Builder.
Carefully styled social media pages for a visually stunning website.
Different content blocks for members and guests, providing a personalized experience.
Dark or night mode for a sleek and stylish aesthetic.
Seamless integration with bbPress for smooth forum functionality.
All-in-One WP Migration tool for quick installation of demo content.
BuddyPress Community WordPress Theme
Join Up is a WordPress theme that offers a seamless integration of a discussion forum powered by BuddyPress. With this theme, you can easily create online communities, social networks, and forums for your website.
It comes with a range of customizable templates that allow you to display forums and other interactive features exactly how you want them.
Join Up also comes with a range of convenient shortcodes that allow you to add various elements to your website in just a few clicks. Whether you want to add a contact form, a pricing table, or a testimonials section, these shortcodes make it quick and easy.
Join Up includes the Slider Revolution Responsive WordPress Plugin, which allows you to create stunning sliders and carousels on your website.
Key Features:
Compatible with

WordPress eCommerce platform
Convenient shortcodes for easy customization
One-click import of demo content
Seamless integration with BuddyPress-powered discussion forum
Includes Slider Revolution Responsive WordPress Plugin
Bundled with Youzify BuddyPress Community Plugin
Frequently Asked Questions
What are bbPress forum themes?
bbPress forum themes are WordPress themes specifically designed to enhance the functionality and appearance of forums created using the bbPress plugin.

These themes provide a visually appealing and user-friendly interface for forum members to interact and discuss various topics.
Why should I use a bbPress forum theme?
Using a bbPress forum theme can greatly improve the overall user experience of your forum.

These themes offer a range of features and customization options, allowing you to create a forum that aligns with your brand and engages your audience.

They also provide a responsive design, ensuring that your forum looks great on all devices.
How do I choose the right bbPress forum theme?
When choosing a bbPress forum theme, consider factors such as your website's niche or purpose, the desired look and feel of your forum, and the specific features you need.

Look for themes that are compatible with the latest version of WordPress and bbPress, have positive user reviews, and offer good support from the theme developer.

It's also helpful to preview the theme demos and check if they have the customization options you require.
Conclusion
In this article, we discussed the top 12 WordPress bbPress forum themes for 2023. These themes are specifically designed to enhance your online forum and provide a seamless user experience.
Whether you're looking for customizable designs, responsive layouts, or advanced forum functionality, we've got you covered.
If you're interested in learning more about WordPress themes, be sure to check out the BetterStudio blog. We regularly publish tutorials and articles that cover a wide range of topics related to WordPress and website design. 
For the latest updates and tutorials, don't forget to follow BetterStudio on Facebook and Twitter. We strive to provide our readers with valuable insights and expert advice to help them master the art of WordPress website design.
Thank you for taking the time to read this article. We hope you found it informative and helpful.